Skinny Mini Chipotle Meatloaves are a healthy and comforting meal that are not only satisfying, but delicious and easy!

Skinny Mini Chipotle Meatloaves
I purchased these adorable mini loaf pans years ago when I was managing a cafe. I had big dreams for them, but never got around to using them. These mini meatloafs were the perfect chance to put them to good use. If you don't have mini loaf pans, which I doubt most people do, you could easily use muffin tins instead.
I was looking for a meal I could bring the guys in the field and I was struggling to come up with something that would not only satisfy them for the long night of work ahead, but would be healthy and something I would enjoy as well.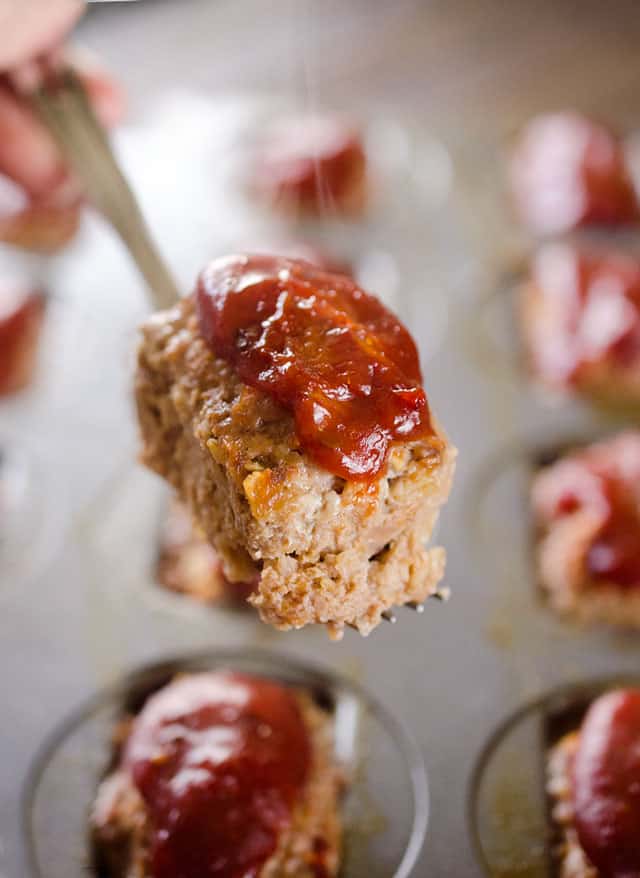 By the time I stop by the grocery store and drive home, it is around 5:30pm. Therefore I didn't want to make something that would require and hour or more of baking. I decided to portion these into adorable mini meatloaves so they would bake up quickly and I could head out to the field with food sooner than later.
Despite the fact that everyone would have been more than happy to get plain old meatloaf, I just couldn't bring myself to make something so simply. I always keep some pureed chipotles in adobo stored in the freezer, which I thought would make a perfect addition to the sauce. Whenever I buy a can, I usually only use one or two and the rest go to waste if I don't freeze them. Chipotles in adobo pack such a punch of spice and flavor that a little goes a long ways, so just breaking off a small piece and adding it to a sauce will really boost any meal.

Because I was in a rush to get something made before it got too late, I started throwing all of the ingredients in my food processor. I began with the carrots and onions and once they were chopped I added the oatmeal, sauce, hamburger and egg. I gave it a few pulses and it was mixed up and ready to scoop into the tins.
These mini meatloaves also freeze up great for a make-ahead meal. I enjoyed them so much the first time I made them, that last weekend I whipped up a double batch and tossed them in the freezer already baked. This way, if the guys are looking for a last minute meal, they can just pop a few in the microwave and be on their way.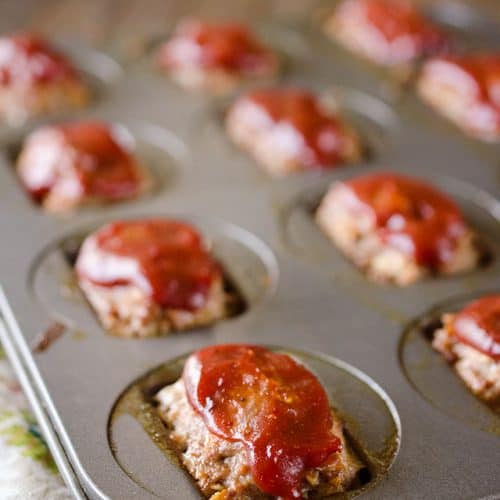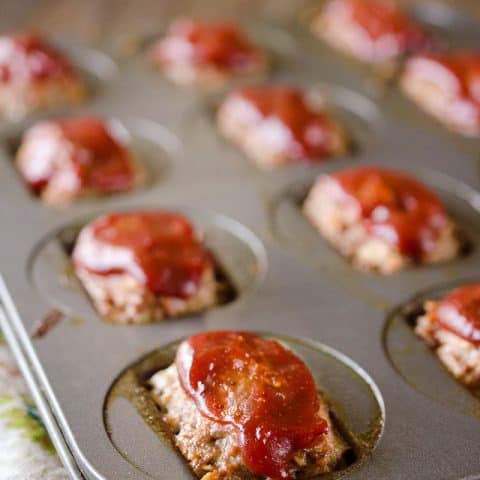 Skinny Mini Chipotle Meatloaves
Skinny Mini Chipotle Meatloaves - A healthy and comforting meal that are not only satisfying, but delicious and easy!
Ingredients
Meatloaf

1 lb lean ground beef, 93%-96% lean
2/3 c. carrots
1 small red onion
1 egg white
1 egg
1/2 c. oatmeal
1 Tbsp dijon

Chipotle Sauce

2 chipotle in adobe, pureed
2 Tbsp. worchestire
1 tsp salt
1 tsp garlic powder
1 c. ketchup
Instructions
In a medium bowls combined all of the chipotle sauce ingredients and set aside
Preheat your oven to 375°.
Cut the carrot and onion into large chunks and add to the food processor. Pulse until they are chopped into small pieces. To the vegetables add all of the remaining meatloaf ingredients and half of the chipotle sauce. Pulse a few times, just until everything is combined.
Scoop approximately 1/3 c. of the meatloaf mixture into each tin. Set your tin on top of a baking sheet to catch any juices that may run over and bake at 375° for 20 minutes. Remove the meatloaves from the oven and top with a tablespoon of chipotle sauce. Return to the oven and bake for an additional 10 minutes.
Nutrition Information:
Yield:

4
Serving Size:

1 grams
Amount Per Serving:
Unsaturated Fat:

0g
Click here for Nutritional Information
More comfort food you will love!