This Raspberry Rosé Spritzer is the perfect cocktail or a special occasion with muddled mint and raspberries in vodka, topped with sparkling Rosé.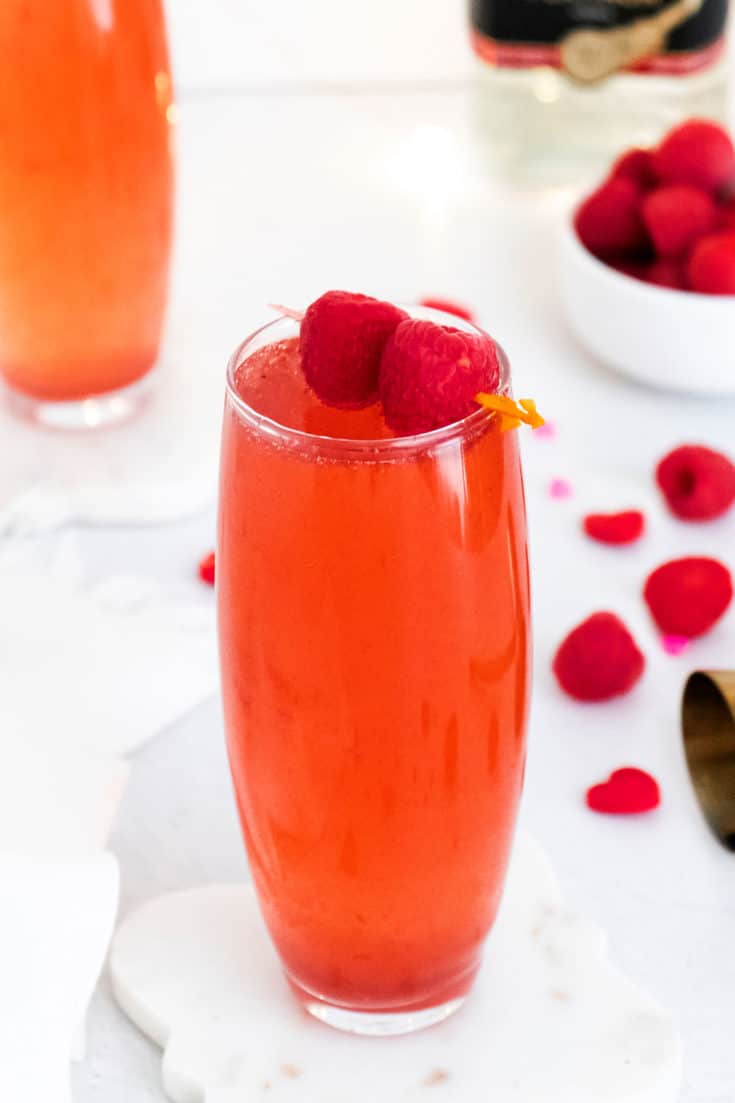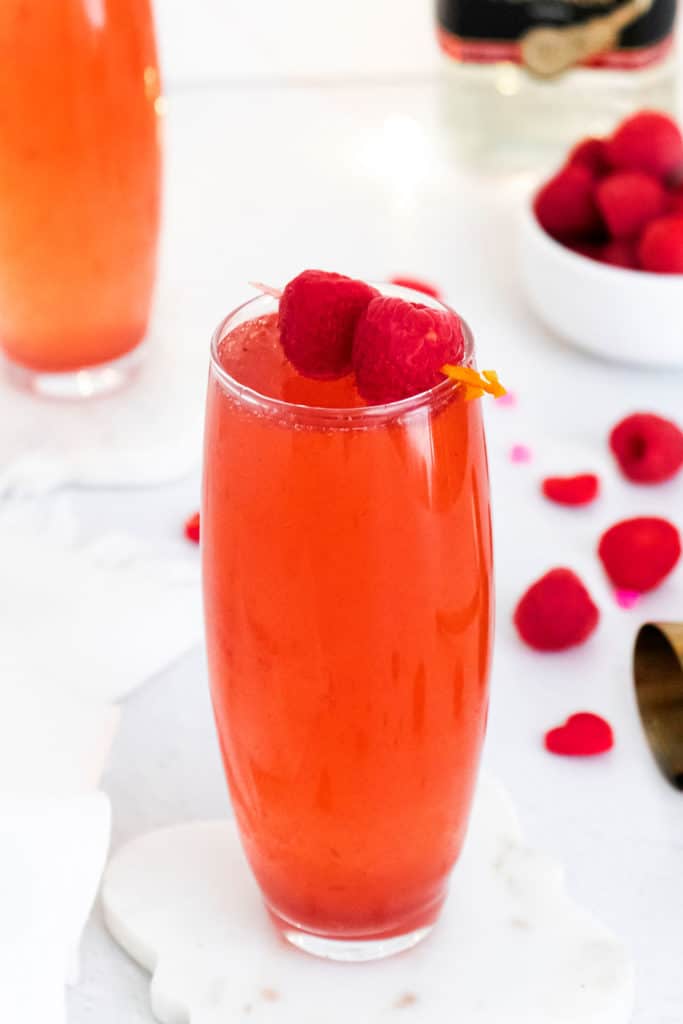 Rosé Cocktail
A raspberry rosé spritzer served nice and chilled makes a great brunch cocktail. Right up there with mimosas for unfussy elegance, as it is just as simple to concoct. Even better, the slight fruitiness of this spritzer is sweet, but not too sweet. And it has a lovely color as well, can't forget that part.
Because the dark purple hue of blackberries paints in just a touch of mystery too.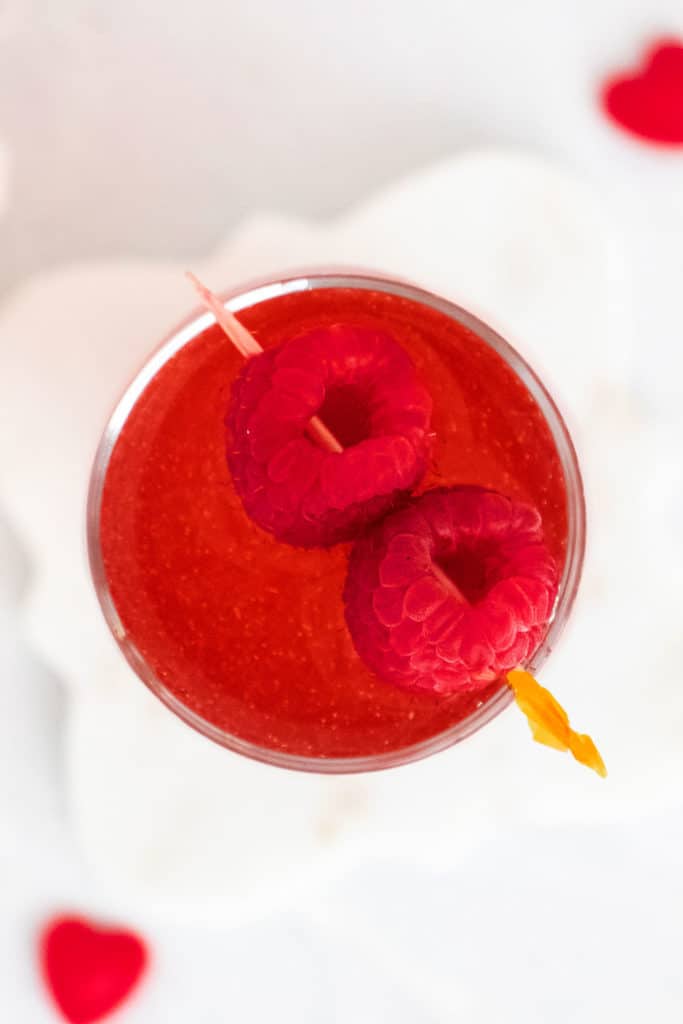 How to make a sparkling raspberry rosé spritzer
The key to making the raspberry sparkling rosé spritzer – try using the best raspberry jam you can find. The better the jam, the more you get flavor of raspberries and not just the extra sweetness. You can even get a half decent rosé because a great jam will make the rosé seem awesome too.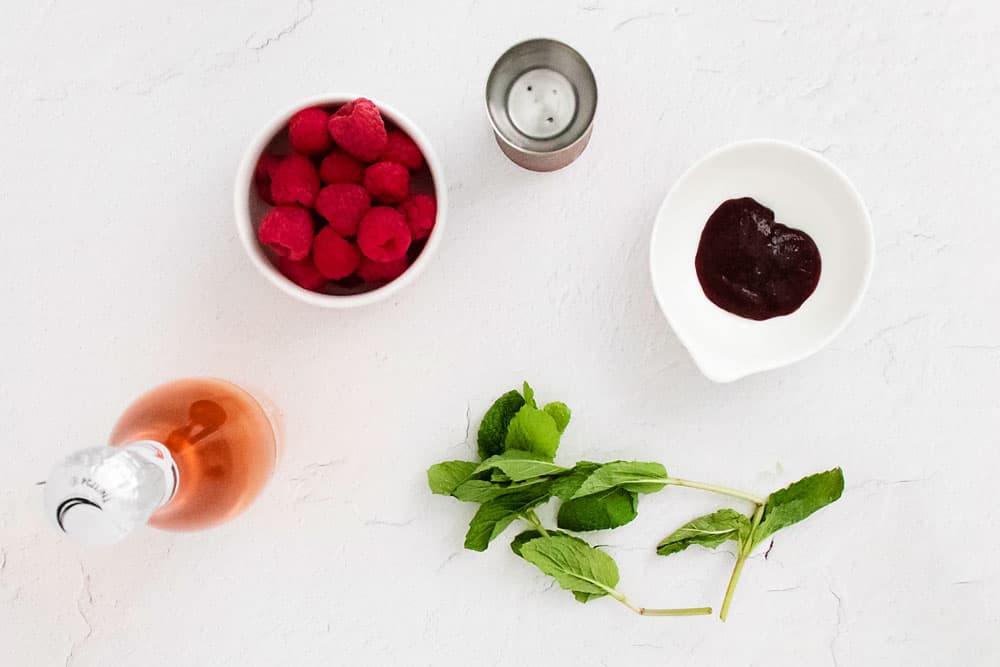 Using vodka in the rosé spritzer
There is a method to the madness of using vodka in the spritzer. Ok, of course it adds a bit of kick. Keep that in mind when you are thinking about pouring the next one or three. But the vodka serves another critical purpose.
When you muddle the vodka, mint, and jam, then the vodka creates a tincture of the flavor essences in the oils of the mint and terpenes in the blackberries. So it is absorbing all those flavors and concentrating them. It helps you avoid the drink becoming too sweet, but keeping it ever so tasty.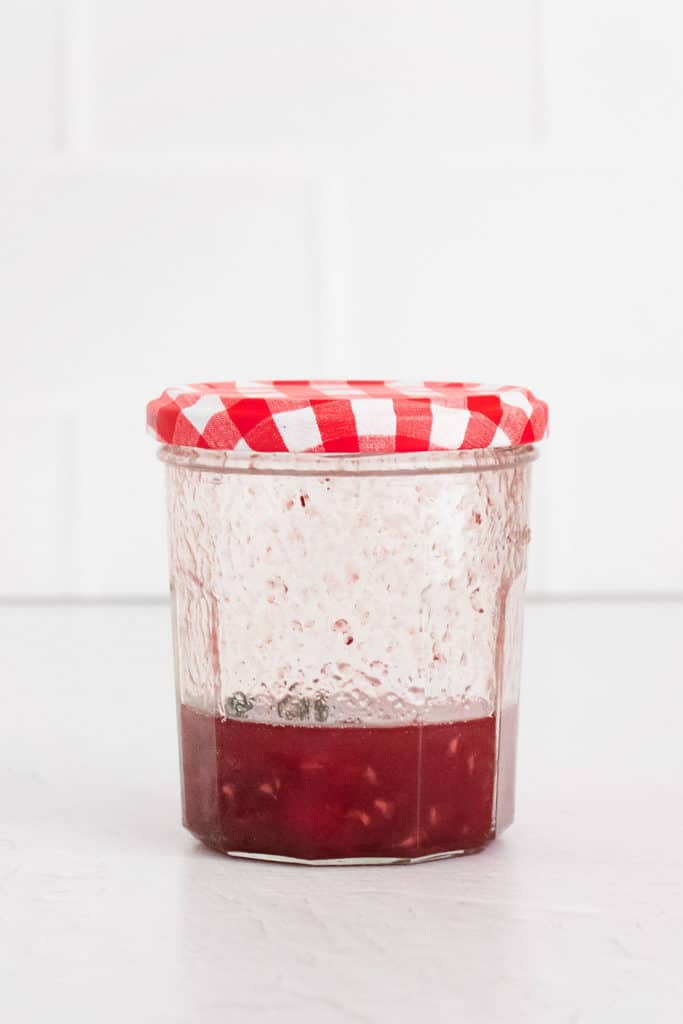 What is exactly is "sparkling rosé" anyway?
Sparkling wines include many styles and come by many names. Of course there is Champagne, which like bourbon also describes where it hails from as much as the style of production. However, sparkling wines also have names like Moscato, Prosecco, Cava, Sparkling Rosé and many more.
With all sparkling wines, there are two fermentations. The first fermentation creates the alcoholic content of the wine. The second fermentation adds the sparkling bubbles to dance in the light shining on your glass.
Sparkling wines like rosé fall into a slightly fruity style of sparkling wines. Rosés balance between being a little dry, but with a hint of fruity sweetness. Depending on the type of sparkling rosé, you might detect hints of fruit like apple, apricot, plum, and pear.
Any type of sparkling rosé works for the raspberry rosé spritzer, and they come in a wide range of prices. Considering you will be mixing in the vodka infused with raspberries, you really don't have to use the more expensive varieties. Leave those to drink without any mixers.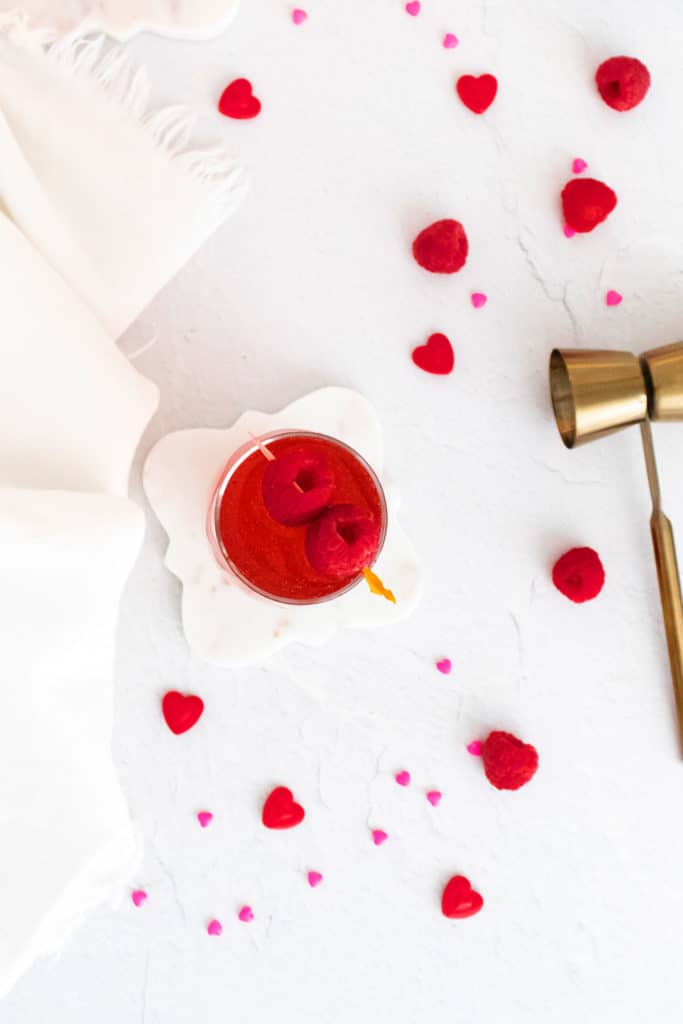 What to use if sparkling rosé isn't available
If you can't find a nice sparkling rosé you wish to use, then no worries. There are workarounds that do the job too. You can always just find a plain rosé which are sold everywhere, then mix in some club soda to add the sparkle.
Yes, that sounds more like a California Wine Spritzer, but you don't necessarily need a hot tub handy to enjoy it just the same.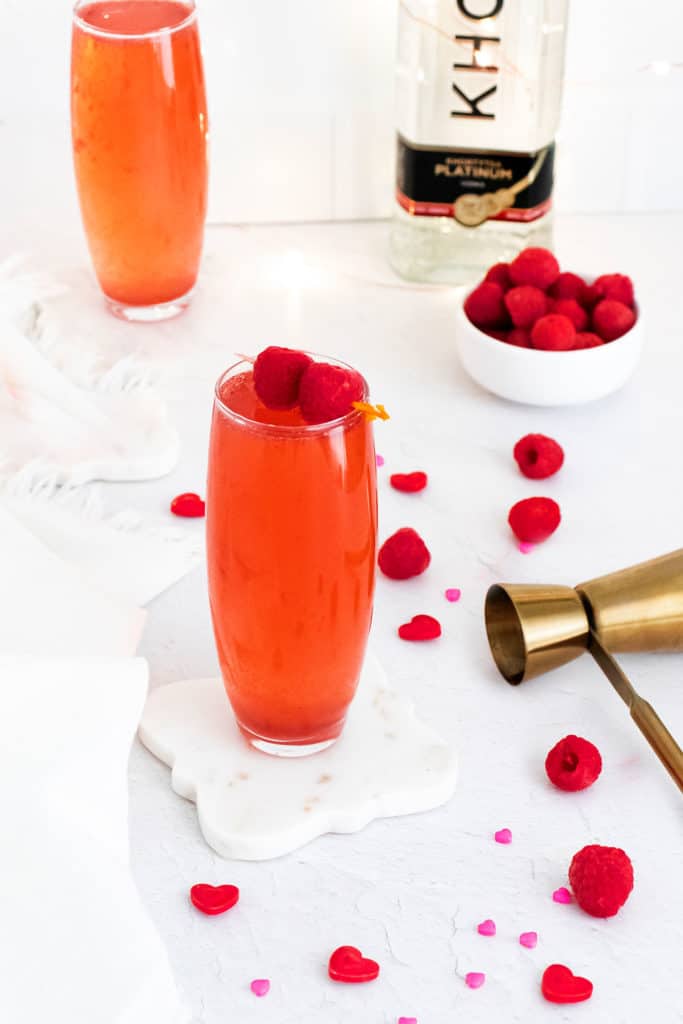 Can I make rosé spritzers with other types of jam?
If you prefer to use another flavor of jam beside raspberry, then go for it! You can use any type of jam. Blackberry, apple, apricot, even fig will work. Indeed, half the fun is figuring out ways to get creative with it.
Some jams are great for adding color, and for others, flavor is the focus. But any type of jam you choose will still make a wonderful light and delightful wine cocktail.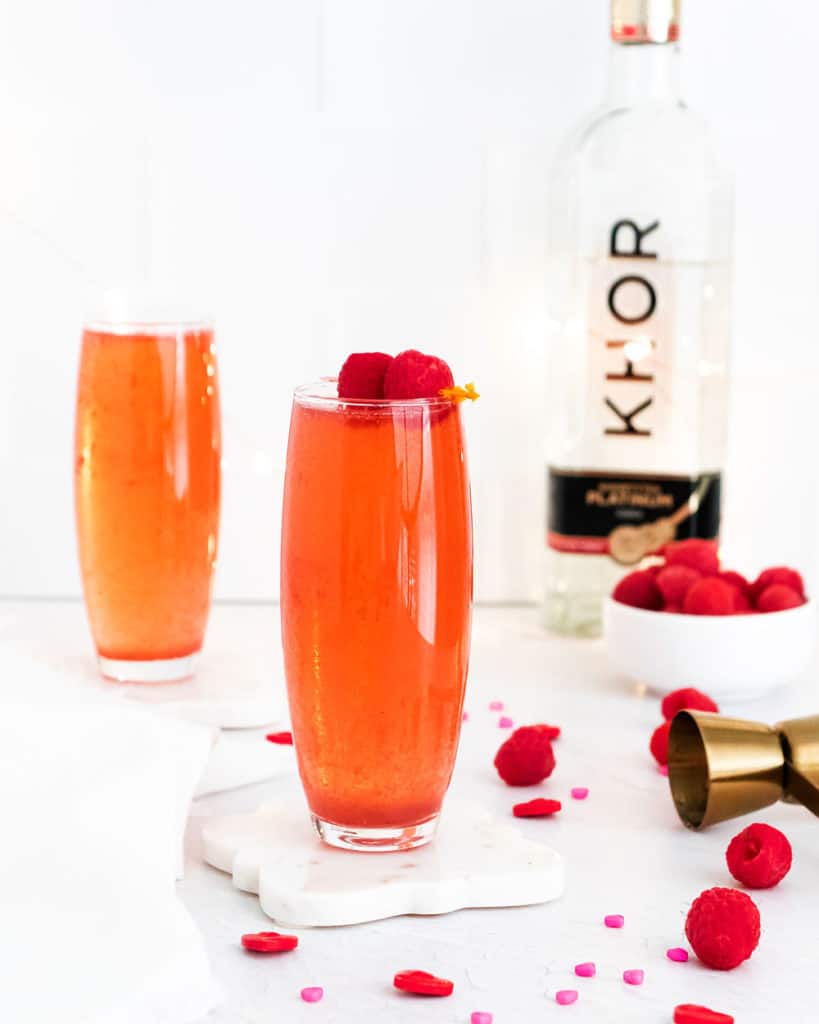 More cocktail ideas to enjoy
Maybe it is just a little trait left over from my waitress days, or perhaps it comes from just loving to entertain. But I have to admit, I always think having some interesting cocktail recipes handy is a way to stay civilized.
Sure, there is an element of pride in stirring, shaking, or pouring a drink not everyone has already had a gazillion times. Still, having a few unique cocktails up your sleeve isn't about showing off, it is about keeping folks entertained.
If you really want to take your cocktails to the next level when it comes to presentation, check out these amazing flower ice cubes. They are absolutely gorgeous and will blow your guests away!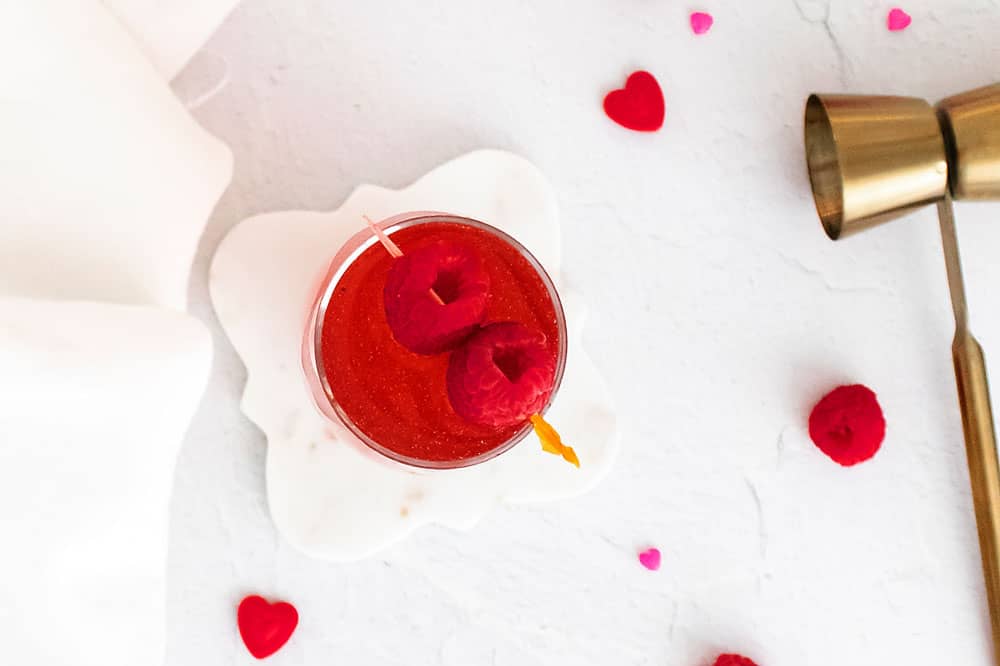 Unique Cocktails
A good, interesting, and unique cocktail is a conversation starter.
Here are some I can recommend trying: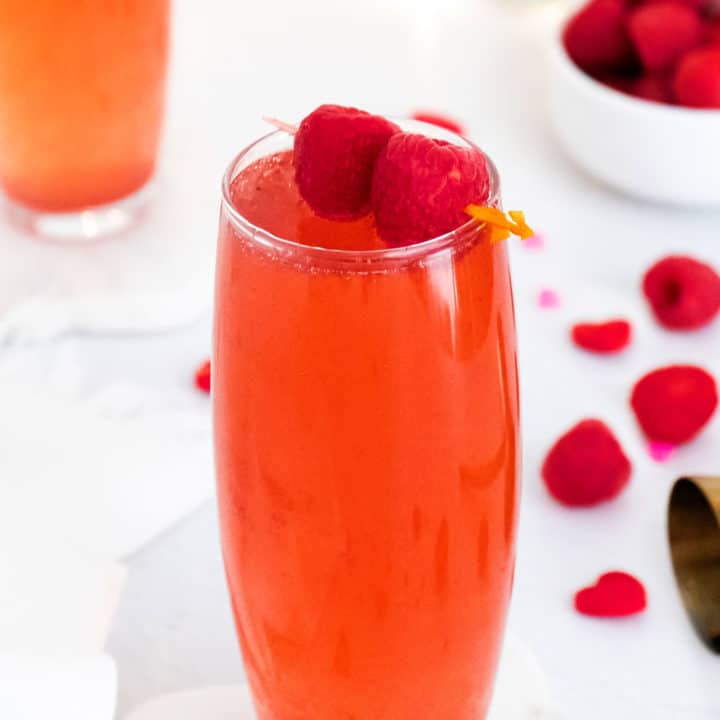 Raspberry rosé spritzer
This Raspberry Rosé Spritzer is the perfect cocktail or a special occasion with muddled mint and raspberries in vodka, topped with sparkling Rosé.
Ingredients
1 Tablespoon raspberry jam
1 1/2 ounces vodka
5 fresh raspberries
2 large fresh mint leaves
1/2 cup Sparkling Rosé
Instructions
In a small jar combine the raspberry jam, vodka, fresh raspberries, and fresh mint leaves. Muddle them (with a muddler or end of a wooden spoon) until the berries are broken up— about 15 seconds.
Pour the muddled berries through a small fine mesh sieve into a glass. Make sure to push all of the juice out to get the full flavor!
Top with enough Rosé to fill the glass. Garnish with fresh berries and mint.
Notes
Any jam will work in this recipe— raspberry, strawberry, even mixed berry!
If you don't have sparkling rosé, you can use a 50/50 mix of regular rosé and club soda.
Recommended Products
As an Amazon Associate and member of other affiliate programs, I earn from qualifying purchases.
Nutrition Information:
Yield:

2
Serving Size:

1
Amount Per Serving:
Calories:

128
Total Fat:

0g
Saturated Fat:

0g
Trans Fat:

0g
Unsaturated Fat:

0g
Cholesterol:

0mg
Sodium:

10mg
Carbohydrates:

10g
Fiber:

1g
Sugar:

7g
Protein:

1g
Provided nutrition data is only an estimate. If you are tracking these nutrients for medical purposes, please consult an outside, trusted source.