These old fashioned Peanut Butter Blossom Cookies made with peanut butter and shortening cookie dough are topped with a Hershey chocolate kiss for a family favorite recipe!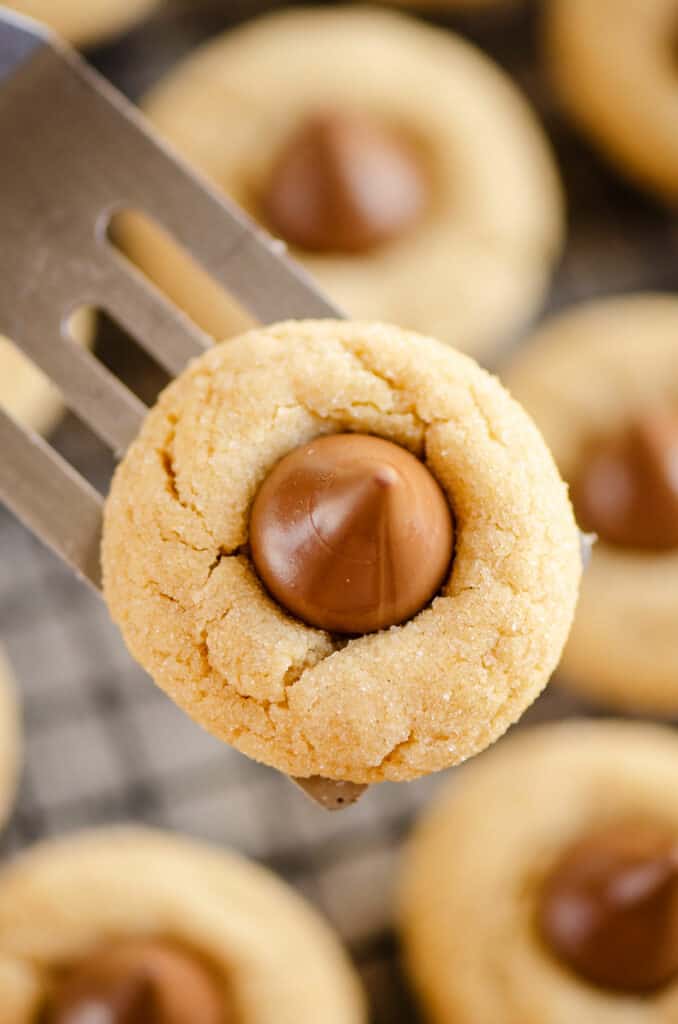 Peanut Blossoms
These peanut blossoms are a traditional cookie my Mom has been serving up on our Christmas cookie platter for decades! These cookies are by no means just for the holidays though. They are a favorite amongst many, and they are great for potlucks, bake sales, and so much more.
The classic flavor combination of peanut butter and chocolate is undeniably good and the soft texture of the peanut butter shortening cookie is mouthwatering. You really can't go wrong with a batch of peanut butter blossom cookies.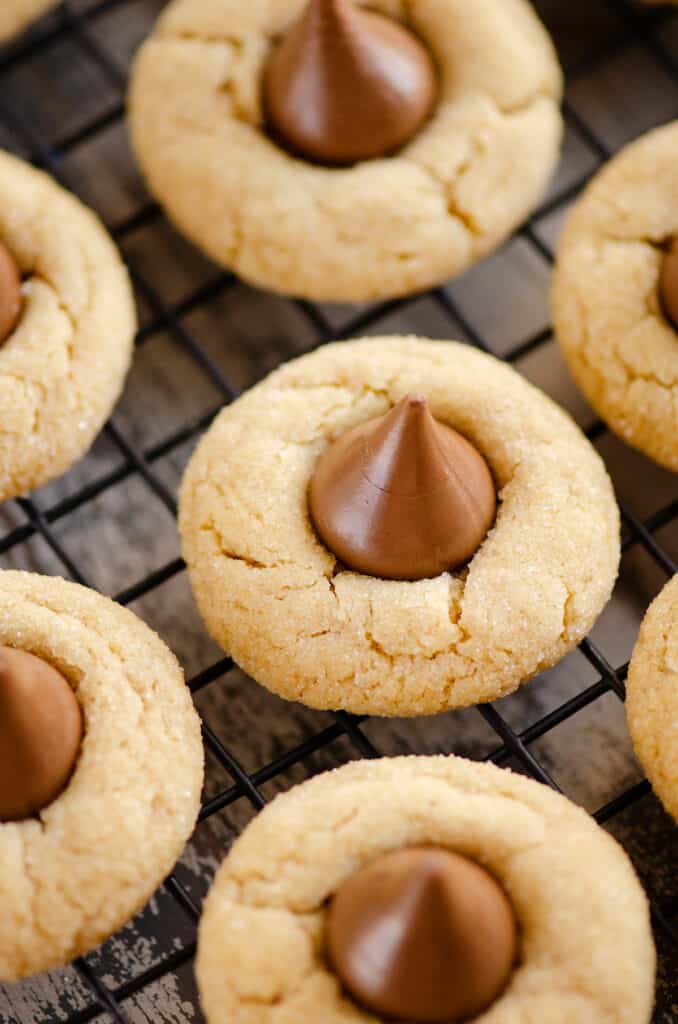 How many cookies does a batch make?
Peanut butter blossoms are a relatively small cookie. You don't want to make the peanut butter cookies too large, or there won't be the right balance of peanut butter and chocolate. With that in mind, this peanut blossom recipe makes a large batch of about 48 small cookies.
This will leave you with a handful of Hershey kisses remaining in your bag, but I'm sure that won't be a problem making those disappear!
The fact that this peanut blossom recipe makes four dozen cookies is another great reason to reach for it any time you need to serve a crowd or donate baked goods.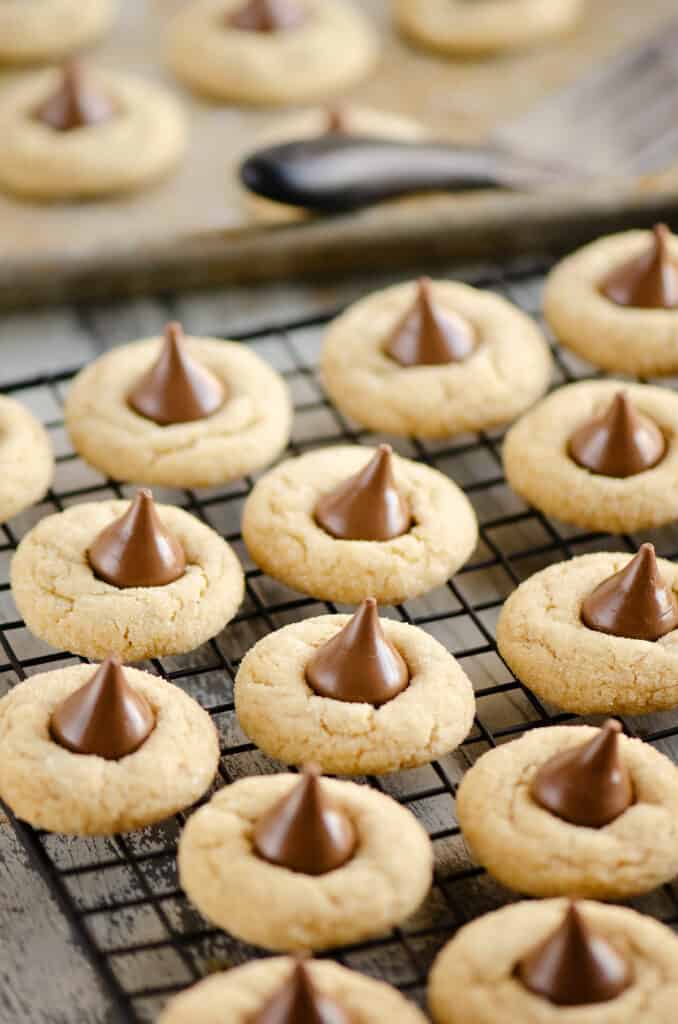 Peanut Butter Blossom Cookies with Shortening
The age old debate of butter vs. shortening usually sides towards butter these days. And I'm well aware that many of you will scoff at me for making a butter free cookie with just shortening. Much like the side eye I get for me perfect buttercream recipe or flaky pie crust, but they turn out so darn good!
The fact of the matter is that shortening and butter result in different textures. And many of my grandmother's old fashioned recipes use shortening for good reason. When used in cookies shortening results in a lighter and softer texture. When it comes to peanut blossoms, that is exactly what we want.
I always used butter flavored shortening so we don't miss out on the buttery flavor. If you absolutely hate shortening, you can certainly use butter. But just know the end result will vary slightly.
Do I have to use Hershey kisses?
The traditional peanut blossoms use Hershey kisses, but that doesn't mean there aren't other great options. Whether you don't want the headache of unwrapping a bag of kisses, or you want to cut costs you can use chocolate stars instead.
I live in the Midwest, so my Mom usually grabs a couple bags from Fleet Farm for the cheapest option. They are more affordable than Hershey kisses and less time consuming.
Another great option is peanut butter cups. This doubles down on the peanut butter flavor, which is never a bad thing. You can use miniature peanut butter cups or during the holidays the Reece's peanut butter bells are a great option. I actually prefer my peanut butter blossom cookies this way.
If you are using kisses or peanut butter cups, be sure to unwrap them while the cookies are baking. This task will take time and you need to have this done before the baking time is complete, or the kisses won't press into the cookies nicely.
How to make peanut butter blossom cookies
You can find the full recipe for peanut butter blossoms below, but here is a quick overview of how to make this easy recipe.
Cream the butter and sugars
Mix in wet ingredients – This includes peanut butter, milk, egg, and vanilla extract.
Whisk the dry ingredients – Only three simple dry ingredients for this recipe, flour, baking soda and salt!
Mix the wet and dry ingredients – Just until they are well combined.
OPTIONAL – Chill the cookie dough – This is a practice followed by many, but not actually necessary.
Roll out 1 inch balls into sugar
Bake for 10 minutes
Top with Hershey kisses – Work quickly to top all the cookies and return to the oven.
Bake additional 3 minutes
Cool on cooling wracks and store in airtight container
Should I chill the cookie dough?
The practice of chilling cookie dough helps prevent cookies from spreading. This is of the utmost importance when it comes to cutout cookies for example. With peanut blossoms, it's really not that important.
I honestly don't chill my peanut blossom cookie dough, and as you can see from the pictures, it results in a perfectly nice cookie that isn't too thick.
What size should I make peanut blossom cookies?
It's really important not to make the cookies too large. It can be tempting to make them bigger, because 1 inch balls seem so small, but they are the perfect size to pair with the Hershey kiss.
Use a small cookie scoop to roll out even 1 inch balls of peanut butter dough. You don't have to use a cookie scoop, but that is my preference to keep all the cookies the same size. Some people like my mother are good at eyeballing it with a tablespoon though.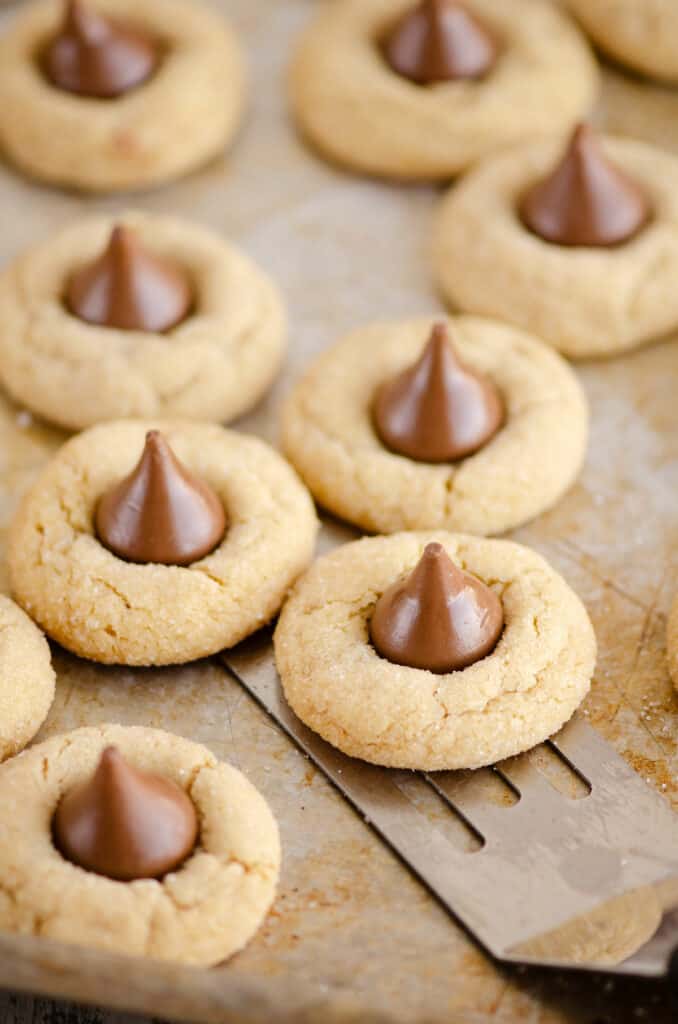 How to make colorful peanut blossoms
If you are wanting to make your peanut blossoms a little more festive this Christmas, you can roll the peanut butter cookie dough in colorful sanding sugar instead of granulated sugar. This add a beautiful pop of color to your cookies.
Make your peanut blossoms a third each, red, green and regular granulated sugar for a spectacular array of colors on your cookie platter.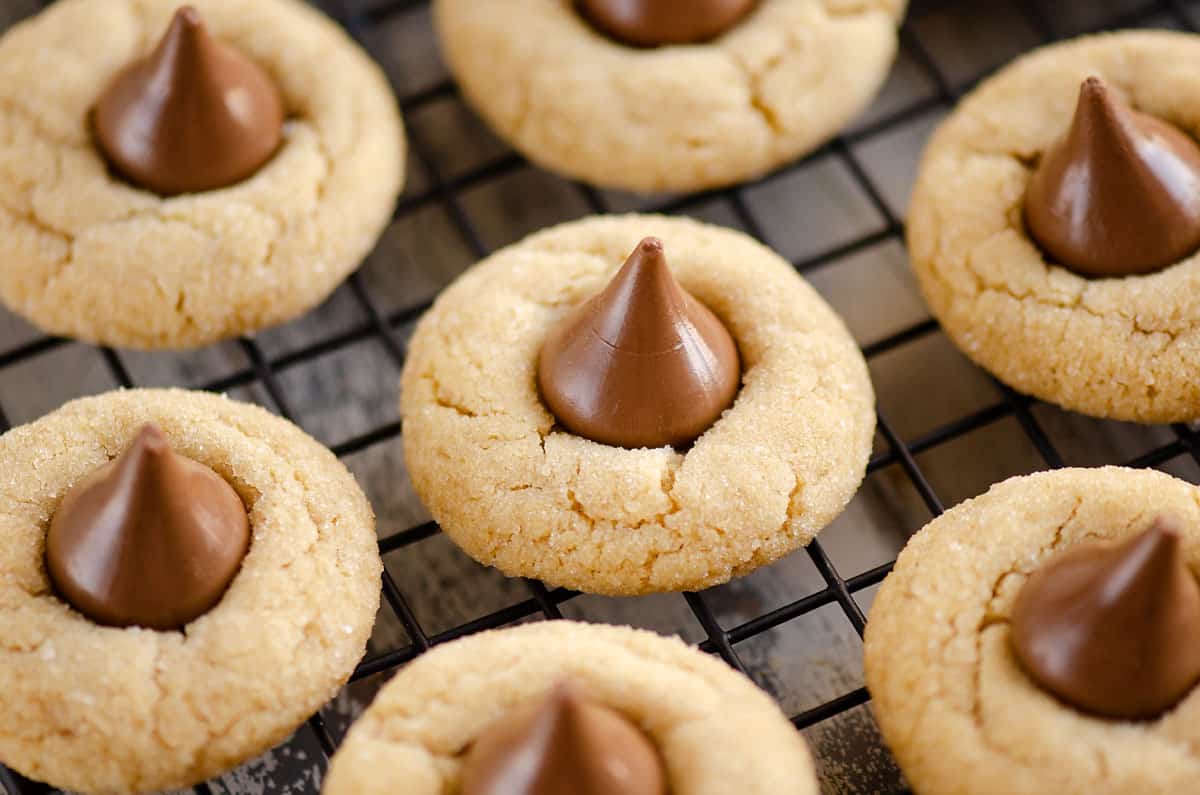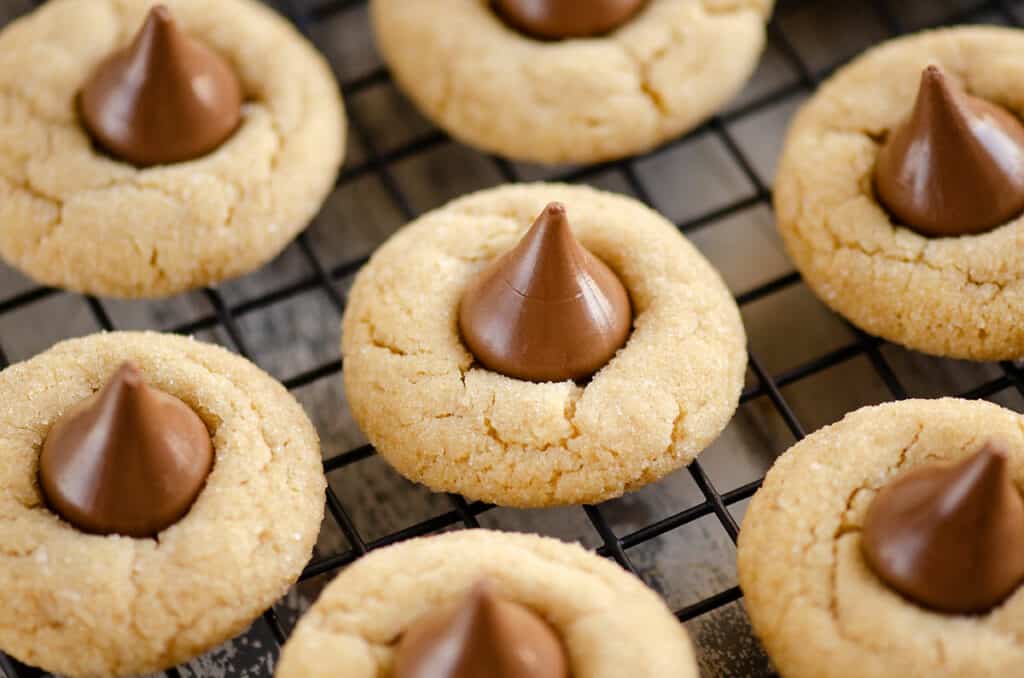 Can I freeze peanut butter blossoms?
Yes! If you are like our family and baking lots of cookies for the holidays, you may want to get head start by freezing some cookies ahead of time. These peanut blossoms freeze very well. Just be sure to store them in an airtight freezer container. Freeze the cookies up to 30 days and remove from the freezer the day before you want to serve them.
Here are some more great Christmas cookie recipes that are great for freezing.
How long do peanut blossoms stay fresh?
Peanut blossoms are best enjoyed within the first 5 days of baking. If you decide to freeze the peanut blossoms, do so as soon as they are cooled to lock in their freshness.
If you won't be serving your cookies for a few days, store them in a cool location in the house. This will help preserve their freshness a little longer. Whether that is in the basement, attic, or wherever there is a cool draft. Just avoid keeping them in a hot kitchen.
My Mom always used the spare bedroom on the west side of the house that got very cold in the winter to store all her Christmas cookies before the holiday. It was literally like walking into a walk-in refrigerator after she closed off the heater vents to that room! lol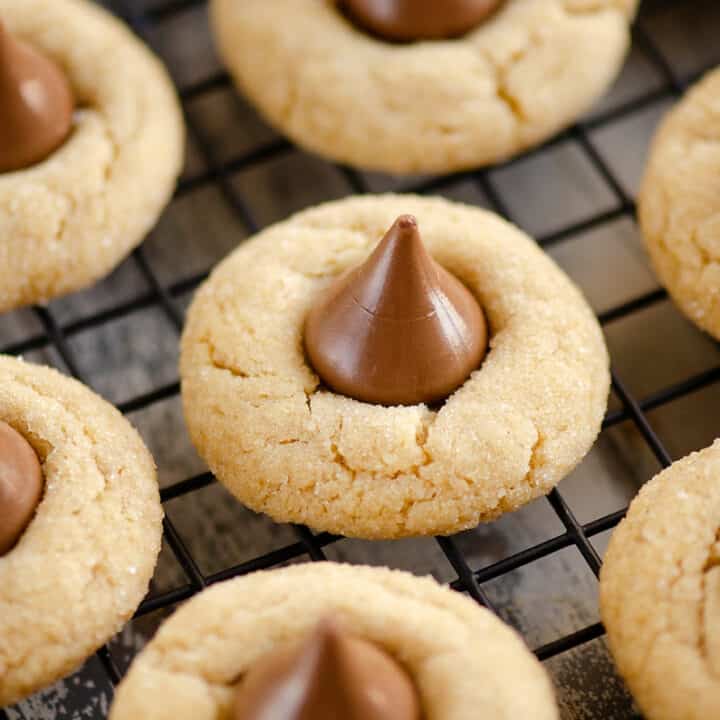 Peanut Butter Blossom Cookies
These classic Peanut Butter Blossom Cookies made with peanut butter and shortening cookie dough are topped with a Hershey chocolate kiss for a family favorite recipe!
Ingredients
Wet Ingredients
1/2 cup butter flavored shortening
1/2 cup granulated sugar
1/2 cup brown sugar
1 large egg
1/2 cup creamy peanut butter
1 teaspoon vanilla extract
2 Tablespoons milk
Dry Ingredients
1 3/4 cup all-purpose flour
1 teaspoon baking soda
1/2 teaspoon salt
Finishing touches
48 chocolate Hershey kisses
1/4 cup granulated sugar for rolling
Instructions
Beat the shortening and sugars until light and fluffy. Add the remaining wet ingredients and mix until combined.
Whisk the dry ingredients together and mix into wet ingredients.
OPTIONAL - Chill dough for 30-60 minutes
Roll into one inch balls and roll in granulated sugar. Place on cookie sheet two inches apart.
Bake at 350°F for 10 minutes.
Remove from oven and add chocolate kisses immediately by pressing the into center of cookies.
Bake an additional 3 minutes.
Cool on cooling racks and store in an airtight container.
Recommended Products
As an Amazon Associate and member of other affiliate programs, I earn from qualifying purchases.
Nutrition Information:
Yield:

48
Serving Size:

1
Amount Per Serving:
Calories:

115
Total Fat:

6g
Saturated Fat:

3g
Trans Fat:

0g
Unsaturated Fat:

2g
Cholesterol:

11mg
Sodium:

85mg
Carbohydrates:

14g
Fiber:

1g
Sugar:

9g
Protein:

2g
Provided nutrition data is only an estimate. If you are tracking these nutrients for medical purposes, please consult an outside, trusted source.