This copycat recipe for making homemade Moose Tracks ice cream is no churn and egg free for an easy sweet treat. With a swirl of homemade chocolate sauce, chopped Reese's peanut butter cups and a sweet ice cream, you can't go wrong.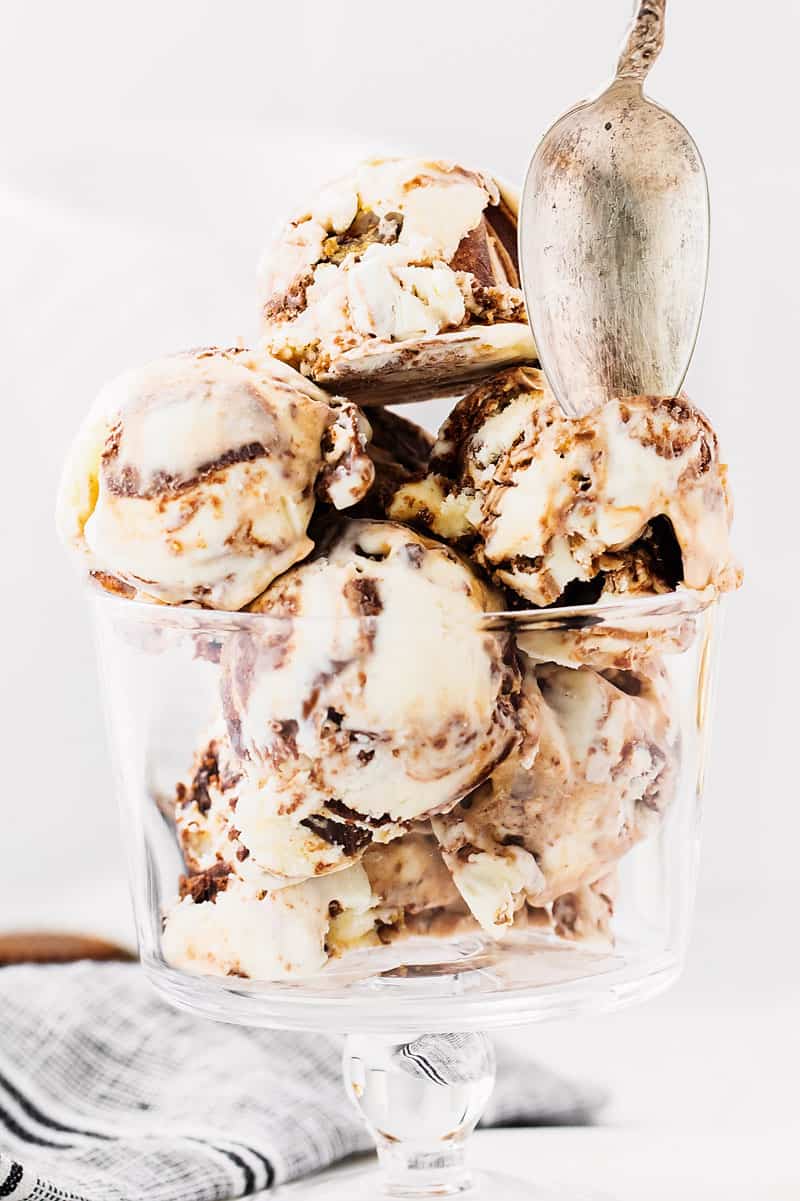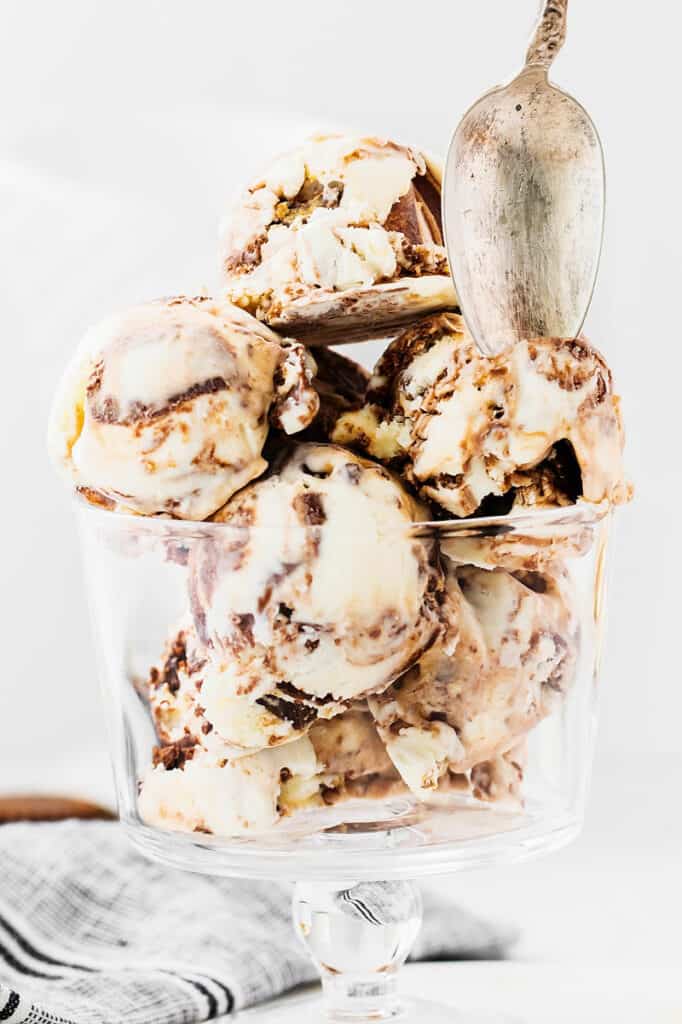 No Churn Ice Cream
This homemade version of Moose Tracks ice cream unlocks the secret to homemade ice cream, but you don't need any special gear like an ice cream churn or a ton of rock salt to make it happen.
All you really need is a little patience to let it set up overnight. Because, that is by far the hardest part of this easy ice cream recipe, because you will be itching to dig right into it!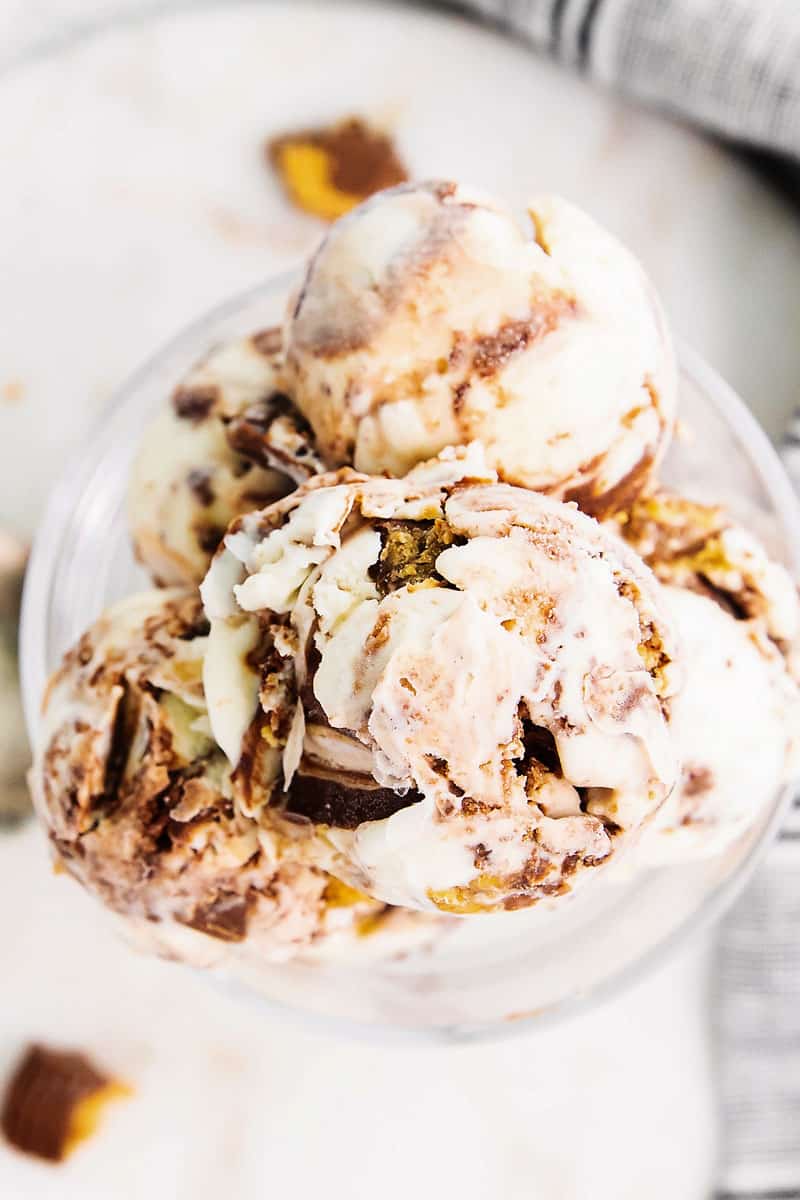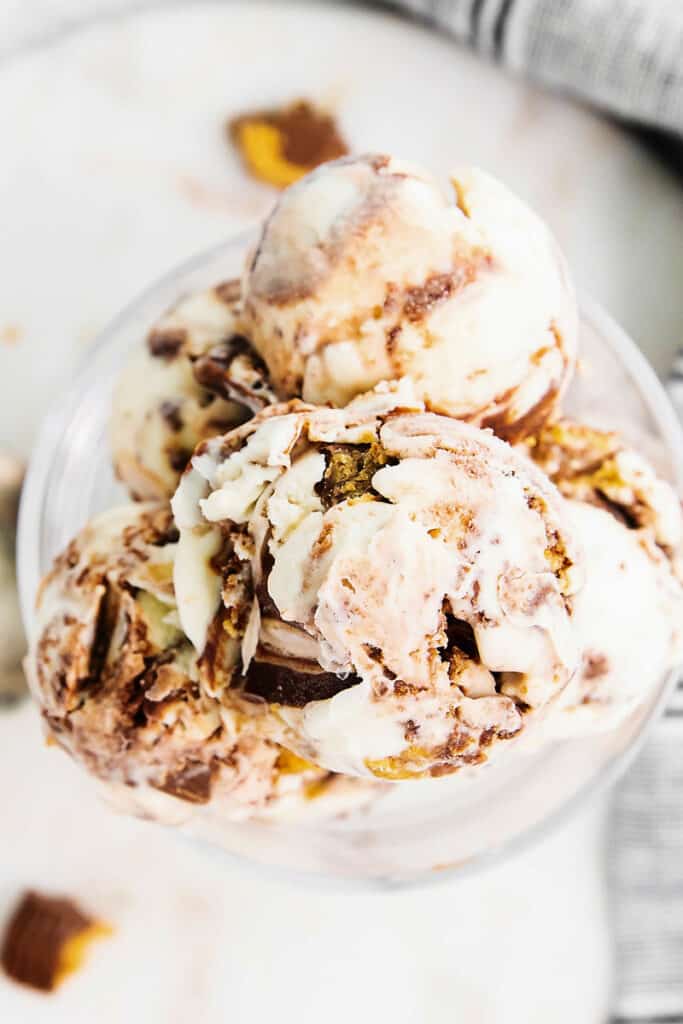 Homemade Moose Tracks Ice Cream
This super simple ice cream recipe is egg free and just requires heavy cream and condensed milk to do the trick. You whip the heavy cream until it is stiff enough to fold, but not too stiff… You don't want to end up with a mixing bowl of butter! Once the heavy cream becomes a dense whipped cream with stiff peaks, then fold in the sweetened condensed milk.
No extra sugar is needed. The sweet and condensed milk adds plenty of sweetness and you don't have to worry about getting sugar to dissolve properly either.
Also, the "moose tracks", those chunks of peanut butter cups and chocolate fudge sauce add plenty of sweetness too, so it isn't like you would need extra sugar in this recipe anyway.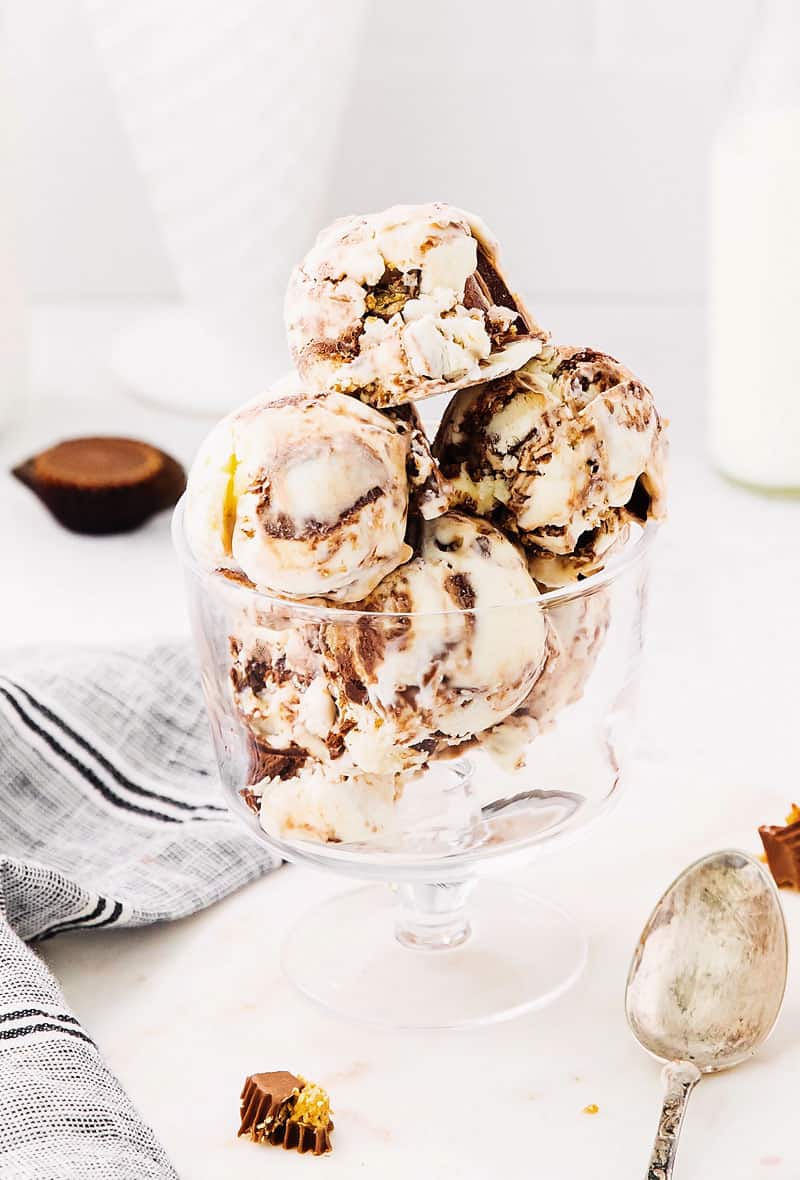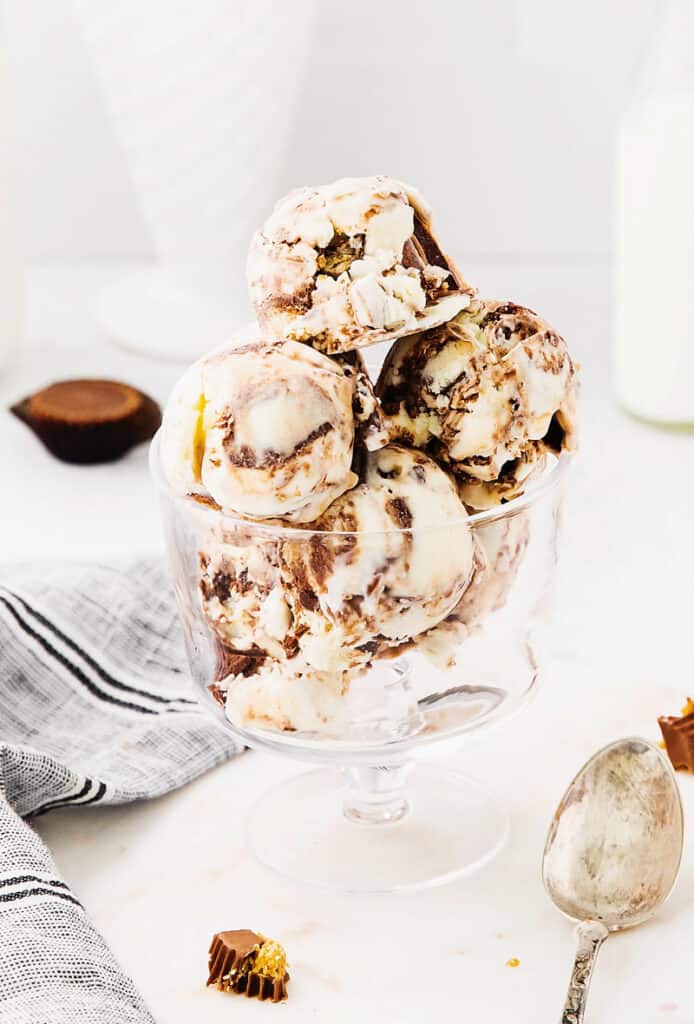 What Is Moose Tracks ice cream?
The original Moose Tracks is a brand of ice cream famous for combining vanilla ice cream, peanut butter cups, and a world famous Moose Tracks Fudge. In this homemade version, instead of making actual fudge, you make a thick chocolate sauce that is easy to stir into the ice cream and just requires a couple minutes in the microwave!
Easy Chocolate Fudge Sauce
The chocolate fudge sauce swirls in the vanilla ice cream are so fun to add. It reminds me of being a kid and getting to finger paint for the first time. It is like creating a work of art where the magic is all about the process of getting to the final result.
Just melt your chocolate into the heavy cream until it is nice and thick. Make sure you don't scald the cream or the chocolate. Microwaving in 30 second increments helps avoid that. If you overcook the chocolate it can seize up and become grainy, which is a waste of good chocolate.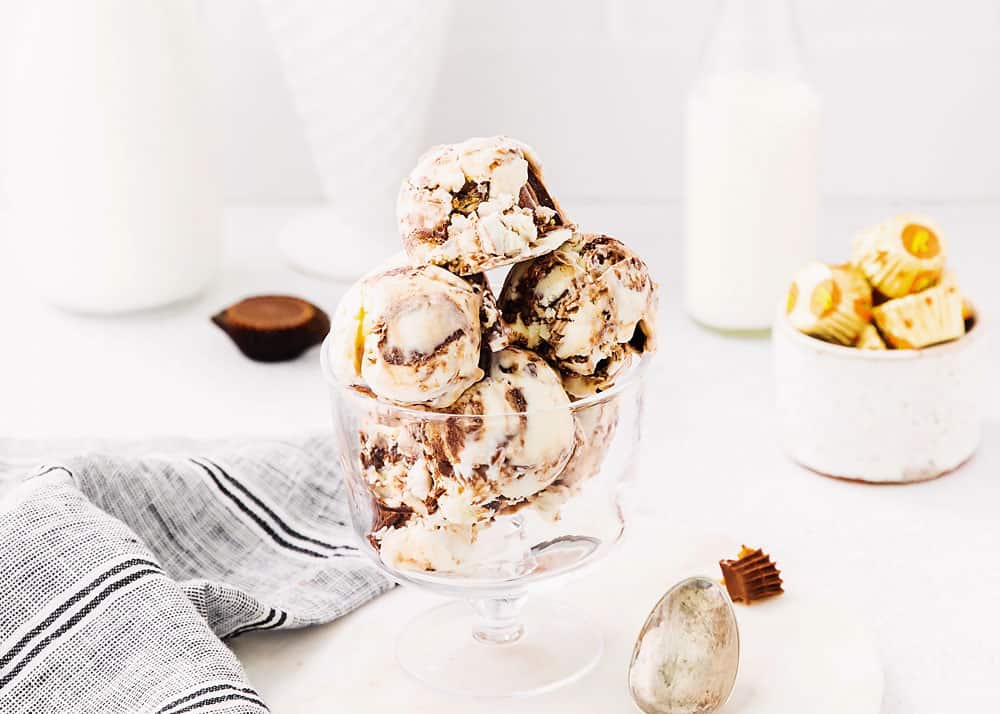 If you do want to have a thicker chocolate, something closer to fudge, then you can stir in about a cup of mini marshmallows. This will also add a little more sweetness to the ice cream.
Make sure to let the mixture cool just enough so you can swirl it into the vanilla ice cream mixture and not risk heating it so that the water separates from the cream and melts the nice airy texture of the ice cream.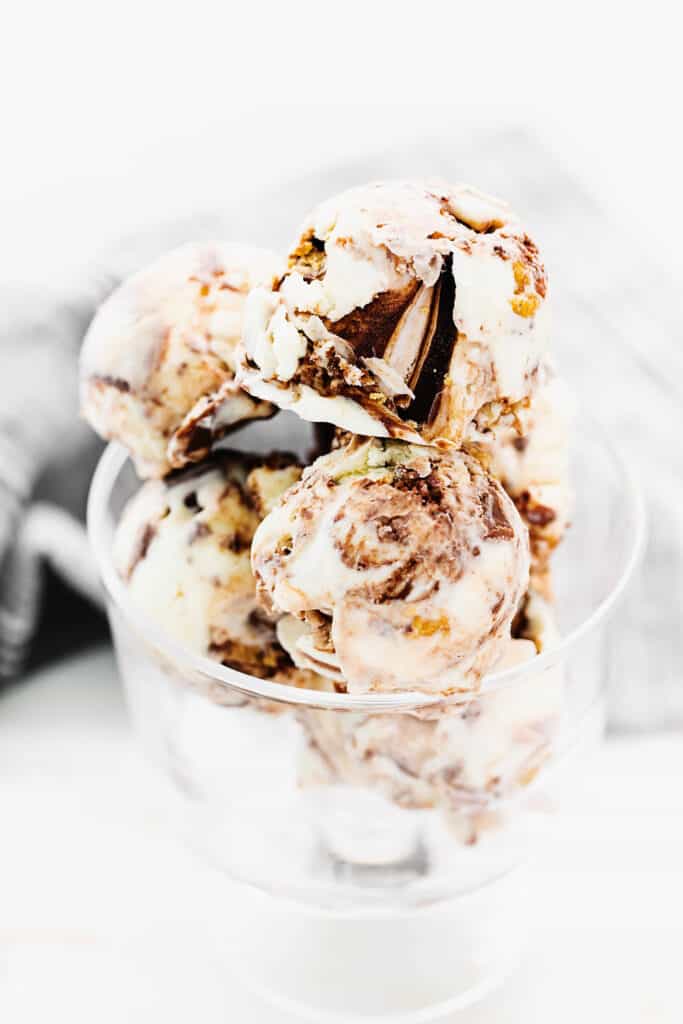 Variations On Moose Tracks
So, just like original Moose Tracks, you can easily adapt this recipe into a wide variety of styles and flavors. If you want, feel free to add more peanut butter cup chunks to make an "extreme" style version. Or, mix some of the chocolate fudge sauce thoroughly into the vanilla ice cream to make it chocolate ice cream and add the other ingredients accordingly.
Other options include adding different added ingredients like brownies, nuts, or even bits of peanut brittle.
Also, if you can't do peanuts due to allergies, then you can also find cashew or almond butter chocolate covered cups instead of peanut butter. Just make sure they weren't processed in a peanut butter processing facility. The packaging should display the info clearly.
More Peanut Butter and Chocolate Desserts
Brownie Buckeye Cups – This little cup of a chewy brownie filled with a peanut butter cup mixture and topped with a drizzle of chocolate is one of my absolute favorite desserts!
Peanut Butter Chocolate Dream Bars – This yummy oatmeal bar filled with a creamy peanut butter center and topped with chocolate chips is a decadent dessert you must try.
Peanut Butter Cup S'mores – This easy dessert made in the summer is the classic summer treat with a delicious peanut butter spin.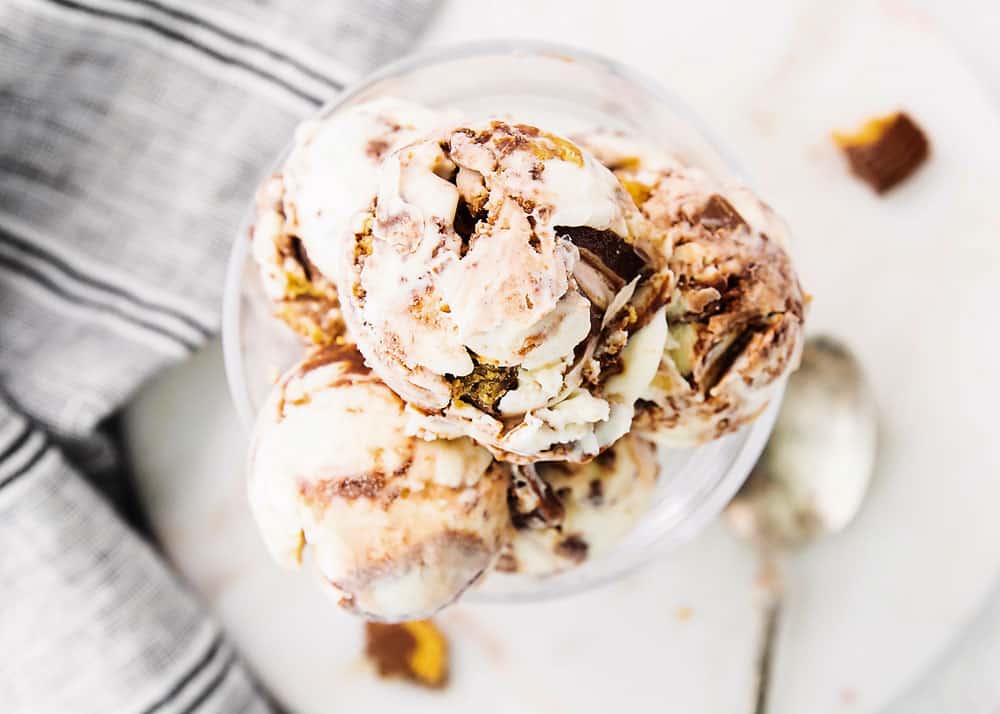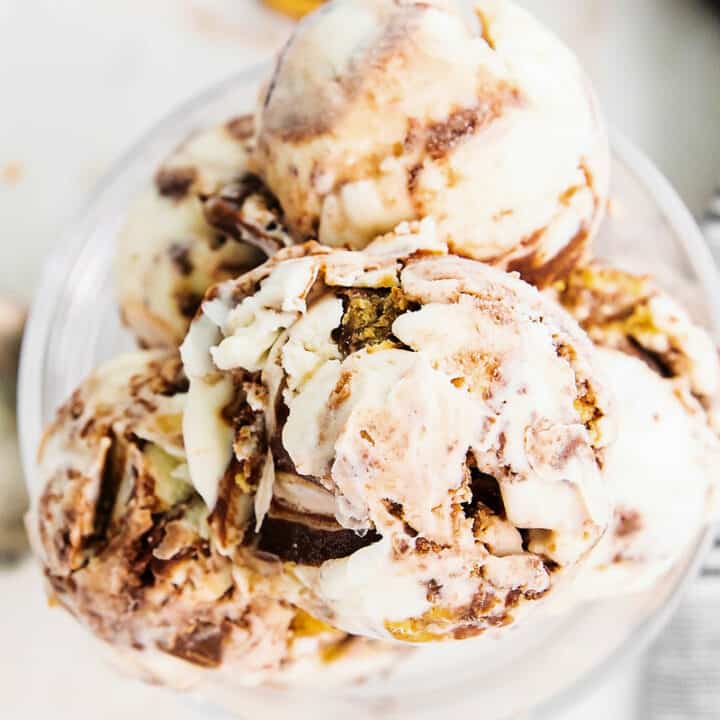 Moose Tracks No Churn Ice Cream
Total Time:
12 hours
10 minutes
Moose Tracks copycat recipe for making homemade ice cream that doesn't require churning and is egg free.
Ingredients
Fudge Sauce
4 ounces dark chocolate, chopped
⅓ cup heavy whipping cream
Ice Cream
2 cups heavy whipping cream
1 (14 ounce) can sweetened condensed milk
1 tablespoon vanilla extract
1 cup Reese's peanut butter cups, chopped
Instructions
For the Fudge Sauce
Add the cream and chopped chocolate to a microwave safe bowl.
Microwave for 1-2 minutes until the chocolate is all melted when stirred. Stir vigorously to incorporate the chocolate and cream into a smooth fudge sauce.
Set aside to cool to room temperature.
For the Ice Cream
In a large mixing bowl, whip the heavy whipping cream on high speed for about 3 minutes, until stiff peaks form.
Fold in the sweetened condensed milk and vanilla extract.
Add chopped Reese's cups and fold gently to combine.
Scoop the ice cream into a plastic ice cream tub or loaf pan, alternating with drizzles of fudge sauce, to create a swirl.
Freeze overnight.
Scoop out and enjoy! Store covered in the freezer for up to 1 month.
Recommended Products
As an Amazon Associate and member of other affiliate programs, I earn from qualifying purchases.
Nutrition Information:
Yield:

10
Serving Size:

1
Amount Per Serving:
Calories:

436
Total Fat:

33g
Saturated Fat:

19g
Trans Fat:

1g
Unsaturated Fat:

12g
Cholesterol:

74mg
Sodium:

147mg
Carbohydrates:

31g
Fiber:

2g
Sugar:

26g
Protein:

6g
Provided nutrition data is only an estimate. If you are tracking these nutrients for medical purposes, please consult an outside, trusted source.