This cheesy Meatball Sub Casserole is a family friendly recipe that even the pickiest kids will love! French bread is layered with marinara sauce, homemade meatballs and mozzarella for a hearty dinner idea.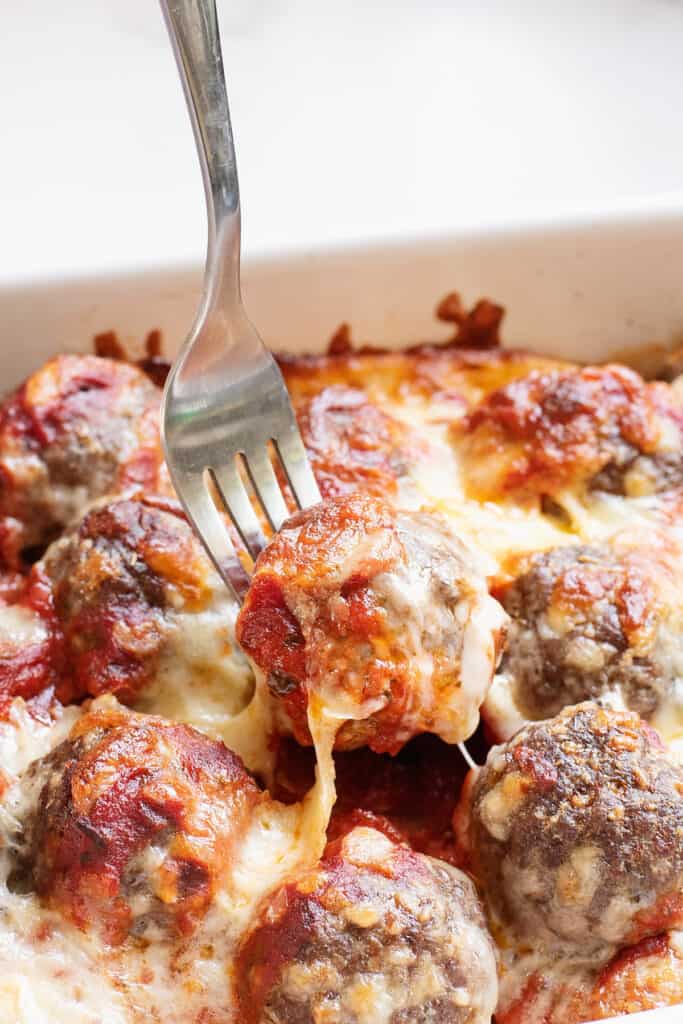 Baked Meatball Casserole
If you are tired of your picky eaters in your house picking at ever dinner you make, then it's time to try this cheesy meatball sub casserole. It is full of hearty marinara, some of the best homemade meatballs and layered with French bread.
It is all the great flavors of a delicious meatball sub tossed into one simple casserole. If your family is more adventurous than my preschoolers, you can even sneak in some vegetables like sautéed mushrooms. I can't push it these days as we are in the full blown picky preschooler stage.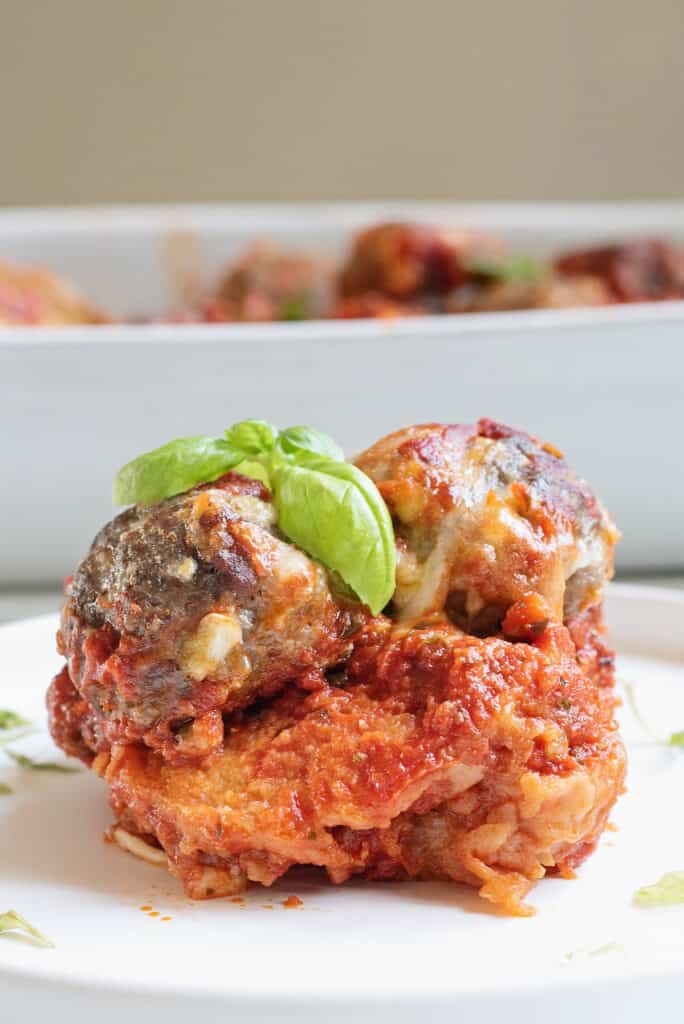 Homemade Panade Meatballs
For this recipe we are making our own meatballs from scratch with ground beef, because they are just soooo much more tender and flavorful. By making a mixture of milk soaked bread, which is called a panade, we infuse the meatballs with moisture and flavor.
For the panade, you will want to cube one cup of white bread from the loaf of French bread you will be using for the meatball sub casserole. Let the bread soak in the milk for 10 minutes and then stir in the seasonings. If you've never made meatballs with a panade for your meatballs before, you are missing out and this step is absolutely worth the little added effort.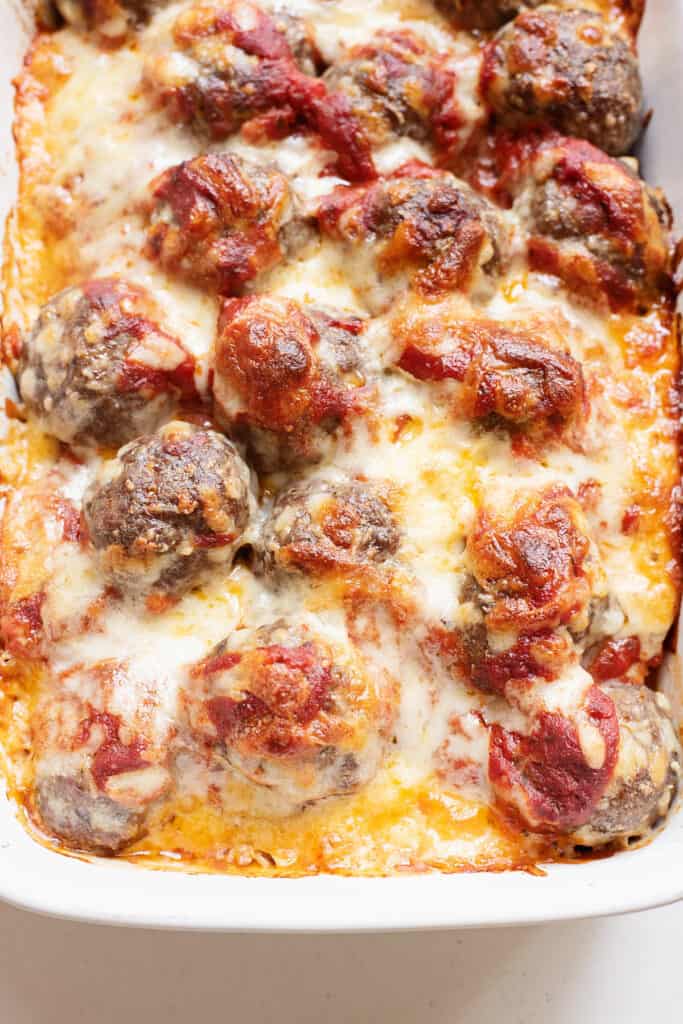 Can I use frozen meatballs?
If time is of the essence and you need to whip up dinner in a pinch or you don't have hamburger on hand, you can absolutely substitute frozen pre-cooked meatballs. Just be sure to thaw them in the microwave or in the refrigerator overnight before adding them to the meatball sub casserole.
The better alternative would be frozen uncooked meatballs that you can find in the freezer section. These aren't as likely to be as dry and spongy. The best option of course is homemade when time permits.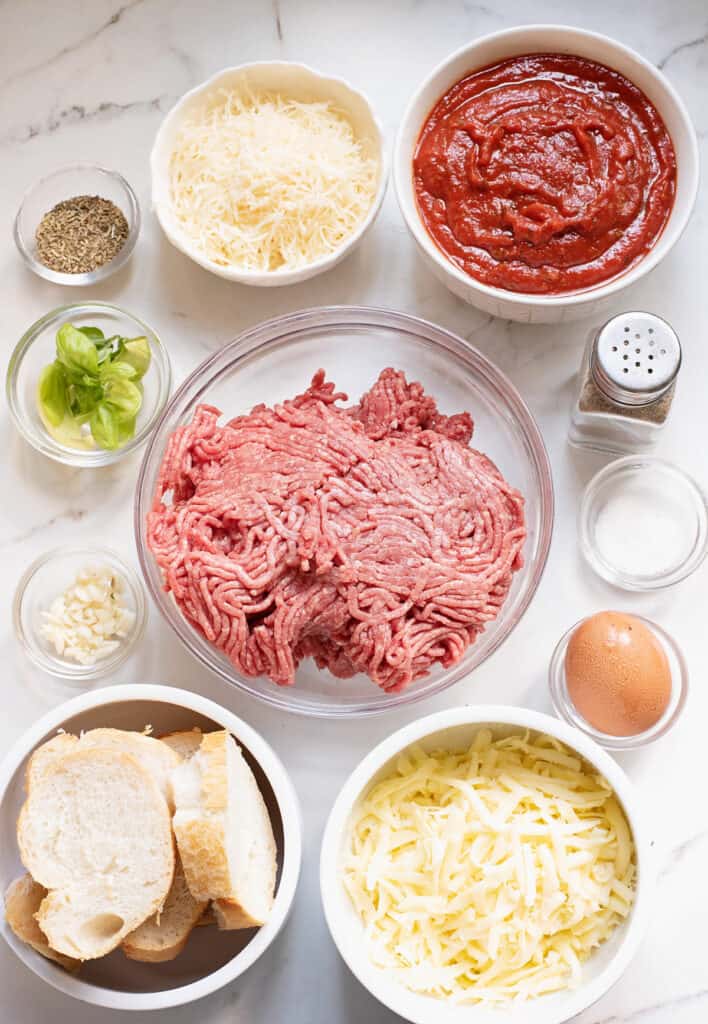 Can I meal prep meatballs in advance
If you are wanting to make this dinner on a weeknight and like to meal prep in advance, you can absolutely make the meatballs ahead of time.
You can prep them and store them in an airtight container or a day or two, or cook them up and store them in the refrigerator or freezer. If you freeze them, just be sure to fully thaw them before adding them to the meatball sub casserole.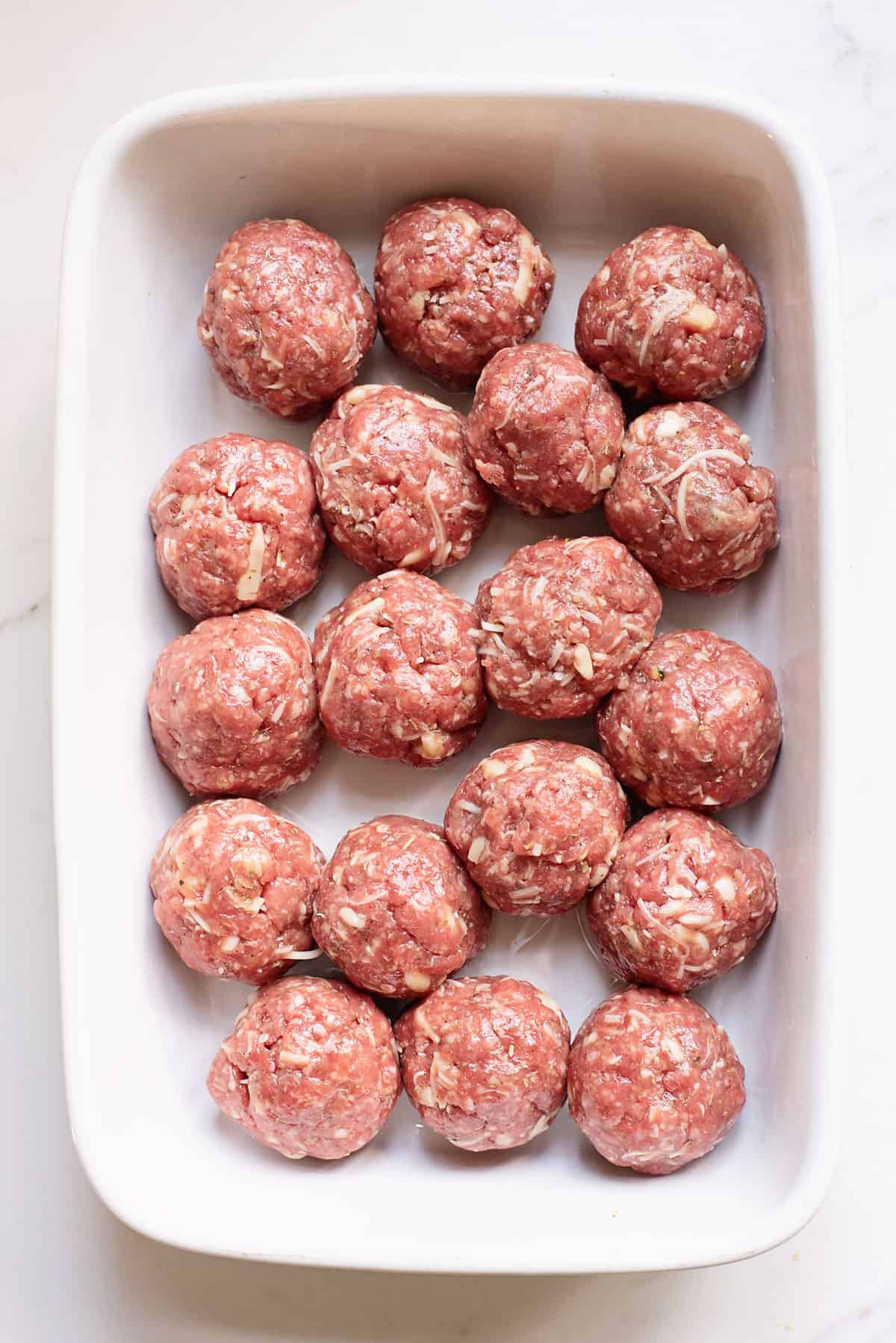 How to make Meatball Sub Casserole
Once the meatballs are made, it's just a matter of layering some bread in a casserole, topping with the cooked meatballs, marinara and mozzarella.
I like to make up a double or triple batch of meatballs in advance and freeze them for quick dinners. Italian seasoned meatballs go with so many recipes. Fry some up to serve with this Lemon Pesto Vegetable Pasta with Grilled Cheese or cook them alongside this Blackstone Pasta Primavera.
Leftover meatballs from a spaghetti night will also work fantastic in this casserole.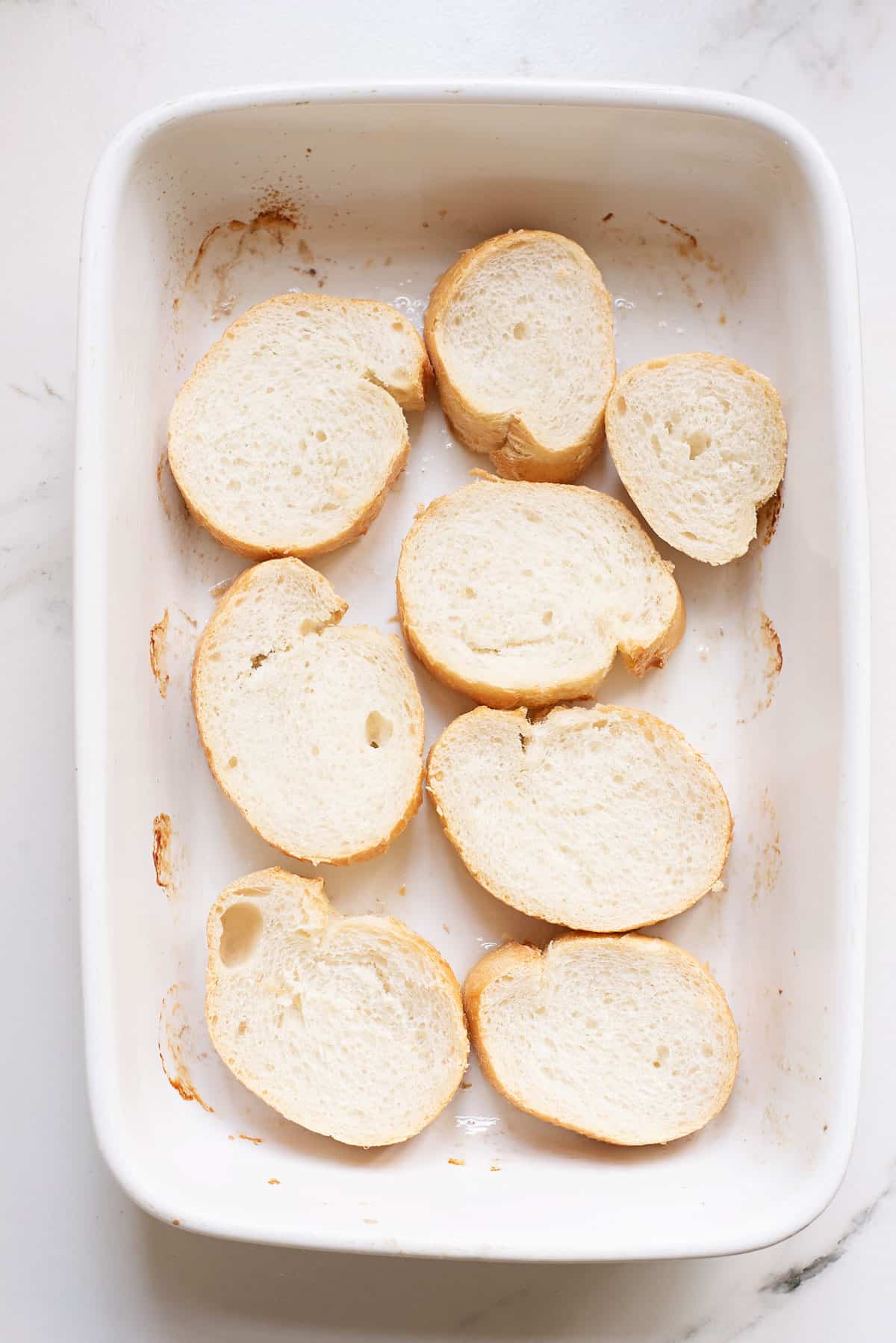 Quality Ingredients
When it comes to a super simple meal like this Meatball Sub Casserole, quality ingredients can make it or break it. If you use a bland marinara, frozen store-bought meatballs and a bag of pre-shredded cheese, you will still have a decent meal on your hands, but you will be missing that oomph that you get from fresh and flavorful high quality ingredients.
For the marinara, I always recommend Rao's marinara sauce. In my experience, this brand really does the best job with canned tomato sauces. If you are feeling extra ambitious, homemade marinara sauce will really heighten the flavors!
For the cheese, as tempting as it is to grab a bag of pre-shredded cheese, that powdered cheese jut doesn't leave you with the same melty and gooey cheese that is to die for. Grab a block of mozzarella and put one of your kids to work shredding it. It is most definitely worth the extra couple minutes it takes.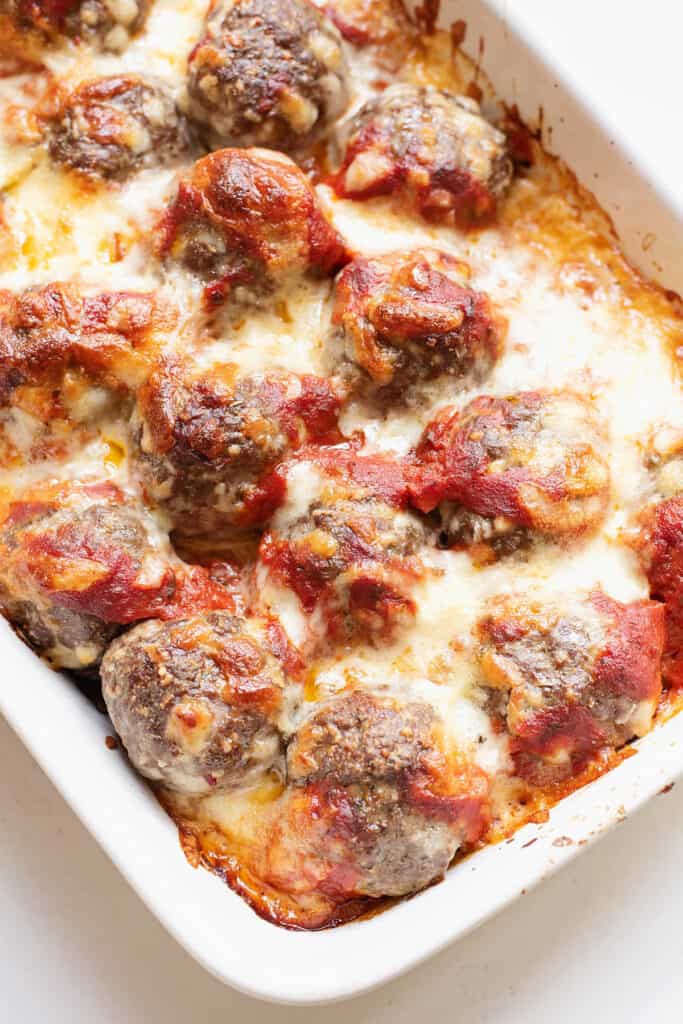 Meatball Casserole with Bread
If you live somewhere like I do where you don't always have access to a fresh loaf of French bread, then frozen garlic bread is a decent alternative. The garlic flavor is usually strong in these, so I would recommend leaving the garlic out of the meatballs if you go this route.
If you use frozen garlic bread slices, I recommend toasting them before adding them to the pan or they may not cook through. I like to pop frozen garlic bread in the air fryer for a quick and easy way to heat it up. Layer them with the marinara, meatballs and mozzarella cheese just like you would if you were using fresh sliced bread.
The other option is to use sliced sandwich bread. If possible, try to get the thicker Texas Toast bread and layer 2 pieces on the bottom of the casserole.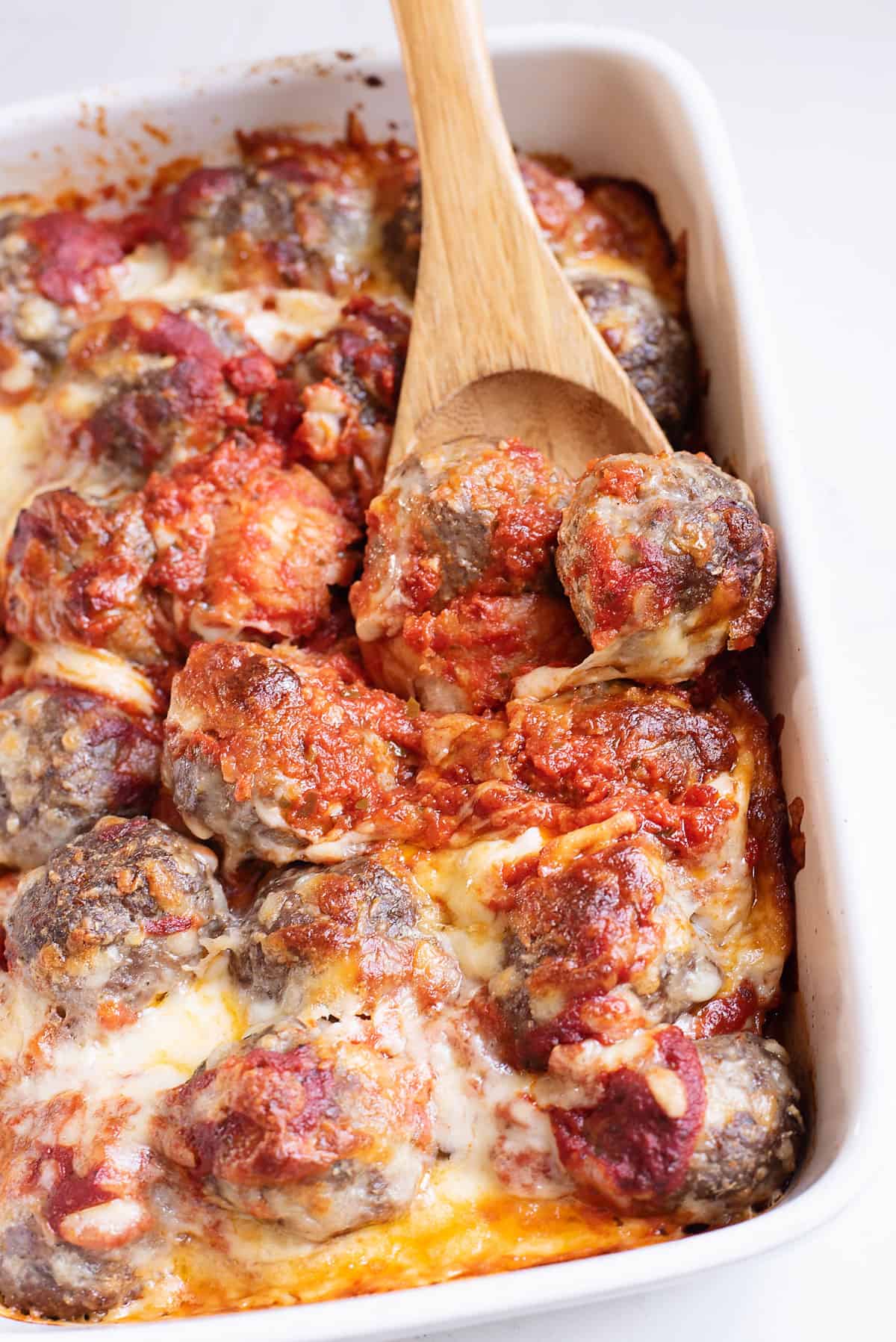 More hearty family-friendly dinner ideas
If you are looking for more hearty recipes the whole family will love, be sure to check out some of these delicious recipes!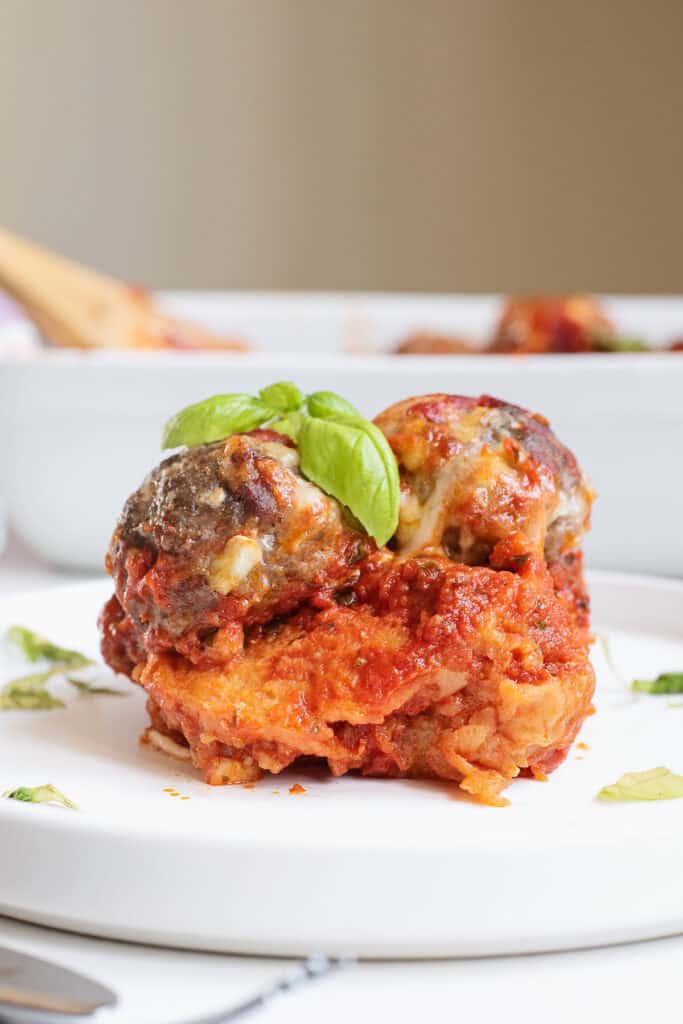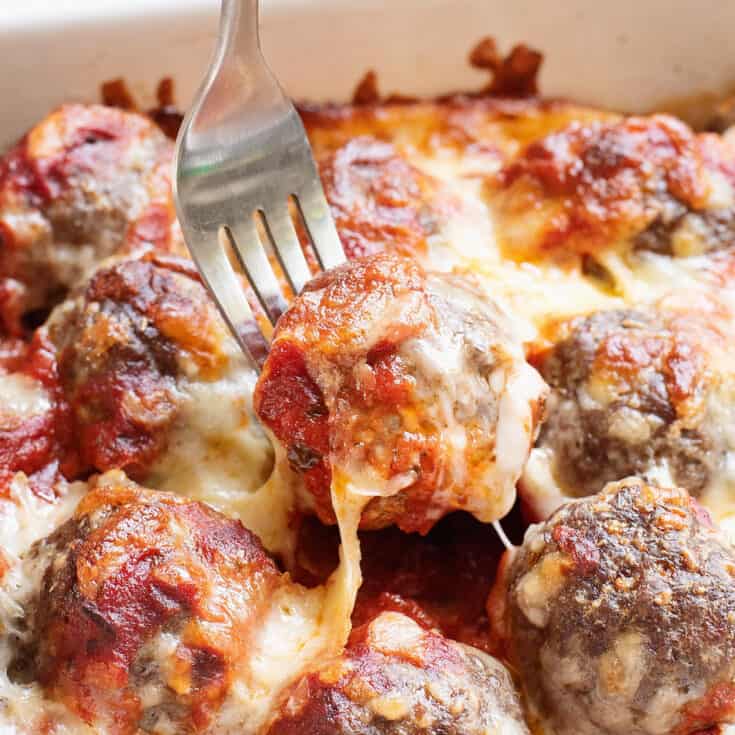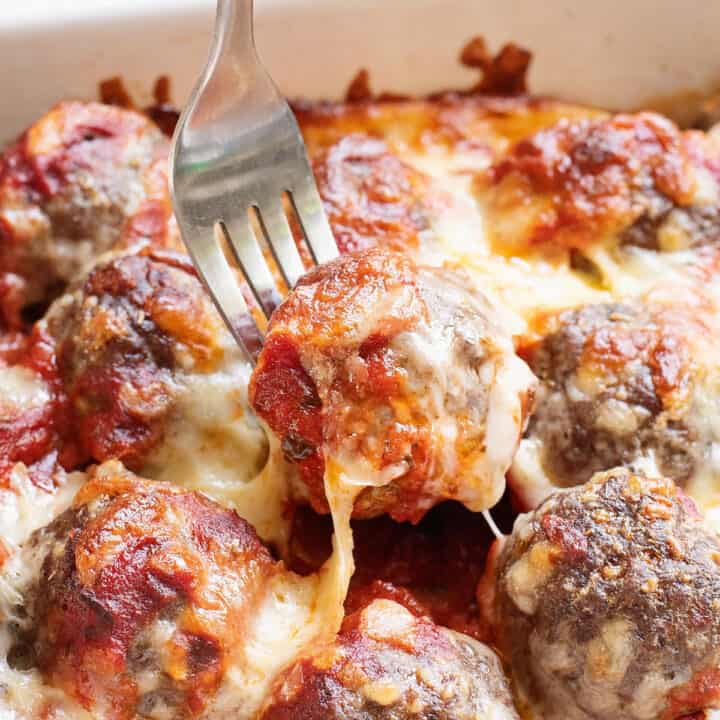 Cheesy Meatball Sub Casserole
This cheesy Meatball Sub Casserole is a family friendly recipe that even the pickiest kids will love! French bread is layered with marinara sauce, homemade meatballs and mozzarella for a hearty dinner idea.
Ingredients
Meatballs
1 ½ cups cubed white bread
½ cup milk
2 pounds ground beef
1 teaspoon Worcestershire sauce
½ cup grated parmesan
½ cup grated mozzarella cheese
1 extra large egg
1 teaspoon garlic, minced
1 Tablespoon Italian seasoning
1 ½ teaspoon salt
½ teaspoon black pepper
Casserole
1 large loaf French bread, cut into 1 inch thick slices
30 ounces marinara sauce
1 cup grated mozzarella cheese
Fresh chopped basil for serving
Instructions
Preheat the oven to 400°F. Spray a 2 quart or 8x10 inch baking dish with non-stick spray.
Homemade Meatballs
In a small bowl, toss the cup of cubed white bread. Let soak for 10 minutes.
When the bread is fully soaked, stir in the Worcestershire sauce, garlic, Italian seasoning, salt and pepper.
In a large bowl, combine the ground beef, parmesan, mozzarella cheese, egg and seasoned bread mixture. Mix all the ingredients well using your hands.
Use a cookie scoop to form the meatballs evenly and roll with your hands. Place the meatballs in the baking dish and bake for 20 minutes at 400°F.
When done, remove the meatballs from the baking dish with a tong. With kitchen paper, remove the excess of grease in the baking dish.
Casserole
Spray the cleaned baking dish with non-stick spray. Lay the bread slices in the baking dish to cover the bottom.
Drizzle the bread lightly with olive oil and pop in the oven for 5 minutes at 400°F to toast the bread.
Remove the toasted bread from the oven and carefully top the bread with half the marinara sauce.
Place meatballs on top and cover with the remaining marinara sauce. Top with the fresh grated mozzarella and bake uncovered for `15-20 minutes at 400°F.
Serve immediately with chopped basil.
Notes
To store leftovers - Allow the casserole to cool down to room temperature. Store in the refrigerator in an airtight container for up to 3 days.
Recommended Products
As an Amazon Associate and member of other affiliate programs, I earn from qualifying purchases.
Nutrition Information:
Yield:

5
Serving Size:

1
Amount Per Serving:
Calories:

838
Total Fat:

47g
Saturated Fat:

19g
Trans Fat:

2g
Unsaturated Fat:

21g
Cholesterol:

249mg
Sodium:

2233mg
Carbohydrates:

32g
Fiber:

5g
Sugar:

13g
Protein:

67g
Provided nutrition data is only an estimate. If you are tracking these nutrients for medical purposes, please consult an outside, trusted source.