Easy Lasagna Skillet Recipe is a quick and simple version of the classic Italian comfort food. This family friendly meal is ready in only 20 minutes and is sure to be a new go-to for weeknight dinners!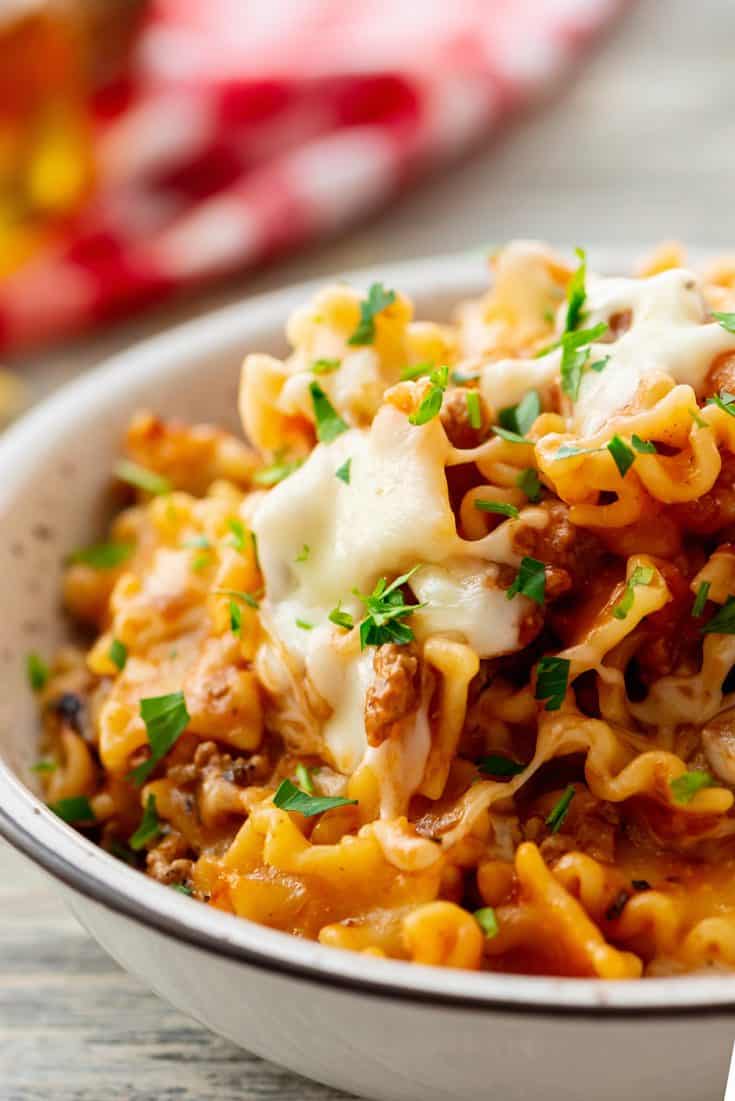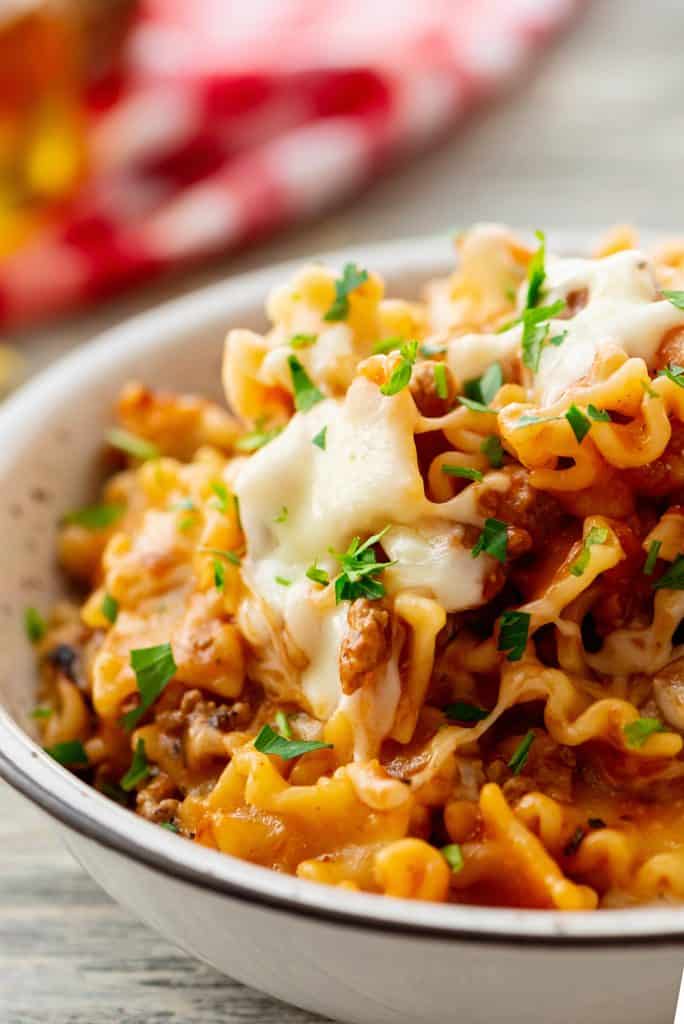 Easy Skillet Lasagna Recipe
An easy lasagna recipe cooked in a cast iron skillet, this version of lasagna casserole cooks in a pan on the stove, not in an oven. The advantage it offers is a much quicker to make version of lasagna with no loss of flavor in the process. If you want the more traditional version of lasagna, I also recommend checking out one of my best lasagna recipes. It is my family's classic recipe that my brothers request at just about every family gathering!
What is the advantage of a skillet lasagna?
Sometimes time and convenience have to be considered as well when planning a meal. For those instances when you don't have time to layer up all the ingredients in a traditional lasagna recipe, then sit around the oven waiting for the lasagna casserole to bake, trying hard to make sure the cheese crusts just perfectly on top, I recommend this recipe.
Not only is it easy to make but super simple to clean up afterwards too, like all great skillet recipes are.

Can I make lasagna in a cast iron skillet?
You can definitely do lasagna in a cast iron skillet. A good well seasoned cast iron has to be one of the most versatile, durable, and useful tools in the kitchen. So, go ahead and add making lasagna to the long list of what your cast iron skillet is good for.
Skillet lasagna might not look as pretty as a well layered slice of baked pan lasagna, but all the flavors are there. Plus, you cook it in less than half the time!
When hunger matters, and folks crave some good ol' fashioned lasagna, which is the King and Queen of comfort foods ( I have never met a person yet that does not love lasagna) then using a cast iron skillet to whip something out fast earns the chef a gold star every time.
It also earns the best compliment of all. Everyone asking for seconds.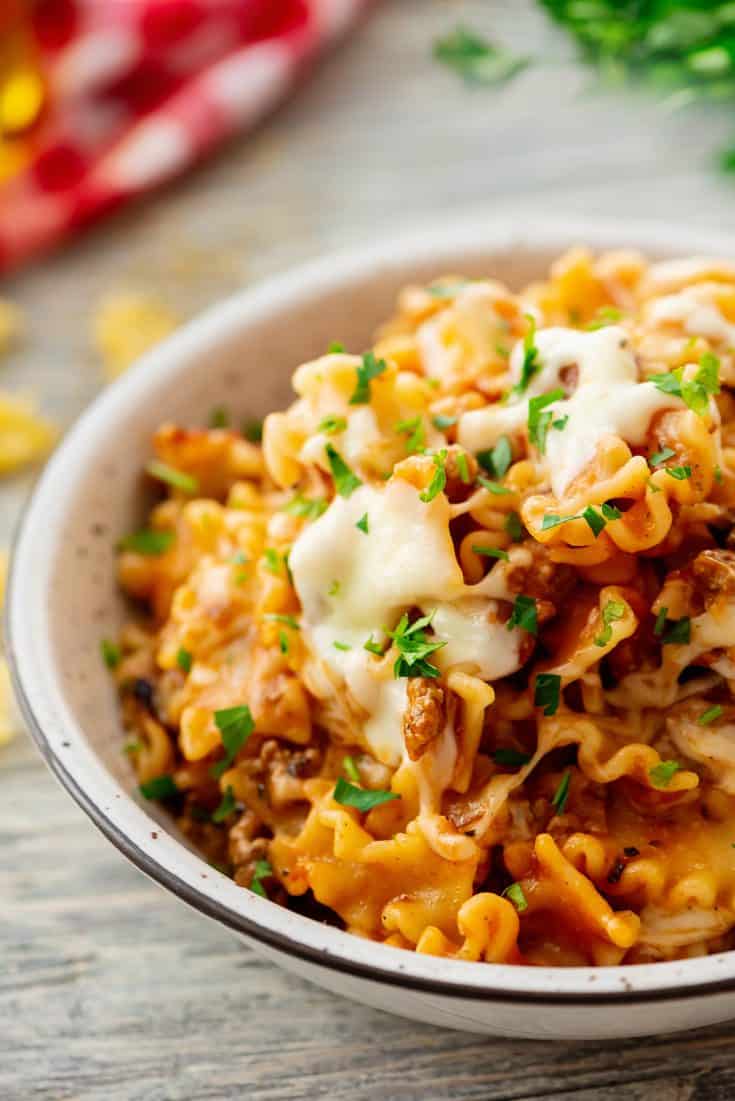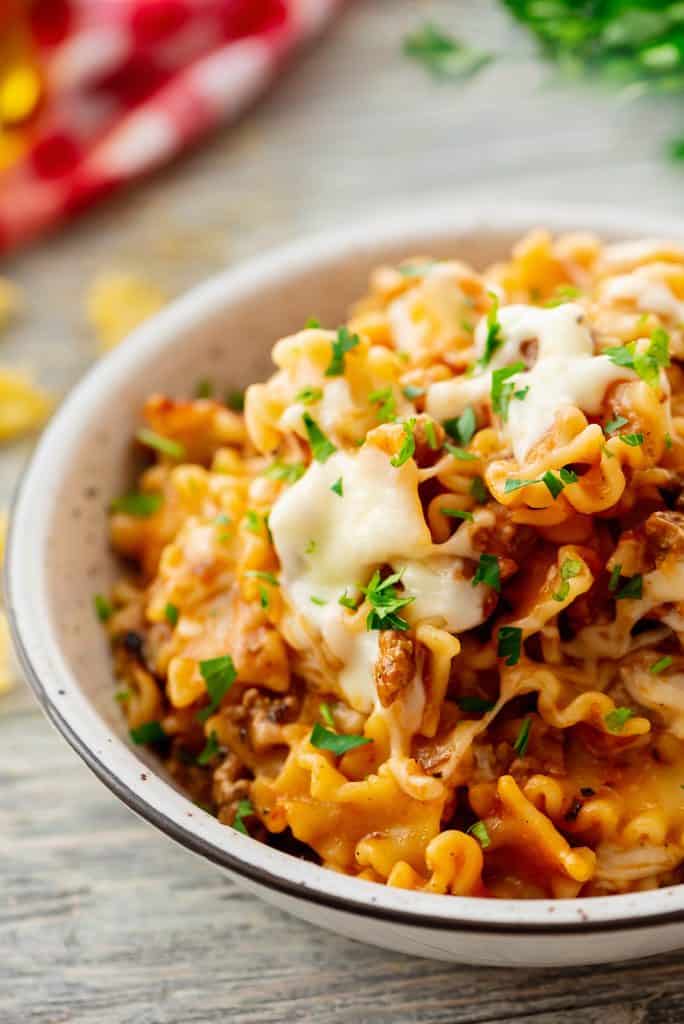 Can I cook anything in a cast iron skillet?
You may be tempted to use your cast iron skillet for everything. The more you cook in it, the better "seasoned" it becomes. However there are a few things not to use a cast iron pan for so it is good to be aware.
A "seasoned" cast iron skillet occurs when the oils and fats from foods cooked in the pan become polymerized and bond to the iron of the pan and form a non-stick coating to the exterior of the pan. This coating prevents the pan from rusting, works as well as Teflon or other coatings to prevent food from sticking, but without the potential health concerns. In fact, cast iron pans are considered useful for helping you obtain more iron in your diet.
The only thing to avoid cooking in cast iron skillets are acidic foods. The acid from things like citrus helps break down the seasoning and it can cause metallic flavors in the dish. There is absolutely nothing harmful about that. It is simply a matter of taste.
For this reason also, you never want to leave food to marinate in cast iron.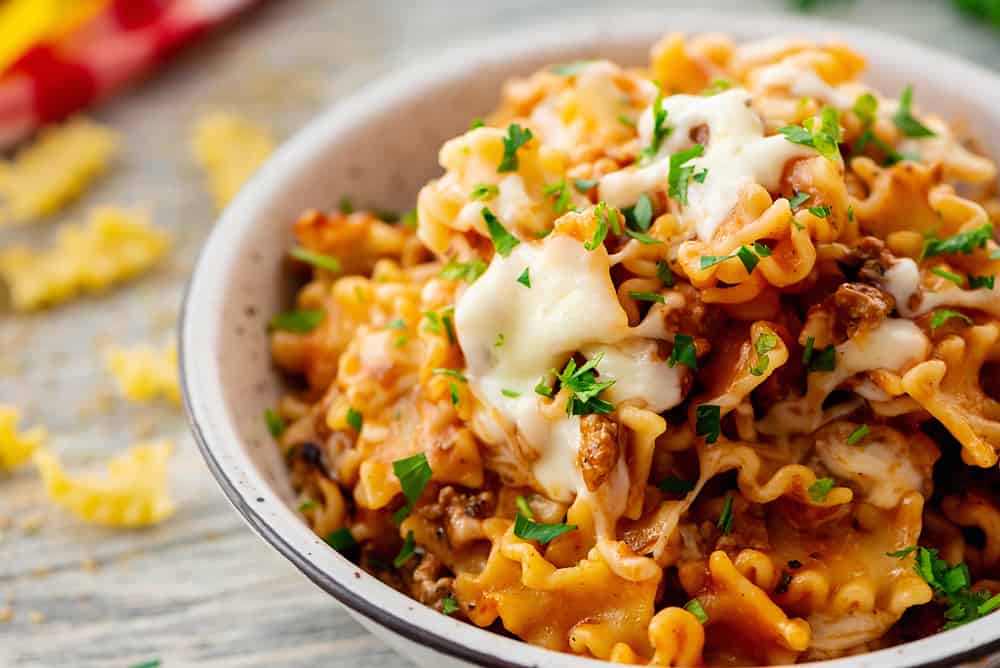 What about a vegetarian version of skillet lasagna?
Perhaps you are vegetarian and adding meat is out of the question. The olive oil works just as well to help season the pan so you are still protecting the pan's seasoning when you saute the onions.
Instead of using the hamburger meat, try adding riced cauliflower (finely chopped cauliflower) and, or broccoli instead of the meat. You could also go with tofu if you prefer.
What about other variations to this skillet recipe?
You can also substitute ground seasoned pork or even veal if you want to raise the bar a bit on the recipe. Even ground lamb works great too.
Feel free to add a cup of ricotta cheese or even cottage cheese and stir it in right before you throw the mozzarella on top for the finishing touch.
Saute a green, yellow, or red sweet pepper with your onions, or if you want to add an element of heat then dice in a quarter to a half cup (depending on how much heat you like) of Calabrian hot red pepper. Those are the little ping pong ball sized round red peppers you can find often in the salad bars of your local grocer. Yellow or green pepparacini also work.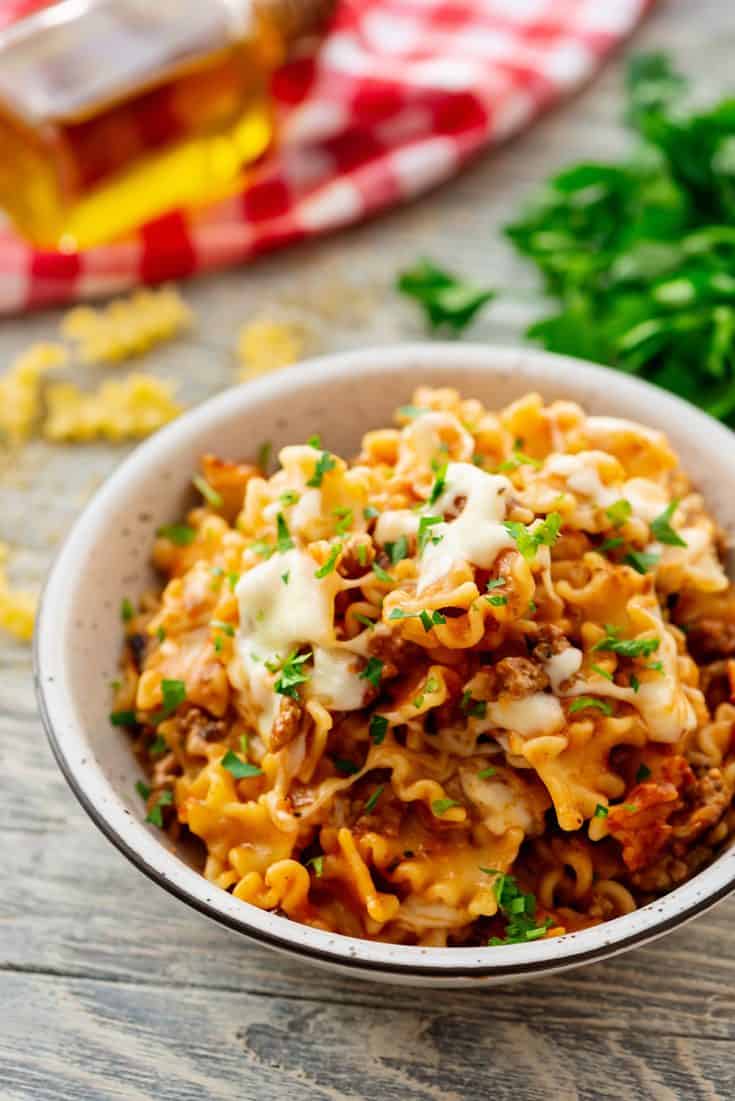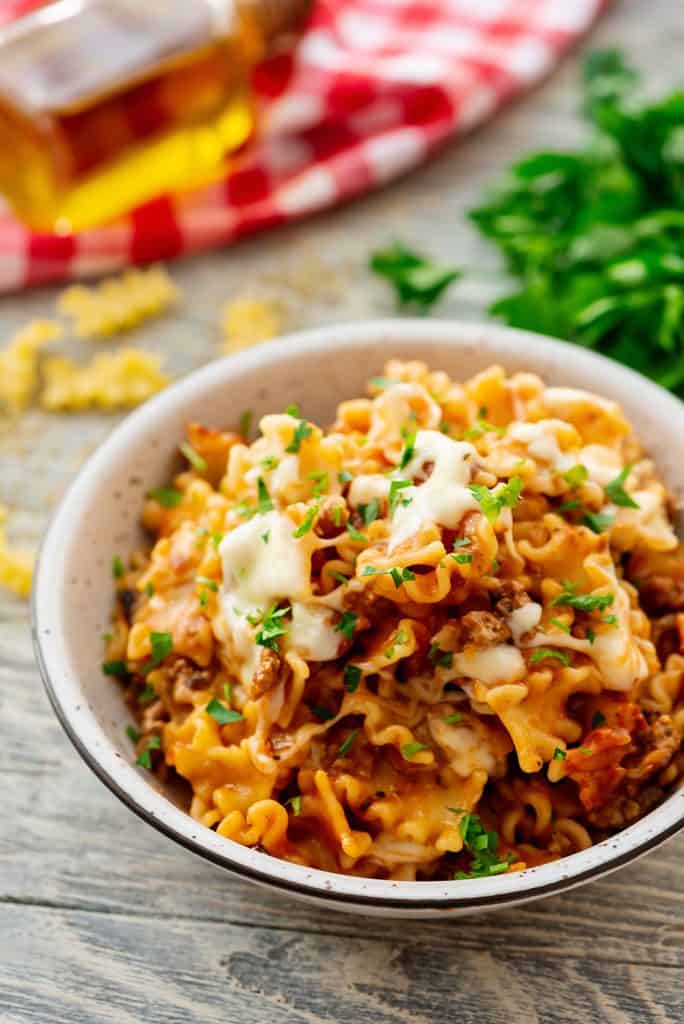 What is mafaldine pasta?
Mafaldine pasta is the same as as Reginette. Like many Italian foods, the name translates to something colorful, whimsical, and elegant all at the same time, "little queens". You may also find it called Mafalda or Mafalde.
By any name, it is a ribbon-shaped pasta. It is flat and wide, usually about 1 cm (½ inch) in width, with wavy edges on both sides.
Think of it as a skinny and narrow version of the typical wide lasagna noodle.
What other dishes do you recommend I serve with my skillet lasagna?
Lasagna is the kind of comfort food that makes you feel not just full but also fulfilled. Appetizers and Salads go well with lasagna or perhaps you are thinking about dessert… here is what I can suggest: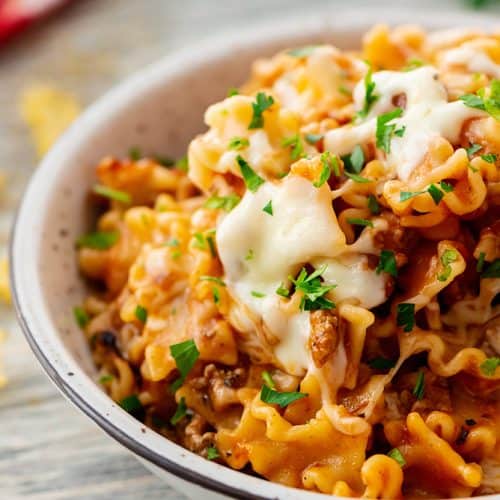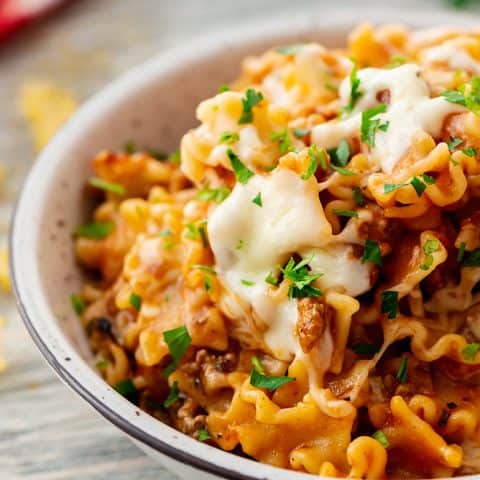 Easy Lasagna Skillet Recipe
Easy Lasagna Skillet Recipe is a quick and simple version of the classic Italian comfort food. This family friendly meal is ready in only 20 minutes and is sure to be a new go-to for weeknight dinners!
Ingredients
2 c. uncooked mafaldine pasta
1 Tbsp. olive oil
1 lb. 93% hamburger
1 medium yellow onion, diced
1/2 tsp. garlic salt
2 tsp. Italian seasoning
2 tsp. diced garlic
15 oz. can tomato sauce
1/2 c. grated Parmesan cheese
1 c. shredded Mozzerella cheese
1 c. cottage cheese or ricotta (OPTIONAL)
Instructions
In a large pot of boiling salt water, cook the pasta to al dente.

Meanwhile in a large skillet over medium heat, add the olive oil. Once the oil is shimmery, add the chopped onion. Cook for 3 minutes.

Add the hamburger, garlic salt, Italian seasoning, and diced garlic to the pan. Chop the hamburger up as it cooks until there is no longer any pink in the meat.

Drain the pasta and add it to the skillet along with the tomato sauce and Parmesan cheese. Stir until everything is well combined. Stir in the optional cottage cheese or ricotta as well.

Top with the shredded Mozzerella cheese and turn the heat down to low. Cover and cook for 2-3 minutes or until the cheese is melted.

Serve immediately.

Nutrition Information:
Yield:

5
Serving Size:

1
Amount Per Serving:
Calories:

533
Total Fat:

26g
Saturated Fat:

11g
Trans Fat:

0g
Unsaturated Fat:

11g
Cholesterol:

90mg
Sodium:

1399mg
Carbohydrates:

43g
Fiber:

3g
Sugar:

6g
Protein:

33g
Provided nutrition data is only an estimate. If you are tracking these nutrients for medical purposes, please consult an outside, trusted source.