Mango BBQ Sauce is a sweet and spicy homemade barbecue recipe that pairs perfectly with chicken and pork!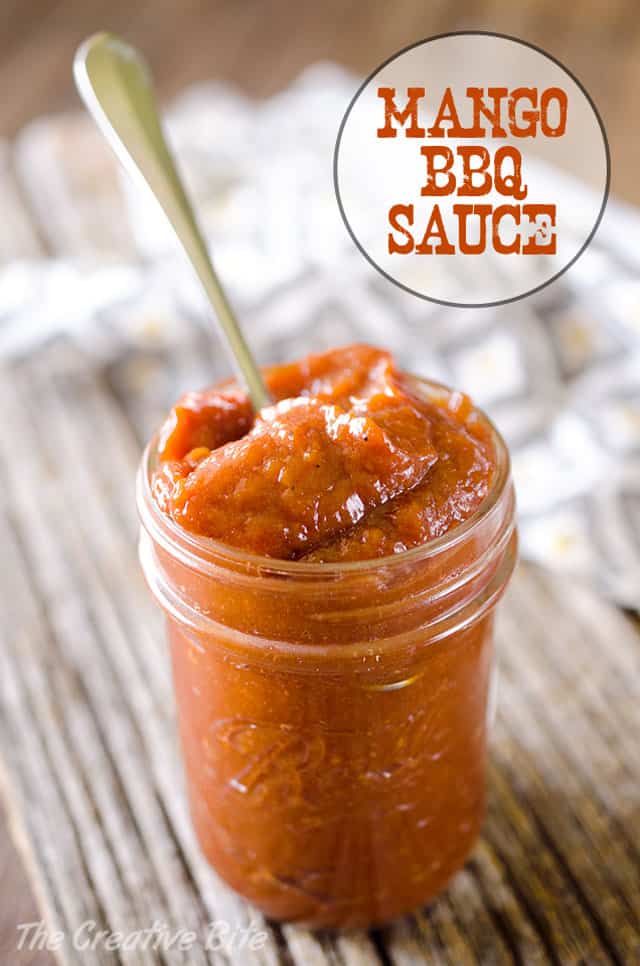 Mango BBQ Sauce
I recently got some mangoes in my Bountiful Basket and have been putting them to good use. I have made more batches of this Mango Salsa than I can count. I had one mango left and thought I would try out something new for myself. I have only make homemade barbecue sauce a handful of times, but imagined mango would add a great sweetness to the mix.

I used my beloved food processor
to puree the mangoes, garlic and onion into a smooth base to get started. I love that my small appliances are getting used so much more now with my new kitchen. Now that everything is located in practical locations throughout the kitchen, it is no longer a hassle to dig out my gadgets from a deep dark closet where they really only collected dust.
I added some ketchup, Worcestershire sauce, chili powder and vinegar to the mix and let it cook over medium heat. The end result was a BBQ sauce bursting with flavor from the sweet mango and a real kick of spice from the chili. I slathered some corn tortillas with the sauce and topped them with shredded cheese. After a quick grill, I gobbled up the amazing cheese and BBQ quesadillas. I can't recommend this sauce enough, I stored a jar full in my refrigerator but it disappeared in no time!

More homemade sauces!
See even more home sauces HERE!