This rich and delicious Mac and Cheese with ham and broccoli is a family friendly recipe packed with pasta, leftover ham and vegetables and topped with baked breadcrumbs. Your kids will be begging for more!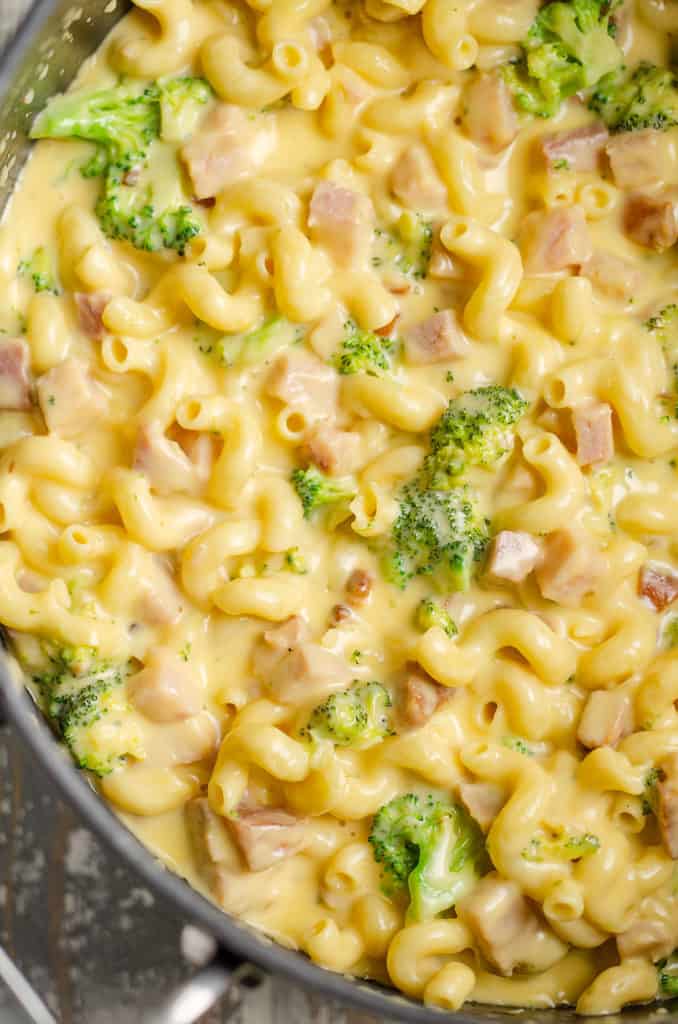 Creamy Mac N Cheese Recipe
Mac and cheese is one of those recipes that is sure to be a hit with the whole family. Whether you serve it as a side dish or make a meal of some hidden veggie mac n cheese with a box mix, it can't be beat.
If you looking for a great way to sneak some vegetables into your family's dinner, look no further! This decadent homemade mac n cheese recipe is filled with fresh broccoli, but you can use just about any vegetable to round out your meal.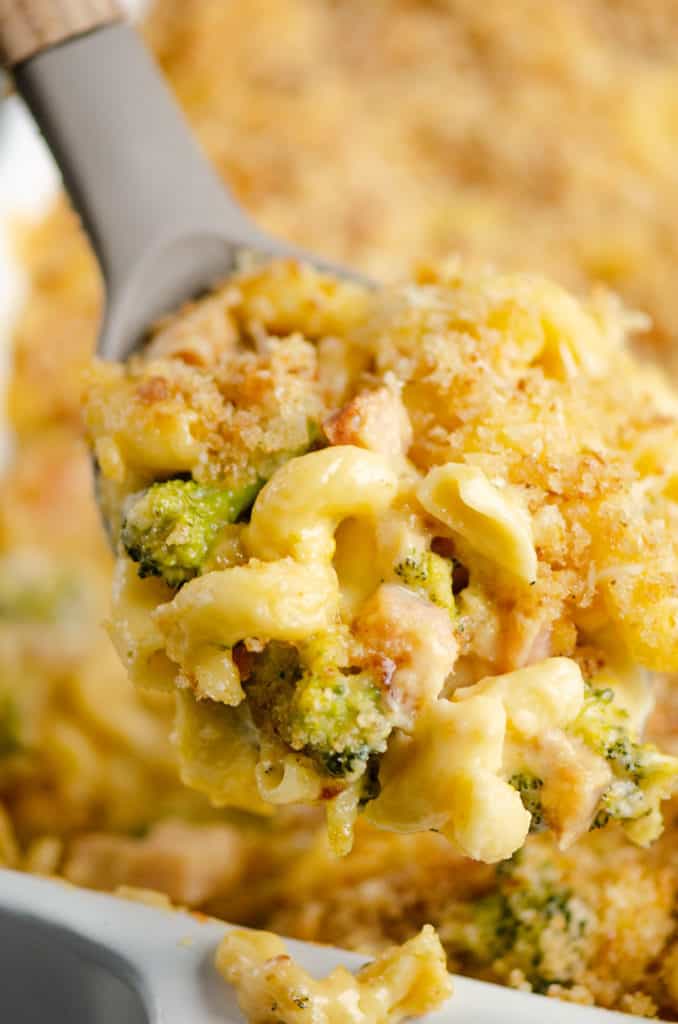 What vegetables can I substitute
The possibilities are endless when it comes to adding vegetables to your mac and cheese. Here are just a few of my favorite alternatives to broccoli,
Cauliflower
Carrots
Peas
Asparagus
Mushrooms
Bell Peppers
Sweet Corn
Whether your family isn't a big broccoli fan and you want to swap out the vegetable for something your kids would like better, or you want to substitute the ham for more vegetables, you can go wrong with veggies in this rich and creamy cheese sauce with pasta.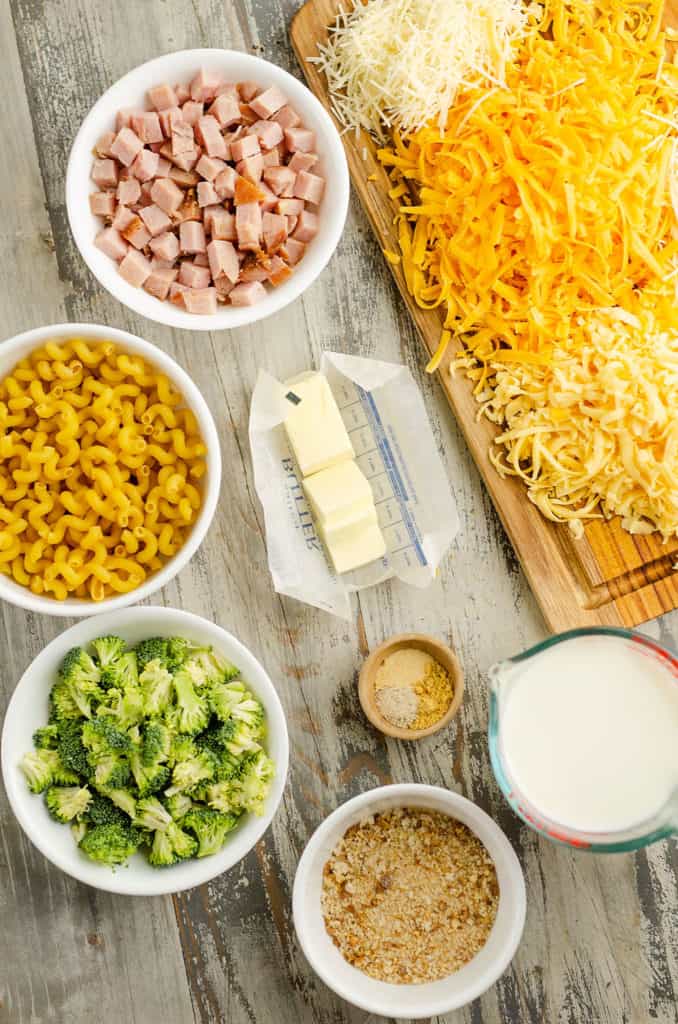 What kind of cheese to use in mac n cheese
If you are a cheese lover as much as I am, then you know that processed cheese just isn't going to cut it here. We are looking for rich flavor with this creamy mac and cheese and the best route is always to grate a block of cheese.
If you opt for the pre-shredded cheese, it has a powdery coating that doesn't results in a silky smooth cheese sauce. It's ok in a pinch, but it really is worth the extra 5 minutes to grate a couple blocks of cheese.
Best cheese in Mac and Cheese
When it comes to which type of cheese is best, the one that you can't miss is sharp cheddar cheese. This adds a nice bite of flavor to mac n cheese that will be missed whiteout it.
While some people use just cheddar cheese, I like to add in equal parts sharp cheddar and gouda for a little nutty flavor with a creamy texture.
Last but not least, we can't leave out shredded Parmesan cheese. This classic really rounds out the flavors so you can ensure you aren't left with a bland and boring recipe.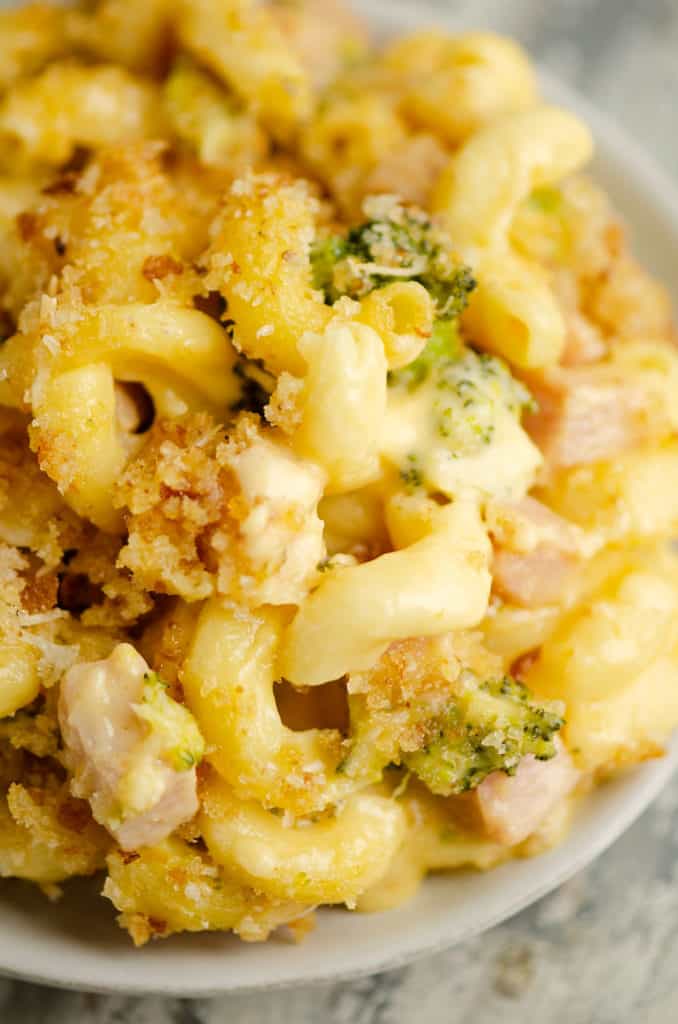 How to make Mac and Cheese
First up, you will want to make sure your fresh broccoli is chopped up into small florets that are about 1/2 inch big. You don't want to dig into a huge piece of broccoli with your pasta or the kids might pick it out!
In a large deep skillet, melt the butter over medium-high heat. Add the small broccoli florets and saute or 4 minutes to soften them. Sprinkle in the flour, ground mustard and garlic powder. Mix constantly for 2 minutes.
Creamy Cheese Sauce
When it comes to adding in you cream and milk to your cheese sauce, it is vitally important that you add it very slow. Gradually pour a small stream of cream into the flour and broccoli mixture, stirring vigorously.
Adding it slowly helps the cream incorporate into a silky smooth cheese sauce and helps prevent it from separating. After the cream is all mixed in, do the same with the milk. I used 2% but whole milk will also work. Just be sure to avoid skim milk as it doesn't have much flavor.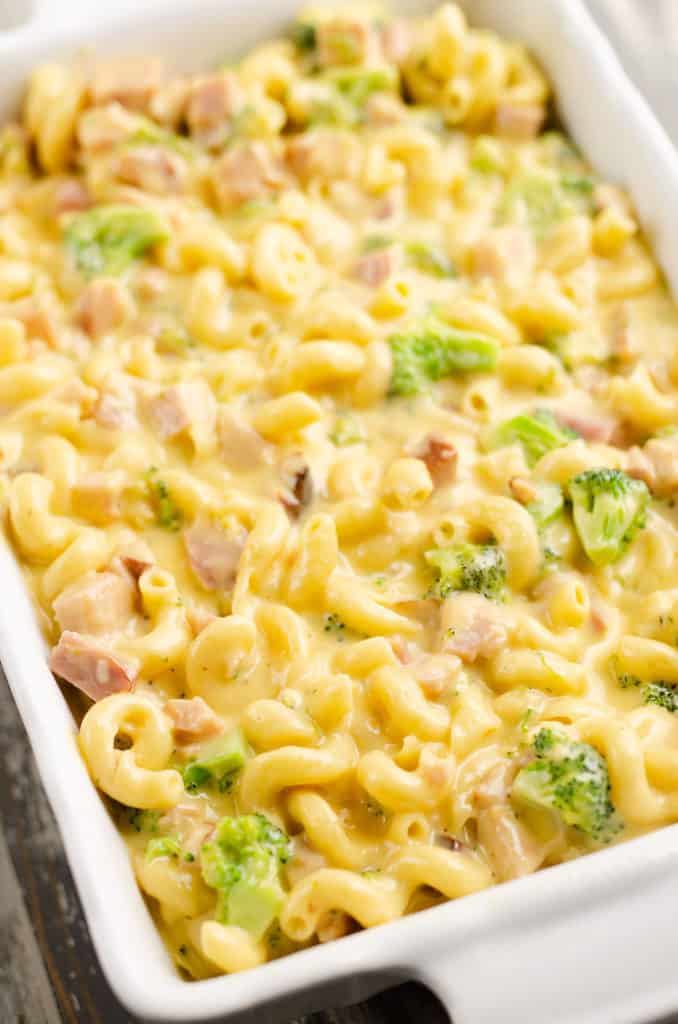 Cheesy Pasta with Ham & Broccoli
Once you have a smooth cheese sauce with broccoli, mix in the ham and 1/3 of the grated gouda and cheddar. Mix well until the cheese is melted and add half of the remaining gouda and cheddar.
Make sure it is melted completely before adding the remaining cheese. Take note that you don't want to add in the Parmesan just yet though.
Once you have a pot full of creamy and rich mac and cheese with broccoli and ham, give it a taste. At this point, you can actually just serve it up as is for a creamier pasta that is ready in just 30 minutes.
If you plan to make this mac and cheese without baking it, leave out about 1/2 cup milk from the cream sauce. The pasta needs that little extra liquid for baking, so it doesn't dry out.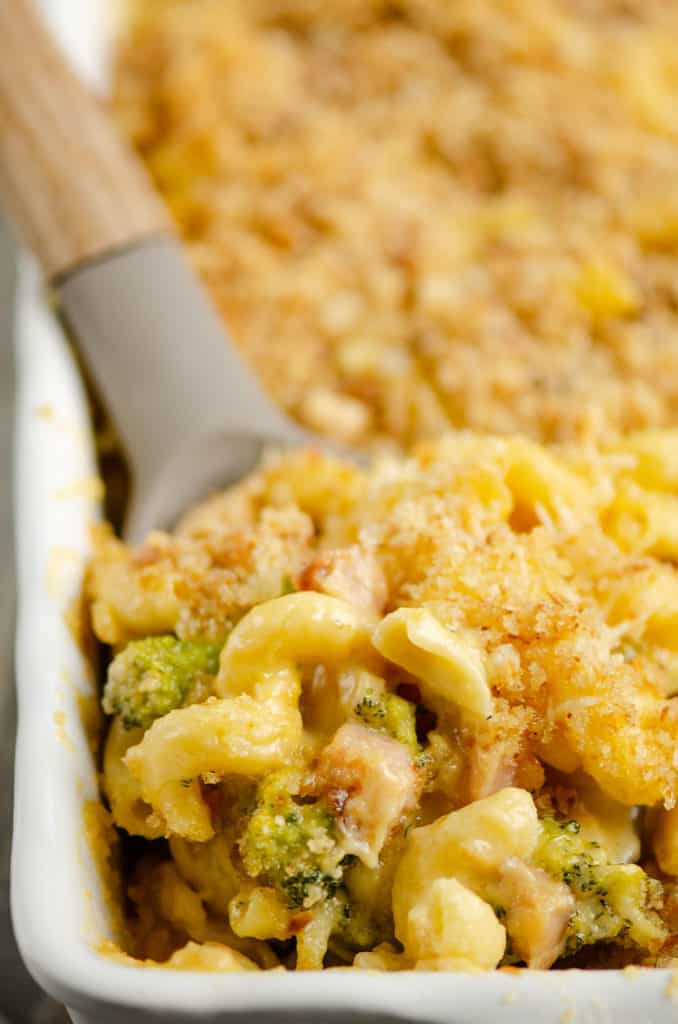 Baked Mac N Cheese Recipe
I love a good baked breadcrumb on my mac n cheese and if you are the same, add your mac n cheese to a sprayed 9×13 pan.
In a small bowl, melt 2 Tablespoons butter in the microwave and add in 2/3 cup bread crumbs. Panko is a good go-to for the best texture. I actually had some sourdough breadcrumbs I had made and stored away, that I used for this mac n cheese recipe.
Toss the breadcrumbs in the butter until they are well coated. Sprinkle them over the casserole of mac n cheese with ham and broccoli and pop in the oven at 350° for 30 minutes.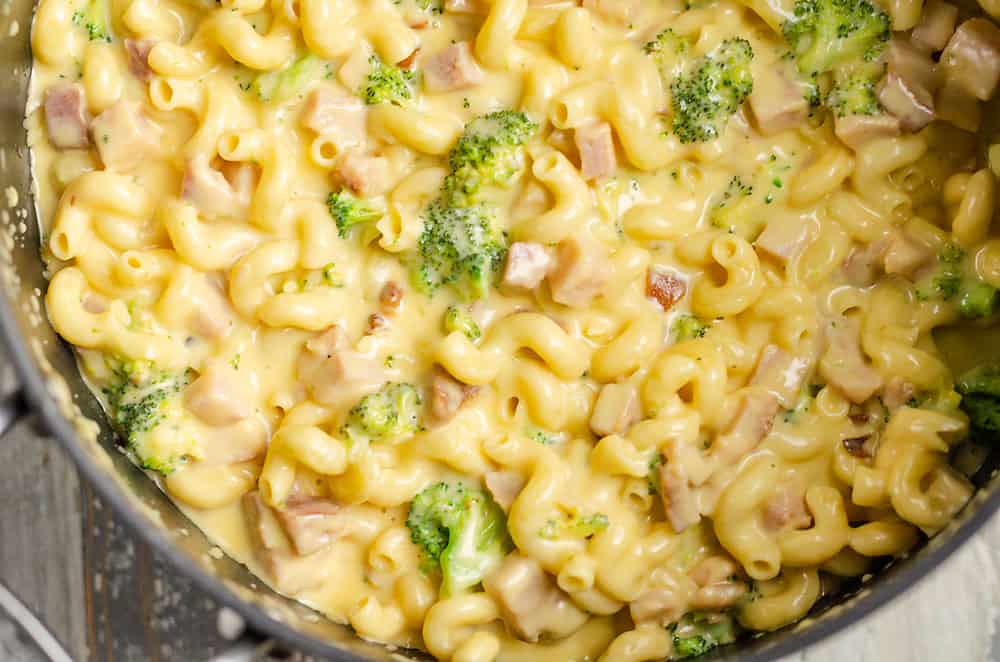 After the mac and cheese is baked with a perfect crunchy coating of breadcrumbs, remove it from the oven. It will be bubbling hot, so just be careful when you dig in.
Serve it up for dinner and your family will be begging for more. You will feel good that you get some vegetables in at dinnertime without any fussing!
What to serve with mac n cheese
While my kids would be thrilled to just eat a big bowl of mac and cheese with ham and broccoli, I like to round out there meals a bit more so they are more wholesome.
Here are a few recipe ideas to serve along side mac and cheese for a well rounded meal.
More great mac and cheese recipes
If you love rich and creamy mac and cheese as much as our family does, be sure to check out some of these other unique spins on the classic recipe.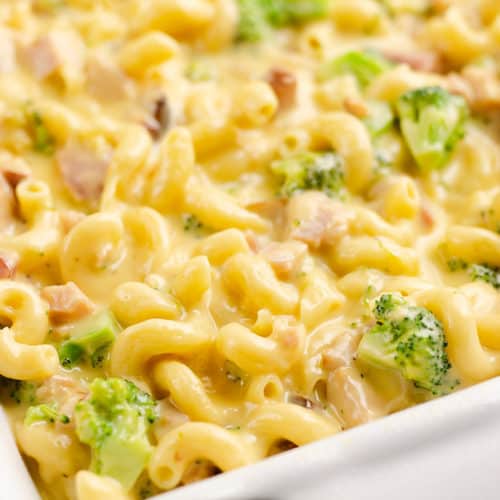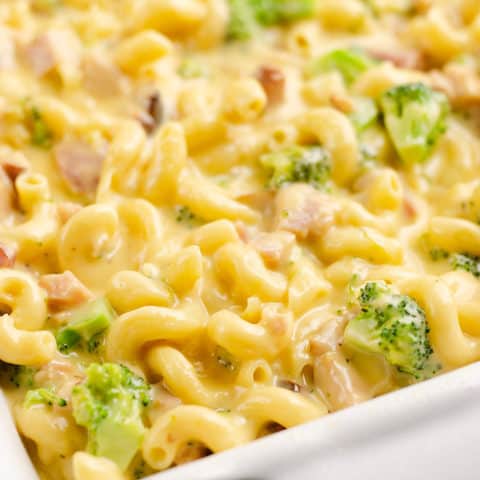 Mac and Cheese with Ham & Broccoli
This rich and delicious Mac and Cheese with ham and broccoli is a family friendly recipe packed with pasta, leftover ham and vegetables and topped with baked breadcrumbs. Your kids will be begging for more!
Ingredients
Mac and Cheese
8 oz. Cavatappi pasta (or any tubular pasta)
1/4 cup butter
3 cups broccoli florets
1/4 cup flour
1 tsp. garlic powder
1 tsp. ground mustard
1/4 tsp salt
pinch of ground black pepper
1 c. heavy whipping cream
2 cups 2% milk
8 oz. shredded sharp cheddar cheese
8 oz. shredded gouda cheese
3 1/2 cups diced ham
Breadcrumbs
1 c. shredded parmesan
2/3 cup breadcrumbs
2 Tbsp butter
Instructions
Preheat oven to 350° if you are baking the pasta.
Break the broccoli florets into very small pieces, no bigger than 3/4 inch each. Shred the blocks of cheese and set aside.
Cook the 8 ounces (half box) pasta 1 minute shy of al dente, according to package directions.
Meanwhile, in a deep skillet, melt the butter over medium-high heat. Add the broccoli florets and sauté for 4 minutes. Sprinkle the flour, ground mustard, garlic powder and salt over the broccoli and mix with the broccoli for 2 minutes.
Very slowly, start gradually adding in the cream, stirring continuously. Continue doing this until all of the cream is incorporated. Then start stirring in the milk very gradually until it is all incorporated in the broccoli cream sauce. (Only use 1 1/2 cups milk if you aren't baking the pasta with breadcrumbs.)
Add the ham to the cream sauce and slowly start mixing in the grated cheddar and gouda cheese, until you have a silky smooth cheese sauce.
When the pasta is done cooking, immediately drain it and drizzle with olive oil. Mix the pasta with the olive oil so it is well coated. Fold the pasta into the cheese sauce until everything is well combined.
At this point you can serve the mac and cheese as a saucy pasta topped with Parmesan, or you can continue with baking the pasta with breadcrumbs.
OPTIONAL - Pour the mac and cheese into a 9x13 sprayed baking dish. Sprinkle the top with the shredded Parmesan.
Add 2 tablespoons butter to a small bowl and cook in the microwave for 30-60 seconds until melted. Stir the breadcrumbs into the butter until they are well coated. Sprinkle the buttered breadcrumbs over the top of the mac and cheese in the casserole. Bake at 350° for 30 minutes.
Recommended Products
As an Amazon Associate and member of other affiliate programs, I earn from qualifying purchases.
Nutrition Information:
Yield:

8
Serving Size:

1
Amount Per Serving:
Calories:

666
Total Fat:

45g
Saturated Fat:

26g
Trans Fat:

1g
Unsaturated Fat:

14g
Cholesterol:

167mg
Sodium:

1426mg
Carbohydrates:

29g
Fiber:

3g
Sugar:

7g
Protein:

38g
Provided nutrition data is only an estimate. If you are tracking these nutrients for medical purposes, please consult an outside, trusted source.