This easy recipe for Honey Mustard Ham & Cheese Sliders made with King's Hawaiian Pretzel Buns makes for a delicious bite of salty sweet goodness in less than 30 minutes. Serve these up for a quick dinner or a game day snack that is sure to be a hit!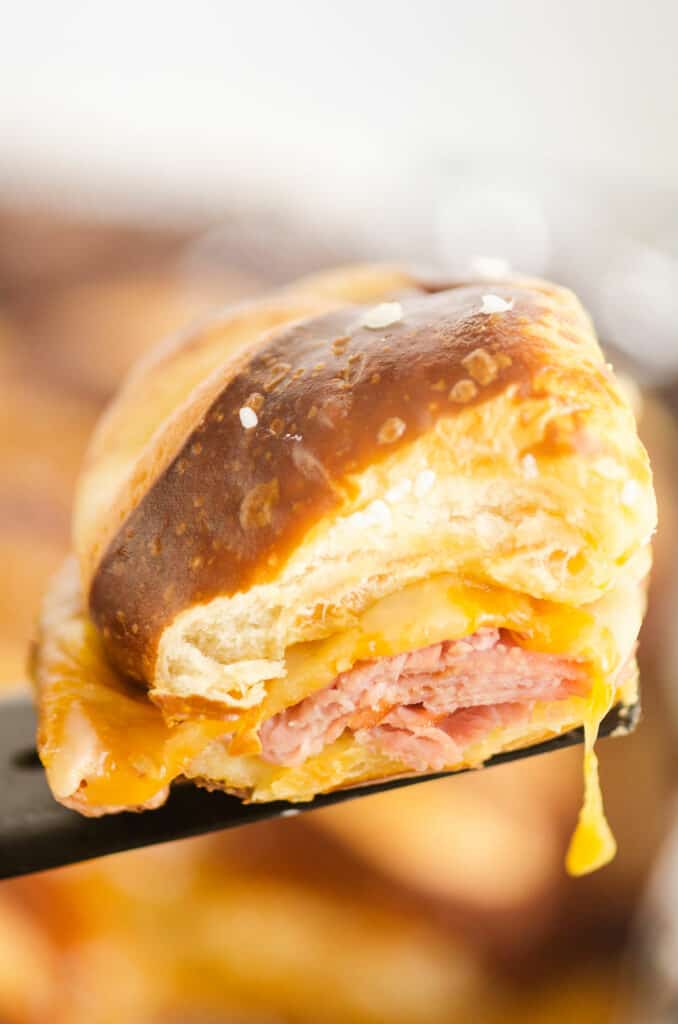 Hawaiian Roll Slider Recipe
We love a good slider around our house. Hawaiian buns layered with meat and cheese and topped with savory butter creates a rich bite of goodness for a simple lunch or dinner. These Ham & Cheese Pretzel Sliders are no exception!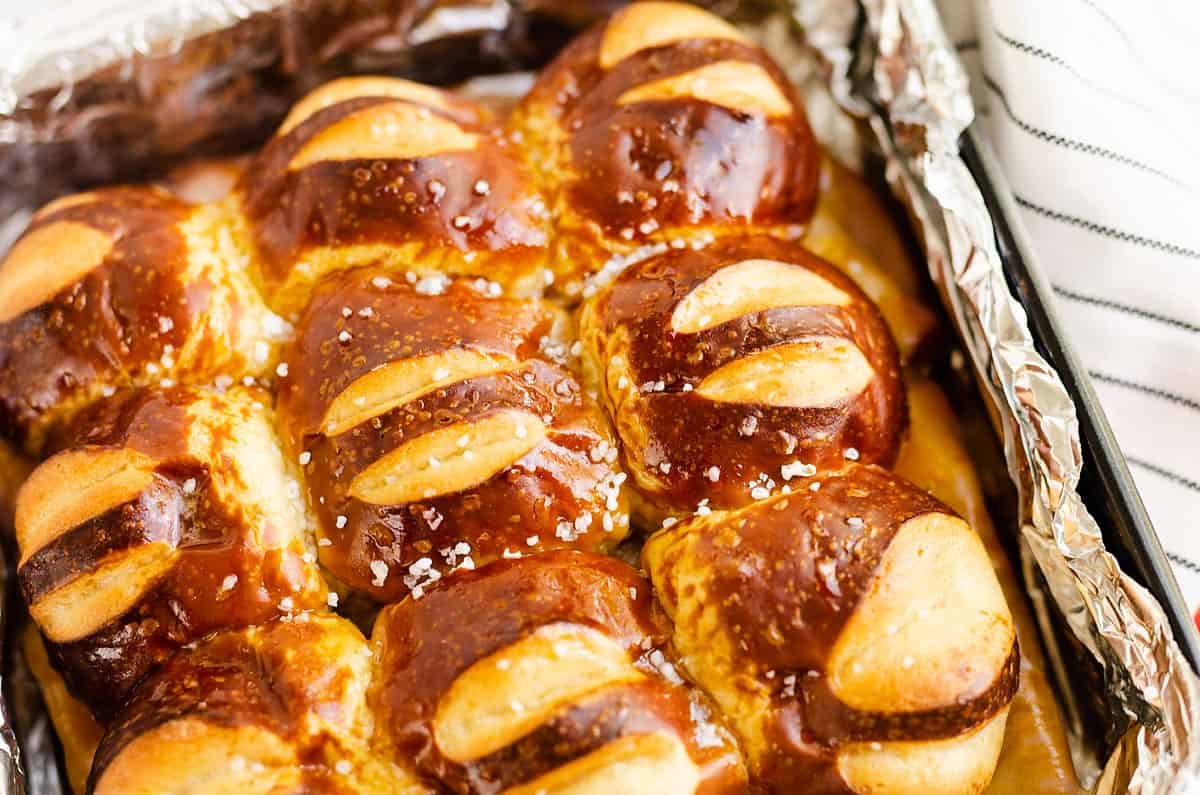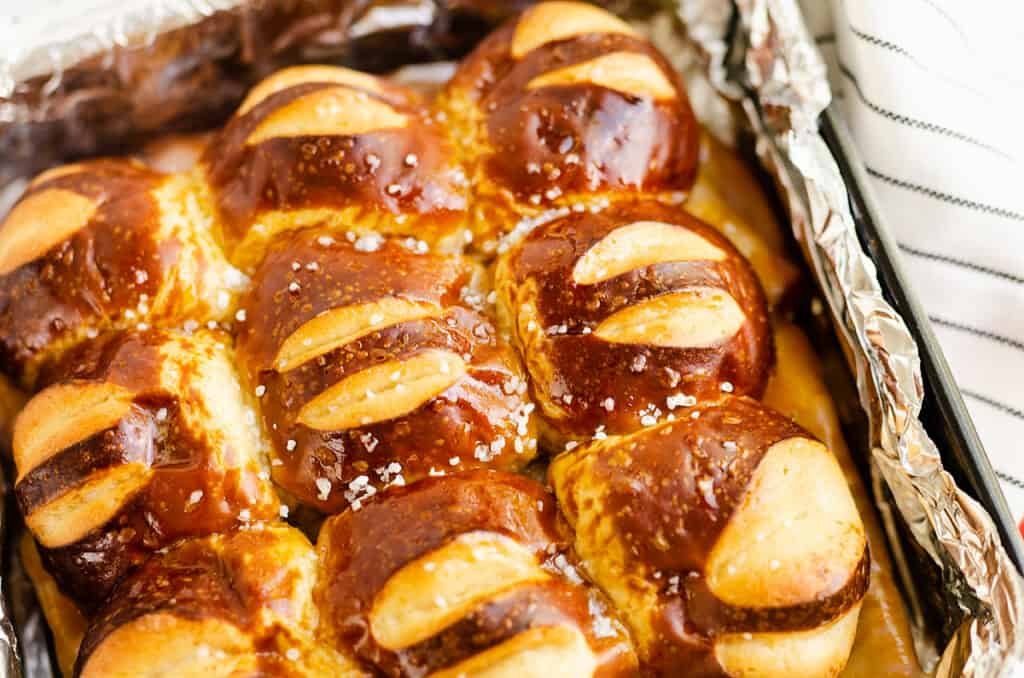 The butter that seeps to the bottom of the buns and caramelizes for slider buns that are crispy on the outsize and light and fluffy on the inside is absolute perfection. Best of all, they are so darn easy to make! Here are some of our favorite slider recipes,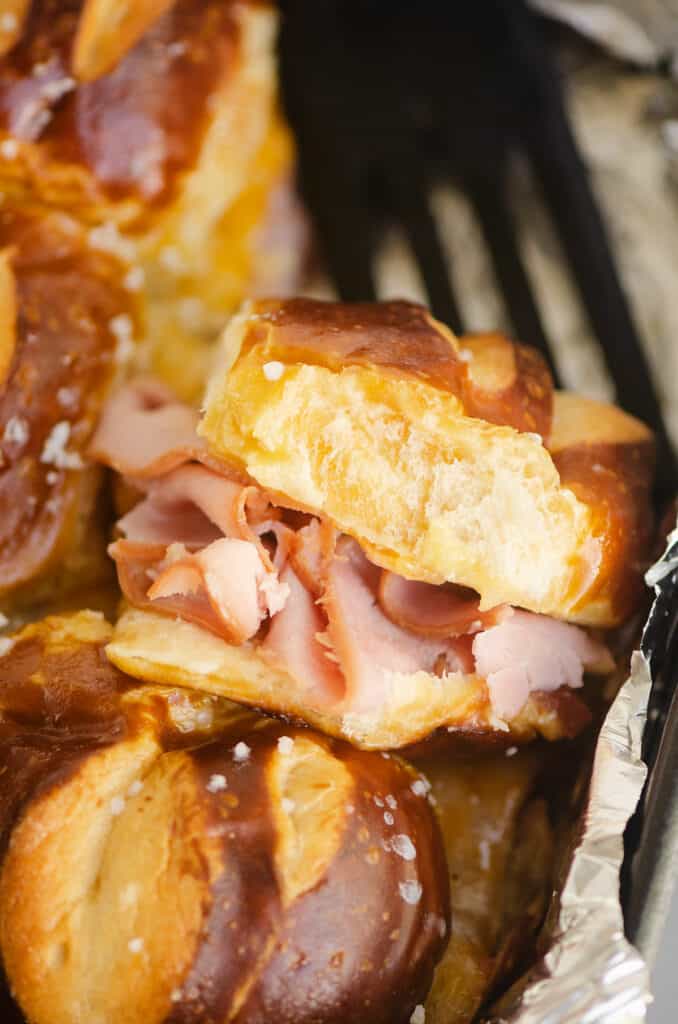 King's Hawaiian Pretzel Sliders
When we saw these newer King's Hawaiian Pretzel Buns show up at our grocery store, we immediately knew they would be perfect for a simple ham and cheese slider. The course salt on the pretzel buns paired with sweet ham and an easy honey Dijon spread is so stinking good.
I'm pretty sure we will be trying these pretzel buns on all our favorite slider recipes now!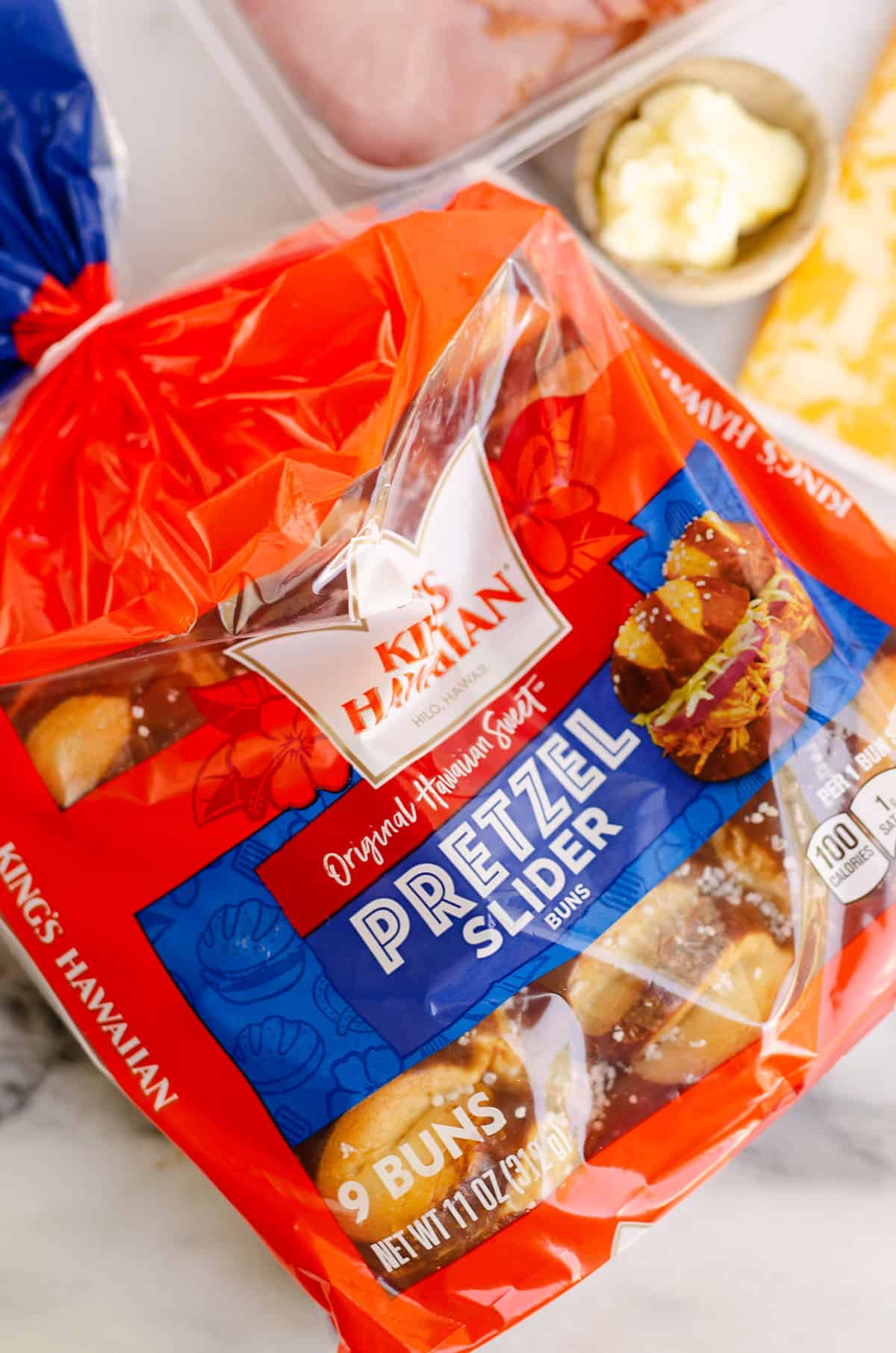 How to make Ham and Cheese Sliders?
One of the many reasons I love sliders is that they are so incredibly easy to make. Start out by carefully separating your package of slider buns tops from the bottoms while keeping them in two whole pieces.
Place the bottom buns in a lined square pan.
Quick Honey Mustard Recipe
You can certainly use store-bought honey mustard if you have it on hand. We make a quick homemade version that is just two simple ingredients. Whisk the following until it is blended and brush it on the sliced side of the top buns.
1 Tablespoon Dijon mustard
2 teaspoons honey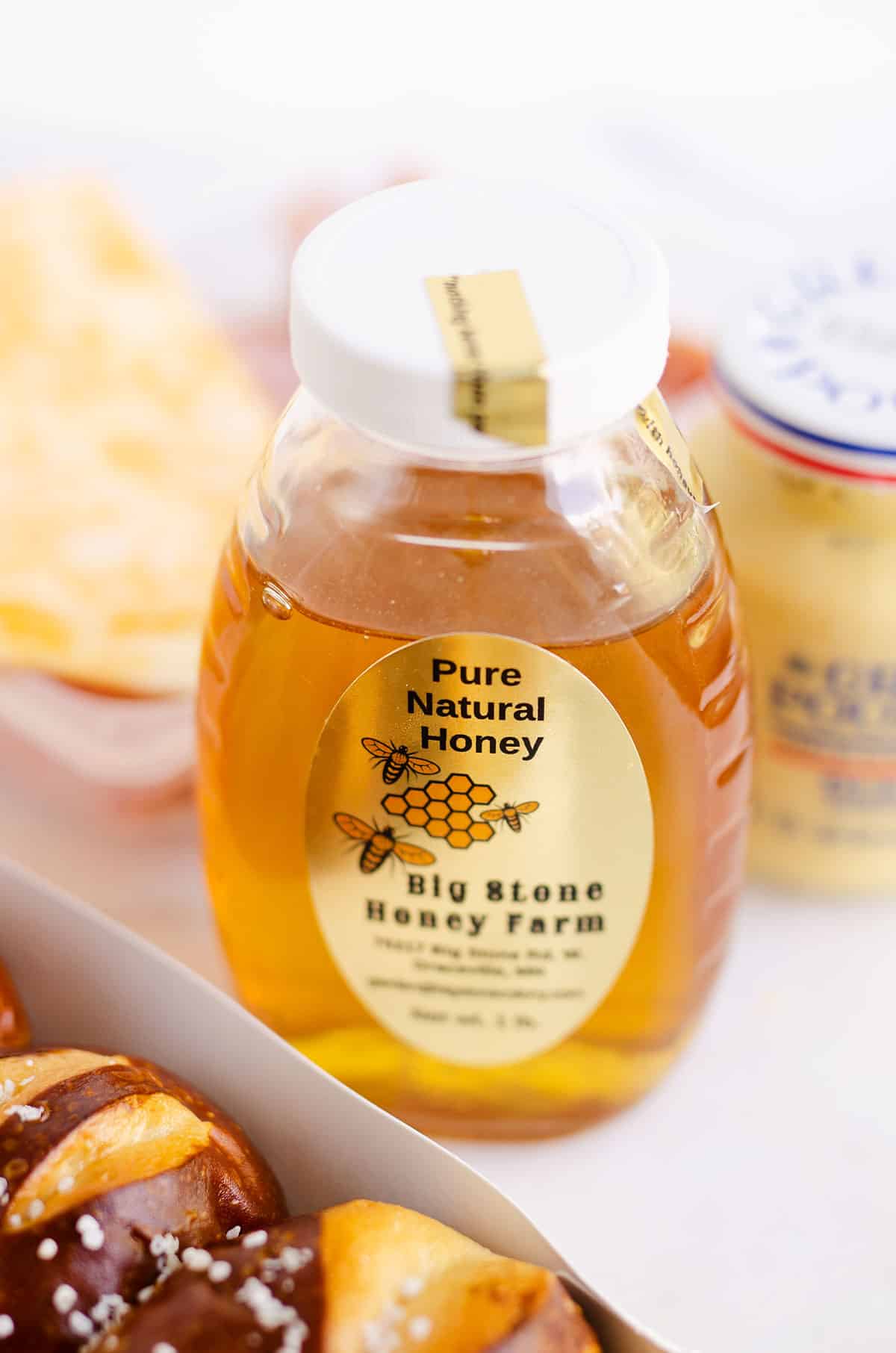 What kind of cheese for sliders?
Here is where you can do just about anything you want. We used marble jack cheese because it is great and goes with everything. Swiss, sharp cheddar, Havarti, would all be great choices as well. Just stick to the good slices of cheese and avoid American processed cheese.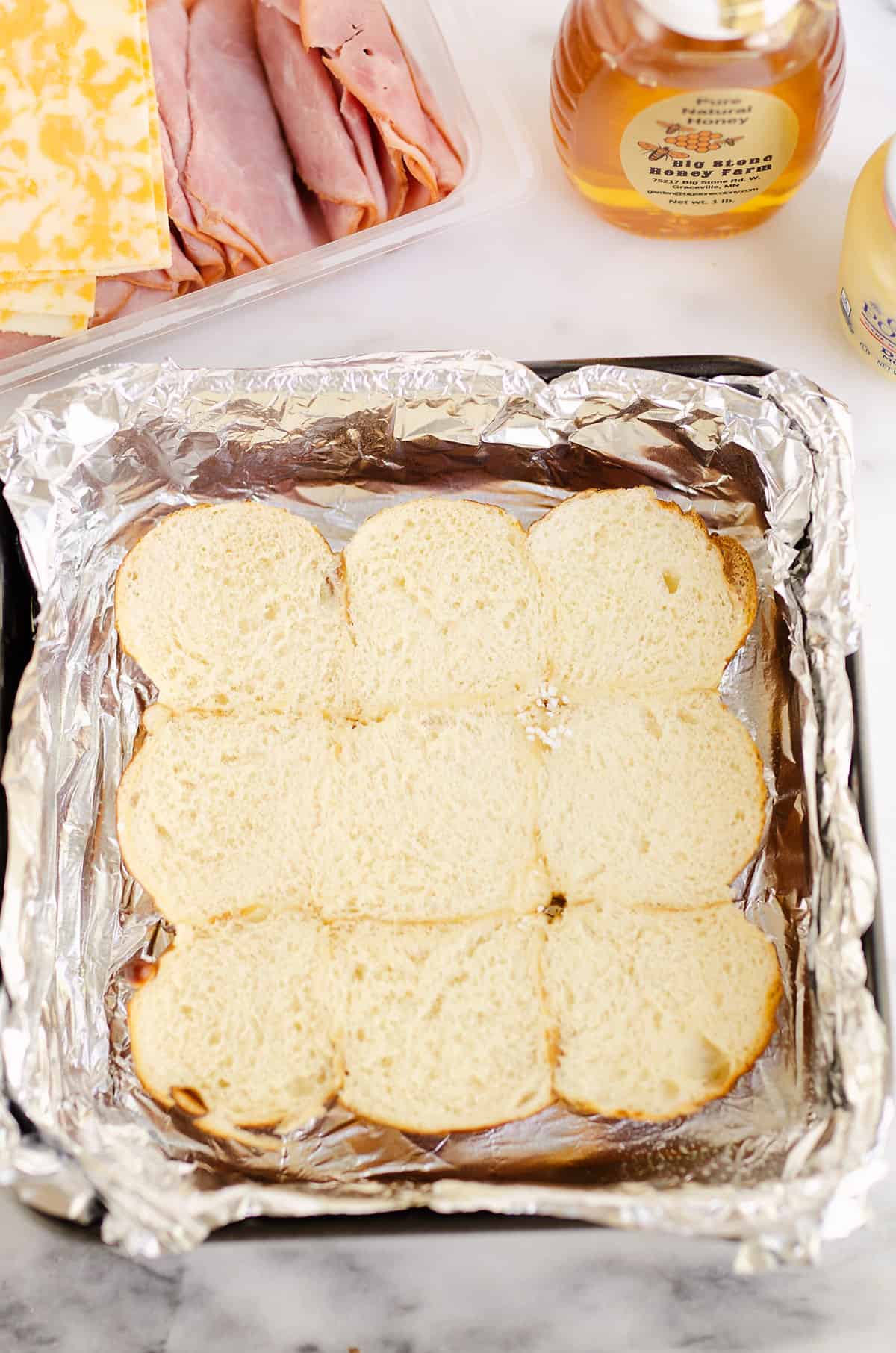 Can I use leftover ham for this recipe?
Absolutely! We used deli ham because it is what we had on hand, but if you have some delicious holiday ham sitting in the refrigerator that you need to use up, these ham and cheese sliders would be a fantastic recipe for it. Here are some more great leftover ham recipes.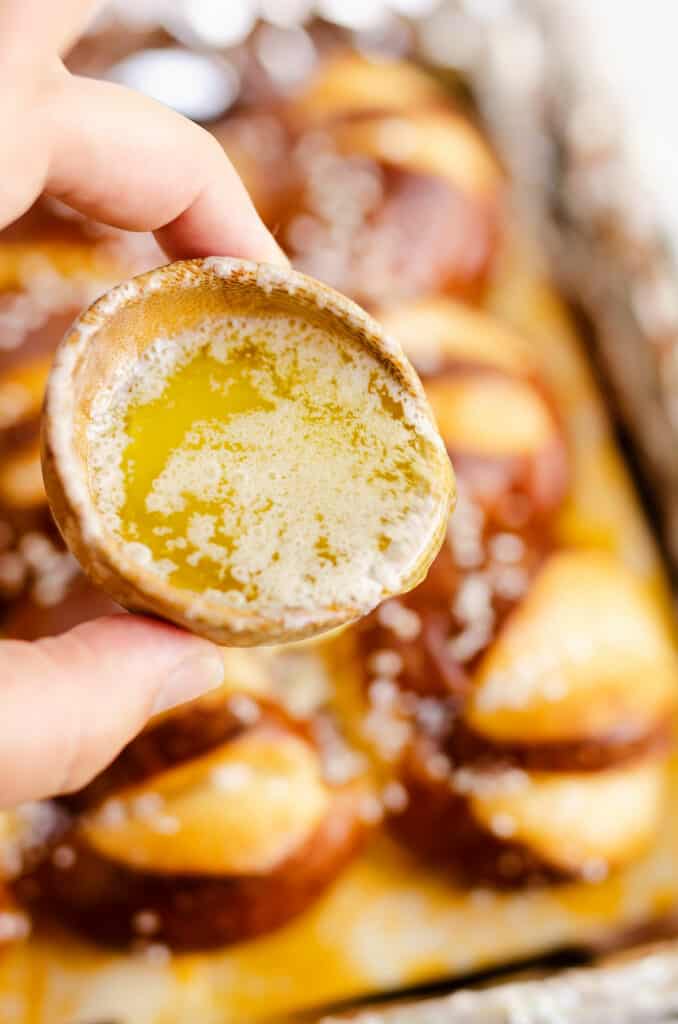 Melted Butter for Sliders
Layer the ham on the bottom buns and top it with the cheese. Place the honey mustard brushed top buns on top and you are almost ready. Microwave 1 1/2 Tablespoons of butter and pour it over the tops of the slider buns.
While you can technically skip this part if you'd like to make it a touch healthier, the butter is my favorite part of any slider recipe.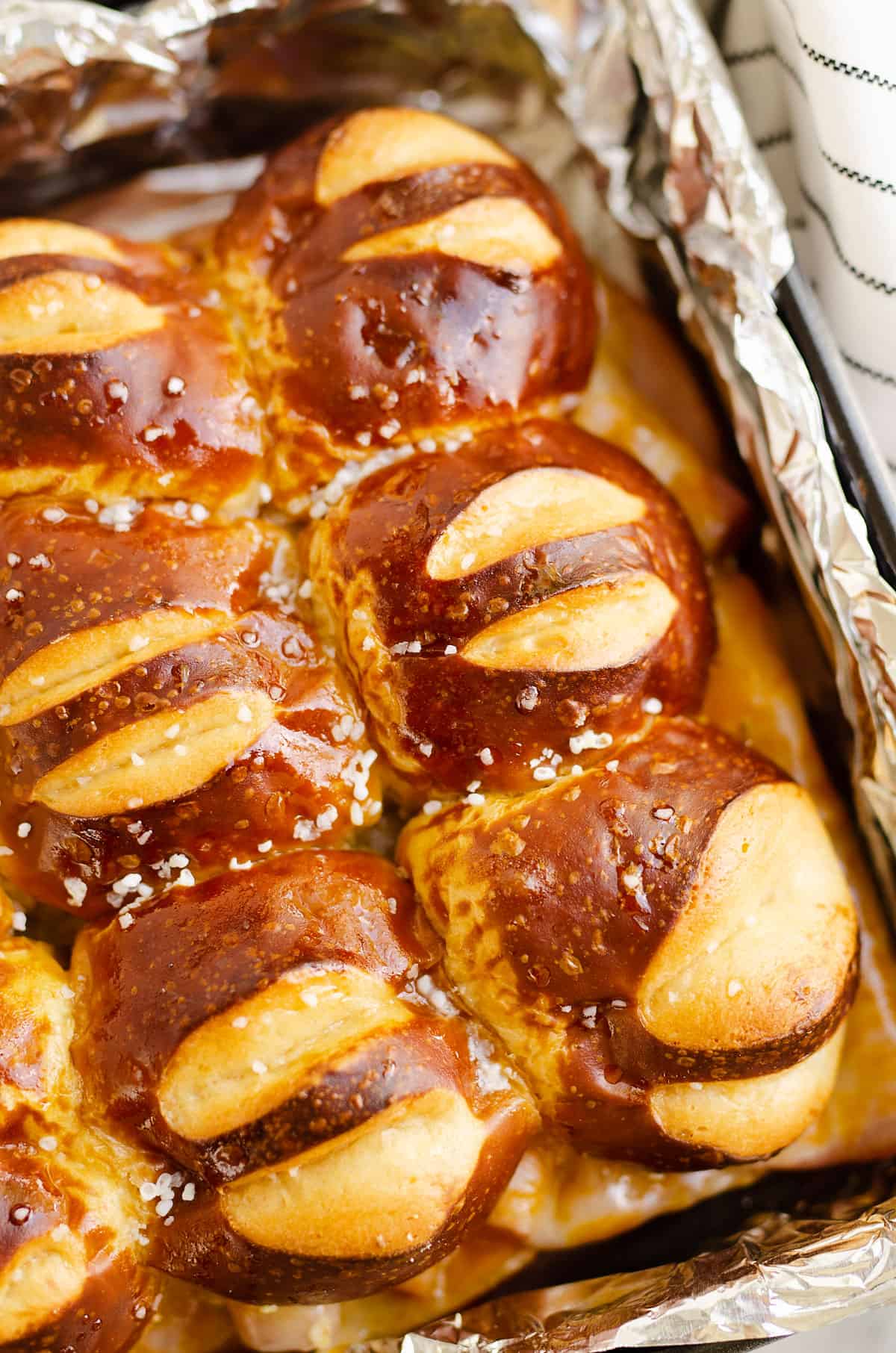 What goes with Ham & Cheese Sliders?
If you are looking for a quick lunch or game day snack, these ham and cheese pretzel sliders are great all on their own. If you are wanting to make them for a more well-rounded dinner, here are some great side dishes that pair wonderfully with ham and cheese sliders.