A delicious mix of healthy entrees, snacks and sides make up this Healthy Weekly Meal Plan #76 for an easy week of nutritious meals your family will love!
Are you hitting the gym and noticing that it is EXTRA crowded right now? This time of year is craziness for all things health and fitness. I think it's great that so many are starting up new fitness routines, but I can't lie, it is slightly annoying when you can't find a parking spot at the gym between January and February.
We all know it's cyclical though, so when March rolls around, things will be mostly back to normal. In the mean time, we can hope that the new faces will become regulars as they find a routine that works for them long-term. If you are one of those newbies, I hope the same for you!
Stop back every Saturday for your weekly fix of daily entrees as well as a breakfast, lunch, snack and dessert! Just click on the photo or link to see the recipe. For even more healthy meal inspiration, check out our Healthy Weekly Meal Plan Archives HERE!
If you are looking for a great tool to organize your weekly meal plans, download this Free Printable Meal Planner + Calendar or check out this meal planner book.
Be sure to subscribe to my newsletter HERE so you never miss a meal plan!
~ HEALTHY WEEKLY MEAL PLAN ~

Roasted Squash & Cranberry Salad is a flavorful vegetarian salad loaded with roasted butternut squash, creamy goat cheese, crunchy almonds and dried cranberries with a homemade Roasted Garlic & Lemon Dressing for a healthy dinner that will satisfy all your senses!

One Pot Cheesy Taco Zucchini Noodle Skillet is a healthy spin on Taco Tuesday! Zucchini noodles, enchilada spiced ground turkey, black beans, corn and creamy avocado help makeover this dish!

Healthy Brown Rice Bowl with Shrimp & Avocado with a delicious sauce – a light and easy dinner that will satisfy and taste great!

One-Pan Herb Baked Chicken and Potatoes is just about the easiest dinner ever! Chicken and potatoes are coated in a delicious salty herb rub and baked in one pan. The chicken and potatoes are tender and full of flavor. A crowd pleaser for sure!

A hearty Chicken Salad with Peanut Dijon Dressing that is filled with fruit, creamy goat cheese, smoked almonds that is a nutritious dinner or lunch!
SIDE DISH
Mashed potatoes take these cheesy coconut oil biscuits OVER the top! They're so unbelievably flaky and so amazing with a bowl of soup!

BREAKFAST
Roasted Tomato Caprese Frittata, an easy yet fancy looking holiday recipe that's perfect for breakfast, brunch or lunch! Filled with melted mozzarella, fresh basil, garlic infused spinach and roasted tomato.
DINNER
Who says burgers can't be healthy!? Paleo Burgers served on a slice of tomato topped with Caramelized Balsamic Onions that will make you swoon and of course Avocado! A quick 30 minute meal you're family will want on repeat!
DESSERT
Protein Peanut Butter Truffles are an amazing 100 calorie treat with only 5 ingredients. They are packed with 5 grams of protein for healthy a dessert you can feel good about!

LUNCH
Vegetarian Chipotle Black Bean Tostadas are topped with spicy chipotle black beans, sweet peppers and onions. Finish them off with a delicious drizzling of chipotle yogurt sauce!
SNACK
Sweet, salty, crunch, chewy, and full of tropical flavors! This trail mix is a must take on your next outdoor adventure!
DINNER
Balsamic vinegar, caramelized onions, and plenty of other veggies make this tender pot roast unbelievably flavorful and the ultimate easiest weeknight winter dinner!
Find the Healthy Weekly Meal Plan Archives HERE!
Don't forget to subscribe to my newsletter HERE so you never miss a meal plan!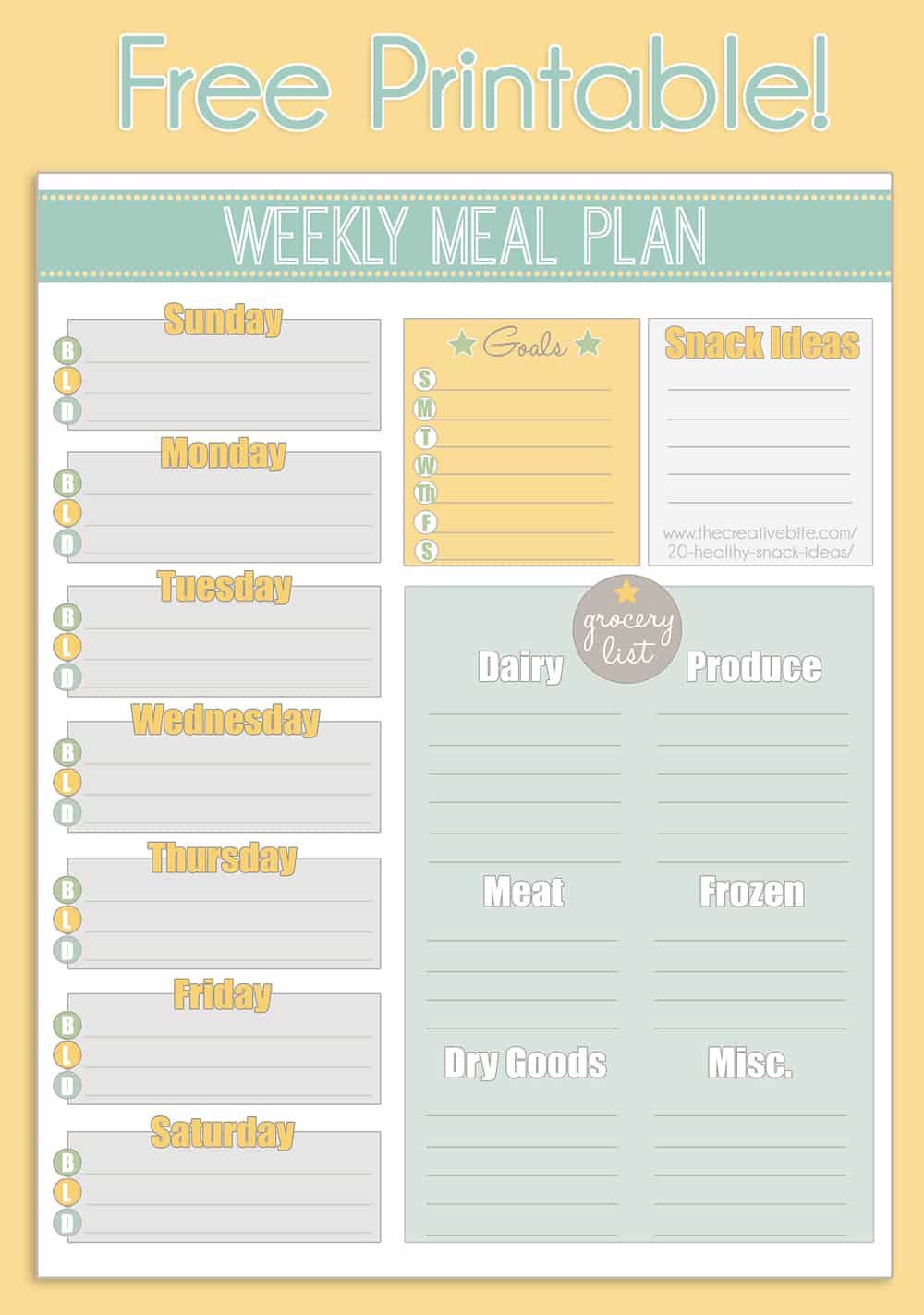 Use this Free Printable Weekly Meal Planner to organize your menu and grocery list. Take the guess work out of preparing weeknight dinners and grocery shopping trips with this easy planner.
With Salt & Wit | Recipe Runner | Whole & Heavenly Oven | The Creative Bite | Joyful Healthy Eats | Yummy Healthy Easy