A delicious mix of healthy entrees, snacks and sides make up this Healthy Weekly Meal Plan #48 for an easy week of nutritious meals your family will love!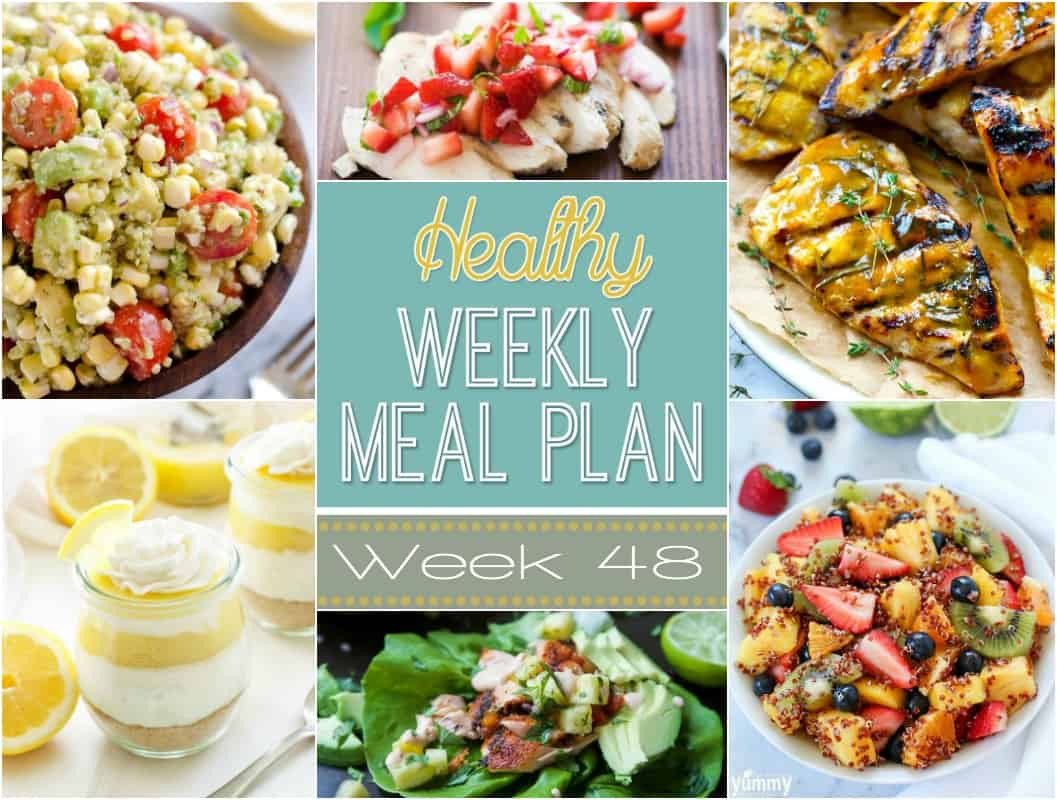 You guys, I am LOVING my reduced summer hours again this year. I work three 10 hour days a week and it is simply glorious having four whole days to myself each week. I am truly living the good life. Thursday on one of my days off, I woke up for an early photo shoot, then I lounged around working on some blog business and took a mid-afternoon nap. Later in the day I headed to the golf course and ran into some ladies I used to work with. I joined them for a round of golf and caught up with an old friend. I swung by my parent's house to say hi and then on my way home I grabbed one of these Whole Chickens and a couple sweet potatoes at my local grocery store for an easy dinner. I finished off my day catching up on a few TV shows and that was a wrap.
The combination of being outdoors, getting some physical activity and having 'me time' is really unbeatable. If only I could work three days a week throughout the whole year! 🙂 I know, I know, now I am just getting greedy. I will say though, it is somewhat of a difficult transition in August when I have to go back to five day weeks. When you are spoiled for ten glorious weeks, no one would want to go back to full-time!
Be sure to stop back every Saturday for your weekly fix of daily entrees as well as a breakfast, lunch, snack and dessert! Just click on the photo or link to see the recipe. If you are looking for a great tool to organize your weekly meal plans, check out this meal planner
!
Be sure to subscribe to my newsletter HERE so you never miss a meal plan!
~ HEALTHY WEEKLY MEAL PLAN ~

A super healthy Detox Summer Salad filled with kale, broccoli, fresh berries, and almonds then topped with a "lick your plate" worthy Citrus Basil Vinaigrette! This salad is great for lunch or the perfect side to bring to your next BBQ!

Balsamic Grilled Chicken with Strawberry Mint Salsa is a fresh spin on dinner! Fresh strawberries, mint and lime make the ideal summer topping for juicy grilled chicken!

Light Turkey Noodle Casserole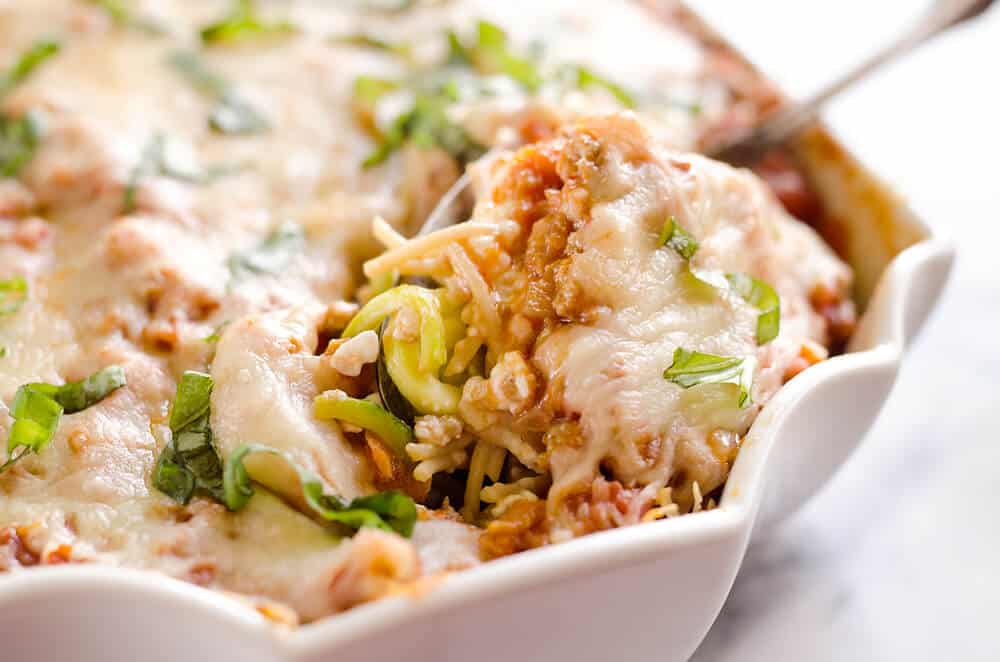 is a hearty and healthy dinner idea the whole family will love! All of the traditional flavors of noodle casserole are lightened up with whole wheat spaghetti, zucchini noodles and lean ground turkey.

MAIN DISH
Marinated for hours in a sweet 'n' tangy homemade honey mustard and then grilled to smoky perfection, these Honey Mustard Chicken Cutlets will quickly become a summer grilling favorite!
SIDE DISH
Quinoa Fruit Salad tossed in a Sweet Lime Dressing – a colorful, healthy side dish that goes with any meal!

The perfect healthy twist on the original fish tacos! These Southwestern Grilled Salmon Tacos are bursting with flavor and topped with fresh pineapple salsa and a Chipotle Lime Crema! Addicting!
DESSERT
Layers of graham crackers, creamy no bake vanilla cheesecake and tart lemon curd are the perfect combination of flavors in these Lemon Curd and Vanilla Cheesecake Parfaits!

LUNCH
Cilantro Quinoa Corn Salad is a light and refreshing salad perfect for an easy packed lunch or a side salad for a cookout. This salad is a healthy combination of quinoa, corn, avocado and a light Cilantro Lemon dressing with a kick of spice from fresh jalapeños for a dish you will love!
DINNER
Easy Baked Meatballs that are some of the best ever meatballs in the history of all meatballs! Such a simple and easy meatball recipe. Very tender and flavorful!
SIDE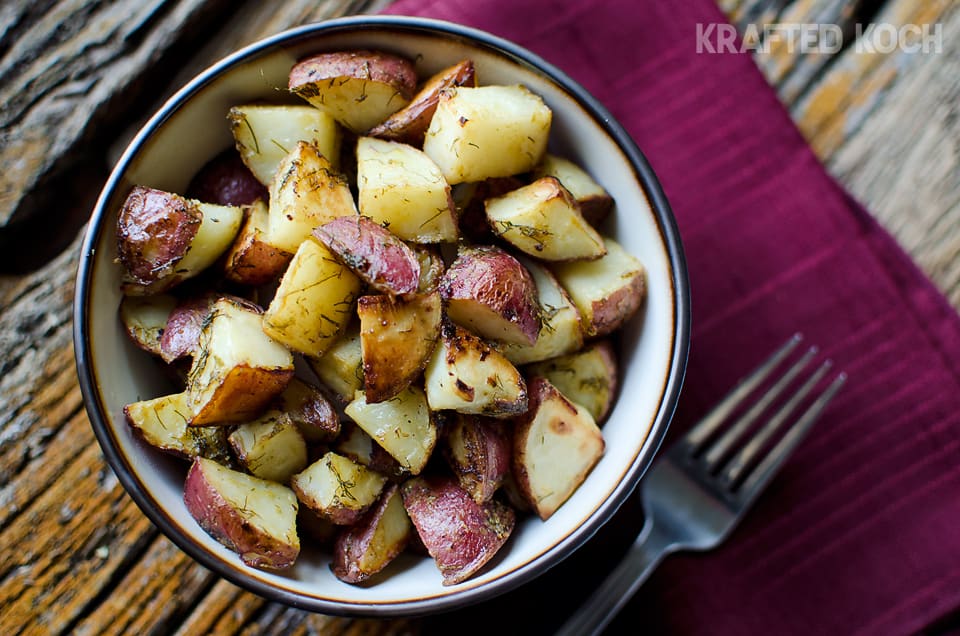 Crispy Roasted Dijon & Dill Potatoes are loaded with flavorful Dijon mustard and fresh Dill for a hearty side dish you will love!

BREAKFAST
Dark Chocolate and Toasted Coconut Smoothie Bowl is a nutritious and fun twist on a smoothie! Filled with tropical flavors of banana and coconut then topped with dark chocolate, fruit, granola and chia seeds!
SNACK
These Coconut Pineapple Yogurt Pops are a tropical vacation on a stick! Creamy, fruity, sweet and cold – the perfect summertime treat!
DINNER

Balsamic Grilled Chicken Strawberry Caprese Salad for dinner win! Juicy balsamic-grilled chicken and lots of fresh strawberries and creamy mozzarella cheese make for the ULTIMATE twist on caprese salad!

Find the Healthy Weekly Meal Plan Archives HERE!
With Salt & Wit | Recipe Runner | Whole & Heavenly Oven | The Creative Bite | Joyful Healthy Eats | Yummy Healthy Easy