A delicious mix of healthy entrees, snacks and sides make up this Healthy Weekly Meal Plan #28 for an easy week of nutritious meals your family will love!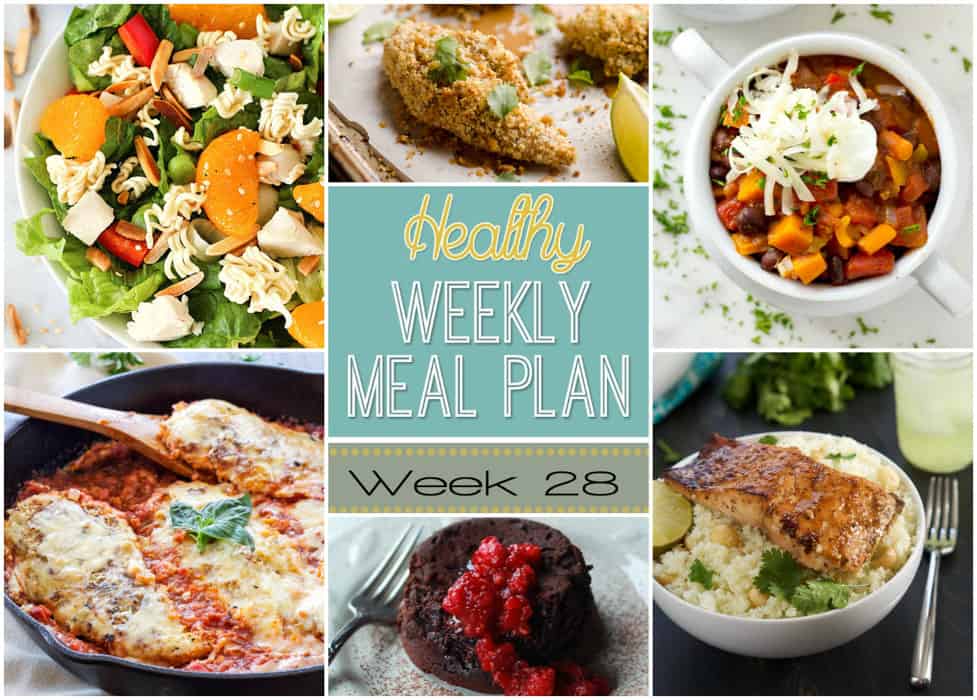 Are you ready for some football?! Now imagine I just sang that like Carrie Underwood. HA! If I could sing a tenth as good as her I wouldn't have to save my singing exclusively for car rides alone. For some reason, singing is a talent that not one single person in my family got. As a matter of fact, we weren't blessed with much musical skill at all.
Back to the football though. I'm guessing most of you will be watching the big game even if you aren't a football fan. It is just an excuse for everyone to get together and eat good food. I am bringing this Triple Meat & Cheese Pizza Dip with Grilled Crust Dippers as well as some cupcakes.
It's time to plan out your menu for next week! Get ready for another awesome Healthy Weekly Meal Plan! We've collected tons of great recipes to share with you this week that you are absolutely going to love. Main dishes, side dishes, breakfast, lunch, snack and even dessert!
Make sure to click on the picture or the text link under the picture to get you to the recipe. Have a great week!
Be sure to subscribe to my newsletter HERE so you never miss a meal plan!
~ HEALTHY WEEKLY MEAL PLAN ~

You won't miss the meat in this super-flavorful, veggie loaded 30-Minute Vegetarian Chili. Perfect for meatless Monday!

Looking to change up taco Tuesday? These 30 Minute Light Chicken Enchiladas are full of crumbled chicken, vegetables and a spicy enchilada sauce for an easy and healthy weeknight dinner!

Spice rubbed pork tenderloin is a tasty alternative to chicken in these Pork Tenderloin Tacos with Pico de Gallo! Fresh, light and full of Mexican flavor!

Sweet and savory Agave Chipotle Glazed Salmon is the best of both worlds! Tender salmon coated in a homemade sauce of agave, chipotle peppers, garlic and lime and served over low carb Macadamia Cauliflower Rice!

MAIN DISH
Who needs takeout when you can make this Chinese Chicken Salad! It's easy to make but tastes like it's straight from a restaurant – this will become a favorite salad recipe at your house!
SIDE DISH
This upscaled caesar salad is loaded to capacity with plenty of greens, fresh avocado, croutons, and an amazingly-creamy lighter buttermilk dressing!

BREAKFAST
Dessert for breakfast with this Tropical Superfruit Yogurt Parfait, an easy way to detox that tastes delicious!
SNACK
Maple Nut Party Mix is the easiest party mix you can make! This salty & sweet snack is perfect to bring to a party or to munch on during this weekend's games. Always a crowd-pleaser!
DINNER
Light Thai Peanut Chicken Tenders are a healthy dinner idea bursting with bold and spicy Thai peanut flavors, paired with a simple two-ingredient sauce with creamy coconut milk!

LUNCH
These Smoked Gouda & Turkey Artichoke Quesadillas come together quickly using leftover turkey, two types of cheese, red peppers and artichokes! A fun and easy lunch!
DINNER
Happy Valentine's Day! Treat your sweetheart to this easy to make, cheesy and flavorful Lightened Up Skillet Chicken Parmesan! You won't miss the extra calories, promise!
DESSERT
Valentine's Day wouldn't be complete without dessert! This Nutella Chocolate Lava Cake with Muddled Champagne Raspberries is a decadent dessert for two that will take your romantic evening up a notch!
Fine the Healthy Weekly Meal Plan Archives HERE!
With Salt & Wit | Recipe Runner | Whole & Heavenly Oven | The Creative Bite | Joyful Healthy Eats | Yummy Healthy Easy