If you are looking for an easy frozen cocktail recipe, this Strawberry Daiquiri is the perfect summer drink with just 3 simple ingredients, this frozen alcohol mixed drink is ready in only 5 minutes!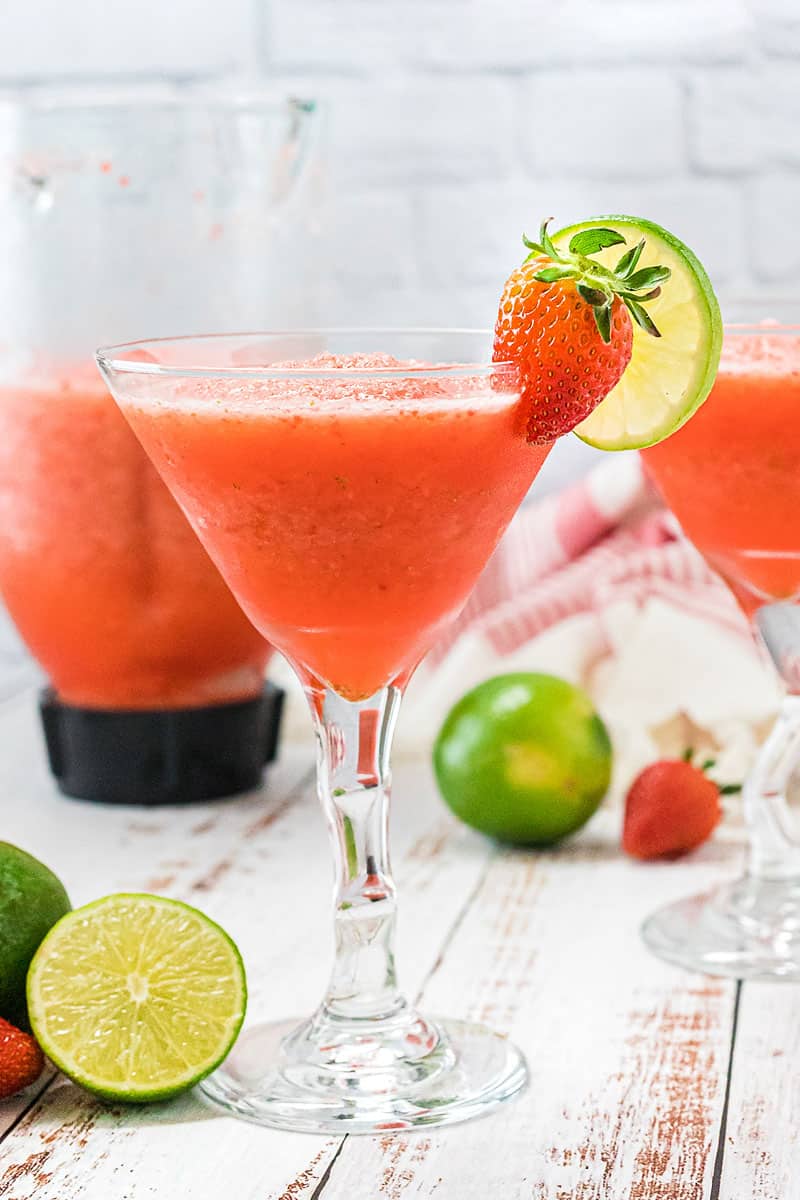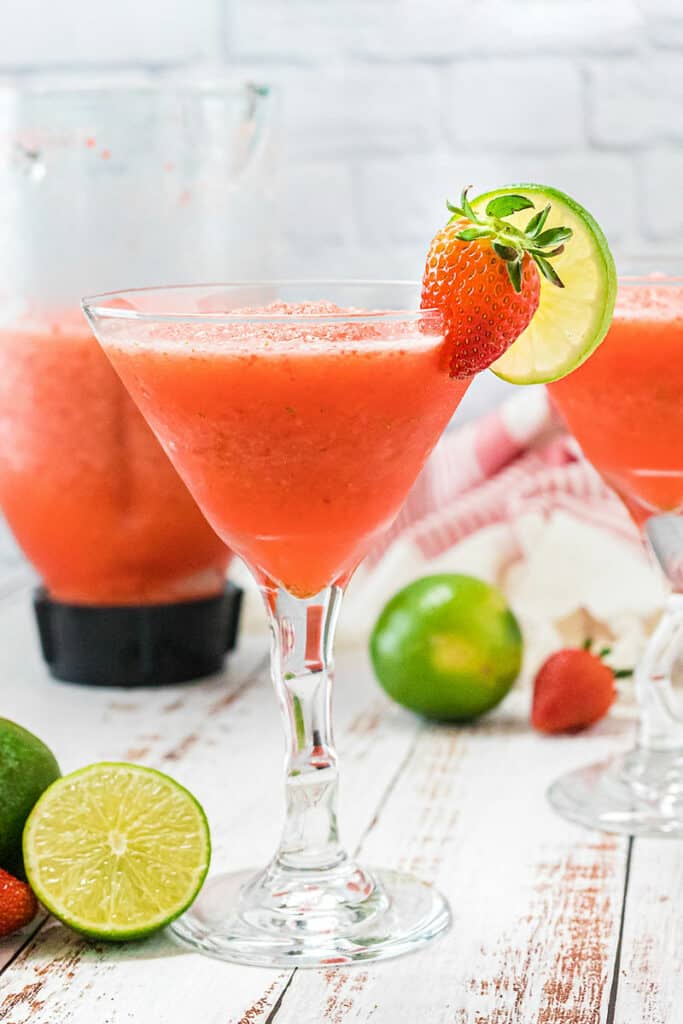 Strawberry Daiquiri Recipe
If a cocktail symbolizes relaxation, then a frozen strawberry daiquiri is the definition of laidback. And, it gets even easier, because this version just requires three simple ingredients, some ice and a blender. It really doesn't get much easier than this!
Much like this healthier alternative, Frozen Strawberry Malibu Kombucha Cocktail, an easy alcoholic beverage with strawberries is always a summer win in my book.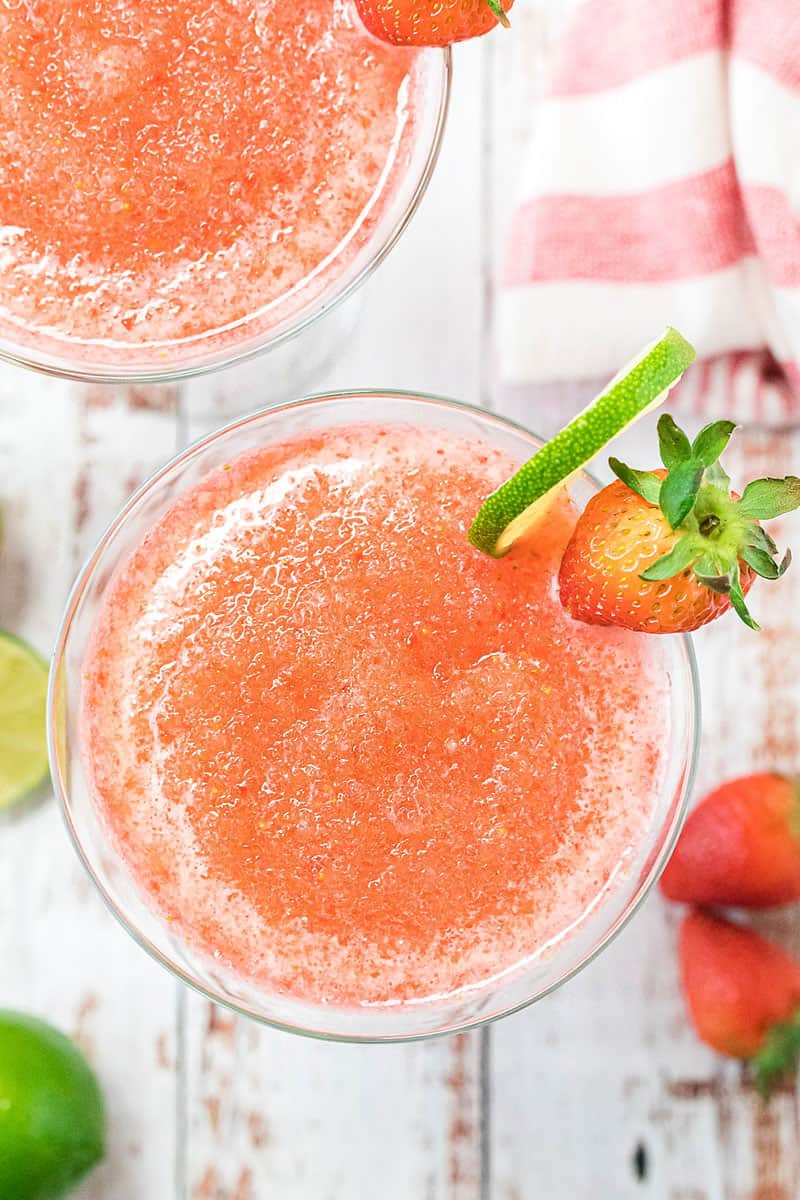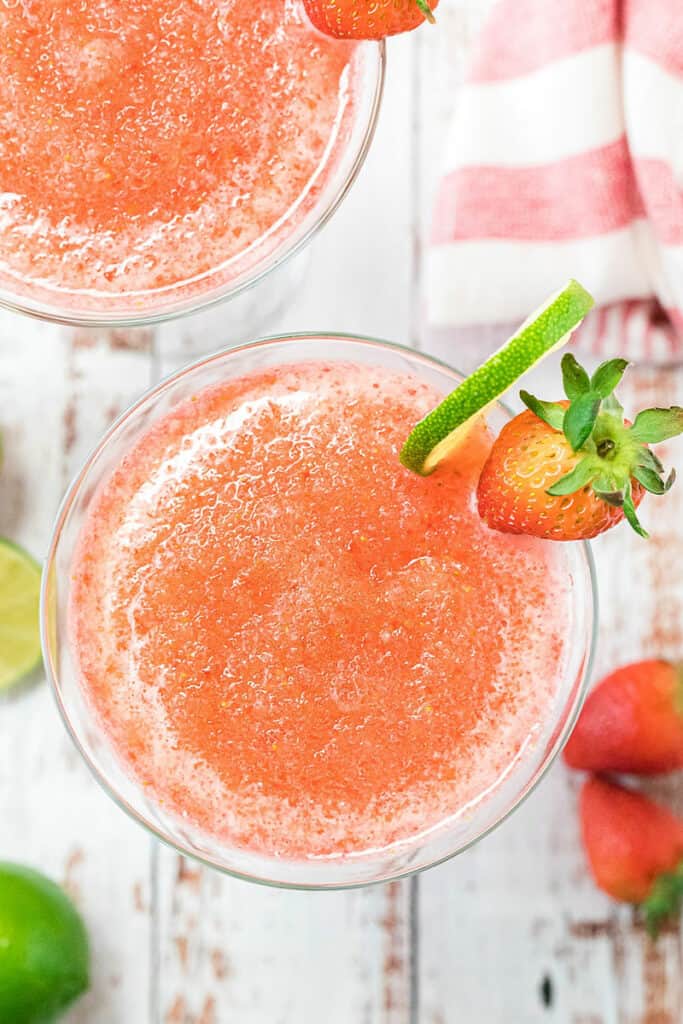 Three Ingredient Frozen Cocktail
Only one thing might make this cocktail easier and that is a cabana boy to deliver it by the pool or beach. But no worries if you don't have one of those handy. This frozen strawberry daiquiri recipe blends together in seconds and all you need is a blender to handle crushing the ice. Just pour in the ingredients into a glass to serve.
Sure, you can dress it up in various ways to get fancy. But don't stress it. That would defeat the purpose of an easy frozen strawberry daiquiri. For this daiquiri recipe, all you need are limeade concentrate, strawberries, rum, and ice. Add a wedge of fresh lime for a nice touch if you want to fool your guests into thinking you made a complex cocktail.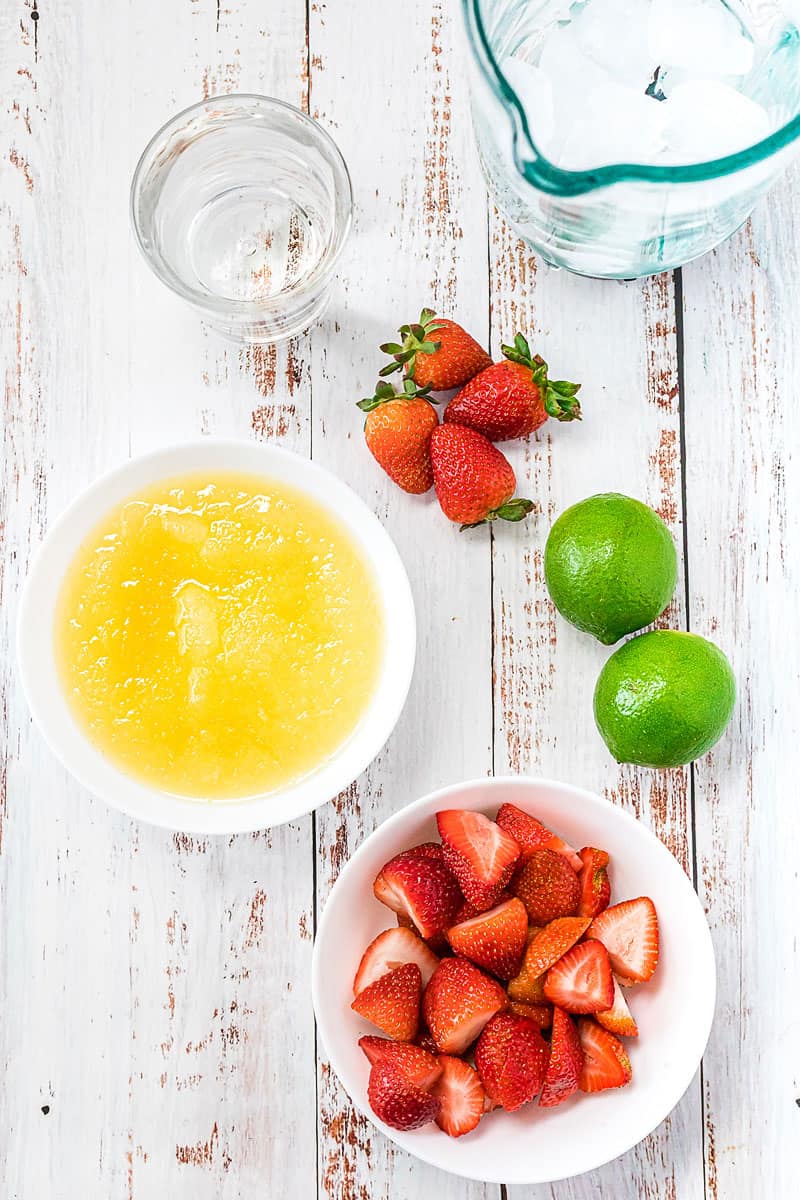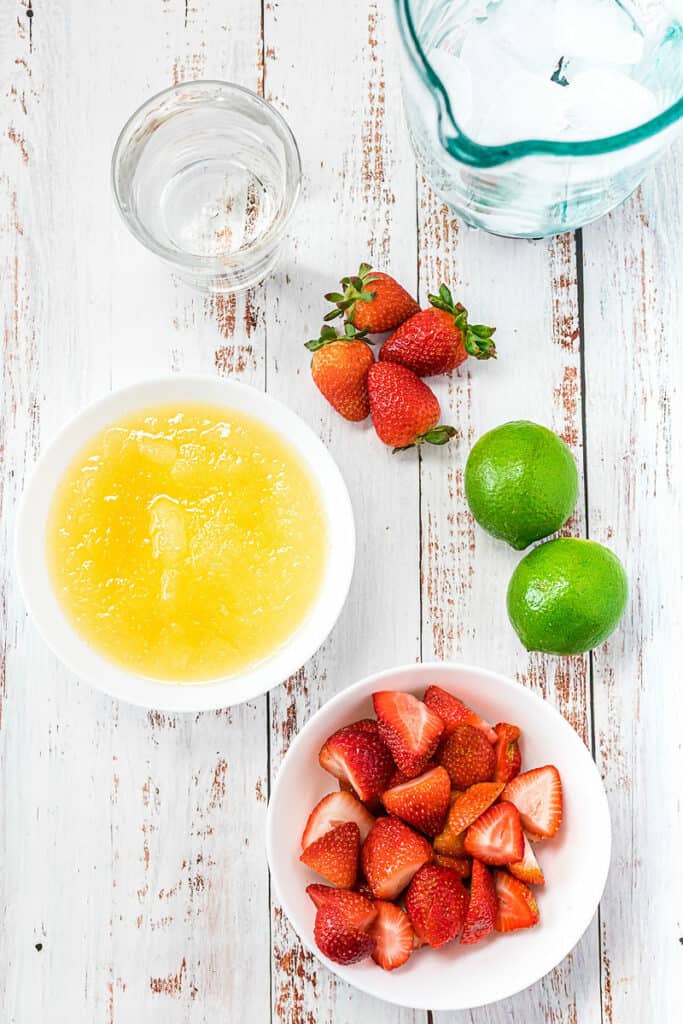 What Kind Of Rum Works Best For The Strawberry Daiquiri?
Of course the strawberries provide the gorgeous color and the sweetness, but the rum ties everything together. Some prefer "white" or "silver" clear style rums, but others prefer the dark rums. Both have their distinct advantages, so it just comes down to a matter of preference. One adds some flavor notes, while the other takes a backseat to the main ingredient, the strawberries.
The dark rums tend to have more flavor notes, like vanilla and even a bit of savory spice if you use a spiced dark rum. The clear rums are less sweet, so those tend to hide behind the strawberries more. There are some rums, like Mount Gay for example, that sit somewhere in between light and dark.
Frozen daiquiris with strawberries or not, the drink is fairly sweet no matter what. That is one of its charms. But if you prefer to mask the taste the booze, use a silver rum. However, I think the dark and spiced rums actually enhance the strawberry flavor. If you ask different bartenders which is their preference, it will most likely be split equally.
If you want to stick to a traditional daiquiri recipe though, silver style rums are the way to go.
History Of The Frozen Daiquiri
The original daiquiri recipe didn't actually resemble the blended ice concoction everyone pictures today. Legend has it that an American engineer in Cuba during the Spanish American war invented the drink, then the recipe came to the US via a diplomat. A colorful tale, but I bet a local bartender taught them the original recipe. Just a hunch…
In the original daiquiri recipe, lime juice was poured into a tall glass of ice with a spoon of sugar on it, then rum was added. That sounds fine, but I think we all would miss the sound of a blender crushing the ice and mixing in those wonderful strawberries into the equation.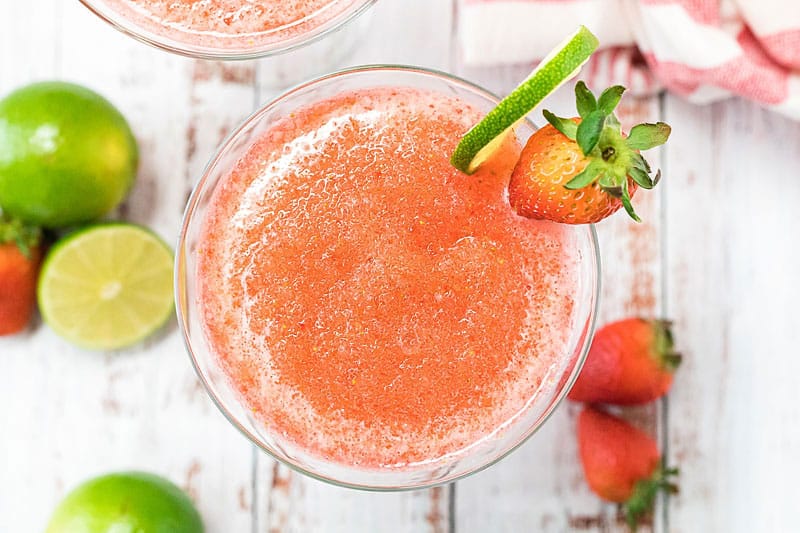 Frozen Or Fresh Strawberries For Frozen Daiquiris?
Of course fresh strawberries are fantastic, but sometimes it can be challenging finding a great batch, even when they are in season. If you have to, then frozen strawberries are always an option too. One advantage of using frozen strawberries is they already come prepped and ready to use. Just be sure to get whole frozen strawberries and not the sweetened variety.
If you use fresh strawberries, then make sure to cut off the green leafy portion and cut them in half first. Cost is another factor that may make your decision. When strawberries are in season, the fresh fruit is often found on sale for much cheaper than a bag of frozen strawberries. The reverse is true in the winter, but you probably aren't making daiquiris in cold weather.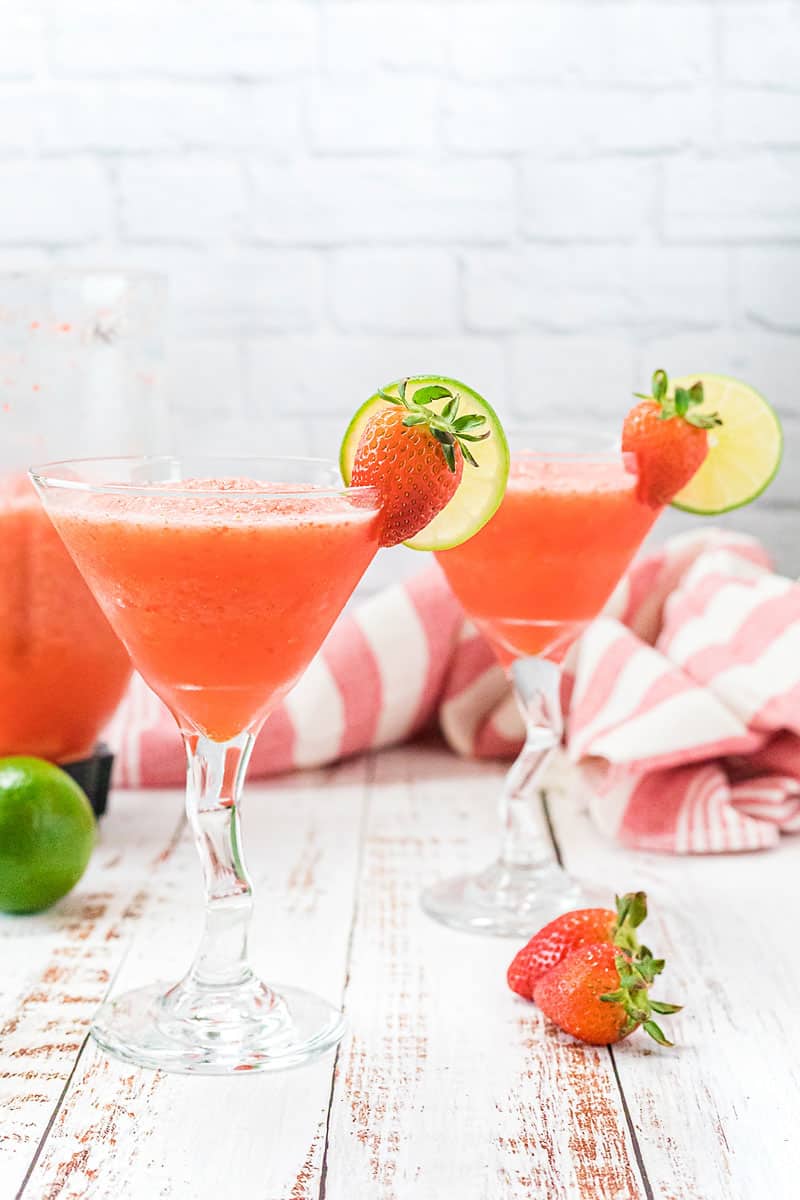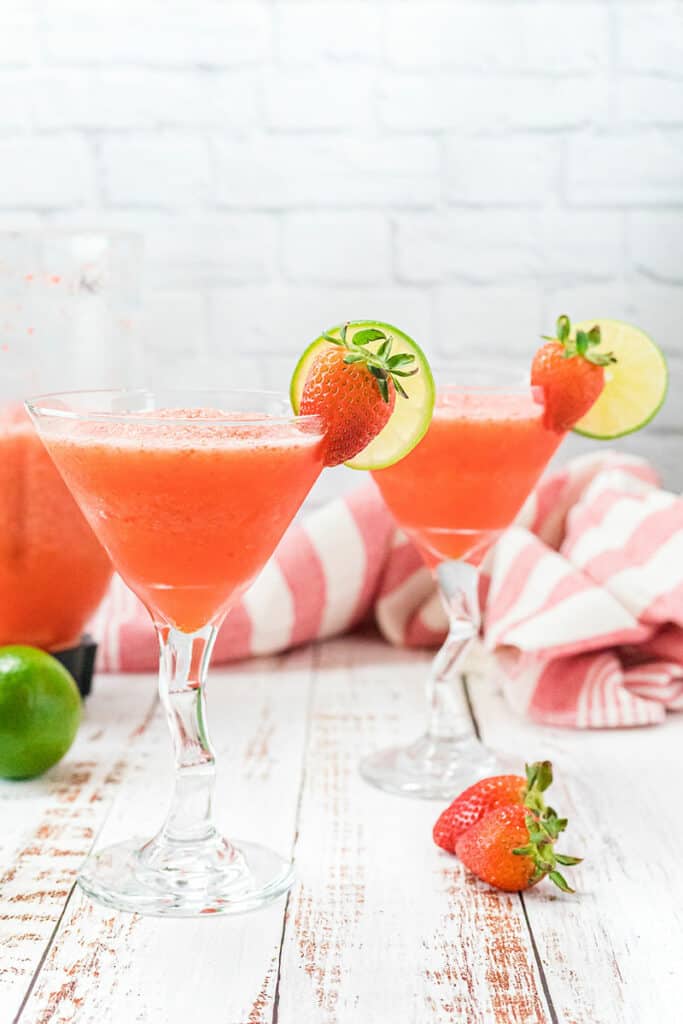 The Right Glass To Serve A Strawberry Daiquiri In
A nice tall cocktail glass is the ideal way to serve a strawberry frozen daiquiri, but you can also serve them in wine goblets as well if you like. The tall cocktail glass generally has thicker glass to help keep the drink cold, but the stem of wine glass serves the same purpose since your hand won't warm the drink while you are holding it.
While it isn't nearly as fancy, if you are sitting outdoors on a hot summer day, an insulated wine tumbler is a fantastic option.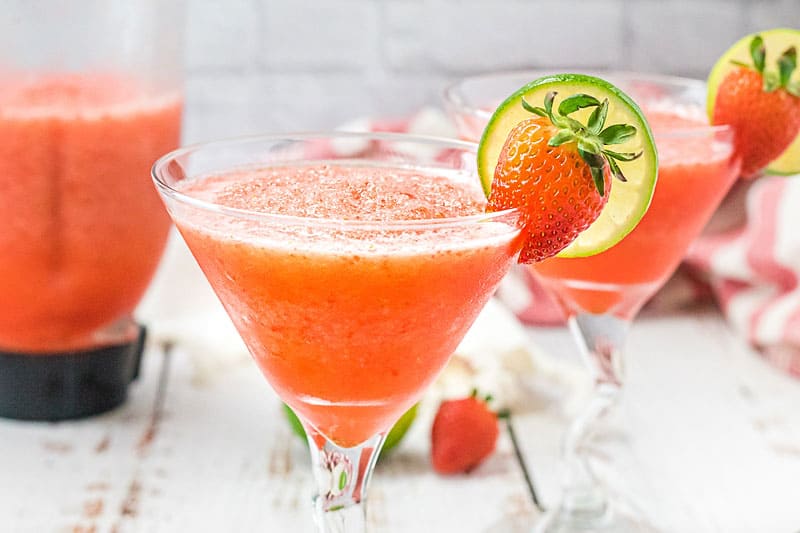 Ways To Garnish A Strawberry Frozen Daiquiri
If you are looking to get fancy, then rimming the glass with sugar adds a nice touch. Simply wet the top of the glass with water, then dip it in sugar in a shallow bowl. The granular raw sugars like turbinado work nicely and add a touch of color as well.
You can also add a wedge or slice of lime to the edge of the glass as well. Of course, a slice or wedge of strawberry works well too.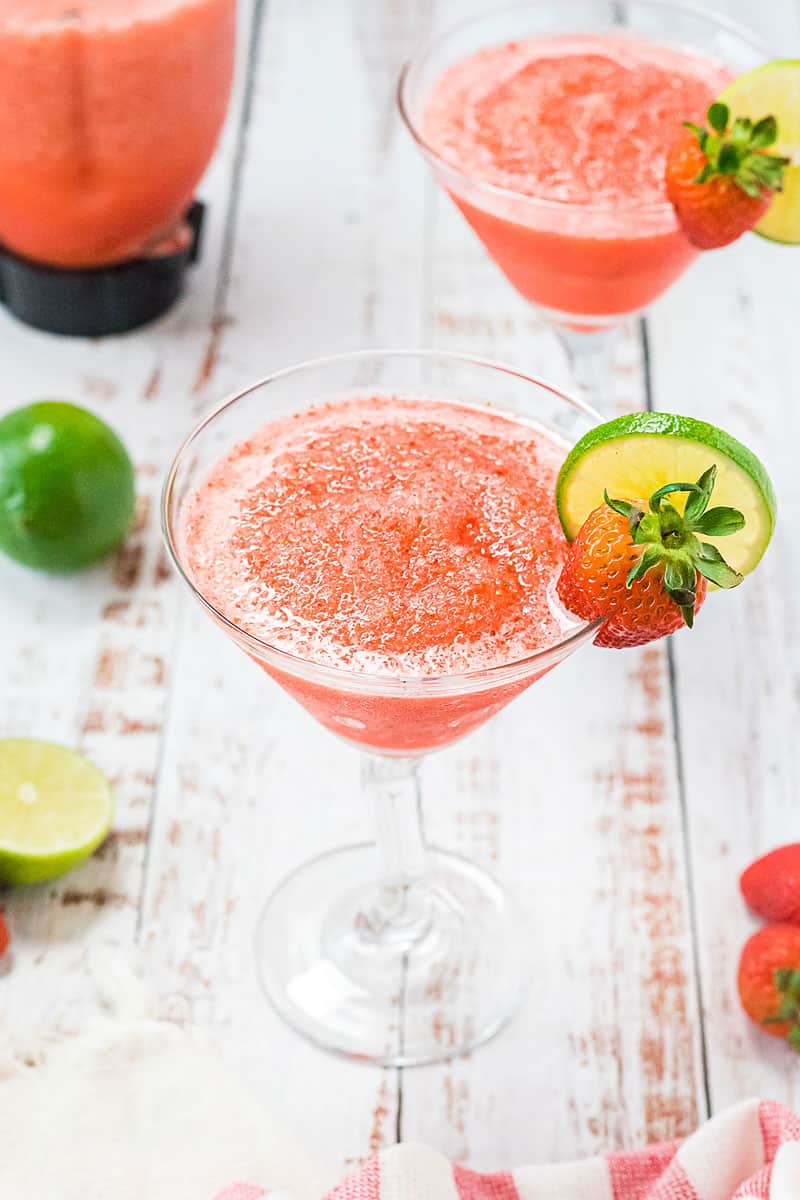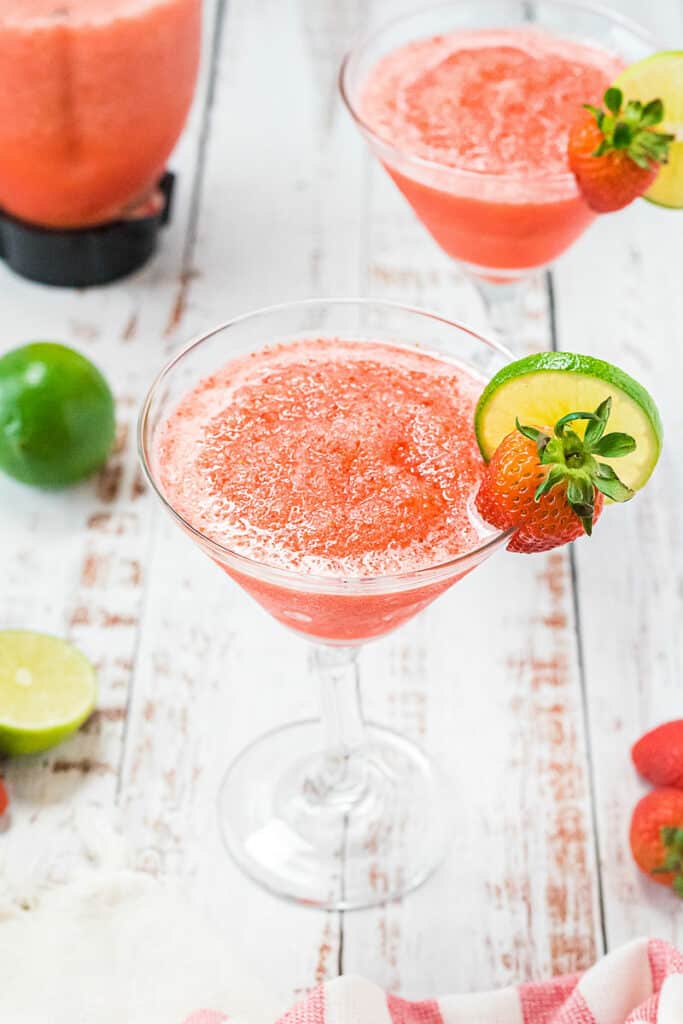 More Cocktail Ideas To Choose From
Don't wait for that cabana boy to come bounding over to take your order. There are other great summer cocktail recipes you can easily treat yourself too also. Please remember any kind of daiquiri goes down super easy and forgetting the alcohol content gets easier and easier too. Drink responsibly and enjoy extensively!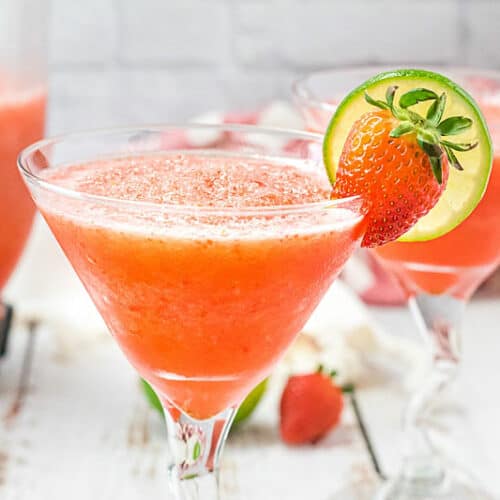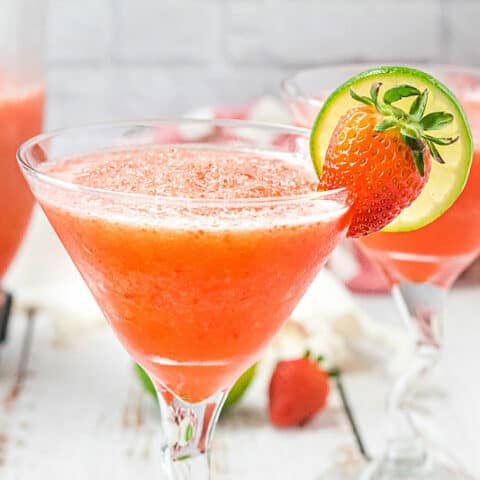 Easy Strawberry Daiquiri
An easy recipe to create a perfect strawberry daiquiri that hits the spot on a hot summer's day.
Ingredients
1 can (12 ounces) Frozen Limeade, undiluted
1 1/2 cups White Rum
1 quart Fresh Strawberries, washed and de-stemmed
3 cups ice
Instructions
Combine all ingredients into blender and blend until smooth.
Garnish cocktail glasses as desired. (optional - see notes)
Pour blended Daiquiris into cocktail glasses and enjoy!
Notes
Garnish ideas: Sugar around the rim of the glass, strawberries and/or limes on the rim of the glass.
This recipe can easily be modified to be non-alcoholic, just leave out the rum. Water can replace the rum as needed if the mixture is too thick.
Frozen strawberries can be used in place of fresh strawberries if desired. Water can be added as needed if mixture is too thick.
Add more or less liquor as desired.
Recommended Products
As an Amazon Associate and member of other affiliate programs, I earn from qualifying purchases.
Nutrition Information:
Yield:

4
Serving Size:

1
Amount Per Serving:
Calories:

211
Total Fat:

0g
Saturated Fat:

0g
Trans Fat:

0g
Unsaturated Fat:

0g
Cholesterol:

0mg
Sodium:

3mg
Carbohydrates:

15g
Fiber:

2g
Sugar:

12g
Protein:

1g
Provided nutrition data is only an estimate. If you are tracking these nutrients for medical purposes, please consult an outside, trusted source.