From exercise and healthy eating, to your mental health. Explore tools to help implement healthy habits in your life!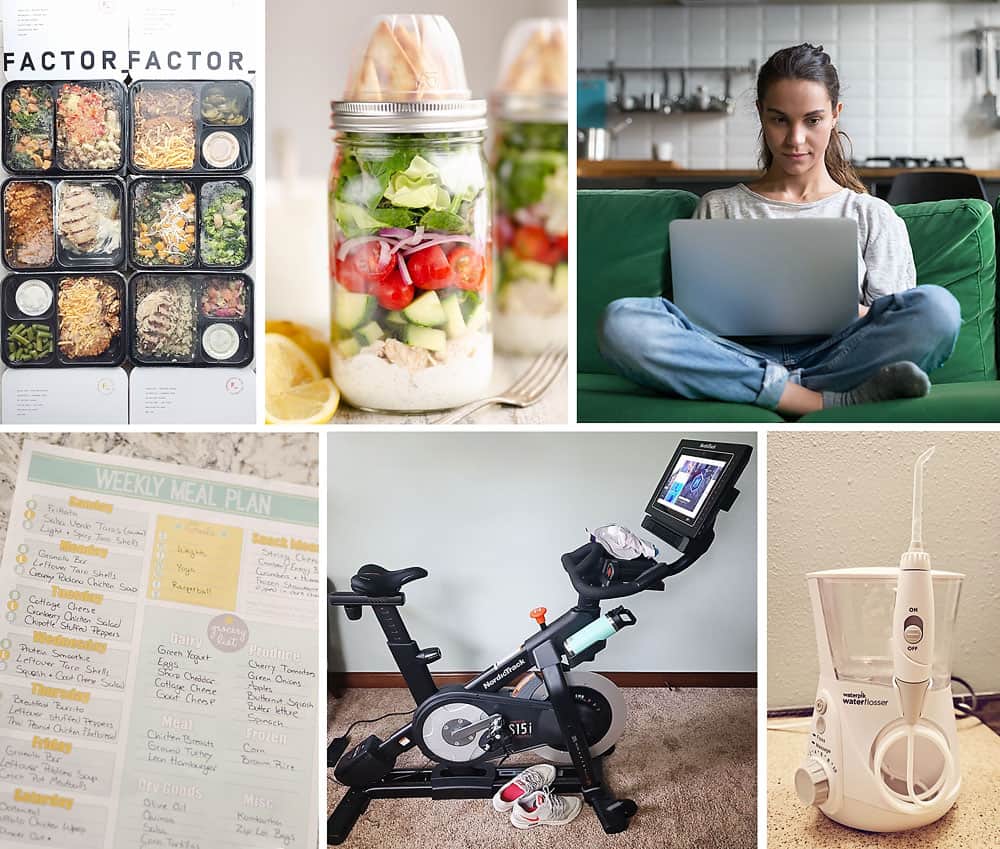 We typically know what healthy habits we should be implementing for ourselves, but life isn't always that simple. So I'm going to share some of my favorite tools and services that help me do my personal best with the basic tenants of health.
Healthy Eating
This one is obvious. What we eat really does affect us on every level. When I eat crap food, it bogs me down physically and mentally.
I used to follow weekly meal plans and they worked well for me before kids. This free printable Meal Planning Calendar is a great resource for anyone who works well with meal plans.
At this point in my life, meal plans feel a little too rigid for my lifestyle. Instead, I am focusing more on making one or two meal prep recipes a week or ordering a meal kit delivery, usually from Gobble, when I am really wanting to hit the easy button.
Factor Meals for Meal Prep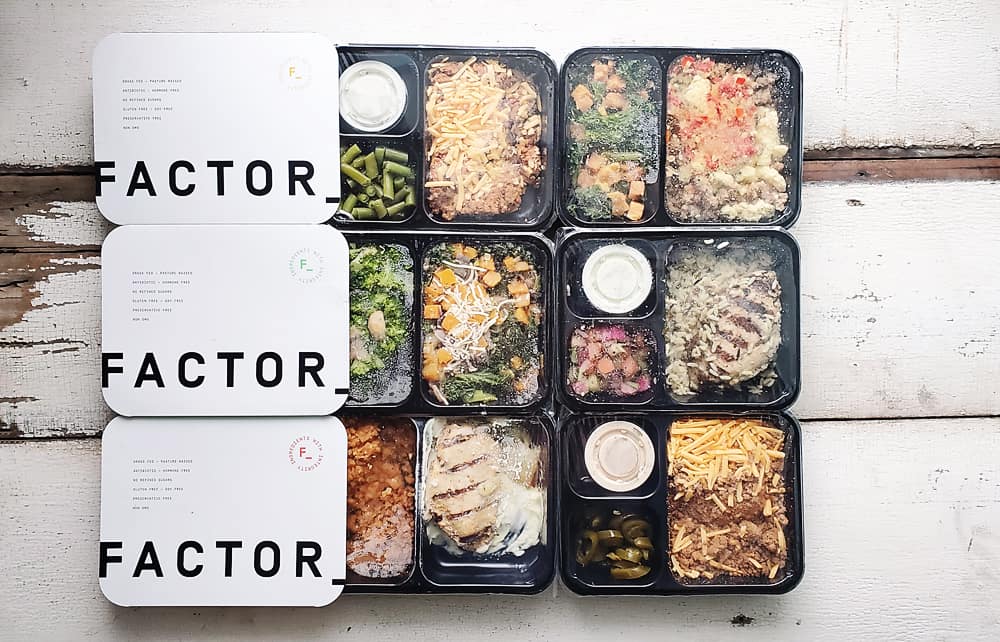 My absolute favorite way to have healthy meals at an arms reach is with Factor Meals. (Check out my full Factor Review) I order a box of 4-6 Factor meals each week for easy lunches for when I just need a quick and easy meal for myself. They make delicious pre-cooked meals that take ALL of the work out of meal prepping.
These pre-made meals are shipped fresh to your door. They are never frozen. Just pop them in the microwave for 2 minutes and you have a healthy meal without any effort. They offer a variety of meals, from low-carb, keto, low calories, etc. I usually order a mix of everything.
The Butter Chicken with Cauliflower Rice and Honey Mustard Chicken with Sweet Potatoes are two of my all-time favorite. So flavorful and a great way to get some veggies in.
Exercise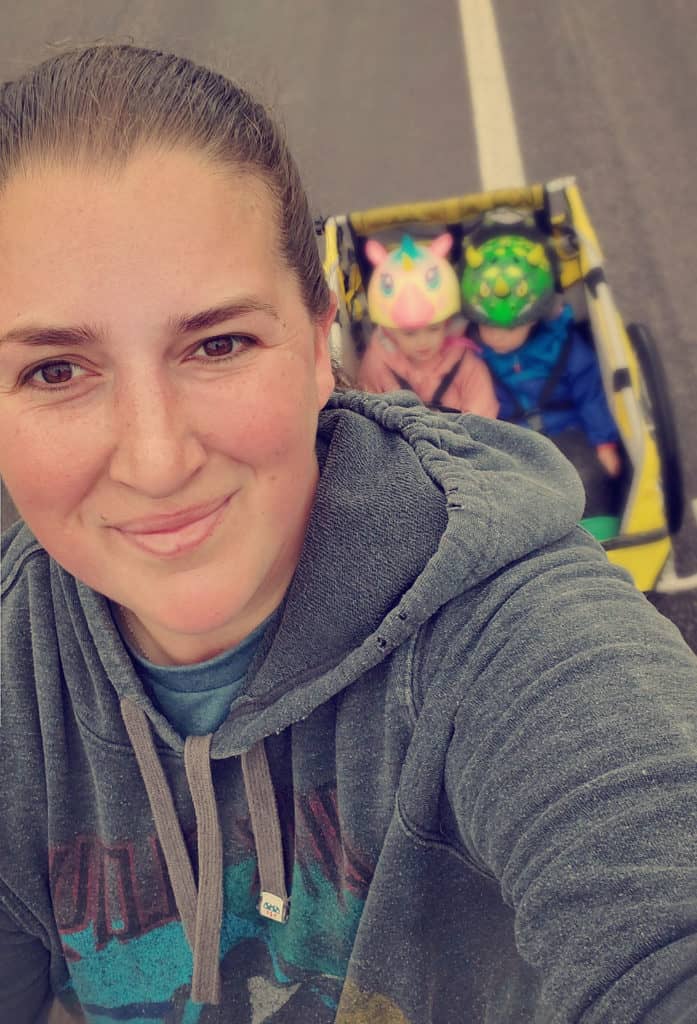 This summer I made a commitment to bike at least 20 miles every week. I used MapMyRide to track my mileage on the road which pushed me to get my miles in.
I bought a used bike trailer on the Marketplace for $20 for my twins and it was a win/win. I got to exercise in peace and they enjoyed the scenic ride. They also added about 50 pounds of resistance that really made me sweat!
Biking around the little lake in my small town is a nice flat 3.5 mile ride. The best part is that my parents live on the other side of the lake, so we would often use it as an excuse to make a pitstop and visit them.
A bike is a lifetime investment and such a great way to get outdoors. I wish I lived in a region that had more than 4 months of weather for outdoor cycling!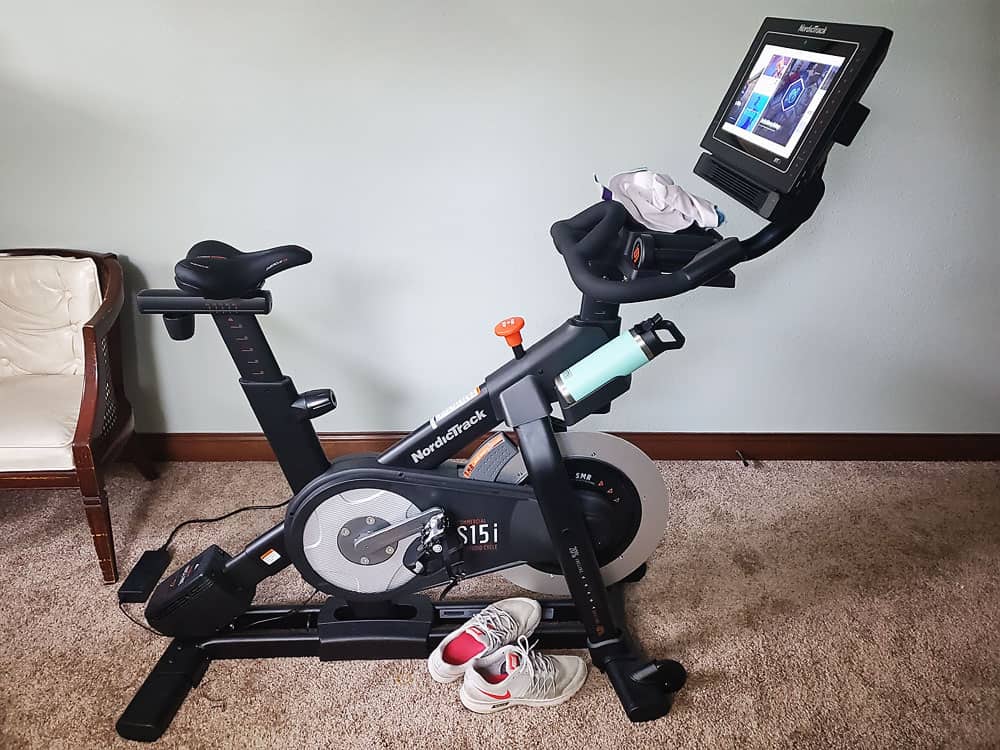 NordicTrack Studio Cycle
Living in Minnesota, I knew that biking outdoors with small children wouldn't last much past September, so I needed an alternative. The closest gym with classes is over 20 miles away and as a single mom of little ones, it's really not feasible to drive an hour roundtrip for a workout.
I have done the BeachBody type home workouts and they just aren't my jam. That isn't' to say they aren't great for some people. They just don't resonate with me.
I knew that I enjoyed biking quite a bit, so I decided to take the leap and purchase a NordicTrack s15i spin bike. I had never done a spin class before, so I was nervous about the different form of biking. I actually ended up loving it so much. The guided workouts push me much harder than traditional cycling.
I opted for the more affordable s15i over the s22i because I couldn't justify the extra few hundred dollars just for a larger screen. I am so glad I did, because the screen size I have is just right and it isn't as obtrusive in my room.
NordicTrack Vs. Peloton
You might be wondering why I didn't go the more popular Peloton route. If I'm being completely honest, I refused to pay hundreds of dollars more just to have the brand all the influencers do.
Peloton costs more
For me personally, it came down to over a $1,000 difference between the two. The upfront difference was a few hundred dollars less for NordicTrack ($1,599) when I bought mine, compared to the regular Peloton ($1,895).
The real savings came in with the subscription. If you order your bike from NordicTrack directly, you get 1 free year of the iFit subscription. Additionally, when I bought my bike, I got a card included with the bike for one year of iFit. That actually made for 2 free years of the family subscription service (normally $15/month for individuals or $33/month for families). If you order from Amazon, it will come much quicker, but you only get one year.
Peleton on the other hand charges $39 a month for their service. Worst of all, they make you pay for it from the day you order your bike, even though it can take months to arrive. That is $936 in savings right there.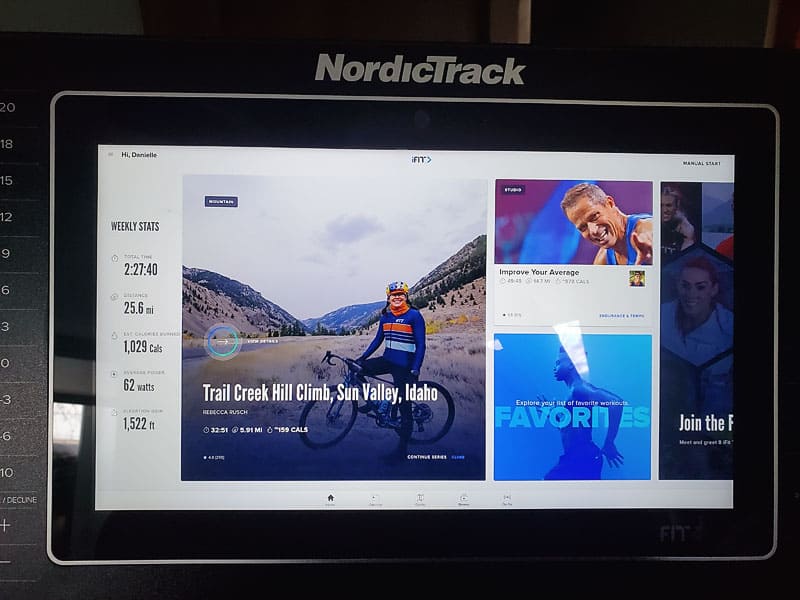 Features of NordicTrack and Peloton
Despite my s15i being less expensive, it actually has more features, including a swivel screen for HIIT workouts and automated incline. Yes, the Peleton Plus has a swivel screen, but that is even more money.
The big draw for many people with the Peloton is their workout library. They have licensed music for quite awhile now and actually set their workouts to good music. Whereas NordicTrack just has a set list in the background.
The music with NordicTrack used to be pretty terrible. It was reminiscent of elevator music if I'm being honest. BUT, in 2021, they now license popular music to stream with their workouts. So honestly, I'm not missing much in that department.
A big draw for some people with NordicTrack is that they seem to focus more of their production dollars on biking around the world. They have guided tours that you can ride throughout the world. This isn't appealing to me personally though, as I much prefer studio rides.
The only downfall I've found with the NordicTrack is that my friends have Peleton. So if I wanted to add them or compete against them, I can't. NordicTrack has the same feature to add friends, but I don't know anyone who has the NordicTrack, so that is a little bit of a bummer. Not a $1,000 bummer though. 😉 I'll just compete against everyone else on the leaderboard.
Studio Cycle Alternative
I'm fully aware, that a $2,000 exercise equipment purchase is out of many people's budgets. I just wanted to share what has worked for me personally. If you live in a warmer region, you are lucky enough to bike outdoors most of the year.
For anyone else in colder climates, there are alternative hacks to stationary bikes, that I actually considered for myself. A stationary bike stand is a good option if you already own a bicycle.
I am going to try this fun hack to make my kids' bikes stationary and they can ride along with me!
If you need the push of a class, you can stream iFit or Peloton apps on your tablet or TV for a great workout with your own bike. Interestingly enough, Peloton actually only charges a lower $12.99/month for their app ($39/month for bike owners). iFit charges $15/month for individuals, so you are actually better off with the Peloton subscription in this case.
Oral Health
Oral health is a very important part of overall health. Despite growing up with my Mom who worked in a dental office most of her life and knowing how important flossing is, I've always been terrible at following through.
Last year I decided to get Invisalign to correct my overcrowded teeth. (Peep my digitized before and after simulation above!) I knew if I was going to get braces of any sort, I needed to be even more diligent about oral health.
I decided to get a Waterpik water flosser. I had a battery operated one the past and it just didn't work well for me. Not only did you have to fill the water chamber way too often, it didn't have the same pressure.
I have been loving the Waterpik. I scored it on Amazon Prime Day for around $40, and at that price it's a great value!
It can seem kind of overwhelming to use when you first get started. The biggest key is to not try and swallow any of that water. Lean over the sink and pressure wash your teeth, allowing the water to flow out of your mouth into the sink.
I actually love the feeling of the water on my gums and it is insane how many particles I get out, even after brushing. I eat lots of almonds and those little culprits like to hide in the corners of my teeth that an electric toothbrush just doesn't get.
Mental Health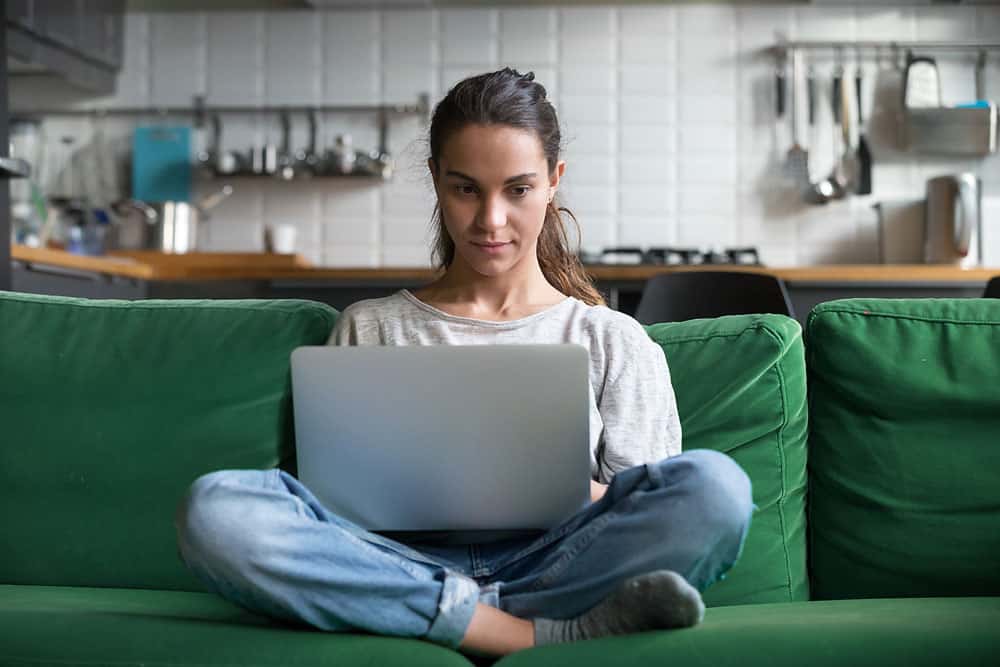 One good thing that came out of 2020 has been the bigger move to telehealth. For those who have difficulty accessing mental health services due to proximity or the ability to leave our house, telehealth is a fantastic option.
I believe therapy is for everyone. We can all benefit from working on ourselves! I recently started seeing someone because I realized that it is just a good tool to have in my toolbelt that keeps me more accountable to myself.
One of the biggest barriers to mental health services for most people is cost. On my high deductible plan, it would have cost me over $300 a session at my local clinic. I changed my plan to a lower deductible co-pay plan for $60 more a month in premiums and now I pay $30 co-pays.
Online counseling is a good way to find more affordable options than traditional settings. If you don't have insurance or have high deductible insurance, BetterHelp or TalkSpace are two options to check out. They will still cost around $60-$100 a week though.
Here is some more information on finding financial assistance for mental health services.