This easy Rhubarb Honey Sauce is the perfect way to preserve all your amazing rhubarb this summer. This simple 15 minute recipe is perfect on top of ice cream, pancakes or by the spoonful!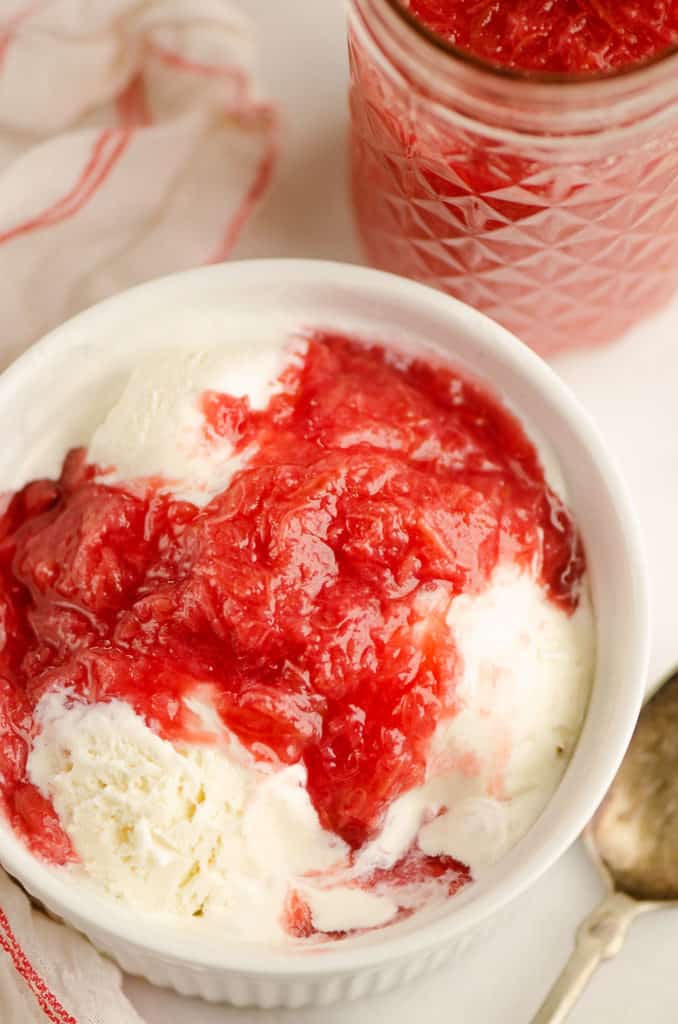 Rhubarb Sauce Recipe
If you love rhubarb recipes as much as we do in our family, you need to try this easy rhubarb sauce. It's the perfect balance of tart rhubarb sweetened with honey along with a splash of vanilla. It all comes together in a saucepan in less than 15 minutes.
I whipped up this Rhubarb Honey Sauce to fill these decadent Rhubarb Cupcakes with, but it has so many more uses, that I just had to share! We enjoyed the warm sauce over some vanilla ice cream and everyone was going on and on about how amazing it was. It takes a simple dessert and puts it over the top!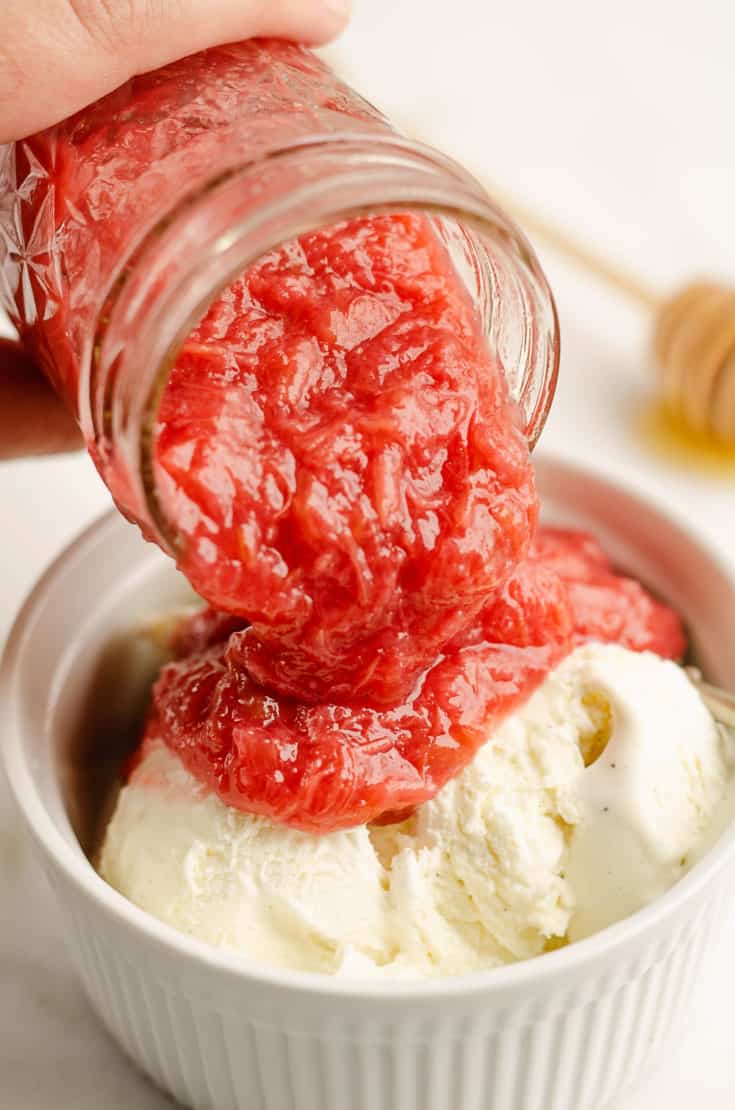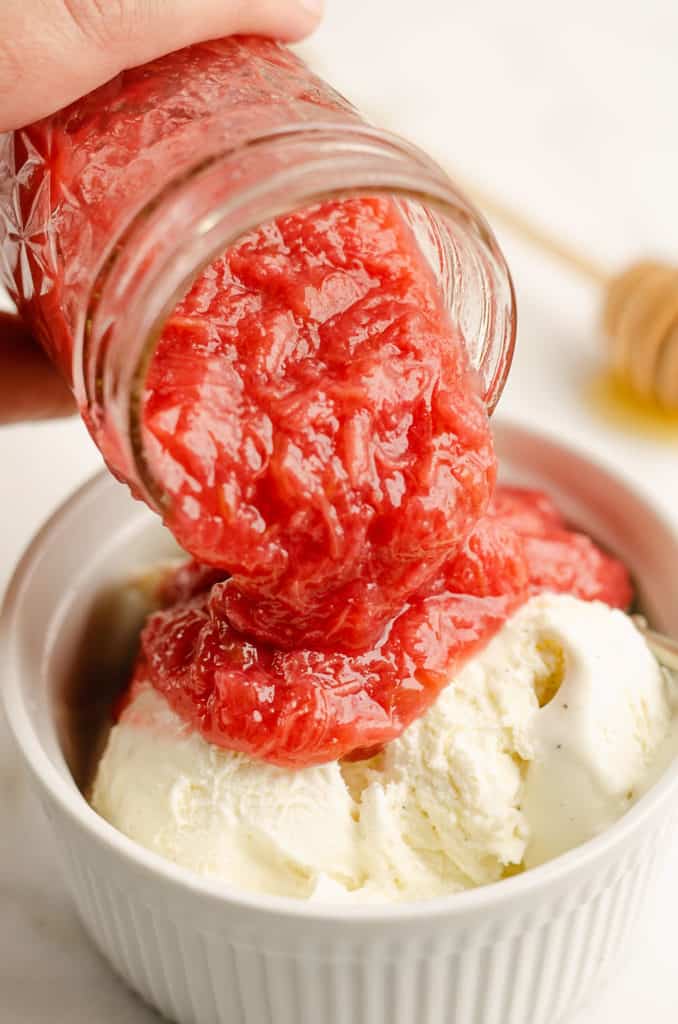 How to Make Rhubarb Sauce
My Mom makes an amazing strawberry rhubarb jam that is amazing on toast, but frankly that is a bit more labor intensive than I want to deal with. I'm not a big canner. The beauty of this Rhubarb Honey Sauce is that it is fresh and doesn't involve canning.
To get started, add the following ingredients to a large saucepan,
6 cups chopped rhubarb stalks
1/2 cup granulated sugar
1/2 teaspoon salt
1/4 cup water
Can I use frozen rhubarb
You can absolutely use frozen rhubarb with this easy rhubarb honey sauce. When you are grabbing a bag of rhubarb from the freezer, just be sure there isn't lots of built up frost. This will add too much moisture to the sauce and make it runny.
If you do have some frost on your frozen rhubarb, just place it in a large strainer and run it under hot water until the frost is removed. Shake off any excess water and add it to your saucepan.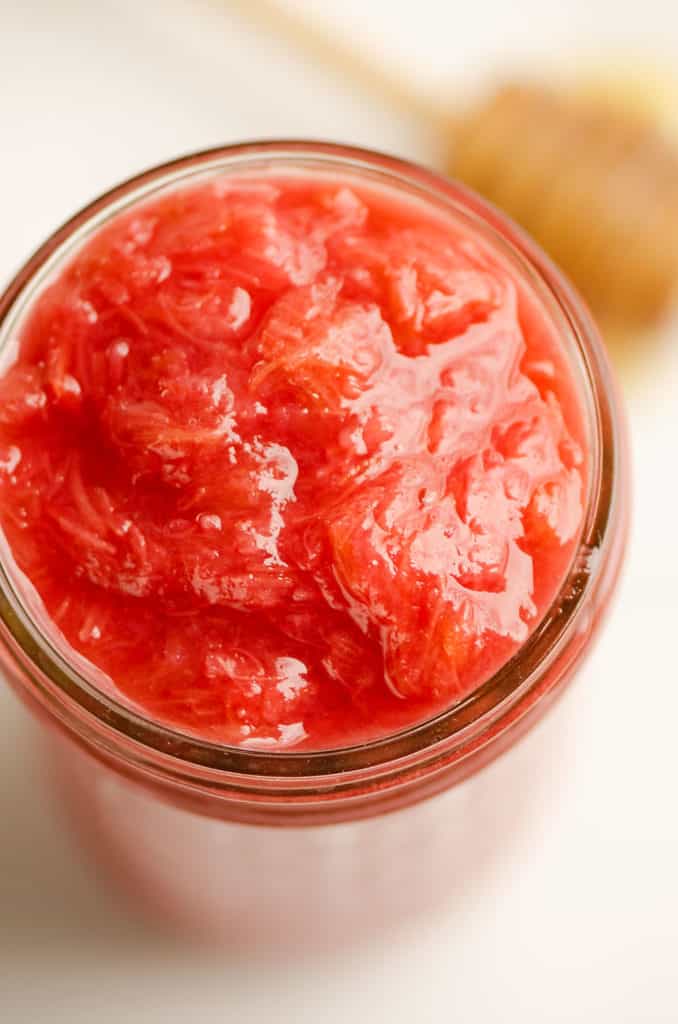 Sweeten with honey to taste
Cook down the rhubarb, sugar, water and salt for about 10 minutes or until it is softened. Once the rhubarb is all cooked down, remove the pan from heat and stir in the vanilla extract and honey. It's important not to add either of these ingredients while cooking the rhubarb, because the high heat will break them down and change their flavor.
Add the honey slowly and taste as you go so you can make the sauce as sweet as you would like. I prefer to highlight the tart nature of rhubarb in this sauce, so if you like your rhubarb sauce sweeter, just add a little more honey until it is just right for you.
Can I freeze or can rhubarb sauce
This rhubarb sauce isn't a canned recipe. Canning requires a very specific amount of salt, sugar, etc. to properly preserve the fruits and vegetables so they don't spoil. You should never try can a recipe that isn't specifically designed to be canned.
With that said, canning isn't the only way to preserve sauces and fruits. Freezing is a great alternative that allows you to enjoy seasonal fruits all throughout the year. While it does require freezer space, you don't need any special equipment or experience.
If you plan to use your rhubarb sauce right away, add it to a jar and store sealed in the refrigerator for up to 7 days.
How to freeze rhubarb sauce
Rhubarb is at it's prime in spring and can be harvested through the first half of summer. A good rule of thumb is to use your rhubarb by the 4th of July. You can still eat the rhubarb stalks all throughout the summer but they become woody and don't taste as good.
If you can't stand the thought of letting any of that precious rhubarb go to waste, be sure to harvest it before mid-summer. Chop it up and store it in freeze bags or containers. If you want to go the extra mile, make some of your rhubarb into this amazing rhubarb honey sauce and freeze it up for a fresh treat any time of year.
To freeze rhubarb sauce, allow it to cool to room temperature. Add the sauce to freezer containers up to the top of the lid to help prevent frost buildup. You can store the rhubarb sauce in a deep freezer for 6-9 months as long as it is kept constantly frozen.
Don't freeze in glass jars because sauces will expand some as they freeze and you may open your freezer to an unpleasant surprise of broken glass and sauce everywhere.
What to serve rhubarb sauce with
If you whipped up a big batch of this rhubarb sauce, you will be like us and looking for any excuse to enjoy it. Here are just a few suggestions that are the perfect compliment to rhubarb honey sauce. It is perfect for everything from breakfast to desserts. There are no limits on this delectable sauce.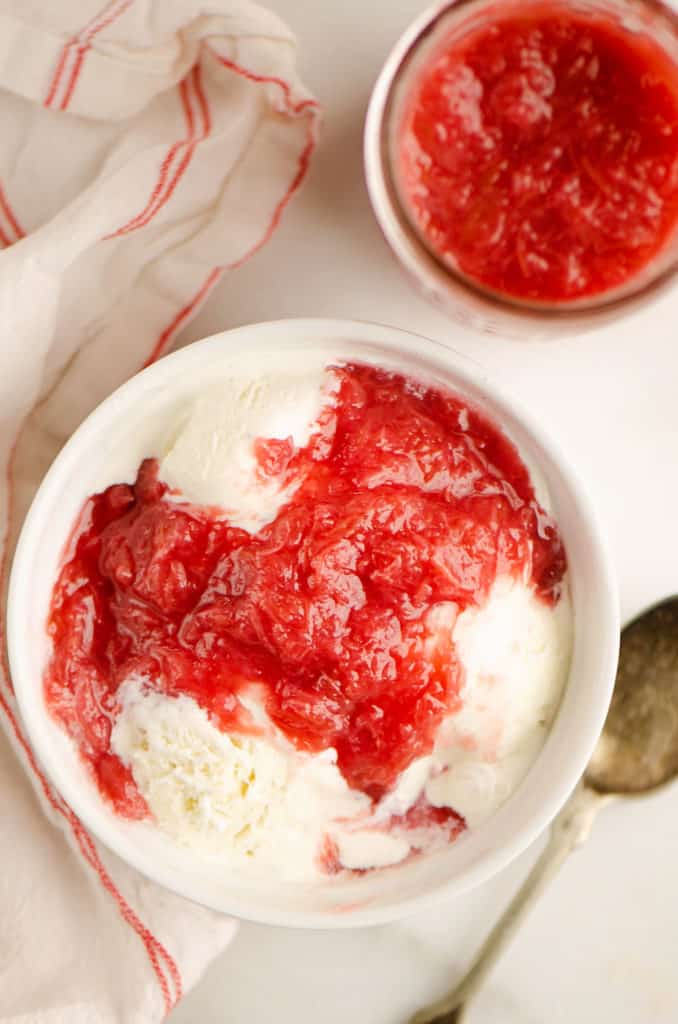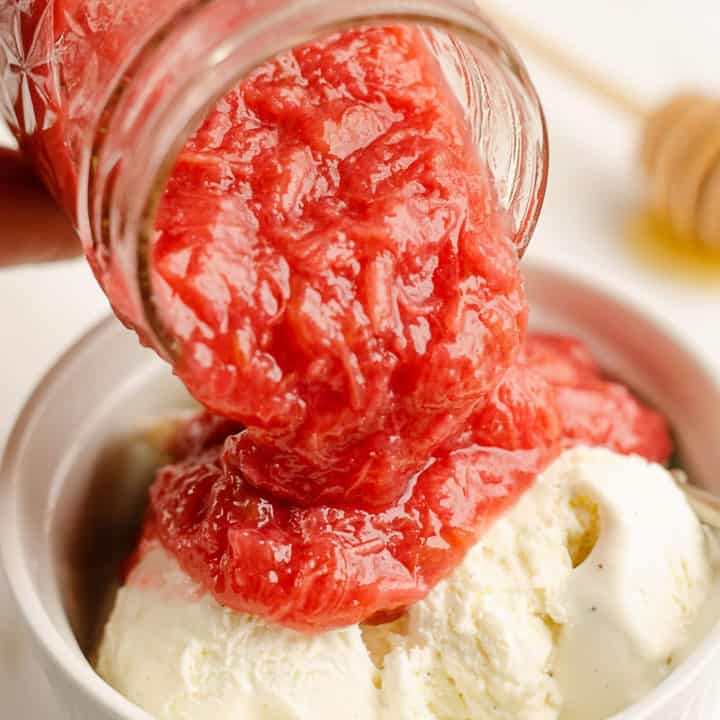 Easy Rhubarb Honey Sauce
This easy Rhubarb Honey Sauce is the perfect way to preserve all your amazing rhubarb this summer. This simple 15 minute recipe is perfect on top of ice cream, pancakes or by the spoonful!
Ingredients
6 cups chopped rhubarb stalks
1/2 cup granulated sugar
1/2 teaspoon salt
1/4 cup water
1 teaspoons vanilla extract
1/4 cup honey
Instructions
In a large saucepan over medium-high heat, add the chopped rhubarb, granulated sugar, salt and water.
Cook, stirring occasionally for about 10 minutes, or until the rhubarb is cooked down and the sauce has thickened.
Remove from the heat. Stir in the vanilla extract and honey. Add additional honey if you prefer it sweeter. Serve warm over ice cream, pancakes, etc.
Allow to cool to room temperature before storing in airtight containers. Refrigerate for up to 7 days or freeze up to 6-9 months.
Recommended Products
As an Amazon Associate and member of other affiliate programs, I earn from qualifying purchases.
Nutrition Information:
Yield:

12
Serving Size:

1/4 cup
Amount Per Serving:
Calories:

68
Total Fat:

0g
Saturated Fat:

0g
Trans Fat:

0g
Unsaturated Fat:

0g
Cholesterol:

0mg
Sodium:

91mg
Carbohydrates:

17g
Fiber:

1g
Sugar:

15g
Protein:

1g
Provided nutrition data is only an estimate. If you are tracking these nutrients for medical purposes, please consult an outside, trusted source.