Best Buttermilk Pancake Recipe is a family favorite that is always requested for brunch. You can even make these fluffy homemade pancakes ahead of time and refrigerate the batter overnight for camping or a quick breakfast!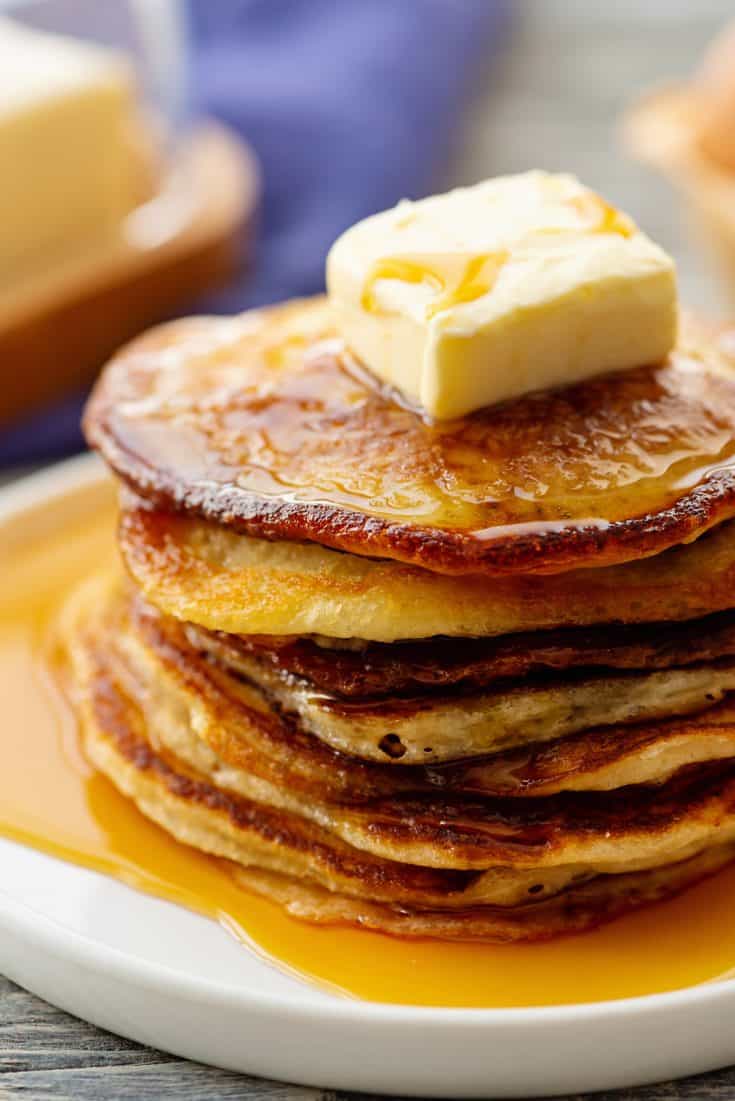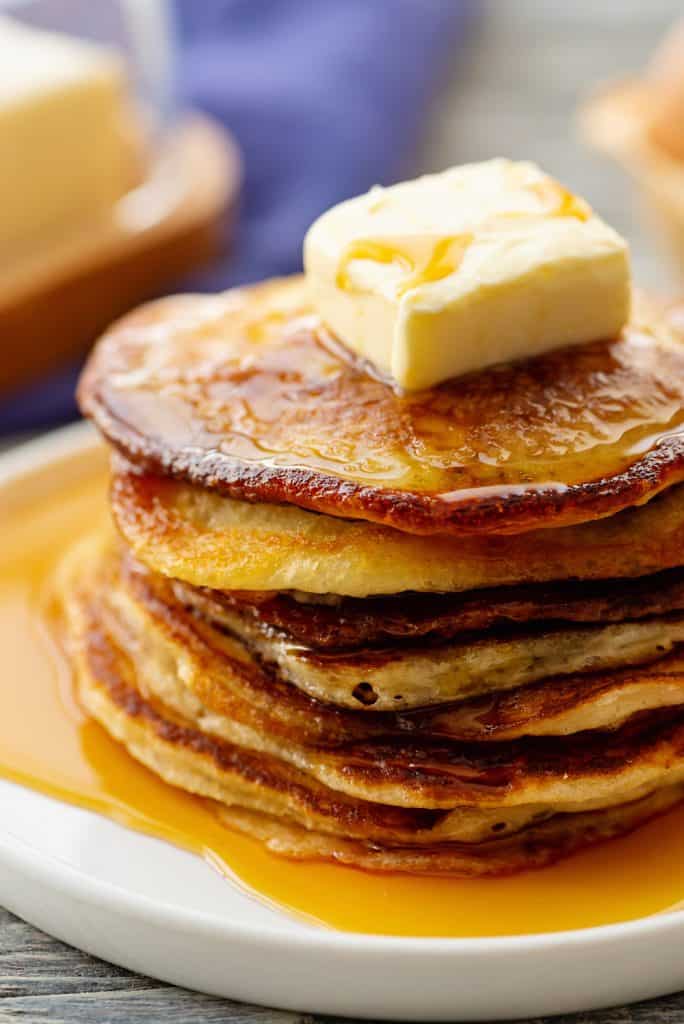 Best Buttermilk Pancake Recipe
The best buttermilk pancake recipe has been in my family for generations. They make a wonderful light and fluffy pancake that everyone loves. We always call them Dad's pancakes, because after church on occasional Sundays, he would whip up a batch of these before sitting down to the read the paper. It was one of the few meals he made seeing my Mom was the cook of the family. I asked my Mom recently where the recipe originated and apparently my Grandma got the recipe from the cafe she used to work at in town.
These easy buttermilk pancakes are always delicious and continue to be requested for family brunches along with our favorite
Blueberry Coffee Cake
. They can be prepared ahead of time and they also store well, so it is really convenient too. Make a batch to take camping, or just keep a bottle of the batter in your fridge for an easy and delicious breakfast you can whip up in minutes.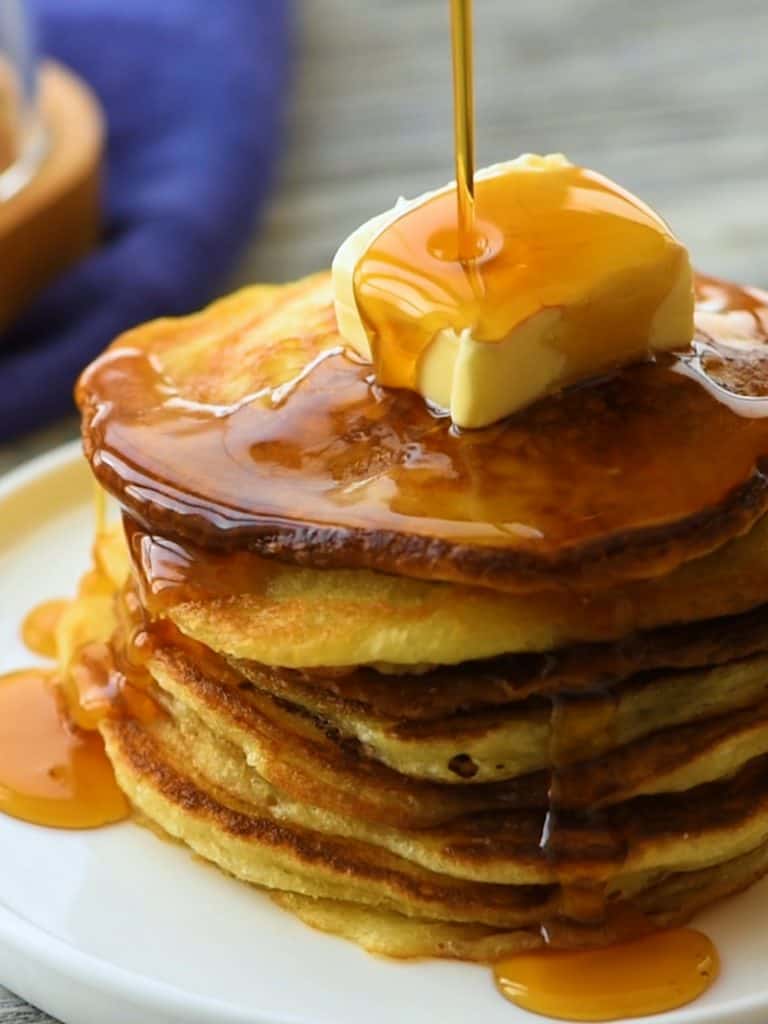 What is buttermilk?
Originally and still in some places around the globe, buttermilk came from the sour and fermented liquid left over from producing butter. However, nowadays the kind of buttermilk you find in most grocery stores is a cultured milk product.
It has a slightly sour flavor. In terms of drinking it straight, people either love it or hate it. Kind of like kefir, the liquid yogurt drink.
The sourness is from fermentation, not because it has "gone bad". In fact, since ancient times, the fermentation was used as a means of preserving the milk for consumption in warm climates.
But even if you are not a fan of drinking straight buttermilk, it is amazing for using in pancakes!
Why is buttermilk ideal for pancakes?
The sourness of buttermilk is due to lactic acid which forms when the milk ferments naturally or through adding cultures to ferment it. The lactic acid does a few things… and all of them are useful and wonderful to making delicious pancakes.
First off, it gives buttermilk pancakes more flavor. Think of it the same way that sour milk starter gives sourdough bread that special tang of flavor.
It also interacts with the baking soda and baking powder to make them more effective at guess what? Making the pancakes more light and fluffy!
So even if you don't like buttermilk by itself, never fear, because it helps make out of this world pancakes.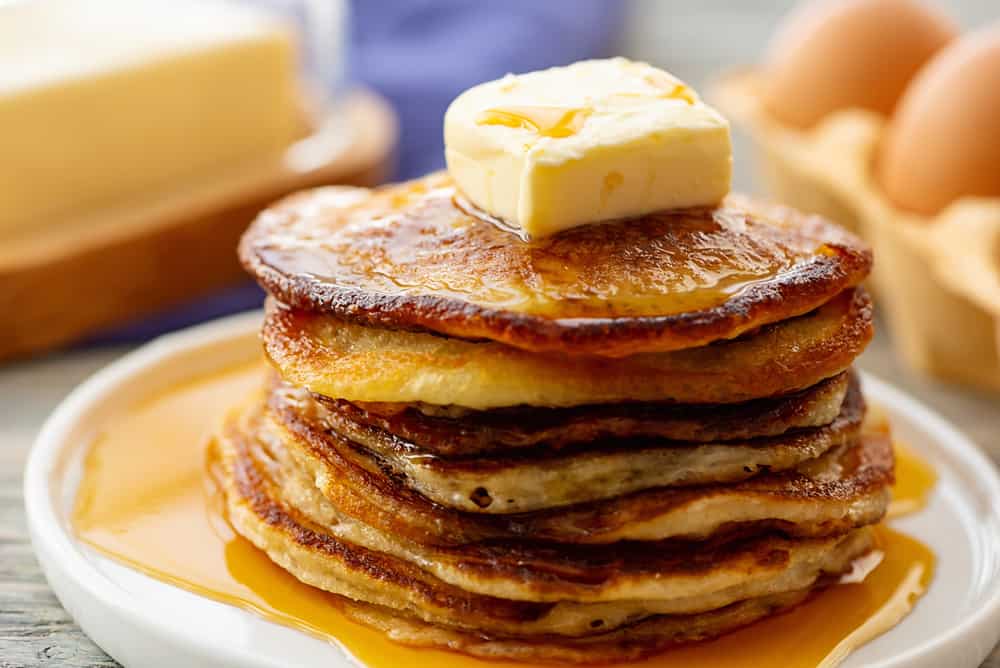 Homemade Buttermilk Pancakes are easy!
Mixing the wet and dry ingredients for your own pancake batter is a simple matter of tossing everything in a bowl and stirring it.
No need to overstir the ingredients or else you risk losing your light and fluffy and replacing it with chewy and dense. Just stir the ingredients until they are mixed. Lumps are ok. If you over stir the mixture, then gluten strands will develop.
That might be great for making pizza dough, but when it comes to pancakes you will be looking at a bunch of faces trying to pretend they like your homemade buttermilk pancakes, looking like they are chewing rotten egg flavored chewing gum.
Can you make the pancake batter ahead of time?
If you want to make the batter ahead of time, then I recommend it. One, it stores well. You can keep it in your fridge for about 2 weeks without a problem.
The only thing to remember if you want to pre-mix your homemade buttermilk pancake batter is to keep the baking powder and baking soda out of the mixture until you are going to cook your pancakes.
Add those right before you are ready to hit the hot griddle with your batter. Mix gently.
You can store the batter in any convenient container with a resealable lid and ideally one that is easy to pour from.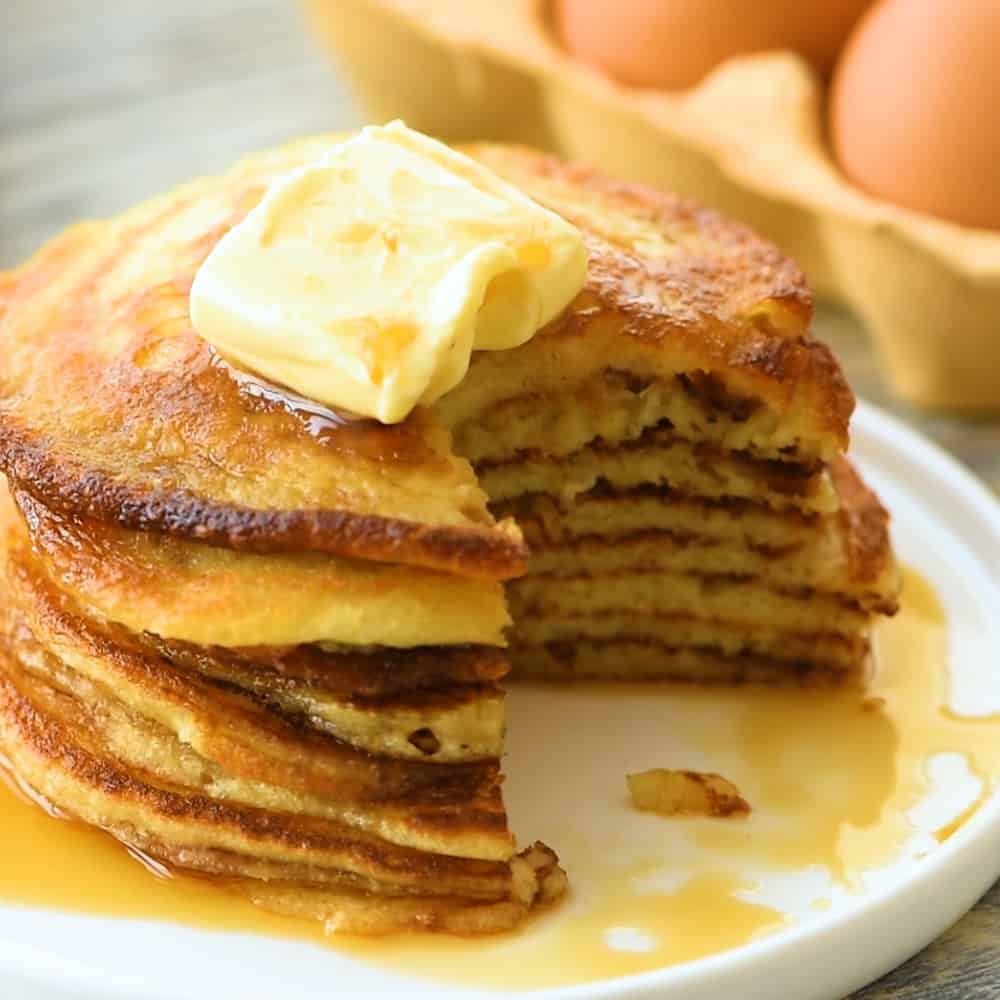 Is there a substitute for buttermilk that works?
You can use milk or even water as the liquid in this recipe if you don't have any buttermilk handy. However, if you still want that extra flair of flavor, then using kefir, sour cream, or even yogurt is possible.
The advantage of those is you still get the "sour" into the flavor as well as the boost in fluffiness from the lactic acid helping your leavening agents, baking soda and baking powder.
However, the best way to go is definitely use buttermilk. Your taste buds will thank me for it.
Can I substitute flour with pancake mix?
I have a friend that is so convinced that she can't bake that even throwing together a few ingredients presents a challenge. I know her first question will be "Can't I just use pancake mix instead?"
No need to judge because the answer is a big huge "YES!"
Just remember pre-made pancake mixes include all the dry ingredients so you don't have to do anything but add the buttermilk, eggs, and oil. Again, don't overstir the ingredients, just get them lightly mixed.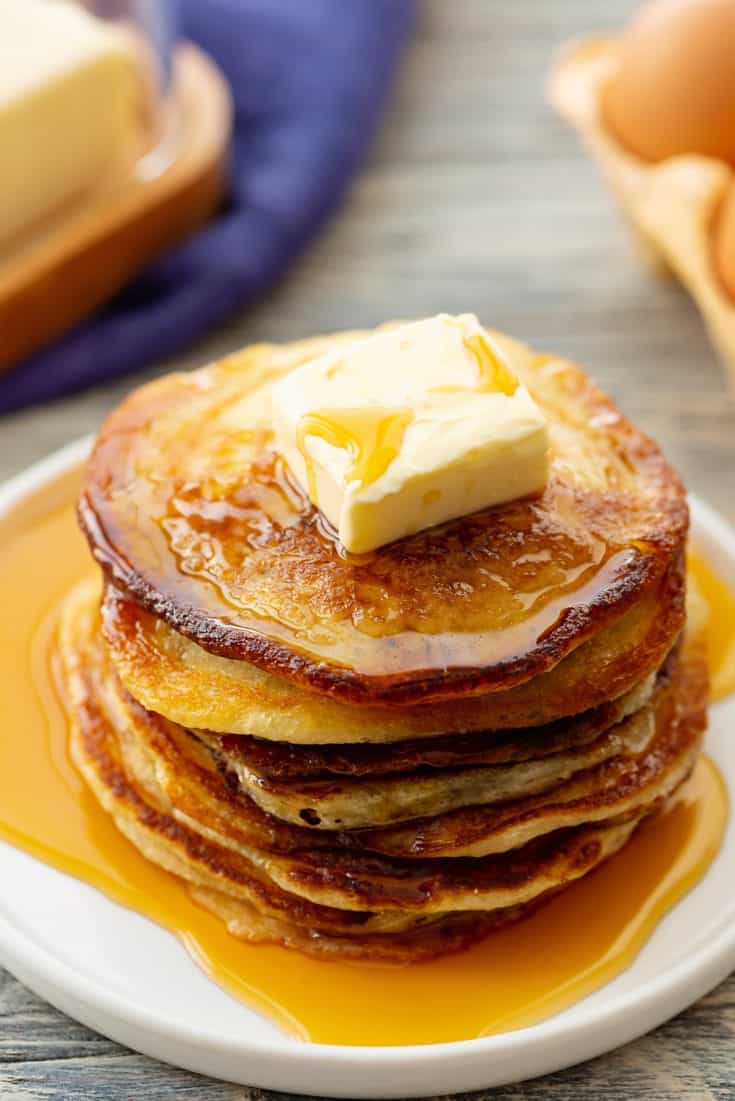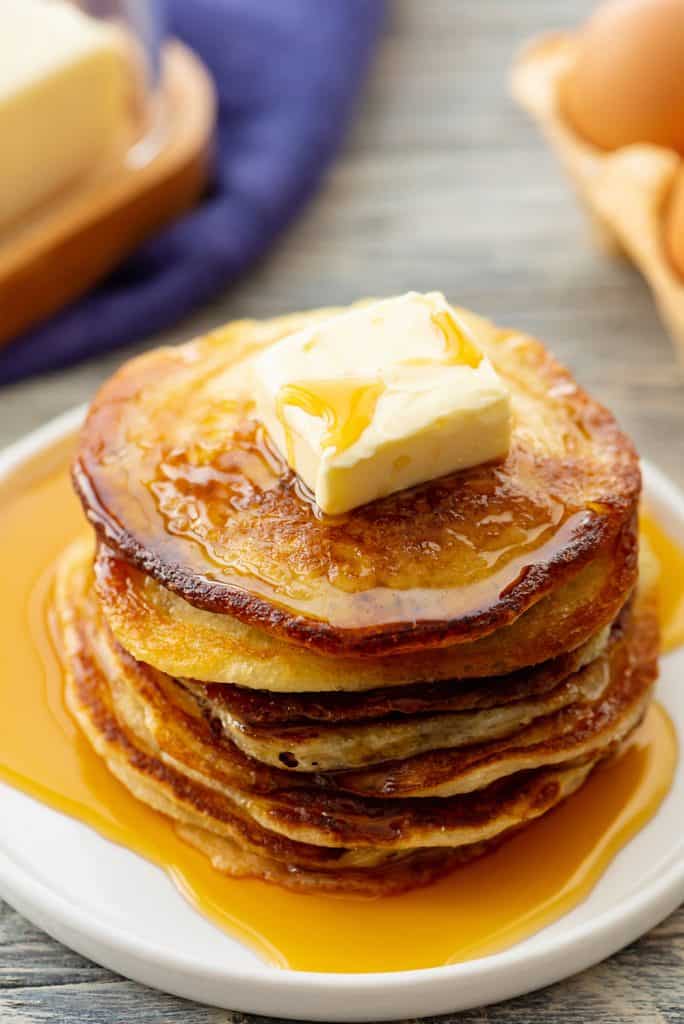 Can you make pancakes ahead of time?
In my mind, there is nothing like a fresh cooked homemade buttermilk pancake flipped right off the griddle surface onto a plate, warm and ready for butter and syrup. So I always recommend storing a batch of ready mixed batter to pour out as needed.
But sometimes you make a few extra and everyone is too full to enjoy another. In those cases, you can actually store them and reheat to eat later. To reheat, place the pancakes on a plate and cover with a very lightly damp paper towel. Throw it in the microwave for about thirty seconds tops.
It may not be as amazing as a freshly cooked one, but it is good enough to eat and good enough to know that you didn't just waste it either.
Complete your breakfast or brunch with these recipe suggestions:
Homemade buttermilk pancakes are just one delicious part of a great breakfast or brunch. Here are some other recipes I recommend to complete the meal.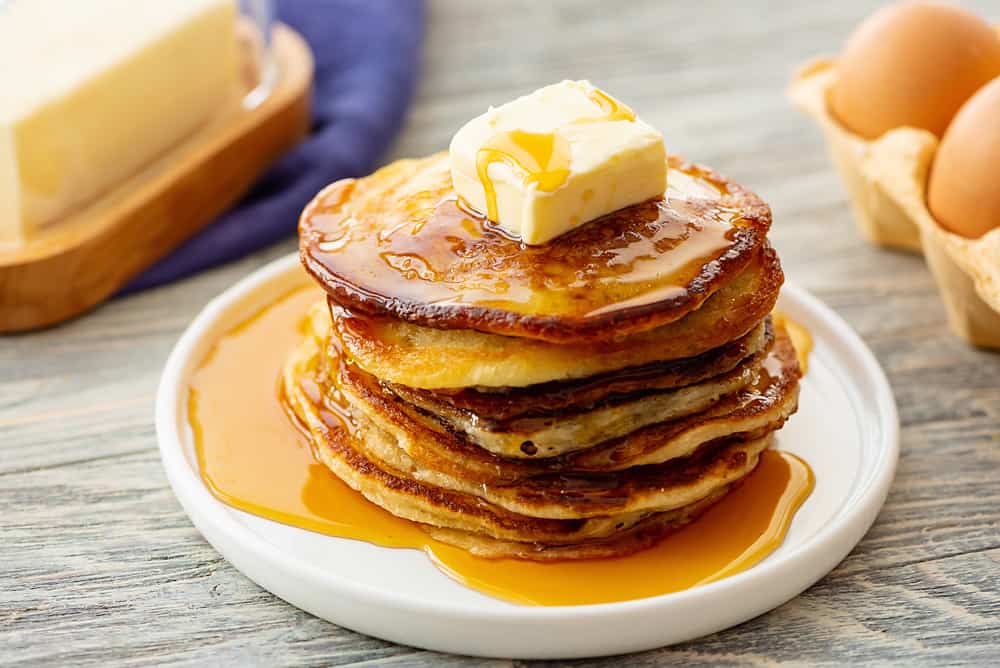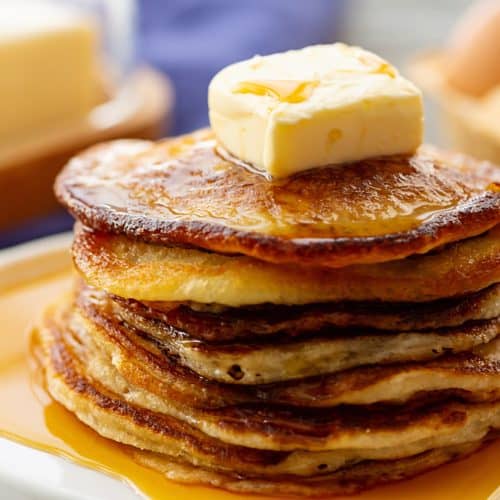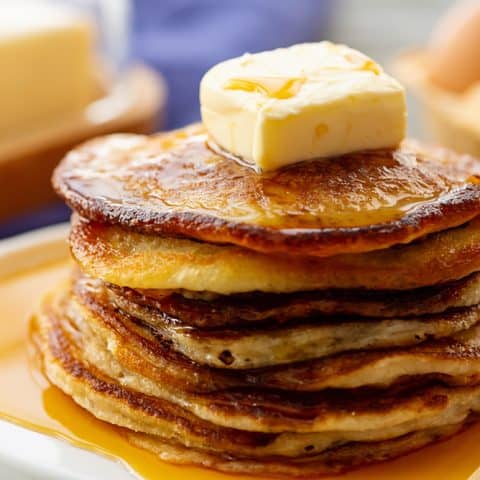 Best Buttermilk Pancake Recipe
Best Buttermilk Pancake Recipe is a family favorite that is always requested for brunch. You can even make these fluffy homemade pancakes ahead of time and refrigerate the batter overnight for camping or a quick breakfast!
Ingredients
4 eggs
1/4 c. sugar
1 1/2 tsp. salt
1/2 c. canola oil
1 qt. buttermilk
3 c. flour
2 tsp. baking soda
4 tsp. baking powder
Instructions
In a large bowl, beat the eggs until a lemon color. Add the sugar, salt, oil, and half of the buttermilk and flour. Mix well.
Mix in the remaining buttermilk and flour. Lastly add baking powder and soda right before cooking. (Batter can be made in advance without the powder and soda)
Turn griddle to medium heat or heat a large skillet over medium heat on the stove.
Add a small amount of butter to the hot griddle, to just give it a thin coat.
Ladle 1/3 cup of the batter onto the griddle. Cook for a couple of minutes, until small bubbles start to form on the top.
Flip the pancakes over and cook on other side until just golden in color.
Remove from pan and serve topped with butter and syrup.
Recommended Products
As an Amazon Associate and member of other affiliate programs, I earn from qualifying purchases.