Crock Pot Cranberry Pecan Stuffing is a light and easy dressing recipe made in the slow cooker for the perfect side dish at your next holiday!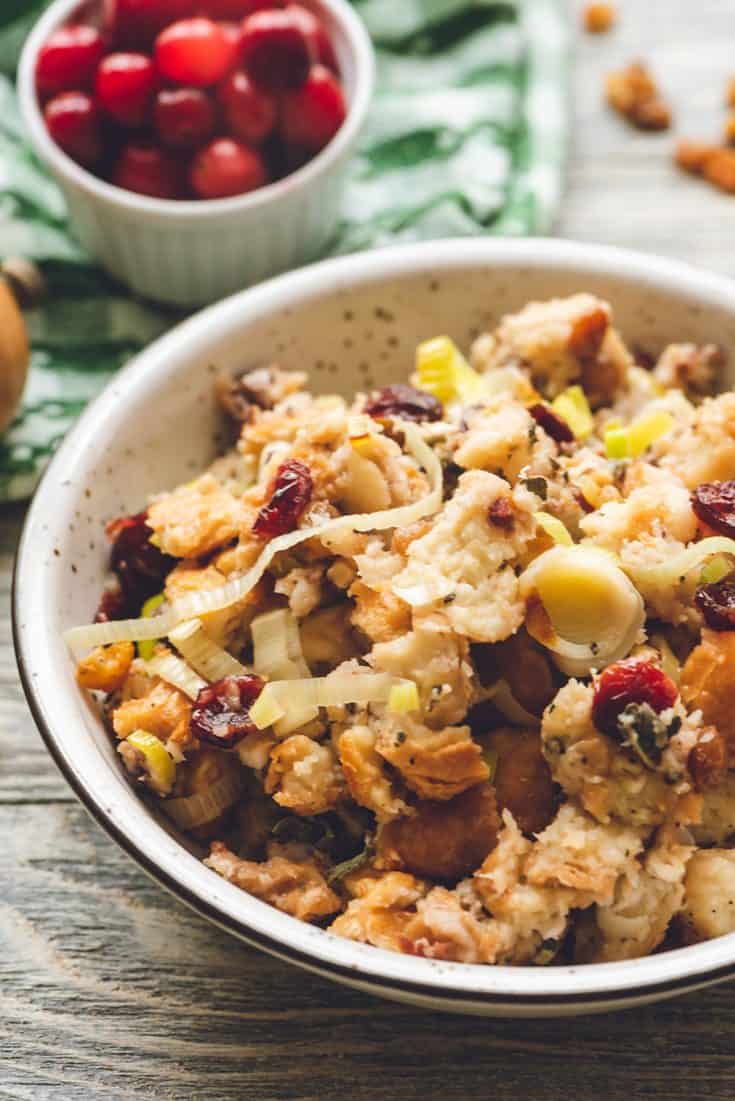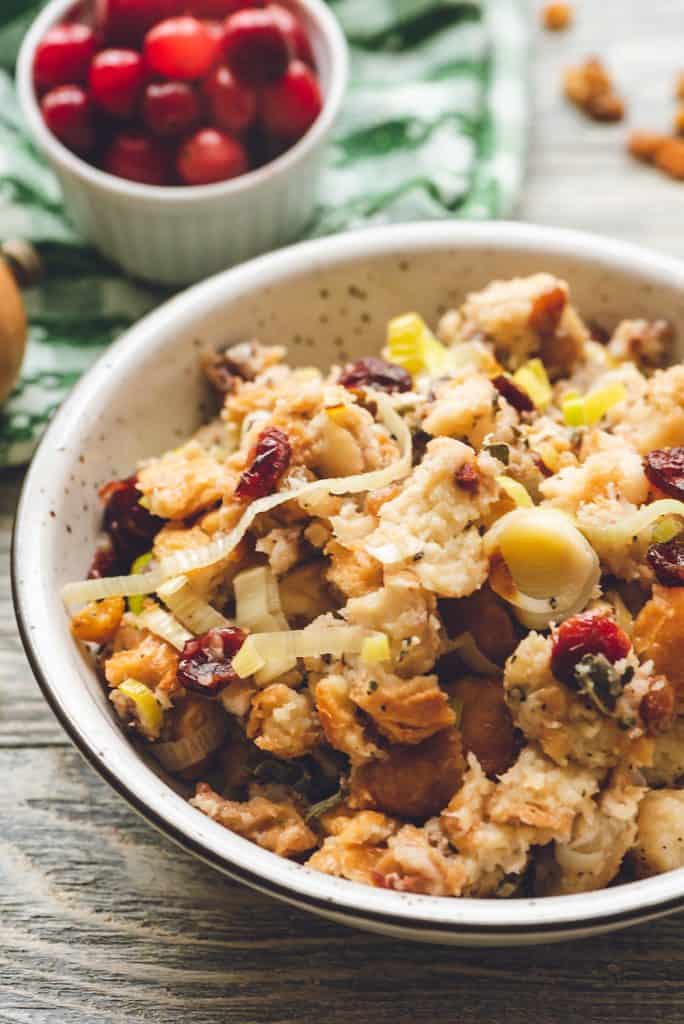 Slow Cooker Dressing
Crock Pot Cranberry Pecan Stuffing is a light and moist stuffing made in the slow cooker loaded with rich flavor and texture from cranberries, golden raisins, pecans and leeks.
While your turkey and Cranberry Custard Pie is baking away in the oven, allow yourself the ease of preparing your stuffing in your Crock Pot. It is so easy, all you have to do is mix it up, set it and forget it!
Holiday meal prep
I love preparing holiday meals for my family. Whether I am hosting them at my house or more typically taking over the cooking at my mom's, it is something I enjoy.
From making some delicious Pumpkin Cake Bars and Microwave Snack Mix the day before, to planning my Roast Turkey and classic side dishes like Broccoli Salad, holidays are all about food and family.
The problem I had last Thanksgiving, was that I ran out of oven space for all of my dishes!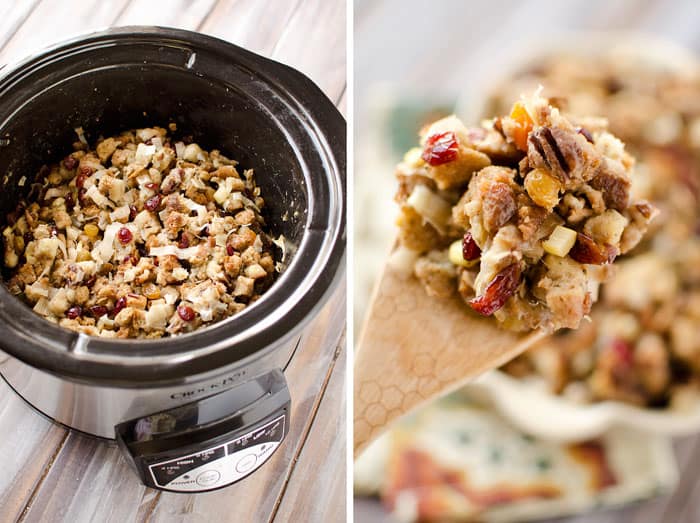 Thanksgiving Crockpot Recipes
I took a tip from my friend, Julie, the Crock Pot queen, and decided to put my Crock Pot to good use for the holiday.
I like to change things up and add a bit of variety to the old standby's such as stuffing. Instead of the boring old celery and onion, I decided to go a sweeter route and make cranberry stuffing.
This stuffing with cranberries, pecans, leeks and golden raisins is the perfect compliment to your Thanksgiving turkey this year.
You can even make your turkey with sides in a large Crockpot with these recipes!
Perfect Stuffing Recipe
I am rather particular about my stuffing. I don't eat it all that often throughout the year, but when I do during the holidays, I like it just right.
For me, the perfect stuffing is a light dressing that has a bit of texture left in it. This Apple & Pancetta Stuffing is a great example of fantastic flavors and textures.
To be completely honest, my mother always made Stove Top growing up and we were fine with it. It was an easy stuffing that satisfied the holiday obligation.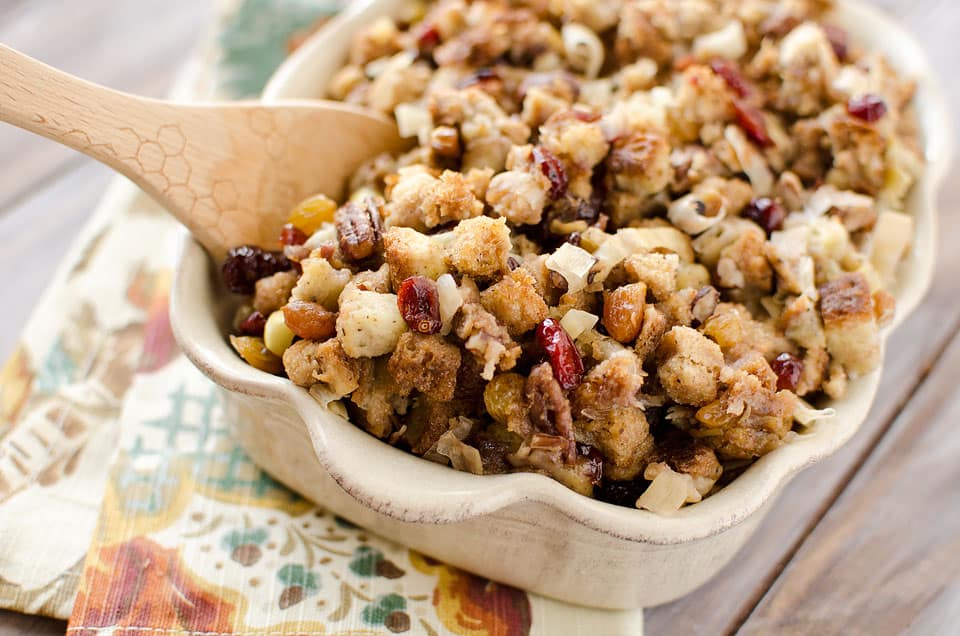 I've been to homes where they serve a soggy style homemade stuffing. When cooked, it no longer resembles any form of bread that formerly used to exist in it, but rather a massive casserole more like bread pudding.
Neither of these quite appeal to me, so it is up to me to bring my own version. This Crockpot Cranberry Pecan Stuffing is my go-top if I am bringing stuffing to a holiday meal. It's always a big hit!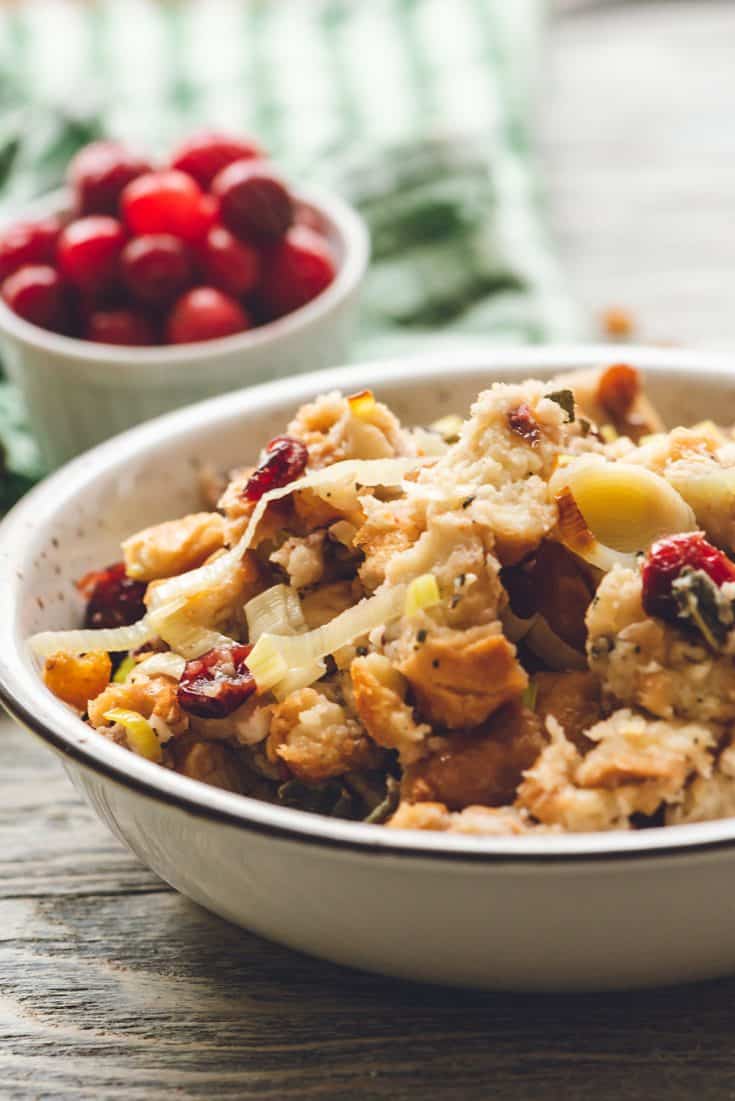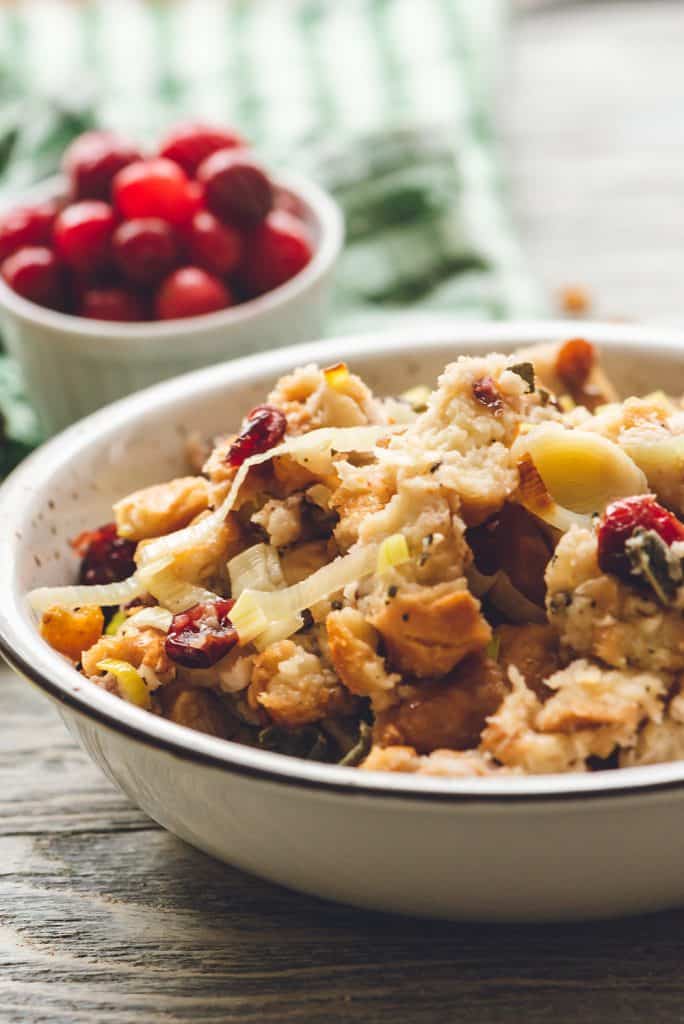 Why do you put eggs in stuffing?
I added one egg to this recipe, to help bind it together while still keeping it light and fluffy. If you prefer a dense and heavy stuffing, just add an additional egg or two in addition to some extra liquid.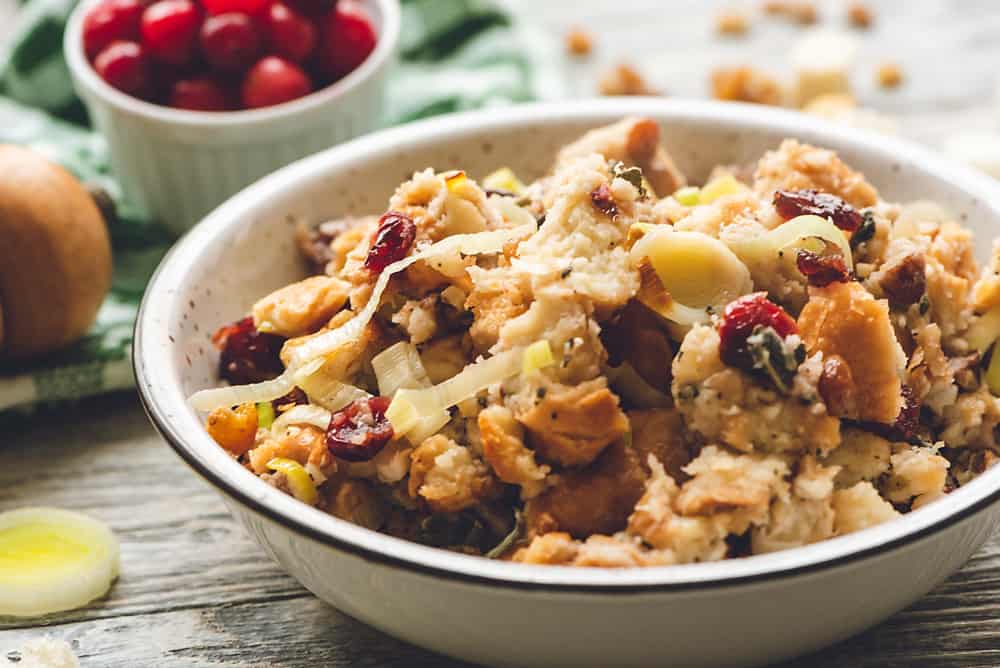 Can I keep my stuffing warm in a slow cooker?
Stuffing holds really well in a slow cooker, just like so many holiday foods. You can leave the stuffing in your Crock Pot for hours on the warming function. Just be sure not to keep it on a hot setting or it will dry it out.
You can also keep your roasted in the slow cooker if it gets done too early. We all know it is a tricky task to time the turkey to get done at the exact right moment for a holiday dinner.
Add the turkey drippings to the Crock Pot along with the sliced turkey. If there aren't many drippings, you can add a couple coups of chicken stock. It can stay warm and moist in the slow cooker for a couple hours before you have to worry about it drying out.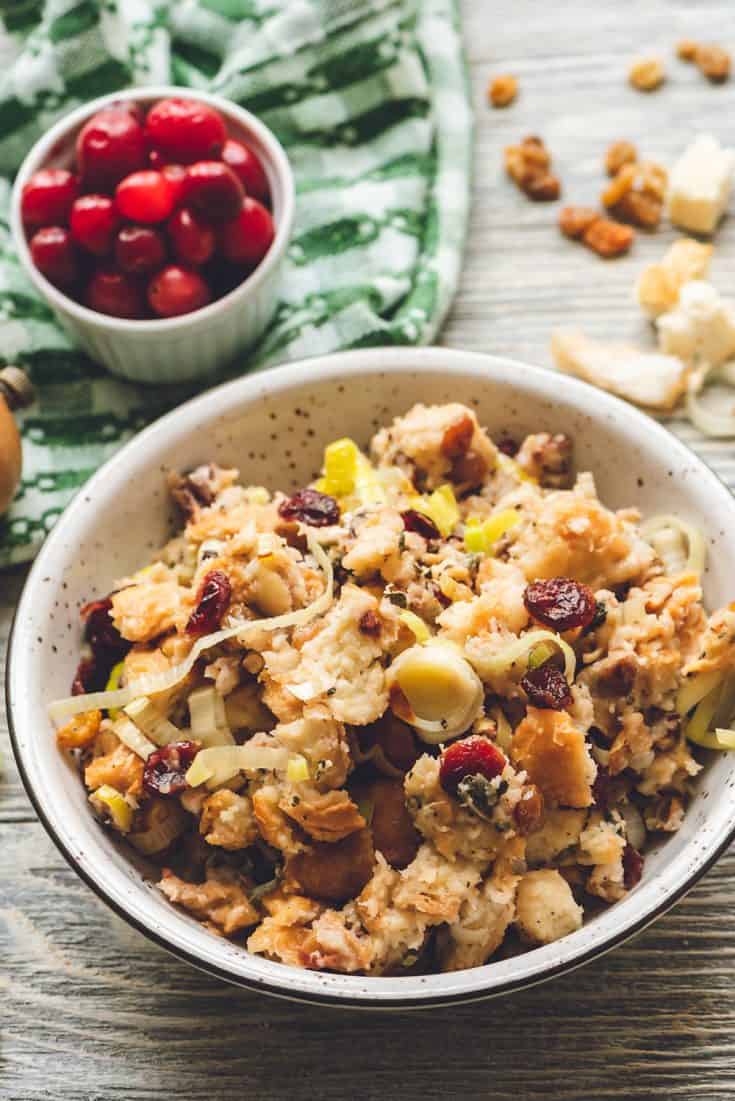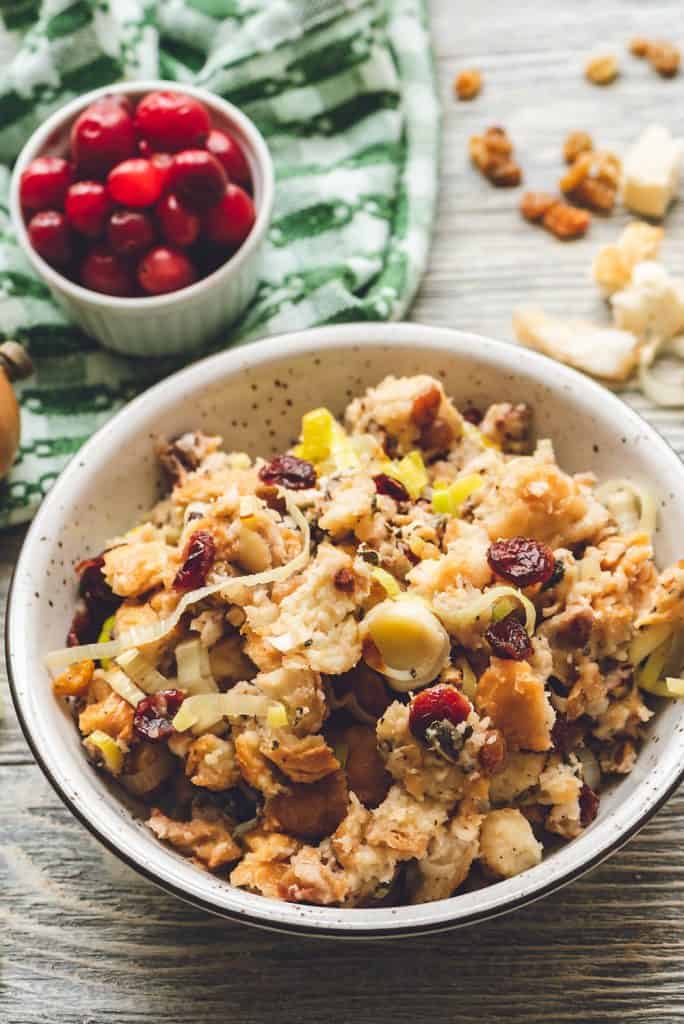 More side dish recipes perfect for the holidays!
If you are looking for more unique holiday recipes perfect for your family dinner, I have got you covered!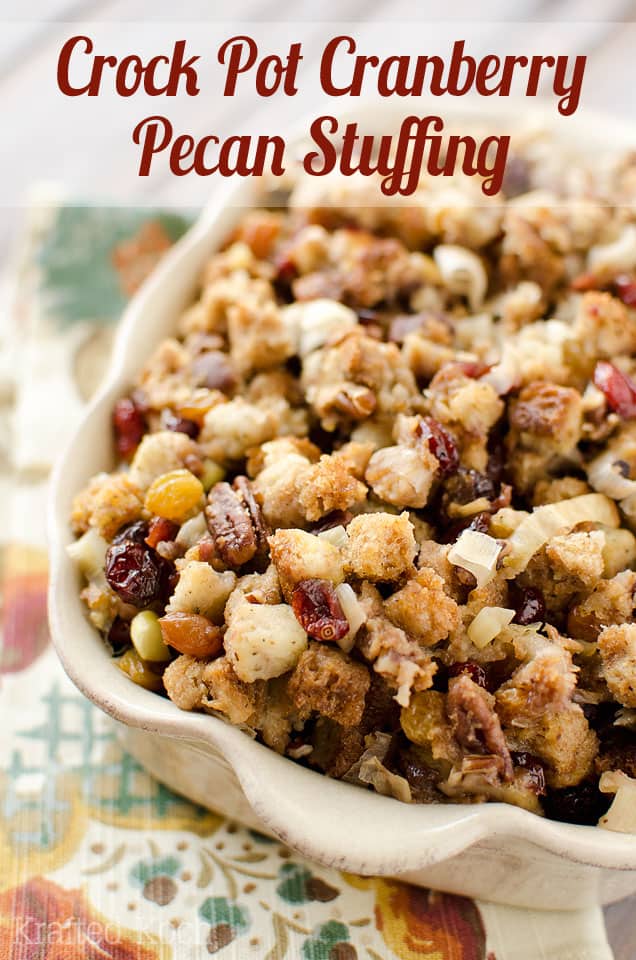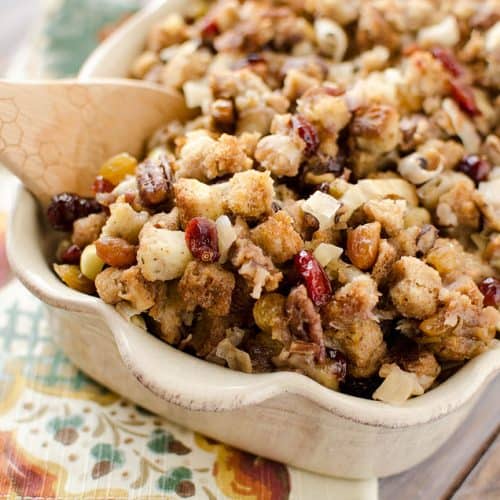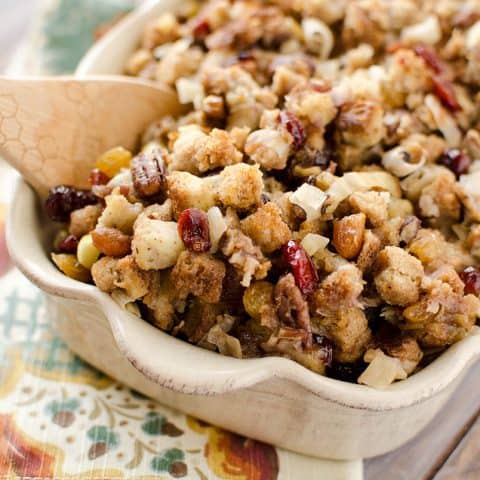 Crock Pot Cranberry Pecan Stuffing
Total Time:
3 hours
5 minutes
A light and easy Crockpot stuffing recipe loaded with sweet cranberries and crunch pecans for the perfect side dish at your next holiday!
Ingredients
12 oz. bag Sage & Onion cubed stuffing
1 c. leeks, chopped (or substitute green onions)
1/2 c. dried cranberries
1/2 c. golden raisins
1/2 c. chopped pecans
3 c. chicken broth
1/2 c. butter, melted
1 egg beaten
1/2 tsp. salt
1/4 tsp. pepper
1 tsp. ground mustard
Instructions
Toss your cubed stuffing, leeks, cranberries, raisins and pecans in a sprayed 5 quart Crock Pot.
In a medium bowl, whisk the chicken broth, melted butter, egg, ground mustard, salt and pepper. Pour over the bread mixture in the Crock Pot and gently fold together.
Cook on low for 3-4 hours or until it reaches an internal temperature of 165°.
Recommended Products
As an Amazon Associate and member of other affiliate programs, I earn from qualifying purchases.
Nutrition Information:
Yield:

12
Serving Size:

12 servings
Amount Per Serving:
Calories:

250
Total Fat:

16g
Saturated Fat:

7g
Trans Fat:

0g
Unsaturated Fat:

7g
Cholesterol:

37mg
Sodium:

411mg
Carbohydrates:

31g
Fiber:

13g
Sugar:

10g
Protein:

5g
Provided nutrition data is only an estimate. If you are tracking these nutrients for medical purposes, please consult an outside, trusted source.