Cranberry Orange Mimosas are a light and bubbly champagne cocktail perfect for a holiday brunch with three easy ingredients.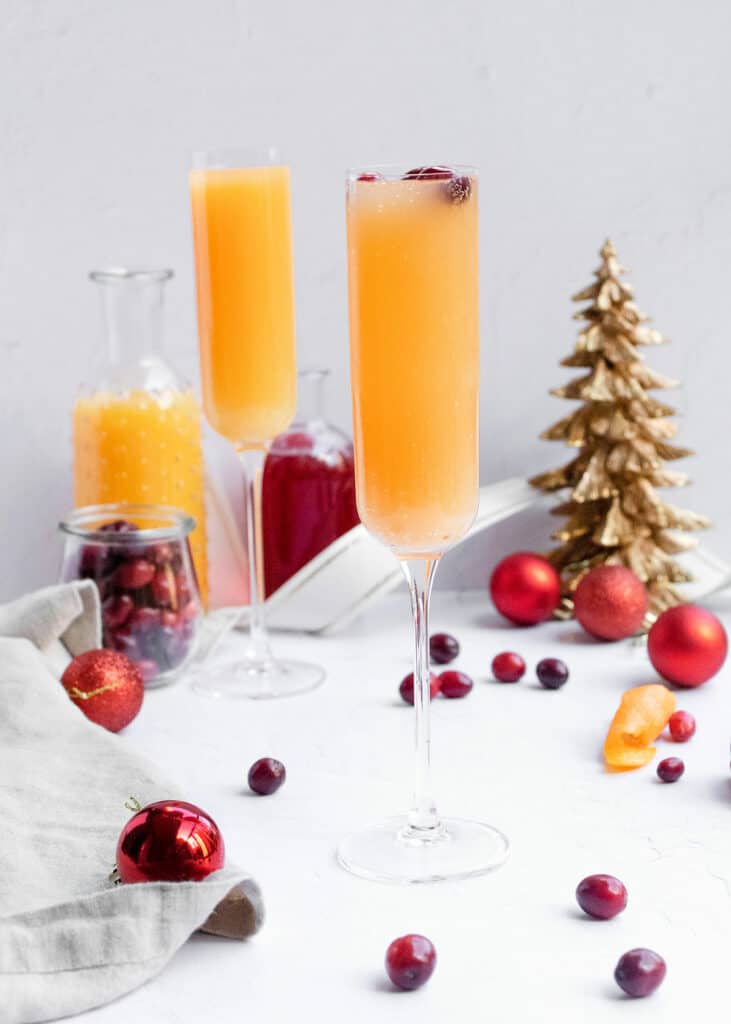 Cranberry Mimosa Recipe
Cranberry orange mimosas are sure to be a hit at your next brunch, just trust me on this. A classic mimosa already compliments the brunch menu no matter what you are serving. Making it with a bit of real cranberry juice too gives it that special twist. Brunch will not be the same!
With the colder months approaching, it is time to put down the frozen fruity cocktails and find a great drink for sipping on in winter. Much like this Fall Spiced Old Fashioned, this Cranberry Orange Mimosa is perfect for a holiday brunch or just enjoying a cocktail with friends.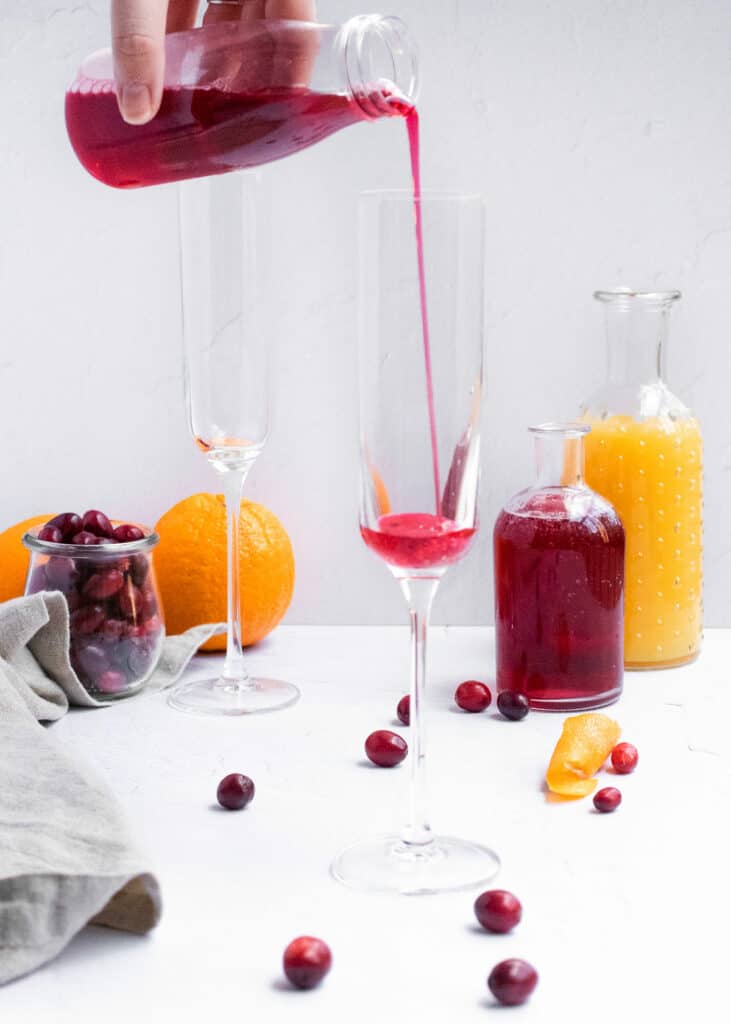 The perfect brunch cocktail is a cranberry orange mimosa
With a bit of real cranberry juice, a mimosa becomes so dynamic. Cranberry and orange have already established themselves of being highly complimentary of the other. Cranberries take just a bit of the sweetness down a notch in the orange juice. But the orange juice helps balance off that bit of bitterness in the cranberries.
No wonder you find cranberry and orange inspiring so many great desserts and treats, like a orange cranberry custard pie for example
Together in a mimosa, they create a beautiful hue of orange, reminiscent of a lovely sunset.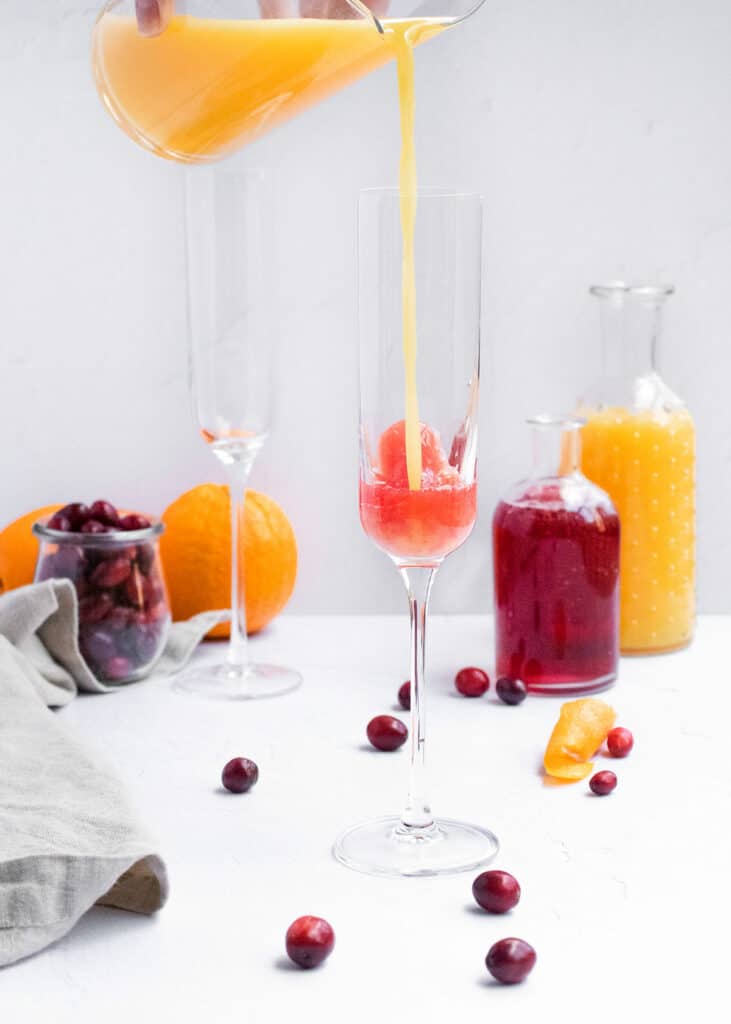 The origin of the mimosa cocktail
Originally, the mimosa was not necessarily the must have cocktail on the brunch menu of every weekend wedding the world over. The drink derived from a "Bucks Fizz" served at a pub in England called Bucks. Always a good idea to name your drink after the name over the door if you want your place in cocktail history, right?
Some sources say Alfred Hitchcock the famous director created a "mimosa" which is a version of a Buck's Fizz with equal parts sparkling wine and orange juice. But, truth be told, he probably was just intending to make a less potent version of the Buck's Fizz.
The name "mimosa" comes from the mimosa flower, which has a sweet little yellow flower with a slightly orange hue, just like the drink.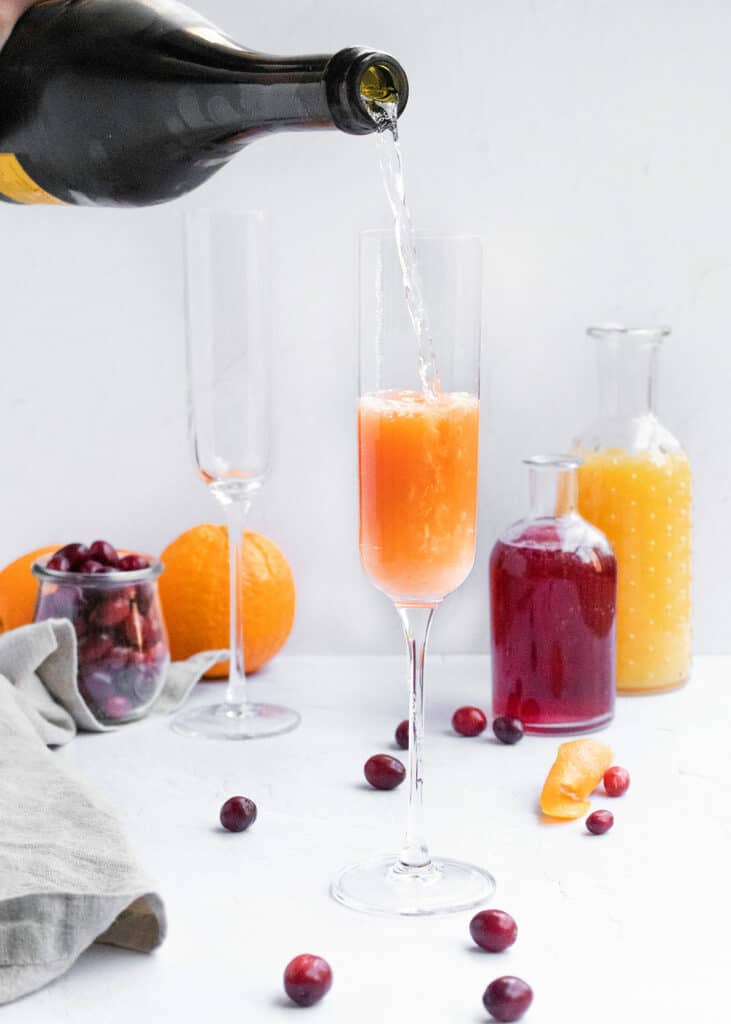 Adding real cranberry juice to a classic mimosa
This Cranberry Orange Mimosa cocktail only requires three ingredients, but it's important to purchase quality ingredients.
Now it is tempting to use plain old cranberry juice cocktail, but put in the extra effort to get real cranberry juice. Cranberry juice "cocktail" contains a lot of water and apple juice. So it is nowhere near as tart as real cranberry juice.
The bitter and tart quality of undiluted cranberry is much more assertive. It makes the drink taste better, not turn it into something you might serve accidentally to the kids because it tastes like fruit juice.
If you can't find undiluted cranberry juice, which is more likely in the alcohol mix section of the store than in the juice aisle, then use frozen cranberries. You can easily blend the cranberries and drain off the pure juice. Make sure to save a few whole cranberries for your garnish.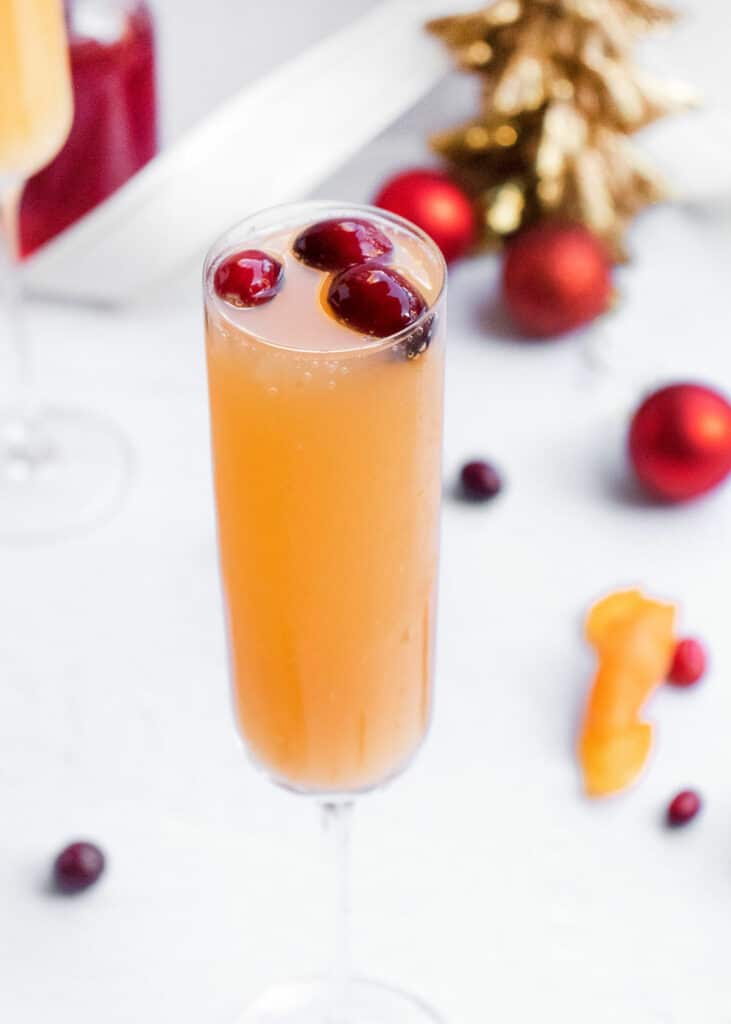 What is the best sparkling wine for cranberry orange mimosas?
If you want to spend the extra cash to get authentic French Champagne for your mimosas, then go for it. For me, I would rather taste a really good Champagne without anything mixed in it. With that reasoning, I think using a sparkling wine like a Prosecco for cranberry orange mimosas.
Prosecco tends to be neither too sweet nor too dry, so it works in a cranberry orange mimosa perfectly. You can find those in a decent price range as well.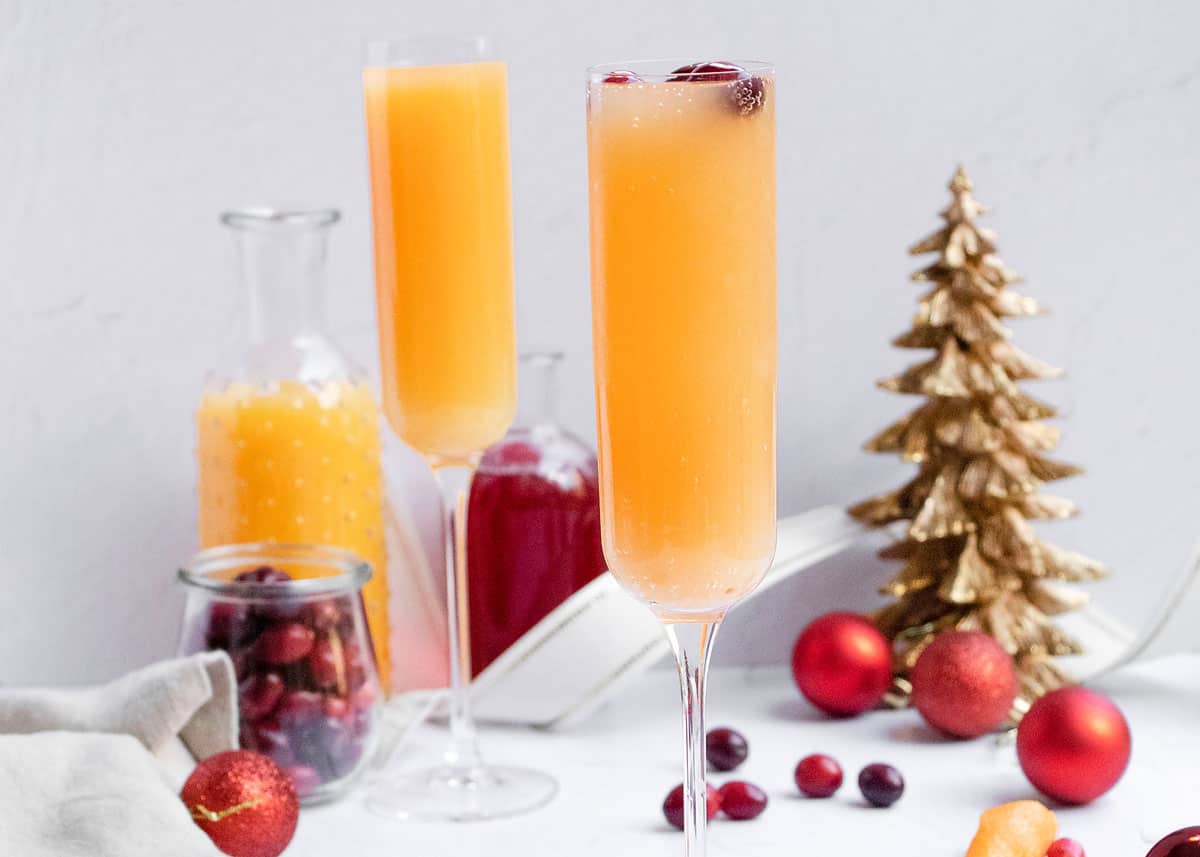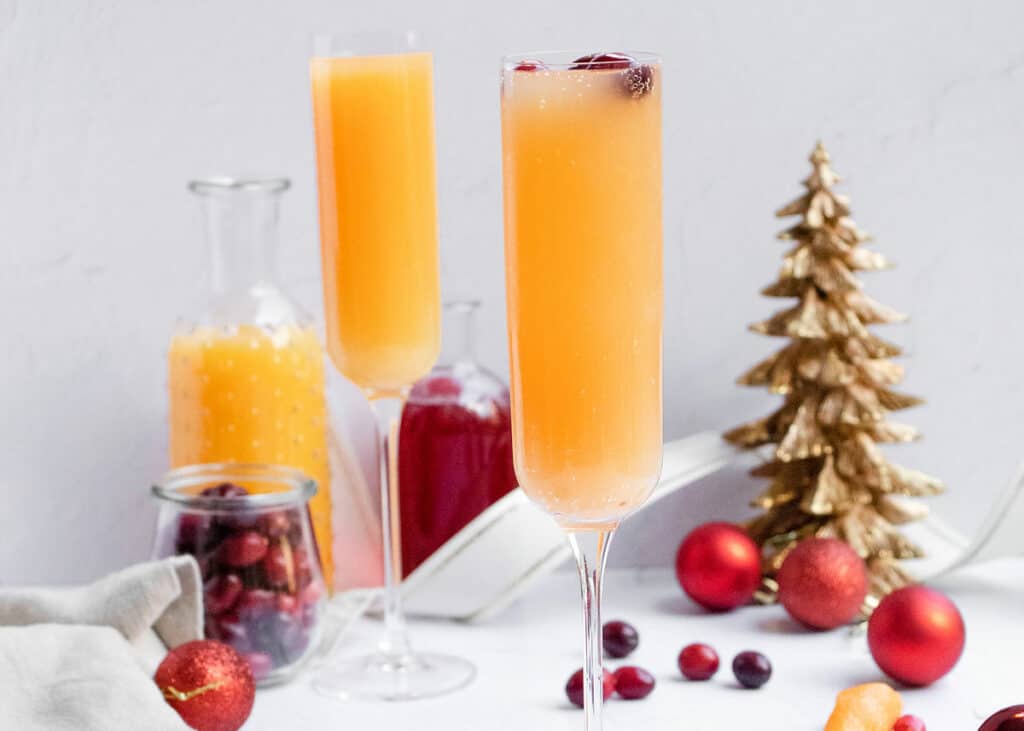 Use fresh orange juice in your mimosa if possible
Can you use any type of orange juice in a mimosa? Of course. But using fresh squeezed makes such a wonderful difference! Look at it this way, you saved a few bucks using a less expensive style of sparkling wine, so you deserve splurging on getting the best fresh squeezed juice.
Sometimes you can even find fresh squeezed tangerine juice if you want to get particularly fancy.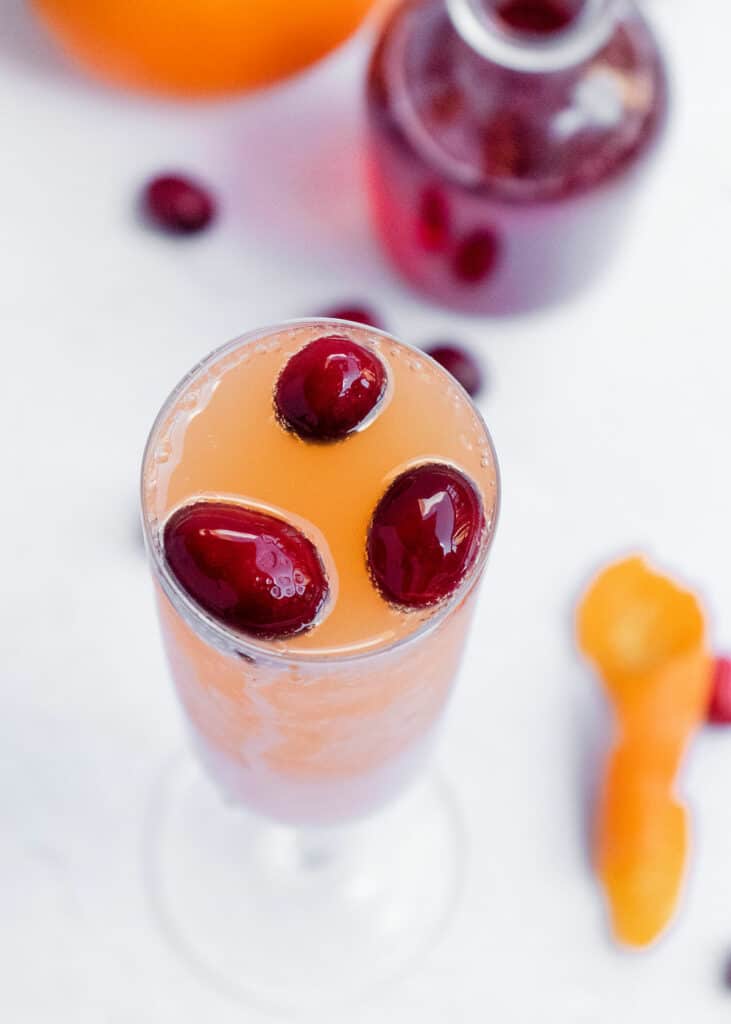 The right glass for a cranberry orange mimosas
To do a mimosa justice, a tall fluted Champagne glass always works nicely. If you don't have enough of those handy, then a typical wine glass is the next best option.
Using a stem style glass is always a good idea. You don't want to wrap your hand around the beverage. Because keeping it cold is the name of the game.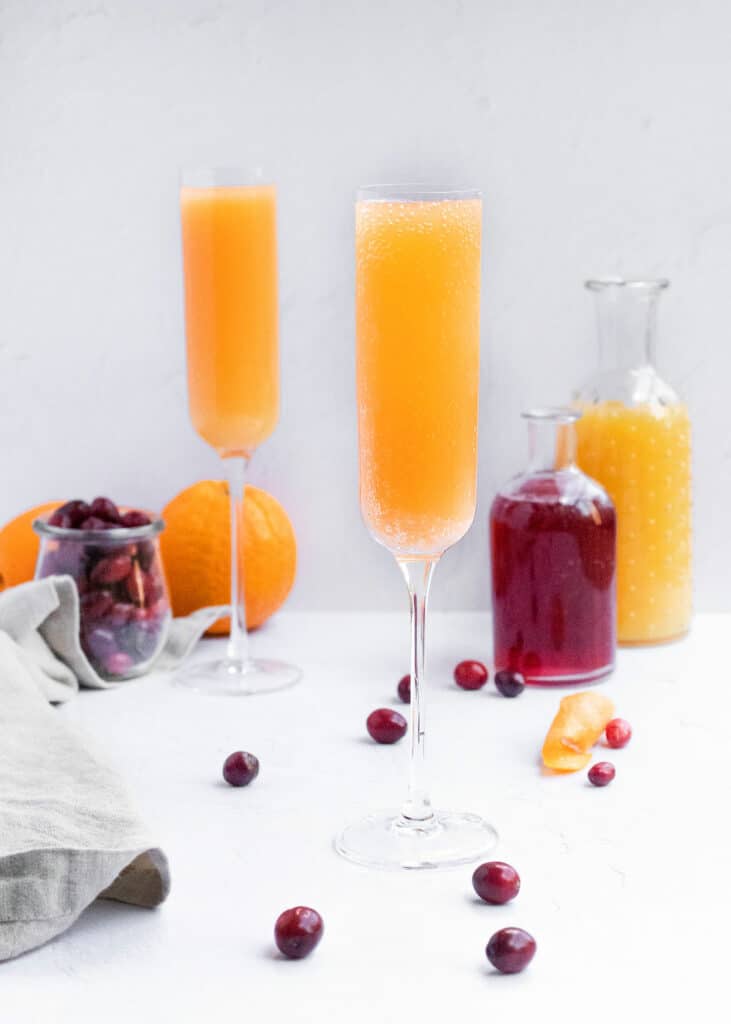 Handy tips for making orange cranberry mimosas
Here are some handy tips for creating perfect orange cranberry mimosas:
Chill all your juice and sparkling wine first. The colder the better.
Mix and serve as quickly as possible. You want to mix for each serving and not leave any out. Can you really call it a mimosa if there isn't a bit of fizz and sparkle to it?
Store any cocktail on top of ice or keep in the fridge. You will use it soon enough, but best to keep it as chilly as possible.
More delicious cranberry brunch recipes!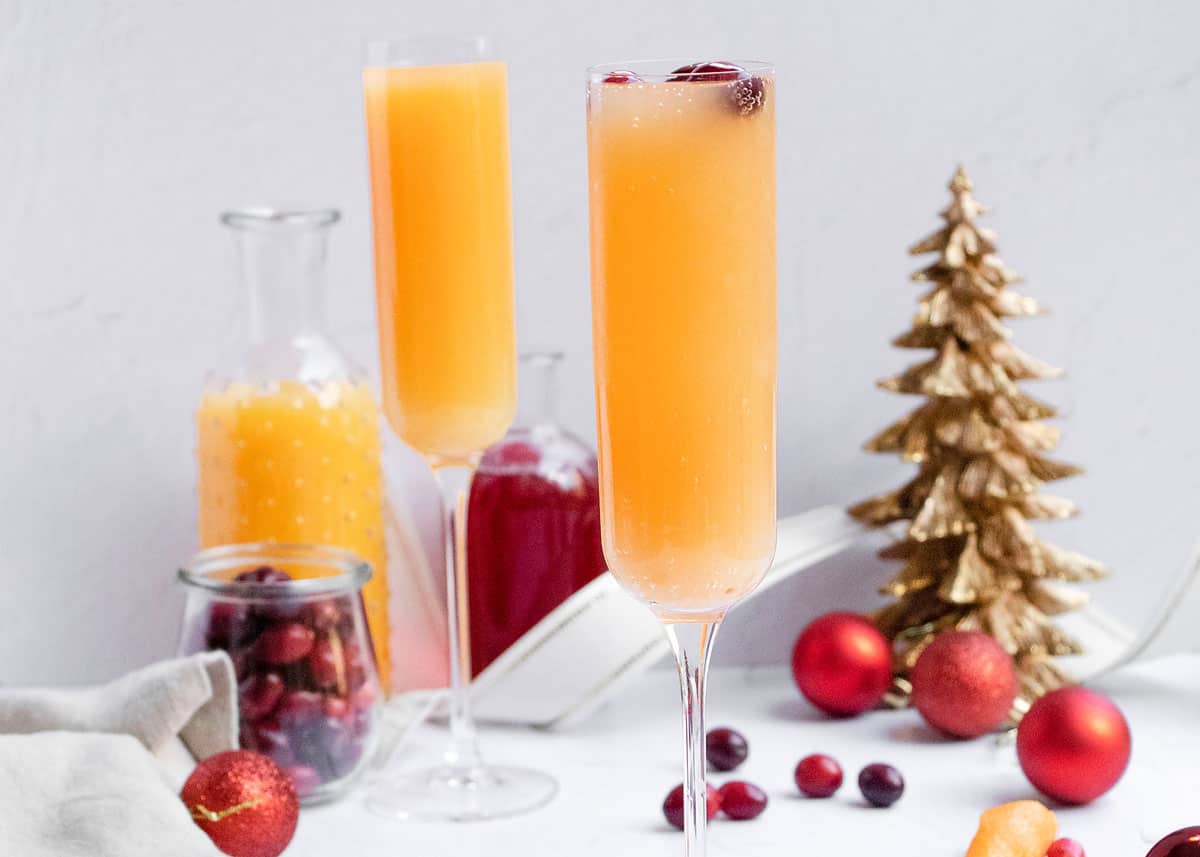 Cranberry Orange Mimosas
Cranberry Orange Mimosas are a light and delicious cocktail perfect for a holiday brunch! Three easy ingredients combine into one alcoholic drink recipe that is a perfect balance of flavors.
Ingredients
For One Drink
1/2 cup sparkling wine (see notes)
1/4 cup orange juice
1 tablespoon pure cranberry juice
Fresh cranberries, to garnish
For A Crowd (serves 4-6)
1 bottle (750 mL) sparkling wine
1 1/4 cups orange juice
1/4 cup pure cranberry juice
Fresh cranberries, for garnish
Instructions
Combine the sparkling wine, orange juice, cranberry juice, and fresh cranberries in a large pitcher. Pour into champagne flutes as needed. Store refrigerated.
Notes
There are many kinds of sparkling wine. I often opt for Italian
Prosecco in a mimosa because it's more affordable than traditional French
Champagne— but still just as delicious.
It is important to use pure cranberry juice, not cranberry juice
cocktail. Pure cranberry juice is a more tart, berry flavor while cranberry
juice cocktail is very sweet and fruity.
Make sure to chill the sparkling wine, orange juice, and
cranberry juice before making your cocktail. Mimosas should be served chilled,
but not with ice.
Nutrition Information:
Yield:

1
Serving Size:

1
Amount Per Serving:
Calories:

131
Total Fat:

0g
Saturated Fat:

0g
Trans Fat:

0g
Unsaturated Fat:

0g
Cholesterol:

0mg
Sodium:

7mg
Carbohydrates:

11g
Fiber:

0g
Sugar:

8g
Protein:

1g
Provided nutrition data is only an estimate. If you are tracking these nutrients for medical purposes, please consult an outside, trusted source.