Cheesy Taco Flatbread is an easy and delicious dinner recipe ready in just 30 minutes! Naan bread is topped with taco seasoned ground beef, Manchego cheese and fresh tomatoes for an amazing meal.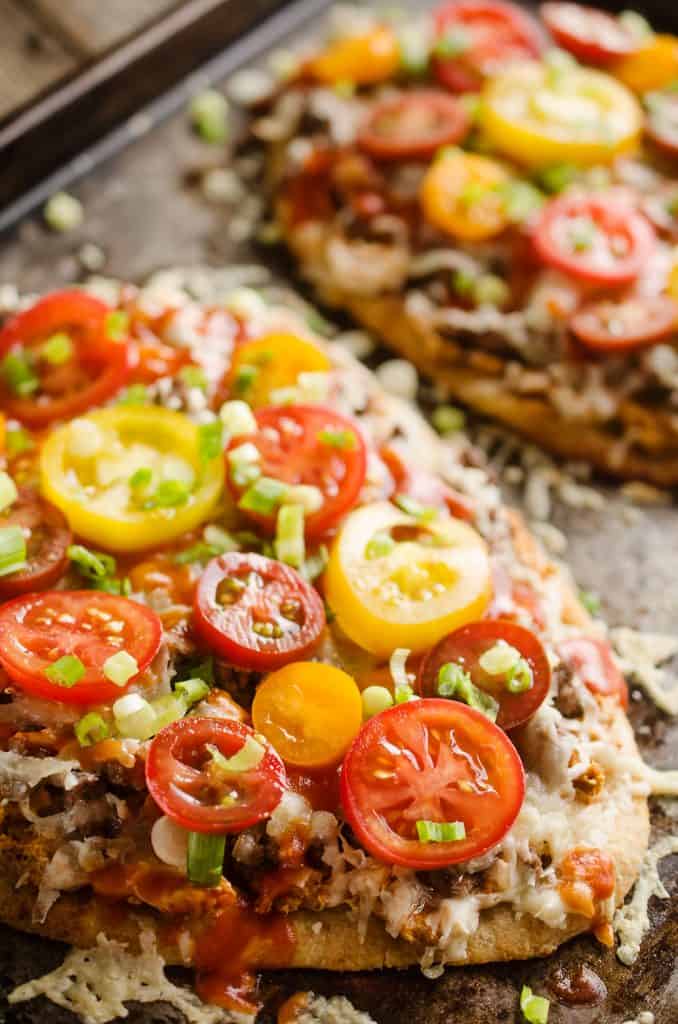 Tasty Cheesy Taco Flatbread
What is a cheesy taco flatbread in the first place? Is it an quick and easy version of taco pizza with the creamy flavors of taco dip, transformed into a flatbread!
Instead of running to Taco Bell for you next taco craving, you can make this easy Taco Flatbread and it is sure to satisfy.
A Naan bread is topped with a little cream cheese and taco seasoning mixture for a creamy element. It is topped with taco seasoned ground beef and diced onions. It's all finished off with grated Manchego cheese for a rich and nutty flavor.
Bake it for 15 minutes and top it with fresh tomatoes and green onions and you have yourself an easy 30 minute dinner recipe!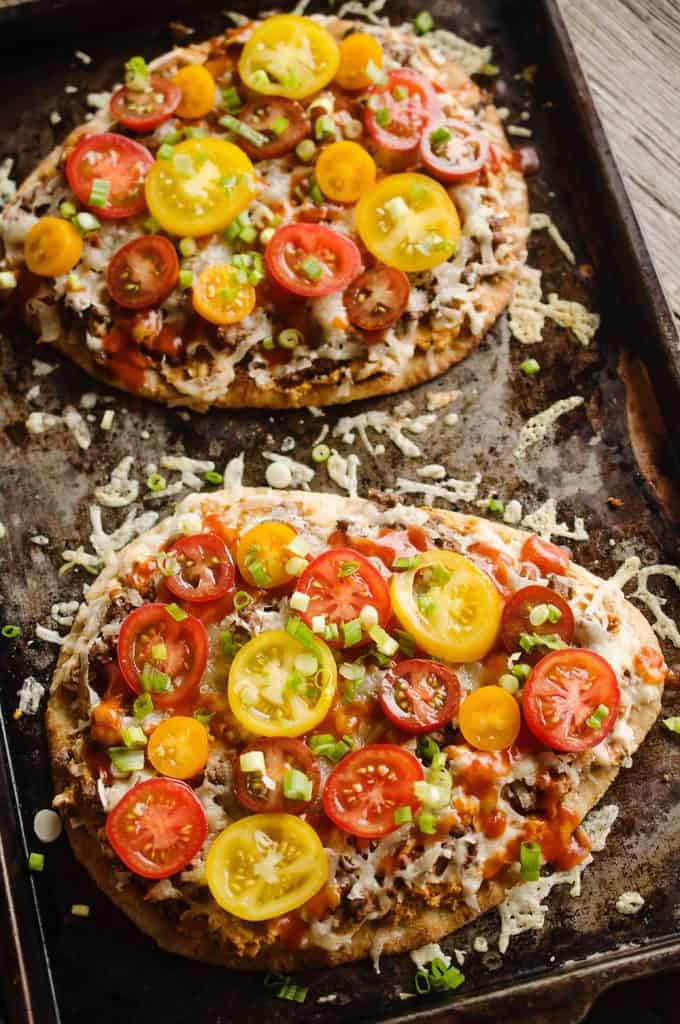 What Is Naan Anyway?
Naan is a leavened flatbread and it is found all around the world. The word "naan" is derived from the Persian word for "bread" and the name stuck as the bread went around the world. It traveled well and you know what that means.
It means that it is convenient and tasty and you can use it in so many different ways!
Typically, you can find naan on the bread aisle but it sometimes will be featured where you find mediterranean or asian food items as well. You can always make a homemade version as well.
There are all types of seasoned naan, like rosemary naan, curry, and onion naan. If you can't find plain naan then any of the other styles will work as well.
Naan can be slightly thicker than pita bread which is kind of like a naan kissing cousin in terms of being a type of bread.
Naan is a great base for a quick version of flatbreads or pizzas in the oven or grill! It cuts out the time to make a crust and is perfect for this Cheesy Taco Flatbread.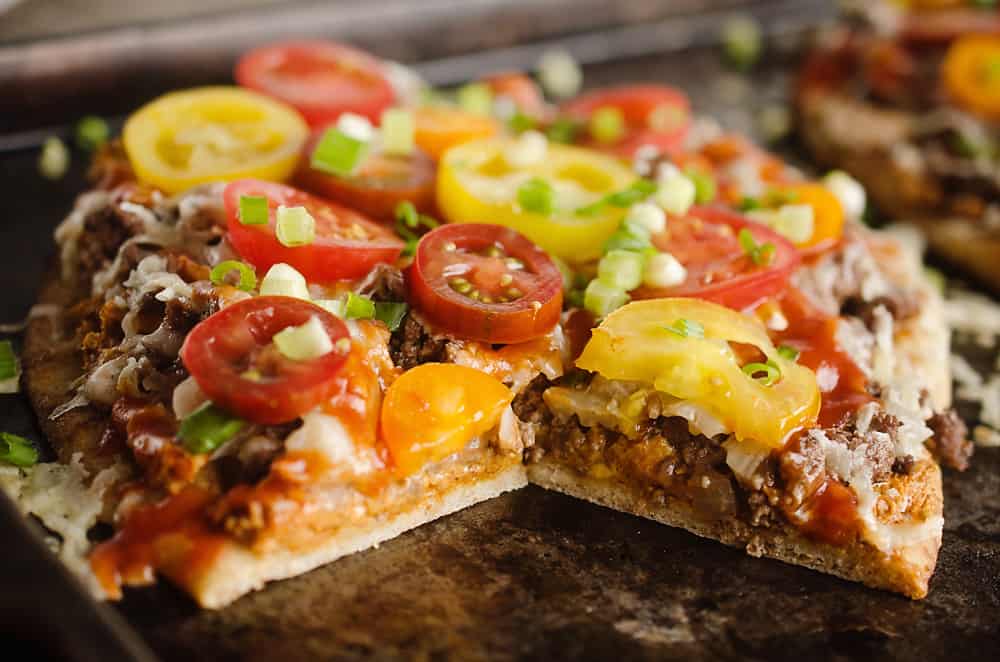 Taco Seasoning Blends
Taco seasoning has become such a popular seasoning blend that you can now find it easily in the market's seasoning aisle section. If you are unable to find it there, then look on the Hispanic foods aisle.
It comes in packets or in small jars. I recommend the packets because they are so easy to use. Pre-Measured ingredients always come in handy for quick recipes like this Cheesy Taco Flatbread.
If you are in a pinch though and don't want to head to the store for taco seasoning, then you can blend your own with a tablespoon each of cumin and preferably smoked paprika, a teaspoon of garlic powder, onion powder, then add cayenne, black pepper, and salt to taste. Regular paprika works if you don't have smoked handy.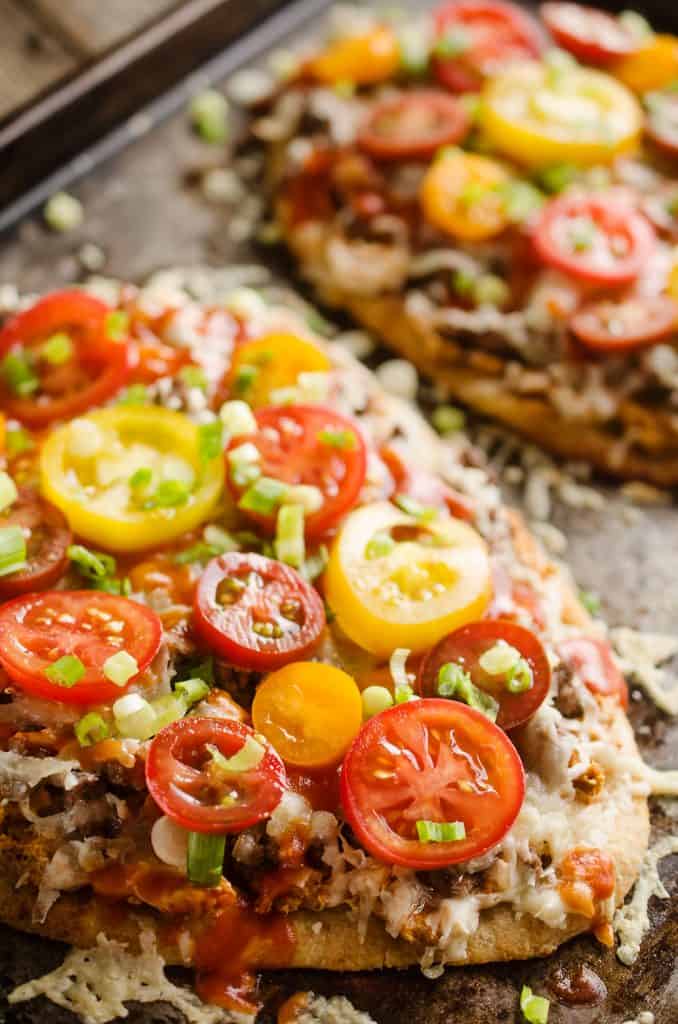 What Is Manchego Cheese?
Manchego cheese is a very delightful sheep's milk cheese from Spain. It has a very faint almost buttery flavor and soft texture and melts wonderfully. It is also slightly nutty. The sharpness, just like cheddar, depends on how long it has been aged.
The texture sort of reminds me of a gouda so if you can't find a manchego easily I recommend gouda as a substitution, but you can certainly use any sort of Mexican blend of cheeses.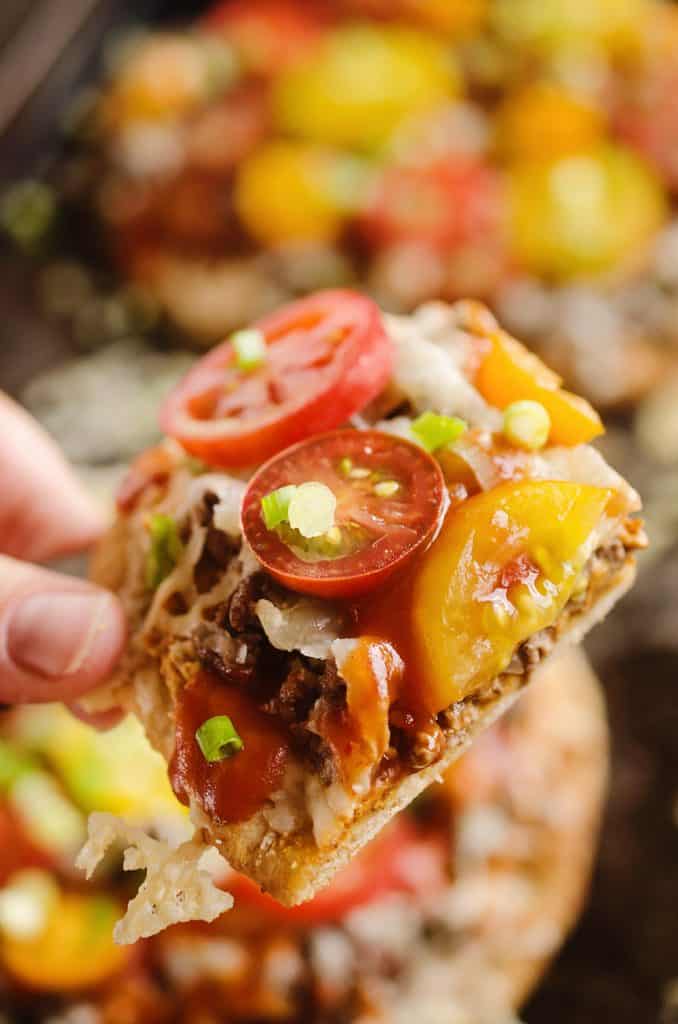 What About The Hamburger?
You can use a very lean ground beef for this Cheesy Taco Flatbread. All the cream cheese and Manchego cheese adds plenty of flavor in terms of the fats, so the leaner meat is ideal.
If you do have burger meat with higher fat content, then just make sure to strain it well before adding it to the top of the flatbread.
If you don't want to use beef, then lean ground turkey or chicken works great as a substitution as well.
Let's put it this way…
Anything that you add that taco seasoning to is going to taste pretty darn good.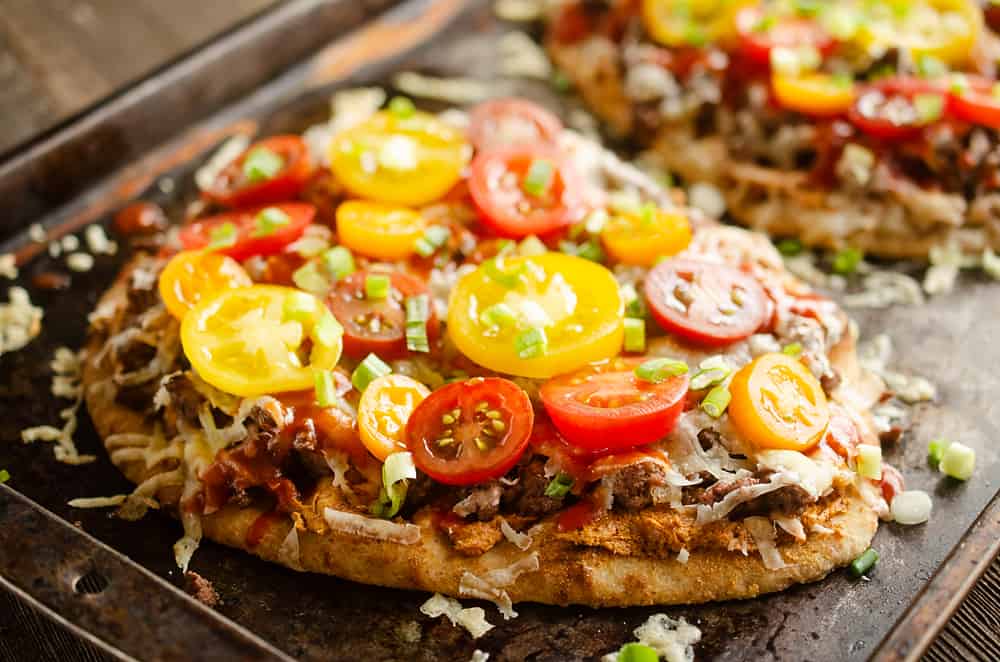 More flatbread Inspired Recipes To Try
I love food that draws inspiration from all the cuisines of the world. The more creative the bite, the more I love to share it! Flatbreads like naan are used in recipes all over world, so I have a few more flatbread recipes to check out.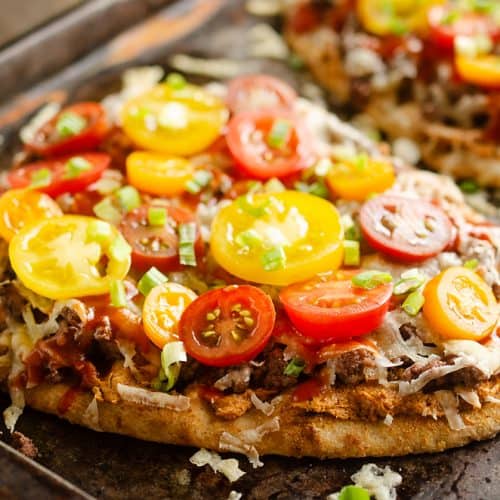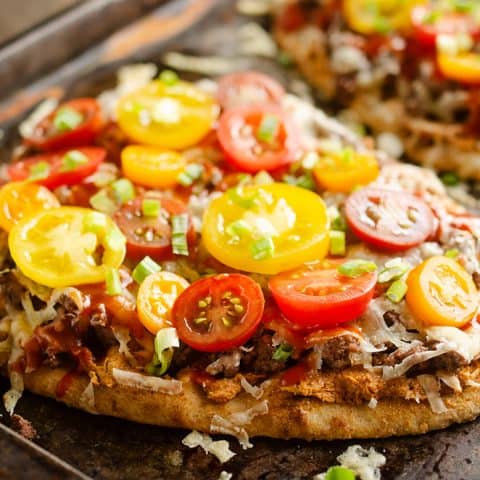 Cheesy Taco Flatbread
Cheesy Taco Flatbread is an easy and delicious dinner recipe ready in just 30 minutes! Naan bread is topped with taco seasoned ground beef, Manchego cheese and fresh tomatoes for an amazing meal.
Ingredients
2 Naan flatbreads
4 oz. cream cheese
1 pkt. taco seasoning
1 small yellow onion, diced
1 lb. lean ground beef
1/2 tsp. salt
8 oz. Manchego cheese, shredded
Taco Sauce
Tomatoes and green onion for garnish
Instructions
Preheat oven to 350°.
In a small bowl, combine the softened cream cheese and 1 Tbsp. taco seasoning. Spread a thin layer of the mixture over both of the Naan flatbreads.
In a skillet of medium-high heat, saute the ground beef and onion with the remaining taco seasoning and salt. Cook until the meat is no longer pink.
Top the flatbreads with the ground beef and shredded Manchego cheese.
Bake at 350° for 15 minutes.
Serve topped with taco sauce, fresh tomatoes and green onions.
Notes
Cheddar or Mexican blend shredded cheese work well as a substitute for the Manchego cheese.
Recommended Products
As an Amazon Associate and member of other affiliate programs, I earn from qualifying purchases.
Nutrition Information:
Yield:

4
Serving Size:

1
Amount Per Serving:
Calories:

819
Total Fat:

46g
Saturated Fat:

26g
Trans Fat:

0g
Unsaturated Fat:

16g
Cholesterol:

189mg
Sodium:

1145mg
Carbohydrates:

40g
Fiber:

2g
Sugar:

5g
Protein:

58g
Provided nutrition data is only an estimate. If you are tracking these nutrients for medical purposes, please consult an outside, trusted source.