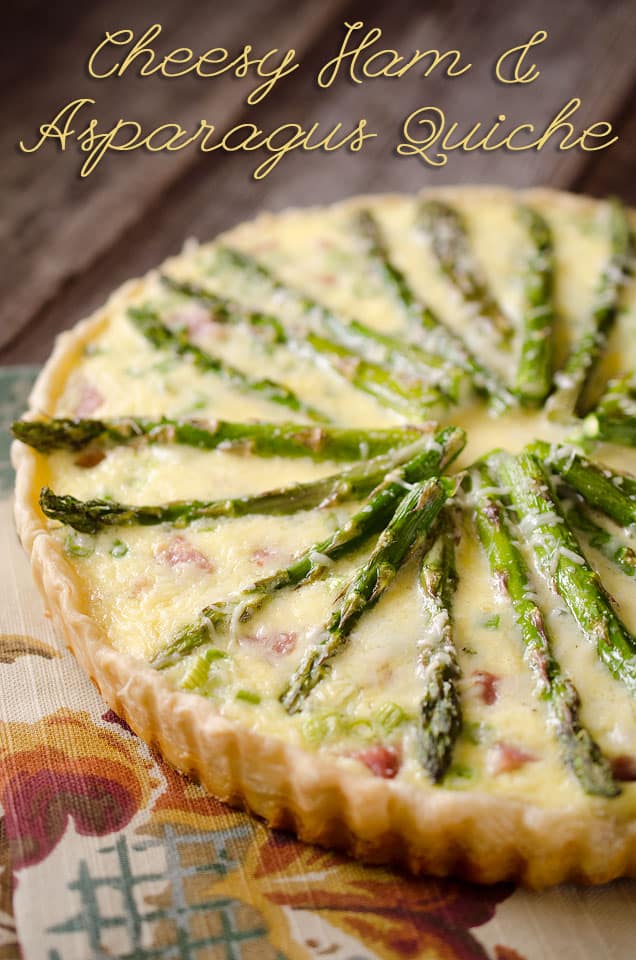 Cheesy Ham & Asparagus Quiche is a rich and decadent recipe that is perfect for a special brunch or dinner. A creamy Parmesan layer is topped with an egg and cream custard that is studded with leftover ham and topped with fresh asparagus.
We enjoyed a full weekend of family time over this Easter weekend. On Saturday night, I hosted a ham dinner and my house for everyone. It was a chance for everyone to check out our remodeled house and a reprieve for my mom so she didn't have to cook two days in a row!
I debated back and forth with what I wanted to do with the electric stove that was left with the kitchen before we renovated it. I finally decided I wanted to leave it in the basement for extra oven space during holidays. I was so excited to be able to put it to good use this weekend. I planned on cooking the hams in it so I would have adequate space in my kitchen oven for the potatoes, rolls, etc.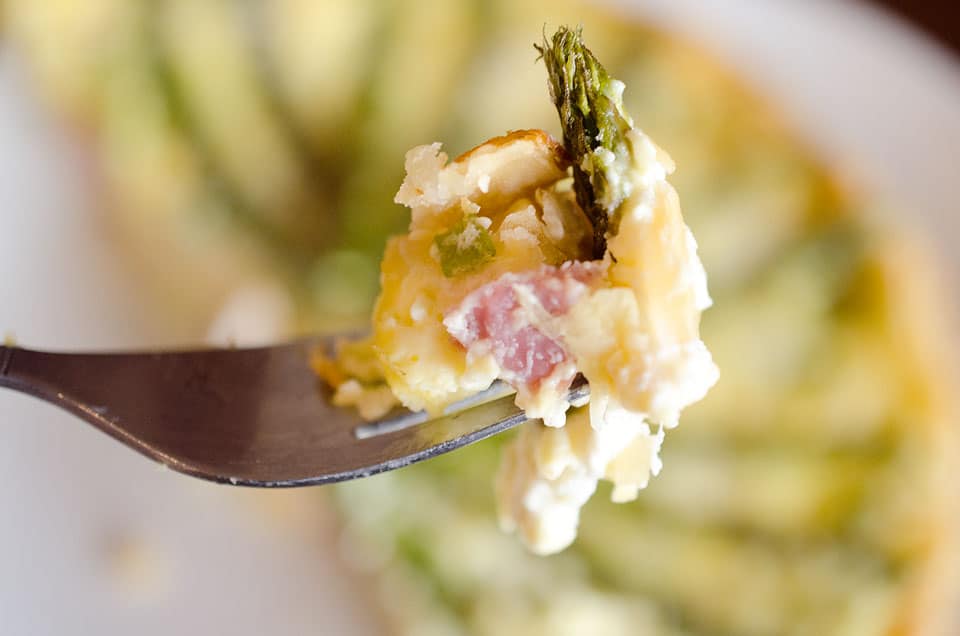 At around 3pm I went to preheat the oven for the hams and realized the cord was missing?! We aren't sure where it got lost and the closest hardware store was over 20 miles away. Needless to say, I didn't get to use my second oven this weekend. I re-strategized and just decided to bake the rolls early that had risen quicker than expected. That freed up the necessary oven space for the rest of the sides.
A crisis was averted and we enjoyed a delicious ham dinner. I made 20 lbs of ham because my dad had requested plenty of leftovers in advance. Well, with only 16 people, we had more than enough leftovers for everyone! I decided to put some of the ham to good use for brunch the next morning and whipped up this quiche to bring to my mom's.
I haven't made a quiche in a VERY long time, so I referenced The Kitchn's advice for the perfect egg to cream ration. I have to say that I agree completely with their suggestion and the custard turned out so luscious and creamy. Paired with this flaky pie crust recipe, it was perfection!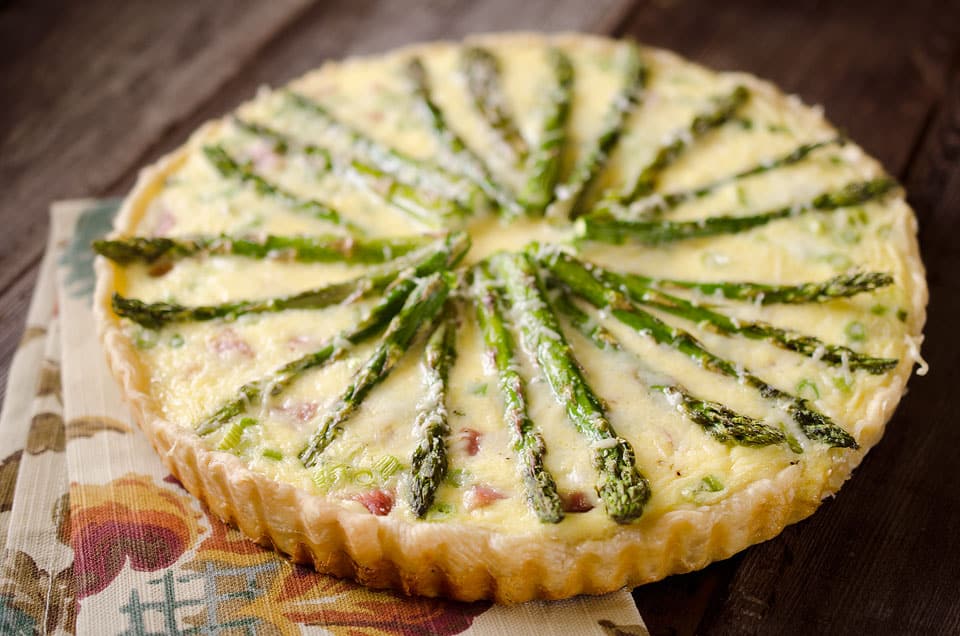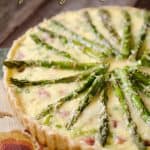 Print Recipe
Cheesy Ham & Asparagus Quiche
Cheesy Ham & Asparagus Quiche is a creamy and decadent quiche recipe that is perfect for brunch or dinner!
Ingredients
2/3

c.

cream cheese

1

c.

cubed ham

1/2

c.

green onion

chopped

1

bunch of asparagus

3/4

c.

shredded Parmesan

divided

3

eggs

1 1/2

c.

heavy cream

1/2

tsp.

salt

divided
Instructions
Preheat your oven to 350.

Press the pie crust into a greased quiche pan. Poke the bottom of the crust with a fork in three spots. Place on a cookie sheet and bake the pie crust for 10 minutes.

Meanwhile, mix the cream cheese and 2/3 c. Parmesan and microwave for 1 minute. Spread the cheese mixture over the par-baked crust and top with the cubed ham.

Whisk the eggs, cream, green onion and 1/4 tsp. salt and slowly pour over the ham and cheese mixture.

Arrange the spears of asparagus around the quiche in a circular pattern. Spray the top of the quiche with non-stick spray and sprinkle with remaining 1/4 tsp. of salt and remaining Parmesan.

Bake for 35-45 minutes or until the eggs are set and allow to rest for 10 minutes before serving.

*The very center will still have a slight jiggle when moved, but will set as it rests.
More great brunch recipes!