I shopped savvy using

Walmart

Saving Catcher, as part of a sponsored post for Crowdtap #WMTSavingsCatcher.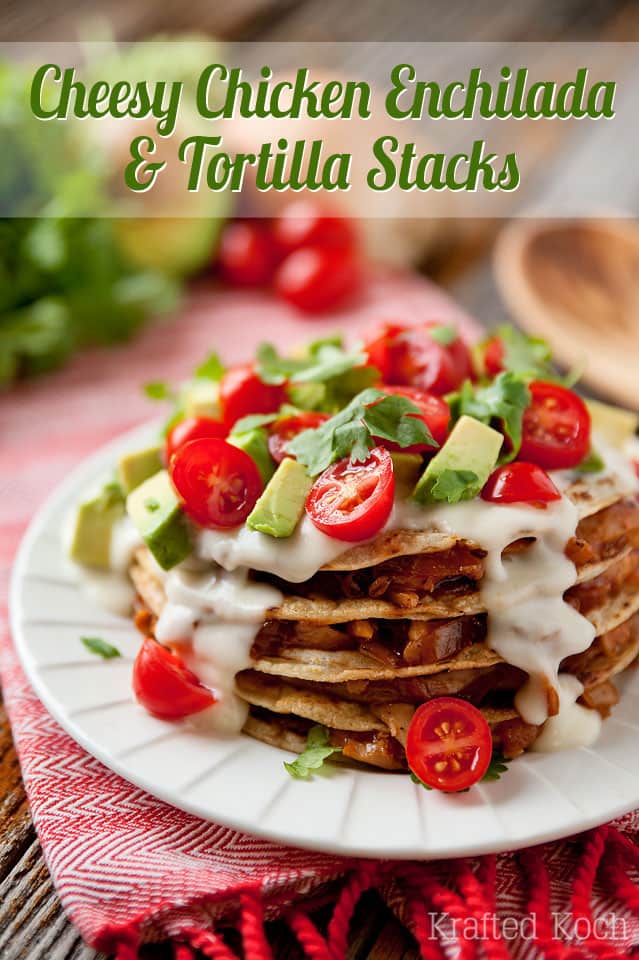 Cheesy Chicken Enchilada & Tortilla Stacks are made with chewy corn tortillas stacked with enchilada chicken and smothered in a creamy queso sauce for the flavor packed dinner! Sometimes you want to make something impressive for your guests, but you might now want to break the bank. These tortilla stacks are perfect! They take so many people's favorite, enchiladas, and stack them up high with a homemade queso sauce for a recipe that not only looks impressive, but tastes great.
I have a confession, I used to be one of those crazy coupon ladies. Yup, I was that lady standing in the check-out line with 50 bottles of Powerade, 15 razors and 6 bottles of shampoo heaped on top of countless other groceries. I learned how the coupon game worked, because really it is just that, a game and I LOVE getting a good deal.
The catch was, that it is incredibly time consuming. Whether I was clipping out and organizing countless coupon inserts, perusing my favorite coupon website for the best deals or driving around to 5 different stores, it consumed much more time than I would have liked. I finally gave it up because I just didn't want to dedicate that much time to it, not to mention I was stocked up on all of the bathroom essentials for the next year…literally! My husband and I just started to reach the end of our shampoo, razor, soap, deodorant, etc. supplies a few months ago, and I had quit "extreme couponing" well over a year ago.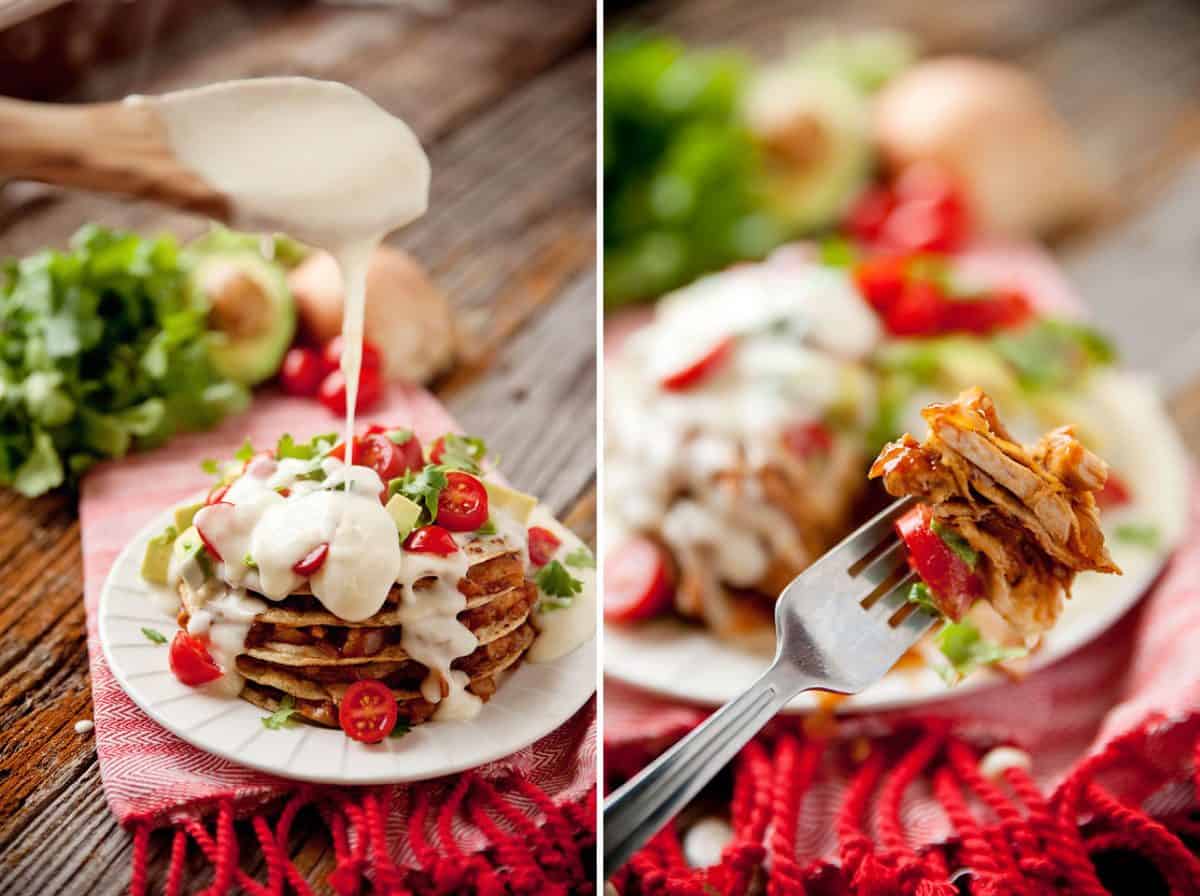 Just because I quit extreme couponing, doesn't mean I don't still use an occasional coupon or love to save a few bucks. This is why Walmart's Savings Catcher is so great. You can buy everything you need at Walmart and when you get home, simply scan your receipt with your smartphone or enter it in online and the Savings Catcher performs it's magic. Ok, its not technically magic, but it sure feels that way! The program scours the local ads in your area for the items you purchased on the receipt and if it detects a lower advertised price somewhere else, they will refund you your money with a Walmart gift card. How awesome is that?!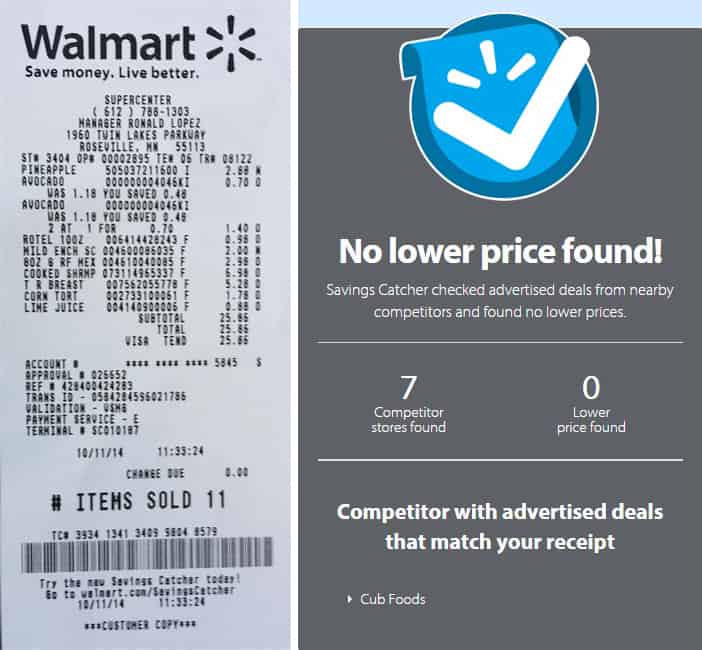 It can take up to 72 hours for Savings Catcher to process your results as it searches other store's ads for the lowest possible prices. On this particular shopping trip for these Cheesy Chicken Enchilada & Tortilla stacks, they had my results in less than 24 hours and I got back…$0.00. You might be thinking, "Well, that isn't very exciting", BUT, that means that Walmart already had the lowest prices on all of these groceries! Sure, it's fun to see some cash back that you weren't anticipating from your shopping trip, but isn't it even better to know that you got the absolute lowest prices possible to start with?! If you do get cash back from your shopping trip, it will be emailed to you in the form of a gift card. You can then squirrel away all of that extra cash for holiday shopping, a new camera or whatever your heart desires. 🙂
No more toting around my huge coupon binder or spending hours planning out my shopping trip to save money. I can simply swing into Walmart, get everything I need and know that I got the best possible deal using #WMTSavingsCatcher. Looking for another chance for some extra cash? Enter HERE for a chance to win a $2,000 shopping spree at Walmart!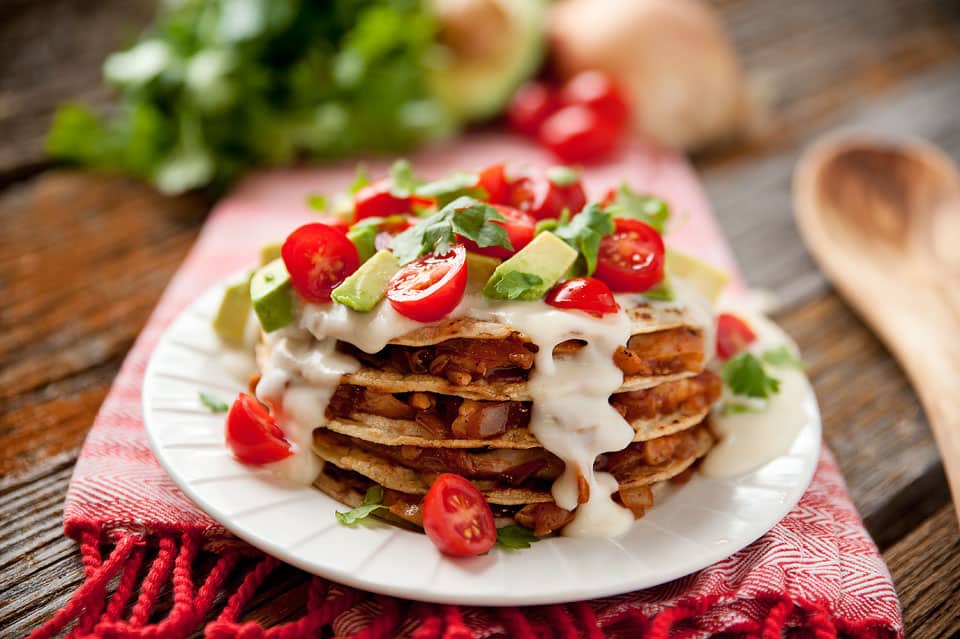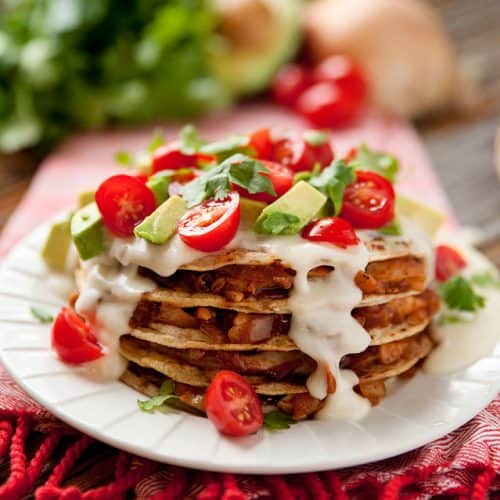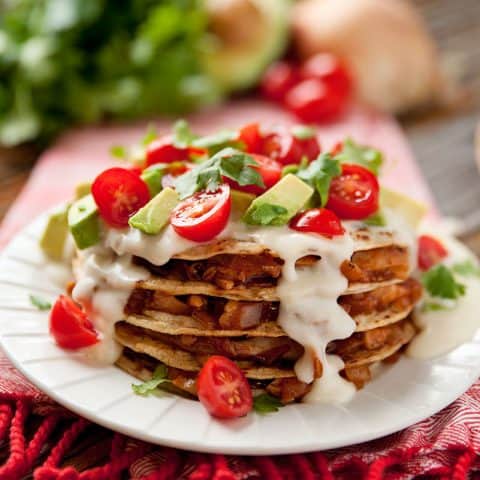 Cheesy Chicken Enchilada & Tortilla Stacks
Chewy corn tortillas stacked with enchilada chicken and smothered in a creamy queso sauce for the flavor packed dinner!
Ingredients
10 corn tortillas
1.5 lb. chicken, cut in 1/2" pieces
1 large yellow onion
1 jar enchilada sauce
2/3 c. tomatoes diced
1 avocado
1/2 c. cilantro
QUESO
3 Tbsp. butter
2 Tbsp flour
1 tsp. garlic, diced
1 tsp. onion powder
1.5 c. milk
2 c. Mexican blend cheese
Pinch of salt
Instructions
In a large skillet, coated with non-stick spray, add your diced onions and cook for 4-5 minutes. Add your chicken and continue to cook until the chicken is no longer pink and cooked through, approximately 6-8 minutes. Add the jar of enchilada sauce to the skillet and simmer for 2-3 minutes.
Meanwhile, in a saucepan over medium heat, melt the butter. Add the garlic, onion powder, salt and flour to the pan and mix well. Immediately add the milk and whisk until well combined. Gradually add the cheese, ensuring it is melted with each addition. Simmer on low until ready to serve, being sure to stir every few minutes so it doesn't burn on the bottom.
Spray each of the tortillas with non-stick spray on both sides and heat them in a separate skillet over high heat for one minute on each side.
Spread 1/4 c. chicken mixture over a tortilla and top with another tortilla. Continue this process three more times and finish it off with a tortilla on top. Repeat to assemble the second stack.
Top each stack with a generous serving of queso sauce along with tomatoes, cilantro and avocado. To serve, cut large wedges from each stack.
Recommended Products
As an Amazon Associate and member of other affiliate programs, I earn from qualifying purchases.
Nutrition Information:
Yield:

4
Serving Size:

4 -6
Amount Per Serving:
Calories:

970
Total Fat:

59g
Saturated Fat:

25g
Trans Fat:

0g
Unsaturated Fat:

29g
Cholesterol:

248mg
Sodium:

723mg
Carbohydrates:

47g
Fiber:

8g
Sugar:

5g
Protein:

64g
Provided nutrition data is only an estimate. If you are tracking these nutrients for medical purposes, please consult an outside, trusted source.
More great meals with southwest flavors!