Brown Butter Buttercream is a classic buttercream recipe with a twist from the extra rich flavor browned butter provides. It takes buttercream to a whole new level!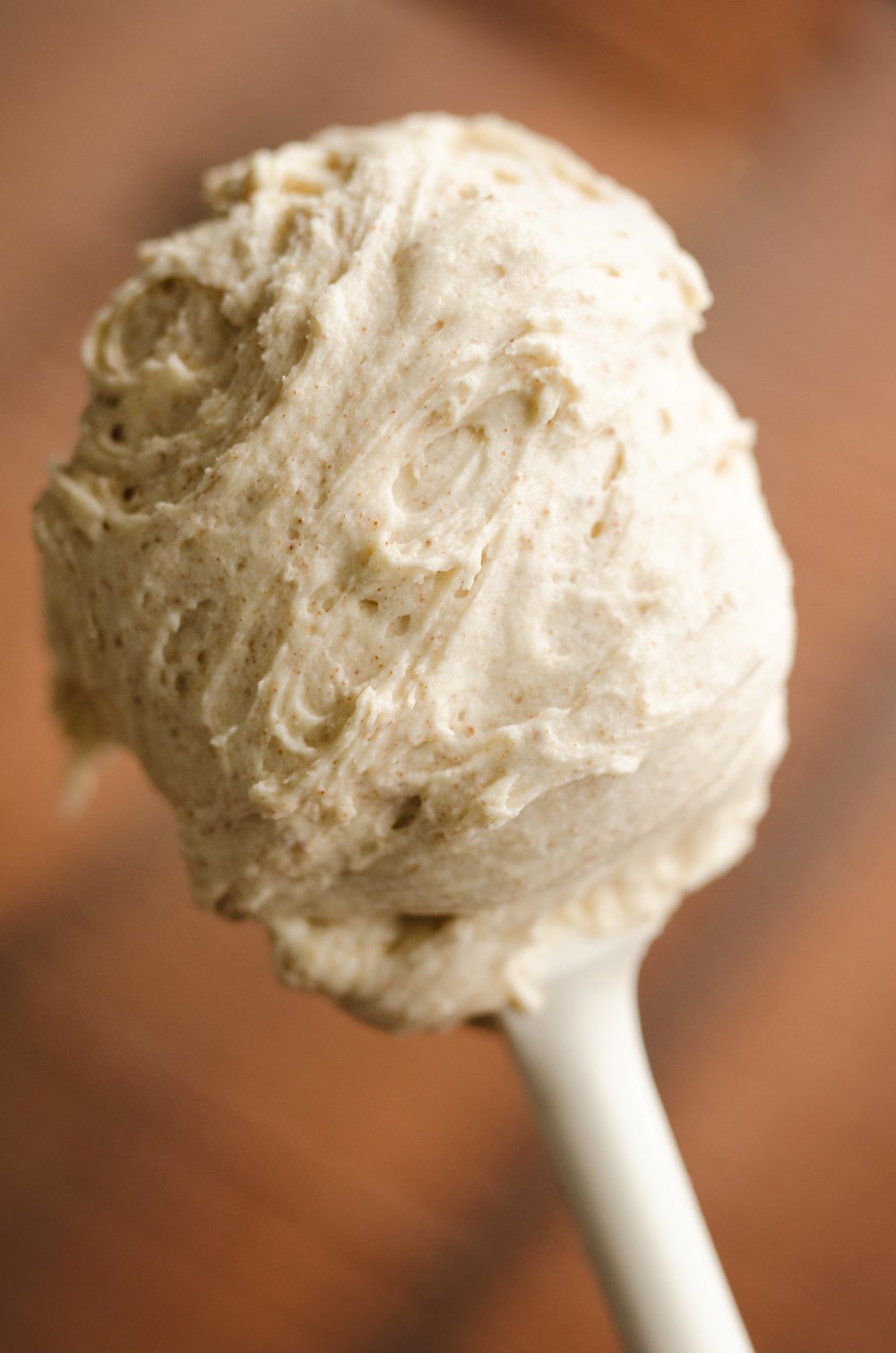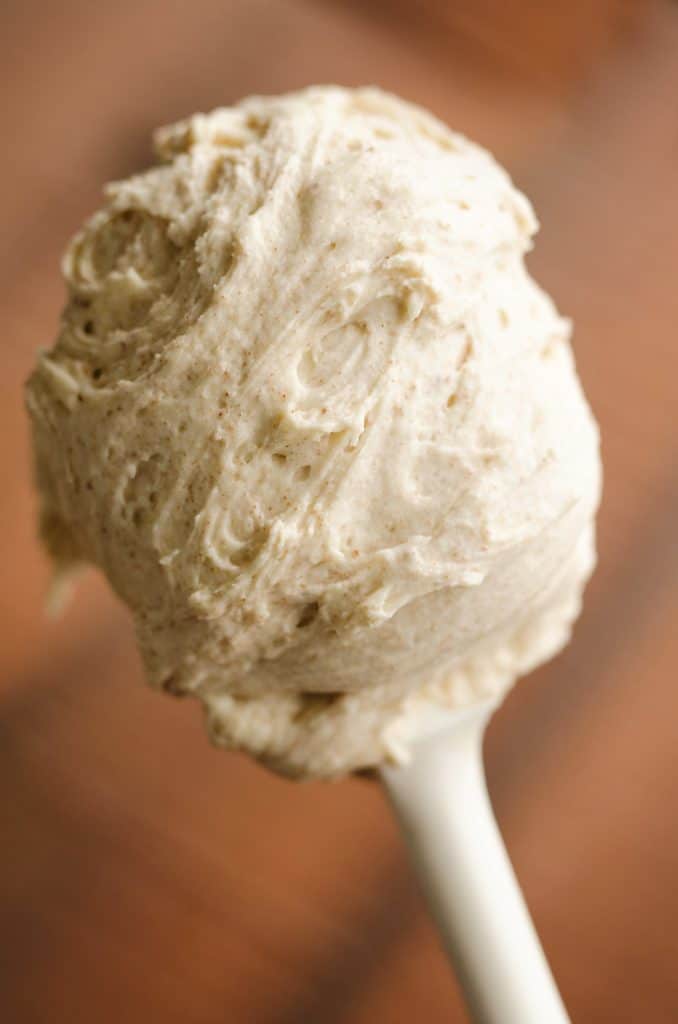 Brown Butter Buttercream Recipe
Brown Butter Buttercream takes ordinary frosting and turns it into extraordinary. Instead of just mixing butter and sugar like typical frosting, the butter browns in a saute pan first. After the butter cools, you mix it with some milk or cream and powdered sugar.
The added flavor from the browned butter makes the creamy frosting taste like angels churned your butter first.
Of course brown butter, cream, and sugar also create caramel, so think of brown buttercream as having caramel flavors. It just isn't cooked to the point of turning into the candy.
Brown buttercream has a smooth texture and can be easily piped onto cupcakes, or spread on cakes to turn an ordinary dessert into something spectacular. Take it to the next level with some Brown Butter Cupcakes for intense flavor!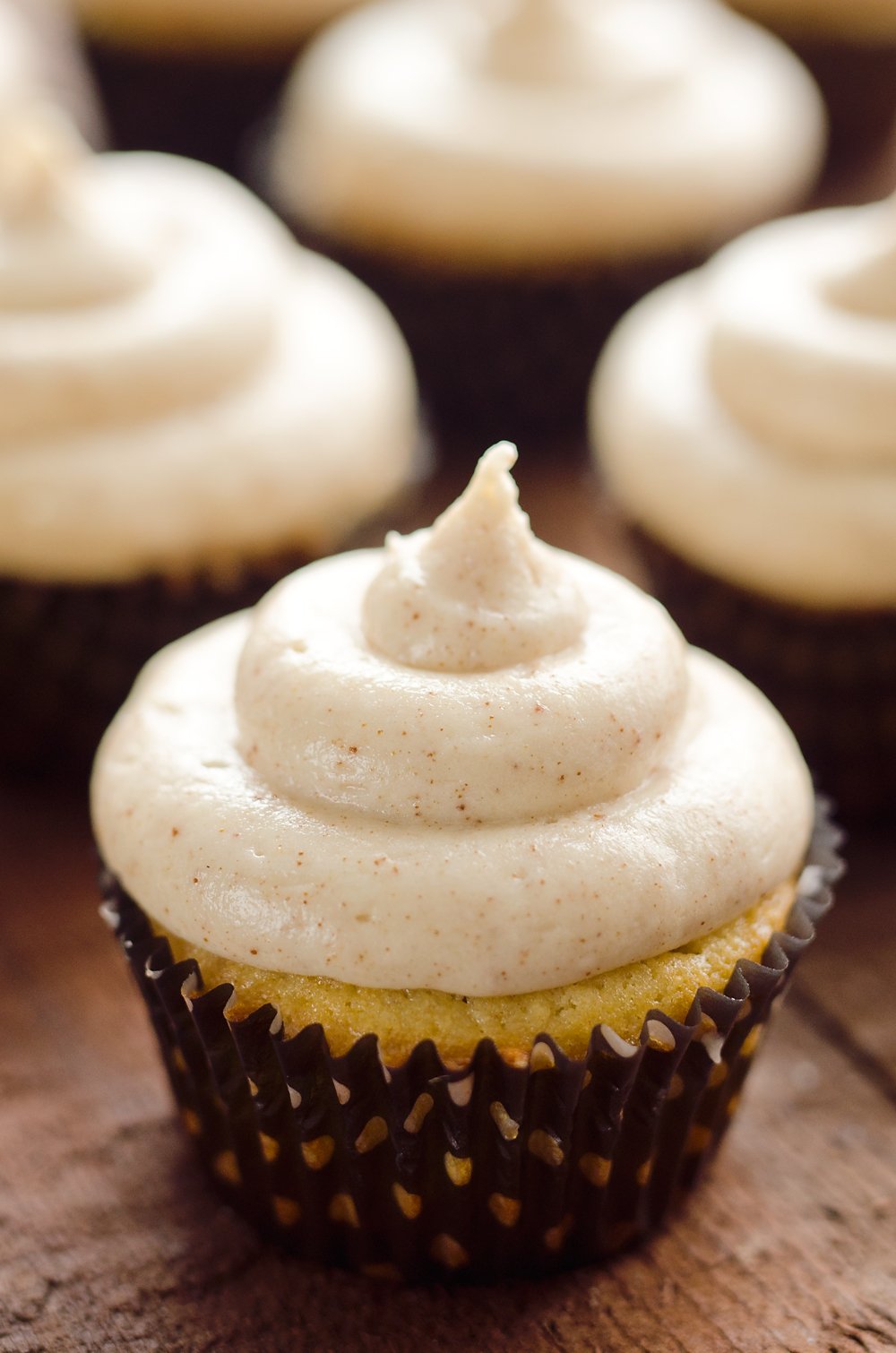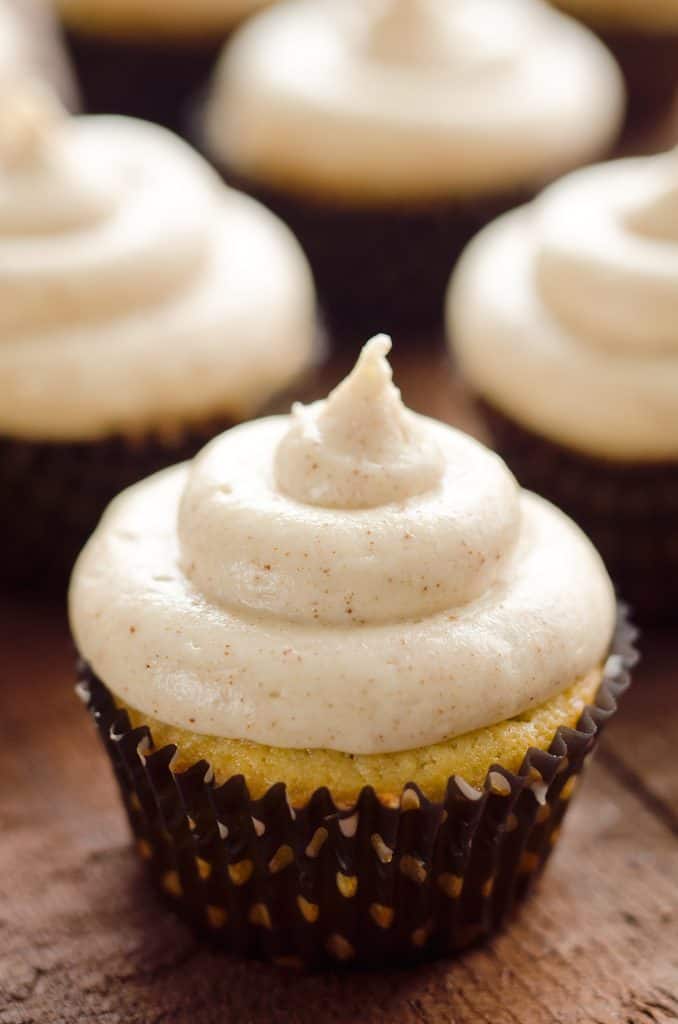 Browning the butter for easy brown buttercream
Heating the butter until it gets that perfect color of golden brown requires some attention to detail. You need to make sure the milk proteins in butter don't burn before the butter fats have turned that wonderful gold hue.
As long as your stove top burner is not too terribly hot, medium heat is perfect, then you should be fine. The other crucial thing is to make sure to keep stirring. The milk proteins rise to the top quickly and if you skim them off to clarify the butter then that will give you more time and less issues with burning the butter.
However, you don't have to do that if you can keep stirring. Think of it as just a backup plan if you see the butter has gotten too hot. If you see the white foamy solids brown very quickly then just get the pan off the heat as fast as you can. Then, skim that foam off, lower the heat just a bit, and go back to browning the butter.
That is much better than having to toss all the butter due to scorching it. You definitely don't want to scorch the butter, because it will taste nothing short of nasty – no matter how much sugar is added. Trust me…I know from experience!
Use brown buttercream frosting for desserts like birthday cupcakes or to dress up a simple box cake mix.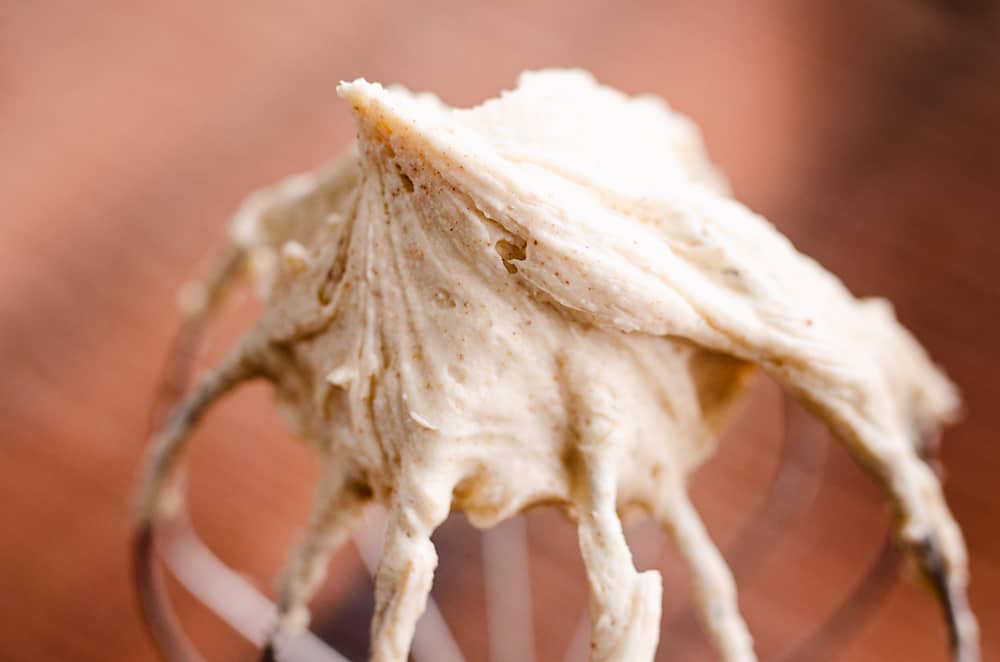 Salted butter or unsalted butter?
For this recipe, I recommend using salted butter but use unsalted butter if you want to make the buttercream a salted caramel brown buttercream.
Yes, I know that doesn't make sense. But here is the rationale. If you want a salted caramel brown buttercream, then you will want to control how salty it is. With salted butter, you can't be quite sure. Does it have a little or a lot of salt in it? Using unsalted butter gives you more control over the amount of salt you add.
This way you don't end up with a herd of deer showing up thinking your brown buttercream frosting is their salt lick.
For regular brown buttercream, using salted butter works just fine and you will not need to add any salt.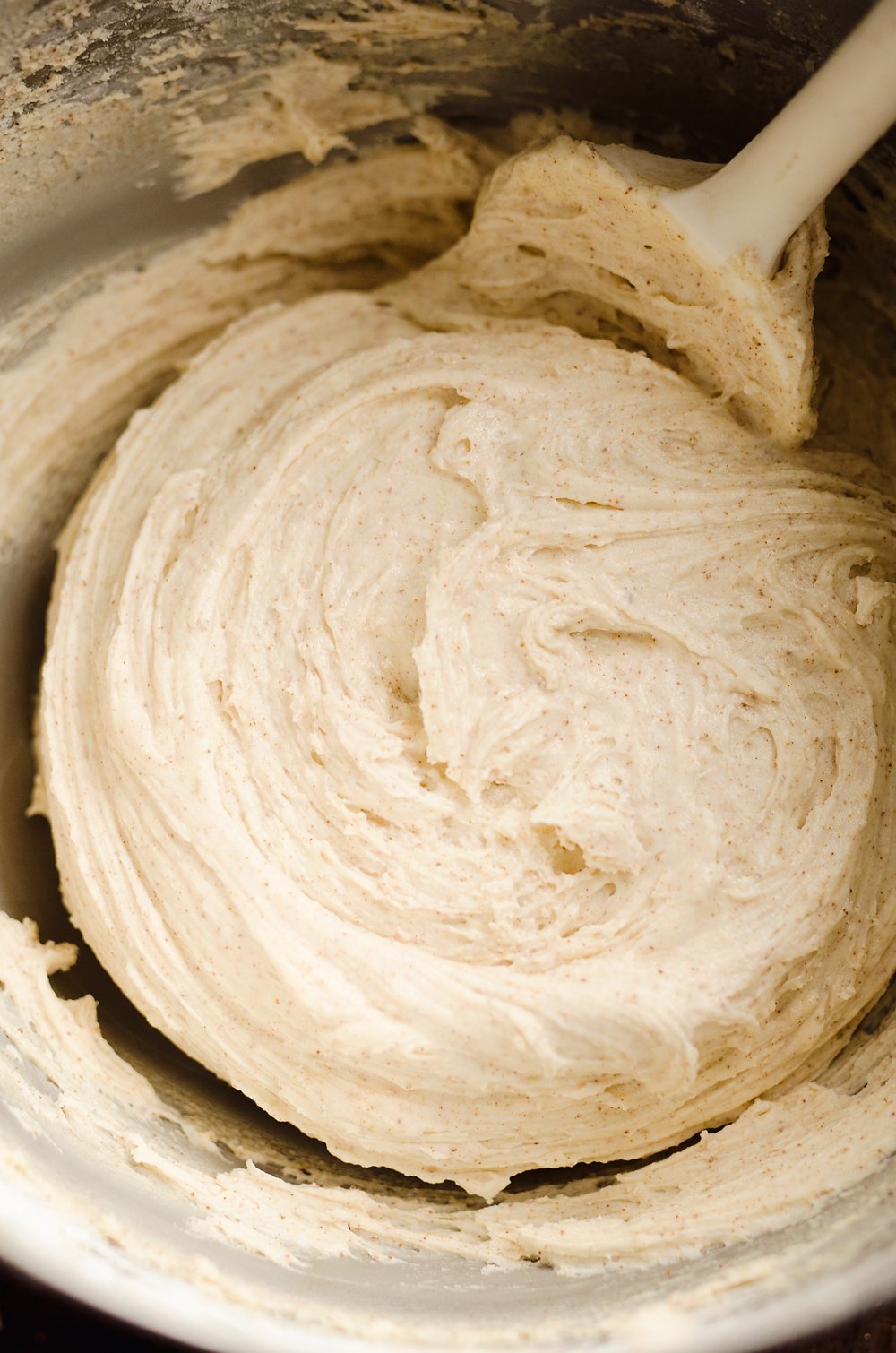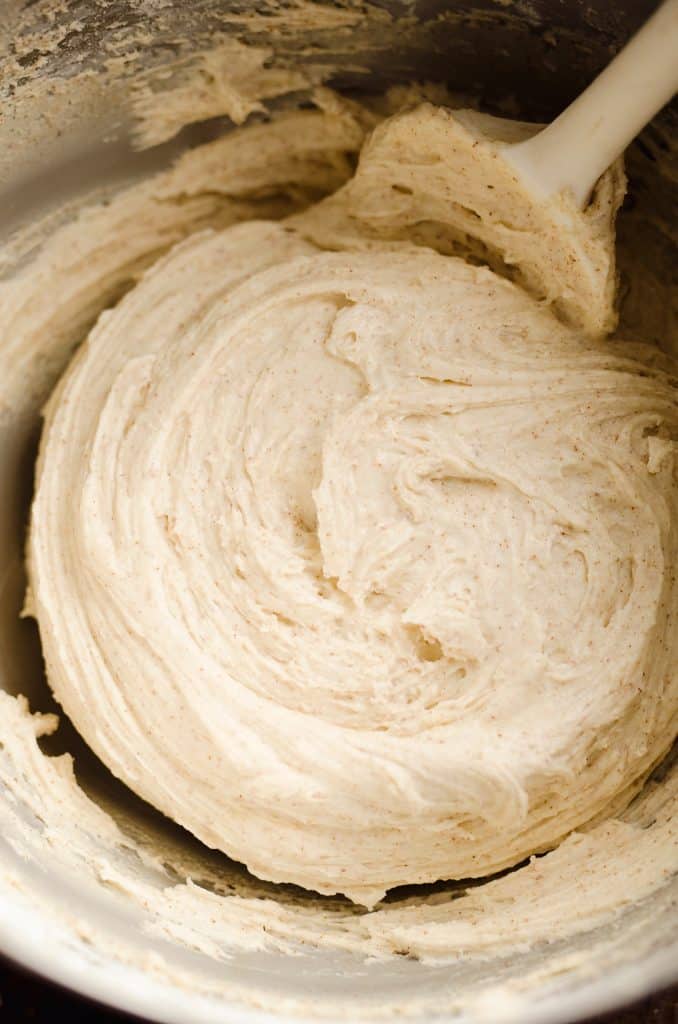 What can I do with brown buttercream?
With your basic brown buttercream, you have a base upon which many other flavors can be built.
You can go a savory direction by infusing some savory herbs like rosemary or thyme. Bacon also can be either crumbled and mixed in or just sprinkled on top.
Or you can use fruits like cherries or strawberries, peaches, pears, or apples to create divinely sweet frosting. For adding fruit flavors, you have a few ways to go. You can use canned fruit fillings that are used for making pies. Or, you can use fruit syrups that come in bottles. You can also even use jams and jellies to mix in.
All of those options will add sweetness. If you use a syrup, then you can reduce the amount of milk or cream a bit so that the frosting still has a good consistency and doesn't become too thin and runny.
Another syrup that works really well is maple syrup!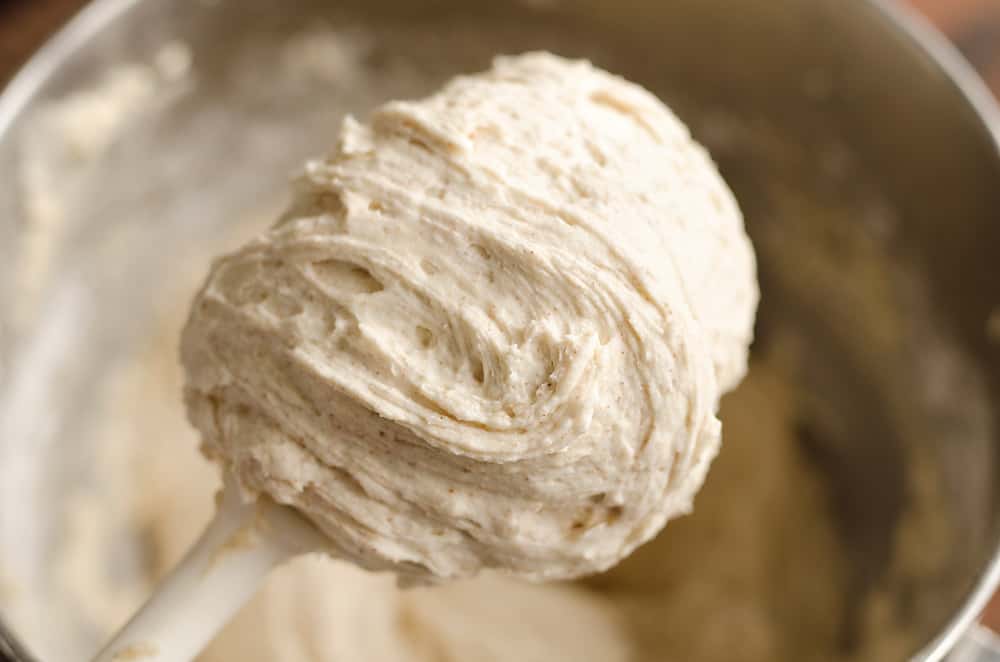 How do I store brown buttercream?
Definitely store the brown buttercream in the fridge. It will keep for a few days out of the fridge on a cake, but if you haven't used the buttercream yet, it is better to keep it sealed in the fridge and let it warm to room temp when you are ready to use it.
If you keep it in the fridge, then it should keep for about two to three weeks, no problem.
I don't recommend freezing it, but you can. If you do, just make sure to keep it in a very tightly lidded container.
What kind of recipes can I do with brown buttercream frosting?
Brown buttercream works as both a frosting and filling for desserts. You can easily pipe it onto cupcakes and brownies. Sandwich some between two cookies. Let the sweet tooth be your guide and you can't go wrong.
I have a few more suggestions for ways to take advantage of your brown buttercream too:
Sugar cookies are perfect platforms for all frostings
Pumpkin cake with brown butter buttercream frosting would be amazing in place of cream cheese frosting
Take this Cinnamon Carrot Cake to the next level with this buttercream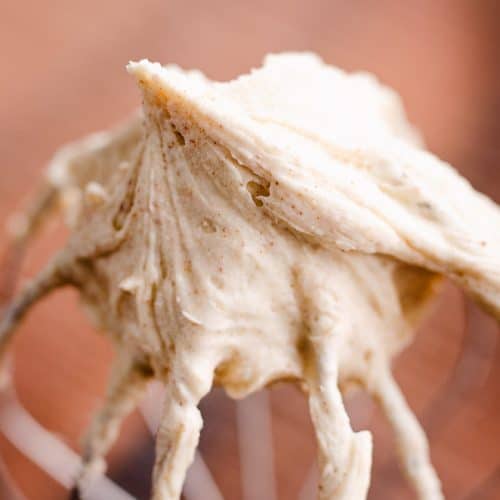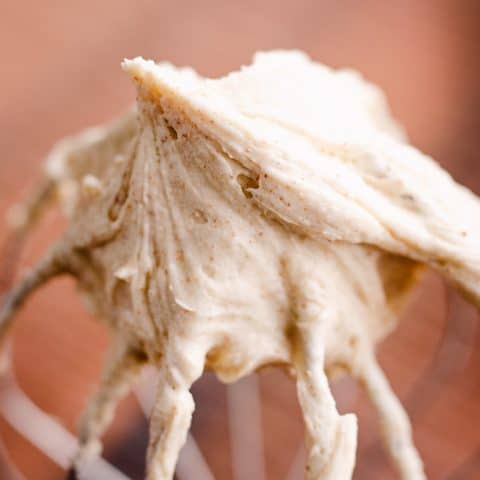 Brown Butter Buttercream
Total Time:
3 hours
20 minutes
Brown Butter Buttercream is a classic buttercream recipe with a twist from the extra rich flavor browned butter provides. It takes buttercream to a whole new level!
Ingredients
2 c. salted butter
32 oz. bag. powdered sugar
1/2 c. milk or cream
1 tsp. vanilla extract
Instructions
In a large skillet, cook the butter over medium heat for 8-10 minutes, stirring constantly until it becomes a deep golden brown color.
Remove from heat and pour into a large bowl. Refrigerate fro 3-4 hours until solidified.
Using a mixer, beat the solidified butter until it is light and fluffy.
Add the milk and vanilla extract. Slowly beat in the powdered sugar until well combined.
Continue beating the frosting on high for 5 minutes to get a light and fluffy buttercream.
Use to decorate a cake or store refrigerated for up to 2 weeks.
Notes
Makes enough to frost about 4 dozen cupcakes.
Recommended Products
As an Amazon Associate and member of other affiliate programs, I earn from qualifying purchases.
Nutrition Information:
Yield:

48
Serving Size:

1
Amount Per Serving:
Calories:

145
Total Fat:

8g
Saturated Fat:

5g
Trans Fat:

0g
Unsaturated Fat:

2g
Cholesterol:

21mg
Sodium:

63mg
Carbohydrates:

19g
Fiber:

0g
Sugar:

19g
Protein:

0g
Provided nutrition data is only an estimate. If you are tracking these nutrients for medical purposes, please consult an outside, trusted source.