If you are looking for the perfect Valentine gift idea for him or her, these Boozy Hot Cocoa Bombs are the perfect thoughtful gift! It takes all the fun of hot chocolate bombs and adds a spiked adult twist with alcohol.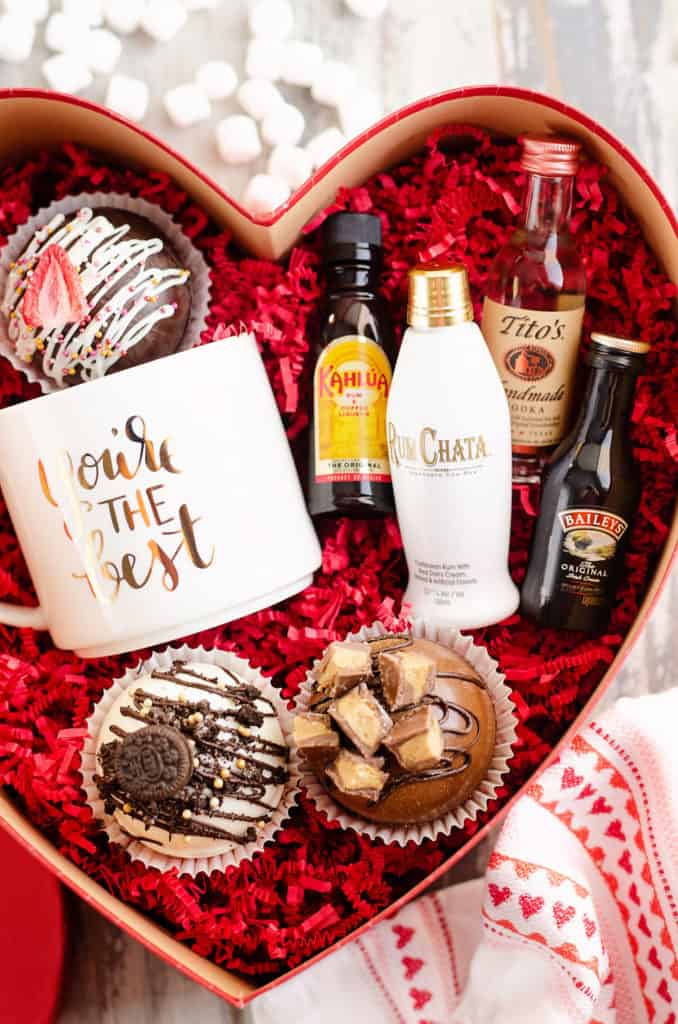 There is nothing more loved and classic when it comes to gift giving on Valentine's Day than chocolate. Whether you bake someone a homemade Salted Dark Chocolate Pomegranate Tart or buy them a box of candies, it's an age old tradition. This year, put a unique grown up spin on your present with these Boozy Hot Cocoa Bombs!
You can make homemade hot cocoa bombs for an extra personal touch or simply buy them from Costco. Package them up with shots of alcohol for a fun and boozy adult gift idea.
I made my own hot chocolate bombs and used these pink heart marshmallows on the inside to really add a special touch to this Valentine's Day treat.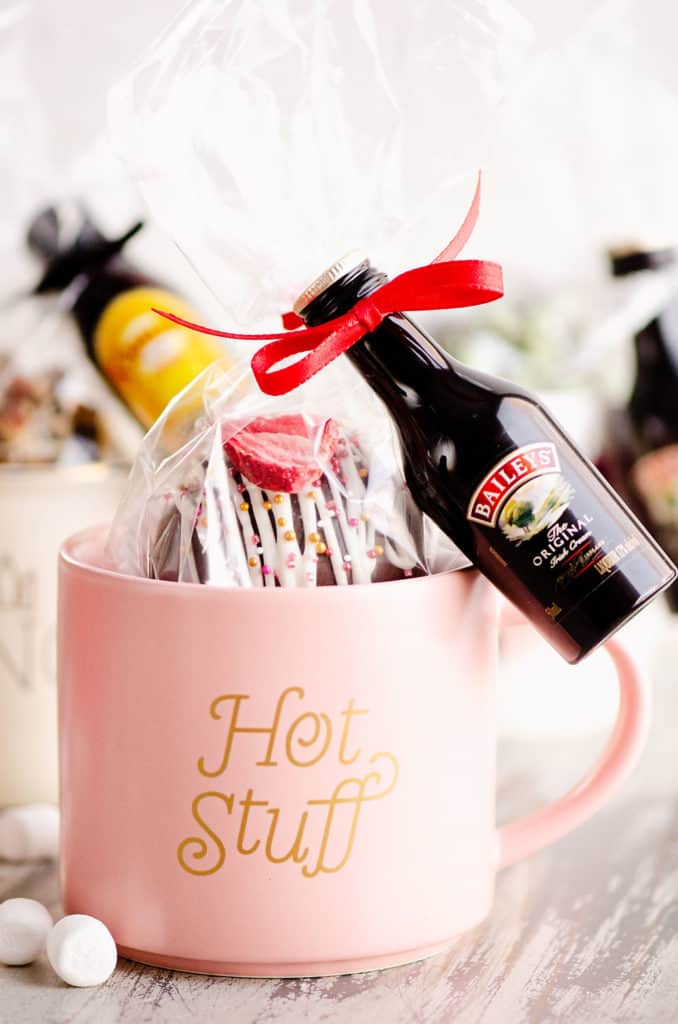 Adult Valentine for Him or Her
These Boozy Hot Cocoa Bombs are obviously intended for adults over the age of 21. Just because they are adults, doesn't mean they won't enjoy the wonderment of watching the marshmallows appear in a warm cup of hot chocolate, just like kids do!
When I gifted my parents some hot cocoa bombs, they were like kids watching them melt, and frankly it melted my heart. If you have a loved one or friend who has a childlike enthusiasm about things like this, these spiked hot cocoa bombs will be a big hit!
Who can I gift Boozy Hot Cocoa Bombs to?
The best part about this Valentine's Day gift is that it works for just about anyone in your life. While making homemade hot cocoa bombs will show them that you cared enough to put all that effort into your gift, it isn't romantic.
These boozy Valentine gifts are great for a single friend who's day you want brighten on February 14th, someone you just started dating, family, coworkers or just about anyone you want to make feel special.
While I packaged up this fun adult gift for Valentine's Day, it really would be great for so many occasions. From birthdays to Christmas or just about anything worthy of a celebration during colder months.
What booze should I include?
When it comes to add alcohol to hot chocolate, there are plenty of possibilities. Irish creams and liqueurs are the obvious choices. I also like to include a small bottle of vodka along with the liqueur in the bigger gift boxes in case someone wants a much stiffer drink.
There are lots of great options for alcohol you can buy in miniature 50ml or 100ml bottles. I actually found three packs of 100ml bottles in Baileys and RumChata by the larger bottles. They priced out as a much better value than the smaller 50ml bottles.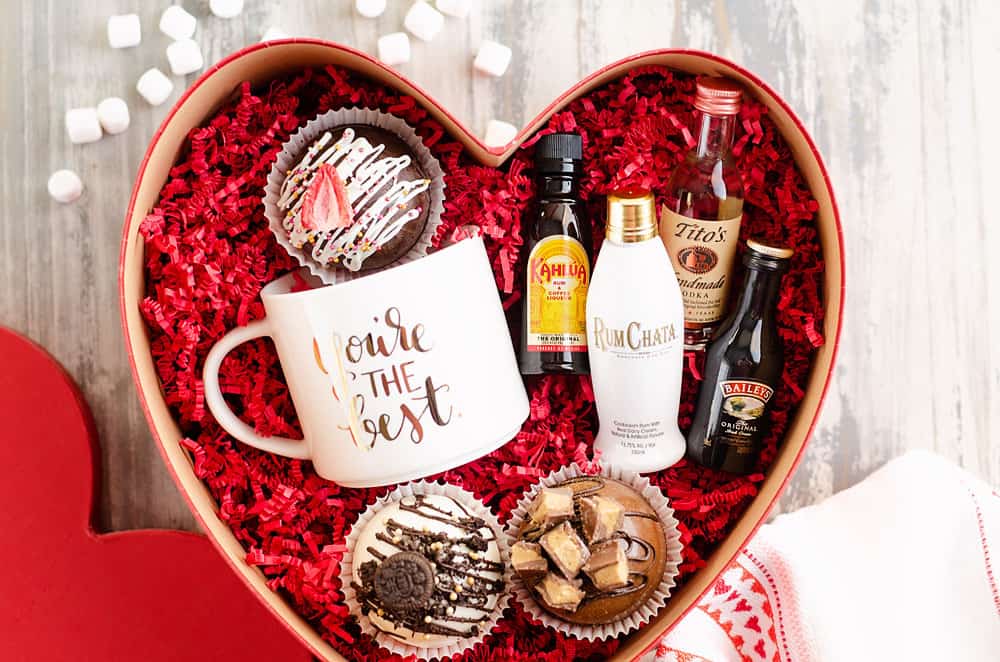 What is the best alcohol to mix with hot chocolate?
Kahlúa – coffee liqueur from Veracruz, Mexico
Baileys – popular Irish cream
RumChata – cream liqueur from Wisconsin
Amaretto – sweet Italian liqueur
Chocolate Stout – bottle of a dark chocolate beer
There are endless possibilities when it comes to alcohol you can add to hot chocolate, but those mentioned above would be the easiest to buy in miniature bottles. They are going to be more well received as well, because they are lower alcohol content and easier to drink.
How much does it cost to make a Spiked Hot Cocoa Bomb gift box
This Valentines gift is great because you can keep it small and simple or really spoil someone with a larger box with a variety of hot cocoa bombs and alcohol.
The cost will depend on the materials you choose. Most miniature bottles of popular alcohol (50ml) will cost $2-$3. You can buy cheaper lower quality bottles for $1.
When you make homemade hot cocoa bombs, they cost roughly $0.75 each. If you are buying them from a store or someone selling them locally, they typically range in price from $3-$5 each.
Boozy Hot Cocoa Bomb Mug Gift
For something smaller, but still special, add one wrapped hot cocoa bomb to a mug. Tie a ribbon around the top attaching one 50ml bottle of alcohol.
Here are some cute affordable mugs you can grab for your Valentine's Day gift.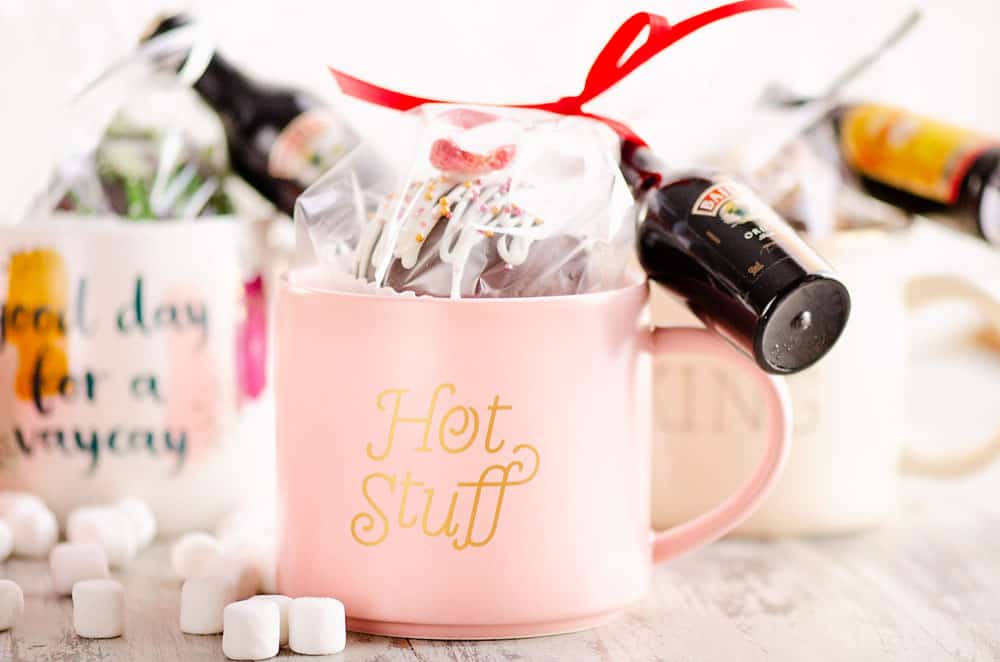 Affordable Mugs
If you add up a $6 mug, $1 homemade hot cocoa bomb with cellophane bag and a $3 miniature bottle of booze, this Valentine's Day gift will cost about $10.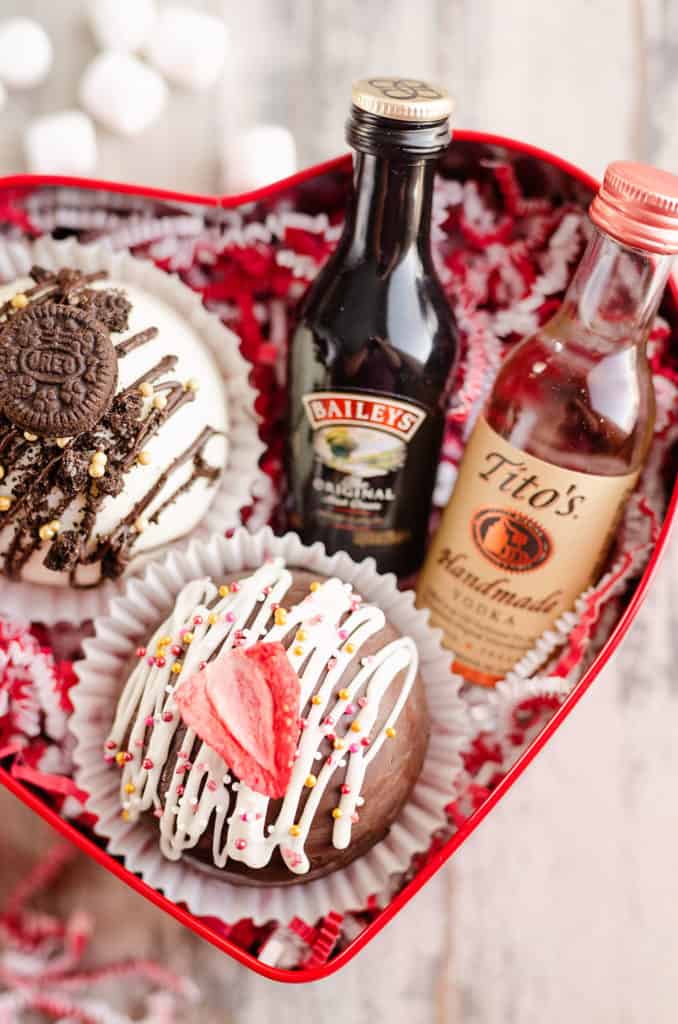 Small heart gift box
This gift box is the perfect size for a special couple, neighbor or anyone you want to show a little extra love.
I started with a seasonal $2 red heart tin box from Walmart that I found in their holiday section. I added $1 worth of paper shreds to the gift box. Then I arranged two hot cocoa bombs ($2) and two miniature bottles of alcohol ($6) in the tin, which comes to only $11 for this amazing git.
This box gives you the best bang for the buck. It feels like a thoughtful and substantial gift, but is very affordable! I would love receiving this small heart box with more spiked hot cocoa bombs.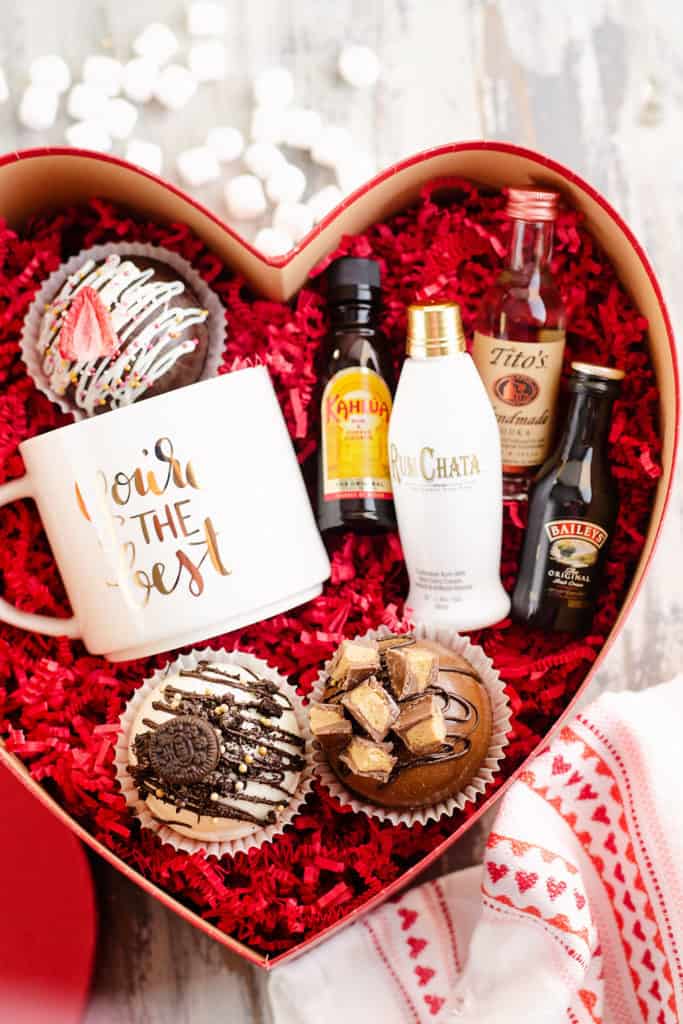 Large Valentine's Boozy Hot Cocoa Bomb Gift Box
If you want to put together an impressive gift box for a loved one that will make a statement, this large heart box is where it's at.
To get started I used a $5 red craft heart box from Target. I added a $2 bag of paper shreds for aesthetic and to provide some protection for the delicate hot cocoa bombs.
Nestle a coffee mug ($6) into the paper shreds and arrange 3 homemade hot cocoa bombs ($3) alongside it. I wrapped the hot cocoa bombs in cellophane bags after taking photos to help keep them protected.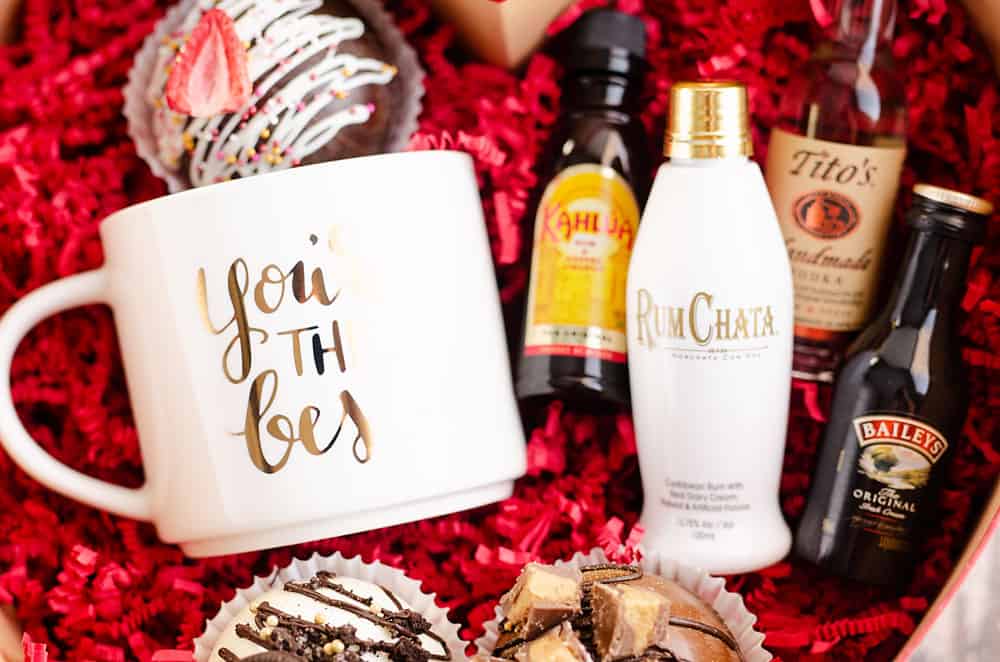 Lastly, I arranged a variety of four 50ml and 100ml alcohol and liqueur bottles ($12) in the gift box. Pop the lid on and you have a beautiful homemade gift that any adult (over 21!) would love.
In total, this large gift box cost less than $30.
We will be gifting this box of boozy hot cocoa bombs to our daycare provider for Valentine's Day. Because any childcare worker deserves a spiked drink after a long day wrangling all those kids in my book!
This large gift box would also be great for a romantic partner, best friend or anyone else you really want to shower with love.
Valentine's Hot Cocoa Bomb Gift Tags
I made some cute Valentine's printable gift tags to include with your hot cocoa bomb gift as well. Your friends and loved ones might not know exactly how hot cocoa bombs work, so be sure to include a label with instructions.
Download the free PDF or Word documents below. If you are looking for a more generic gift tag, check out these free printable Hot Cocoa Bomb Labels.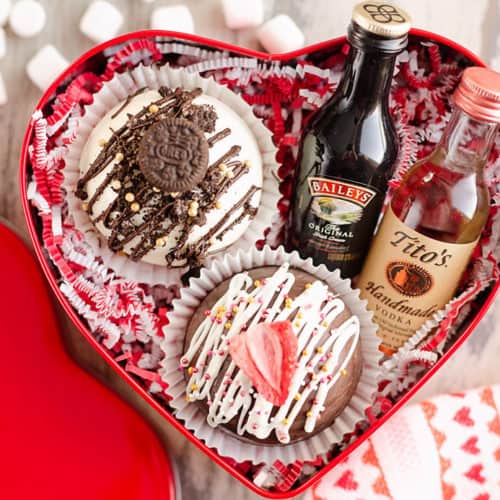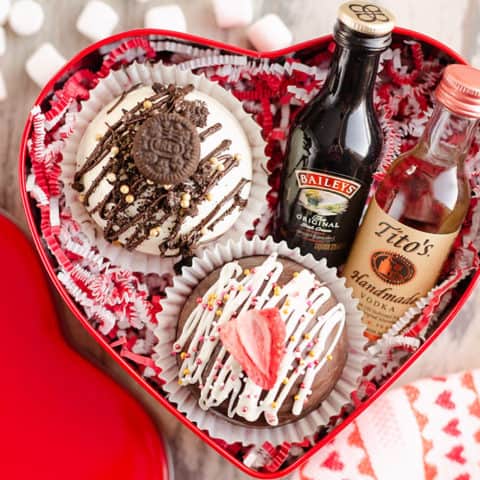 Boozy Hot Cocoa Bomb Gift
If you are looking for the perfect Valentine gift idea for him or her, these Boozy Hot Cocoa Bombs are the perfect thoughtful gift! It takes all the fun of hot chocolate bombs and adds a spiked adult twist with alcohol.
Materials
12 inch piece of ribbon
Mug or Heart Tin
Miniature bottle of liqueur (50ml)
Instructions
Place one hot cocoa bomb in a cellophane treat bag.
Add a small handful of paper shreds to the bottom of a mug or heart tin.
FOR MUGS - Place the packaged hot cocoa bomb on top. Using a ribbon, tie a knot around the cellophane bag, right above the hot cocoa bomb.
Add an optional gift tag by punching a hole in the top and stringing it on the ribbon.
Tie another knot around the neck of the miniature bottle. Finish the ribbon off by tying it in a bow.
FOR HEART BOXES - Simply arrange the packaged cocoa bombs, mini alcohol bottles and a gift tag in the tin and cover.