These simple Avocado Corn Chicken Nachos feature a fresh avocado salsa with roasted Poblano peppers and sweet corn along with rotisserie chicken and pepper jack cheese, for an easy appetizer recipe or quick 20 minute meal that is delicious!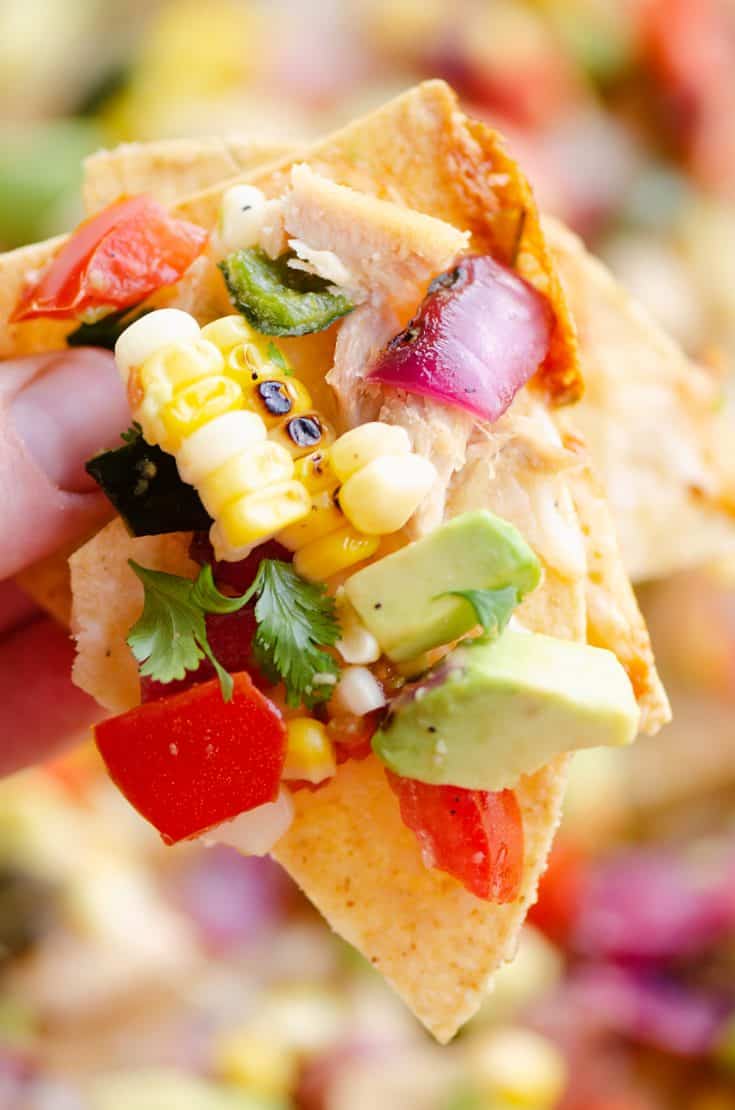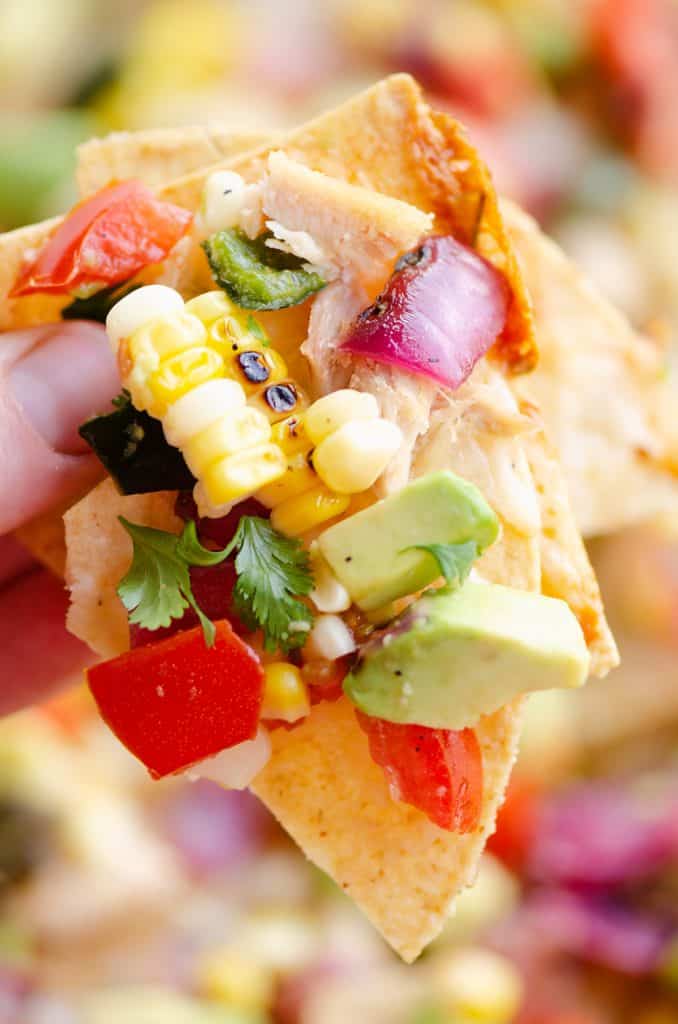 Avocado Corn Chicken Nachos
Everyone loves nachos, and these Avocado Corn Chicken Nachos topped with my Grilled Corn Avocado Salsa put a filling and healthy spin on a classic! The homemade salsa is amazing on its own (seriously, you should try it!) but it can also elevate regular nachos and turn them into an extraordinary meal that stands on its own!
Whether you are looking for a quick and easy weeknight meal or a delicious appetizer to serve to guests, these nachos are a recipe you need to try. They are bursting with fresh summer flavors and are hearty enough to satisfy anyone.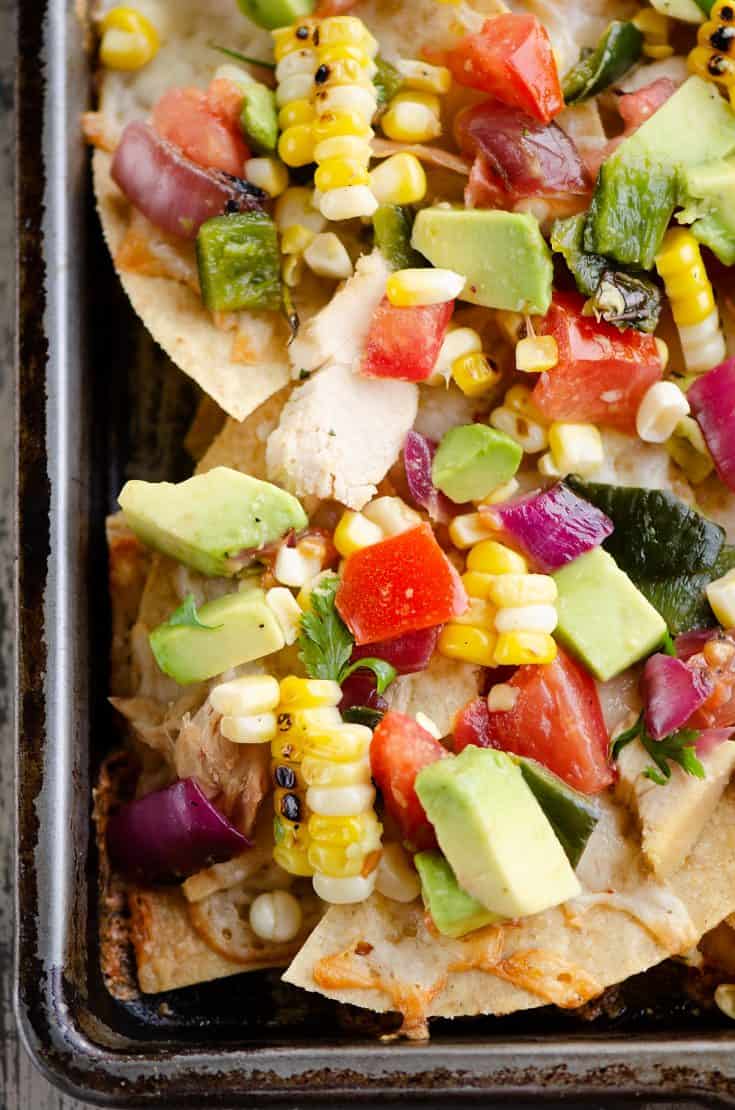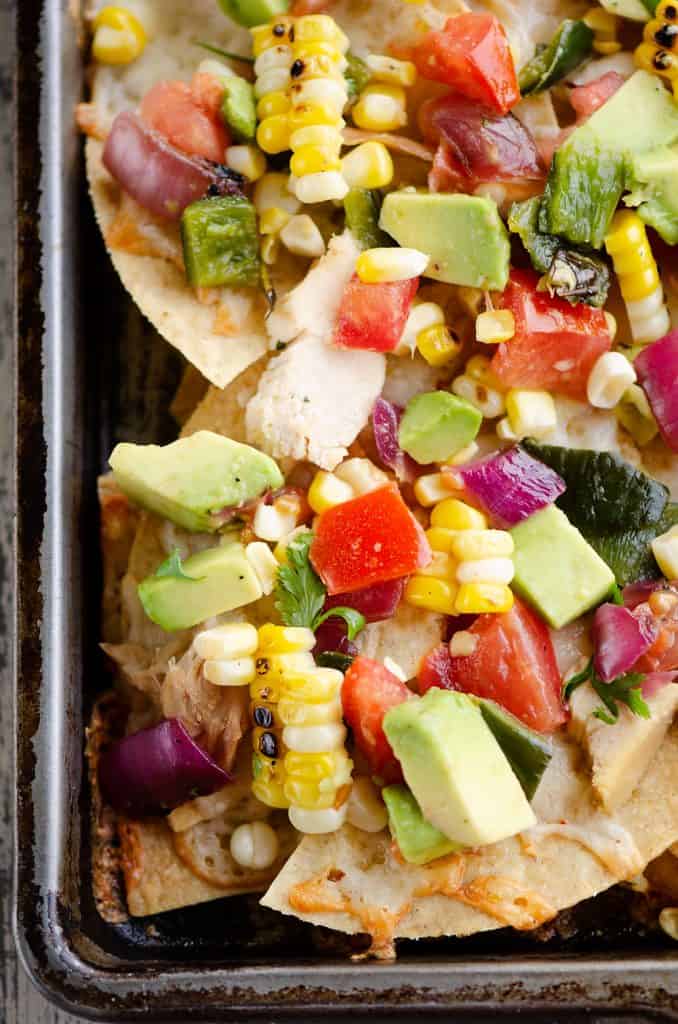 Sheet Pan Nachos
Nachos are a staple around here! You can find super basic nachos (just chips and cheese) at most sporting events, homemade nachos at potlucks, and dressed up nachos at homey restaurants. Three are tons of varieties!
I love experimenting with different nacho varieties myself, like these Light Chicken Verde Nachos. Nachos are a big deal! And they're super easy to make at home. Whether you need an easy meal or a quick appetizer, this chicken nacho recipe has got you covered! If you're craving something sweet, try my take on dessert nachos: Ultimate Banana Split Dessert Nachos are super decadent
One of the secrets to making great nachos is to use a sheet pan. You don't need anything fancy to make great nachos. A sheet pan will get those chips nice and crunchy, and melt the cheese evenly. Keep reading to find out exactly how to make these delicious chicken nachos.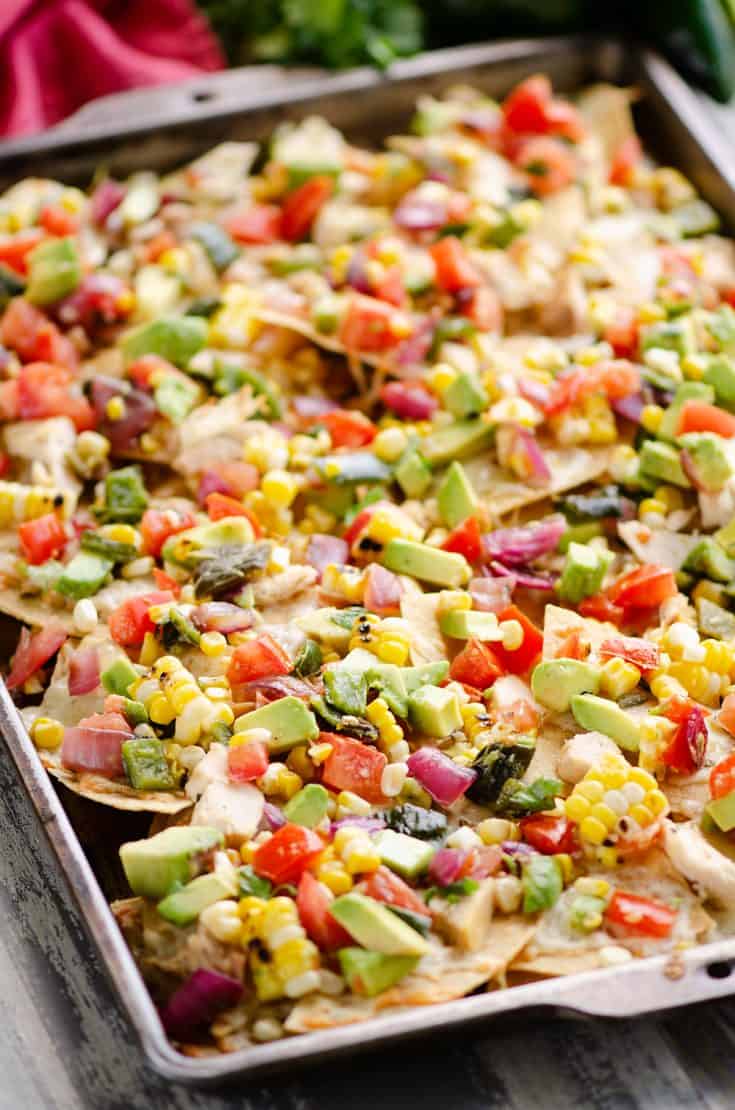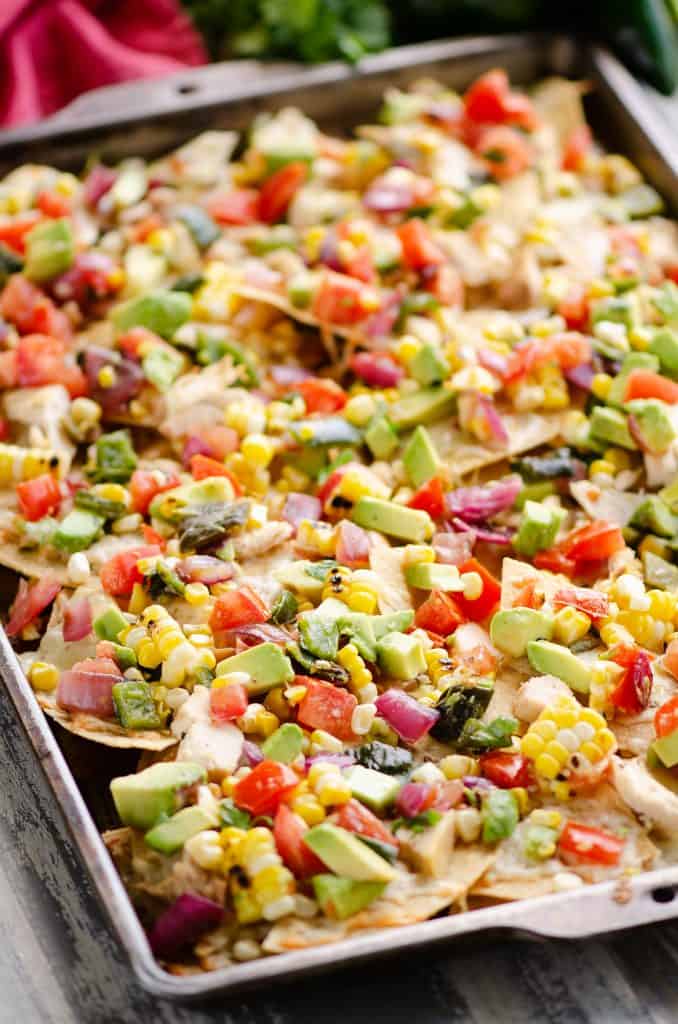 How To Make Chicken Nachos
Making nachos is easy, and making amazing nachos is even easier!
Arrange chips on a rimmed baking sheet–the rim keeps them from sliding around or falling off when you're transferring them in and out of the oven.
Spread shredded chicken and cheese over the chips.
Bake at 350 degrees for 10 minutes, just until the cheese is melted. This will also crisp up your chips!
Top with fresh Avocado Corn Salad and serve.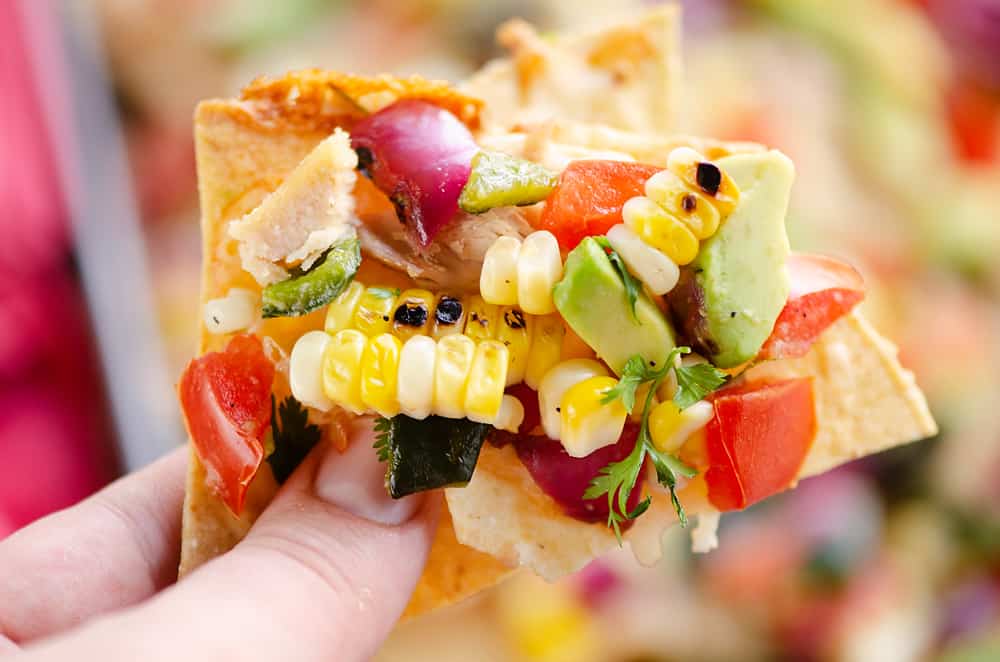 What Goes Good on Nachos?
One of the best things about nachos is how much you can mix and match the toppings. Some of my all time favorite toppings are avocados and peppers, but if you want to change it up, try some of these great nacho toppings:
Different kinds of cheese
Fresh tomatoes
Fresh or grilled onions
Refried beans
Tomato Salsa
Black olives
Seasoned beef
Shredded pork
Sour cream
Guacamole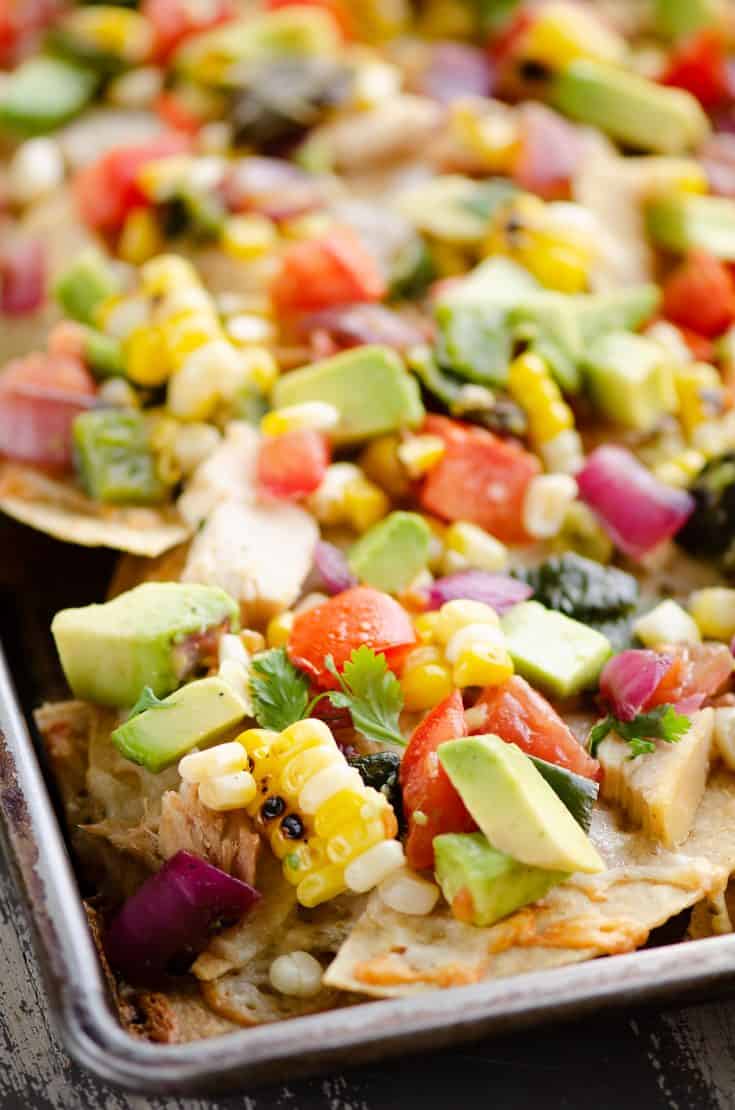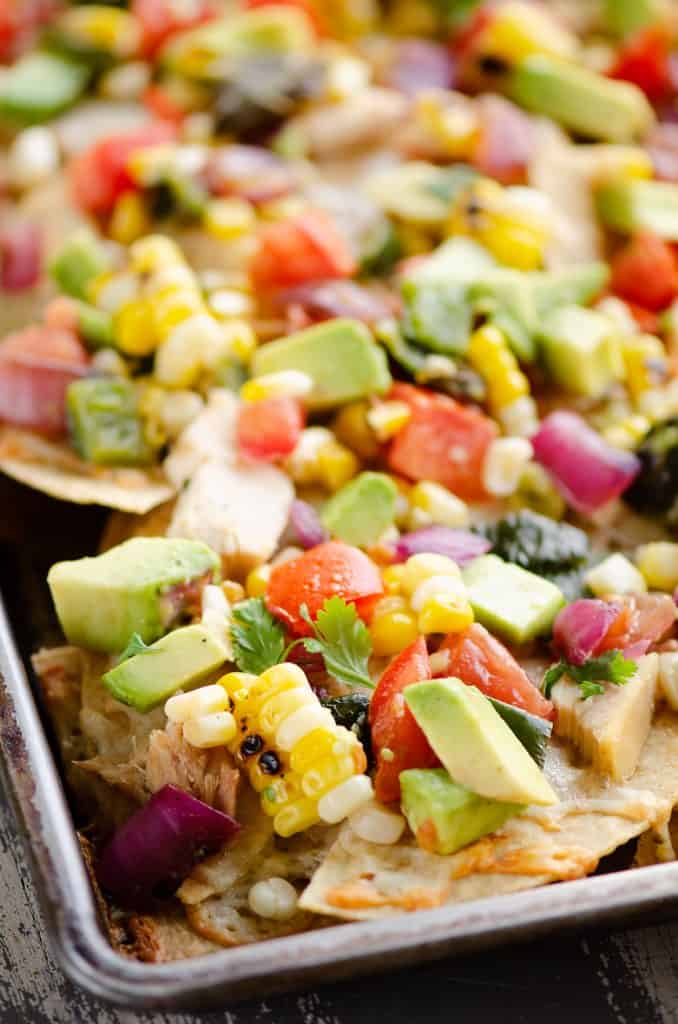 What Kind of Cheese Should I Use on Nachos?
This chicken nacho recipe uses pepper jack cheese, because I love that spicy kick! If you need a substitute, try a cheese that melts well. You want something that will melt and spread out, not a hard cheese or one that's too aromatic. If you want to keep some of the flavor of pepper jack without the spice, try monterey jack.
There are other options too! If you want to try something different, feel free to experiment. Cheddar is a popular choice for nachos. If you pick a cheddar that hasn't been aged you'll get better melting. Aged cheddar has less moisture and won't get as gooey. Mozzarella works too!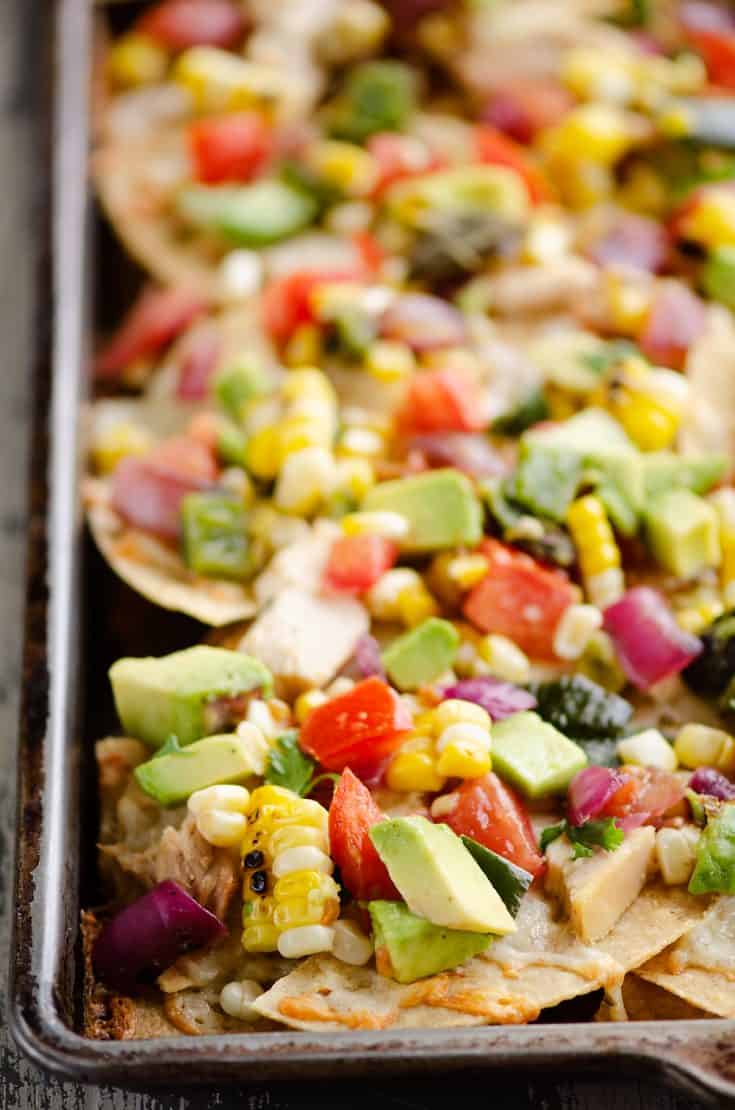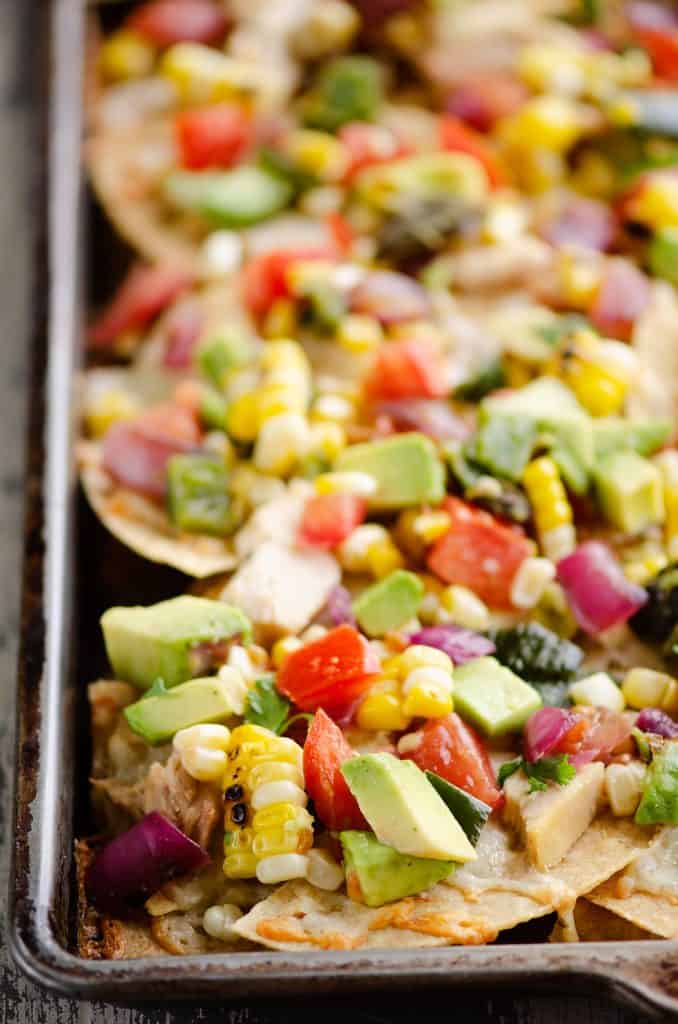 What Kind of Chips Should I Use For Nachos?
Any kind of tortilla chips will work in a pinch, but my current favorite for making nachos has got to be Gorilla Chips. Gorilla Chips are relatively new from Crazy Fresh, which you've likely seen at your grocery store. They make fruit and veggie platters that I've grabbed for last minute parties a million times!
With Gorilla Chips they're branching out into tortilla chips that are crunchy and heavy duty enough to load up with tons of toppings!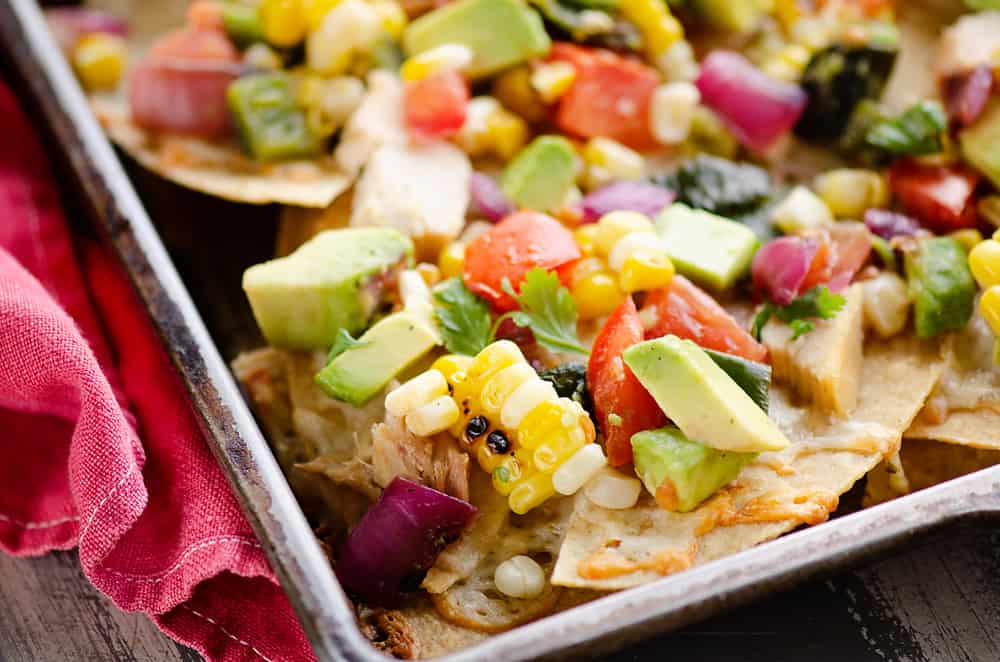 How Do You Keep Nachos From Getting Soggy?
No one likes soggy chips! Don't worry, there are a few steps you can take to keep your nachos crispy, crunchy, and perfect.
Bake your nachos before you add toppings, especially any "wet" toppings like salsa or tomatoes. That will help keep them resistant to moisture.
Eat them soon! Don't give the juice time to sink in to the chips.
Use thick chips that can take a little moisture without melting. I use Gorilla Chips. Thin chips will basically dissolve when they run into moisture, thick chips will hold up better.
Serve toppings like sour cream or guacamole on the side, so you can dip your crispy chips instead of putting them on top and letting them drip down onto your chips.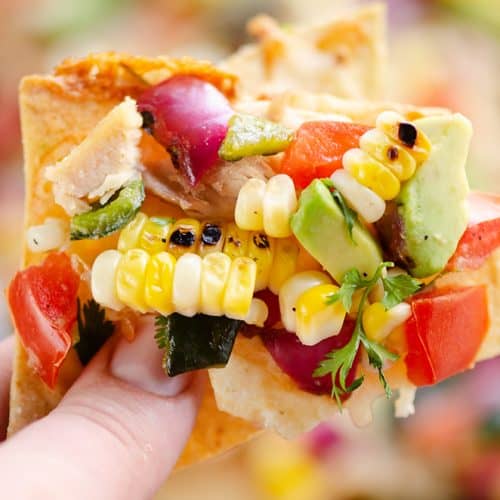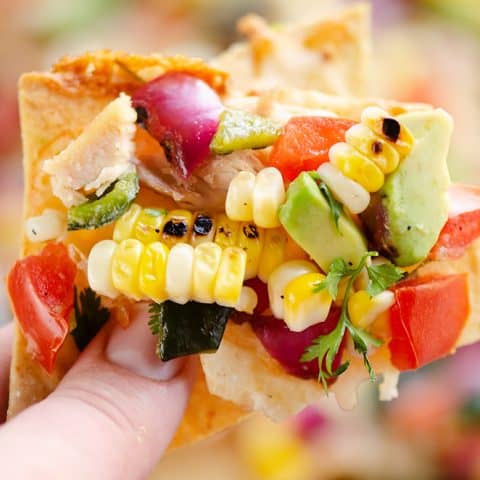 Avocado Corn Chicken Nachos
These simple Avocado Corn Chicken Nachos feature a fresh avocado salsa with roasted Poblano peppers and sweet corn along with rotisserie chicken and pepper jack cheese, for an easy appetizer recipe or quick 20 minute meal that is delicious!
Ingredients
6 c. tortilla chips
2 c. shredded chicken
2 c. pepper jack cheese, shredded
Instructions
Preheat oven to 350°.
Spread the tortilla chips on a sheet pan and top with shredded chicken and cheese.
Bake at 350° for 10 minutes.
Top the baked nachos with the Avocado Corn Salsa
Serve immediately!
Nutrition Information:
Yield:

5
Serving Size:

1
Amount Per Serving:
Calories:

578
Total Fat:

37g
Saturated Fat:

13g
Trans Fat:

0g
Unsaturated Fat:

22g
Cholesterol:

84mg
Sodium:

490mg
Carbohydrates:

33g
Fiber:

7g
Sugar:

1g
Protein:

30g