Light Chicken Verde Nachos are a healthy appetizer or fun dinner idea with a pile of baked corn tortillas topped with chicken breasts in a salsa verde and fresh tomatoes and queso fresco.

Light Chicken Verde Nachos
Happy Cinco De Mayo! I have a fun and healthy Mexican themed meal to share with you to celebrate the holiday! Whether you serve them as an appetizer or light dinner, these Light Chicken Verde Nachos are perfection.
Salsa verde seems to be a love or hate type of food for most people I know. Personally I am in love with it. It is such a great way to change up the boring old salsa routine with a new flavor profile! Saute up some chicken breasts and onion and toss them with salsa verde and pile that on top of homemade baked corn tortilla chips with tomatoes, queso fresco and cilanrto. It really doesn't get any better than that!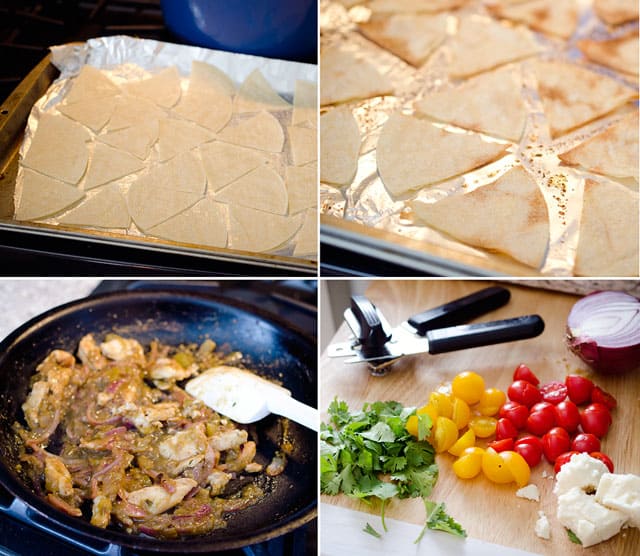 I normally just buy baked chips, but for some reason our local grocery store has stopped selling them. The next closest store is over an hour away, so needless to say I seldom get there. I was craving nachos, so I decided to make my own chips. I have tried this in the past with flour tortillas, but have been less than impressed with the final result which is often stale and unappealing.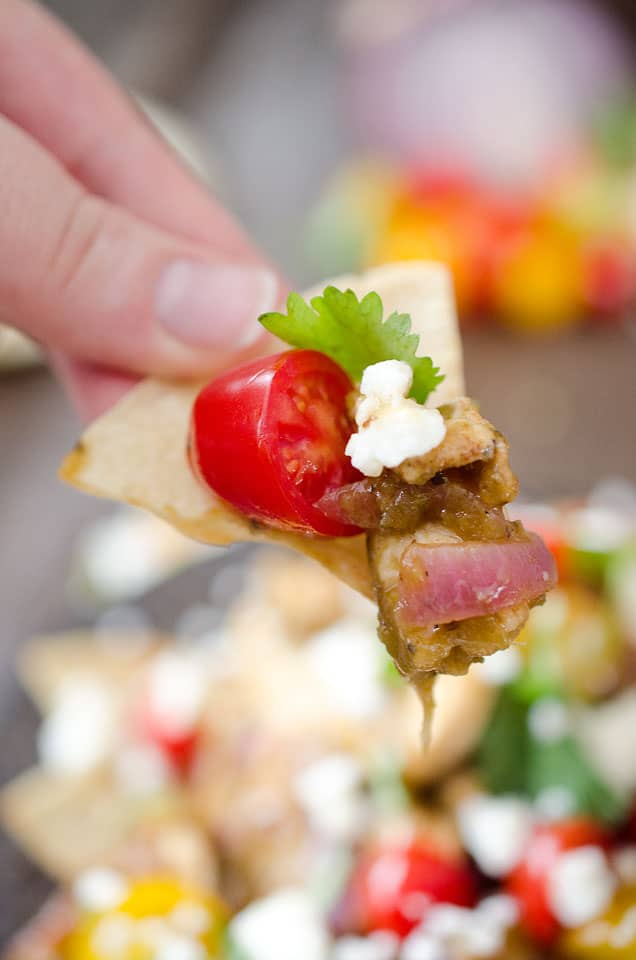 I have come to love corn tortillas over the past couple of years, so they are really all I keep on hand. I decided to give it a go with the white corn tortillas and was thrilled with the result. It is important to bake them just to the brink of burning, so all of the moisture is removed. This crisps them up nicely without leaving any soggy or chewy chips.
I made myself a small plate of these nachos for dinner and loved them so much that I immediately prepared another batch of the chicken verde. I packed up the chicken separately from the tomatoes with queso fresco and cilantro along with a bag of the baked chips. This made for a fantastic lunch the next day at work.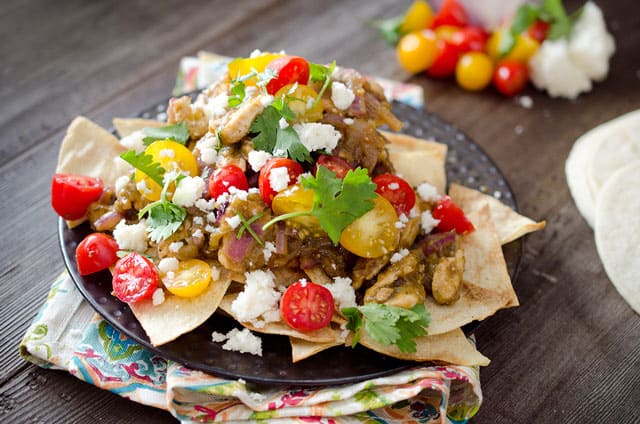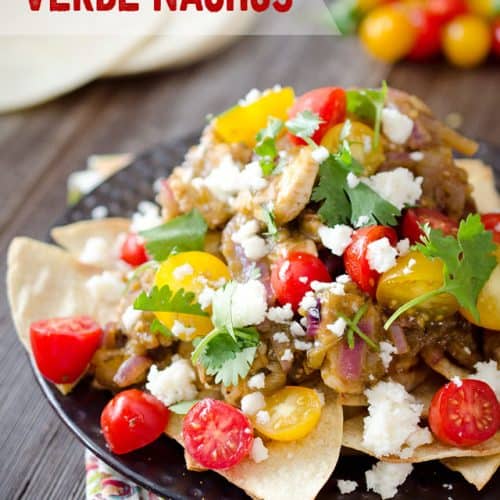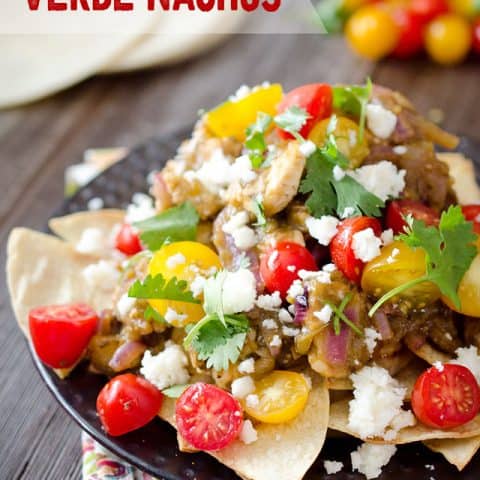 Light Chicken Verde Nachos
Light Chicken Verde Nachos are a healthy appetizer or fun dinner idea with a pile of baked corn tortillas topped with chicken breast in a salsa verde with fresh tomatoes and queso fresco.
Ingredients
5 white corn tortillas
1/2 lb. chicken breasts, thinly sliced
1 small red onion, diced
1 jar 16oz salsa verde
1 c. cherry tomatoes, halved
2 oz. queso fresco, crumbled
1/2 c. cilantro, roughly chopped
Instructions
Preheat your oven to 400°. Stack the tortillas and cut them all into 6 wedges each for a total of 30 wedges. Arrange the pieces on a lined cookie sheet and spray them all generously with non-stick cooking spray. Bake for 15-18 minutes until the chips are all crispy and there are no chewy party remaining. Allow the chips to cool to room temperature.
Meanwhile in a saute pan, cook the chicken and onion for 3-5 minutes. Add the salsa verde and continue to cook for 5 minutes, so the salsa verde reduces to about half the volume and the chicken is no longer pink in the center.
On a large plate arrange the baked chips and top with the chicken verde mixture, tomatoes, queso fresco and cilantro. Serve immediately.
Nutrition Information:
Yield:

2
Serving Size:

1 grams
Amount Per Serving:
Unsaturated Fat:

0g
More fantastic appetizers!