This Apple Balsamic Onion Grilled Cheese sandwich is a quick and easy meal bursting with amazing flavors. Sweet balsamic onions pair with crispy sweet apples and melted cheddar for a vegetarian recipe that is filling and delicious.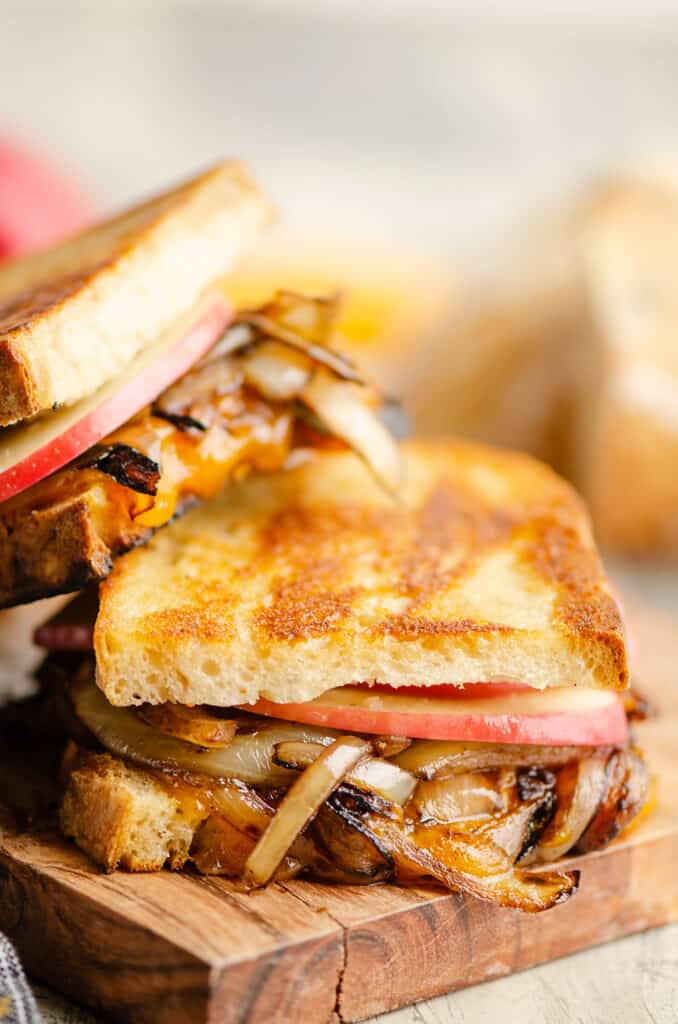 Cheddar & Apple Grilled Cheese Sandwich
An apple and balsamic onion grilled cheese turns a run of the mill grilled cheese sandwich into a work of art. It is like the poetic expression of a grilled cheese sandwich. The way the apple adds crunch and a bit of sweet, then with the balsamic onions bringing such a savory depth to everything… just amazing!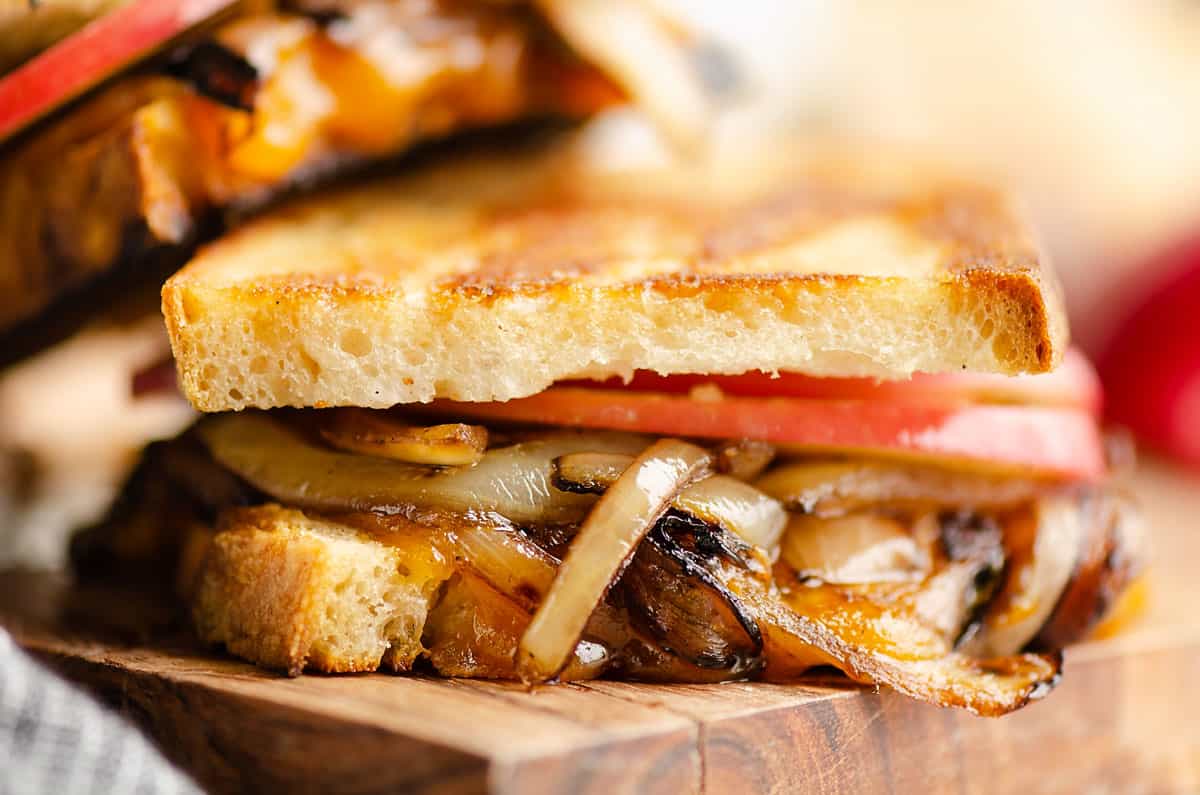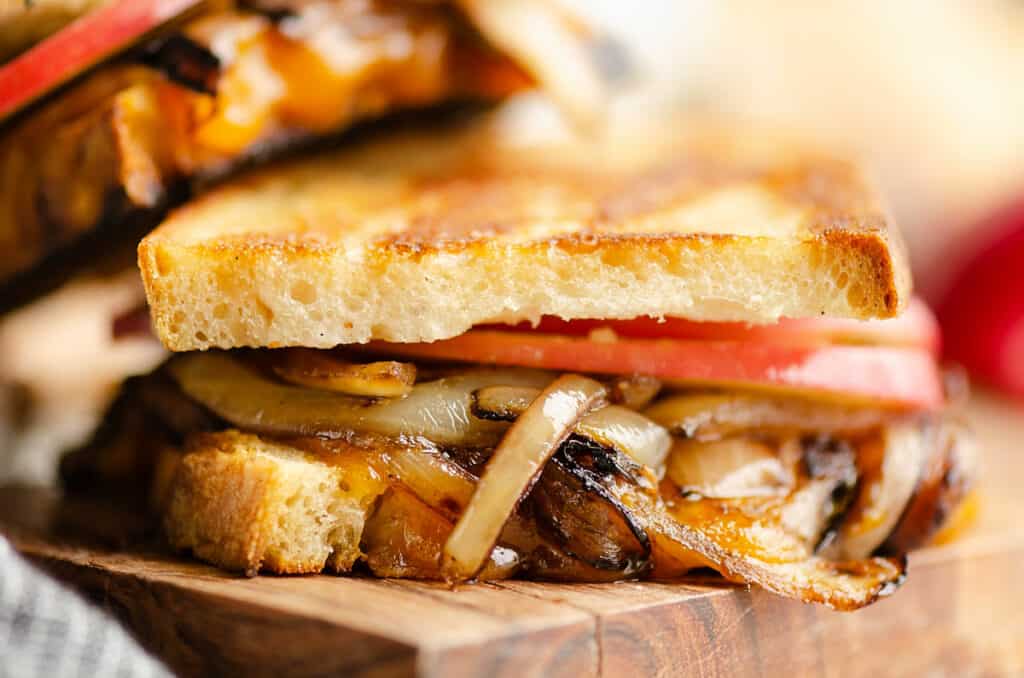 Apple & Cheese Recipe
If you have ever had or made a cheese and fruit platter, then you know how well cheese tastes with a bit of apple. Nothing about either the cheese or the apple suggests they would do well together. But together they just make each other taste even better.
From pungent cheeses combined in this Bacon, Bleu Cheese & Apple Flatbread to classic cheddar in Zesty Cheddar Fondue with apple and bread dippers, the flavor combination is undeniably good.
Even a basic, mass produced, and not artisanal cheddar gains flavor and tastes better with a nice crisp and tart slice of apple.
Bring in the balsamic reduced into the grilled onions, and you set up the umami with that edge of sour. At this point, the parts are in motion to take the classic grilled cheese and put it over the top.
How to Make The Perfect Grilled Cheese Sandwich
A perfect grilled cheese sandwich can make a rainy day feel like the sun is just about to break through. It is an ideal comfort food that way. There are a couple of tips to make sure everything grills perfectly.
Because a grilled cheese gets assembled during the grilling, here are some ways to make it successful every time.
Spread the butter on the pieces of bread first. This method works better than melting the butter in the pan first because then you don't end up with any excess butter scorching and affecting the taste in the process.
Make sure your cheese is consistently sliced so that all the cheese melts at the same time and you can flip them at the same time. Nothing worse than making one perfect sandwich and the other coming out a bit burned. Sure, you can scrape the bread if it burns a little… but wouldn't you rather not have to do that?
Put the apples and onions on to the bread with the cheese so the moisture from the apples and onions doesn't drench the bread. Add a bit more cheese on top of the apples and onions. It will melt enough on the hot onions to help hold the grilled cheese together when you flip it. Then you will also still have a cheese wall to keep the bread nice and toasted and not soggy after the flip.
Do one flip to toast the other side of the bread, then add one more flip to make sure everything is toasting nicely. You can tamp it down too with a spatula to make sure everything is nice and cozy in that melt of cheese.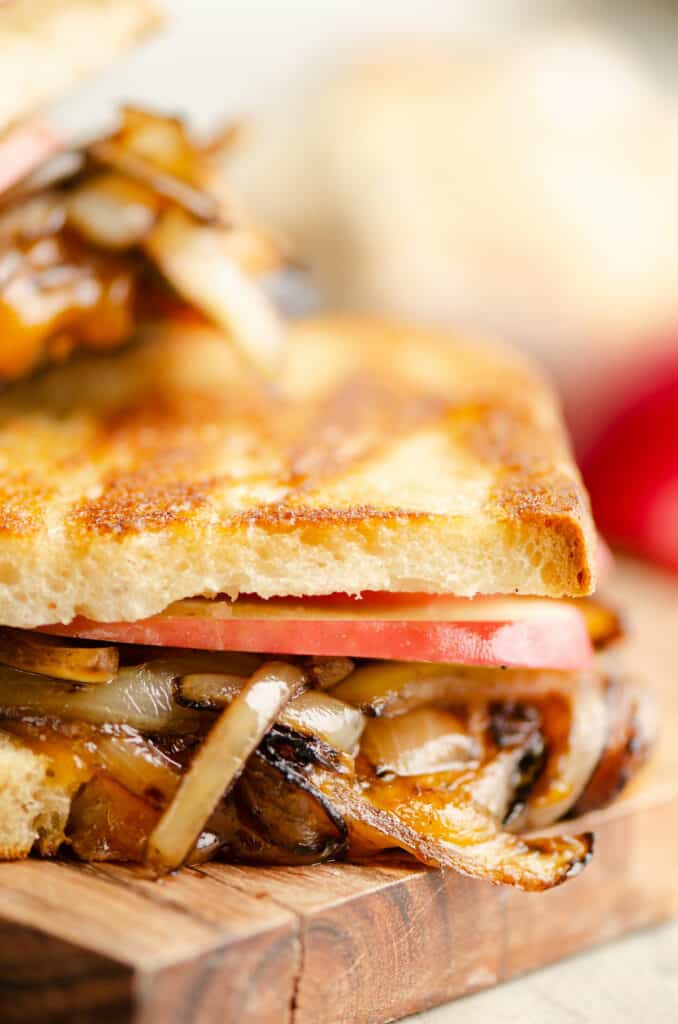 What Makes Balsamic Vinegar The Right Choice?
Why do I suggest balsamic vinegar and not rice vinegar, red wine vinegar, or something else? Balsamic has a great complexity of flavor and it also tends to be less acidic than other vinegars. It can even have a touch of sweetness.
True balsamic vinegar is aged at least 12 years, so when you see a very expensive balsamic vinegar now you know why. However, with the ingenuity of modern science and culinary experimentation, now "balsamic style" vinegars can be produced much more quickly and still yield pretty similar results.
Why Sharp Cheddar Cheese?
Sharp cheddar has a big enough flavor to stand up to the balsamic, onions, and apples without being too overpowering.
The only difference between standard cheddar and sharp cheddar is the amount the cheese has aged. As a cheese ages it becomes "sharper" as the cheese dries and the flavor intensifies.
If you don't like your cheddar too sharp, then all good, use the style of cheddar you like best.
What Kind Of Apple Works Best?
I recommend a granny smith or honey crisp. Both those apples have great crunch and tons of flavor. They both hold up well to a little heat. If neither of those are readily available, then you can certainly go with a Braeburn or Pink Lady too.
Any apple that is suggested for baking makes a great apple on this grilled cheese sandwich. You want to avoid apples like Red Delicious that will soften and become mushy very quickly.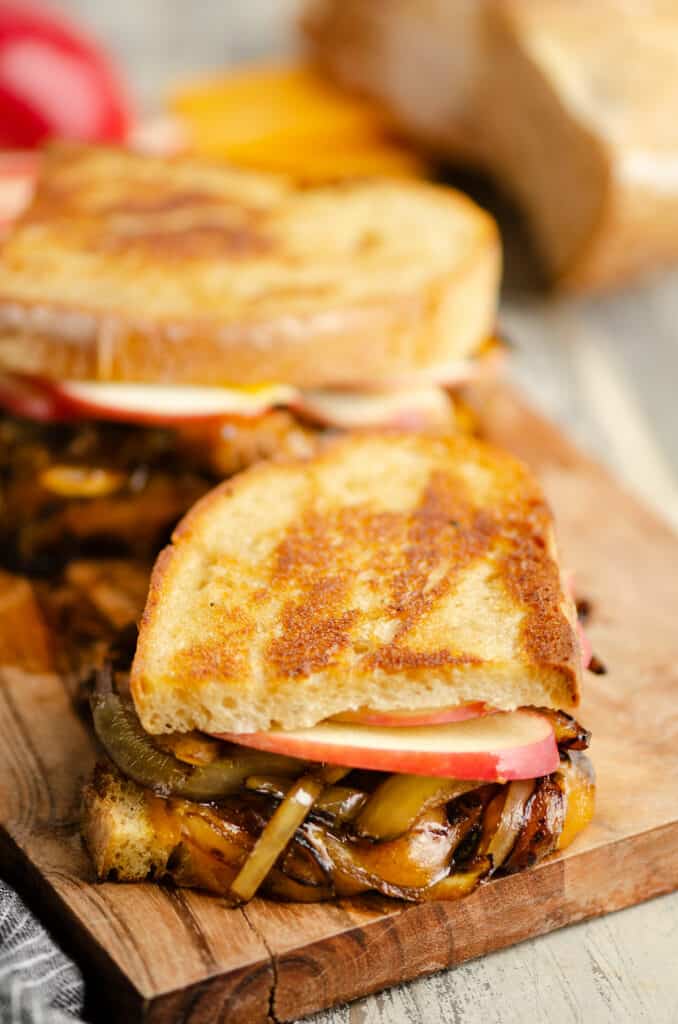 More Unique Grilled Cheese Recipes
Plain grilled cheese sandwiches are not the only way to enjoy grilled cheese. (After all, what is pizza if not in a sense an open faced grilled cheese sandwich right?) I have some recipes to expand on the idea of grilled cheese as truly… a work of art.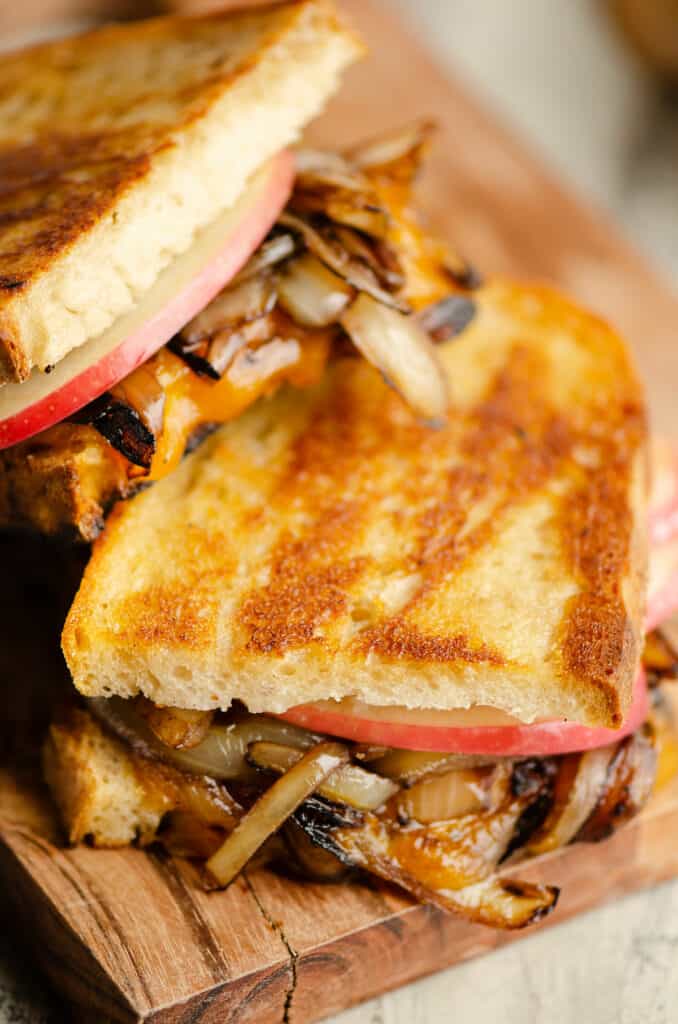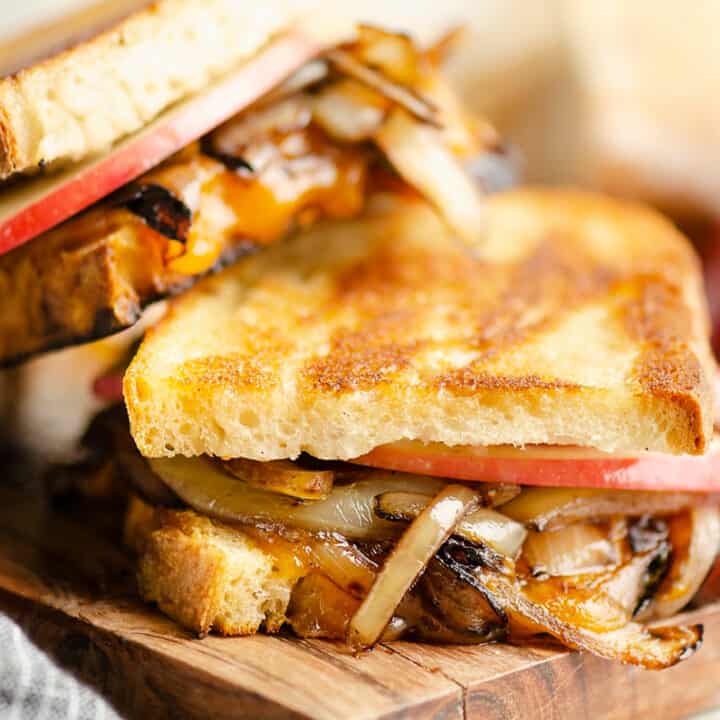 Apple Balsamic Onion Grilled Cheese
This Apple Balsamic Onion Grilled Cheese sandwich is a quick and easy meal bursting with amazing flavors. Sweet balsamic onions pair with crispy sweet apples and melted cheddar cheese for a vegetarian recipe that is filling and delicious.
Ingredients
4 slices sourdough bread
4 slices quality sharp cheddar cheese
1 sweet onion, thinly sliced
1 Tablespoon balsamic vinegar
butter
Instructions
Drizzle a non-stick pan with olive oil and heat over medium-high heat. Add the sliced onions and season with a dash of salt and black pepper. Cook for 5 minutes.
Add the balsamic vinegar to the onions and cook an additional 5 minutes.
Top two pieces of bread with cheddar cheese and top with the onions. Layer thin slices of apple over the onions and top with a slice of bread.
Butter the outside of both sides of the sandwich generously and add to the skillet. Cook each side on medium heat for 1-2 minutes, until the bread is golden brown and the cheese is melted.
Slice each sandwich in half and enjoy!
Recommended Products
As an Amazon Associate and member of other affiliate programs, I earn from qualifying purchases.
Nutrition Information:
Yield:

2
Serving Size:

1
Amount Per Serving:
Calories:

747
Total Fat:

36g
Saturated Fat:

20g
Trans Fat:

1g
Unsaturated Fat:

11g
Cholesterol:

91mg
Sodium:

1215mg
Carbohydrates:

81g
Fiber:

4g
Sugar:

16g
Protein:

26g
Provided nutrition data is only an estimate. If you are tracking these nutrients for medical purposes, please consult an outside, trusted source.