These easy Air Fryer English Muffin Breakfast Pizzas are a quick protein packed 15 minutes topped with mini pepperoni and cheesy eggs that have a decadent runny yolk!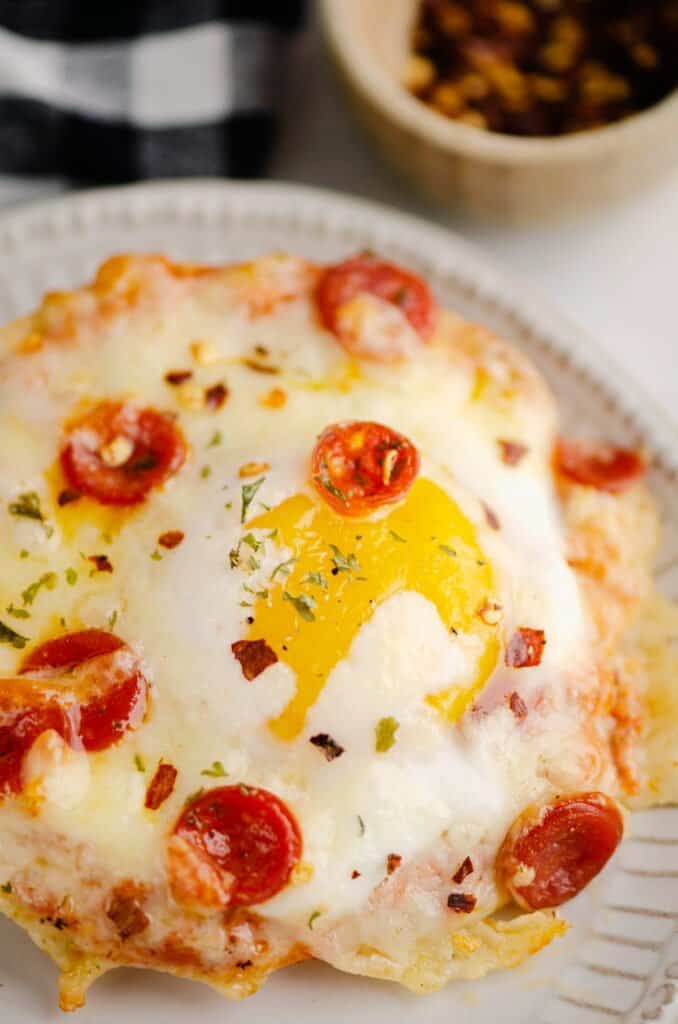 English Muffin Pizza Recipe
English muffin pizzas are a nostalgic meal from childhood. It always felt like a special treat when Mom would let us make our own English muffin pizzas by smearing pizza sauce on the bread and topping it with cheese and pepperoni. I love making these to this day with my kids, but for this Air Fryer Breakfast Egg Pizza recipe, I decided to add a delicious spin to it.
While English muffin pepperoni pizzas are great, these Air Fryer egg pizzas are next level. The addition of a soft cooked egg with a beautiful runny yolk takes them over the edge! The combination of sweet tomato sauce paired with salty pepperoni and rich fatty egg yolks is truly divine.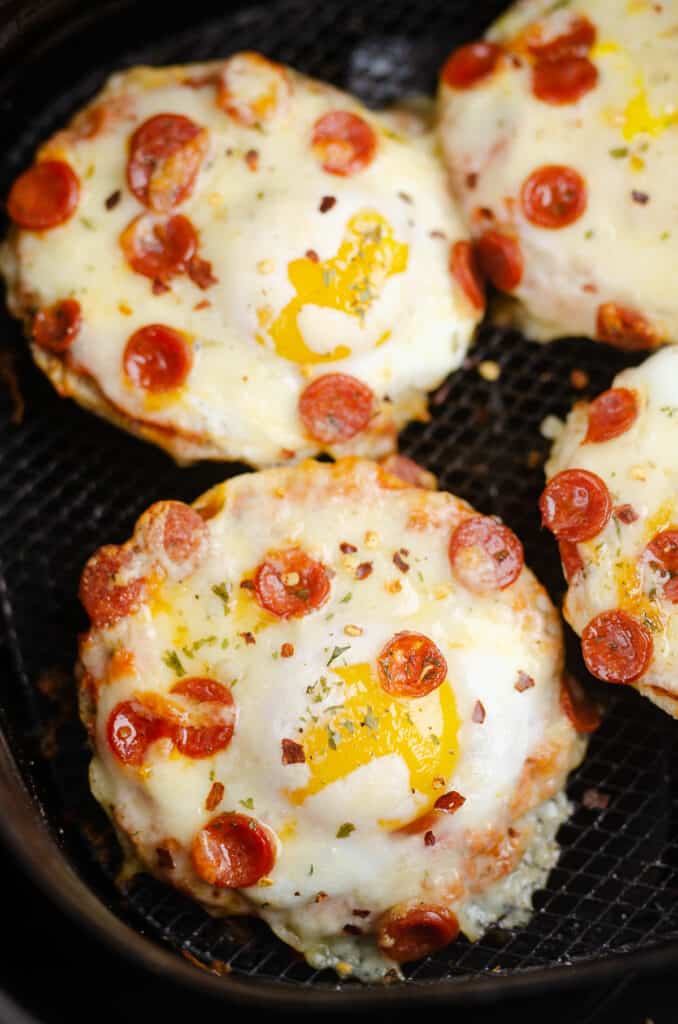 Air Fryer Breakfast Egg Pizzas
We always used to make our English muffin pizzas by popping them in the oven for 10-15 minutes to melt the cheese, but ever since I got an Air Fryer, there is no reason to heat the whole kitchen and wait for the oven to preheat. You can cook these breakfast pizzas from start to finish in the Air Fryer in under 15 minutes!
What Mom doesn't want a quick meal that their kids will actually eat. Leave off the eggs for the picky kids and enjoy this more grown up version for yourselves! Best of all, you can make and cook them all together.
Why make English Muffin Pizzas in the Air Fryer?
The best part about cooking English muffin pizzas in the Air Fryer is the mouthwatering melted cheese around the edges of the pizza that is caramelized and oh so good. That is hard to achieve by cooking in the oven because the egg yolk will get overcooked by time the cheese is caramelized. It also gives the bottom of the bread a perfectly toasted crust. When you bake in the oven, you get a soft and more soggy pizza.
Not only do the English muffin pizzas just taste way better in the Air Fryer, they are FASTER! Cut the time it takes to make them in half with this easy countertop appliance.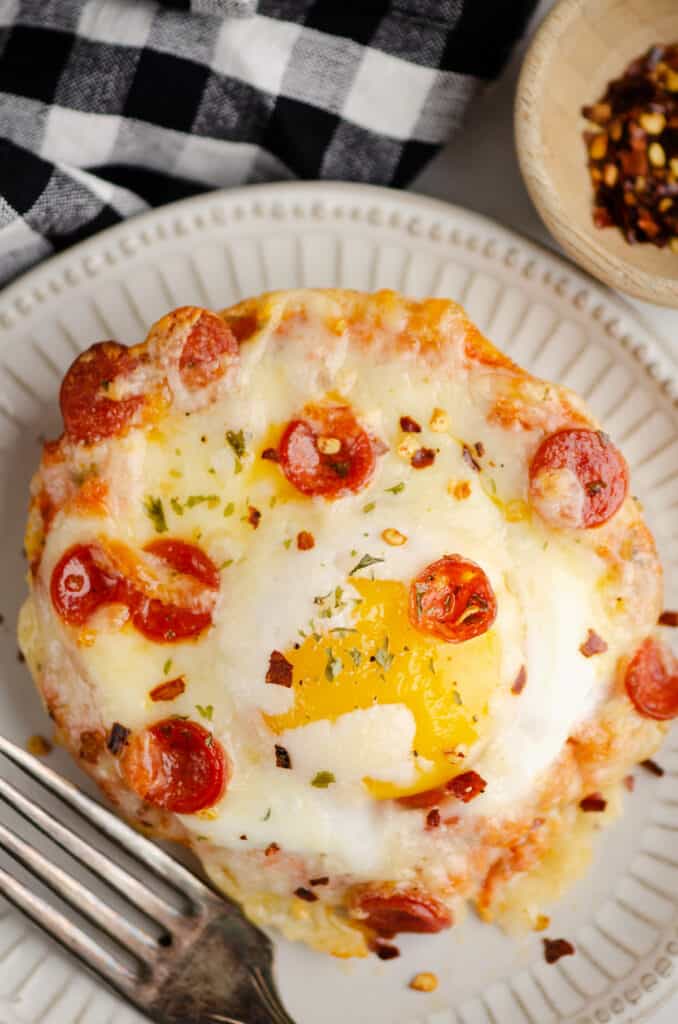 Breakfast Pizza on English Muffins
When most people think of Breakfast Pizza they think of sausage. I challenge you to think outside the box and ask why pepperoni can't be on a breakfast pizza. Is it less healthy, less filling or taste not as good. I would say absolutely not! I personally prefer pepperoni on my pizza over sausage, so that is what I added to my breakfast pizzas on English muffins!
What meat to add to Breakfast Pizzas
If you are a sausage person, by all means add sausage to your pizza instead of pepperoni. Here are some more great options for meat on your breakfast pizza,
And if meat isn't you thing, then just add more cheese! Whether you pile on some cheddar or Mozzarella or you opt for some delicious soft cheeses like goat cheese or feta, the possibilities are endless. They will all be absolutely delicious with this soft cooked egg and runny yolk.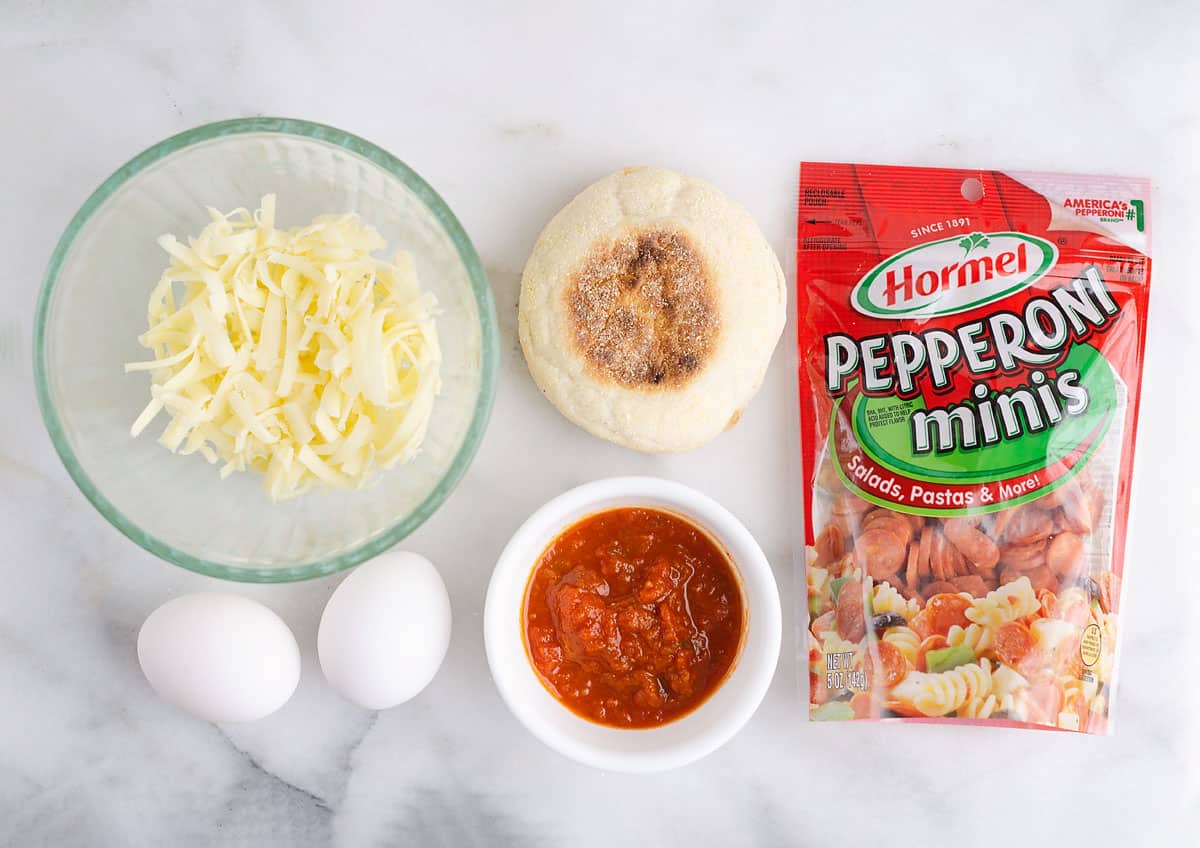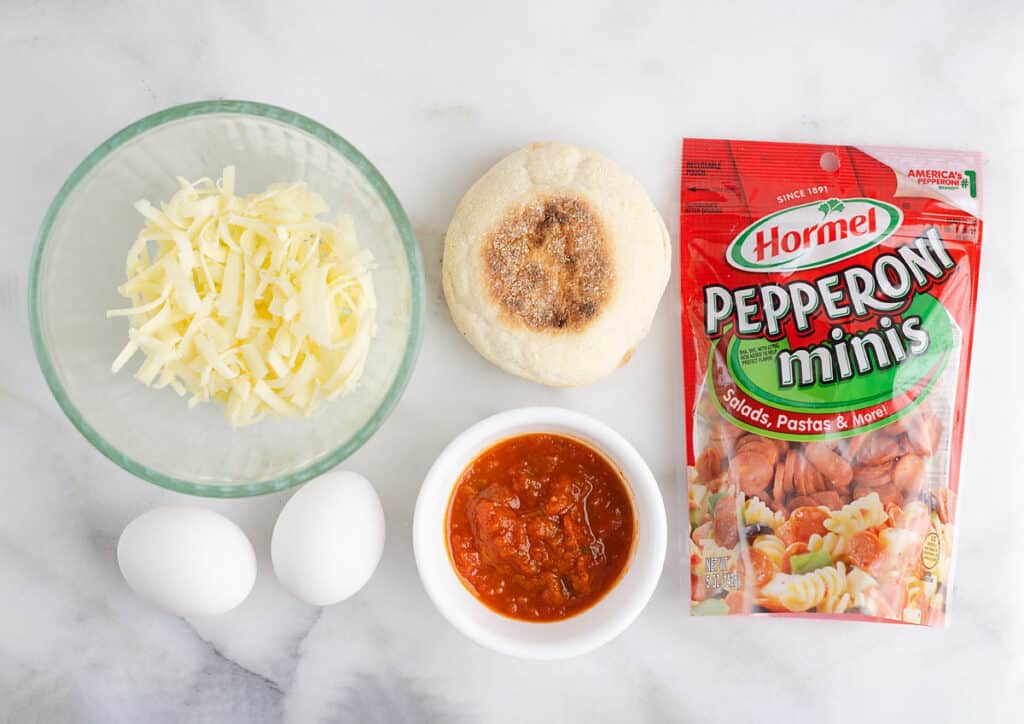 Only 5 Simple Ingredients!
These easy Air Fryer Breakfast Egg Pizzas only require five simple ingredients and less than 15 minutes to make. Here is what you will need,
English Muffin
Pizza sauce
Eggs
Shredded cheese
Pepperoni
How to make Pepperoni Egg Personal Pizzas
I love simple recipes like these pepperoni personal pizzas, because they are great to make with the kids and still taste great. With ingredients you likely already have on hand, you and the kids can make these together with minimal stress. Here are the four simple steps,
Prepare – Slice the English muffins in half and scoop out the centers of the bread.

Crack

It – Spread a couple tablespoons of pizza sauce on each English muffin and crack an egg in the center of each. Use a medium egg, as an extra large egg may be too big to fit on the bread.
Top It – Top the egg with a pinch of salt, black pepper and Italian herbs. Top the egg with shredded cheese and pepperoni.
Cook It – Carefully place the English muffin breakfast pizzas in your Air Fryer basket and cook at 375F for 8-10 minutes until the egg whites are set.
Garnishes for breakfast pizza
Enjoy your easy breakfast pizzas topped with your favorite pizza toppings. I personally just like a little sprinkle of some pepper flakes, but Parmesan cheese, pickled jalapenos or whatever your go-to is will be great.
You can make these pizzas as adventurous as you would like. You could even make this Caprese Breakfast Flatbread by swapping out pizza sauce for pesto, topping with an egg and garnishing it with fresh tomatoes, avocado and balsamic glaze.
What type of cheese?
Mozzarella is a go to for pizza, but that doesn't mean it's your only option. I like a sharp white cheddar for more flavor, but just about any semi-hard cheese will work. I do try to avoid the bagged shredded cheese with powder as it seems to melt a little funny in the Air Fryer. Taking a few minutes to shred a block of cheese is absolutely worth it.
Can I use something besides English Muffins?
If you don't have English muffins on hand but still want to make some personal pizzas, Naan or bagels are great alternatives.
If you are ambitious and love baking, you could even make your own homemade sourdough English muffins.
I don't have pizza sauce, what can I use?
Any tomato based sauce like marinara work great in place of pizza sauce. If you have just crushed tomatoes, add some Italian herbs and spices.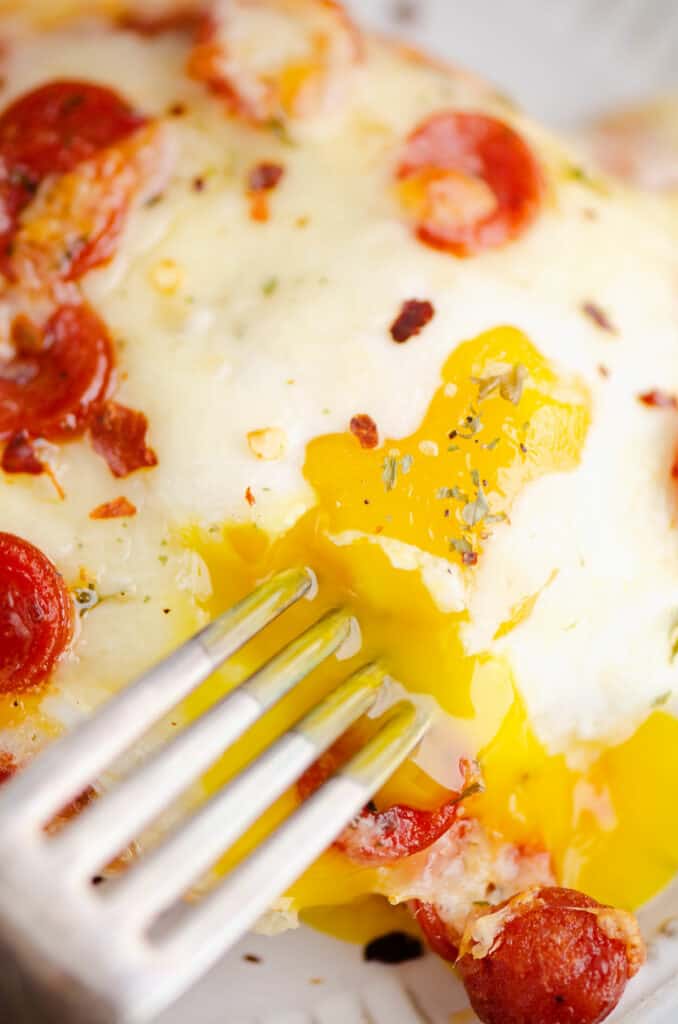 More Air Fryer Breakfast Recipes
If you love a quick and simple recipe in your Air Fryer for your morning meal, then be sure to check out some more of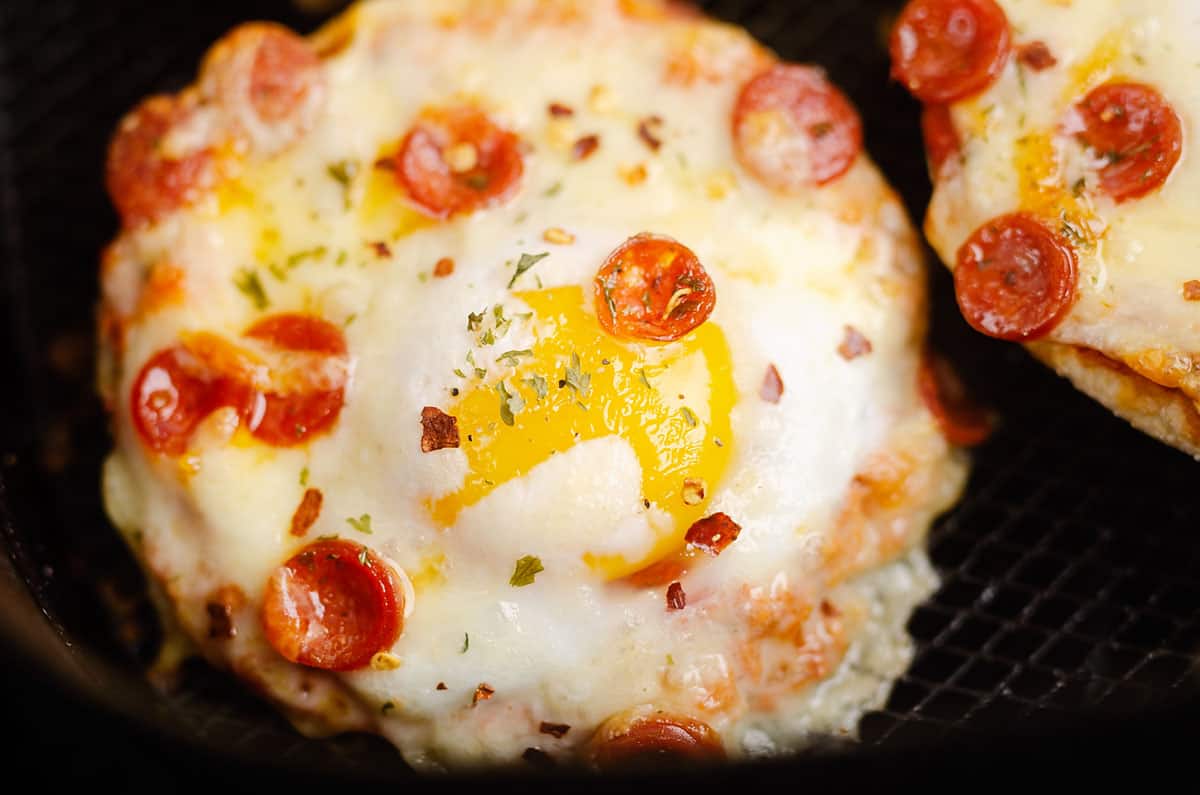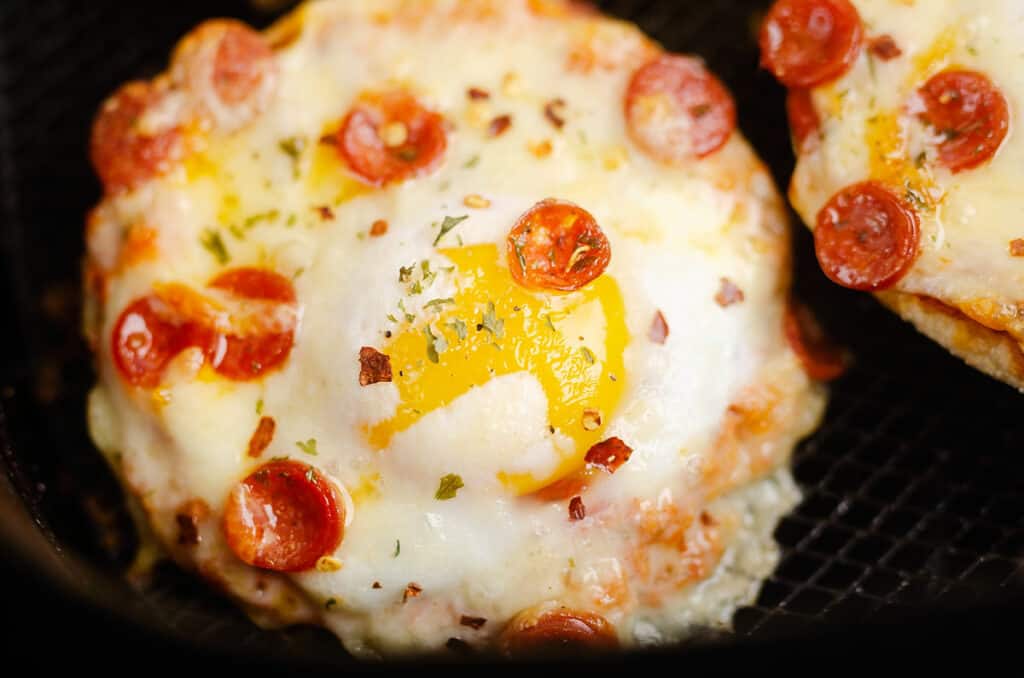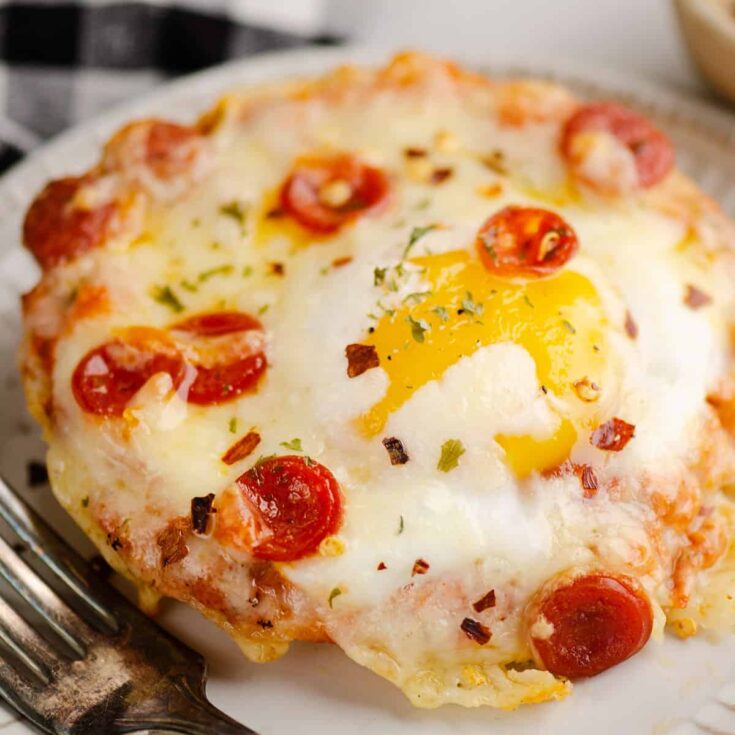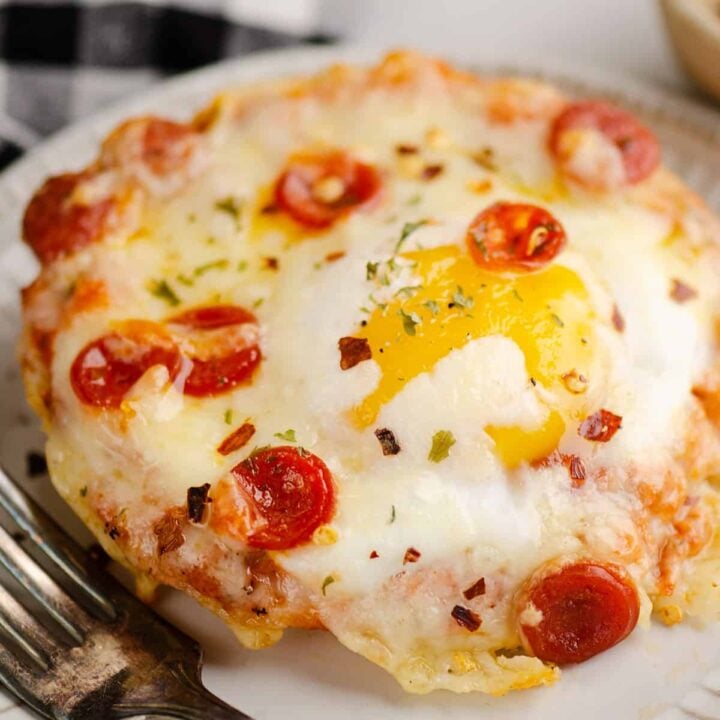 Air Fryer Breakfast Egg Pizzas
These easy Air Fryer Breakfast Egg Pizzas are a quick protein packed 15 minutes recipe made with English muffins, mini pepperoni and cheesy eggs that have a decadent runny yolk!
Ingredients
1 English muffin
1/4 cup pizza sauce
2 eggs
1/2 cup shredded Mozzarella cheese
1/4 cup mini Pepperoni
OPTIONAL GARNISH - Italian seasoning, red pepper flakes and Parmesan
Instructions
Slice the English muffin in half and scoop out the center of the bread so there is a concave center.
Top each half of bread with 2 Tablespoons of pizza sauce.
Crack an egg over the center of the bread. Top with a pinch of salt and pepper.
Top the egg with shredded cheese, pepperoni and a pinch of Italian herbs.
Carefully place the pizzas in your Air Fryer basket and cook at 375F for 8-10 minutes, or until the egg whites are set.
Serve the pizzas topped with red pepper flakes and Parmesan.
Recommended Products
As an Amazon Associate and member of other affiliate programs, I earn from qualifying purchases.
Nutrition Information:
Yield:

2
Serving Size:

1 pizza
Amount Per Serving:
Calories:

329
Total Fat:

19g
Saturated Fat:

8g
Trans Fat:

0g
Unsaturated Fat:

9g
Cholesterol:

219mg
Sodium:

779mg
Carbohydrates:

21g
Fiber:

3g
Sugar:

2g
Protein:

19g
Provided nutrition data is only an estimate. If you are tracking these nutrients for medical purposes, please consult an outside, trusted source.