A fun fondue dinner party with fellow photographers, new head shots for the blog and great shopping buys at Home Goods!
Life Lately | Fondue Dinner Party, Photographs & Shopping
It's been a minutes since I have checked in with Life Lately despite there being lots going on! Last week I hosted our local photographer get-together at my house and decided to make fondue for everyone. I love a good fondue and so may people have never tried it, so I thought it would be a fun and interactive dinner we could enjoy while chatting. Before everyone came over, I had my talented friend Stephanie Foto come over and take some head shots and pictures of me in my beloved kitchen.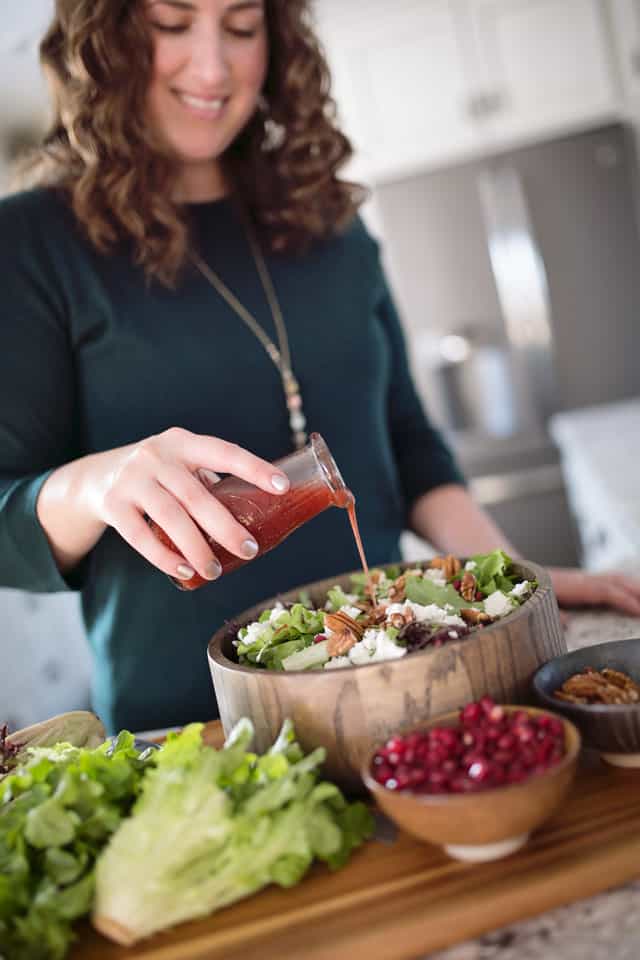 Stephanie is not only talented but funny as hell. She knows how to make a girl pose to make shit look good all while making you laugh your ass off. 🙂 I loved, loved, loved how these images turned out for The Creative Bite!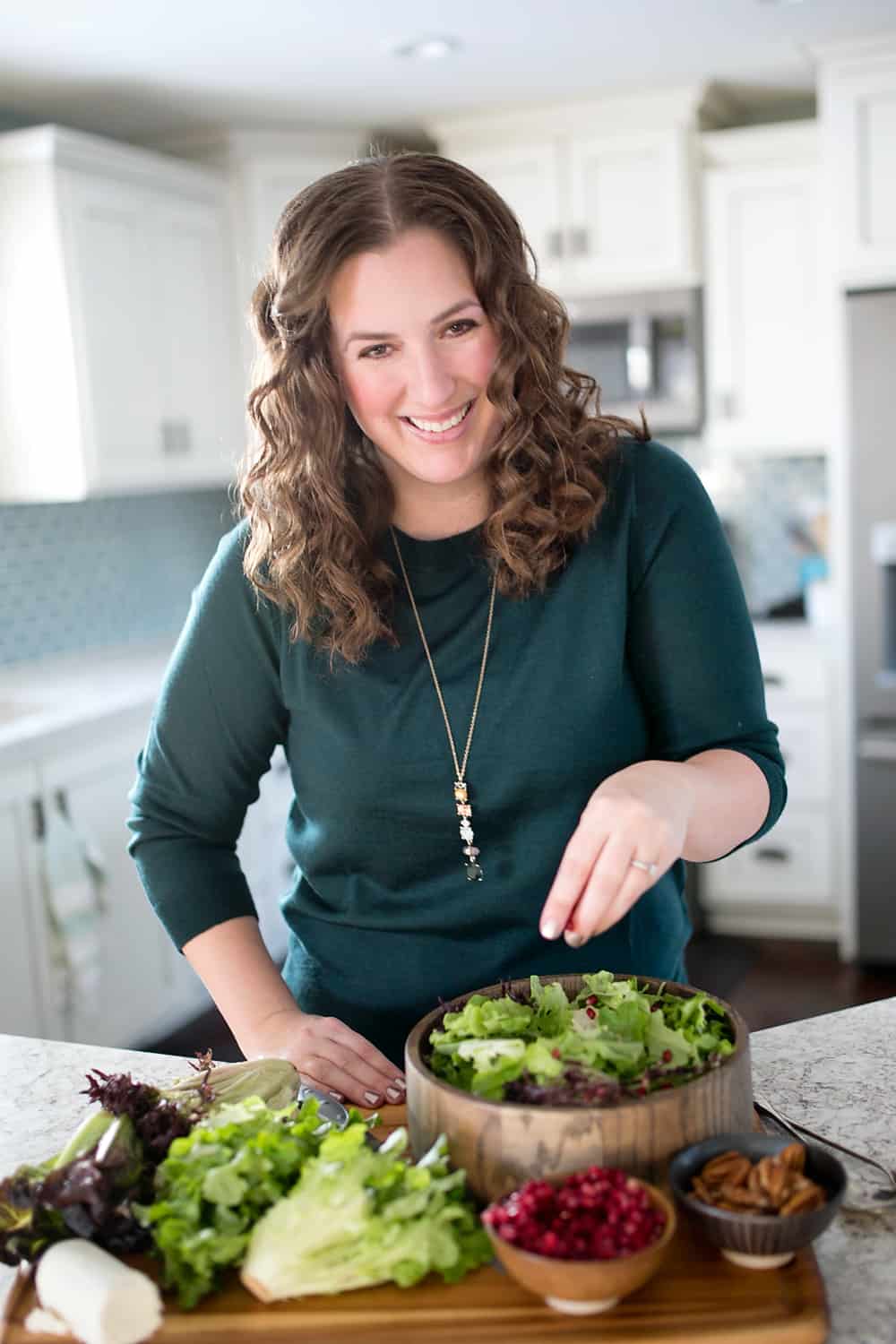 After we finished taking pictures, I got to work finishing up everything for the fondue. The great part of fondue is that you can prepare almost everything the day before so it's low stress the day of the party. Sunday night I went to work cutting up and marinating all the meat including chimichurri steak, BBQ pork, Caribbean veal, Teriyaki chicken, citrus garlic shrimp and rosemary lemon salmon. I put them in labeled plastic bowls and covered them with cling wrap. Thankfully it's the winter and freezing outside, so I could store them in a grocery bag in the garage because I simply didn't have enough refrigerator space for all the food!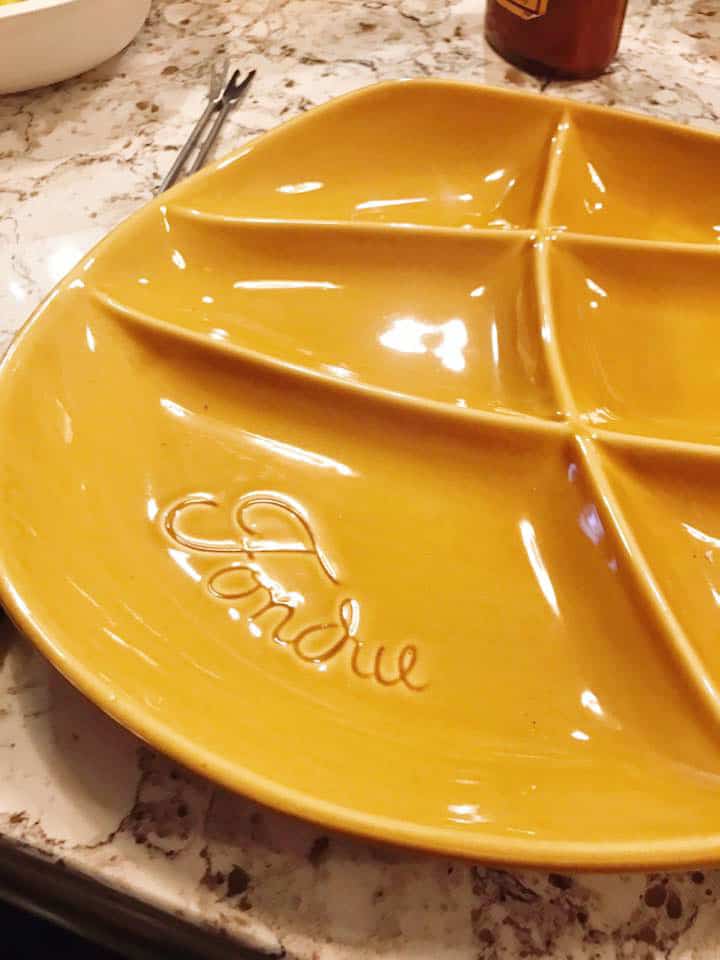 Almost all of my fondue gear is vintage. Whether it's the original 70's pots my mom passed onto me or the extra vintage pieces I bought on Etsy, I like it old. I was stoked when I came across these cool divided gold fondue plates online. I managed to find three different lots of these vintage plates between eBay and Etsy to put together a collection of 12. I geek out over cool vintage finds like this you guys!
Divided plates are awesome for fondue, because there are so many different sauces and foods served.
If you aren't a fan of the old, you can grab a couple of these new Cuisinart Fondue Pots. I have a couple of these I got from my wedding and they work great for broth fondues. The only downfall is that they have pretty short cords. For cheese and chocolate fondues I LOVE these Oster Fondue Pots. They are so great because you can use the pot to cook over the stove and then just place them on the heating plate once you start the fondue.
I decided to have the fondue on my kitchen peninsula instead of the dining table so we could more easily move up and around to try different foods instead of being stuck at our chair. I also may have intentionally added extra plugins on each side of the peninsula for this exact reason during our remodel. 🙂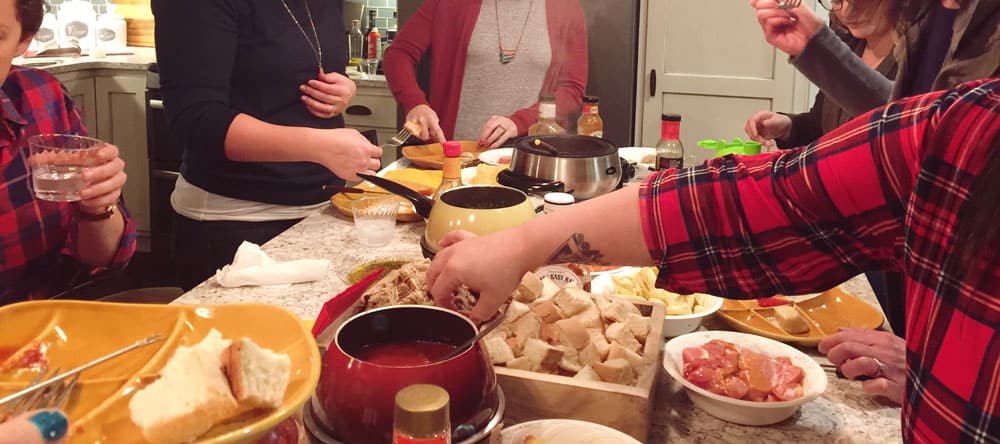 The ladies arrived and we started putting all of the food out while we sipped on amaretto sour cocktails. To be completely honest, I had a hard time fitting everything onto the table. WOOPS! I may have issues with overdoing it when it comes to preparing food for parties…
I made two pots of Parmesan garlic broth to cook all of the meat in along with lots of sauces on the table to dip the cooked meat in. I also did a Zesty Cheddar Fondue and Swiss Cheese Fondue with cubed rye and French bread. For something different, I had a pot of hot marinara with a variety of stuffed pastas. To keep things balanced, we also had a variety of fresh vegetables and a big pomegranate and goat cheese salad.
For lots of great fondue recipes and inspiration, check out The Melting Pot Cookbook. If you aren't quite so sure about this whole fondue thing, but want to give it a try, I highly recommend The Melting Pot restaurant! It's a bit spendy, but it offers a great variety of fondue food for just you and your special someone or a group of friends. My sister and I love hitting up this restaurant every now and again when I am visiting her in the city. It's all the fun and delicousness of fondue without any of the work or cleanup!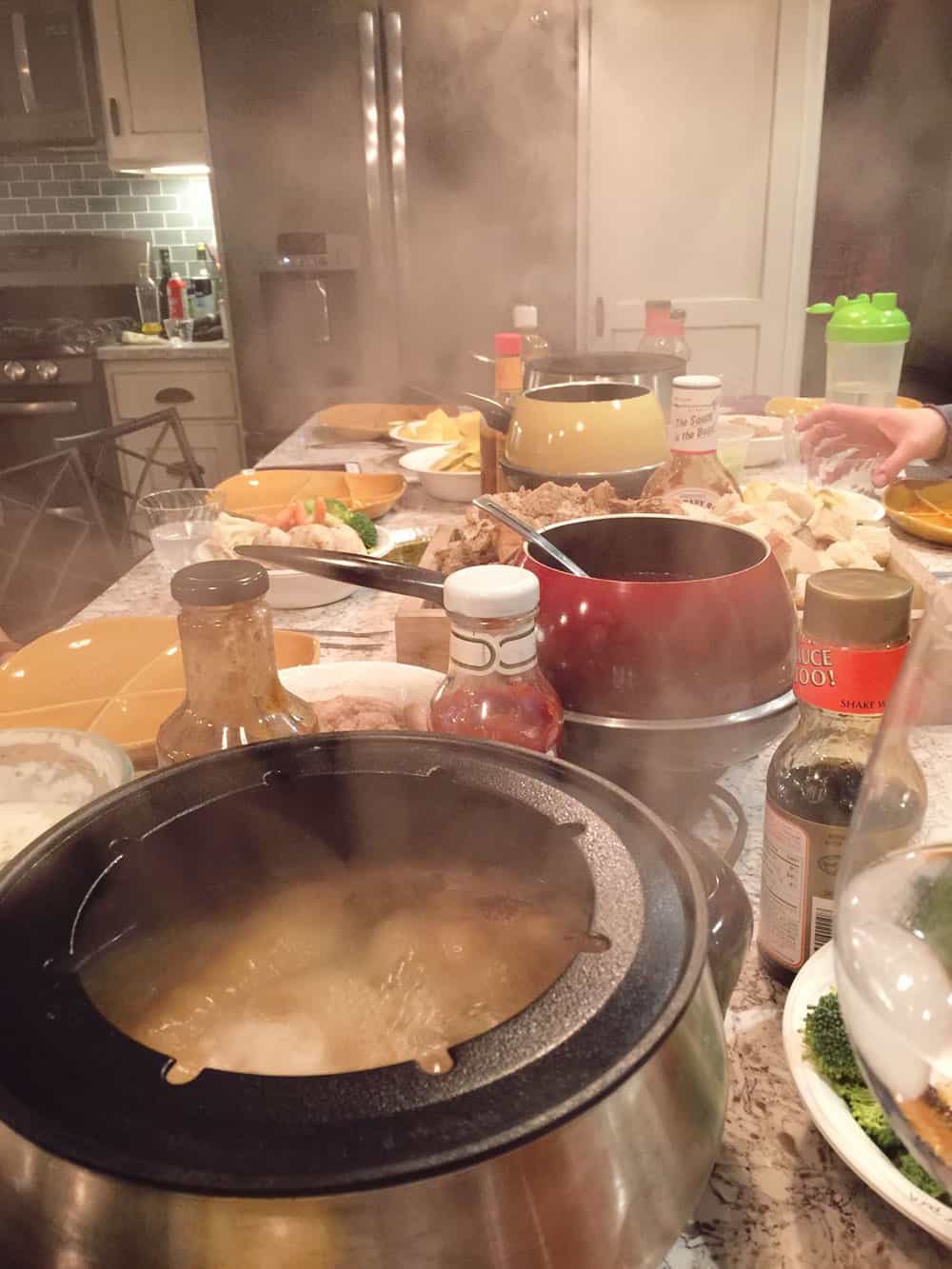 I normally don't do dessert fondues, but thought it would be nice seeing we would be hanging out for most of the evening. And let's be real, who doesn't love dipping stuff in warm chocolate! I made a homemade cheesecake the day before, but everything else for the dessert fondue was either store-bought carbs or fresh fruit to keep it simple.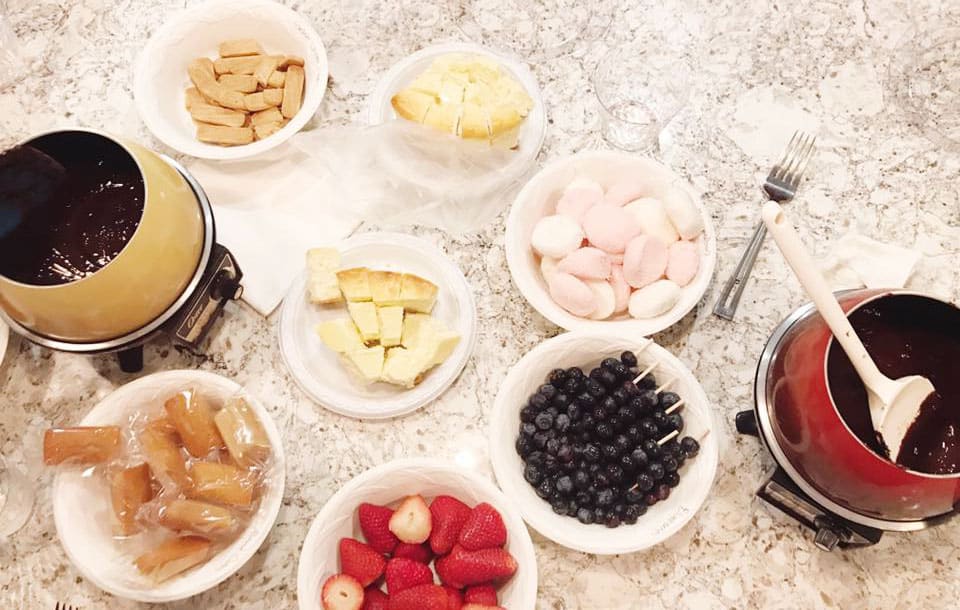 It was such a great time as usual with these ladies! It is so fun meeting up with fellow creatives and talking about the ins and outs of photography. Heck, lots of time we don't talk about photography at all, but just life in general! In so many areas, the local photographers seem to create bitter rivalries, but we are fortunate to come together and lift each other up. We all come from different walks of life, but have one important thing in common. We love photography!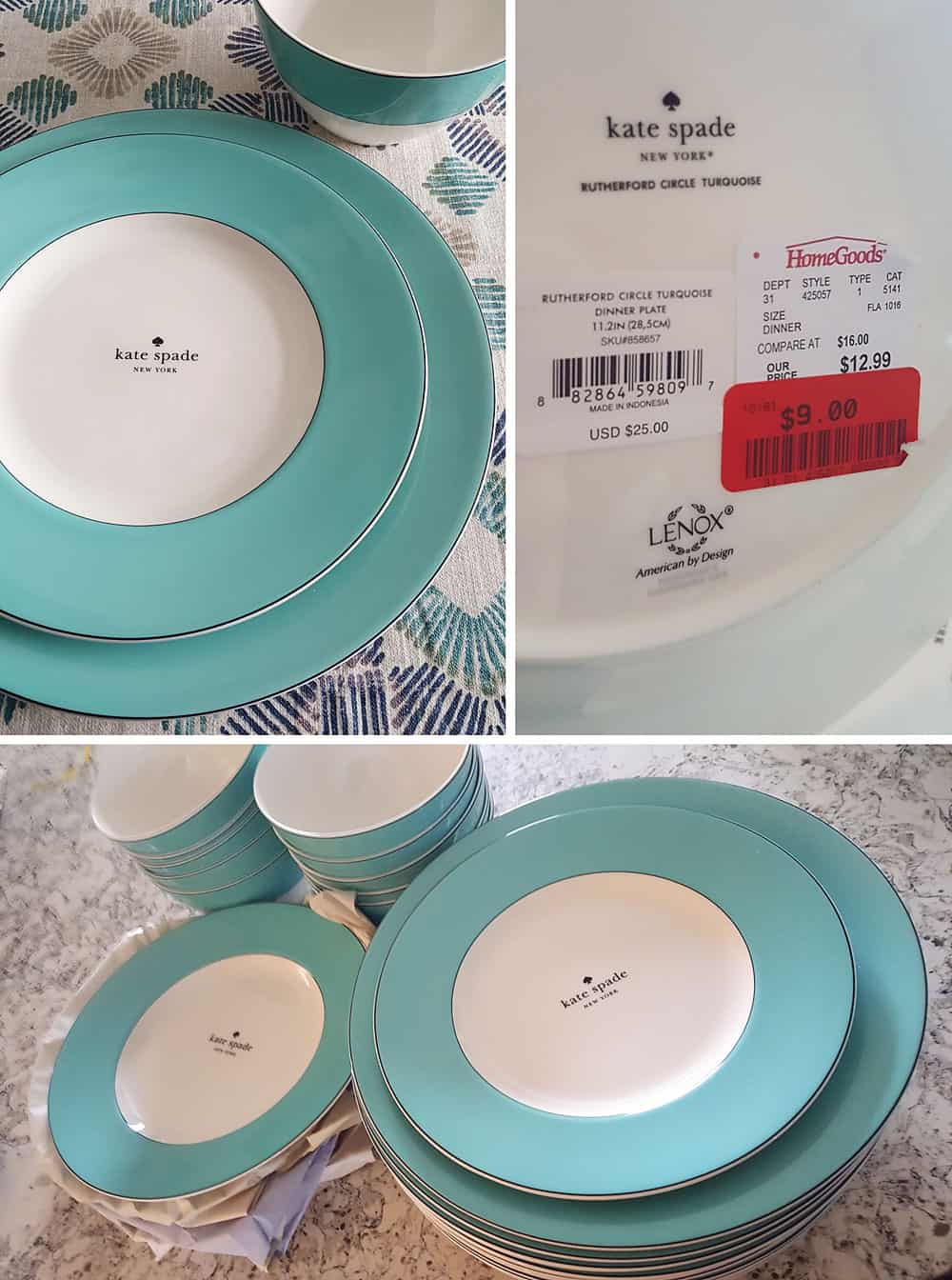 In other news, I had to share this great find from Home Goods. I was shopping in Fargo and came across these Kate Spade Rutherford Circle Turquoise dinner plates on clearance. They had 11 still on the shelf which was perfect because my dining table seats 10 and one for a spare is always a good idea! Needless to say, I was later shopping at different Home Goods around the Twin Cities and one of the stores had the salad plates and another store had the bowls. Talk about luck! We don't need to talk about my addition to Home Goods though…
I got this beautiful set of dishwasher safe (<-the most important part) china in a timeless style for a fraction of the retail price. SCORE! I love a good deal, but more so I love pretty things. Despite having to spend a whole hour taking all of the tags off of these dishes, it was one of my favorite buys in quite a while.