Turkey Bacon Breakfast Quesadilla is an easy and healthy 15 minute recipe perfect for a light brunch, with whole wheat tortillas, scrambled eggs and Mexican cheese.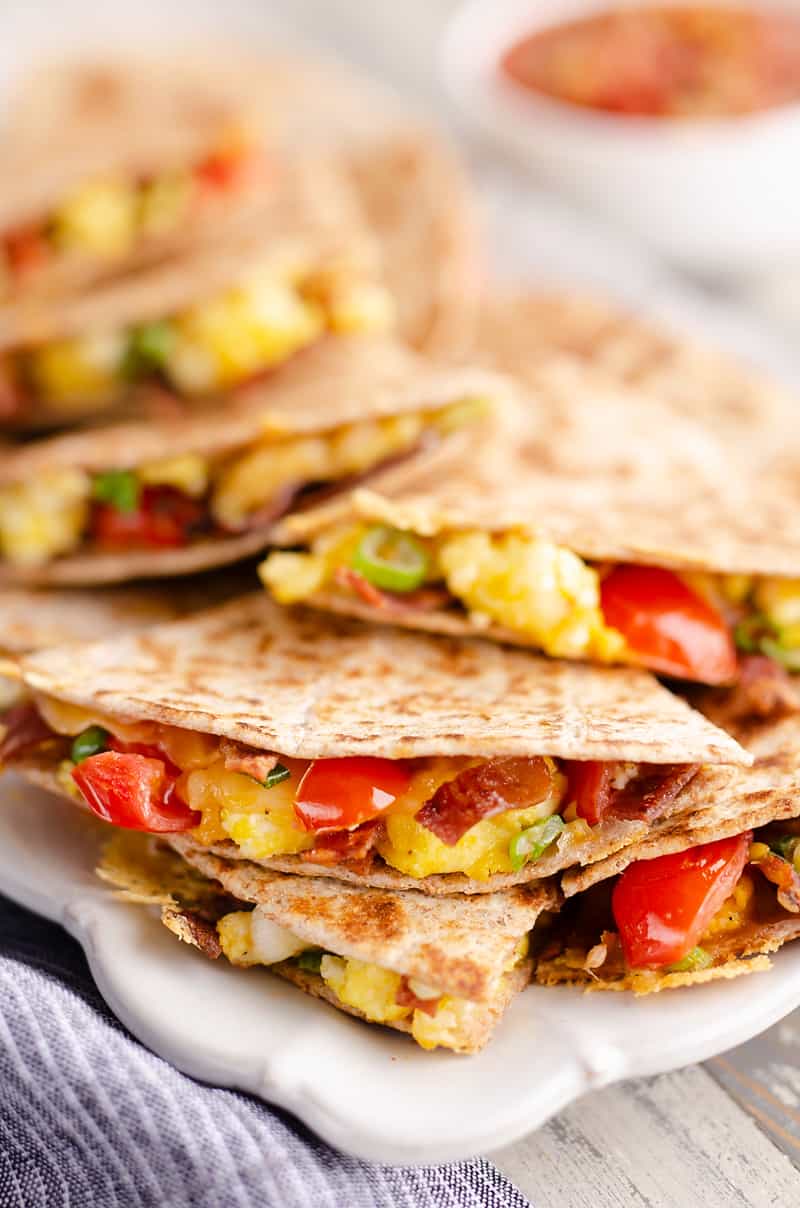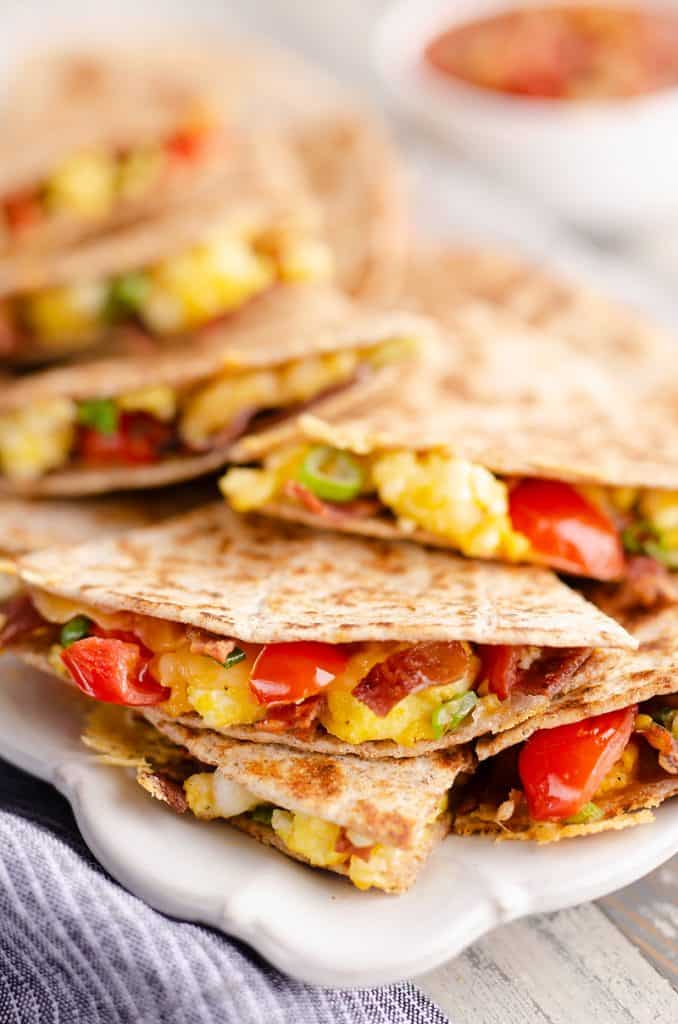 Turkey Bacon Breakfast Quesadilla
I was sitting at my desk this morning working, contemplating what I should have for breakfast. The usual options of peanut butter toast, fruit, oatmeal, etc ran through my mind, but none of them were calling my name. I got to thinking how I should really just start eating the foods I truly enjoy for breakfast instead of worrying about them being proper breakfast foods. There was a leftover quesadilla in the refrigerator from dinner the night before that was calling my name. Then it struck me, why not have the best of both worlds? I already had the 6 simple ingredients needed to whip up these Turkey Bacon Breakfast Quesadilla sitting in my kitchen!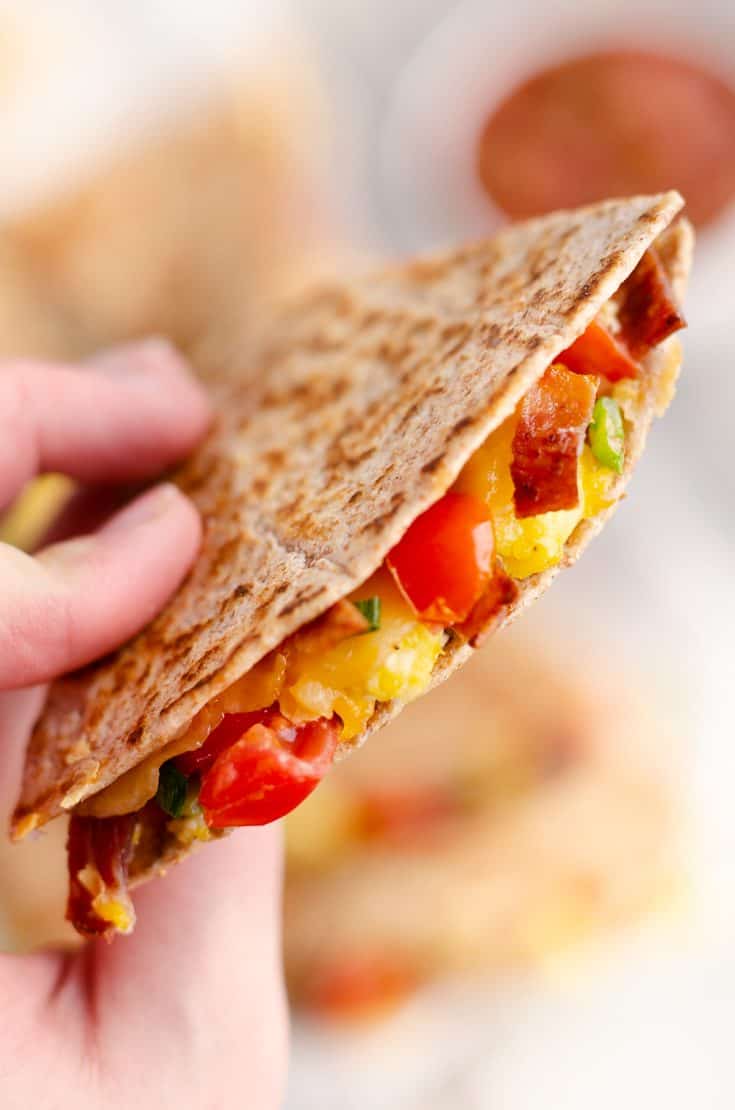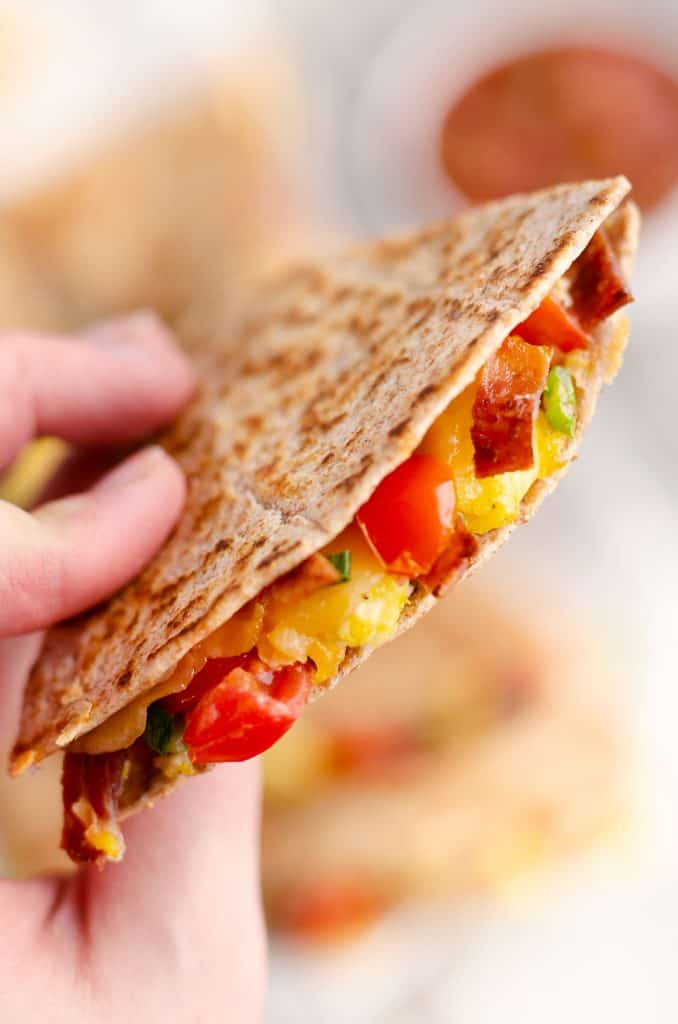 Breakfast Quesadilla Recipe
In less than 15 minutes, I whipped up a full batch of these Turkey Bacon Breakfast Quesadillas. A simple scramble of eggs, vegetables, Mexican blend cheese and chopped up turkey bacon that had already been cooked and was sitting in my refrigerator just waiting to be used, resulted in this delicious meal. It's better than anything you would get with a run to Taco Bell and only has 350 calories and is packed with 21 g protein!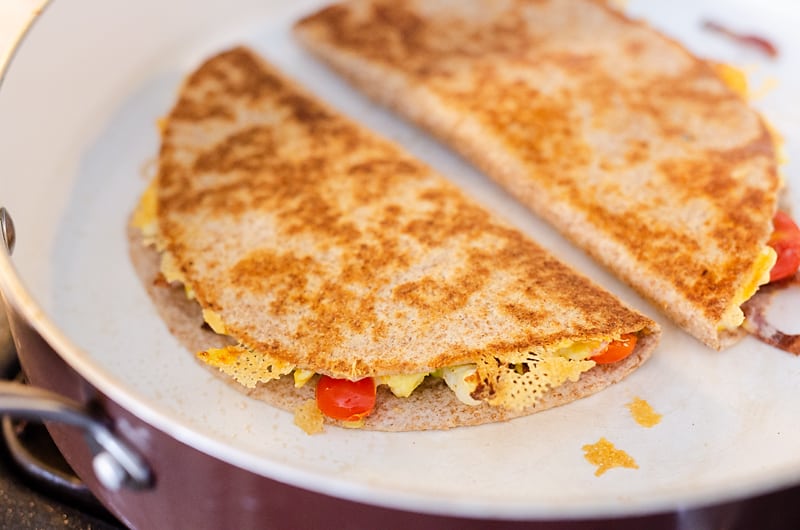 To get started, add your eggs to a large skillet over medium heat. Be sure not to have the heat too high or you won't cook up light and fluffy scrambled eggs. After a few minutes of constantly stirring the eggs, add in the onion, tomatoes and chopped bacon. Stir just until everything is warmed and the eggs are barely done. Divide the egg mixture among four wheat tortillas along with the shredded cheese.
Fold the tortillas in half and spray each side with non-stick cooking spray. Add the quesadillas to a large skillet over medium-high heat and cook on each side for 2 minutes or until crispy. Cut the four quesadillas into three wedges each and serve them on a platter for brunch or plate them up for your family for an easy weekday breakfast.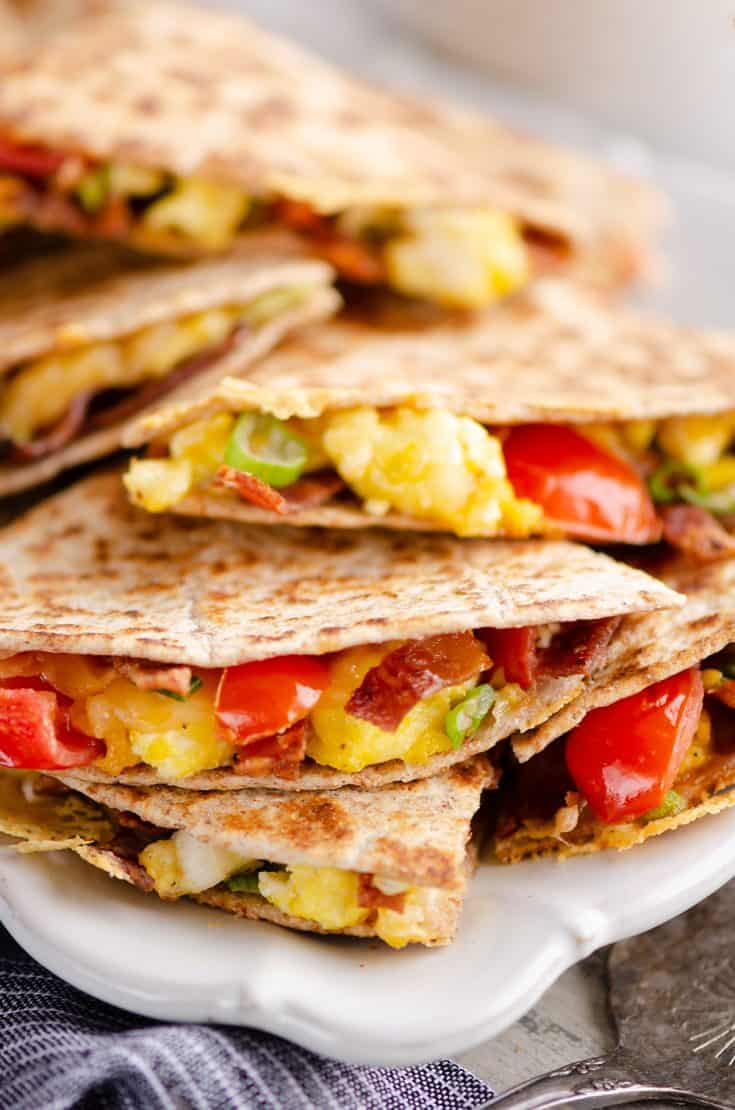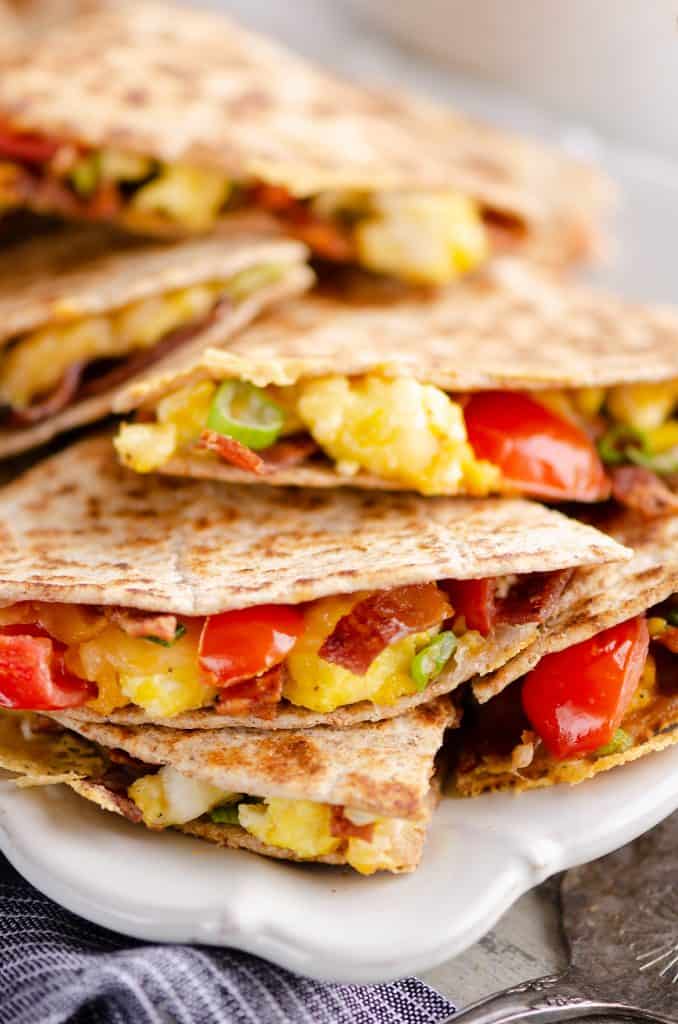 Healthy Breakfast Quesadilla
If you are anything like I used to be, you are probably turning up your nose at the idea of turkey bacon. When you see it in the cooler section of the refrigerator, frankly it looks pretty awful. It's just not what we are used to when it comes to bacon. After years of refusing to try it, I finally gave in and cooked some up in an attempt to eat a little healthier. Low and behold it tastes great! It's not quite the same as pork bacon, but it still has a nice smokey flavor and crisps up beautifully. Even my meat eater husband liked it! It is the perfect addition to this Turkey Bacon Breakfast Quesadilla to add a good amount of flavor.
If you still aren't on board with turkey bacon I can't begrudge you. In that case, just crumble up some regular bacon and you will simply add some more fat and calories to these otherwise healthy breakfast quesadillas.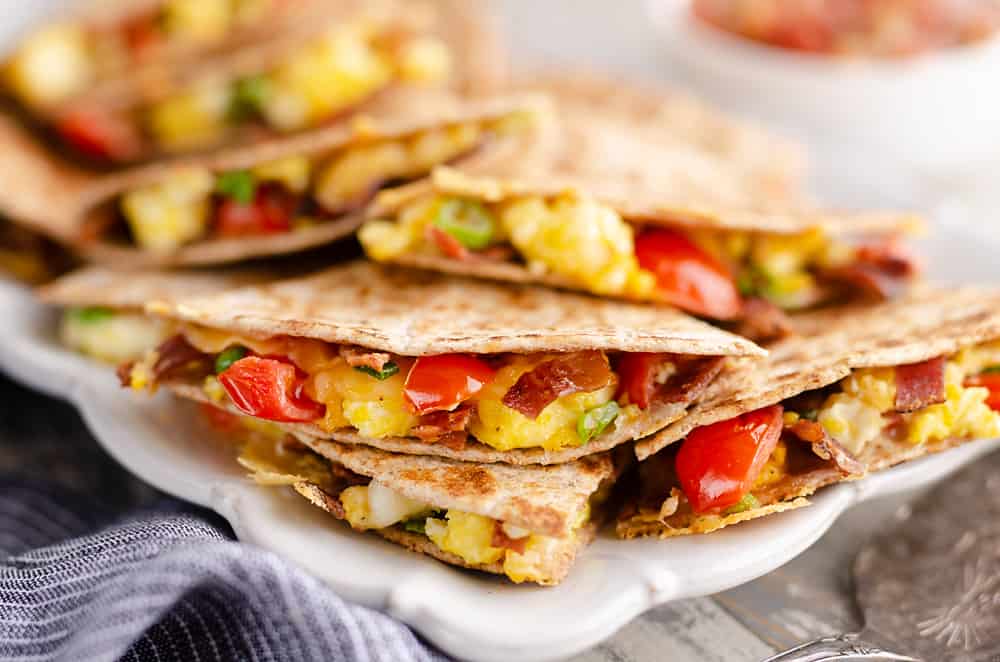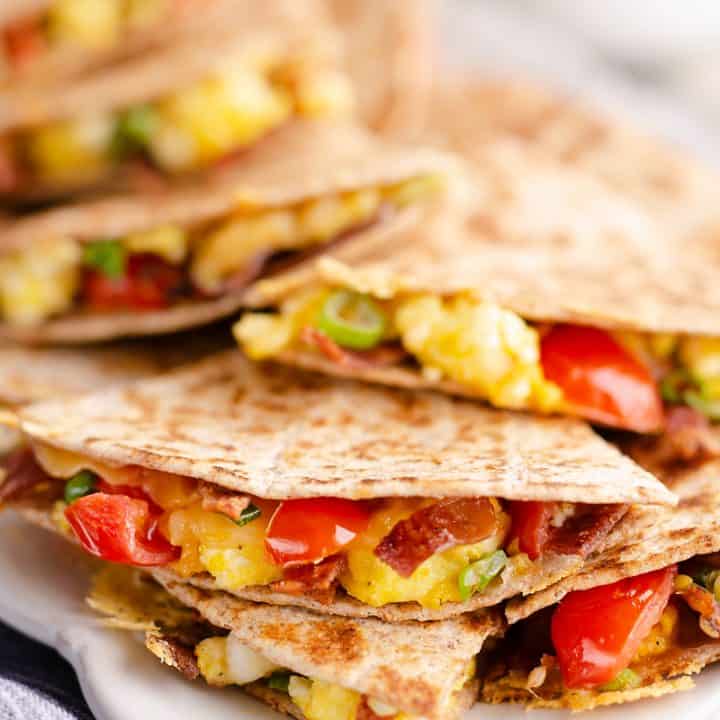 Turkey Bacon Breakfast Quesadilla
Turkey Bacon Breakfast Quesadilla is an easy and healthy 15 minute recipe perfect for a light brunch, with whole wheat tortillas, scrambled eggs and Mexican cheese.
Ingredients
5 eggs
1 Tbsp. water
2 Tbsp. green onions, diced
4 slices cooked turkey bacon, chopped
1/3 c. tomatoes, diced
1 c. shredded Mexican cheese
4 8 inch whole wheat tortillas
Instructions
In a large non-stick skillet over medium heat, add the eggs and season with salt and pepper. Stir constantly for 4 minutes or just until they are only slightly moist.
Add the green onions, tomatoes and turkey bacon to the skillet and stir for 1 more minute. Remove the skillet from the heat.
Meanwhile, spread 1/4 c. cheese over half of each tortilla. Top each cheese covered half with 1/4 of the mixture or about 1/2 cup. Fold in half and spray the outsides with non-stick spray.
In a clean skillet over medium-high heat cook the quesadillas on each side for 2 minutes or until crispy. Remove from the pan and cut each quesadilla into 3 wedges.
Serve immediately with salsa or guacamole.
Nutrition Information:
Yield:

4
Serving Size:

1 grams
Amount Per Serving:
Calories:

352
Total Fat:

19g
Saturated Fat:

8g
Unsaturated Fat:

0g
Cholesterol:

244mg
Sodium:

843mg
Carbohydrates:

21g
Fiber:

3g
Sugar:

2g
Protein:

21g
More healthy breakfast recipes!