Thai Peanut Chicken Crunch Slaw Salad is an easy & healthy 20 minute salad with Asian inspired flavors. It is loaded coleslaw, broccoli slaw, vegetables and rotisserie chicken and dressed with a homemade Thai Peanut Sauce and peanuts for amazing flavor and crunch!

Thai Crunch Salad
I went through lots of recipe testing before I came up with the perfect Thai Peanut Sauce. It is a light and fresh sauce with lots of depth of flavor. It works amazingly well on everything from Thai Peanut Lettuce Wraps to Thai Peanut Chicken Flatbread.
When the sauce is cooked down in recipes like these, it intensifies the richness of the sauce which really boosts it's flavor. It also works great when you are wanting to add a lighter flavor to dishes like this Thai Peanut Chicken Crunch Slaw Salad.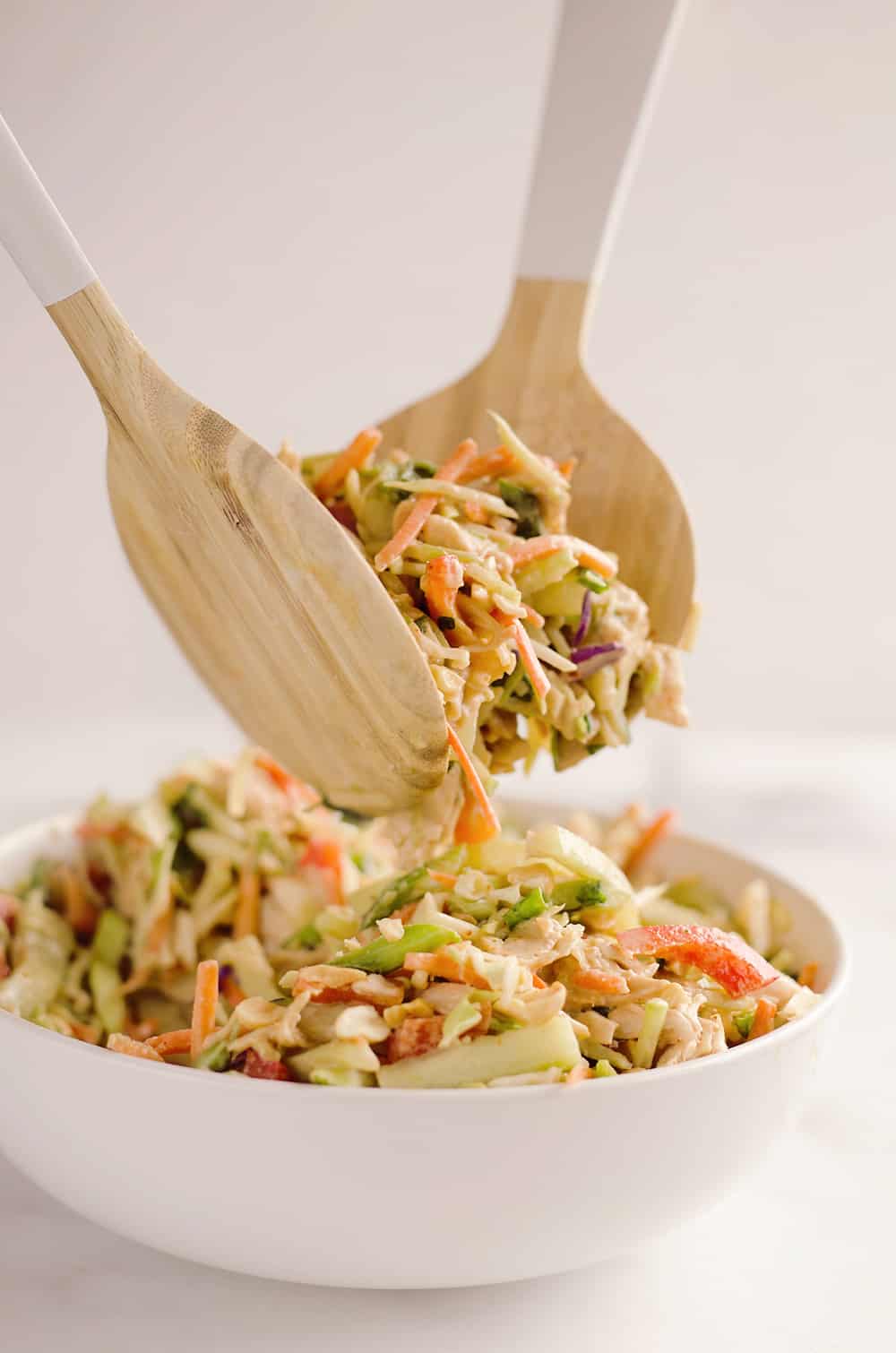 Healthy Thai Peanut Chicken Coleslaw
I have been aware of my lack of veggie intake lately and been making an effort to eat more vegetables on a daily basis. This Thai Peanut Crunch Slaw Salad serves that purpose wonderfully. It is loaded with a variety of fresh veggies, including cabbage, carrots, broccoli slaw, bell peppers, cucumbers and green onions.
The chicken, peanuts and Thai Peanut Sauce add a richness and boost of protein that makes it a complete meal perfect for lunch or dinner.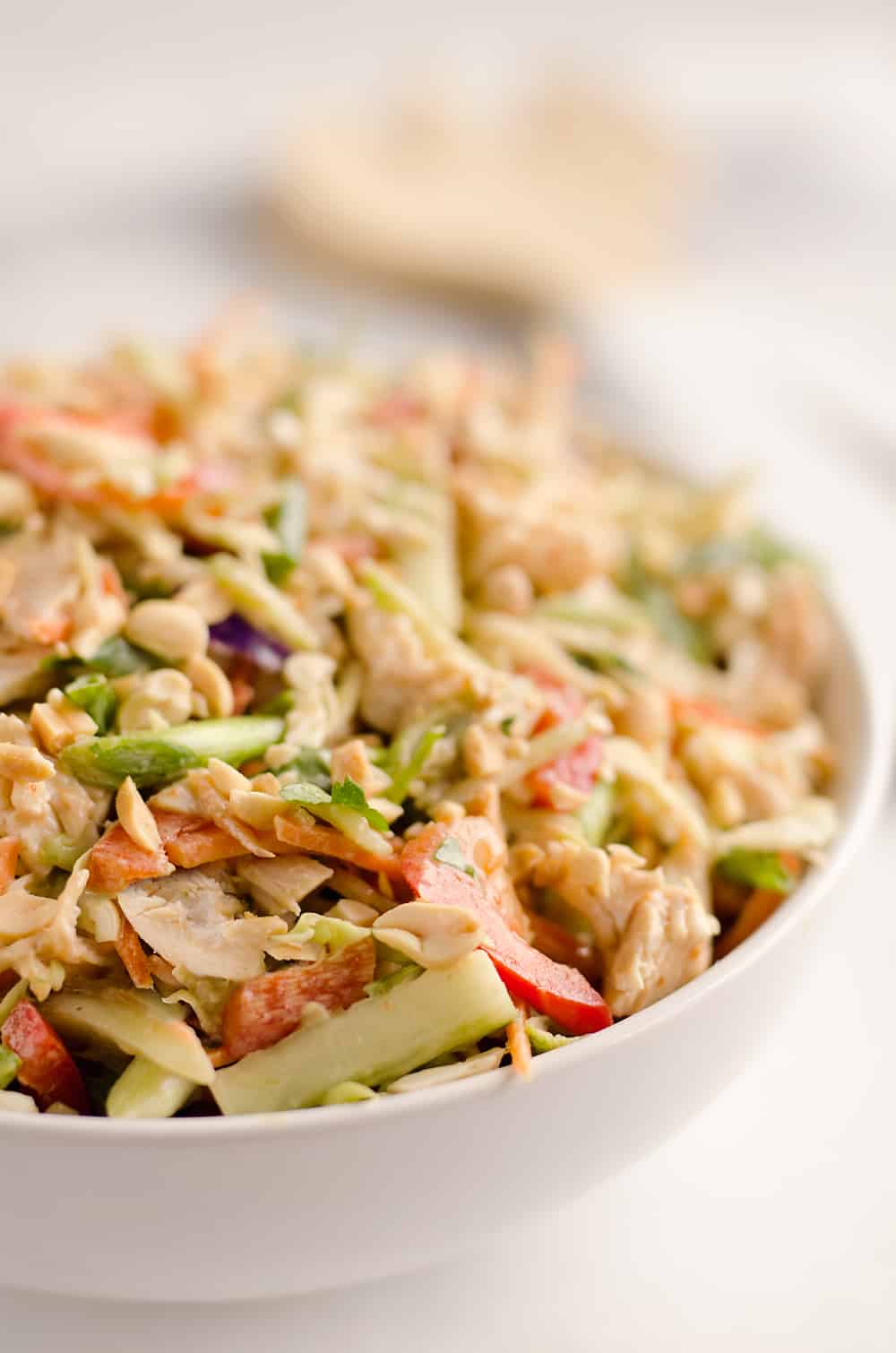 Thai Slaw Meal Prep
This Asian Slaw with Shredded Chicken recipe makes a very large batch. That means it is great for serving at a pot luck dinner or bringing to an office work lunch.
I like to meal prep a bunch of the vegetables in a large bag as well as the chicken in peanut sauce in a container. Then, when I am wanting to make a quick lunch or dinner, I just toss together some of the vegetables with some leftover rotisserie chicken along with a squeeze of lime juice.
It is such a fresh and delicious meal prep and so much better than those bagged salads!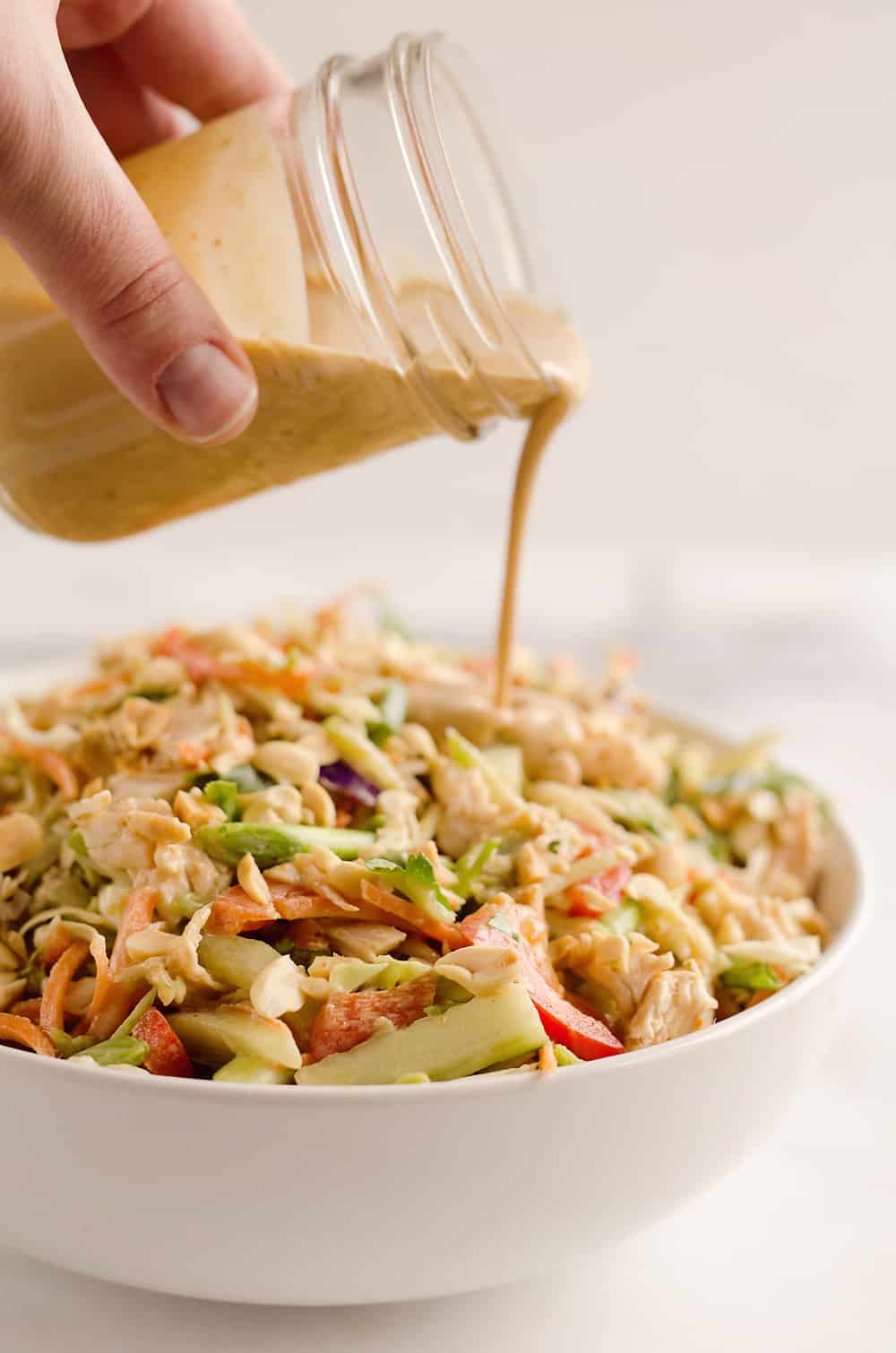 Asian Peanut Slaw with Shredded Chicken
Whether you are looking for a great dish to share or wanting to change up your lunch routine, you need to give this Thai Crunch Salad a try! It is full of flavor, crunch and healthy vegetables that will leave you feeling satisfied.
When you are whizzing up that amazing thai peanut sauce for this recipe, don't be upset that you have extras leftover. It is good on so many recipes, not to mention you can freeze it in a resealable bag for a few months!
More delicious Thai Peanut Recipes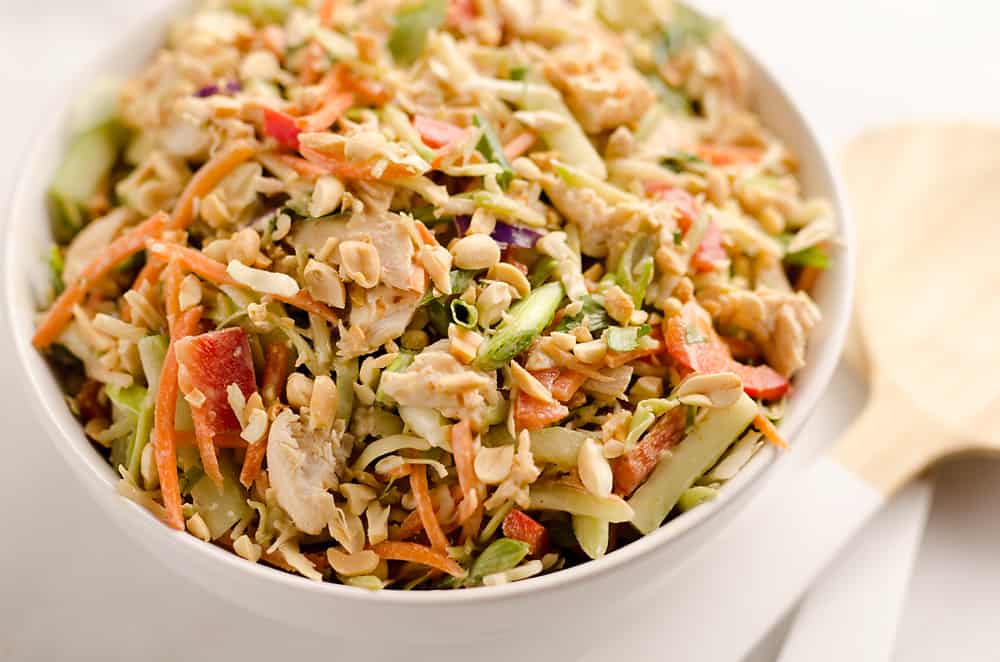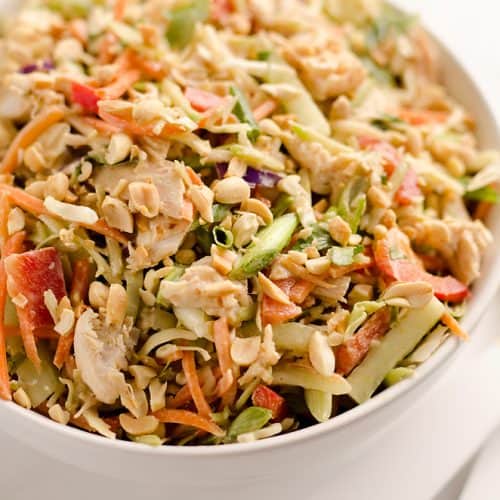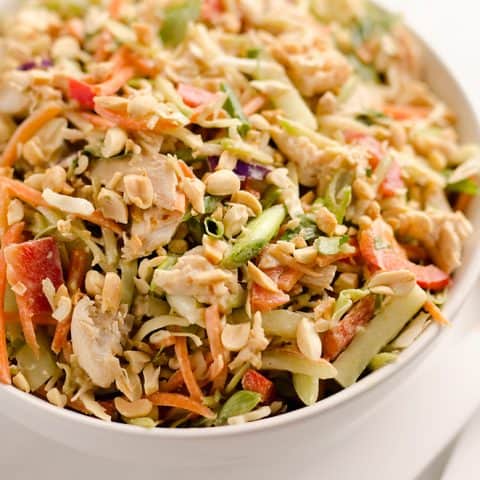 Thai Peanut Chicken Crunch Slaw Salad
Thai Peanut Chicken Crunch Slaw Salad is an easy & healthy 20 minute salad that is loaded with fresh flavor and crunch! Coleslaw and broccoli slaw are tossed with cucumbers, carrots, bell peppers and chicken and dressed with a homemade Thai Peanut Sauce for a hearty serving of vegetables in a salad you will love.
Ingredients
2 c. coleslaw mix
2 c. broccoli slaw
1 c. matchstick carrots
1 bunch green onions, chopped
1/2 red bell pepper, chopped
1/2 c. cilantro, chopped
1 1/2 c. rotisserie chicken, shredded
2 cucumbers, seeded & chopped
1 lime, juiced
1/2 c. chopped peanuts
Instructions
Toss all of the vegetables and chicken in a large bowl. Toss with the Thai Peanut Sauce & lime juice until everything is well coated. Top with peanuts and serve immediately.
Nutrition Information:
Yield:

6
Serving Size:

6 servings
Amount Per Serving:
Calories:

399
Total Fat:

23g
Saturated Fat:

4g
Cholesterol:

56mg
Sodium:

483mg
Carbohydrates:

23g
Fiber:

6g
Sugar:

6g
Protein:

28g