Sweet Roll Orange Knots are an easy and delicious breakfast idea that have all the flavors and light airy texture of a homemade dough, but are made easy with store-bought sweet roll dough!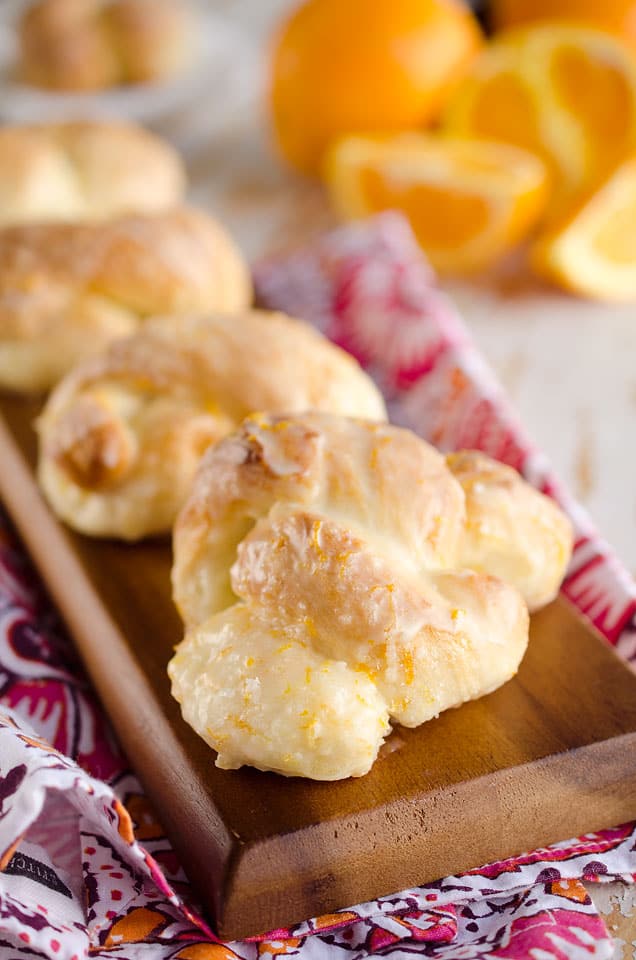 Sweet Roll Orange Knots
You may remember that I shared my Grandmother's recipe for Orange Sweet Rolls over a year ago. These rolls are amazing and regularly request by my family for the holidays. The problem is that these rolls basically take a whole day to make. I just don't have that kind of time before most holidays. Therefore, I decided I needed to find a shortcut to this this whole Orange Roll demand and created these Sweet Orange Roll Knots.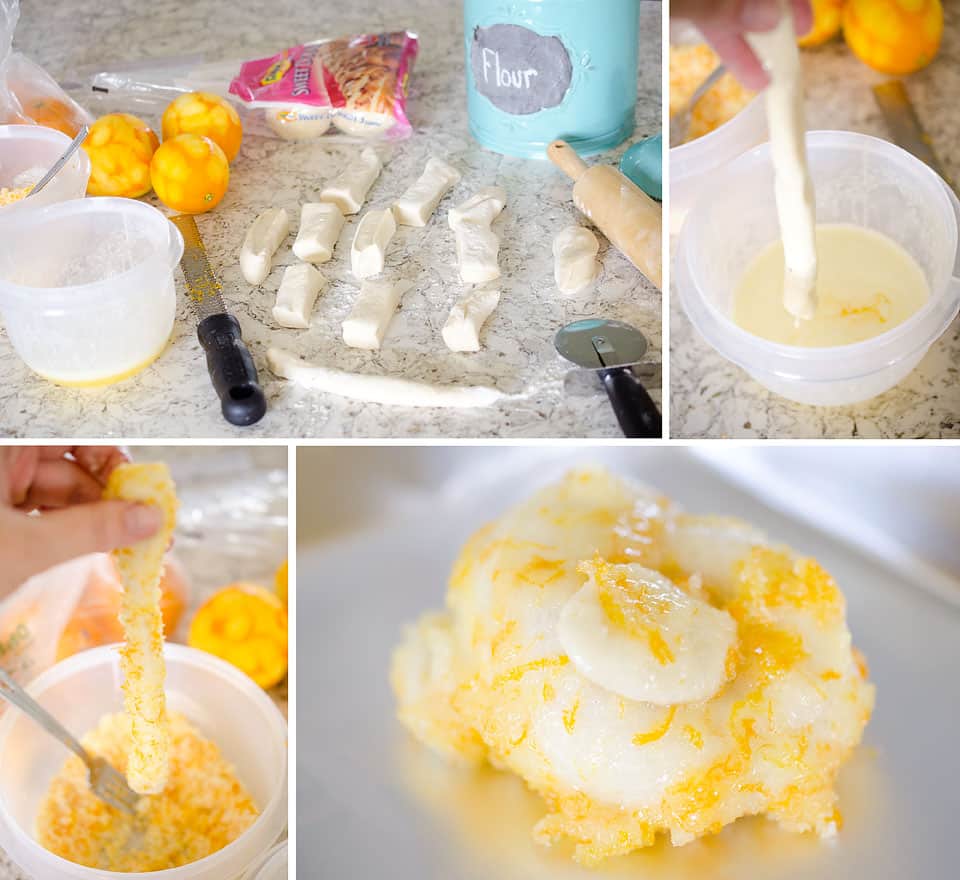 I know that Rhodes frozen dinner rolls produce amazing savory dough, so I thought I would give their sweet roll dough a try with this recipe. This cut the time to make the rolls down SIGNIFICANTLY! No more making mashed potatoes, prepping yeast dough, etc. Skip right to thawing the dough and you are on your way.
Cut each of the three loaves of the thawed dough into 16 pieces. Dip it hem in melted butter, roll them in an orange zest and sugar mixture and tie in a knot. Viola! You have your sweet rolls ready to raise in no time!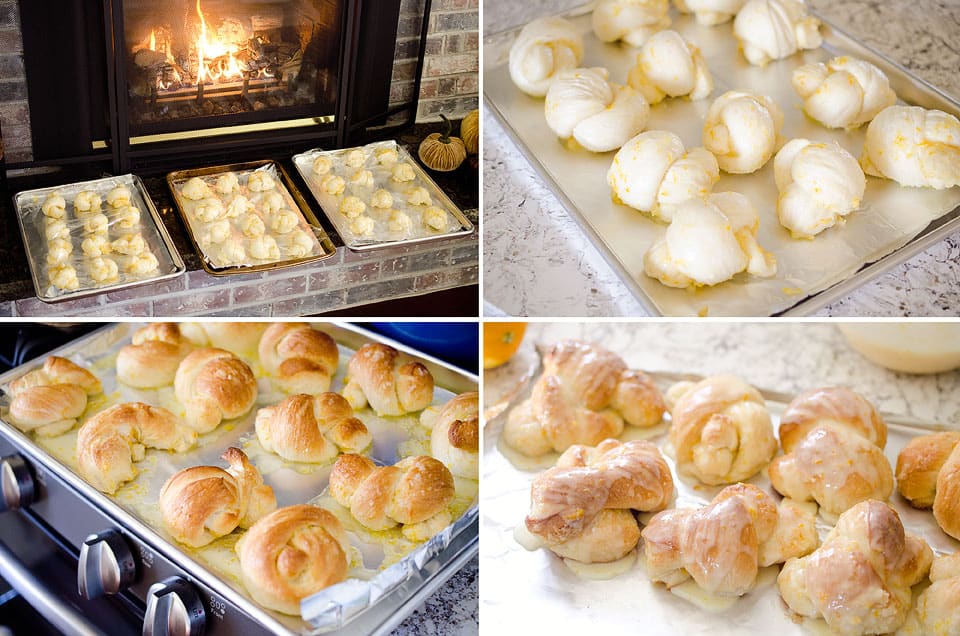 After the rolls have doubled in size (I give mine a little help by setting them by my fireplace), they are ready to bake. They are finished off with a quick glaze made from fresh orange juice, powdered sugar and vanilla. Only six ingredients and delicious rolls are ready to enjoy or be frozen for a last minute breakfast when guests show up unexpected.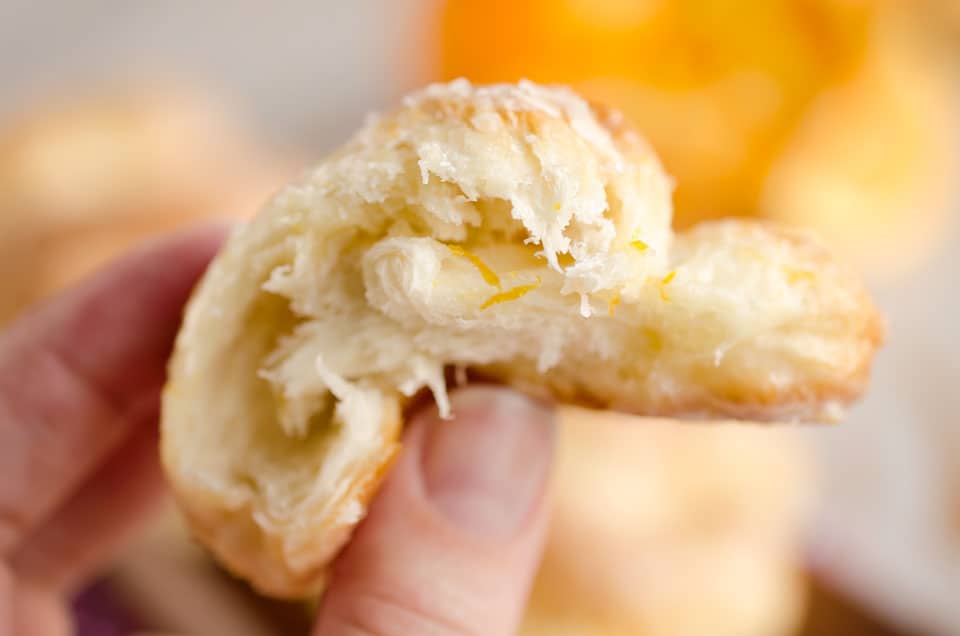 So you might be wondering, how do they compare to the homemade dough? Personally I thought they were very close to the made-from-scratch version. The homemade potato sweet dough from the Orange Sweet Rolls is a tiny bit richer, but the time I saved using the frozen dough made them my new go-to recipe.
The real test was when I brought a batch over to my parents to test out. My Dad grew up with the old version, so I anxiously awaited what he had to say. Both him and my mom commented that they tasted just as good as Grandmas. OMG, YES! I literally did a happy dance in the kitchen right then and there and declared that I would never be making the time-consuming version EVER AGAIN!
In case you were wondering, my family is not the type to say anything nice just to make you feel good. Only the truth crosses their lips, kind or not. So rest assured, these rolls are amazing!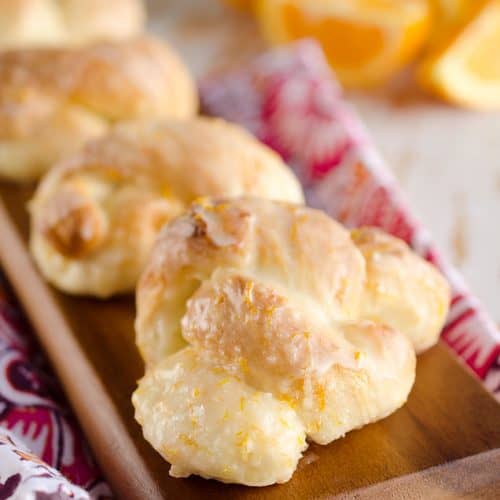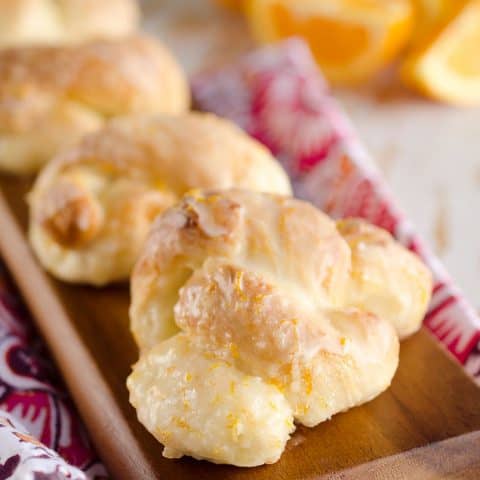 Sweet Roll Orange Knots
Total Time:
1 hour
40 minutes
Sweet Roll Orange Knots are an easy and delicious breakfast idea that have all the flavors and light airy texture of a homemade dough, but are made easy with store-bought sweet roll dough!
Ingredients
3 lb. 3 loaves Rhodes sweet dough
1.5 c. sugar
zest of 4 oranges
1 c. butter, melted
.
Glaze
4 c. powdered sugar
juice of 3 oranges
zest of one orange
1 tsp. vanilla
Instructions
Thaw the sweet roll in the refrigerator over night.
Cut each loaf of dough into 16 pieces. Roll the pieces into 8" long ropes.
In one small bowl mix the zest of 4 oranges with the sugar. In a second bowl, add the melted butter.
Dip each piece of dough into the butter and wipe off any excess with your fingers. Then dip into the sugar and zest mixture. Tie in a knot and place on a greased or lined baking sheet. Repeat this process until all rolls are made.
Cover the rolls loosely and place them in a warm location and let raise until they have doubled in size.
Once the rolls are close to being raised, preheat your oven to 350°.
Bake the rolls at 350° for 15-20 minutes until they are golden brown. Allow the rolls to cool to room temperature.
Meanwhile, in a small bowl, whisk all of the glaze ingredients until smooth. Spoon the glaze over the rolls. Once the glaze is set, store in an air-tight container.
*These rolls freeze great in an air-tight container up to 3 months.
Nutrition Information:
Yield:

4
Serving Size:

1 grams
Amount Per Serving:
Unsaturated Fat:

0g
More delicious breakfast ideas!