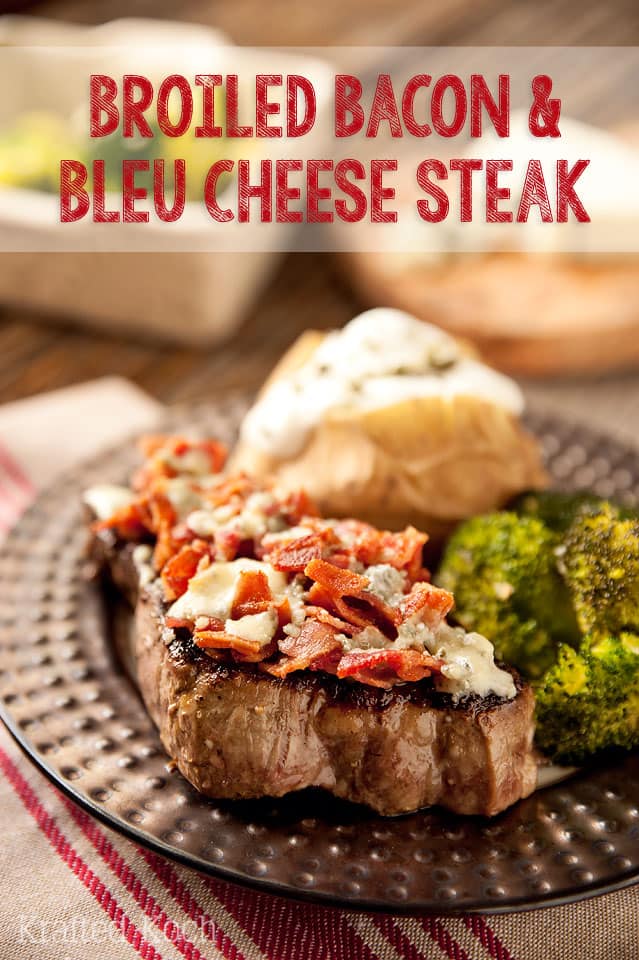 Broiled Bacon & Bleu Cheese Steaks are New York Strip steaks broiled and topped with bacon and bleu cheese for a wonderfully simply and decadent dinner. Pair the steaks with a baked potato and Roasted Lemon Broccoli for a complete and well-rounded meal.
I am currently sitting a beautiful apartment in San Francisco enjoying the view of the city. I am here, meeting up with my German host-sister Alex and her friends. They are in America vacationing for a few weeks on the west coast and I decided to meet up with them for their San Francisco leg. I just got in this weekend, and after a delayed flight and long cab ride I finally made it and have settled in.
I say this over and over, but I was so completely blessed to be able to get paired with such a perfect host-family as a 16 year-old. They welcomed me in to their home and truly treated me like family. This meant Sorina, my host-mom would get on my case when I didn't get great scores in Math class and sometimes Alex and I would fight like sisters, but it also meant that they loved me and treated me like one of their own. If I had to dream up an ideal host-family, I really don't think I could have imagined something better than this group of people who love hard, laugh even harder and are generally just great people.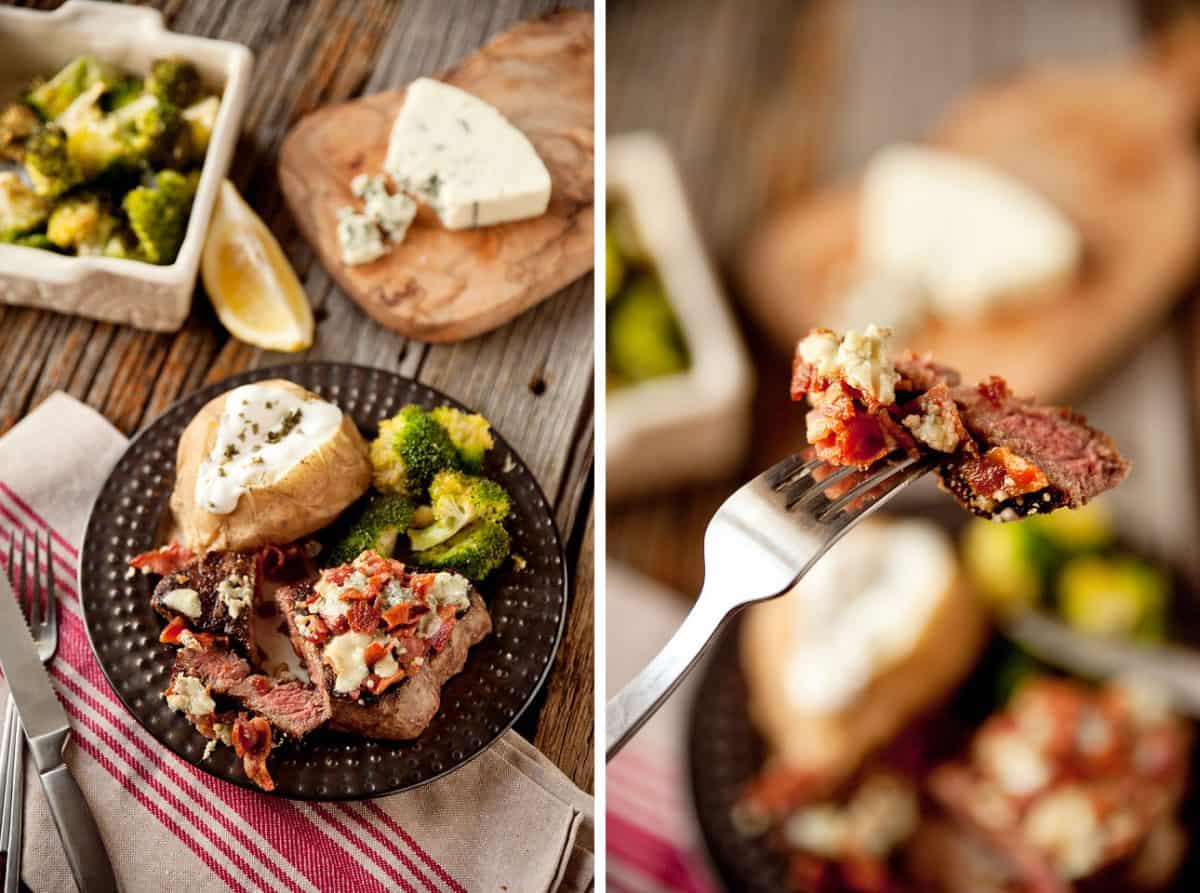 Unfortunately life happens and sometimes we are bad at staying in consistent contact on a weekly or even monthly basis, but like real family, when we do meet up again, we pick up right where we left off. Back in 2010, Alex came to Minnesota to be a bridesmaid in my wedding and last summer I traveled back to Germany to stay with them for a few days.
We are renting this apartment for our stay as opposed to hotel rooms and I love it! I really dislike feeling like I am cooped up in a hotel room while on vacation. The comforts of home such as a living area and kitchen are fantastic. I will be out and about enjoying lots of good food at restaurants this week. For those of you at home, you can make this Broiled Bacon & Bleu Cheese Steak for a restaurant quality meal in the comfort of your own home!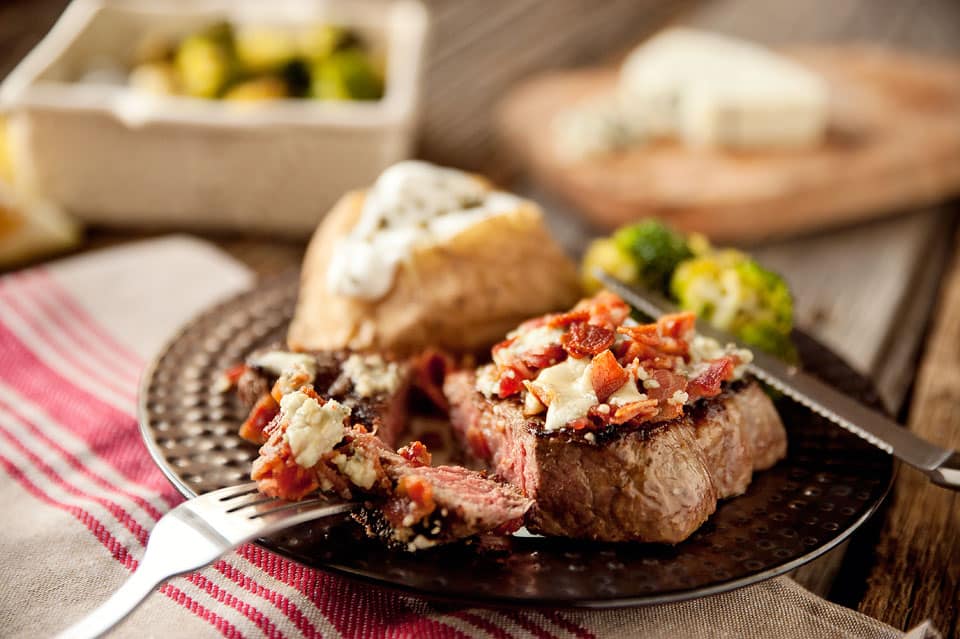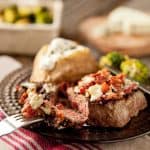 Print Recipe
Broiled Bacon & Bleu Cheese Steak
New York Strip steaks broiled and topped with bacon and bleu cheese for a wonderfully simply and decadent dinner.
Ingredients
2

8 oz New York Strip Steaks

1

tsp.

salt

1/2

tsp.

pepper

1/2

c.

bleu cheese crumbles

1/2

c.

cooked bacon

crumbled
Instructions
Rub the steaks with salt and pepper and place on a broiler pan. Broil on high for 6-7 minutes then flip the steaks and broil for an additional 5-6 minutes. Remove from the oven and top with crumbled bacon and bleu cheese and return to the broiler for 1-2 minutes, or just until the bleu cheese begins to melt. Let set for 4-5 minutes before serving so the juices have a chance to settle.
Nutrition Facts
Serving Size 4 oz steak
Servings Per Container 4
---
Amount Per Serving
Calories 404
Calories from Fat 243
% Daily Value*
---
*Percent Daily Values are based on a 2,000 calorie diet. Your daily values may be higher or lower depending on your calorie needs.
More easy dinner ideas!