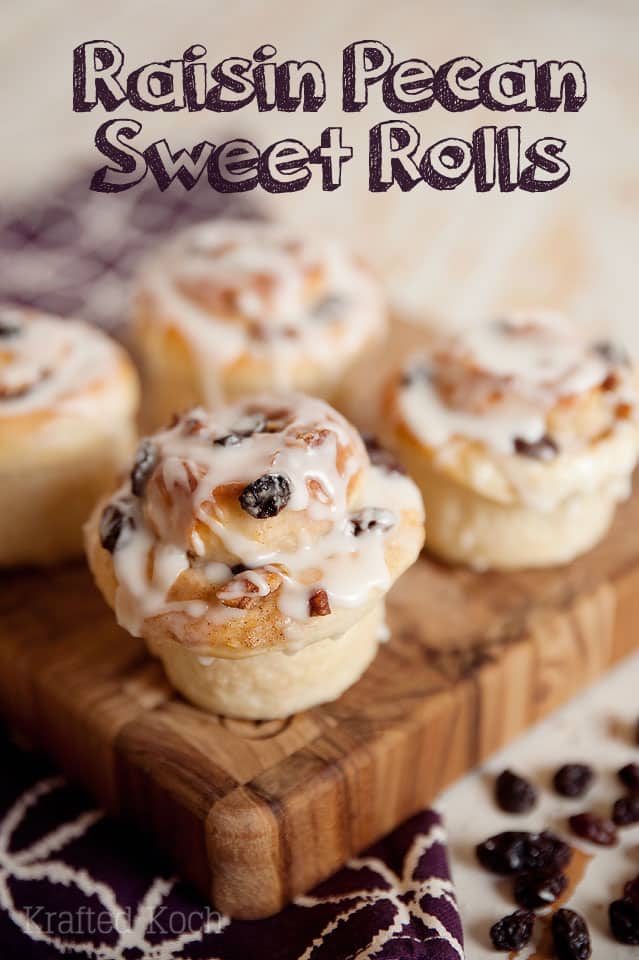 Raisin Pecan Sweet Rolls are an amazingly moist potato dough recipe filled with cinnamon & sugar, chewy raisins and crunchy pecans for the perfect breakfast or treat. The vanilla glaze is the cherry on top that will leave your friends and family begging you for more!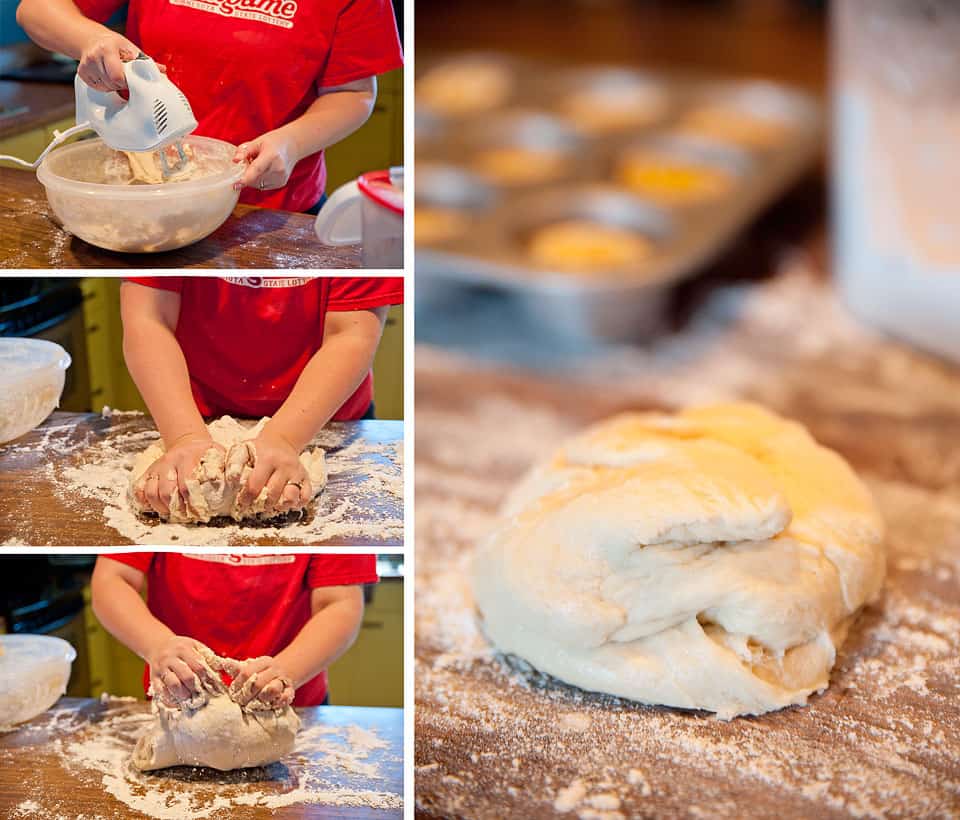 Making a yeast dough is always a time-consuming process, but well worth it in the end. They don't even compare to a store-bought roll in a tube. If you haven't taken the leap and tried a yeast dough, I highly suggest you do! It really isn't as scary as it may seem.
I like to make sweet rolls on a weekend so I can get things done around the house between the raising process. I normally don't have the patience for such things, but I promise you, these rolls are worth all the effort and wait!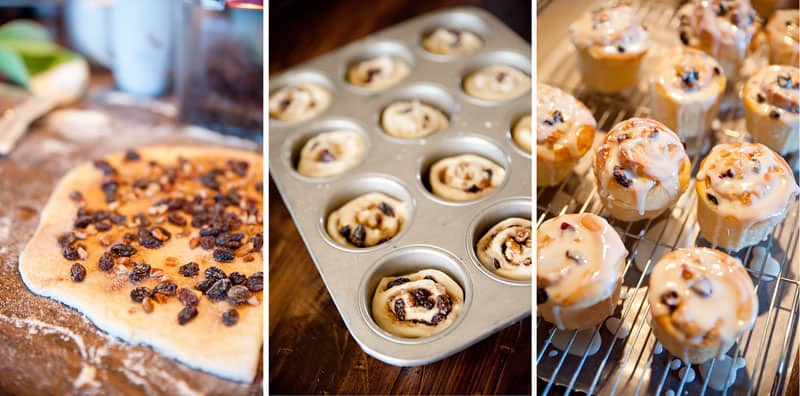 This recipe uses the same potato dough as my Grandma's Orange Rolls, but adds in a whole new element with raisins and pecans for more texture and flavor. If you are going through the work of making these rolls, I always suggest that you make at least a double batch. If they haven't all disappeared by the time they have cooled, they also freeze great, so you can have a great breakfast on hand for those unexpected guests or a lazy weekend.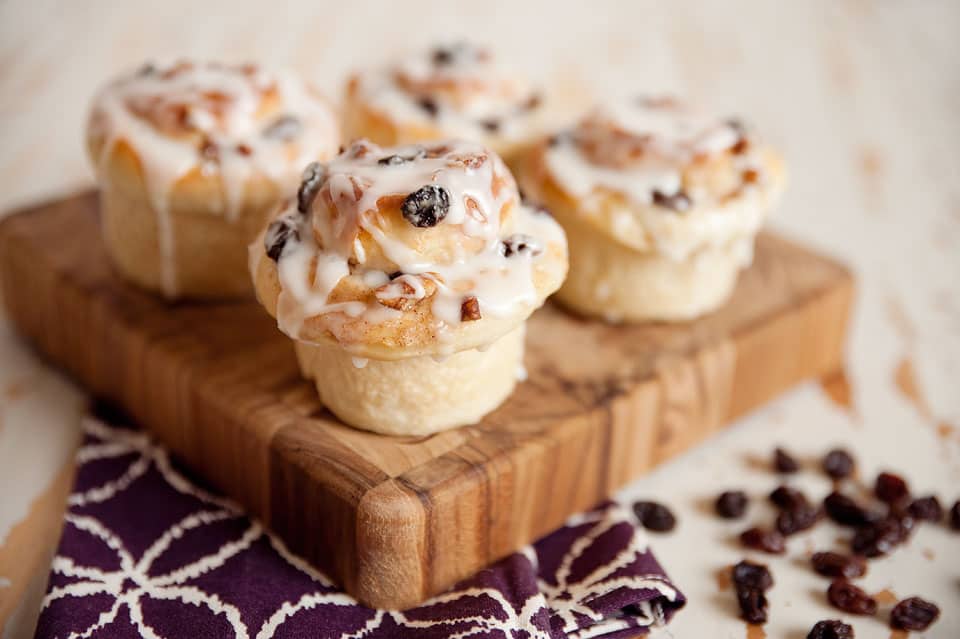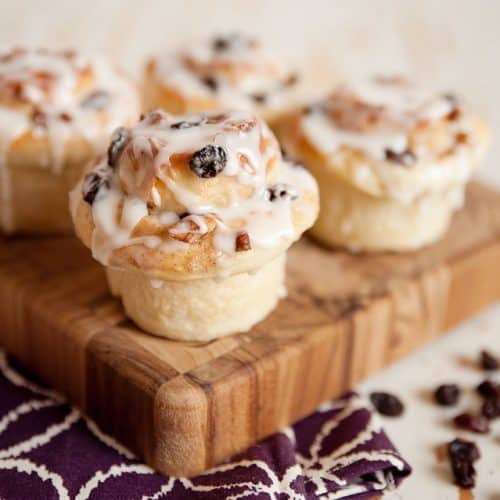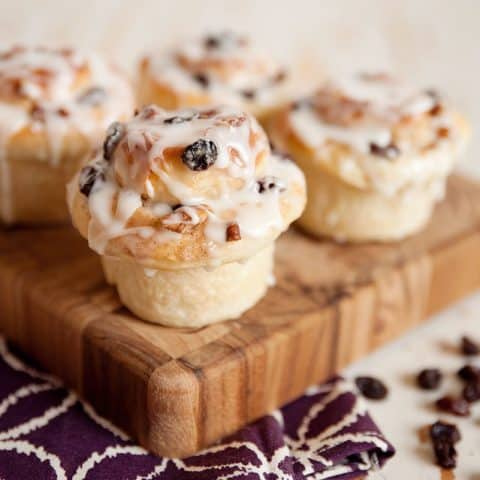 Raisin Pecan Sweet Rolls
Total Time:
6 hours
20 minutes
Raisin Pecan Sweet Rolls are an amazingly moist potato dough recipe filled with cinnamon & sugar, chewy raisins and crunchy pecans for the perfect breakfast or treat.
Ingredients
Potato Sweet-roll Dough
2 pkgs. yeast
½ c. warm milk, not scalding!
2 c. potato cooking water, can substitute plain water
1 c. mashed potatoes
1 c. sugar
1 Tbsp. salt
¾ c. butter
2 eggs
8 to 9 c. all-purpose flour
Filling
½ c. butter, melted
2 Tbsp. cinnamon
1½ c. sugar
1 1/2 c. raisins
1/3 c. pecans, chopped
Glaze
1/3 c. whipping cream
3 c. confectioners sugar
1 tsp. vanilla extract
Instructions
Stir the yeast into warm milk and let stand a few minutes. After the yeast has bloomed (begun to expand and/or bubble), add the potato water, mashed potatoes, sugar, salt, butter and eggs. Beat ingredients well.
Add 2 cups of flour and beat until smooth. Add enough of the remaining flour until dough is manageable, then turn onto lightly floured surface. Be sure not to add too much flour, or your dough will be dry.
Knead for a couple of minutes and let rest for 10 minutes.
Resume kneading for an additional 10 minutes, until dough is smooth and elastic. Sprinkle a little more flour on the dough as necessary, to make the kneading manageable.
Place in large greased bowl, cover, and let sit in warm area and rise until double in bulk.
Punch the risen dough and divide into 3 parts. Roll each part into a rectangle, a quarter inch thick.
Meanwhile, combine the cinnamon and sugar in a small bowl. Brush the top of the rectangle with butter and sprinkle with a 1/2 c. cinnamon sugar mixture and top with 1/2 c. raisins and 1/3 c. pecans . Roll up the dough lengthwise and pinch the edges of the dough, so it is sealed into a long, spiraled log.
Using a pizza cutter, slice off 1.5 inch pieces from the log. Sometimes there will be thicker sections of dough, which you will want to cut a bit shorter pieces from and thinner areas that you will cut into longer pieces. The most important factor, is to keep all of the rolls roughly the same bulk so they bake evenly.
Place the rolls, cut side up, in greased muffin tins (preferably NOT dark non-stick tins). Cover and let rise until doubled in bulk.
Bake the rolls at 350° for 15 to 20 minutes, until the tops are golden brown. Allow the rolls to cool for 5 minutes and remove each one individually, using two forks. Set on cooling racks and allow to cool for an additional 15 minutes. It is important, not to let the rolls sit in the tins too long, or they may stick, making them difficult to remove.
Meanwhile, whisk the glaze ingredients in a small bowl until smooth. After the rolls are mostly cooled, top each one with a Tablespoon of glaze. Serve immediately, or freeze in an airtight container.
Nutrition Information:
Yield:

2
Serving Size:

1 grams
Amount Per Serving:
Unsaturated Fat:

0g
More great breakfast ideas!