Pulled Pork Bowls with Avocado Slaw are a healthy and delicious 15 minute recipe loaded with leftover pulled pork, grilled sweet corn and a light Greek yogurt dressed slaw. This light and easy dinner idea sports less than 500 calories while packing a hearty 30+ grams of protein!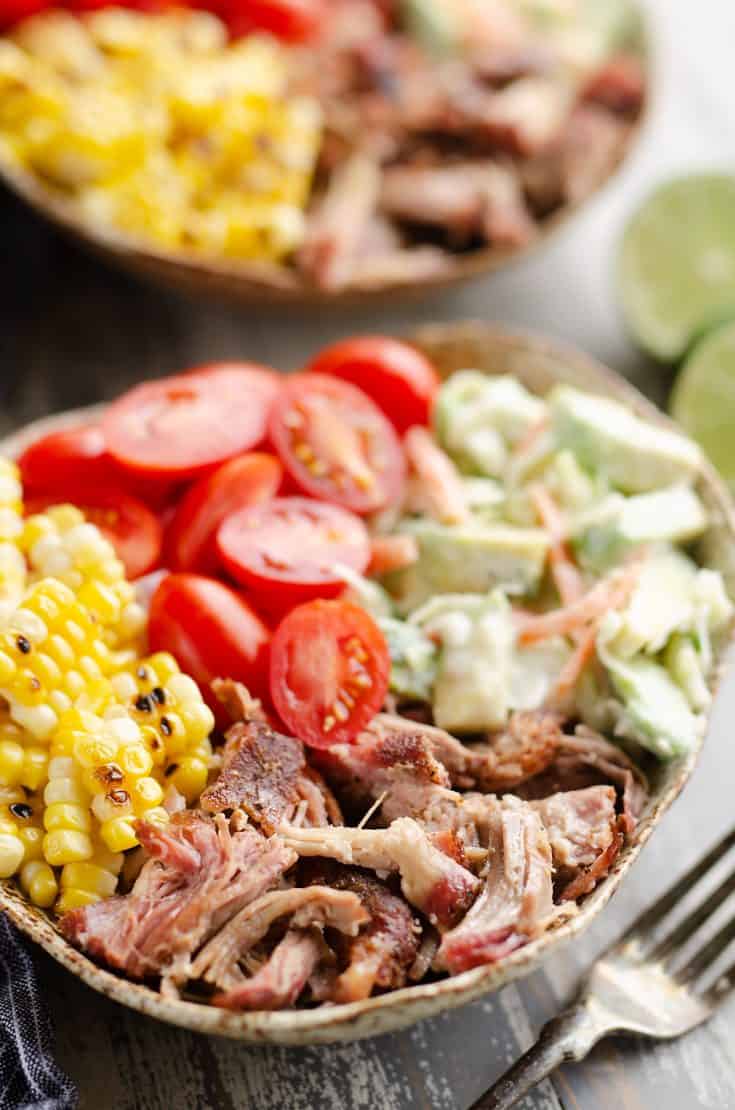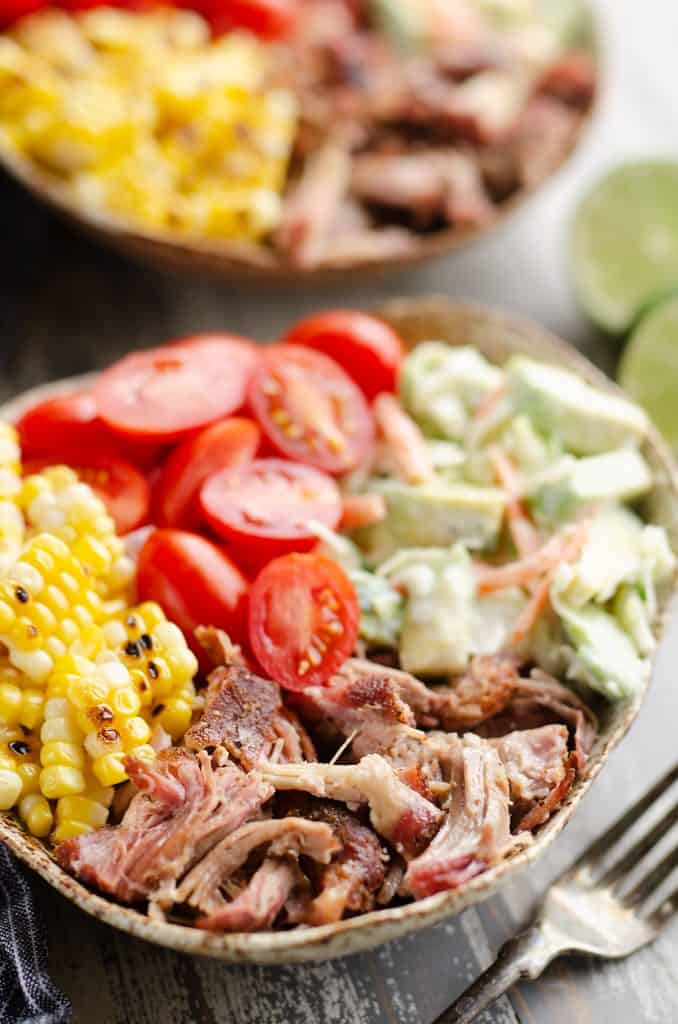 Pulled Pork Bowls with Avocado Slaw
If you are looking for a great weeknight dinner idea these Pulled Pork Bowls with Avocado Slaw are a must try! You'll love how easy it is to pull together a great healthy dinner in no time. The flavors from the pulled pork on the smoker are really able to shine through with the fresh ingredients. The homemade avocado slaw made with Greek yogurt is a creamy and tangy side that adds great crunch and flavor to the dish along with the grilled sweet corn.
I recently bought a Traeger grill and made this amazing Traeger Pulled Pork on it. It was so moist and tender and had a great smokey flavor. We used it throughout the week for some Pulled Pork Sliders and Pulled Pork Salad but I still had lots leftovers from the large pork shoulder I used.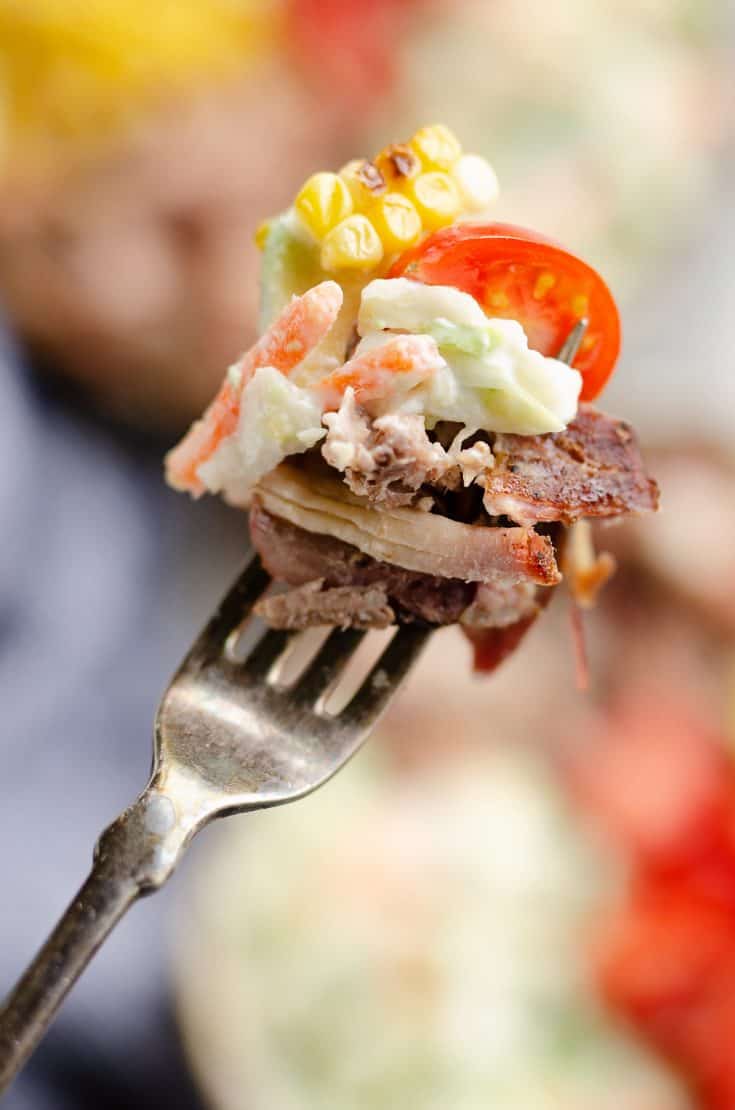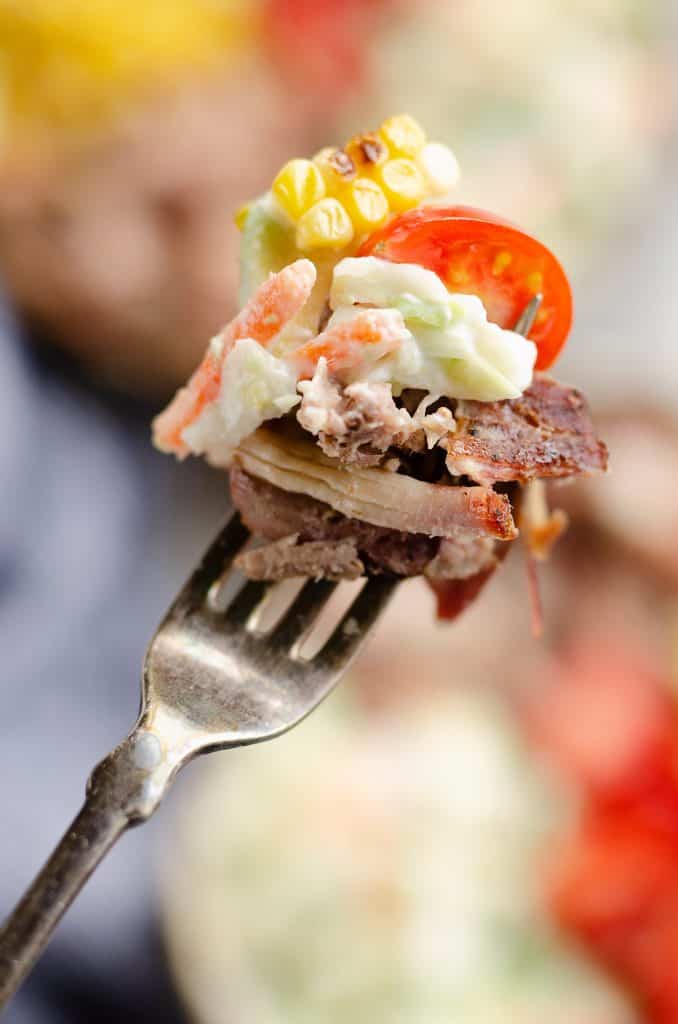 Healthy Pork Bowl Recipe
That's when I dreamt up these easy Pulled Pork Bowls. They are a great twist on a traditional mealtime. They're fun to eat, and easy to customize and make them your own. These healthy, protein packed pork bowls have pulled pork, sweet corn, sliced avocados, cherry tomatoes, coleslaw, non-fat Greek yogurt, cilantro, lemon juice, and honey. You're going to love how they taste!
If you don't have a smoker or want to sit up all night babysitting pulled pork on the grill, try this Pulled Pork Recipe for a quick and easy pork in your Instant Pot. Otherwise, you can find a happy medium and make this Shortcut Smoked Pulled Pork that uses both the wood pellet grill and Instant Pot, to cut down on cooking time on the grill,
What is the best cut of meat for pulled pork?
For pulled pork, you really want something that retains some of the fat. Good fat marbling will melt during cooking and add flavor to your roast, and help keep the meat moist during cooking. That's why you don't really need a sauce in a traditional barbecue. All the moisture is coming from the fat and collagen. That leaves the meat free to soak up that good wood smoke flavor.
For pulled pork, using the whole pork shoulder is best. Actually, what we call the pork shoulder is really the entire shoulder and front leg of the hog. That's a lot of meat! Most local grocery stores won't carry that kind of thing. Second best is the Boston butt, or Boston roast, which is the upper part of the shoulder. Incidentally, it's called a "butt" because that's an old fashioned word for barrel, which is what butchers used to keep the meat in! Learn something new every day, right?
The other part of the shoulder is the picnic cut, and that works too! You can usually get the picnic cut with or without the bone, but bone-in is the tastier option. The picnic cut is a more irregular shape than the Boston butt, but it will taste just fine. It might be a little more on the frugal side, too.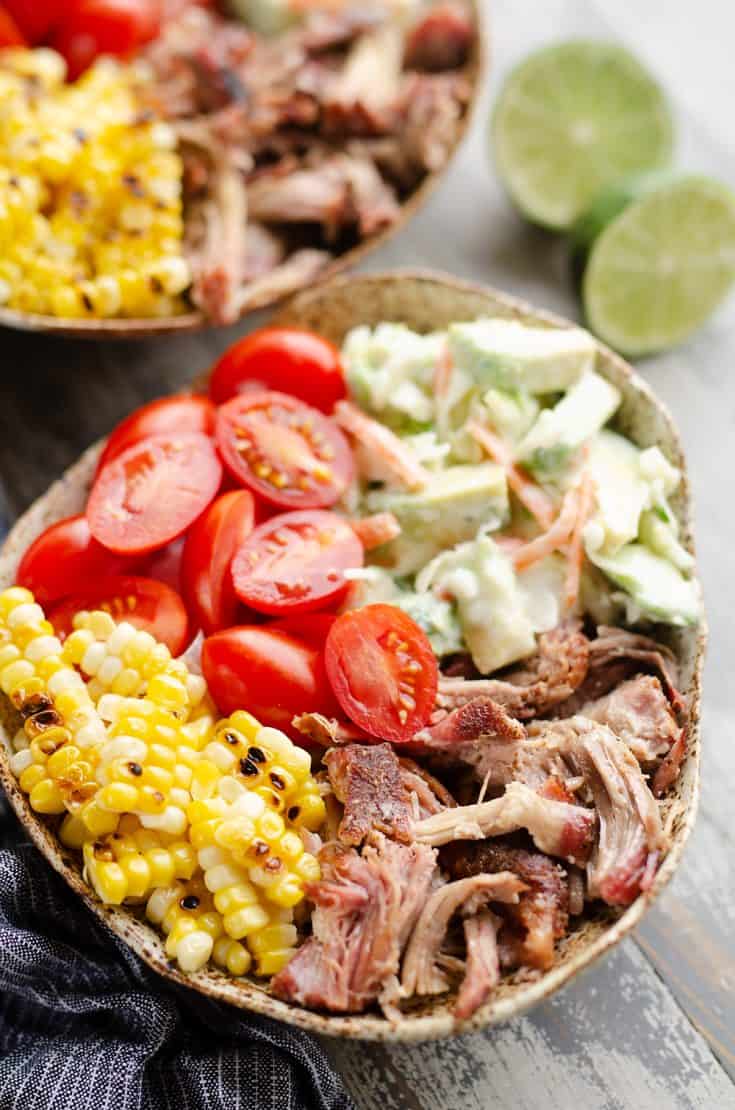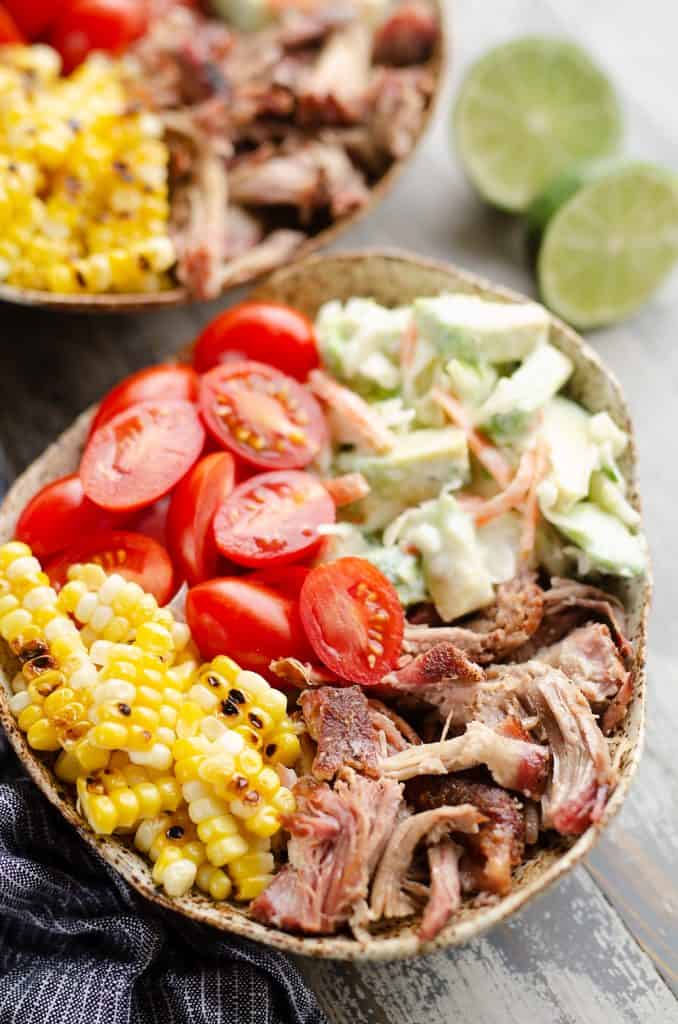 Pulled Pork Recipe
Over the years, the names of different cuts were mixed around a little, so if you're new to buying cuts of meat from a butcher, it can seem a little confusing. With a little practice, you'll be a pro in no time!
Other names for Boston butt:
Boston butt
Boston roast
Pork butt
Pork butt roast
Boston shoulder
Other names for picnic roast:
Shoulder arm picnic
Picnic cut
Picnic shoulder
Fresh picnic
Picnic roast
Look out for recipes that tell you to use a pork tenderloin. You can't substitute a tenderloin for a Boston butt or picnic cut. Pork tenderloin does not have enough fat marbling to stand up to the long cooking times you need for a good barbeque. Save the loin for this Pressure Cooker Pork Loin & Stuffing!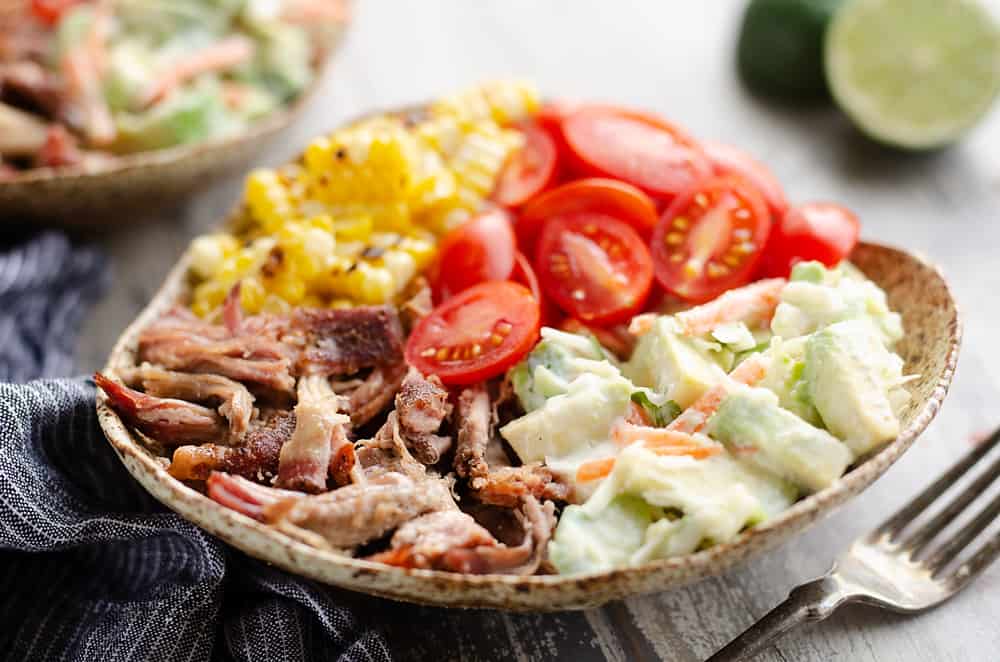 How long does smoked pulled pork take to make?
Traditional smoked pulled pork takes anywhere from 12 to 20 hours. It's a long, slow process that uses low heat and lots of time to roast the meat. In this method, most of the flavor comes from the smoke, not a sauce.
If you don't have 12 hours, you can use an Instant Pot. You get amazingly tender pork, in just a couple hours! I love using this method in the summer, because I don't have to heat up my house with a hot oven, and I can still get dinner done fast without using a grill. It's a great option if you're short on time!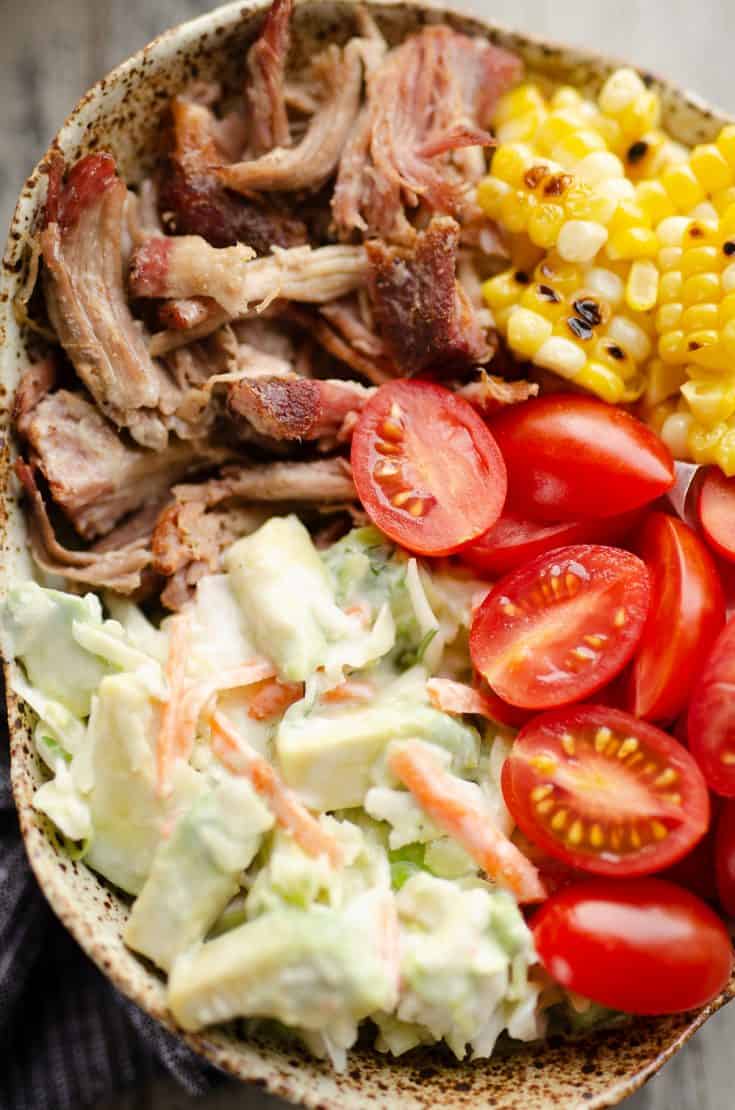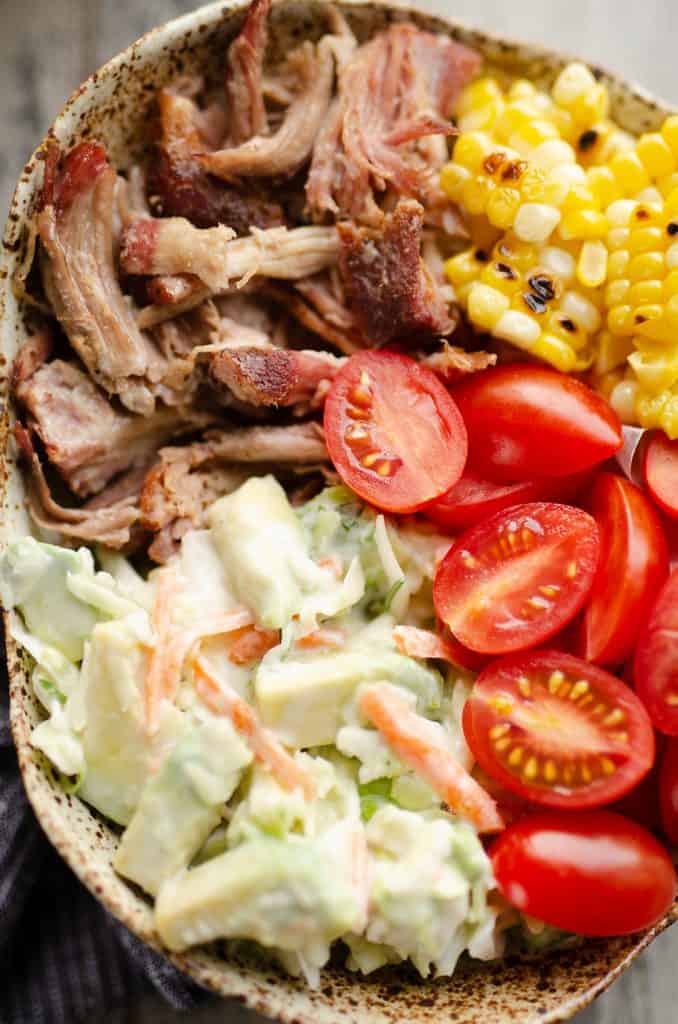 What To Serve With Pulled Pork?
Pulled pork is super versatile, and you can use it in so many ways. It's great in tacos, omelettes, and salad. (Put two of those together for a killer taco salad!) It also makes a perfect summer sandwich. One classic pulled pork sandwich is served with coleslaw right on top of the pork, in the sandwich. If you want sometimes a little different, top your pulled pork sandwich with chopped pineapple! Pulled pork can also go in fried rice, nachos, or plain with a side of mac and cheese or grits.
Check out these other great leftover pulled pork recipes!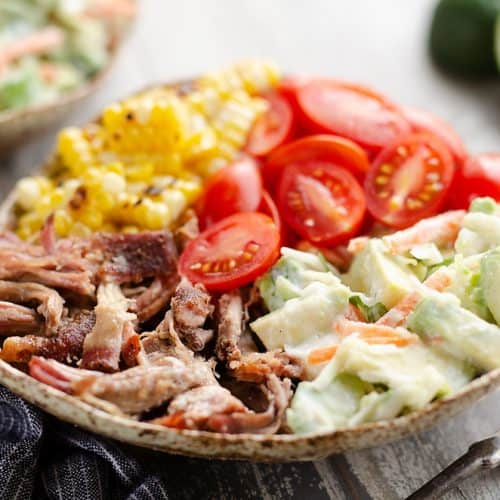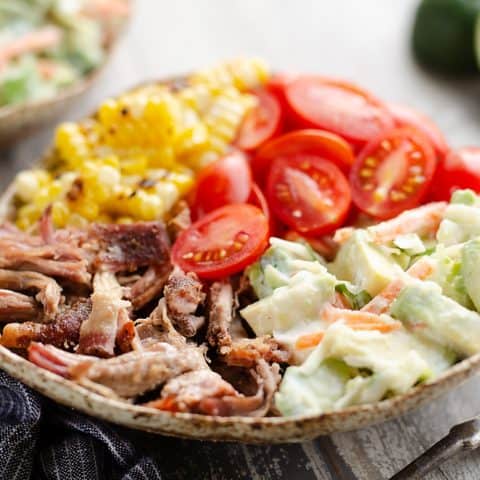 Pulled Pork Bowls with Avocado Slaw
Pulled Pork Bowls with Avocado Slaw are a healthy and delicious 15 minute recipe loaded with leftover pulled pork, grilled sweet corn and a light Greek yogurt dressed slaw. This light and easy dinner idea sports less than 500 calories while packing a hearty 30+ grams of protein!
Ingredients
5.3 oz. container plain non-fat Greek yogurt
1/4 c. fresh lime juice (1 large lime)
1 tsp. honey (add an extra tsp if you prefer it sweeter)
1/4 c. cilantro, chopped
dash of salt and pepper
3 c. coleslaw mix
1 large avocado, chopped
2 c. pulled pork
2 ears sweet corn
1 c. cherry tomatoes
Instructions
Brush the sweet corn with some olive oil and sprinkle with salt and pepper. Grill or saute for 5 minutes, rotating as you cook. Removed from the heat and allow to cool slightly before cutting the kernels off the cob.
In a small bowl, whisk the yogurt, lime juice, honey, cilantro, salt and pepper together. Mix in the coleslaw mix and gently fold in the chopped avocado.
In serving bowls, add 1/4 of the pulled pork, avocado slaw, grilled sweet corn and fresh tomatoes. Serve immediately!
Notes
Pork can be served hot or cold, depending on your preference.
Recommended Products
As an Amazon Associate and member of other affiliate programs, I earn from qualifying purchases.
Nutrition Information:
Yield:

4
Serving Size:

1
Amount Per Serving:
Calories:

463
Total Fat:

25g
Saturated Fat:

9g
Trans Fat:

0g
Cholesterol:

107mg
Sodium:

575mg
Carbohydrates:

29g
Fiber:

6g
Sugar:

11g
Protein:

34g
Provided nutrition data is only an estimate. If you are tracking these nutrients for medical purposes, please consult an outside, trusted source.