Pastrami Wrap is a delicious and easy lunch option with Havarti cheese and Parmesan Peppercorn Ranch.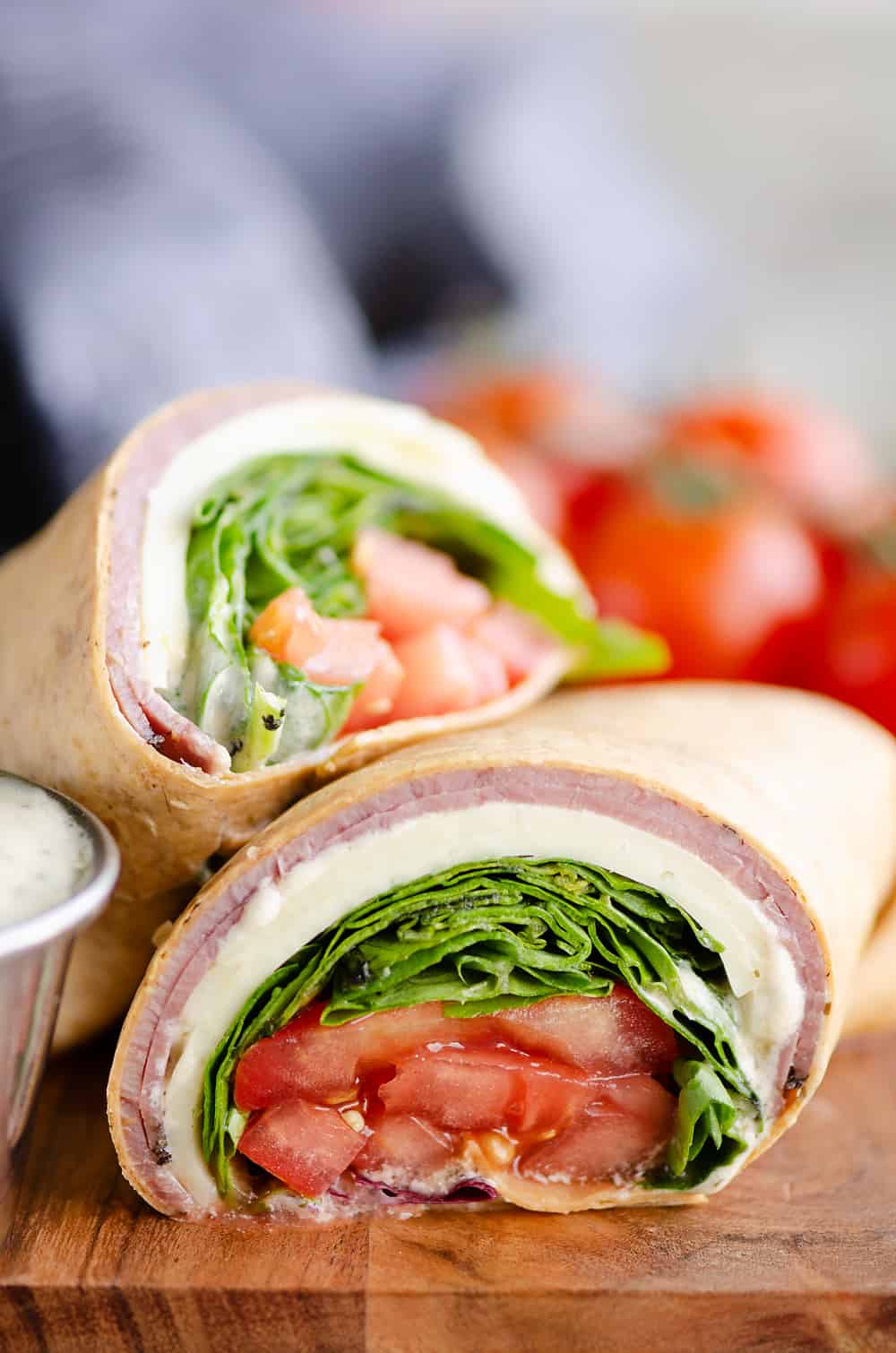 Roll up a pastrami wrap sandwich
A pastrami wrap is another way to approach the wonderful pastrami sandwich. Pastrami sandwiches have an almost legendary reputation as the king of sandwiches.
The famous New York deli version of the pastrami sandwich piles a huge stack of pastrami slices into some rye bread, but this pastrami wrap style sandwich takes a bit of a healthier approach but still tastes every bit as good.
I am a big fan of pastrami and I also love doing wrap sandwiches. You can check out some of my other wrap recipes like my thai peanut wraps and this orange chicken wrap.
Easy to make and cheaper than a trip to Subway!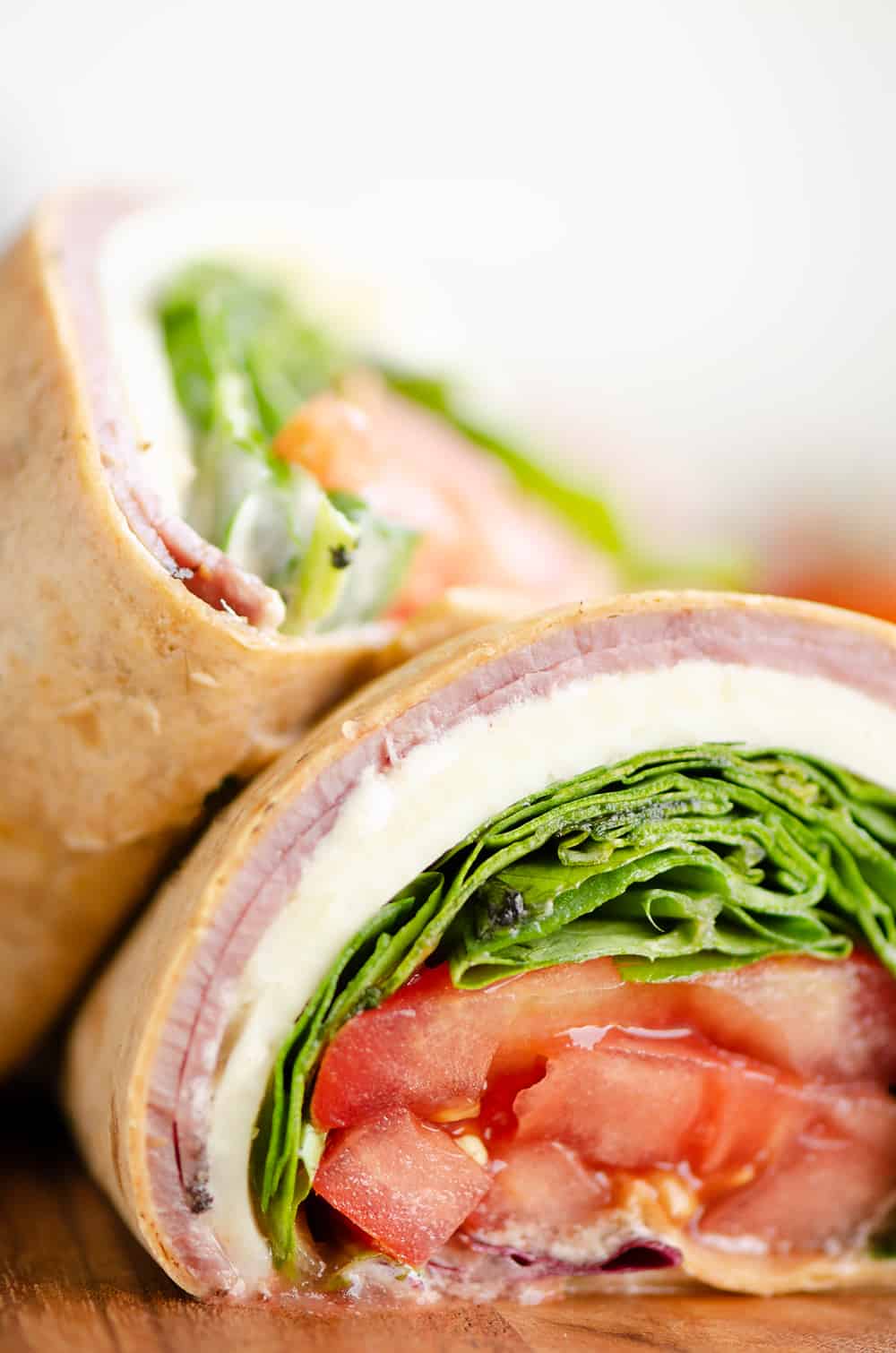 What exactly is Pastrami?
When most people think of pastrami, they are probably thinking that it is made with beef brisket. However, pastrami refers to the way the meat is prepared and pastrami style cured meats can be made with turkey, pork, or any other type of meat as well.
Pastrami meat is brined, then seasoned, then smoked, and finally steamed. With all the work that goes into making pastrami, no you know why it tends to be one of the more costly sliced deli meats!
How is pastrami different than corned beef?
Pastrami and corned beef are pretty similar, so it is not surprising when people confuse the two. In terms of this recipe, if you want, then you can substitute the pastrami with corned beef slices. It still makes a great wrap.
Corned beef and pastrami both come from the days when refrigeration was not always a convenient option. So figuring out ways to preserve meat in order to keep it longer involved some way of curing it and preserving it to keep longer.
Cooking, drying, salting, all helped make meat keep longer and this is a big reason why salt was so valuable in ancient times as a form of trade currency.
With beef pastrami and corned beef, the main difference is the cut of beef that is used and the extra step of smoking the meat in the case of pastrami.
Beef pastrami comes from a fattier part of the cow. It is also usually called brisket, like corned beef, but it comes from the fattier section of the belly. For this reason, you might also hear pastrami referred to as "beef bacon".
The similarity to bacon is not just the salt cure but also the smoke. Smoking the beef also helps cook it which helps melt the fats into the beef brisket to make it so tender and juicy.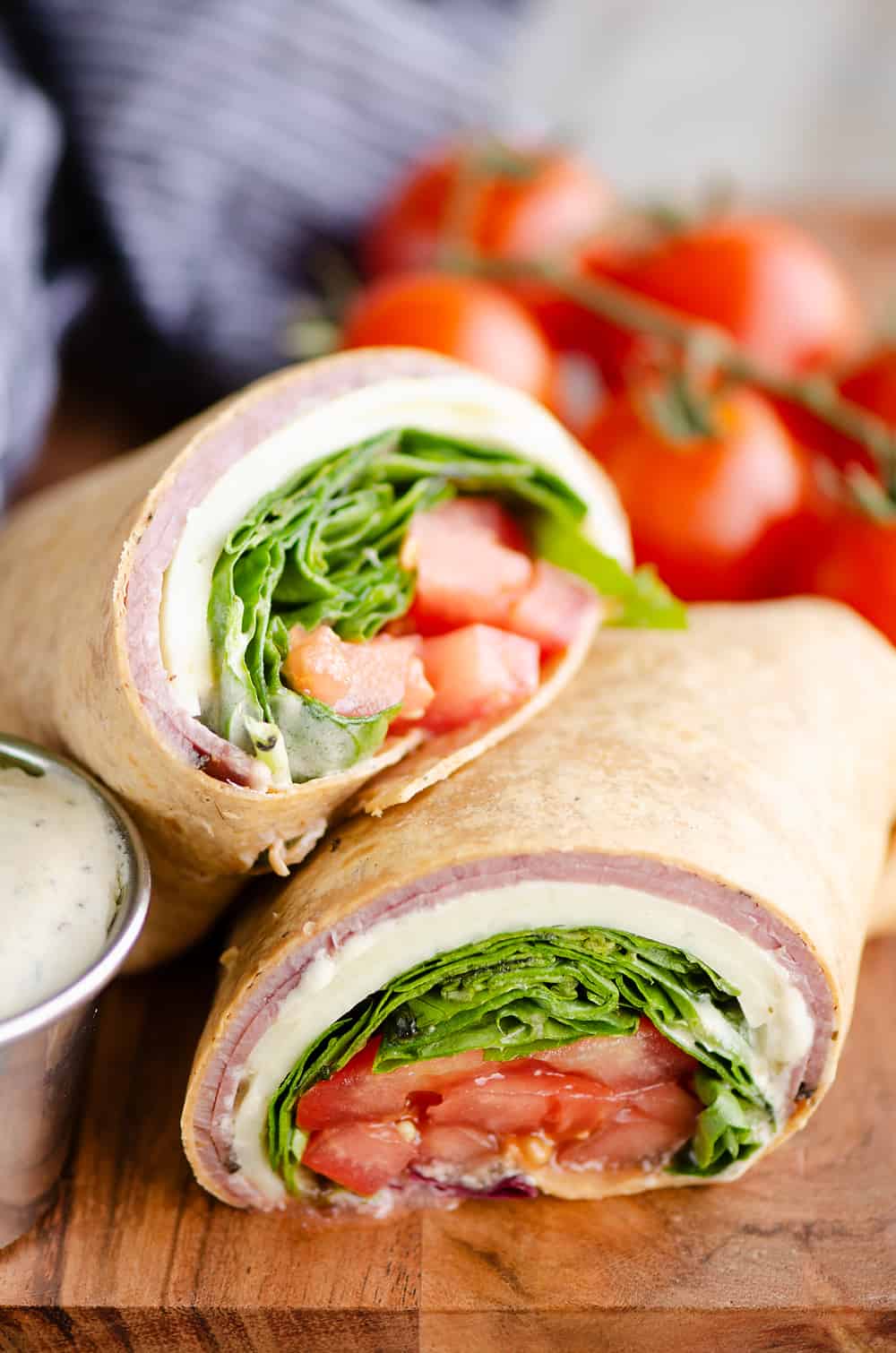 What does pastrami taste like?
Another difference between beef pastrami and corned beef is the in the spice. Corned beef does get brined with some peppercorns and other spices, but pastrami makes the pepper a much more prominent part of the flavor.
Pastrami is a peppery and smokey cut of meat, no matter what meat is used. The beef is so tasty that many people that don't necessarily like black pepper still love their pastrami.
Keep the pastrami wrap from getting soggy!
If you are making your pastrami wrap for lunch and need to store it for a few hours, then make sure to be able to keep it in a fridge until you are ready to serve. If you know you will be serving it later, you could leave off the peppercorn ranch and dip it in it later.
Roll your wrap tightly in a clear plastic wrap that sticks and holds everything together.
You can even get away with this staying good overnight in the fridge. So if you do have leftovers, then just roll it back up in the plastic wrap and get it in the fridge.
If you work in an office, then make sure you mark it so that the folks that raid the fridge for their coworkers food get the point that it is off limits!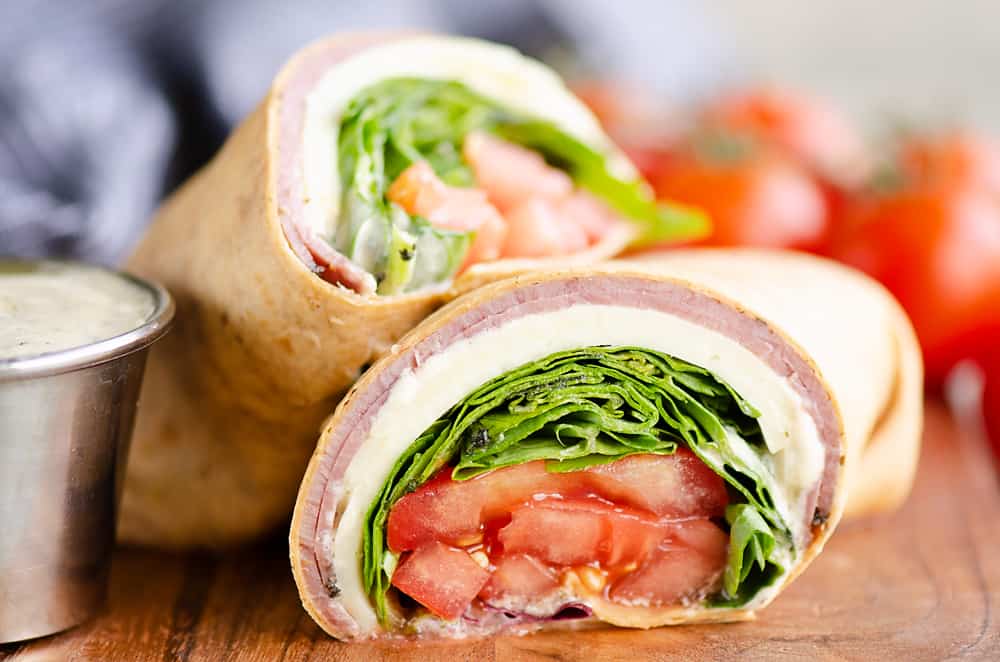 What can I serve with my pastrami wrap sandwich?
Depending on the time of year, I either want a salad or soup with my pastrami wrap.
Here are some suggestions that might catch your fancy: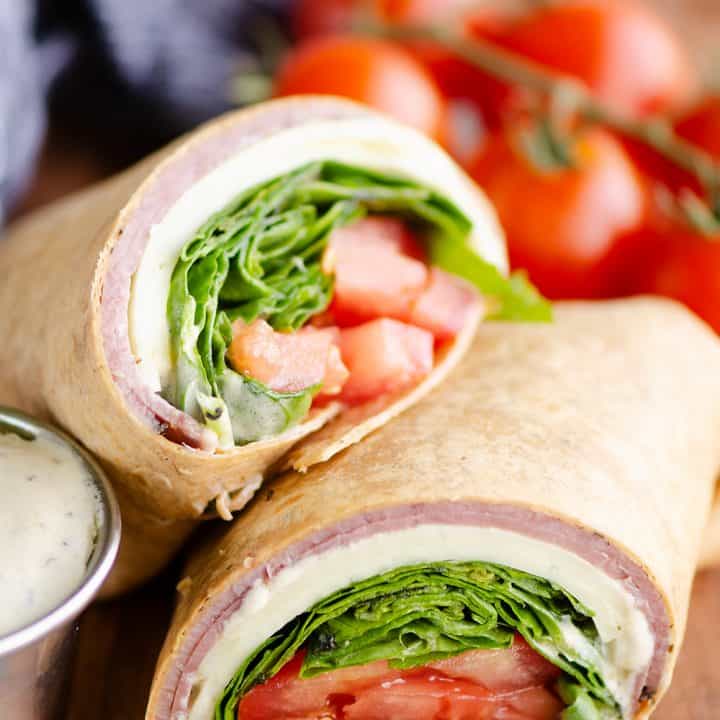 Pastrami Wrap
Pastrami Wrap is a delicious and easy lunch option with Havarti cheese and Parmesan Peppercorn Ranch.
Ingredients
8 slices pastrami
8 slices havarti or provolone cheese
2 medium tomatoes
2 c. mixed greens
1/2 c. Parmesan peppercorn ranch
4 wraps
Instructions
Layer 2 slices of Pastrami on each tortilla and top with 2 Tbsp. peppercorn ranch dressing.
Top with the sliced Havarti cheese, tomatoes and mixed greens.
Fold the sides of the tortilla towards the center and carefully wrap, while tucking the sides in for a good seal.
Serve immediately, or store wrapped up to 3 days.
Nutrition Information:
Yield:

4
Serving Size:

1
Amount Per Serving:
Calories:

644
Total Fat:

34g
Saturated Fat:

17g
Trans Fat:

0g
Unsaturated Fat:

14g
Cholesterol:

107mg
Sodium:

1604mg
Carbohydrates:

47g
Fiber:

3g
Sugar:

3g
Protein:

37g
Provided nutrition data is only an estimate. If you are tracking these nutrients for medical purposes, please consult an outside, trusted source.