Orange Creamsicle Sheet Cake is a refreshing dessert with a fluffy white cake topped with a creamy orangesicle layer and fresh whipped cream.
Orange Creamsicle Sheet Cake
My husband called me yesterday afternoon wondering if i went on an online shopping spree. I had ordered a bunch of dresses online in hopes of finding a cute one for an upcoming wedding. I planned on returning some of them, so the initial order was quite large. I live in the middle of nowhere, so going to the actual stores is over an hour drive.

Naturally with my luck ALL of my orders had to come on the same day…from UPS, USPS and FedEx. Oiy vey…
My husband said we might need to install traffic lights in our yard with all the deliveries i receive. Apparently I caused a bit of a traffic jam on the farm that day. Woops!
He couldn't be too upset though, because this delicious Orange Creamsicle Sheet Cake was waiting in the refrigerator for his lunch. How can you be mad at a wife who makes you treats like these?! 😉

I saw this Key Lime Pie Sheet Cake from Lauren's Latest recently and was immediately intrigued. I am more of an orange girl than key lime pie, so I put my own twist on it. It turned out fantastic and is really the perfect treat for a warm summer day.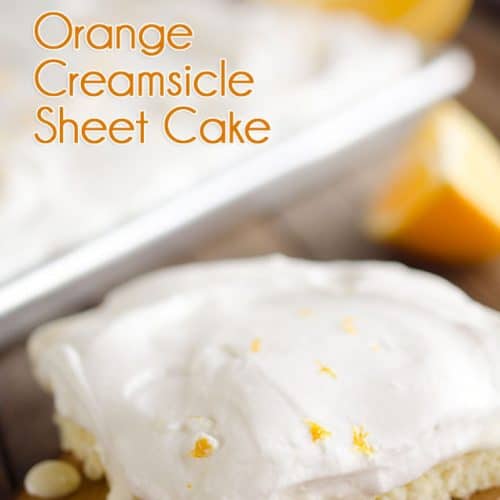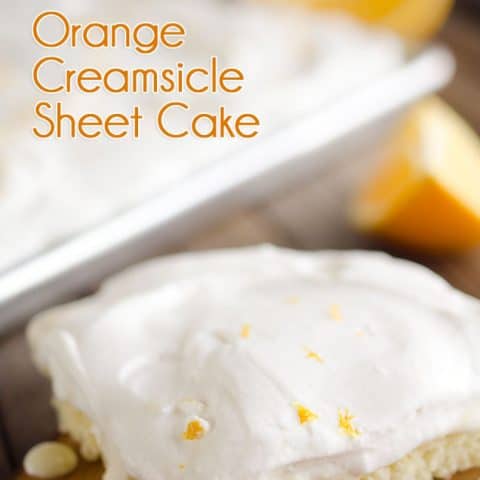 Orange Creamsicle Sheet Cake
Orange Creamsicle Sheet Cake is a refreshing dessert with a fluffy white cake topped with a creamy orange layer and fresh whipped cream.
Ingredients
1 16.5 oz white cake mix
ingredients to complete cake mix, eggs, water, oil
3 large oranges
16 oz. softened cream cheese, softened
1/2 can sweetened condensed milk
2 tablespoons vanilla extract, DIVIDED
2 cups heavy cream
1/3 cup powdered sugar
Instructions
Preheat oven to 350°. Spray your large cookie pan with non-stick cooking spray and set it aside.
Make the white cake mix according to package directions substituting half of the water for fresh squeezed orange juice. Mix 2 Tablespoons of orange zest into the batter and pour it into your pan, smoothing the batter evenly. Bake 16-20 minutes until the cake is cooked through and the top is lightly golden brown. Set aside to cool to room temperature.
Meanwhile, in a large bowl, beat the cream cheese, sweetened condensed milk, 1/2 c. freshly squeezed orange juice, 3 Tablespoons orange zest and 1 Tablespoon vanilla. Pour the mixture over the cooled cake and spread evenly.
In a separate bowl, beat the cream, powdered sugar and 1 Tablespoon vanilla until medium peaks form. Spread whipped cream over the cream cheese mixture. Top with orange zest and serve immediately or store refrigerated for up to 6 hours.
Nutrition Information:
Yield:

24
Serving Size:

1 grams
Amount Per Serving:
Unsaturated Fat:

0g
More Orange Sweets!