Low Carb Southwest Stuffed Peppers are a hearty and healthy dinner recipe made with ground beef, riced cauliflower, pepper jack cheese, salsa and flavorful Mexican spices. With only 13g carbs per serving, they are a delicious keto recipe perfect for meal prep!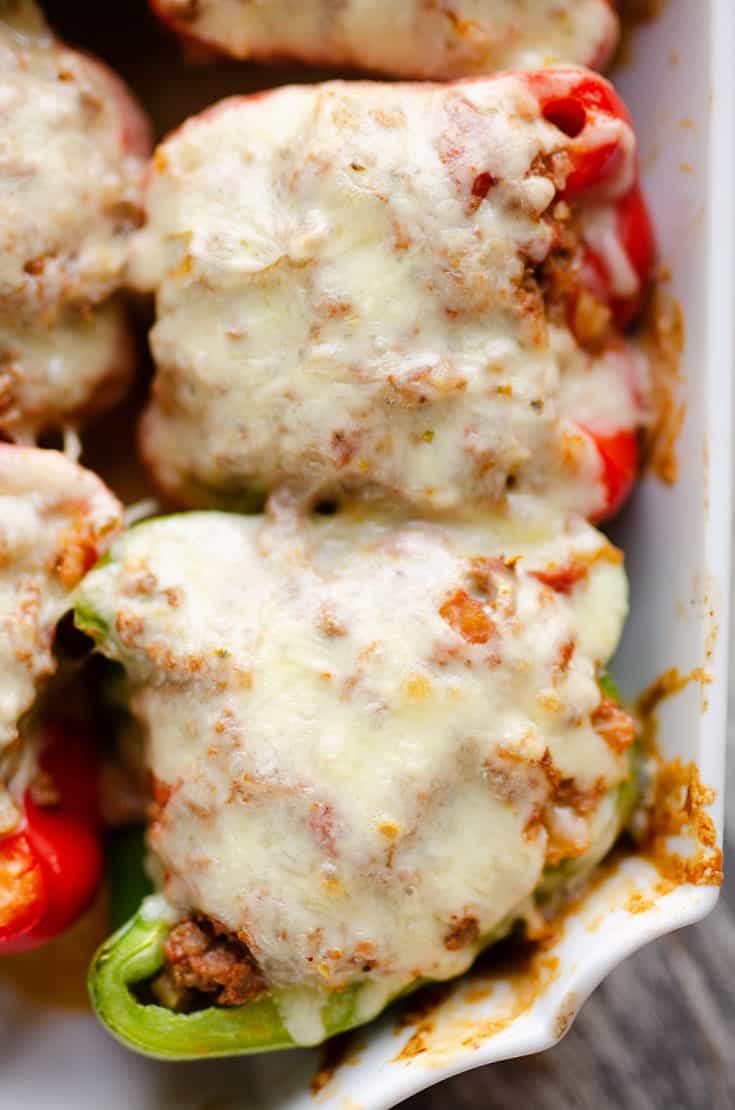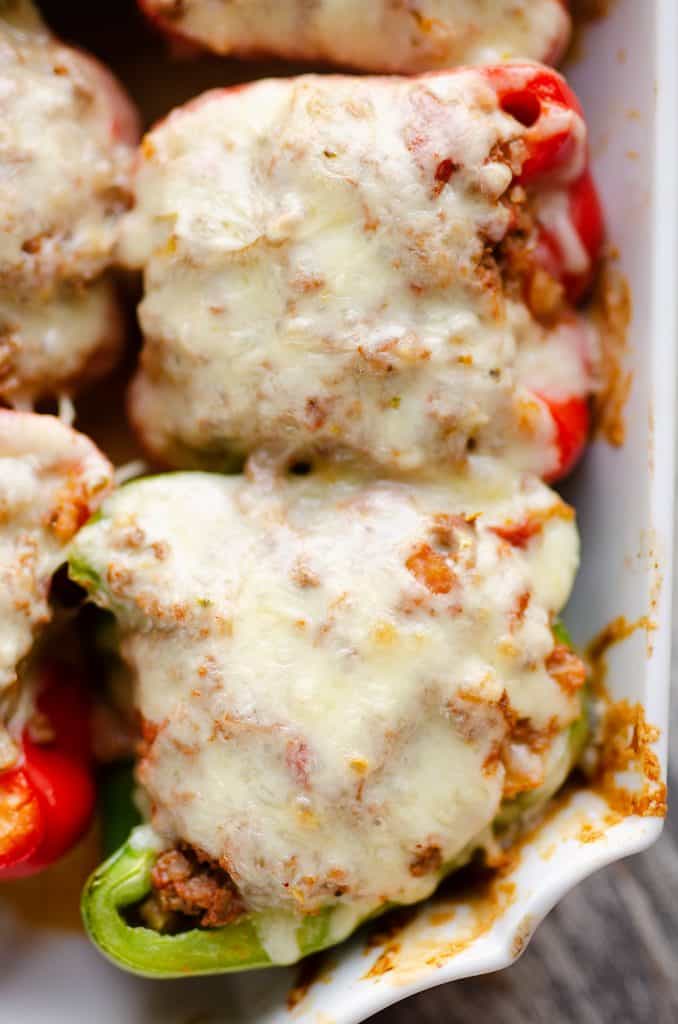 Keto Stuffed Bell Peppers
Low carb southwest stuffed peppers bring tex-mex style seasoning to the classic stuffed pepper. Much like these Light Chicken Stuffed Peppers, they are full of healthy and flavorful ingredients like salsa, lean ground meat, and vegetables. Instead of using rice and all the carbs it adds to the traditional dish, the filling takes advantage of store bought riced cauliflower. Not only does cauliflower rice lower the carbs, but it also adds wonderful flavor, vitamins, and fiber. This healthy recipe is a fantastic keto recipe perfect for a delicious dinner.
For those who want a bit more chewiness that rice offers stuffed peppers, feel free to swap out half of the cauliflower rice for brown rice. No one that I served these peppers even noticed there wasn't rice though!
If you are looking at doing a southwest theme for an entire dinner, then check out my other southwest recipes, like southwest black bean burgers.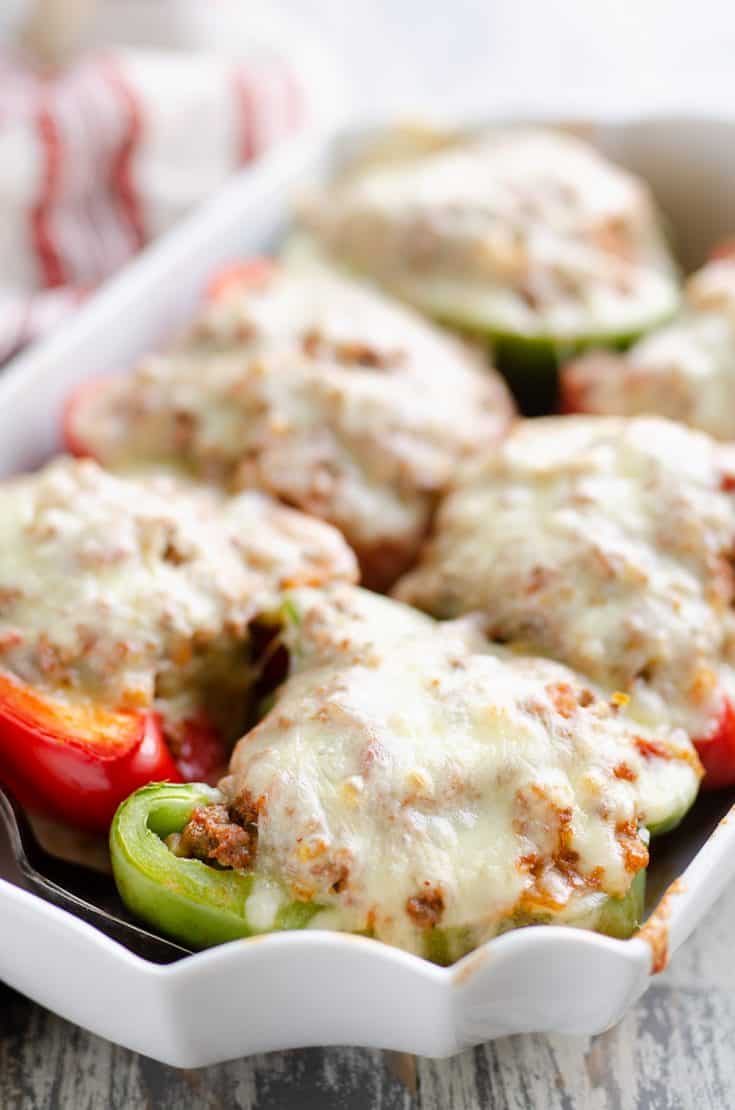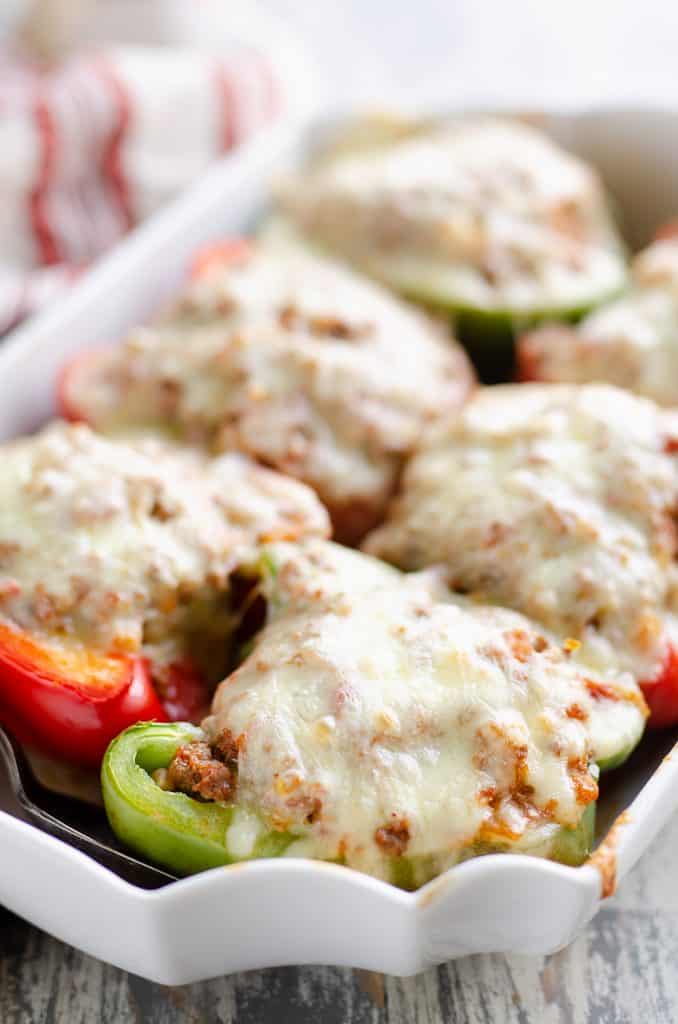 How to make low carb southwest stuffed peppers
This is as easy as any stuffed pepper recipe you will find. The mixture you cook before adding to the pepper takes only minutes. Prepping the pepper for stuffing requires a brief time in the oven to roast, but only about 15 to 20 minutes.
Roasting the peppers first helps reduce the amount of water in them. This helps avoid the final stuffed pepper from being more like a soup filled pepper. Pre-roasting also brings out more flavor from the pepper as well as softening it.
You just need to let the peppers cool a few minutes before you stuff them with the filling. Otherwise you are likely to be juggling it like a hot potato.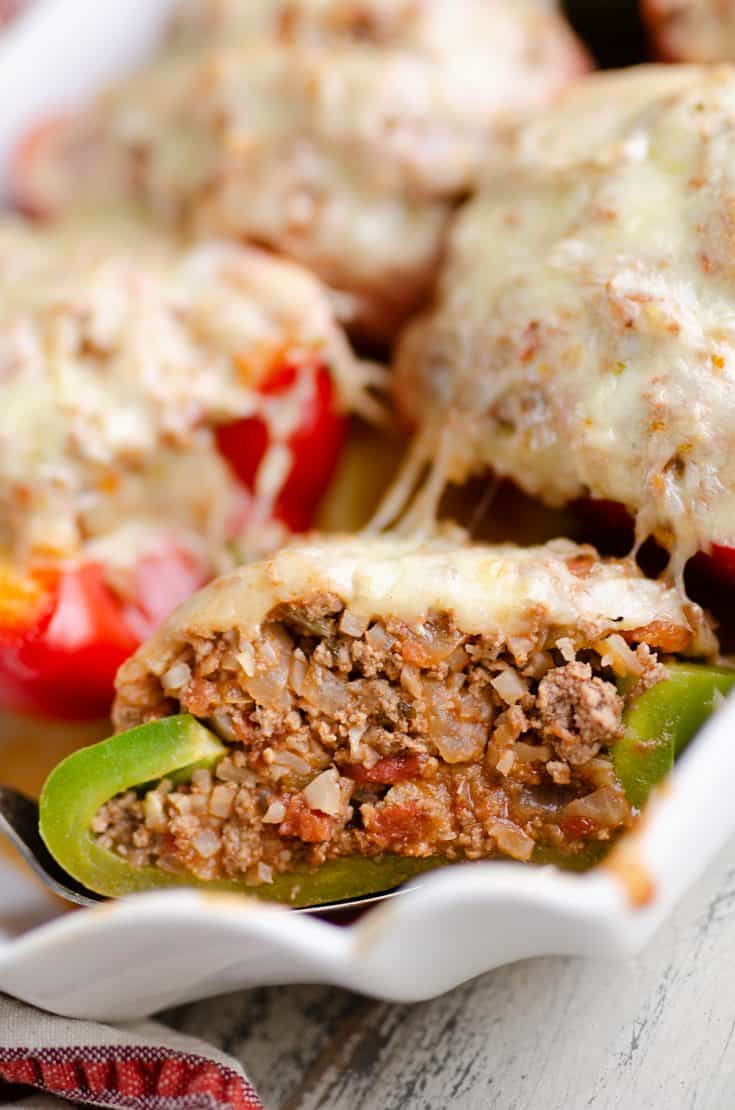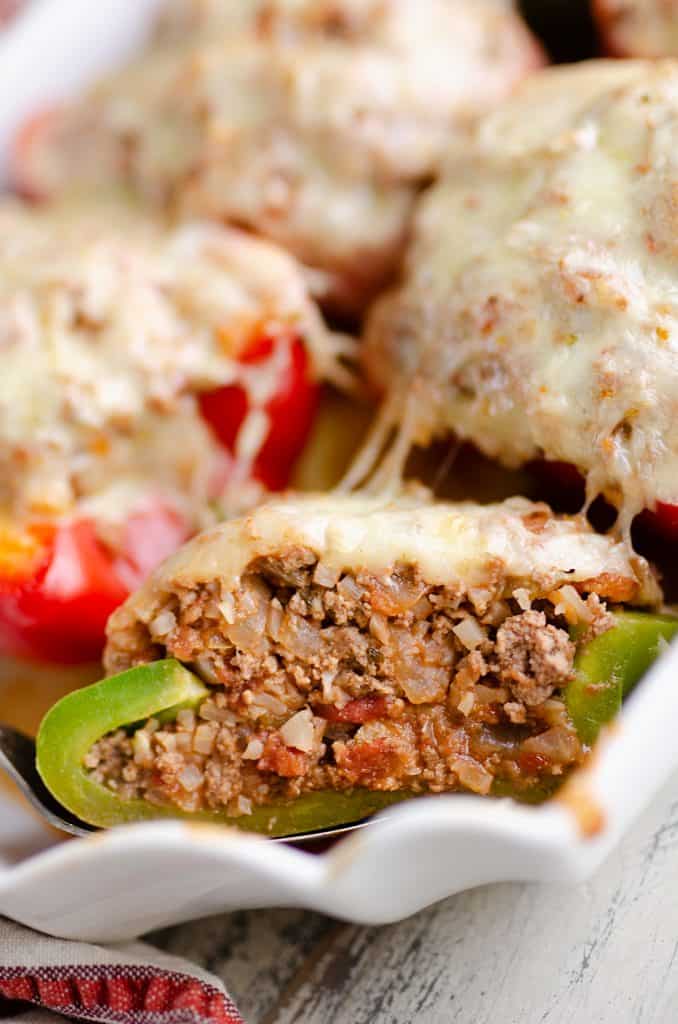 What is cauliflower rice?
If you have never had cauliflower rice, then this is your opportunity. Even some friends with kids who swore they hated cauliflower love riced cauliflower.
Riced cauliflower is made by either chopping cauliflower very finely – essentially to the size of a grain of rice. Or, you can use a cheese grater and grate the cauliflower to create the "grains" of cauliflower.
I personally opt for the frozen bag of riced cauliflower from Trader Joe's. It's quick and convenient and I just have to pop it in the microwave for a couple minutes.
For added flavor, you can brown the riced cauliflower briefly in a very hot saute pan with a bit of hot oil. This caramelizes the vegetable and gives it a nice texture that is very similar to rice. However, the similarities end there.
Cauliflower is super good for you! First, it lacks everything about white rice that isn't so good for you. It is low carb, high fiber, full of B vitamins, and choline which is good for the memory. Cauliflower is considered an anti-cancer food too because it is full of phytonutrients and antioxidants.
In short, cauliflower is awesome.
On the other hand, white rice is a high carb, low nutritional content food that is not recommended for people with health issues like diabetes.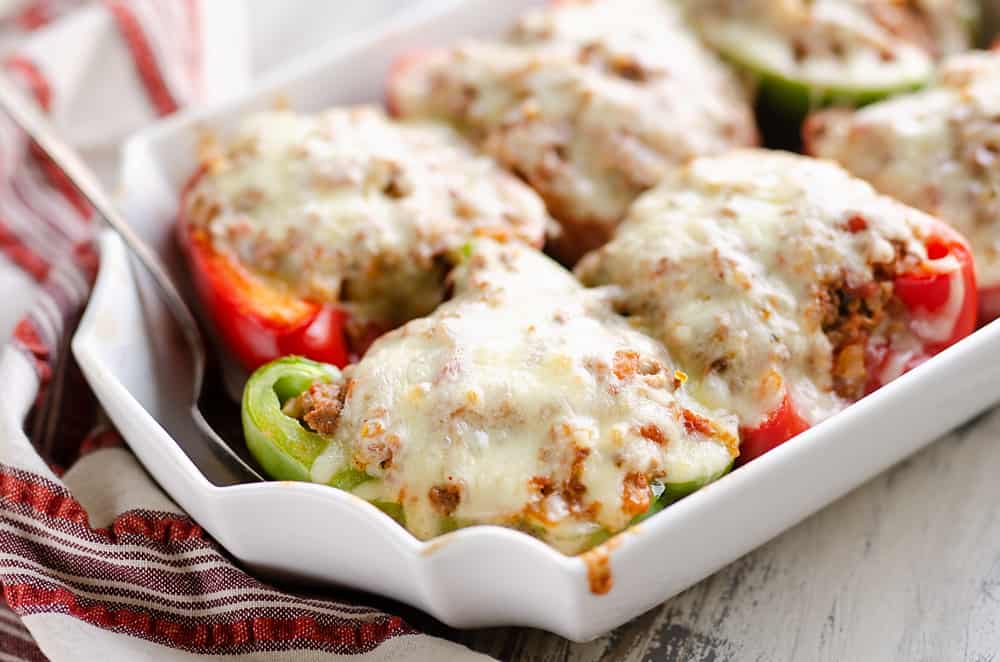 What puts the southwest in the southwest stuffed pepper?
Common to southwest cuisine, the seasonings cumin, coriander, and chili pepper put that southwest touch on this recipe.
In fact, the combination of those three ingredients is the spice equivalent of the three vegetables referred to as the "holy trinity" in Cajun cooking, namely green peppers, onions, and celery. Coriander, cumin, and chili powder play really well together.
You can actually find those three seasonings as the basic flavor profile used in Indian and Thai dishes too. So, tex-mex southwest style dishes don't have an exclusive on those seasonings by any means.
What is the difference between coriander and cumin?
A pretty common misconception is coriander and cumin are just different forms of the same thing. Actually, while coriander and cumin are both made from ground seeds, they come from two different plants.
They do taste a little similar. They even look sort of similar. But in terms of flavor, they are like a pair of twins that look just a tiny bit different but have a habit of finishing each other's sentences. In that sense, cumin and coriander complete each other.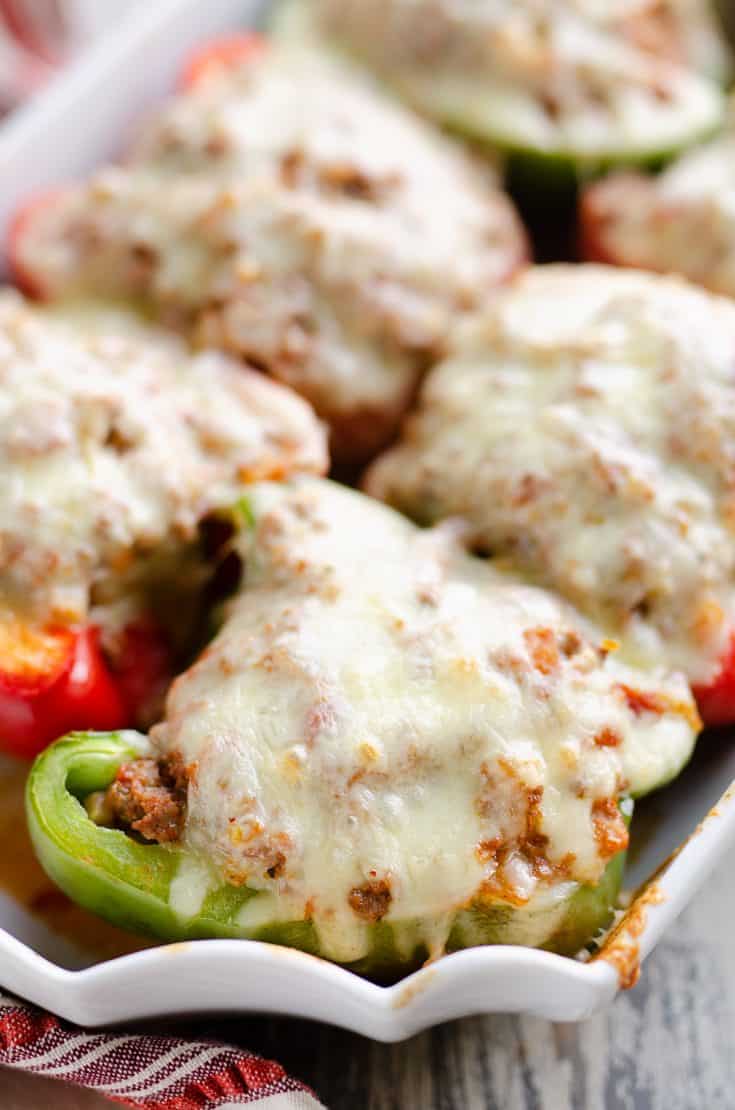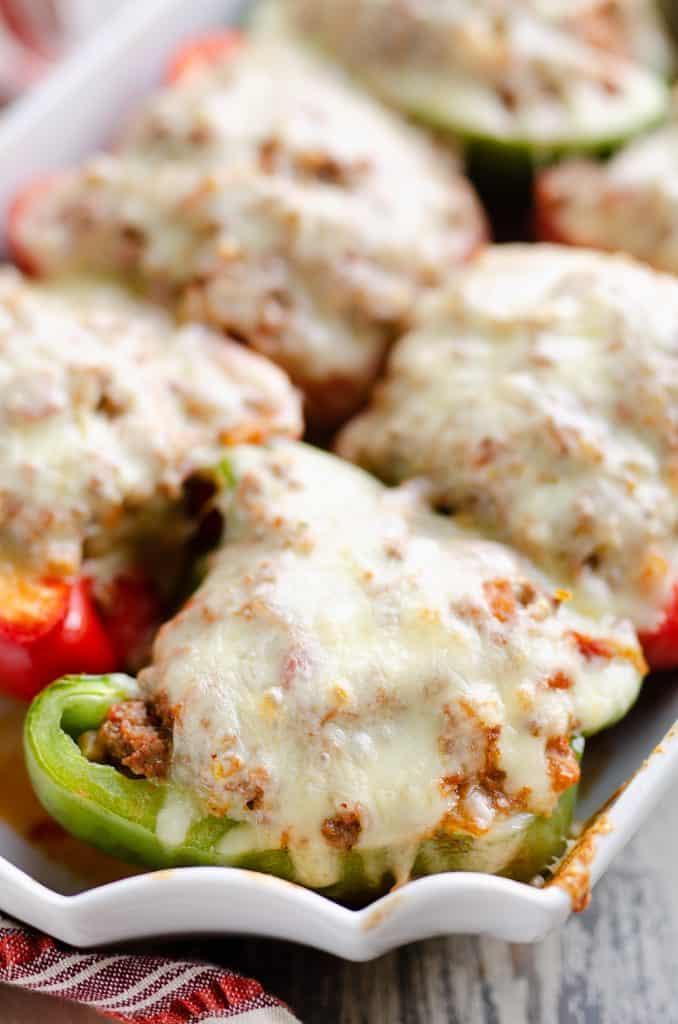 What kind of pepper do I use for this stuffed pepper recipe?
The recipe calls for bell peppers, but it is up to you if you want to use green, red, or yellow bells. You can use all three if you want to add some "mex" in terms of the color scheme.
Also, if you like a dash of heat, then feel free to try stuffing either a hatch, or poblano style pepper. Those add a touch of spice and you can stuff them as you would the bell peppers.
What should I serve with stuffed bell peppers?
The great thing about stuffed peppers? They kind of encompass a rounded meal all in one dish. You have the protein, carbs, meat and vegetables, all in one dish. You never think one will be filling but it typically is just that, very filling.
Of course, don't let that stop you from thinking about going with a side salad or an appetizer.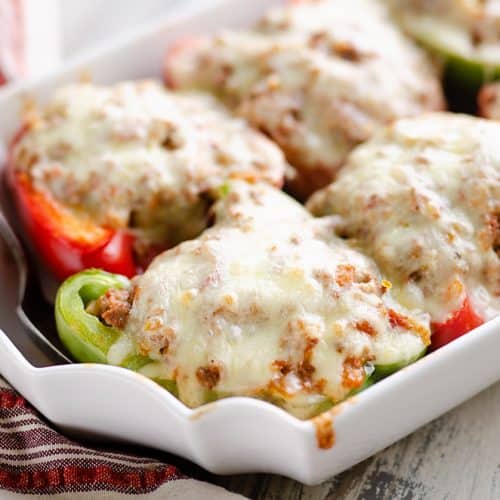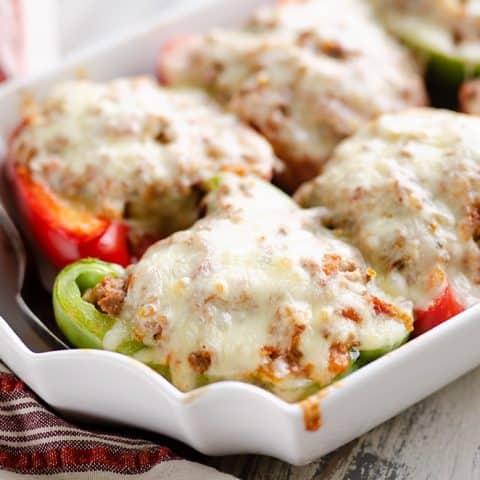 Low Carb Southwest Stuffed Peppers
Low Carb Southwest Stuffed Peppers are a hearty and healthy dinner recipe made with ground beef, riced cauliflower, pepper jack cheese, salsa and flavorful Mexican spices. With only 13g carbs per serving, they are a delicious keto recipe perfect for meal prep!
Ingredients
4 bell peppers
1 medium yellow onion, diced
1 lb. lean ground beef or turkey
1 tsp. granulated garlic
1 1/2 tsp. cumin
1/2 tsp. coriander
1/2 tsp. chili powder
10 oz. can Mexican Style Rotel
1 c. thick salsa
4 oz. can chopped green chillis
12 oz. package riced cauliflower
2 c. shredded pepper jack cheese
Greek yogurt (optional)
Instructions
Preheat your oven to 350°.
Cut your bell peppers lengthwise in half and remove all of the seeds. Place peppers cut side down on a greased baking sheet and bake for 20 minutes at 350°.
Meanwhile, in a large saute pan sprayed with non-stick spray, add diced onions. Cook for a few minutes until tender and add the ground beef, garlic, cumin, coriander and chili powder. Using a meat chopper, break up the meat so it is crumbled into small pieces.
Cook the cauliflower rice according to the package directions and add to the cooked meat along with the Rotel, salsa and green chilis. Stir until well combined and remove from the heat.
Spray a 9x13 pan with non-stick spray and arrange the bell pepper halves in the pan, cut side up. Spoon the meat and rice mixture into the pepper halves heaping full, and top each pepper with 1/4 c. shredded cheese.
Bake for 20 minutes at 350°. Remove from the oven and serve warm with a dollop of Greek yogurt and additional salsa.
Recommended Products
As an Amazon Associate and member of other affiliate programs, I earn from qualifying purchases.
Nutrition Information:
Yield:

8
Serving Size:

1
Amount Per Serving:
Calories:

351
Total Fat:

19g
Saturated Fat:

9g
Trans Fat:

0g
Unsaturated Fat:

7g
Cholesterol:

97mg
Sodium:

715mg
Carbohydrates:

13g
Fiber:

3g
Sugar:

6g
Protein:

33g
Provided nutrition data is only an estimate. If you are tracking these nutrients for medical purposes, please consult an outside, trusted source.