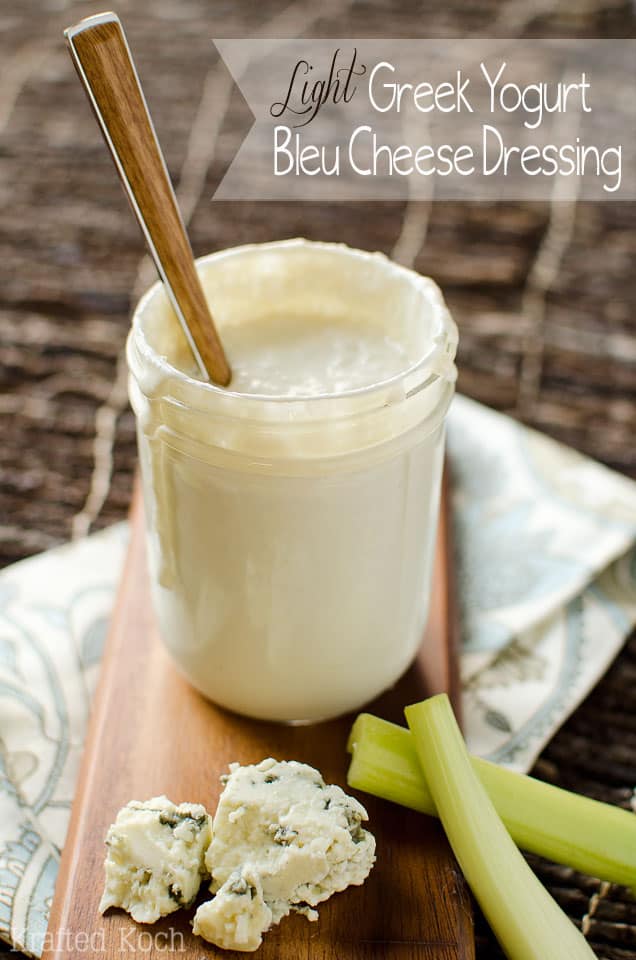 Light Greek Yogurt Bleu Cheese Dressing is a light and easy way to enjoy bleu cheese dressing. Unlike the traditional bleu cheese dressing that you will often find in stores, which are thick and calorie laden, this dressing is lighter and provides the perfect amount of flavor for any salad. It doesn't weigh down a salad and overpower the delicate greens, but accents them beautifully. My favorite part of the dressing is the surprise from celery that provides a hint of freshness which always pairs well with bleu cheese.
I rarely every buy store-bought dressings anymore, as homemade ones can be made so easily and taste so much better. The only problem with them, is that I often find myself making far more than I will ever consume before it goes bad. While you can store bottled dressings in the fridge for years, a fresh dressing will go bad in a couple of weeks. The fact that a creamy dressing can last for years, should be reason enough not to eat it. The amount of sodium and preservatives must be through the roof.
I usually make a homemade dressing and enjoy it on a salad or two and then move on to the next new thing I am interested in. This Greek yogurt bleu cheese definitely held my attention though. Every day, I was inventing new and different ways to enjoy it until the precious jar of dressing had disappeared. Whether it was on a salad or with chicken strips, I loved every last drop of it!
Despite me making the mistake of preparing too much dressings, that doesn't mean it needs to be a problem. One of the greatest parts of homemade dressings is that you can make as much or as little as you want. So. if you plan on only making a single salad just for yourself or a pair for you and a friend, cut this recipe down accordingly. Just a friendly warning though, you might want to make extra, because you will be craving more!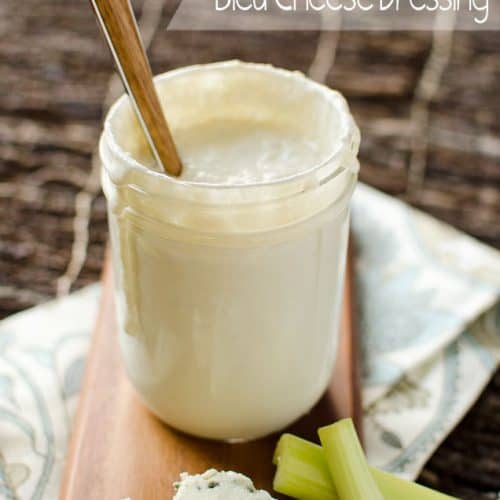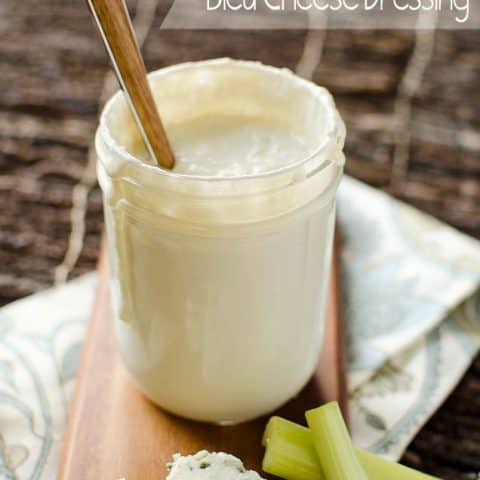 Light Greek Yogurt Bleu Cheese Dressing
A tangy bleu cheese dressing lightened up with Greek yogurt.
Ingredients
1 c. non-fat plain Greek yogurt
2 Tbsp. light mayonaisse
1/4 c. skim milk
1 tsp. worchestire sauce
1/2 tsp. champagne vinegar
1/2 c. bleu cheese crumbles
1/3 c. chopped celery
1/4 tsp. salt
pinch of pepper
Instructions
Place all of the ingredients in a blender or a pint jar with immersion blender and blend until smooth. Store sealed in the refrigerator for up to 10 days.
This makes a thin dressing. If you prefer a thicker dresssing, leave out the milk.
Nutrition Information:
Yield:

2
Serving Size:

1 grams
Amount Per Serving:
Unsaturated Fat:

0g
Nutrition Facts
Serving Size 1/4 c.
Servings Per Container 8
---
Amount Per Serving
Calories 55
Calories from Fat 27
% Daily Value*
---
*Percent Daily Values are based on a 2,000 calorie diet. Your daily values may be higher or lower depending on your calorie needs.
More great dressings!