Light Coconut Cream Easter Bunny Cupcakes are a fun and healthy spring dessert recipe. Lightened up cupcakes are topped with bunny ears made from fruit, for a holiday treat kids and adults will LOVE!
This post brought to you by Bakery Crafts. The content and opinions expressed below are that of The Creative Bite.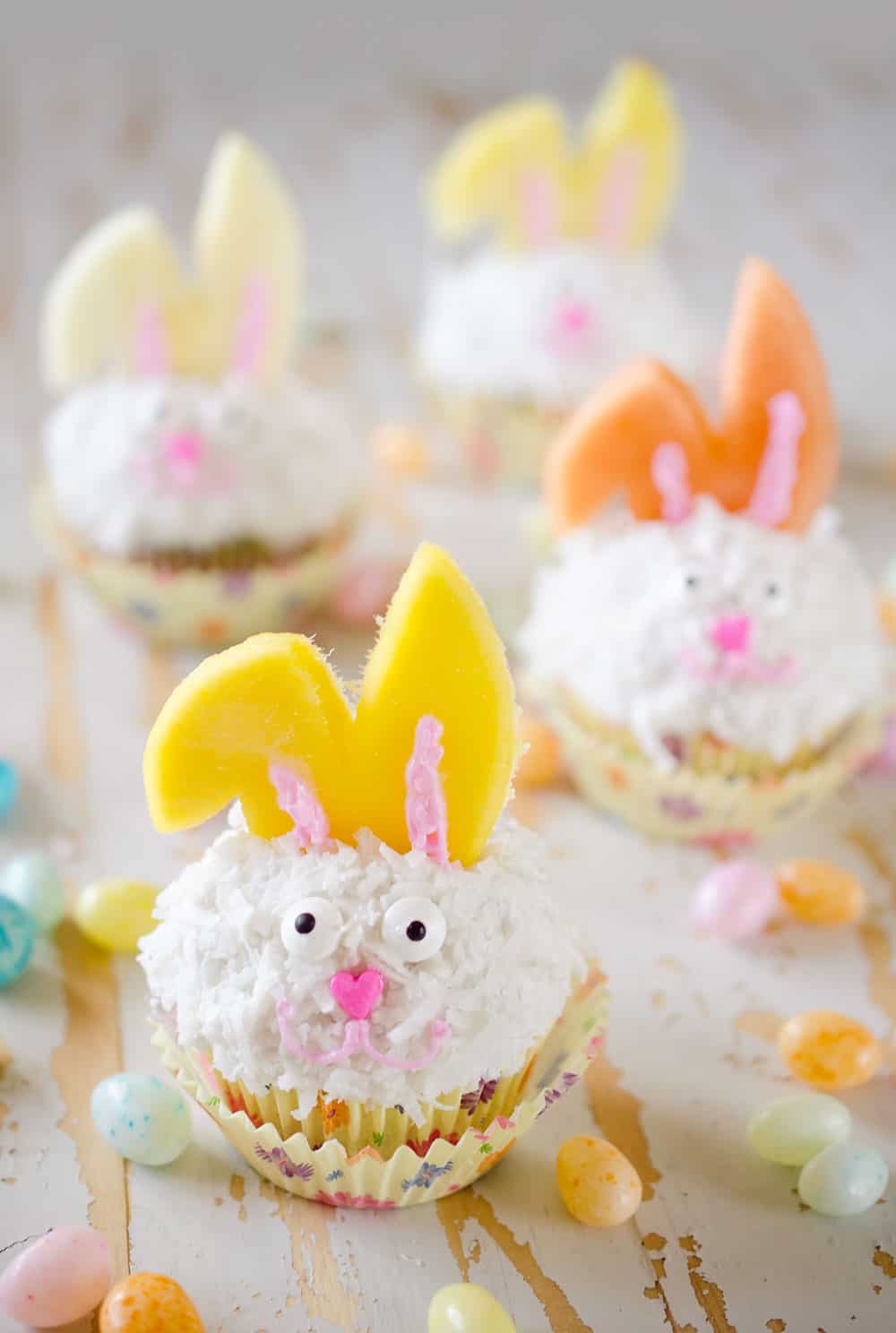 Light Coconut Cream Easter Bunny Cupcakes
I found this adorable Easter Bunny Cookie Cupcake Decoration Kit
from Bakery Crafts on Amazon, but you can also pick one up at Walmart in the Easter Holiday aisle. With Easter quickly approaching it is time for me to start getting my game plan together for the holiday meal. I am hosting dinner on Easter Weekend, so I wanted to whip up a fun and festive treat for everyone to enjoy.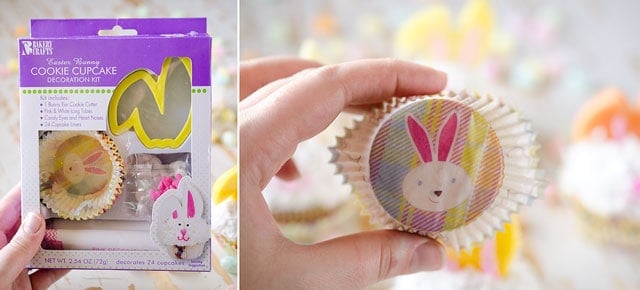 I could have made some regular cupcakes with decorated cookies on top, but I wanted to change it up. I kept these cupcakes light using coconut milk, coconut oil, honey, egg whites and a variety of fresh fruit, including mango, cantaloupe, apple and pineapple. You could use just about any firm fruit for the ears that you can get a 1/4″ thick slice from with at least a 3″ diameter.
Use the leftover pieces to toss together for an easy fruit salad with your Easter dinner! Honeydew and watermelon would also work great and add more color and variety to the fluffle. 🙂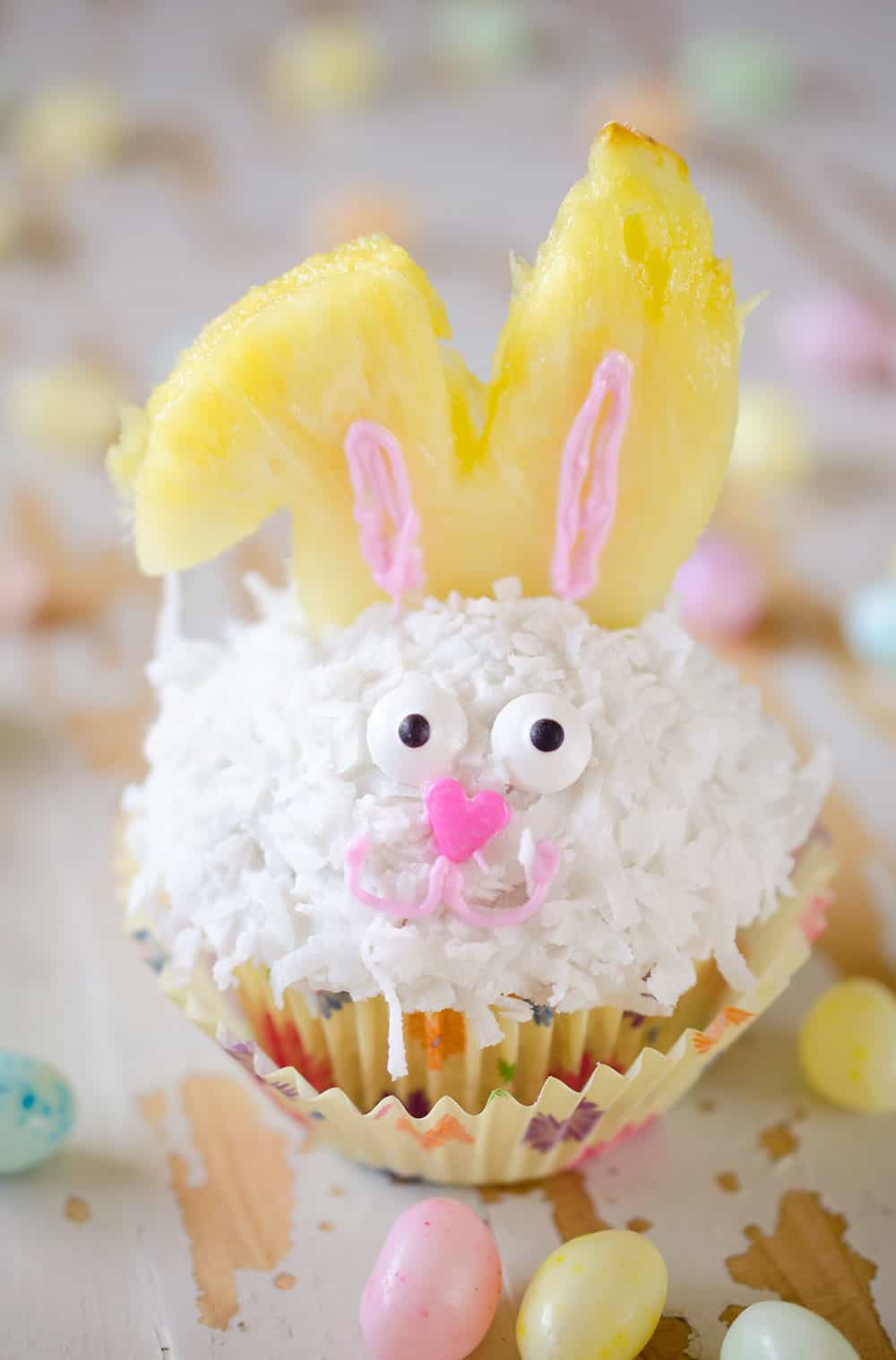 By keeping this holiday treat light, everyone can snack on one of these cute Easter bunnies after dinner totally guilt-free!


If you are looking for more fun and creative holiday ideas, be sure to Like Bakery Crafts on Facebook and Check out Bakery Crafts on Pinterest They offer so many more cute kits like this Easter Hatching Chick Cupcake Kit.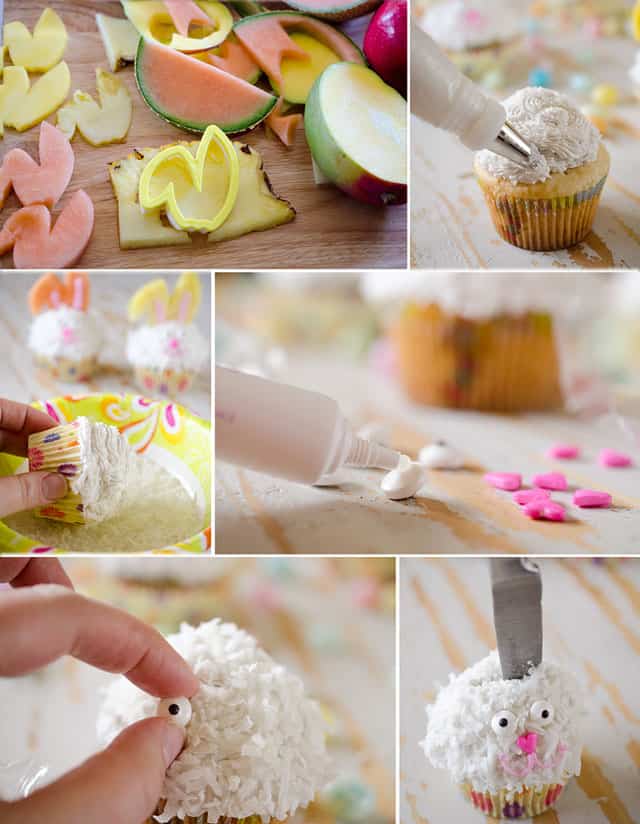 I can't wait to see all my family and share these amazing cupcakes with them over Easter weekend. Do you have any big plans for Easter? If so, do you have a special food or tradition you enjoy every year? In our family, we have a great time hiding Easter eggs for the little ones. They are quite adorable as they rummage through the house in search of candy filled plastic eggs!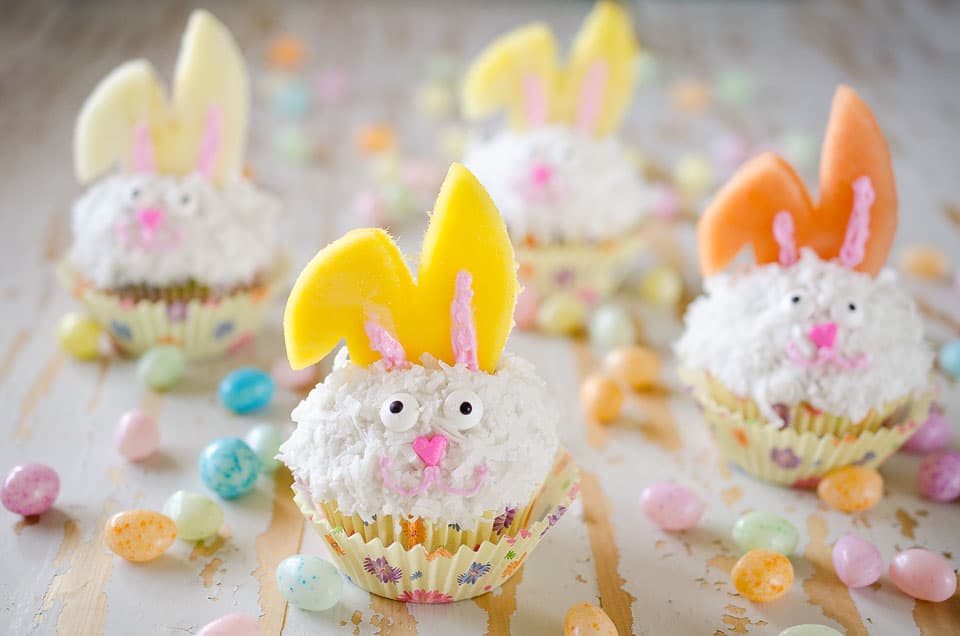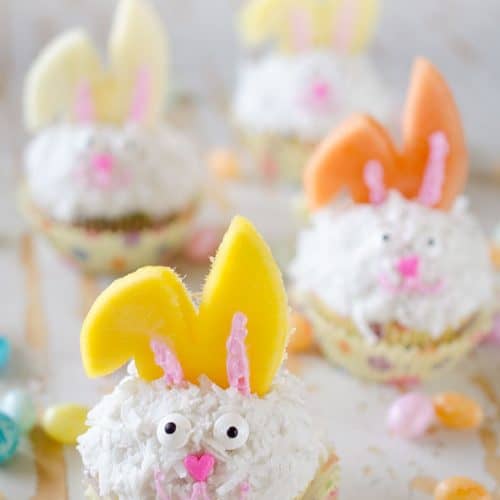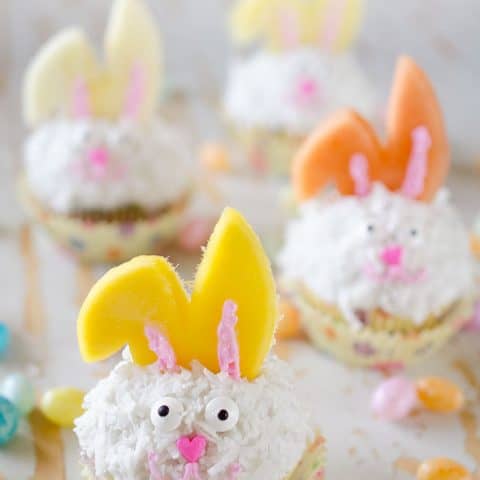 Light Coconut Cream Easter Bunny Cupcakes
Light Coconut Cream Easter Bunny Cupcakes are a fun spring recipe lightened up with coconut cream cupcakes topped with bunny ears made from fruit, using Bakery Crafts Easter Bunny Cookie Cupcake Decoration Kit.
Ingredients
1 box of white cake mix
2 cans full fat coconut milk, I used Thai Kitchen brand
4 egg whites, beaten
1/2 c. coconut oil
1/2 c. shredded coconut
1 Tbsp. honey
1 tsp. vanilla extract
1 pineapple
2 apples
2 mangoes
1 cantaloupe
Instructions
Place two cans of full-fat coconut milk in the refrigerator over night upside down. This allows the coconut fat to separate from the milk.
Preheat the oven to 350°.
After the cans of coconut milk have chilled, turn them upright and open. Pour 1 1/4 cups of the coconut water into a large mixing bowl. Discard the remaining coconut water and set the coconut cream back in the refrigerator.
To the large bowl, add the egg whites and cake mix. Melt the coconut oil in the microwave for 10-20 seconds, or just until in a liquid state. Add to the cake mix and beat until the mixture is smooth.
Scoop the cake batter into 24 lined cupcake tins. Bake for 18-22 minutes, or until a toothpick inserted in the center of the cupcake comes out clean. Set the cupcakes on a wire rack, allowing them to cool.
Meanwhile, scoop the coconut fat out of the cans and add it to a medium mixing bowl along with the honey and vanilla. Beat on high for 5-10 minutes, or until the mixture is light and fluffy. Spoon the mixture into a piping bag and return to the refrigerator.
Pipe a generous layer of coconut cream on the top of each cupcake. Dip the tops into a small bowl of the shredded coconut, being sure to coat all sides of the coconut cream.
Using a small paring knife, make a 1 1/2 inch deep slit in the top center of each cupcake.
Attach the eyes and nose with the small tubes of icing included in the kit and make a mouth using the large bag of pink frosting.
Cut your variety of fruit into 1/4" thick slices with a minimum of a 3" diameter. Using the included cookie cutter, press firmly on the fruit to create the ears for the bunny.
Insert the ears into the slit on the tops of the cupcakes right before serving. Using the pink icing, add the inside ear detail. Serve immediately!
Nutrition Information:
Yield:

24
Serving Size:

1 grams
Amount Per Serving:
Calories:

184
Total Fat:

10g
Saturated Fat:

8g
Unsaturated Fat:

0g
Sodium:

145mg
Carbohydrates:

21g
Sugar:

12g
Protein:

1g