Light Chocolate Zucchini Muffins – A healthy breakfast or snack you can feel good about with zucchini, coconut oil, Greek yogurt and honey that will satisfy your chocolate craving.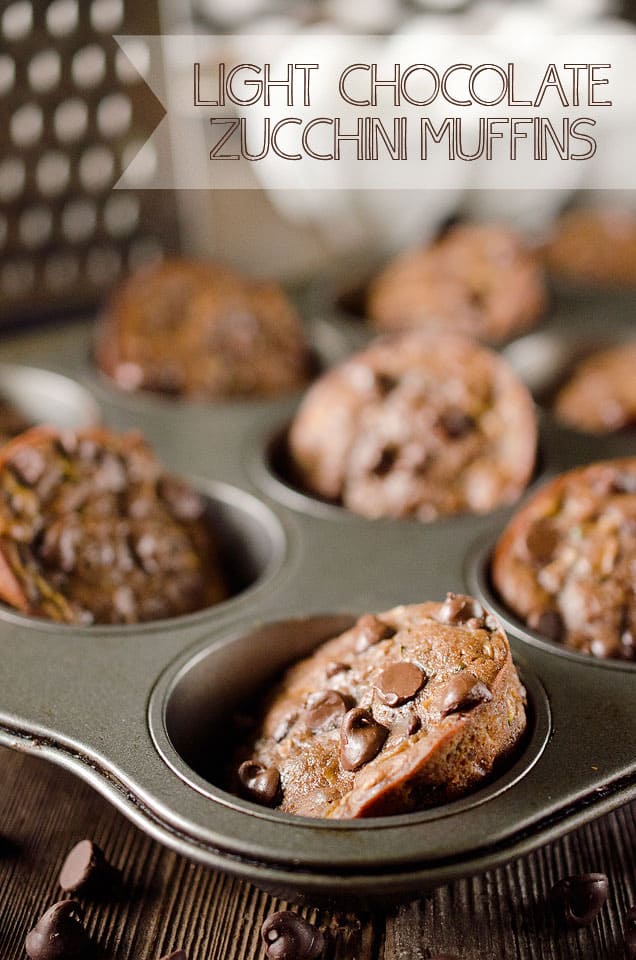 This last weekend was a complete whirlwind. It was my last official 4 day weekend from my summer hours and I made the most of it. Saturday was the end-of-season tournament for our women's softball league. This is always a fun day as well as hot and humid! We got some relief from the heat this year with cloud cover, but my pale self burnt to a crisp. I was wanting some color, but not quite that much!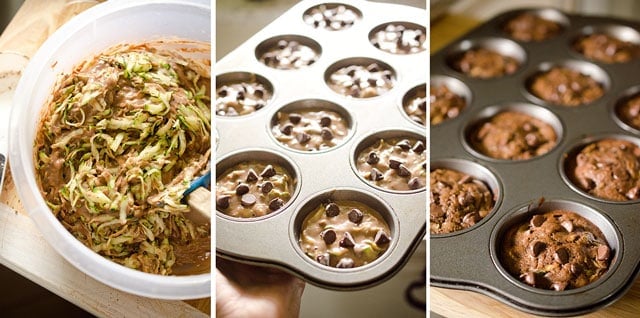 Our team did alright in the tournament. My goal was just not to be knocked out in two games with double elimination. We succeeded in that and almost pulled off a second victory. We stayed close all game and even had a lead going into the seventh inning. It was looking good, that is until I fell apart pitching. My wrist started to fatigue from my underhand pitching and I got in my own head. I am the worse at that!
Once I start thinking I can't do it, I am as good as done. I know this about myself, so in the middle of the last inning I pulled myself from pitching, but it was too late. We weren't able to recover with our bats, so we ended our tournament and enjoyed the rest of the day watching the other teams.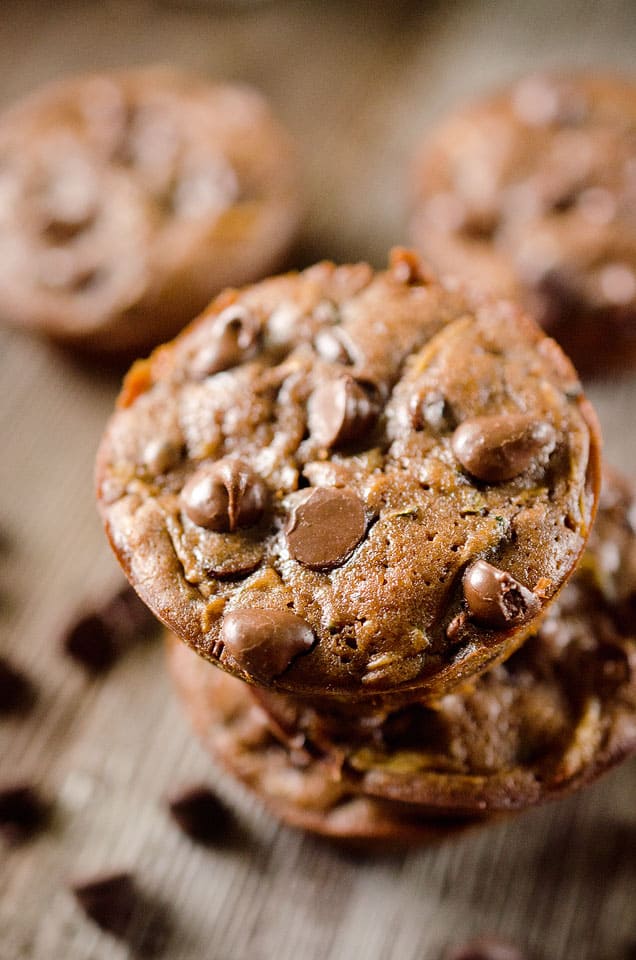 On Sunday my sister came home to surprise my parents for their 40th wedding anniversary. We went out to dinner at a nice restaurant on the lake and gifted them something special for making it 40 years! That is a really long time, it is hard to imagine myself in 35 more years. I wonder where life will take me?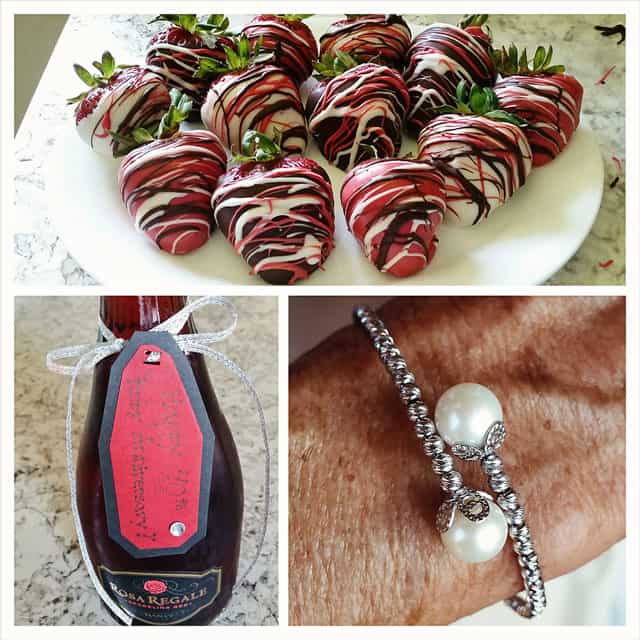 We didn't think my mom was much of a ruby person, so we opted for pearls instead. We tied in the ruby with a rose sparkling wine and some chocolate covered strawberries we made. Men are just too difficult to buy for. We struggled to come up with a gift idea for my dad. For a minute we thought it would be cool to buy him a 40 year old wine…until we realized it would cost over $500! Haha…never mind. 😉 All in all they were excited we celebrated the day with them and we look forward to them being around at LEAST 10 more years to celebrate their 50th!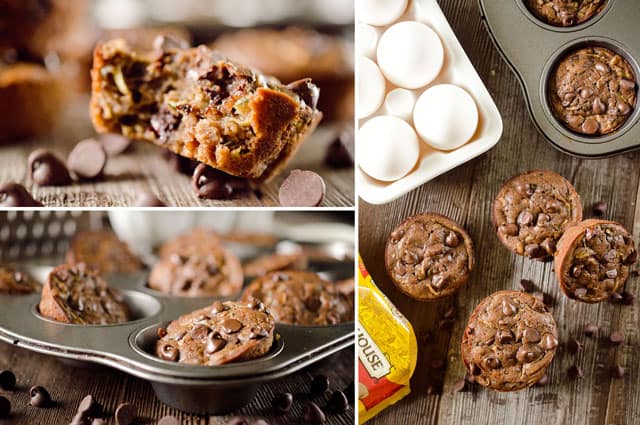 I spent Monday cleaning up the house and preparing for a dinner party I was hosting on Tuesday evening. Every month or two a bunch of us local photographers get-together to talk shop and sometimes even take each others' photos. It is always a great time.
Typically we meet at a restaurant or someone's studio, so I decided to host it at my house this time. As you are probably aware, I love cooking, so it was a blast planning a full meal for everyone. I served a bruschetta bar to start, which was so good. I will be sure to share that with you in a future post. We headed outside between courses and took advantage of the amazing sunset that evening for some portraits of one another.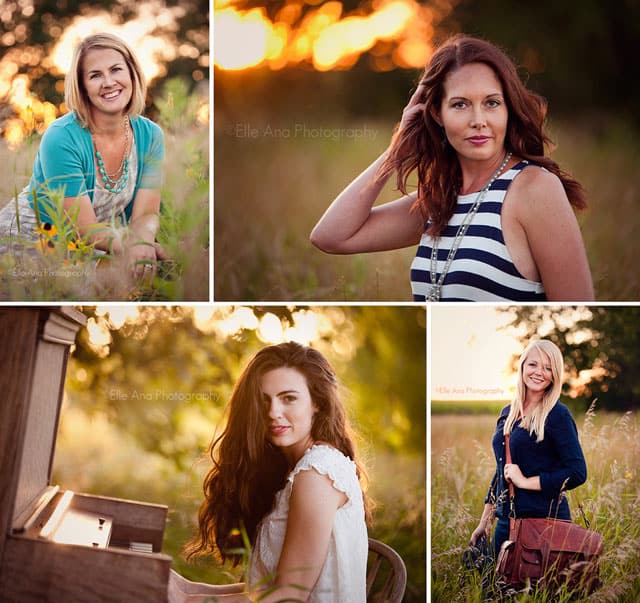 These are just a few of the beautiful ladies who attended that I had a chance to photograph. They are really such a fun and honest group of ladies, which makes it not only fun but an educational time getting together with them. That piano in the bottom left photo is the piano I grew up learning how to play on. During our house remodel it made it out to my grove of trees for the sole purpose of using it for photography. 🙂
As everyone started to head out around 10-11pm I looked around my kitchen at the disaster I had created. I am seriously the messiest cook. I don't know how not to be?! I stared at the mess for about 10 minutes wishing it away. I then contemplated being a complete slacker and just leaving it for the next day. I decided it was best not to procrastinate, because I would just be faced with it when I got home from work the next day. I sucked it up and cleaned up the mess. It was completely worth it though. I had a great time hosting these ladies and can't wait until our next get-together.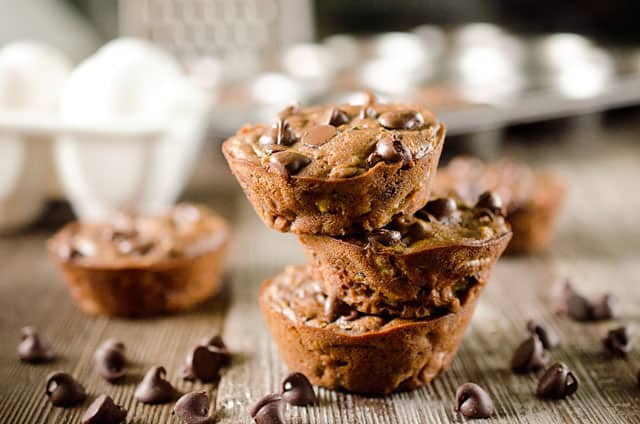 The next morning I was feeling rather sluggish as I got up early to head to work. Thank goodness I had some of these Light Chocolate Zucchini Muffins to get my morning started right! They are so decadent with the chocolate chips but I can feel good about enjoying one for breakfast or a mid-afternoon pick me up. You can make a batch ahead of time and freeze them so you always have a last-minute breakfast on hand.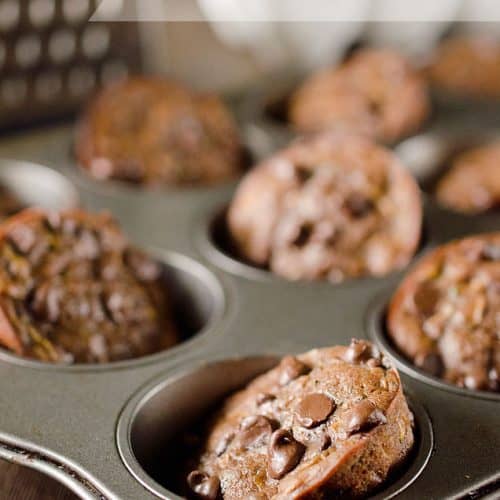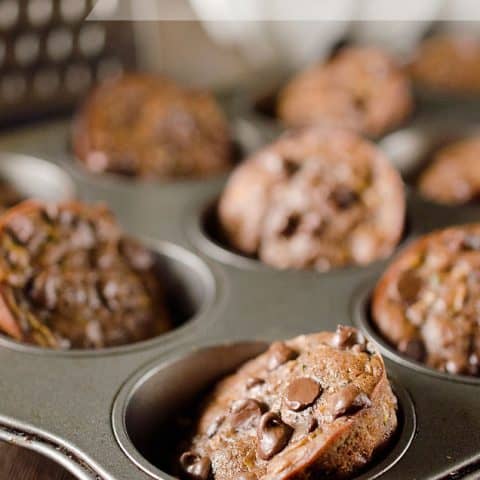 Light Chocolate Zucchini Muffins
Light Chocolate Zucchini Muffins - A healthy breakfast or snack you can feel good about with zucchini, coconut oil and honey that will satisfy your chocolate craving.
Ingredients
1 egg
1 egg white
1/3 c. brown sugar
1/4 c. honey
1/3 c. non-fat plain Greek yogurt
1/4 c. coconut oil, melted
1 tsp. vanilla extract
2 1/4 c. zucchini shredded & squeezed dry
1/4 c. cocoa powder
1 c. flour
1 tsp. baking powder
1/4 tsp. salt
1/2 c. chocolate chips
Instructions
Preheat your oven to 400°. Spray one muffin pan with non-stick cooking spray.
In a large bowl, beat the eggs, brown sugar, honey, yogurt, vanilla & melted oil. Fold in the zucchini that you have squeezed dry of any excess moisture using paper towels.
In a separate bowl, mix the cocoa powder, flour, baking powder & salt. Add to the wet ingredients and mix until just combined.
Fold in the chocolate chips and scoop a heaping 1/3 c. of the mixture into each muffin tin. Bake at 400° for 20-25 minutes, or until a toothpick inserted in the center comes out clean.
Nutrition Information:
Yield:

1
Serving Size:

1 grams
Amount Per Serving:
Calories:

189
Total Fat:

8g
Saturated Fat:

6g
Unsaturated Fat:

0g
Cholesterol:

16mg
Sodium:

280mg
Carbohydrates:

28g
Fiber:

1g
Sugar:

17g
Protein:

4g
More healthy breakfast ideas!