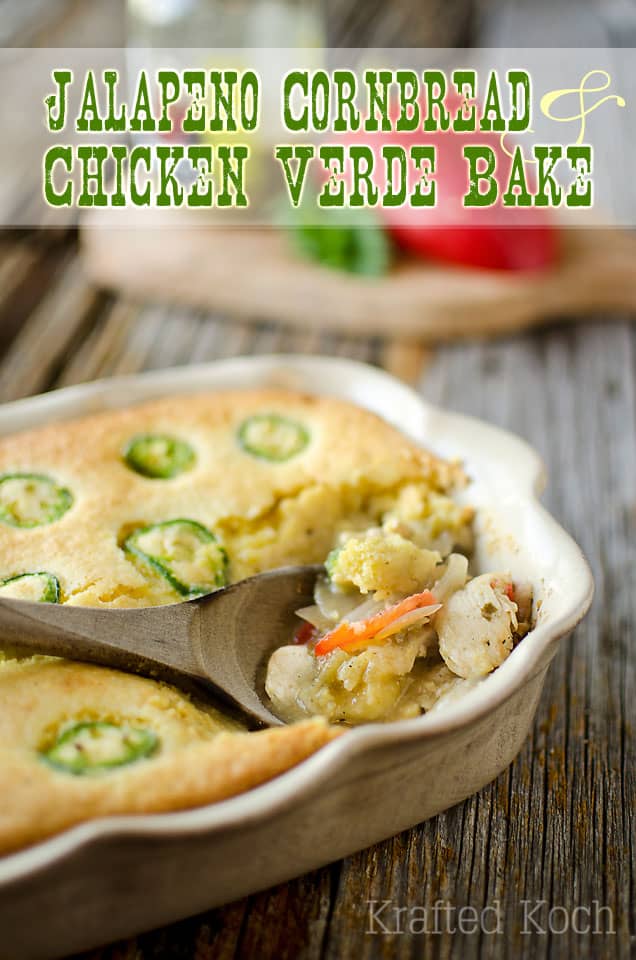 Sometimes I am craving something hearty, but don't want it to break the proverbial bank when it comes to nutritionn. This Jalapeno Cornbread & Chicken Verde Bake is a delicious comfort food, loaded with flavor but not the fat and calories. A simple mix of chicken breasts, vegetables and salsa verde is topped with a jalapeno cornbread to make an easy casserole that the whole family will enjoy. I'm not always a big fan of preparing an entree with separate side dishes such as a vegetable and a starch. That is why I love this dish, because it hits all of your important food groups in one simple dish!
My Dad and husband are in full swing working on the farm right now. I might be wrong, because I honestly don't pay all that much attention to the day to day activities on the farm, but I think it is bailing season at the moment. Yes, yes, I am a horrible farm wife as my mother is sure to remind me of. 🙂 Times have changed though, and it isn't my only job to take care of the household and give the guys rides to the fields. (Thank goodness my mom is willing and able to do that!) I have a full-time job and photography business to keep up with, so I am preoccupied keeping all my irons organized in the fire and have less time to worry about what particular crop or custom job the guys are working on.
With my husband being gone from early morning to late evening, I am often cooking for myself. (We'll pretend for a minute that I cater to him during the rest of the year! haha Ya right!) Don't worry though, my husband is getting fed well by my mother on the main farmstead. Casseroles like these are great though, because they can easily be re-heated later in the evening when my husband gets home or packed up for my lunch the next day.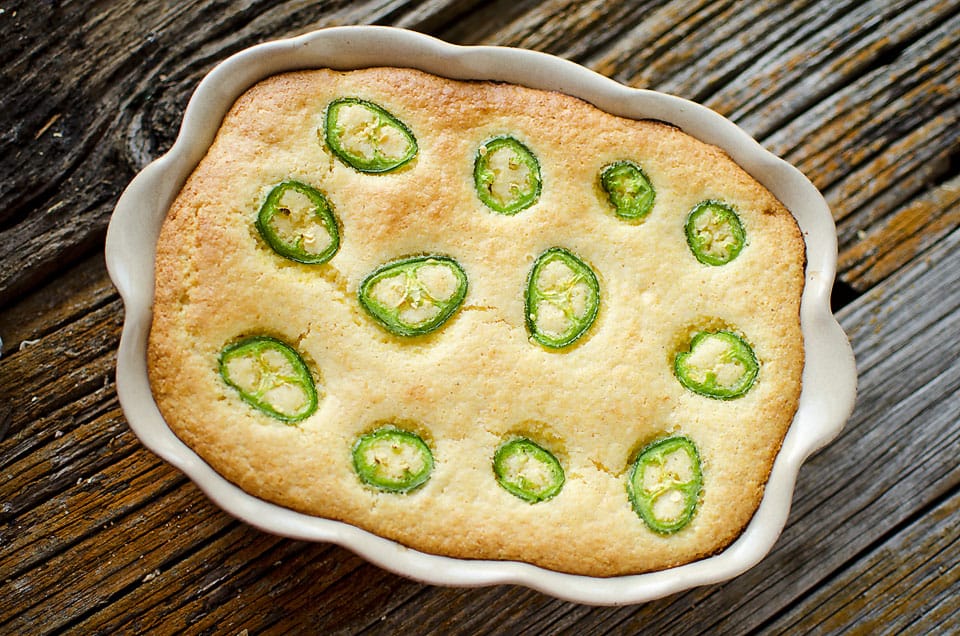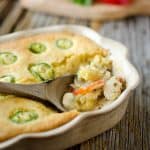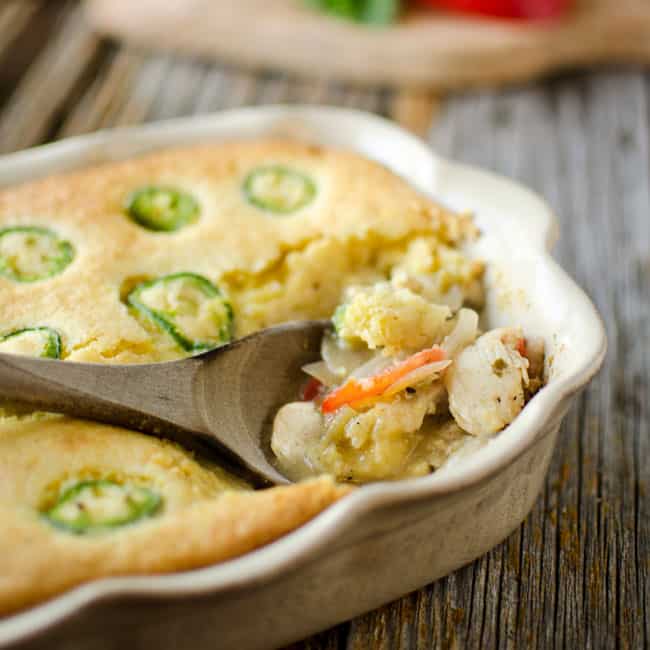 Print Recipe
Jalapeno Cornbread & Chicken Verde Bake
A simple and flavorful casserole with chicken, vegetables, and salsa verde topped with a hearty jalapeno cornbread and a dollop of plain Greek yogurt.
Ingredients
1

lb.

chicken breasts cubed

1

med. onion diced

1/2

red bell pepper diced

1

jar 16oz. salsa verde

1

jalapeno

1

box jiffy cornbread mix

1/3

c.

skim milk

1

egg

Plain Greek Yogurt or sour cream

Cilantro or Parsley for garnish

optional
Instructions
Preheat your oven to 350°.

Spray a large saute pan with non-stick spray and over high heat, cook your chicken, bell pepper and onions. Once the chicken is cooked through after about 4-6 minutes, add the jar of salsa verde and remove from the heat.

Pour the mixture into a sprayed 9"x9" baking pan.

In a separate bowl, stir together the jiffy cornbread mix, milk and egg until well combined. Pour this mixture on top of the chicken and vegetables.

Thinly slice the jalapenos into circles and use them to top the cornbread mixture.

Bake for 25-30 minutes until the cornbread is set.

Serve warm with a cool dollop of sour cream or plain Greek yogurt and sprinkle with cilantro or parsley.
Nutrition Facts
Serving Size 1/6 of pan
Servings Per Container 6
---
Amount Per Serving
Calories 318
Calories from Fat 72
% Daily Value*
Total Carbohydrate 32g
11%
---
*Percent Daily Values are based on a 2,000 calorie diet. Your daily values may be higher or lower depending on your calorie needs.
Looking for more great meals that are hearty and healthy?
Light Chipotle Chicken & Rice Stuffed Peppers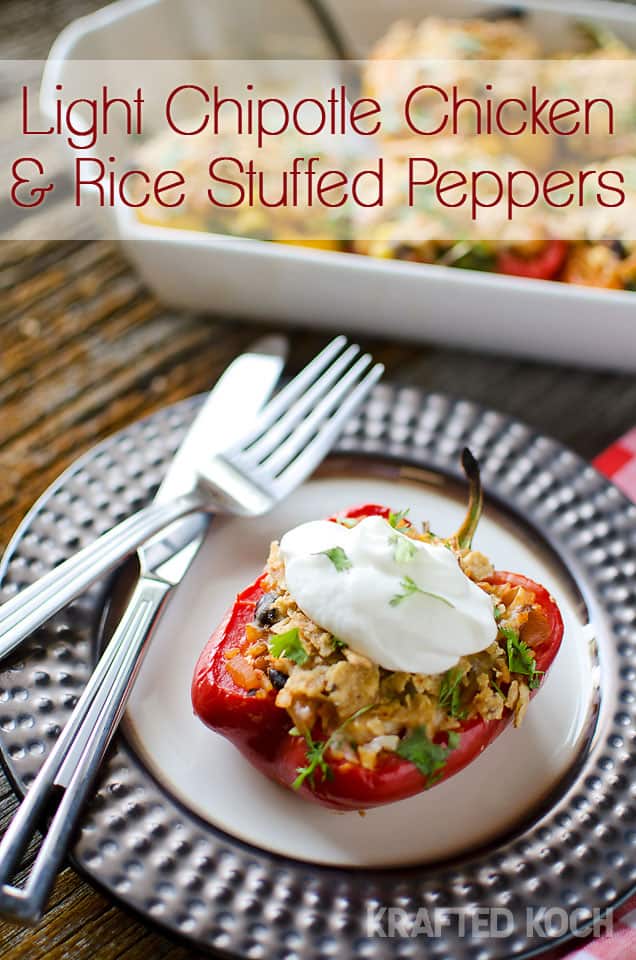 Tortilla Crusted Fish Tacos with Avocado Crema
Cheddar Dijon Baked Pretzel Chicken Tenders