Learn how to bake bacon in the oven for a foolproof method to cook perfectly crispy bacon every time without the kitchen mess!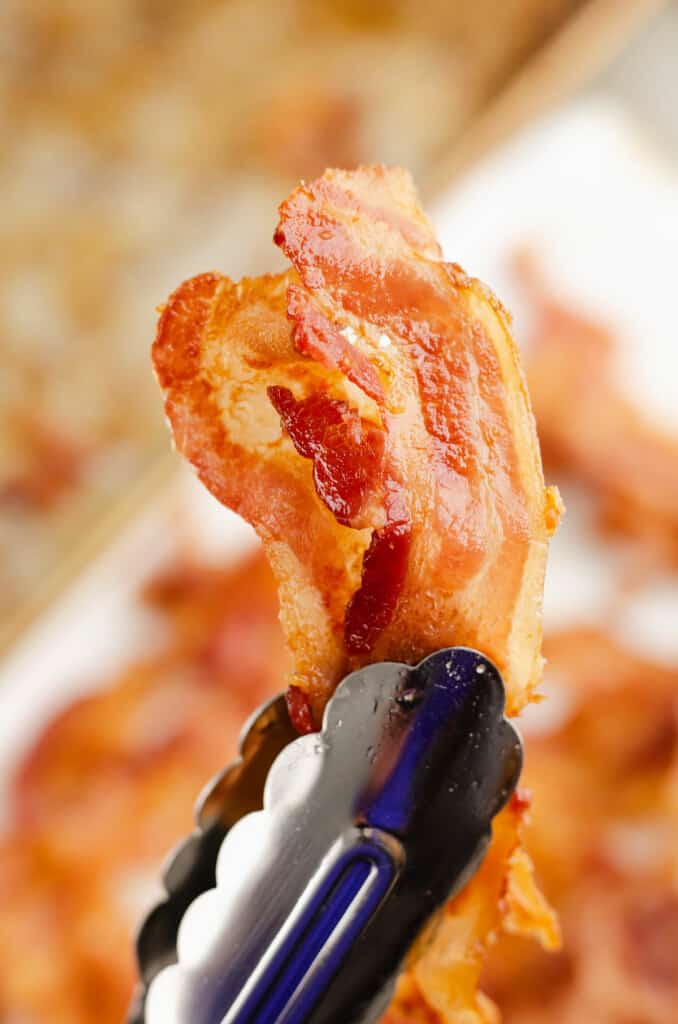 Oven Baked Bacon
There is no better way to cook bacon than in the oven! It eliminates so much of the kitchen mess that bacon can create and gives you a consistently crispy piece of bacon every time.
Who doesn't love bacon?! It's a universally well loved food and for good reason. The only downside to bacon is the bacon grease that can splatter from your fry pan. Not only does it make a mess, but if you aren't careful it can burn!
We have all had that stray splatter of grease catch our arm or hand unexpectedly and cursed it's name. No more! Bake your bacon on a sheet pan and make your life easier. The result is wonderfully crispy bacon that is cooked consistently.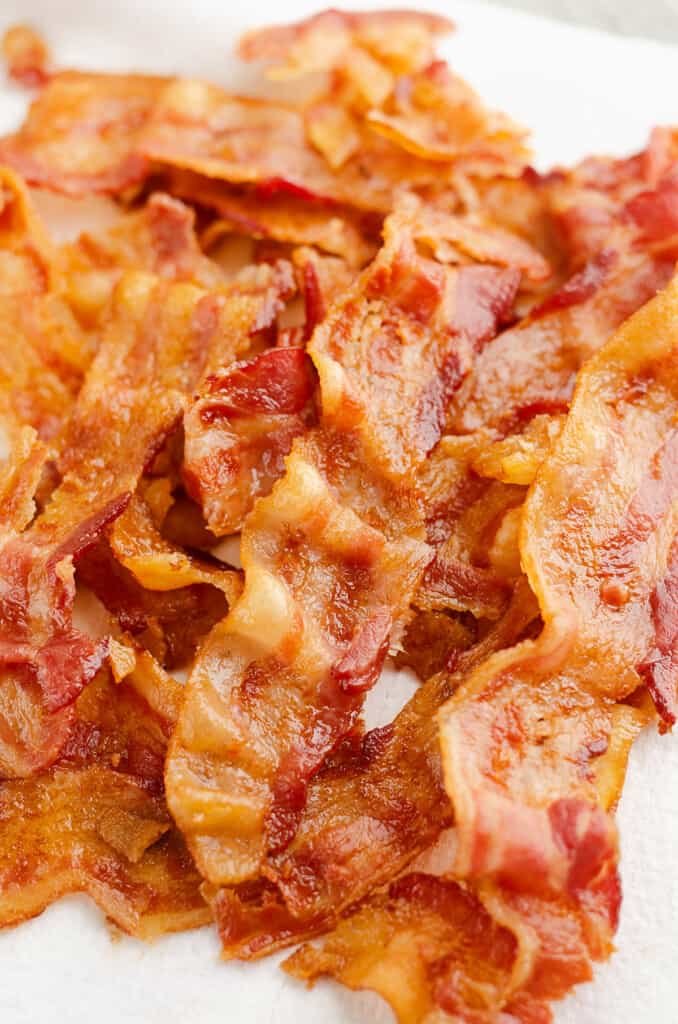 How to Bake Crispy Bacon
If you love your bacon perfectly crispy like we do, then this oven baked bacon will be your go-to recipe for the rest of time! All you need to bake bacon is a rimmed sheet pan and an oven.
Preheat oven to 400°F.
Arrange bacon on a rimmed sheet pan.
Cook bacon for 15-20 minutes, or until it reaches our desired crispiness. There is no need to flip the bacon at any point.
Remove bacon from the oven with tongs and place on a paper towel lined plate.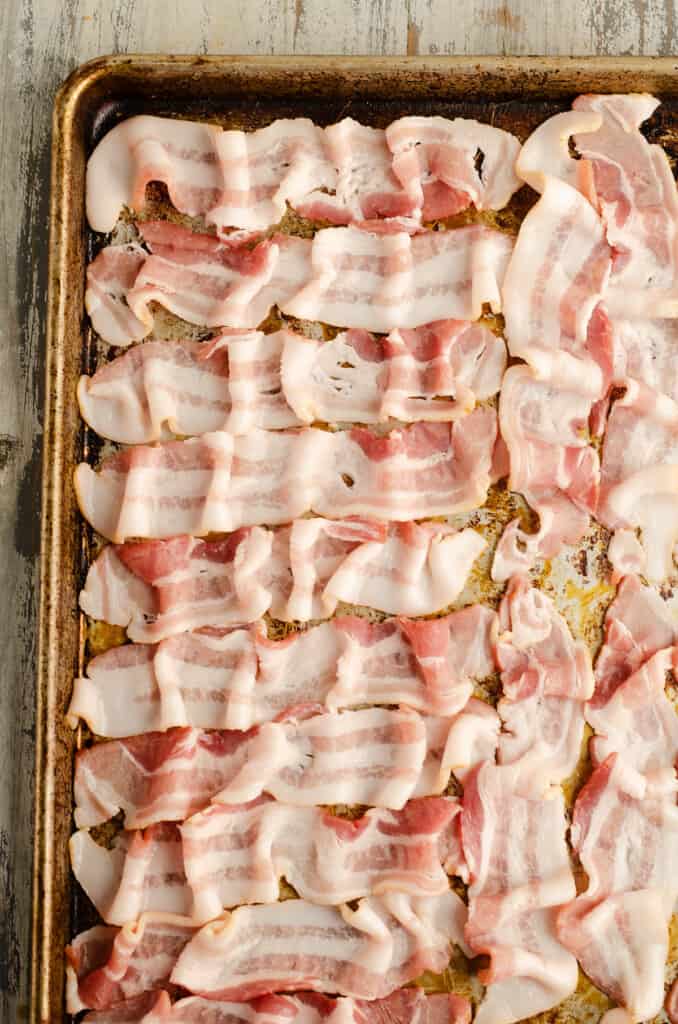 Tips for the Best Baked Bacon
Skip the cooling rack and parchment. We are keeping things as easy as possible here. No need to add additional cleanup or dishes. Parchment paper isn't keeping all the bacon grease off your pan anyways, so it doesn't serve much of a purpose. It can also cause the bacon to stick to the paper. The cooling rack, while allowing the fat to drip off the bacon, doesn't really result in any crispier bacon in our experience.
To fit a full pound of bacon on a single sheet pan, scrunch the bacon up a little lengthwise. The bacon is going to shrink up as it bakes anyways, so keep your bacon mess to one pan and avoid additional dishes by crowding the bacon on a single pan a bit. You will still get wonderfully crispy bacon as it shrinks and the fat melts off of it.
Baking bacon works great for thin cut or thick cut bacon. Your cooking times will just vary based on how thick your bacon is and how crispy you want it.
This easy recipe for no-flip bacon allows you to keep your hands off. No need to flip the bacon or rotate your pan, unless your oven doesn't bake evenly.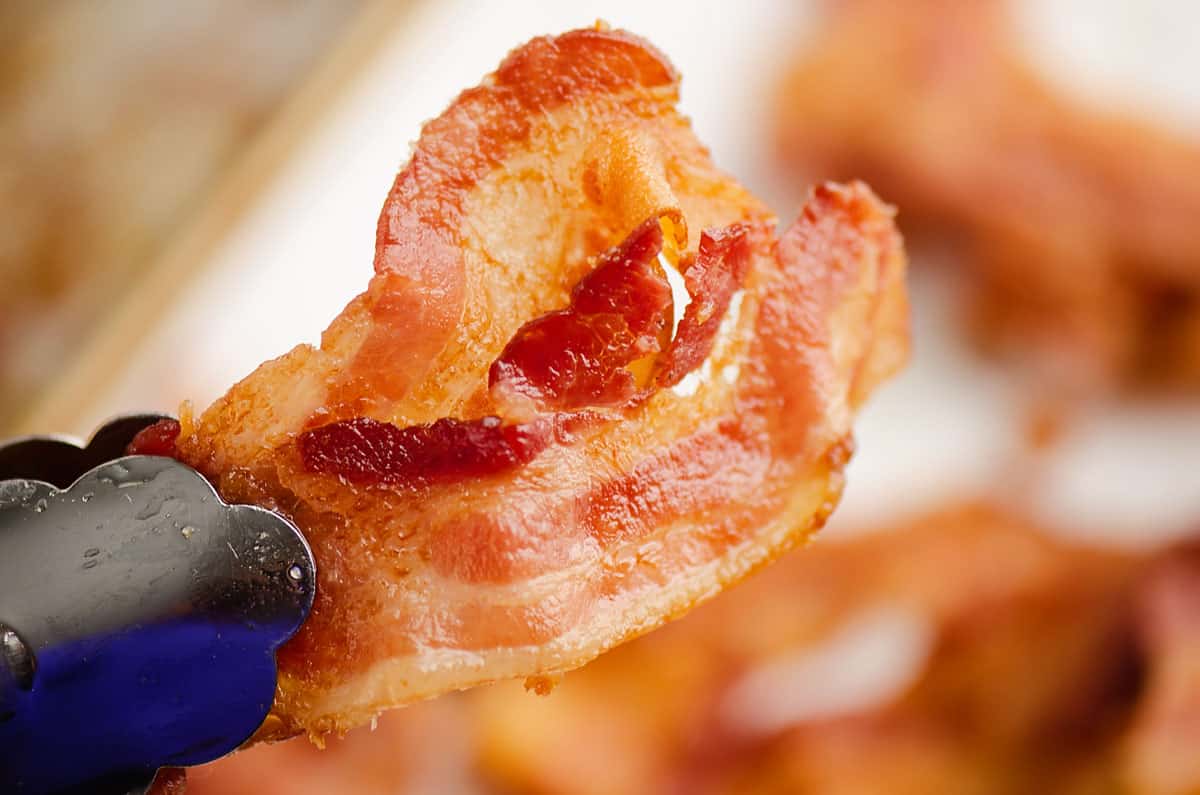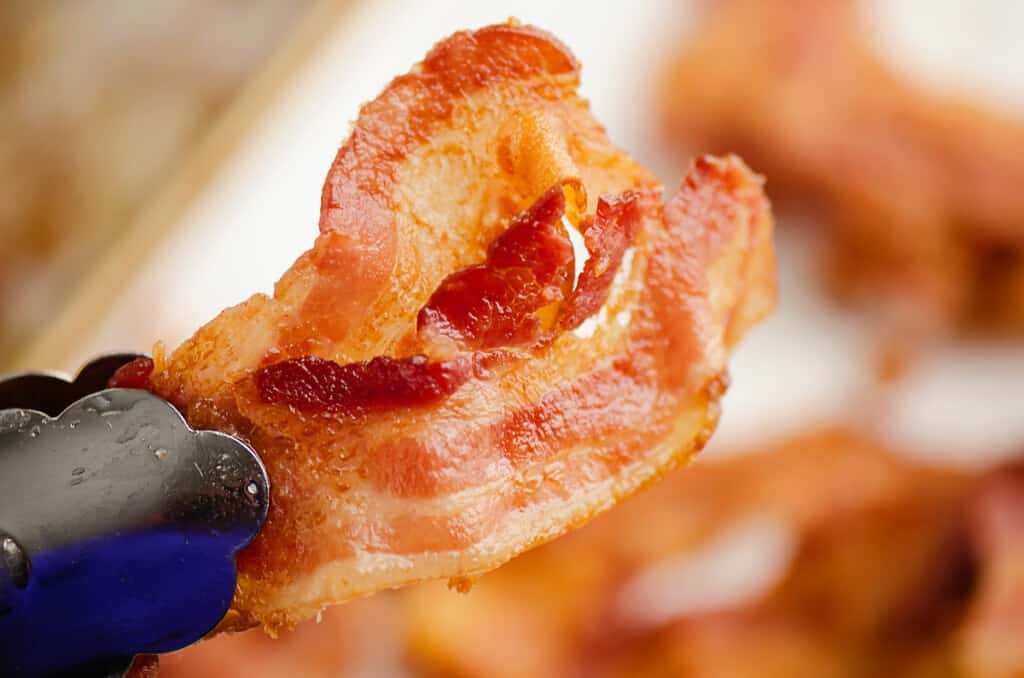 What to do with bacon fat?
When you are done baking your bacon, your rimmed sheet pan will have a thick layer of bacon fat remaining. Whatever you do, do NOT pour that fat down the sink. Not only will it will clog up your plumbing, but it is wasting liquid gold!
Disposing of bacon fat
If you don't want to cook with bacon fat and just want to get rid of it, use some paper towels to soak it up before tossing it in the trash. Alternatively, you can pour it in an old cup or jar that you plan to dispose of. If you don't have any jars that you are ready to dispose of, take a piece of tinfoil and scrunch it into a makeshift bowl shape. Allow the bacon fat to cool and solidify before disposing of it.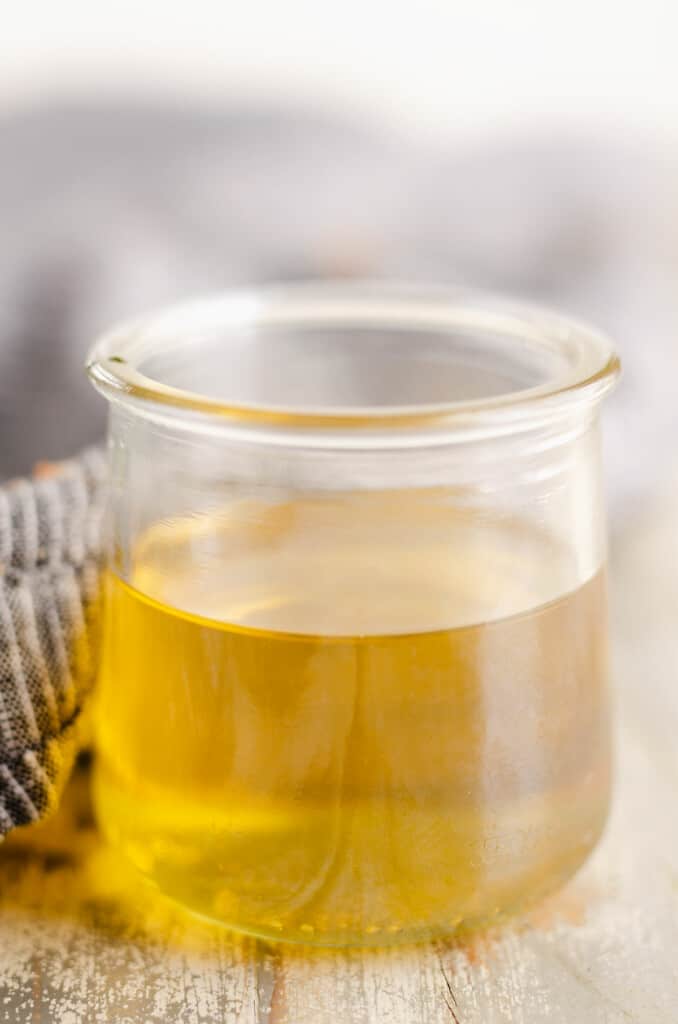 How long does bacon fat last in the fridge?
To store bacon fat, strain it with a mesh strainer to remove any small bits of leftover bacon before storing it.
Store the bacon fat in a sealed container in the refrigerator for up to six months. Grab a scoop any time you need to add a boost of wonderful bacon flavor to your recipe. Add it to sautéed vegetables, season your cast iron with it, fry eggs in it, the options are limitless!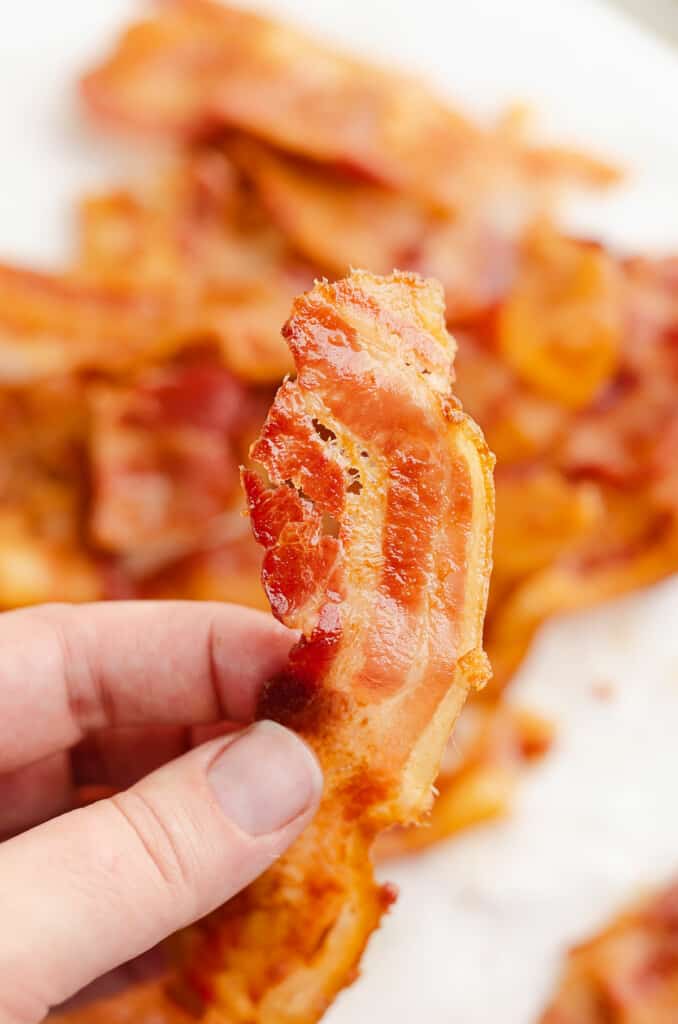 Baked Bacon Recipe
Now that you have all this deliciously crispy baked bacon, you can use it in so many ways. Perhaps you just want to snack on the crispy goodness with a side of eggs, but bacon adds spectacular flavor to so many recipes. Here are just a few of our favorites,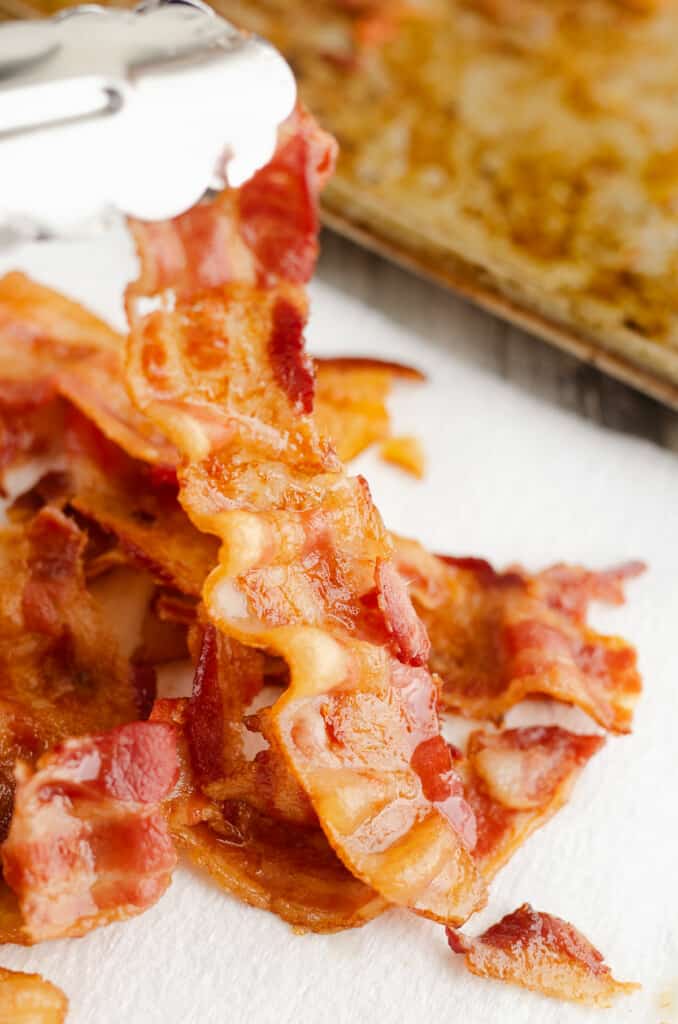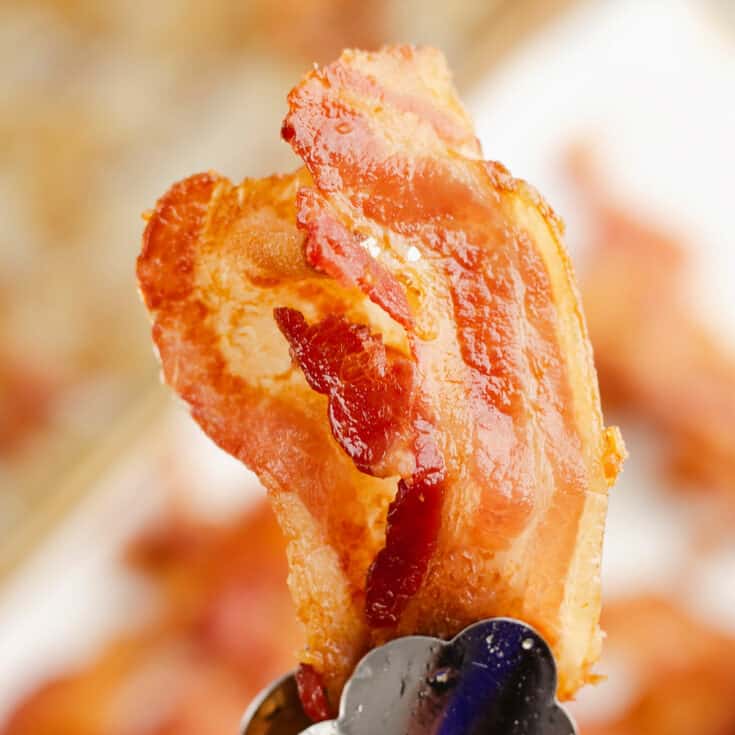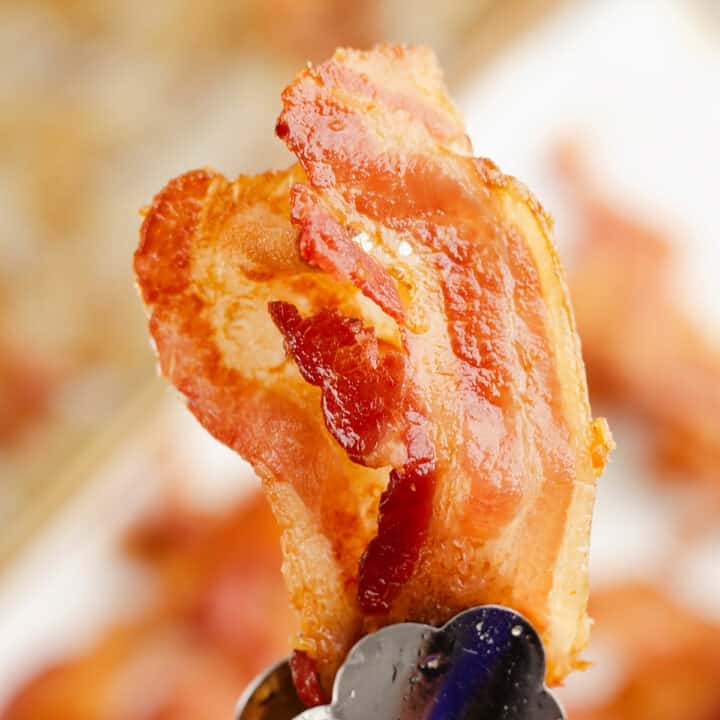 How to Bake Bacon in Oven
Learn how to bake bacon in the oven for a foolproof method to cook perfectly crispy bacon every time without the kitchen mess!
Instructions
Preheat oven to 400°F.
Arrange bacon slices on rimmed sheet pan.
Bake for 15-20 minutes, or until the bacon reaches your desired crispiness.
Remove from the oven. Using a kitchen tong, place bacon on a paper towel lined plate. Enjoy!
Notes
Strain bacon fat into a jar and store refrigerated.
To dispose of bacon fat, soak it up with paper towel or pour into a discarded jar or container.
Nutrition Information:
Yield:

12
Serving Size:

1
Amount Per Serving:
Calories:

177
Total Fat:

13g
Saturated Fat:

5g
Trans Fat:

0g
Unsaturated Fat:

8g
Cholesterol:

37mg
Sodium:

637mg
Carbohydrates:

1g
Fiber:

0g
Sugar:

0g
Protein:

13g
Provided nutrition data is only an estimate. If you are tracking these nutrients for medical purposes, please consult an outside, trusted source.