Honey Sriracha Snack Mix is a quick and easy recipe with a sweet and spicy balance perfect for game day or party.
Honey Sriracha Snack Mix
Whether you are into March Madness or are having guests over for a party, this Honey Sriracha Snack Mix is a fantastic sweet and spicy recipe that is sure to be a crowd pleaser. The combination of Chex cereal, pretzels, cashews and puff corn is tossed in a honey, butter and sriracha mix for a sweet and savory snack.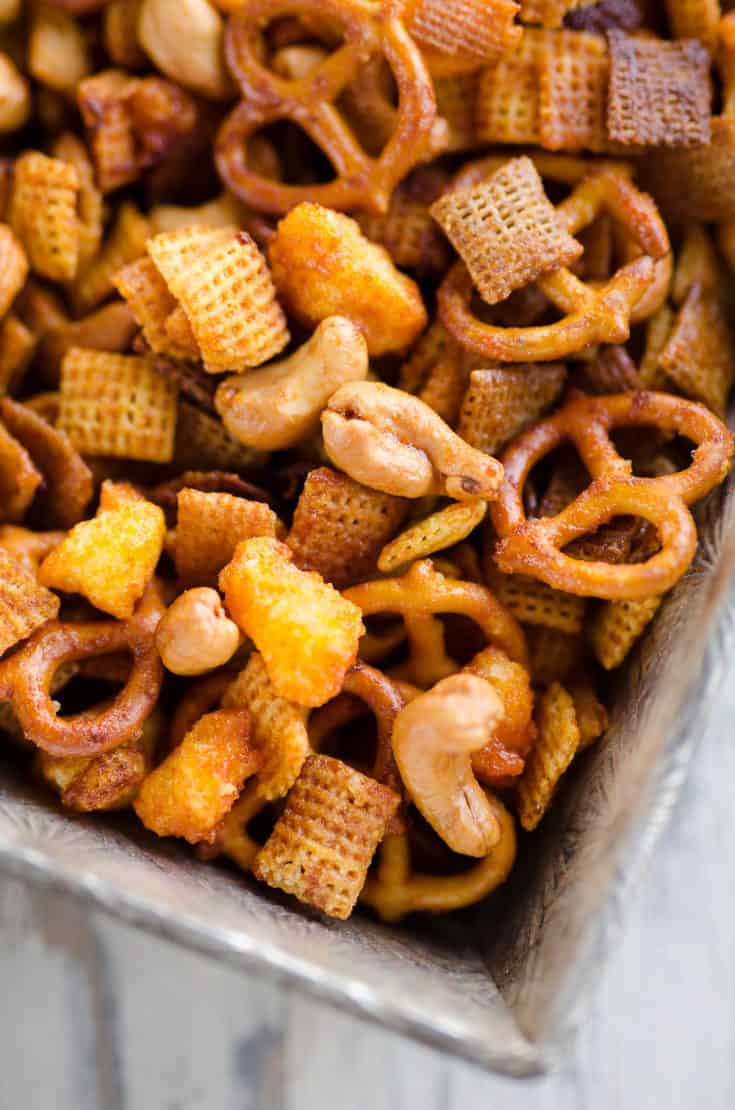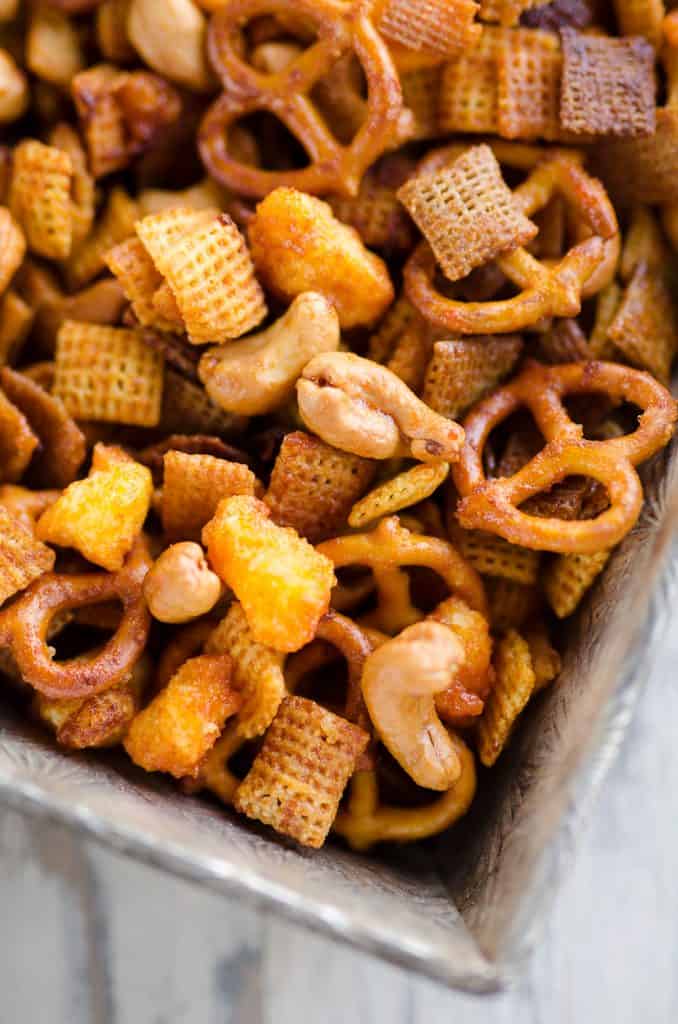 I'm currently chilling in the basement working on the blog and watching trashy reality television while my husband takes care of the babies. Don't get me wrong, this is not what my life normally looks like. After a LONG few weeks of my husband being sick and me not having him help with the babies for weeks, then the babies getting sick and me being in the hospital, I was due for a partial day off while he takes over.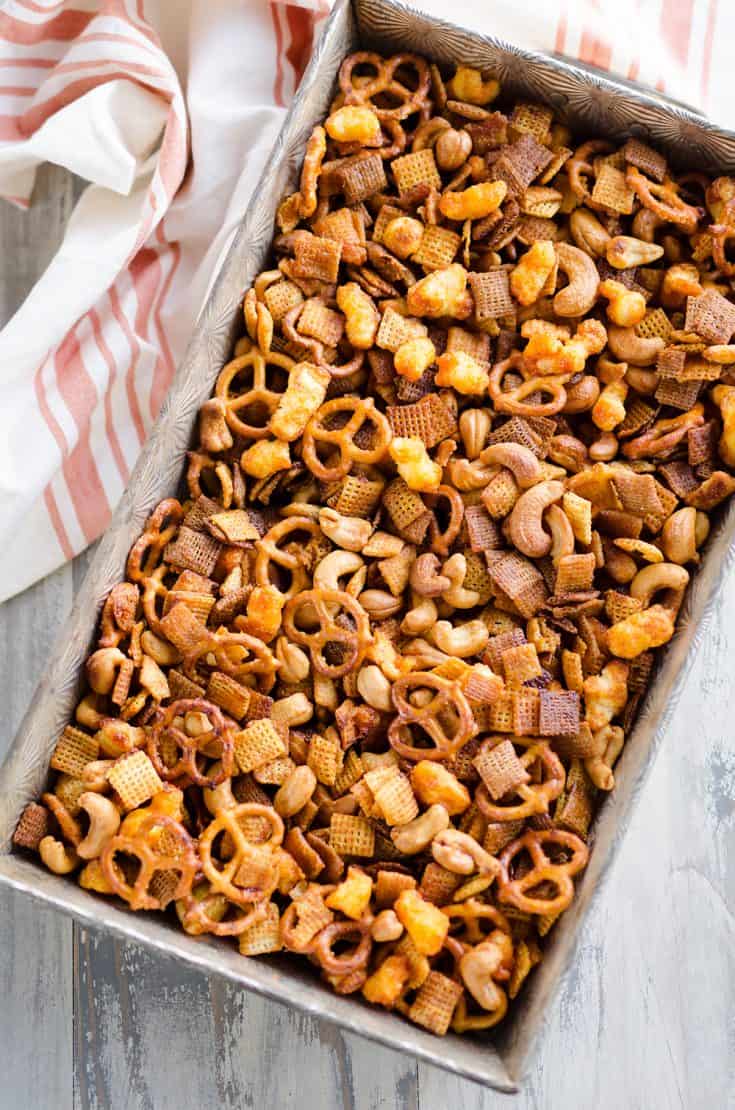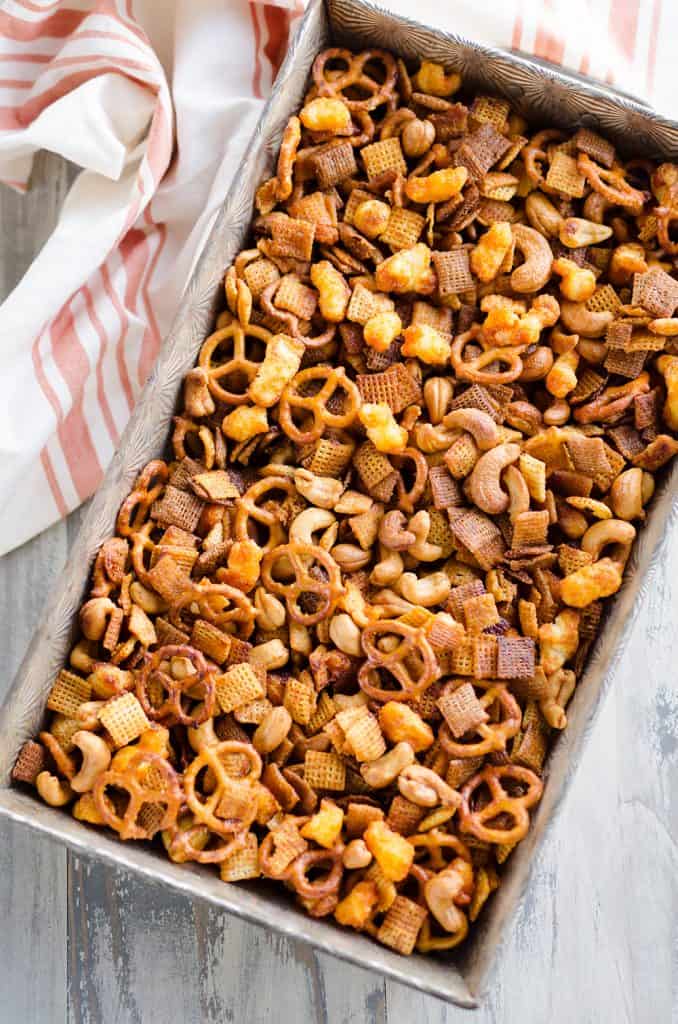 I'm so grateful to be out of the hospital, but there was a tiny part of me that enjoyed getting to bond with my babies one on one, instead of juggling them both at the same time. It was also quite nice being fed three meals a day…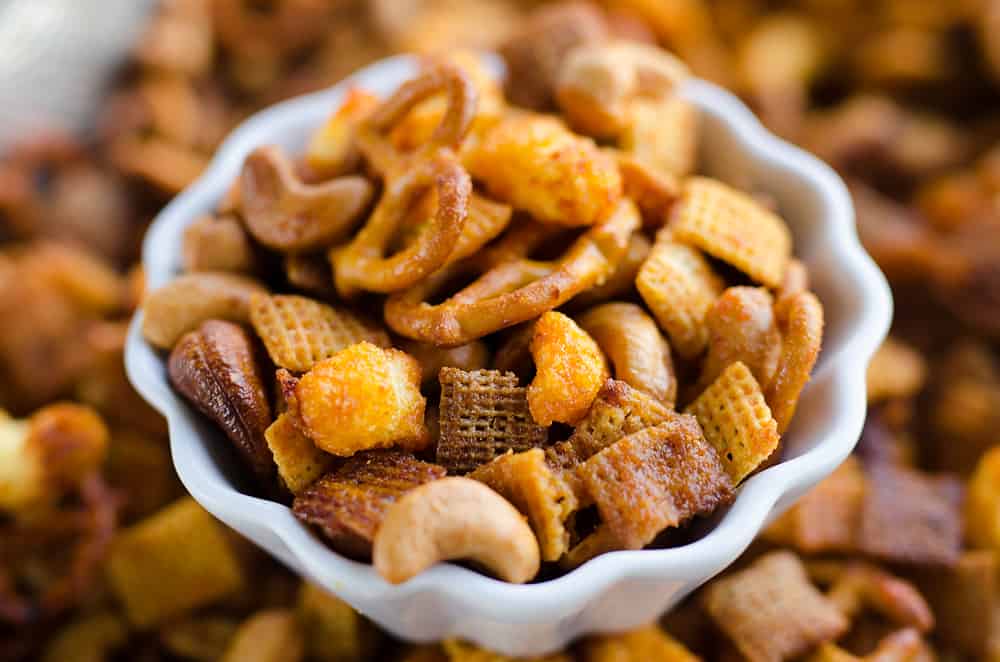 While it was nice being fed, the options start to get old fast when you are there for over a week. I would have loved to have a big bowl of this Honey Sriracha Snack Mix! Instead my snacks consisted of peanut butter and jelly sandwiches, breakfasts were oatmeal and lunch and dinner were chili or club sandwiches. I am super grateful that the hospital offers meals delivered to your room, but it sure is nice to be home and have the flexibility to make what you want!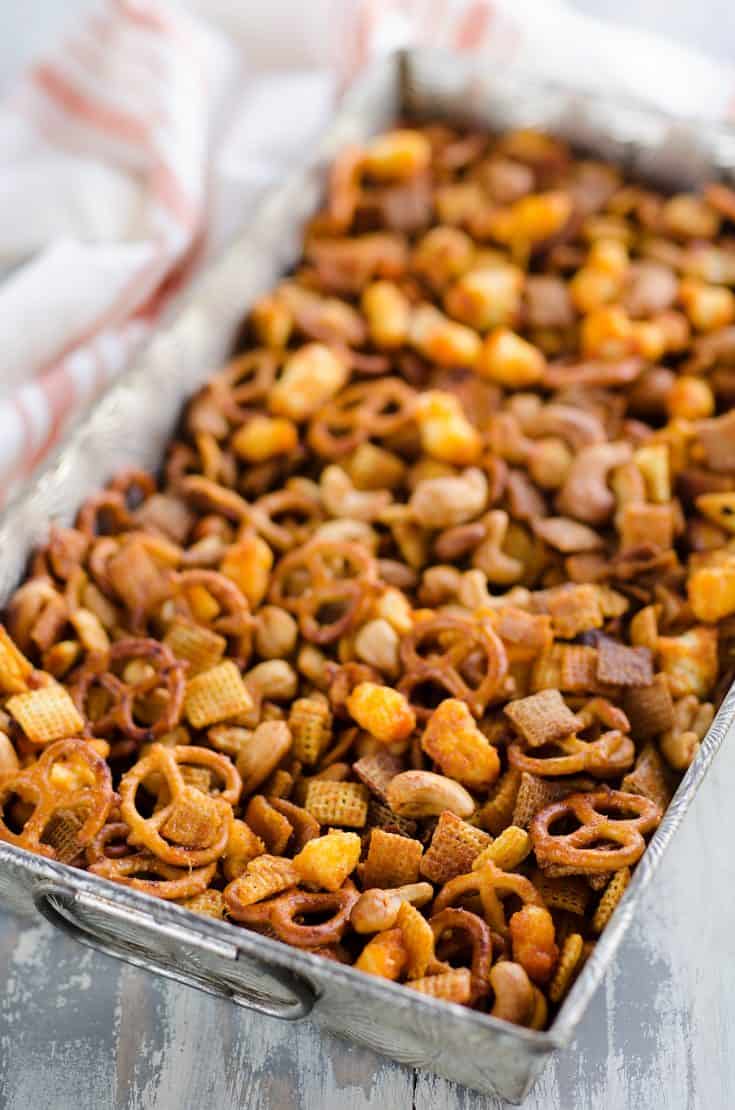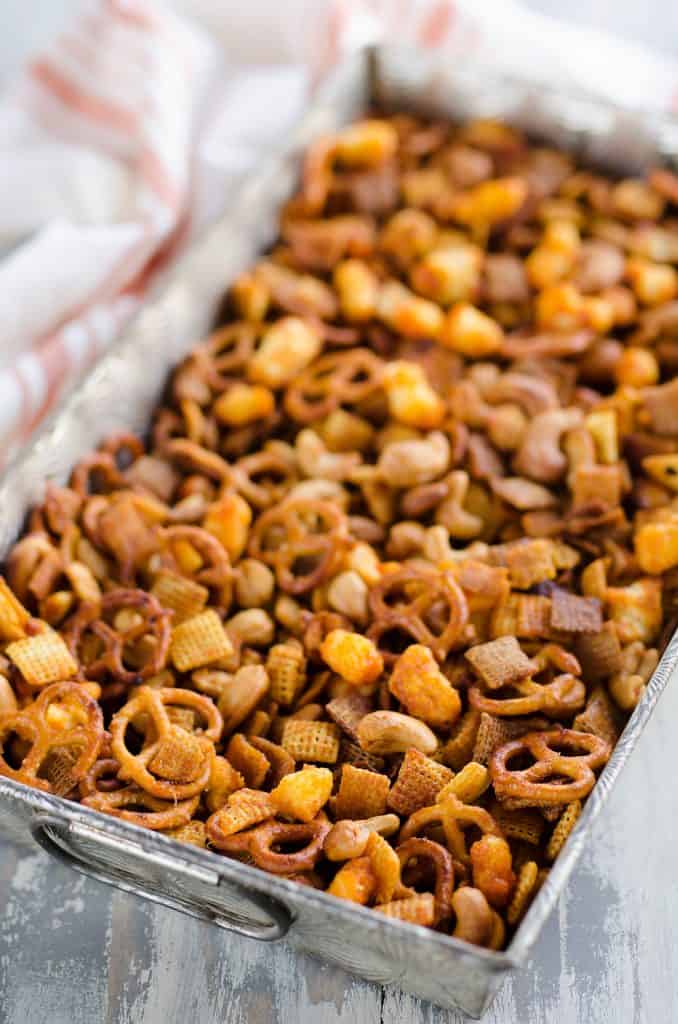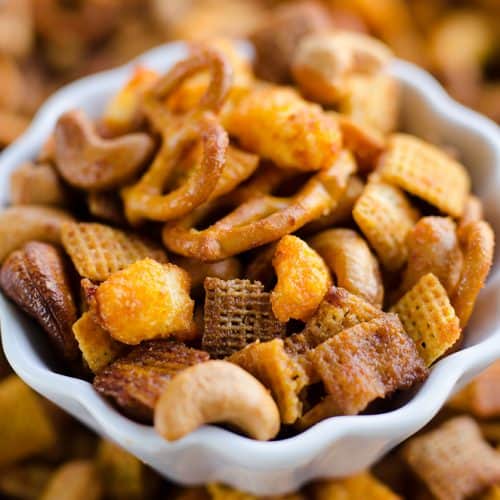 Honey Sriracha Snack Mix
Honey Sriracha Snack Mix is a quick and easy recipe with a sweet and spicy balance perfect for game day or party.
Ingredients
1 c. butter
2/3 c. honey
2/3 c. sriracha
1/4 tsp. salt
6 c. puffcorn
3 c. rice Chex Mix
3 c. corn Chex Mix
2 c. wheat Chex Mix
3 c. pretzels
4 c. jumbo cashews, 20 oz.
Instructions
Preheat your oven to 350°.
In a microwave safe bowl, melt the butter. Mix in the honey, sriracha and salt. Mix until well combined.
In two 9x13 pans, or one very large roasting pan, mix the puffcorn, Chex Mix, pretzels and cashews. Pour the honey sriracha mix over the snack mix and stir until everything is well coated.
Bake at 350° for 20 minutes. Remove from the oven and stir the mixture. Bake for an additional 15 minutes. Spread over wax paper and allow to cool. Store in an airtight container.
Nutrition Information:
Yield:

20
Serving Size:

1 grams
Amount Per Serving:
Unsaturated Fat:

0g
More great snack mix recipes!