A delicious mix of healthy entrees, snacks and sides make up this Healthy Weekly Meal Plan #77 for an easy week of nutritious meals your family will love!
This week we are loading you up on one of the best winter vegetables, squash! From butternut squash hidden in a creamy alfredo sauce to spiralized squash in skillet dinners, we can't get enough of this hearty and delicious vegetable.
Do you have a favorite vegetable in the winter that you love? Are you missing all of the bright vegetables from the spring and summer? I am a tad bit as the tomatoes start to turn orange. I looooove tomatoes and when they go flavorless in the winter it breaks my heart. If only there was a way to preserve fresh, sweet, juicy tomatoes in the off-season! We get what we get though and will make do accordingly.
Stop back every Saturday for your weekly fix of daily entrees as well as a breakfast, lunch, snack and dessert! Just click on the photo or link to see the recipe. For even more healthy meal inspiration, check out our Healthy Weekly Meal Plan Archives HERE!
If you are looking for a great tool to organize your weekly meal plans, download this Free Printable Meal Planner + Calendar or check out this meal planner book.
Be sure to subscribe to my newsletter HERE so you never miss a meal plan!
~ HEALTHY WEEKLY MEAL PLAN ~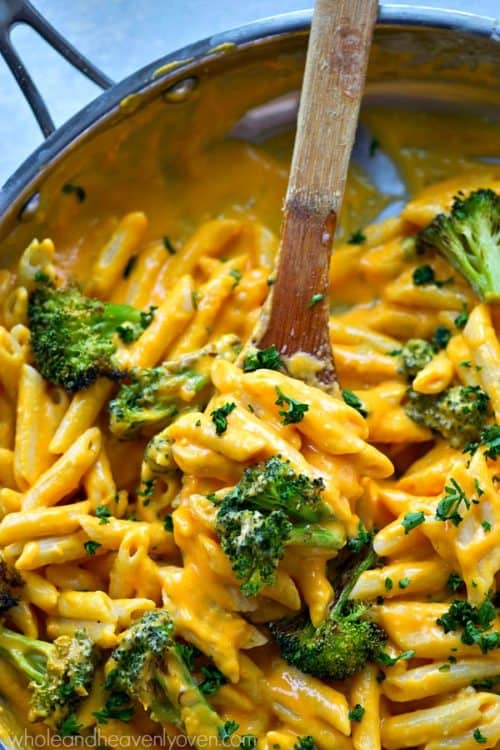 Nobody is ever going to guess there's butternut squash hiding in this UNBELIEVABLY-creamy alfredo penne skillet! Ready for the dinner table in only 30 minutes with super-basic ingredients.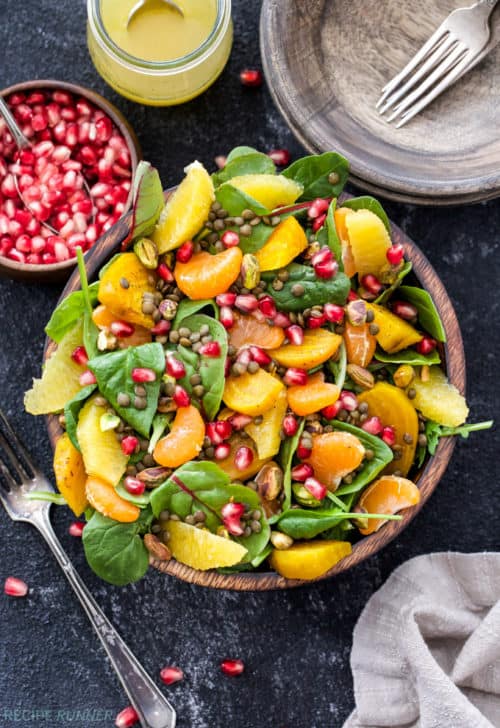 A superfood salad that's as delicious as it is beautiful! Nourish your body with this Roasted Golden Beet, Citrus, Lentil Salad. Perfect as a meatless main dish or side dish!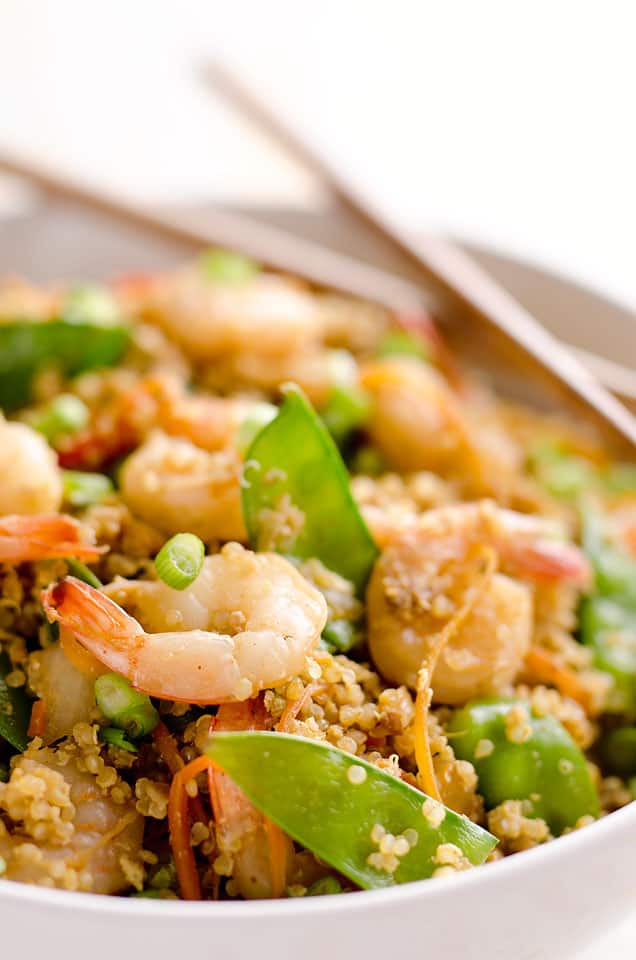 Light Shrimp Fried Quinoa is a healthy dinner full of protein packed quinoa and shrimp then finished off with delicious Kikkoman soy sauce!

DINNER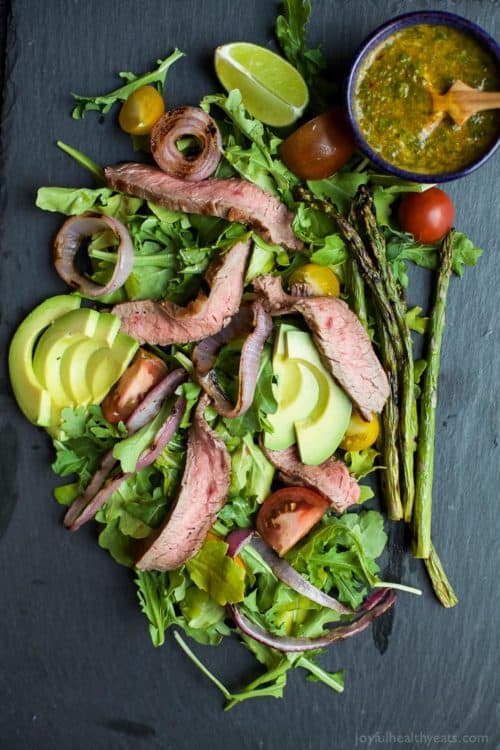 A paleo California Steak Salad filled with grilled onions, arugula, avocado, asparagus, charred Steak and covered in zesty Chimichurri Dressing. Fresh, light, high in protein and freakin delicious! You need this!
SIDE DISH
Roasted until perfectly tender and then glazed with a tangy maple citrus glaze, this roasted acorn squash is an insanely-easy holiday side that's pretty to look at and even better tasting!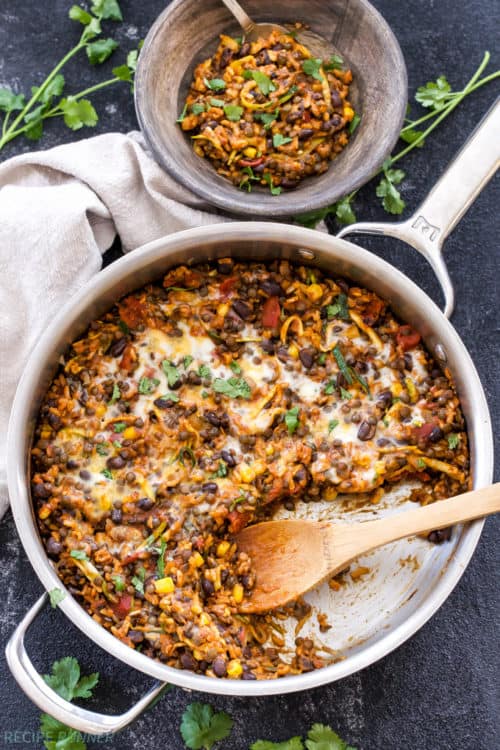 A healthy, vegetarian, gluten free dinner the whole family will love! You won't miss the meat in this easy to make, One Pot Cheesy Mexican Lentils, Black Beans and Rice!

BREAKFAST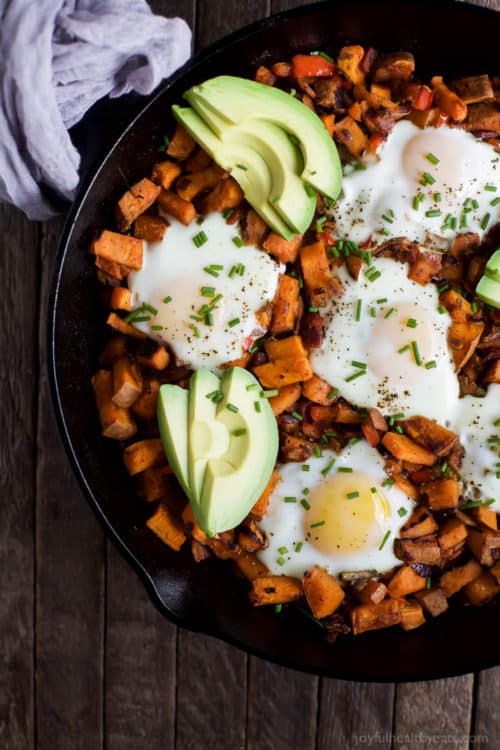 Smoky Bacon Sweet Potato Hash & Eggs is a great 30 minute recipe that's paleo & gluten free! I guarantee you'll want to devour it for breakfast, lunch, and dinner!
LUNCH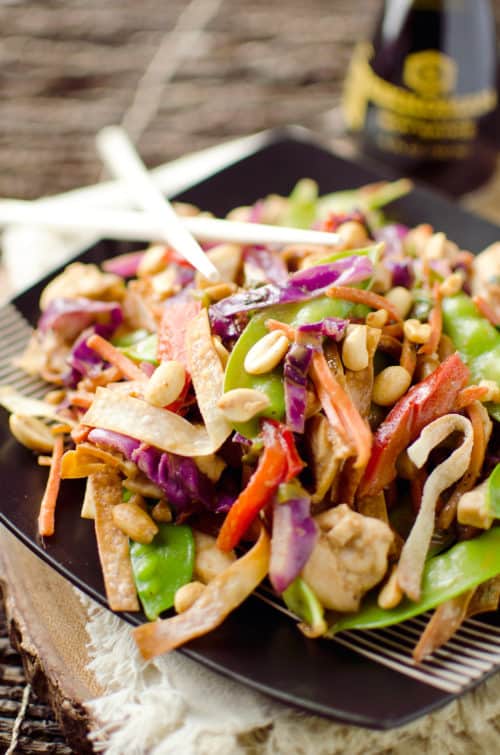 Light Wonton & Thai Peanut Chicken Sautée is a healthy and delicious dinner recipe loaded with vegetables, chicken and a spicy Thai peanut and coconut milk sauce.
DESSERT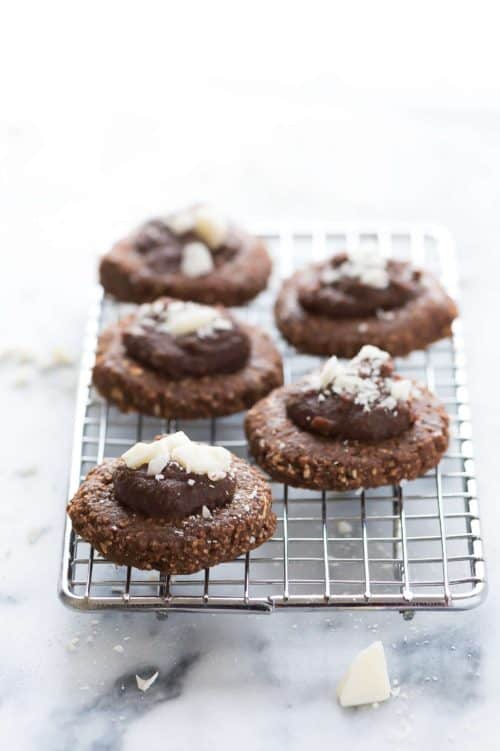 These no bake fudge cookies are fudgy, chewy and have the perfect balance between sweet and salty! with only 100 calories, these cookies are refined sugar-free, and topped with a coconut oil and chocolate fudge sauce!

SNACK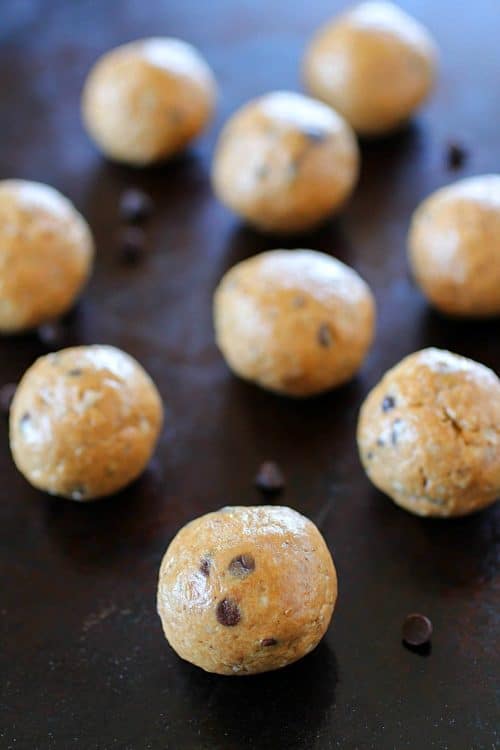 Protein balls filled with peanut butter, protein powder and oats make the most delicious on-the-go snack! Whenever you need a little protein boost to get you to the next meal, these little bites have you covered!
DINNER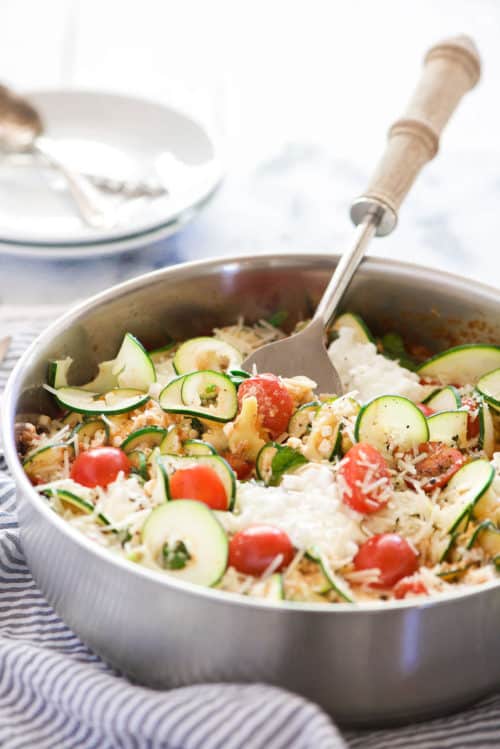 Spinach Artichoke Skillet Zucchini Lasagna is a healthy, low-carb take on lasagna! Zucchini noodles mixed with spinach, artichokes and plenty of cheese makes this one pot dish a crowd pleaser!
Find the Healthy Weekly Meal Plan Archives HERE!
Don't forget to subscribe to my newsletter HERE so you never miss a meal plan!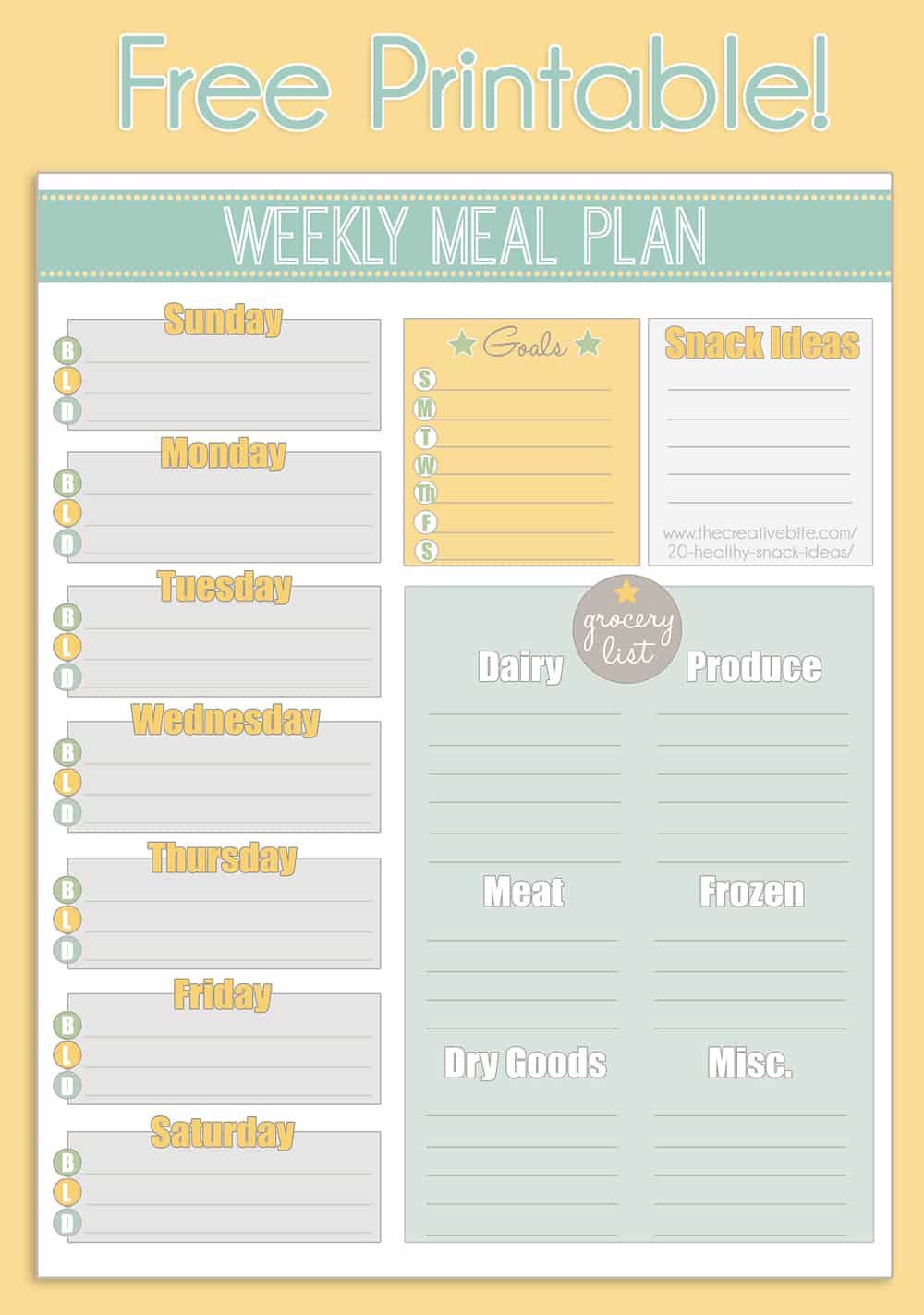 Use this Free Printable Weekly Meal Planner to organize your menu and grocery list. Take the guess work out of preparing weeknight dinners and grocery shopping trips with this easy planner.
With Salt & Wit | Recipe Runner | Whole & Heavenly Oven | The Creative Bite | Joyful Healthy Eats | Yummy Healthy Easy