A delicious mix of healthy entrees, snacks and sides make up this Healthy Weekly Meal Plan #50 for an easy week of nutritious meals your family will love!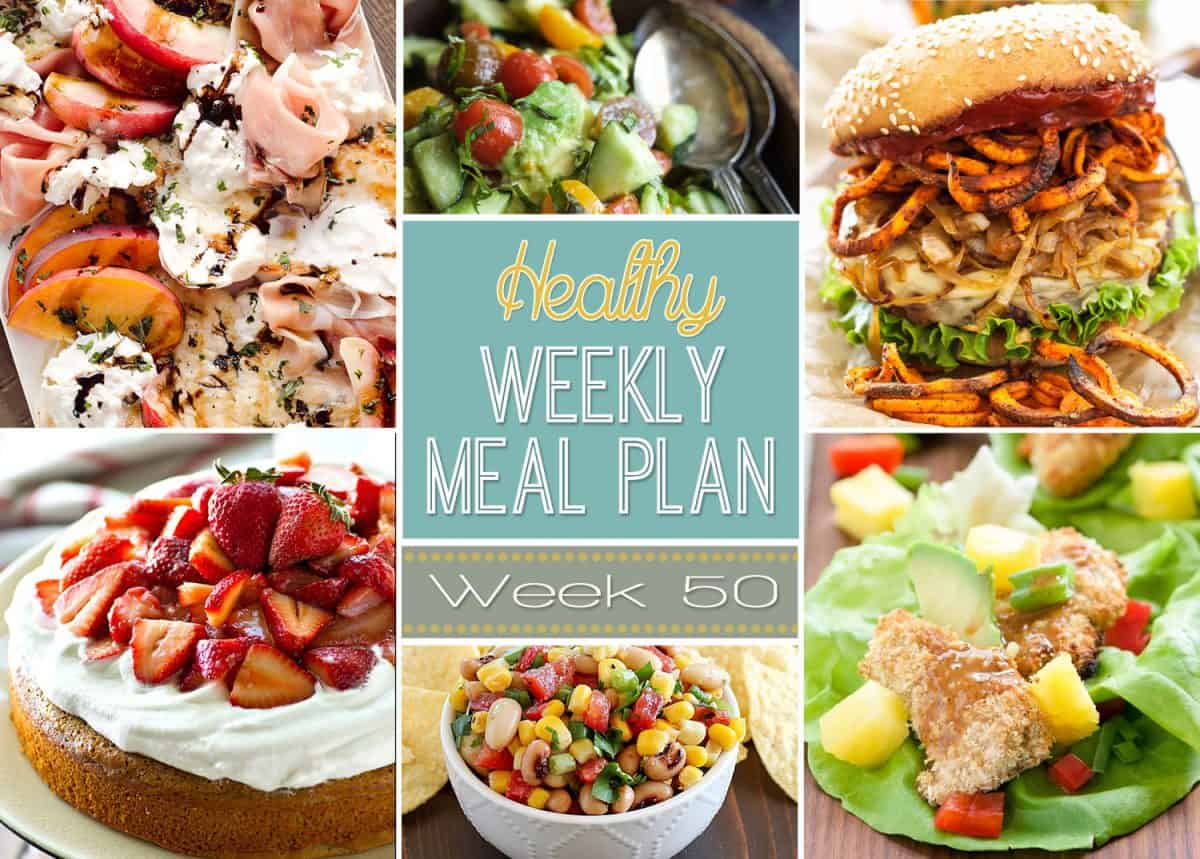 I hope everyone has been enjoying summer as much as I have lately! I have found lots of fun ways to stay active, including playing basketball with my nephews, chasing them with water balloons and playing golf. This is the first year I started golfing, so I have been easing into it slowly.
At a recent charity tournament I played with my Dad and brothers I bought a pretty pink Nike Lite Golf Bag. It is a lite golf bag with shoulder straps that make carrying it a breeze by distributing the weight of the clubs. To be honest, I didn't even realize it had this feature when I placed a bid on it during the silent auction. I just thought it looked really pretty! 😉
I figured seeing I got this nice new bag, I may as well put to to work. Last week I headed out on the course walking and carrying my bag for the first time. I did bring the golf cart to the clubhouse, because I was worried I might not make it all 9 holes. I ended up making it and it was one heck of a workout! I am definitely going to have to keep this up throughout the summer!
Be sure to stop back every Saturday for your weekly fix of daily entrees as well as a breakfast, lunch, snack and dessert! Just click on the photo or link to see the recipe. If you are looking for a great tool to organize your weekly meal plans, check out this meal planner
!
~ HEALTHY WEEKLY MEAL PLAN ~

Say goodbye to boring, flavorless veggie burgers and say hello to these amazing Santa Fe Veggie Burgers with Sweet Potato Fries, Caramelized Onions and Chipotle Ketchup! Loaded with so much texture and flavor, you won't even realize they're meatless!

Balsamic Chicken with Peaches & Prosciutto is a deliciously simple and healthy dinner made on the grill in just 10 minutes! Grilled chicken is topped with fresh peaches and burrata cheese. Then, finished off with a balsamic reduction and basil for a low carb recipe that will make everyone's mouth water!

Salmon Skewers tossed in an easy garlic-lemon sauce and then grilled. The result? A crazy delicious, tender, lemon salmon that is like heaven on a stick!


MAIN DISH
Cashew Coconut Crusted Chicken Lettuce Wraps are our new favorite hand held dinner! Every bite of chicken is encrusted in crunchy cashews and coconut then drizzled with a sweet and spicy Ancho Honey Mustard Sauce!
SIDE DISH
Cowboy Caviar is one of the easiest snacks/appetizers to make because you throw everything into one bowl and it's done! It's full of flavor and textures – it's a definite crowd-pleaser!


Roasted Veggie & Chicken Sausage Penne Bowls are a healthy dinner bursting with bold flavors and wholesome ingredients. With chipotle roasted sweet potatoes and chicken & apple sausage tossed in pesto, this dish is a well-rounded and satisfying meal you will love.

DINNER
These Smoky Avocado Burgers topped with a Pineapple Pepper Relish don't run short on flavor, they are juicy, tender, mouthwatering basically everything you want in a Burger + more!

DESSERT
Classic summertime strawberry shortcake is made EASY in this single-layer yellow cake that's piled high with fluffy whipped cream and lots of fresh strawberry sauce!

BREAKFAST
These Strawberry Banana Cheesecake Crepe Enchiladas will be the hit of your entire brunch table! My favorite crepe recipe stuffed with a cheesecake filling and tons of fresh strawberry sauce and bananas.—you won't be able to stop eating them!
SNACK
Caprese Avocado Toast is my go to, healthy snack! Full of good for you ingredients, this snack is ready in 10 minutes and easy enough to feed a crowd!
LUNCH
This Blueberry Basil Rice Salad is a quick and easy whole grain lunch or dinner that comes together in minutes!
DINNER
This summer Tomato Avocado Cucumber Salad is pure perfection – light, refreshing, 5 minutes to make, minimal ingredients, low on calories and booming with flavor!
Find the Healthy Weekly Meal Plan Archives HERE!
With Salt & Wit | Recipe Runner | Whole & Heavenly Oven | The Creative Bite | Joyful Healthy Eats | Yummy Healthy Easy