A delicious mix of healthy entrees, snacks and sides make up this Healthy Weekly Meal Plan #36 for an easy week of nutritious meals your family will love!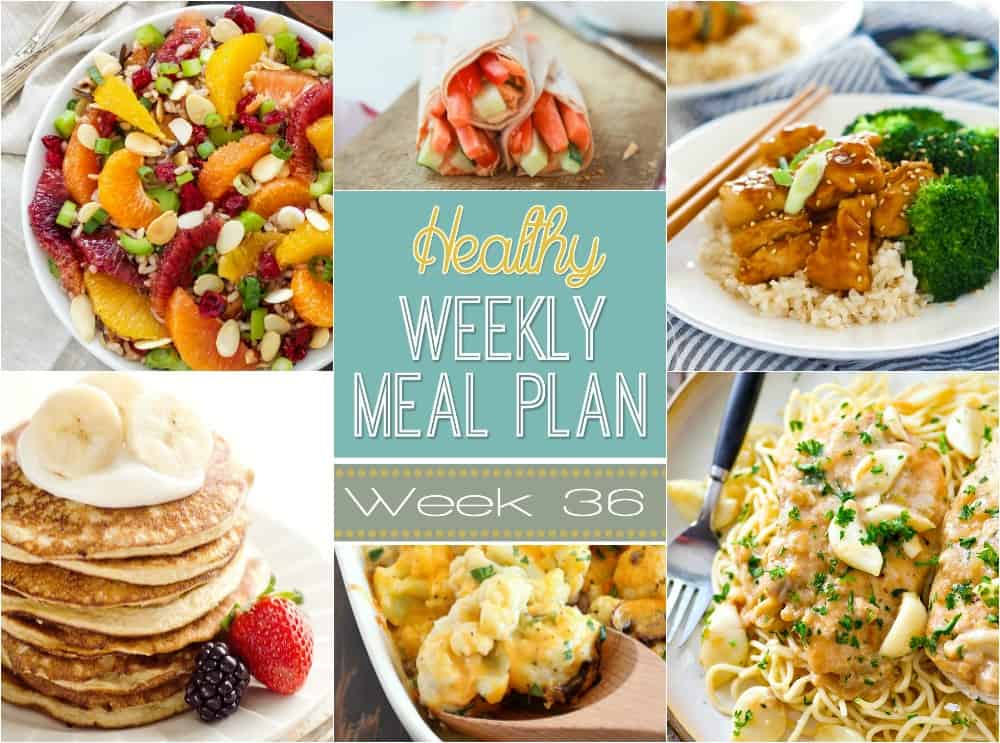 We are back with another amazing week of healthy meals! One of the first thing that caught my eye on this week's menu was the Moroccan Chickpea Pitas. I have been seeing chickpeas more and more around the food blogging world and it is pushing me to try them in more ways! From buffalo chickpeas, to ground chickpeas in sweet dips to roasted spiced chickpeas in these Moroccan pitas, it seems like the possibilities are endless! Have you tried chickpeas in any fun or unique ways lately? If so, please share!
The other thing that really caught my eye is that citrus wild rice salad from Danae over at The Recipe Runner. Her food is always so beautiful and delicious looking, but she really outdid herself with that colorful creation. I can't wait to try it!
Be sure to stop back every Saturday for your weekly fix of daily entrees as well as a breakfast, lunch, snack and dessert! Just click on the photo or link to see the recipe. If you are looking for a great tool to organize your weekly meal plans, check out this meal planner
!
Be sure to subscribe to my newsletter HERE so you never miss a meal plan!
~ HEALTHY WEEKLY MEAL PLAN ~

Moroccan Cauliflower Chickpea Pita – done in 35 minutes, filled with spiced roasted vegetables and covered in a creamy Tzatziki Sauce. A meal your family will love and perfect for meatless Monday!

Crockpot Chicken with 40 Cloves of Garlic – chicken breasts cook for hours in an ultra-flavorful garlic sauce that's amazing over hot pasta or rice! Just throw everything in the crockpot and forget about dinner. Perfect!

These crispy Cornmeal Crusted Shrimp with Light Lemon Aioli are a healthier alternative to the traditionally fried version. Even though it's baked you'll still achieve that crunch you're looking for!

These delicious Skinny Honey Teriyaki Chicken Rice Bowls are a super quick dinner! Tender chicken is sauteed until juicy and simmered in a homemade, healthy teriyaki sauce. Served with fresh veggies and rice, you will forget all about takeout!

MAIN DISH
Beef, Rice & Vegetable Stuffed Cabbage Rolls are a comforting meal loaded with vegetables for a well-rounded and delicious dinner!
SIDE DISH
Cheesy Cauliflower Casserole makes the most delicious side dish or meatless main dish! Full of flavor with cauliflower, sautéed mushrooms & leeks, and an easy cheesy sauce that won't pack on the calories. This is incredible!

BREAKFAST
Light & Fluffy Banana Protein Pancakes are a healthy breakfast with five simple ingredients, and they're under 200 calories!
SNACK
This Pineapple Orange Creamsicle Smoothie is a creamy, 5 ingredient smoothie tastes like a tropical cocktail and an orange julius! A protein and vitamin C packed treat to start your day or get you through a long afternoon!
DINNER
This Citrus and Wild Rice Salad is full of healthy whole grain wild rice, loads of citrus, crunchy toasted almonds, dried cranberries and a delicious citrus vinaigrette. A must-make!

LUNCH
Lunch just got easier with these Gluten Free Veggie Turkey Rollups! Only 5 ingredients, bread free, less than 200 calories a serving and every bit as satisfying.
DINNER
Homemade Chicken Veggie Curry has never been simpler with this foolproof recipe that cooks up in only 30 minutes.—SO much flavor loaded into this comforting, veggie-filled curry!
DESSERT
Fluff Cake is a delicious fat free, low calorie dessert with only TWO ingredients! It's the easiest dessert to make and comes out fluffy and light. Great served with fruit and whipped topping.
Find the Healthy Weekly Meal Plan Archives HERE!
With Salt & Wit | Recipe Runner | Whole & Heavenly Oven | The Creative Bite | Joyful Healthy Eats | Yummy Healthy Easy