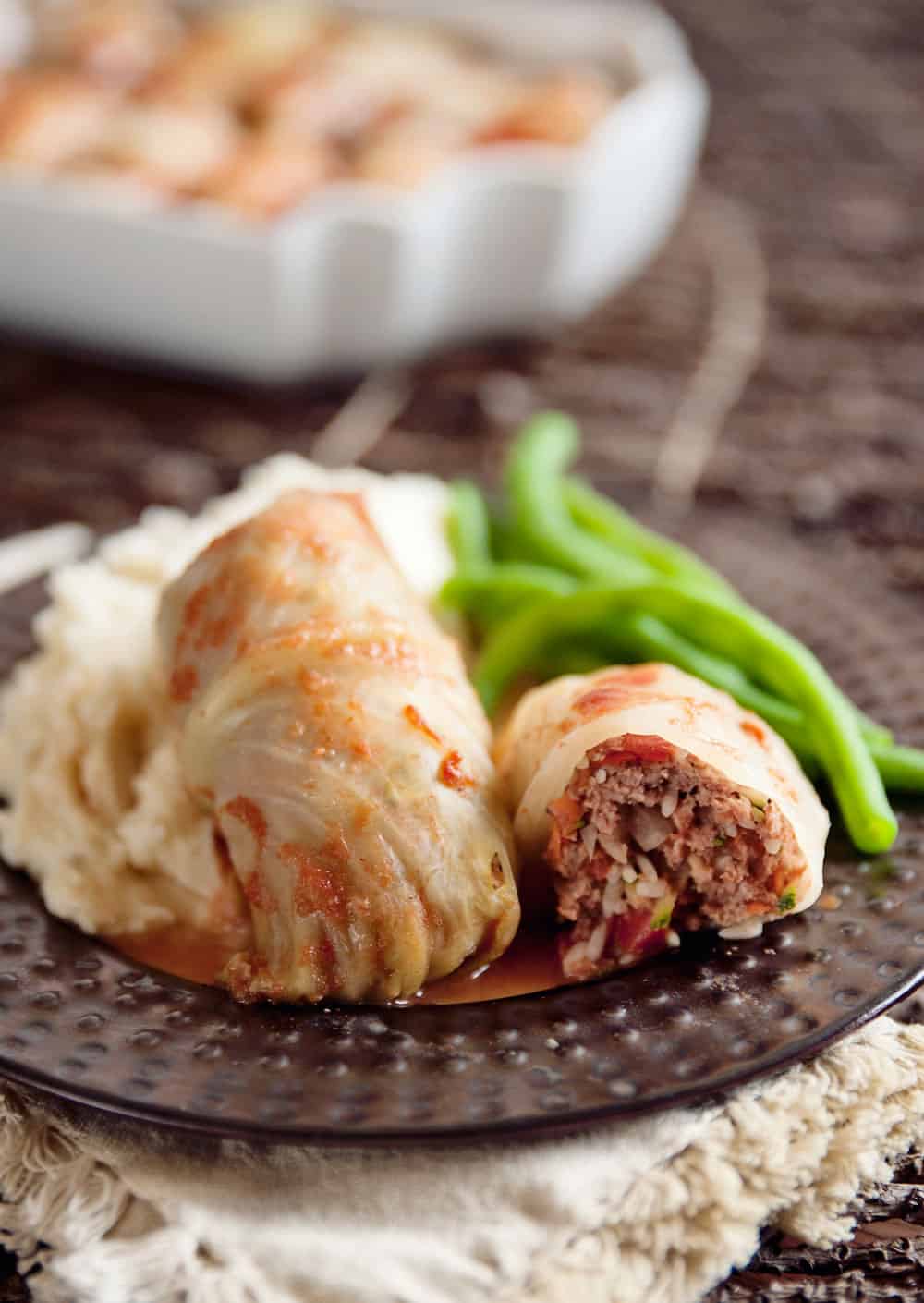 Beef, Rice & Vegetable Stuffed Cabbage Rolls are a comforting meal loaded with vegetables for a well-rounded dinner. Cabbage rolls are a meal we grew up eating, but to be honest, as a child I always used to unroll the beef from the cabbage and toss it aside. I have grown to love the cabbage though, so now I eat it all up! My mom made them strictly with beef and rice with no vegetables growing up. Sometimes they would get a little dry, so i decided to amp them up with veggies that would not only add some moisture, but lots of nutrients and flavor as well. Most times, it's best not to mess with mom's classic recipes, but in this rare occasion, it worked out for the best and everyone loved them!
This recipe makes a particularly large batch with around 20 cabbage rolls. Therefore, I divided the rolls between two pans and freeze one for an easy meal on a night I don't feel like cooking. To freeze the pan of cabbage rolls, I place them in a disposable or metal 9×13 pan without the tomato juice. I wrap them up with tinfoil and place them in a large re-sealable bag, removing as much air as possible. When you go to bake the frozen cabbage rolls, add the tomato juice to the pan and either let them thaw in the refrigerator before baking or add an additional 20-30 minutes to the cooking time.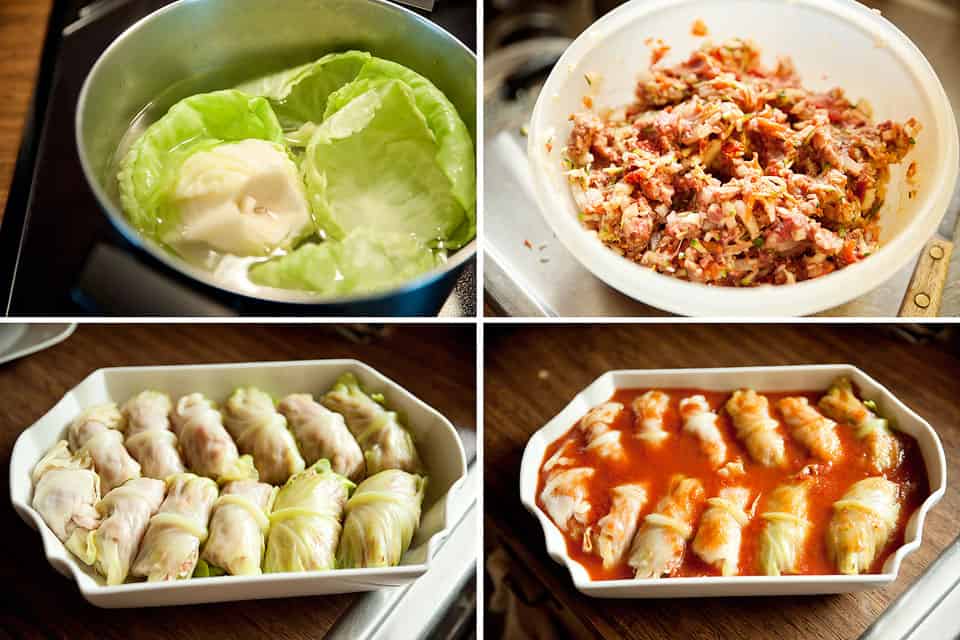 I personally love a recipe that results in a second or even third batch that can be frozen made at a later time. We all have those days where we just don't feel like coming home after a long day and slaving away in the kitchen. At the same time, frozen pizza and boxed meals can get old really fast. The idea of getting to come home and pop a nutritious homemade meal out of the freezer and into the oven sounds fantastic!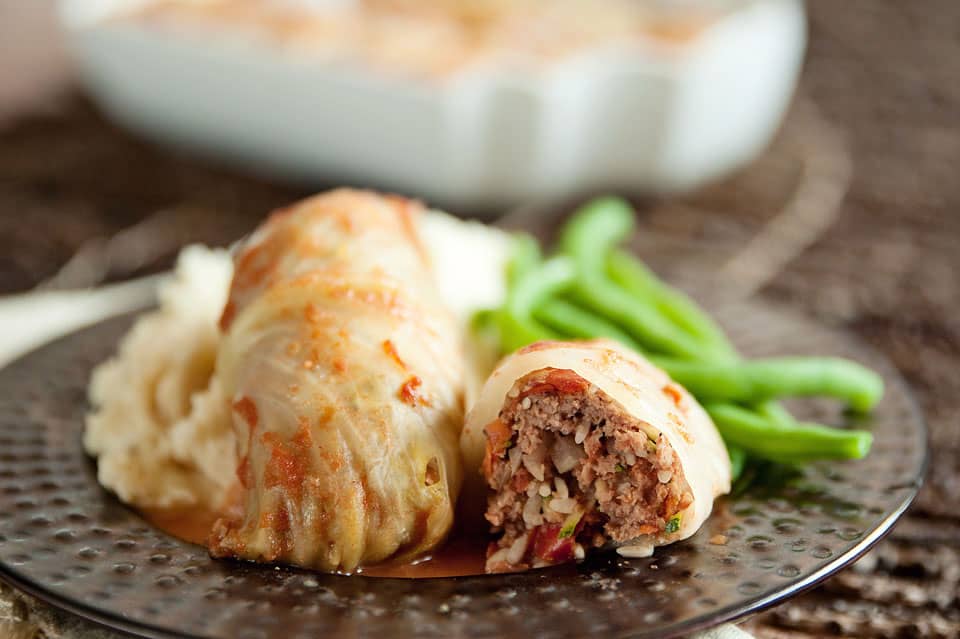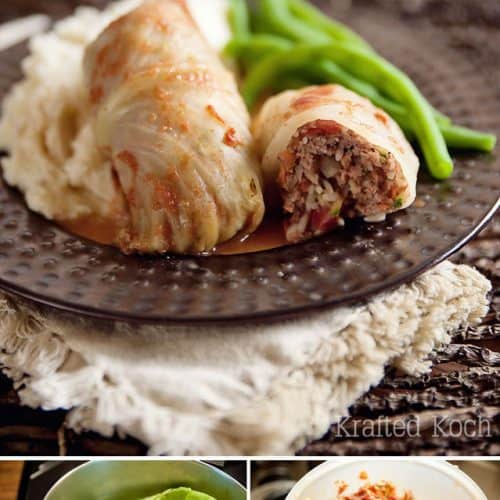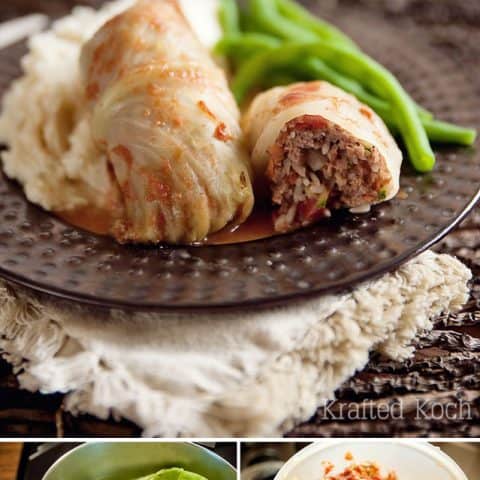 Beef, Rice & Vegetable Stuffed Cabbage Rolls
Total Time:
2 hours
45 minutes
Beef, rice and vegetables all rolled up in tender cabbage and covered in a spiced tomato juice for a comforting meal.
Ingredients
1 lb. lean hamburger, raw
1 c. rice, uncooked
2/3 c. carrot, shredded
2/3 c. zucchini, shredded
1 medium onion minced
10 oz. can diced tomatoes
1 tsp. pepper
2 eggs
2 tsp. salt
1 large head of cabbage
4 c. tomato juice
Instructions
Preheat your oven to 325°.
In a large bowl, mix the first nine ingredients until well combined.
In a large kettle, heat water on high. Cut the rind out of the head of cabbage and blanch in the hot water to help separate the leaves. Remove the leafs from the water when they are tender enough to roll up without the spine of the leaf breaking.
Spoon about 1/3 cup mixture in each leave and roll up tight. Place all the rolls in large casserole and top with tomato juice. Cover and bake at 325° for 1.5 to 2 hours until the rice and hamburger is cooked through.
Serve with mashed potatoes, which are great for sopping up all the extra tomato juice.
NOTE: This recipe makes a large batch so I freeze half a batch to save for another easy meal.
Nutrition Information:
Yield:

20
Serving Size:

1 grams
Amount Per Serving:
Unsaturated Fat:

0g
Make your own tomato juice for added spice and flavor!