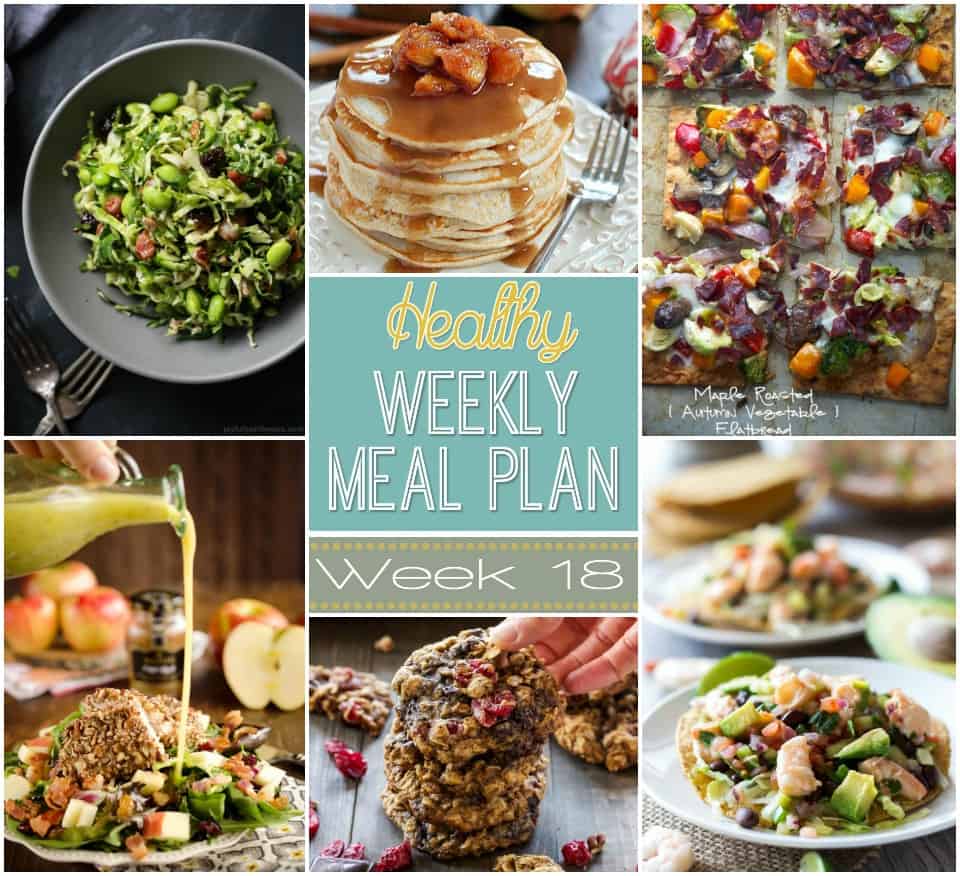 I hope everyone enjoyed or is still enjoying the holiday weekend and was able to spend lots of quality time with family. I hosted Thanksgiving at my house and it all went well…my kitchen is still in tact! 😉
We are back with another healthy weekly meal plan. If you are anything like me, you are still recovering from the one long food coma that was Thanksgiving weekend. After a big holiday weekend, we all want to get back on track with healthy eating, so we are here to help you keep it light and simple!
Be sure to subscribe to my newsletter HERE so you never miss a meal plan!
~ HEALTHY WEEKLY MEAL PLAN ~

Have you ever made spaghetti squash before? It's so easy and healthy! This recipe for Spinach & Artichoke Stuffed Spaghetti Squash is super easy and is a fabulous, flavorful, healthy meatless main or side dish.

These Skinny Chicken Enchilada Stuffed Chilies have all of the flavor and none of the guilt. Zesty enchilada flavors are merged with the classic chile relleno to make this a dinner you won't soon forget!

Harvest Salad with Pecan Crusted Chicken is full of great fall flavors including dried cranberries, golden raisins, bacon, chopped apples and a tender chicken breast crusted with toasted pecans.

Light Tomato Basil Meatball Soup is a hearty and healthy dinner filled with lean meatballs and fresh tomatoes and basil and will leave you feeling warmed up and satisfied!

MAIN DISH
These Smoked Gouda & Turkey Artichoke Quesadillas come together quickly using leftover turkey, two types of cheese, red peppers and artichokes! They are a delicious and easy appetizer or light dinner!
SIDE DISH
This Balsamic Roasted Brussels Sprouts recipe will turn any brussels sprout hater to a lover! Easy, low in calories, healthy, and absolutely delicious!

BREAKFAST
Start your morning with some Applesauce Pancakes with Cinnamon Syrup! They're healthier, light, fluffy and full of fall flavors!
SNACK
If you have a serious weakness for dessert (especially Christmas treats!) then you need to make these Cinnamon Apple Energy Bites and keep them on hand at all times to ward off that craving for cookies!
DINNER
Thin and crispy lavash is used as the base for this Maple Roasted Autumn Vegetable Flatbread, then topped with maple roasted veggies, crispy bacon and creamy fontina for a flatbread that will please anyone!

LUNCH
Lunch is served! This light Autumn Kale & Shaved Brussel Sprout Salad is infused with crispy bacon, edamame, and a surprise sweet fruit that compliments the dish perfectly!
DINNER
These Avocado Shrimp Ceviche Tostadas make the perfect dinner any night of the week! Succulent shrimp, buttery avocados, and lots of Mexican flavors make this a meal worth repeating.
DESSERT
Last but definitely NOT least – dessert! Crisp on the outside, soft and chewy on the inside…these Oatmeal, Dark Chocolate and Cranberry Cookies are perfection!
Find the previous weeks' meal plans HERE!
With Salt & Wit | Recipe Runner | Whole & Heavenly Oven | The Creative Bite | Joyful Healthy Eats | Yummy Healthy Easy