Free Printable Pirate Tattoo Valentines are fun and unique non candy valentines card perfect for kid's friends or preschool classmates!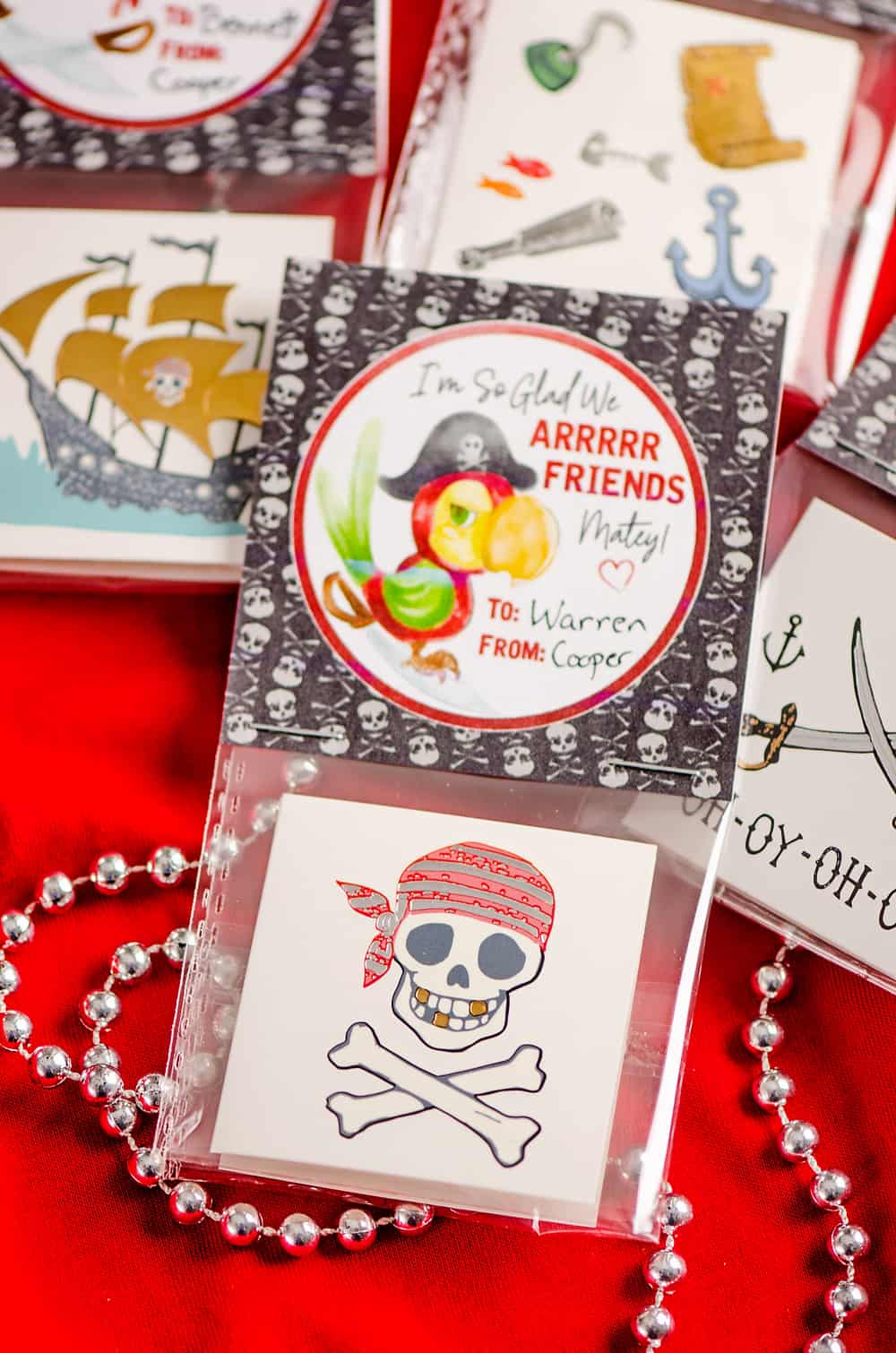 Pirate Valentine
Ahoy Matey! This year we are all about pirates for Valentine's Day with these Free Printable Valentine Cards. Treasure chests, swords, parrots and pirate ships make up these fun friendship non candy Valentines.
They are great for preschool or elementary age kids, but then again I'm pretty sure kids of all ages love temporary tattoos. I know I always did as a kid and secretly still might as an adult.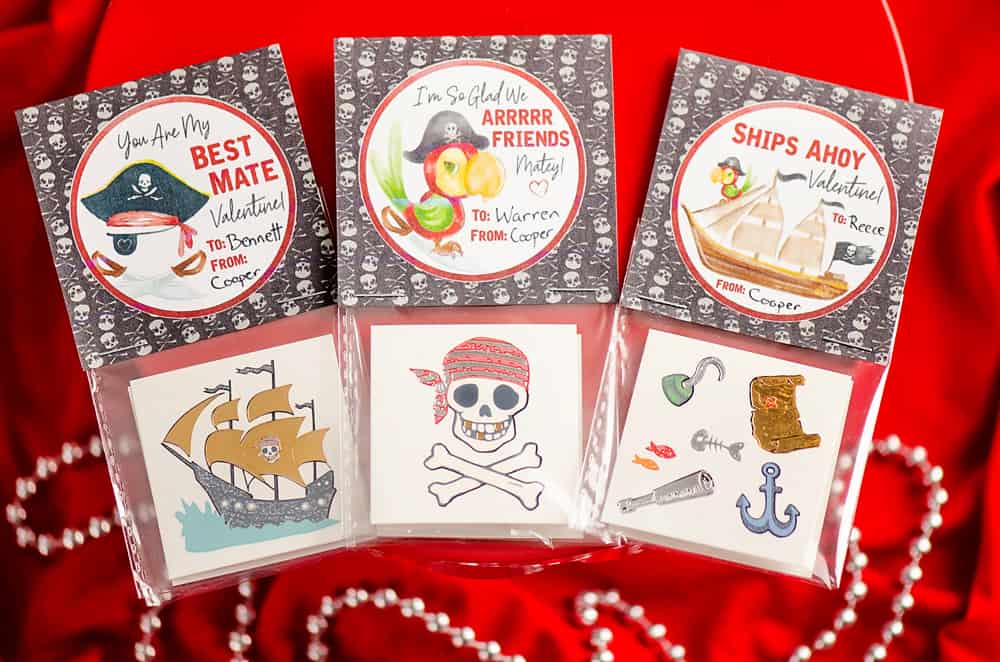 Now that I have kids, I might not feel as excited about temporary tattoos when it comes to getting them off. It's hard to resist the joy they bring the kids though. Luckily they now make individual tattoo removal wipes that make it easier to remove and are actually a great addition to these Pirate Valentines.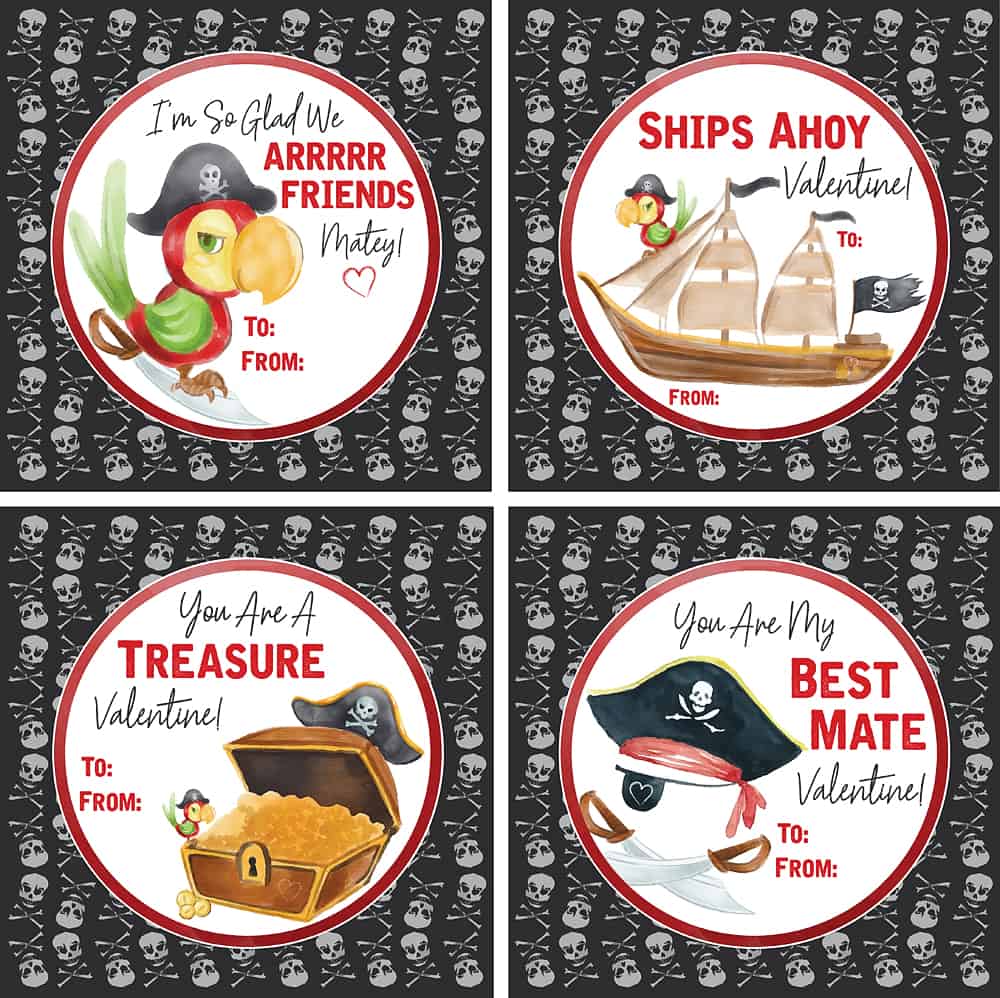 Daycare Valentines
I am sure there will be years where I buy a bulk pack of fun size candy and just write kids names on them, but I'm still a relatively new parent. That means I get to be the "Pinterest Mom" and make something fun for their daycare Valentines.
Do you remember creating your own Valentine boxes in Elementary school? I vividly remember a rocket ship Valentine's box I made that I was particularly proud of.
This was truly one of my favorite times of year. Not only did I get to let my creativity shine, I got a bunch of candy to boot! Talk about a creative chubby kid's dream right there. ?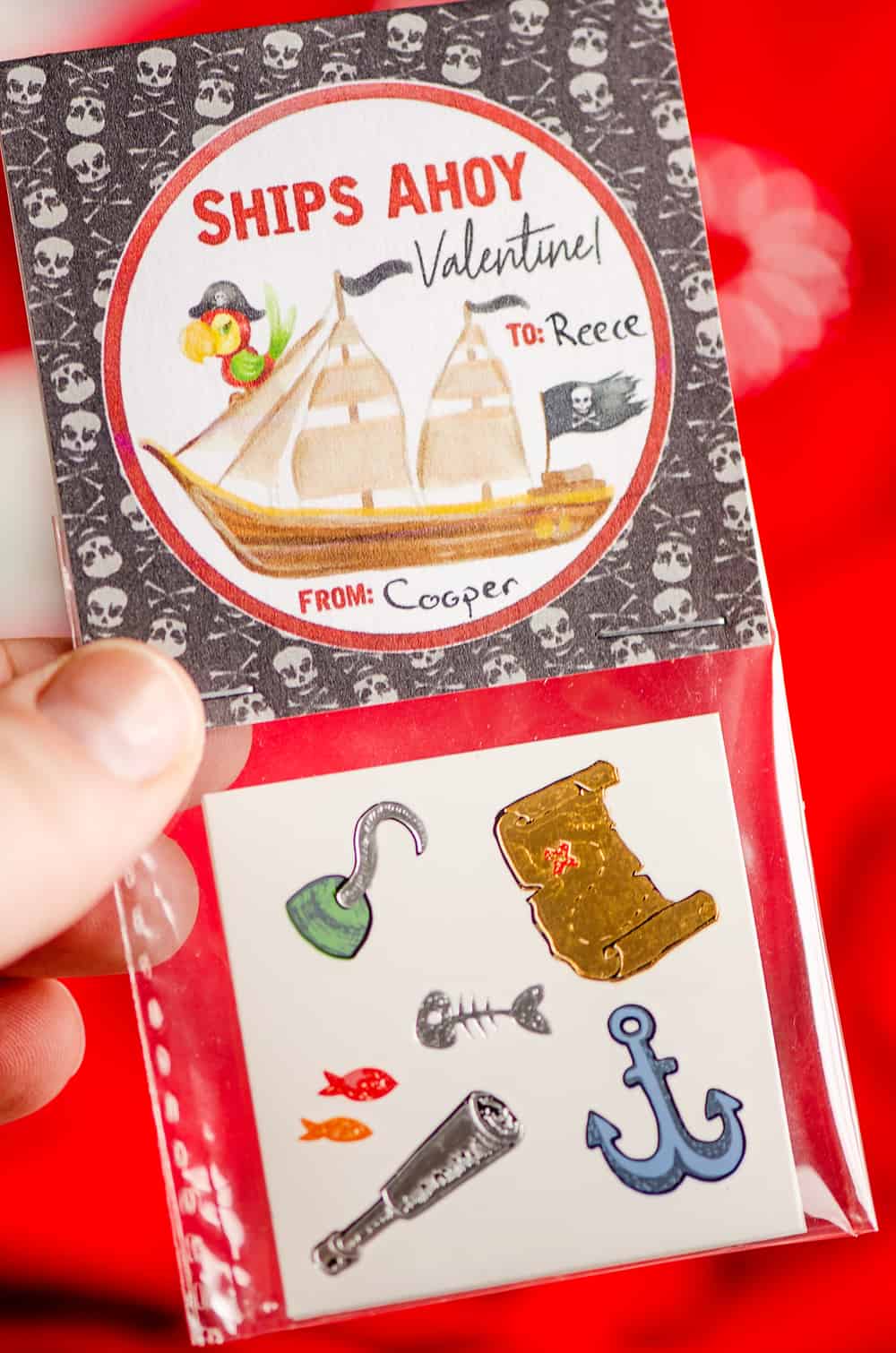 Non Candy Valentine Ideas for Preschoolers
If you are a fun hating parent like myself and don't love giving your preschoolers sugar, I have got you covered with these great Non Candy Valentines! Ok, so obviously I don't hate fun, and neither do you, but we all have our own preferences for our children and that is totally fine.
While I will let my twin 2 year olds have a piece or two of candy on special occasions, which they are sure to be gifted on Valentine's Day, I don't want them going overboard.
This was the first time they got to try temporary tattoos. They weren't so sure about them as soon as they were applied, but they quickly grew on them. How adorable are those chubby little fingers with the sparkling metallic tattoo?!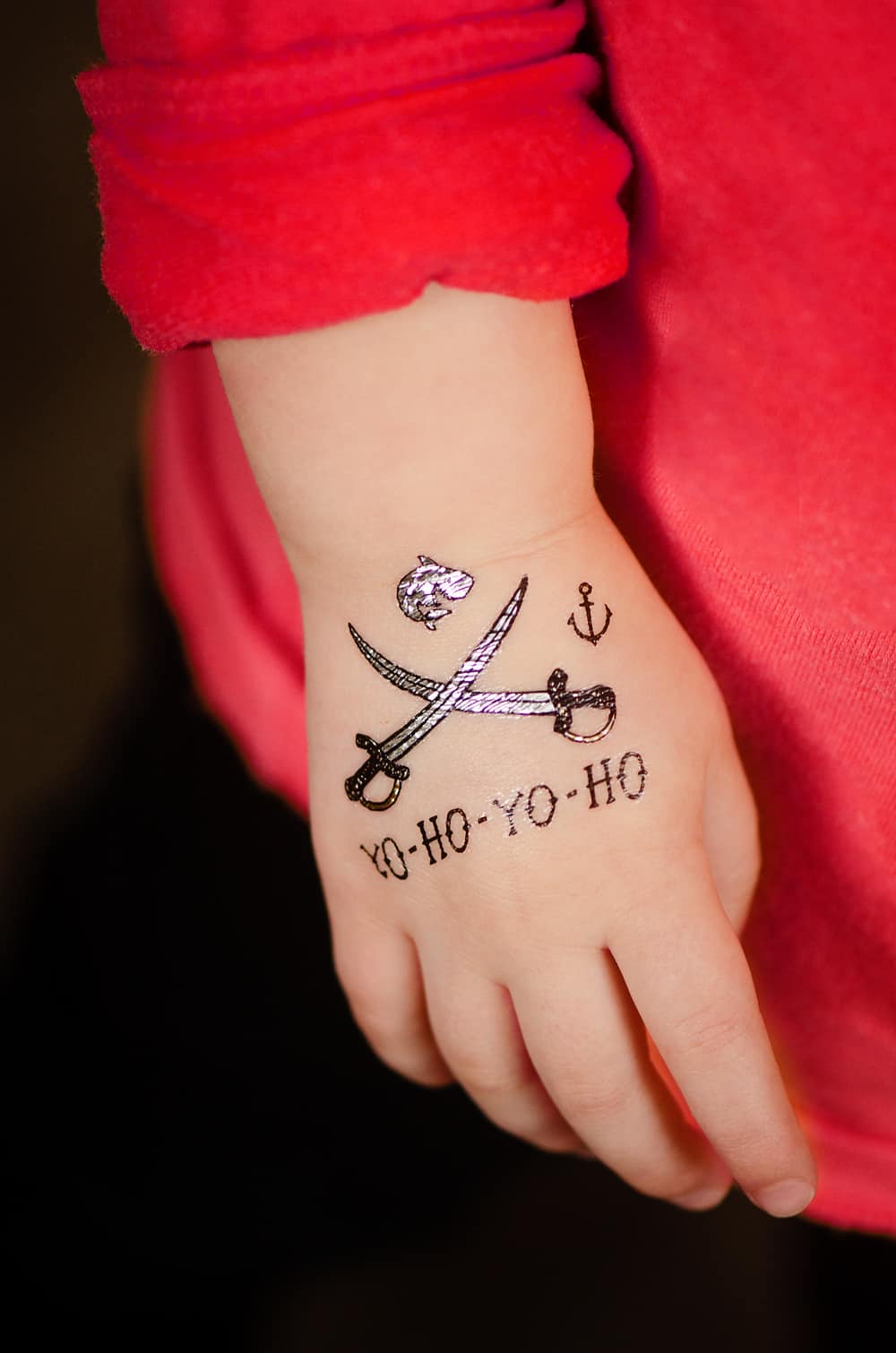 Valentine Ideas for Classmates
If you are all about that sugar, I won't judge! Check out these modern Printable Valentine Treat Bag Toppers. You can fill them with all the candy or Sweet and Salty Puffcorn Snack Mix you want, for a sugary Valentine Idea for Classmates that they are sure to love.
For me personally, it feels a bit hypocritical to hand out tons of candy if I don't want my own kids having much of it. That is why I designed these fun Pirate Valentines and am sharing them with you as a free printable!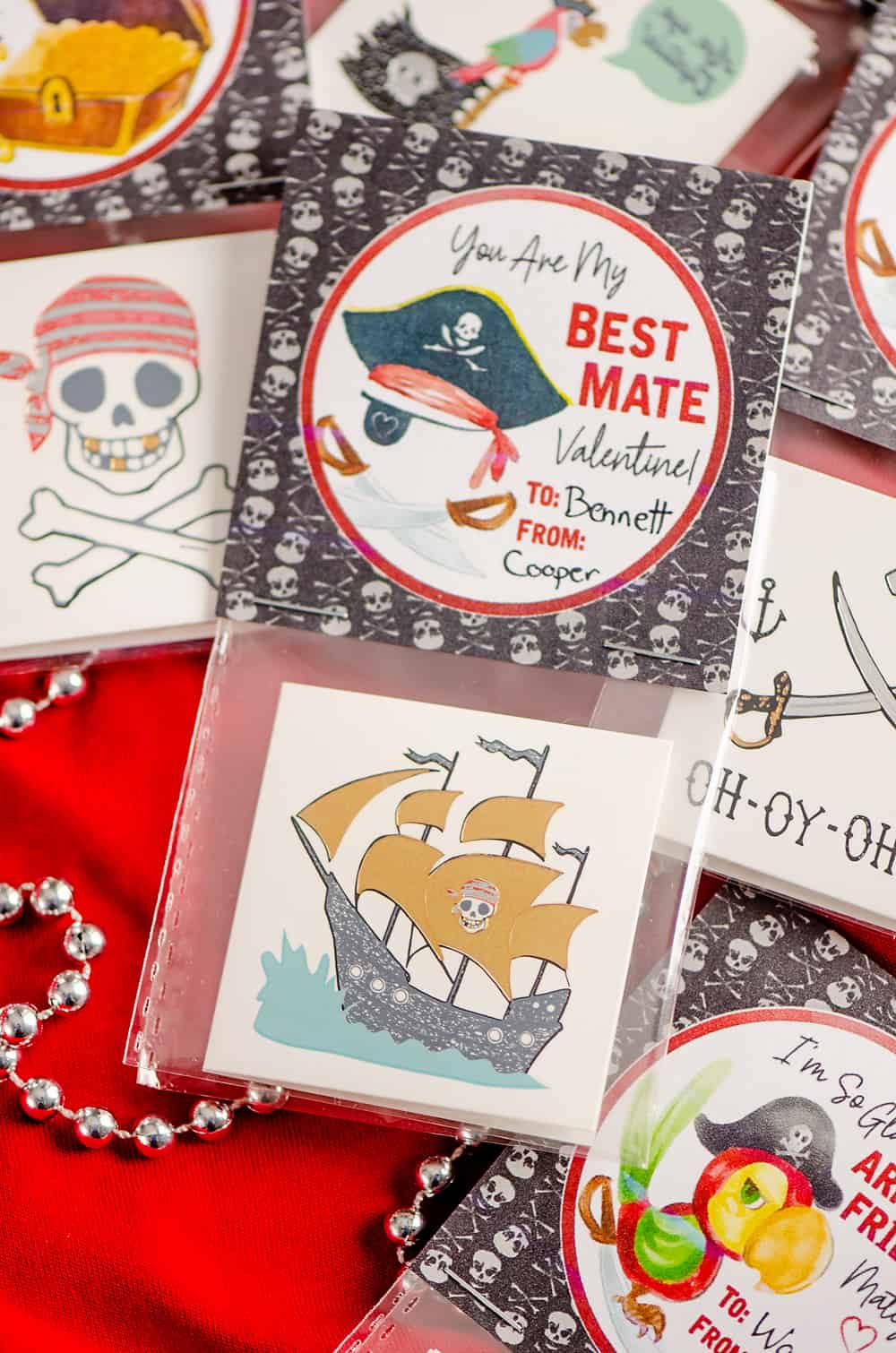 Free Printable Valentine Cards
These Pirate Valentines are a special and affordable gift thanks to these Free Printable Valentine Cards. Whip out your printer, some light cardstock, a scissors and you are on your way to these fun Valentines that your preschool kids will be thrilled to gift to their friends!
Hop on Amazon and order some of your favorite pirate tattoos and 2″x3″ cellophane bags for less than $20 and you will have everything you need for these great non candy valentines. If you find some affordable temporary tattoos, you can make 100 classroom Valentines for around $25!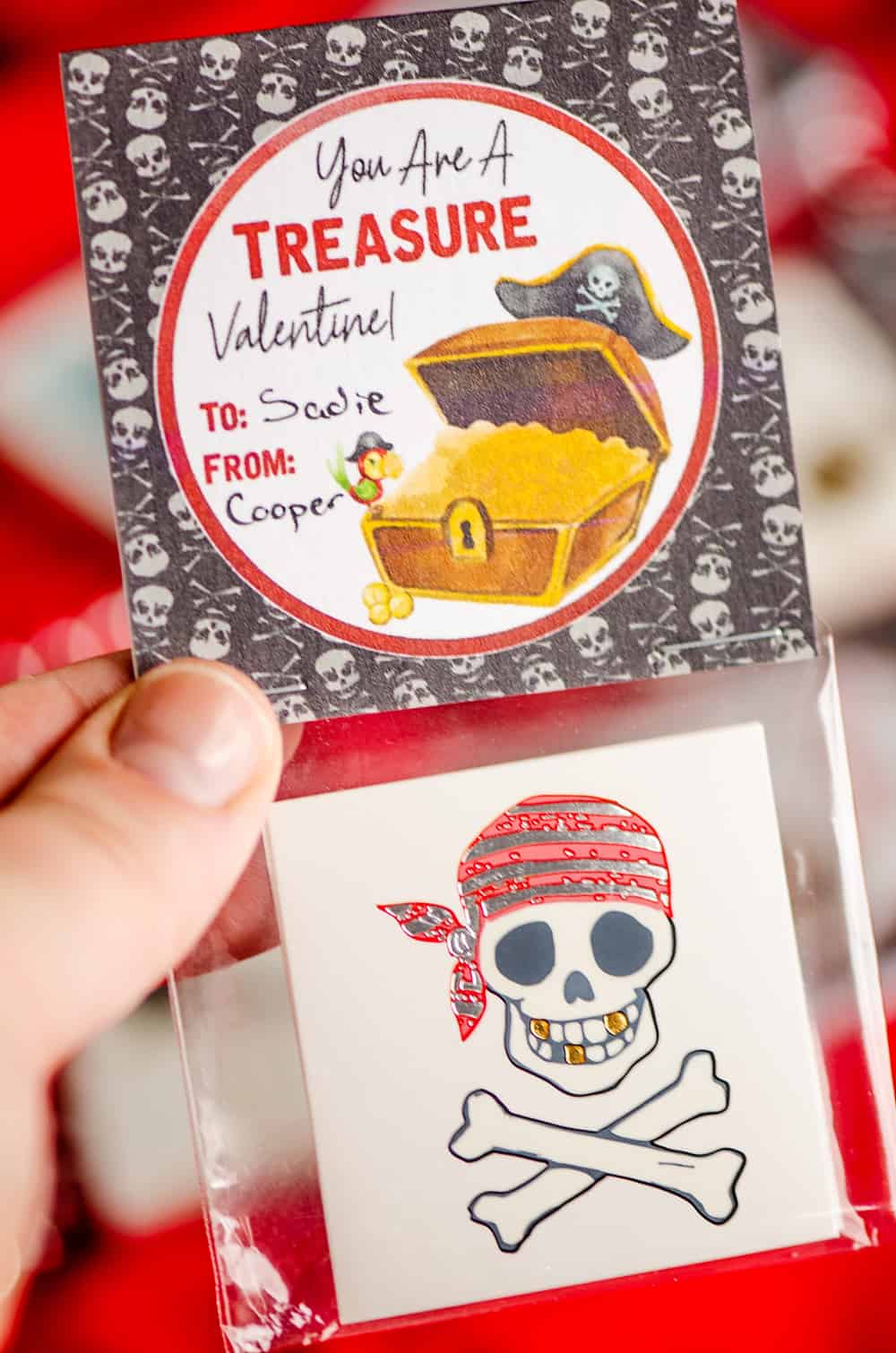 Valentine's Day Flash Tattoo
When I was browsing Amazon for fun temporary tattoos, I came across these impressive metallic pirate tattoos from Flash Tattoo. They are a higher quality temporary tattoo than I am used to as a child. If they aren't available on Amazon, you may be able to find them directly at Flash Tattoo.
They make for a special Valentine's Day gift, but any temporary tattoo will work. I'm sure pirates sport all sorts of crazy tattoos of all styles and colors.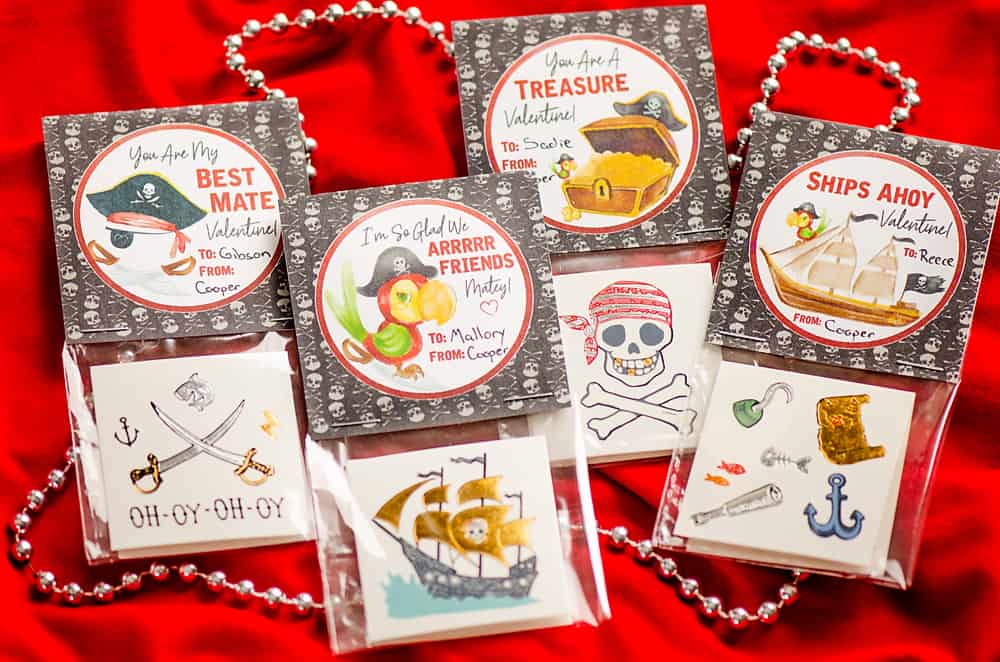 If you are feeling extra generous and maybe a bit apologetic for gifting temporary tattoos, then these metallic tattoo removal wipes make a great addition to your Pirate Valentines.
How to Make Tattoo Valentine Cards
Depending on how old your kids are…and how much patience you have, they can help with assembly. Whether they are proficient with a scissors or you let them help bag the tattoos, kids always love when they get to help.
Materials Needed for Tattoo Valentines

After you download the free PDF with 12 Pirate Tattoo Valentine Cards, print them out on lightweight cardstock. Cut them out using a paper trimmer or scissors and fold them in half lengthwise.
Depending on the temporary tattoos you order, you may need to order small cellophane bags to package them with. If your tattoos already come in a clear package, then there is no need for a bag.
Staple the pirate valentine cards onto the tattoos and your fun non candy Valentines are ready for the holiday!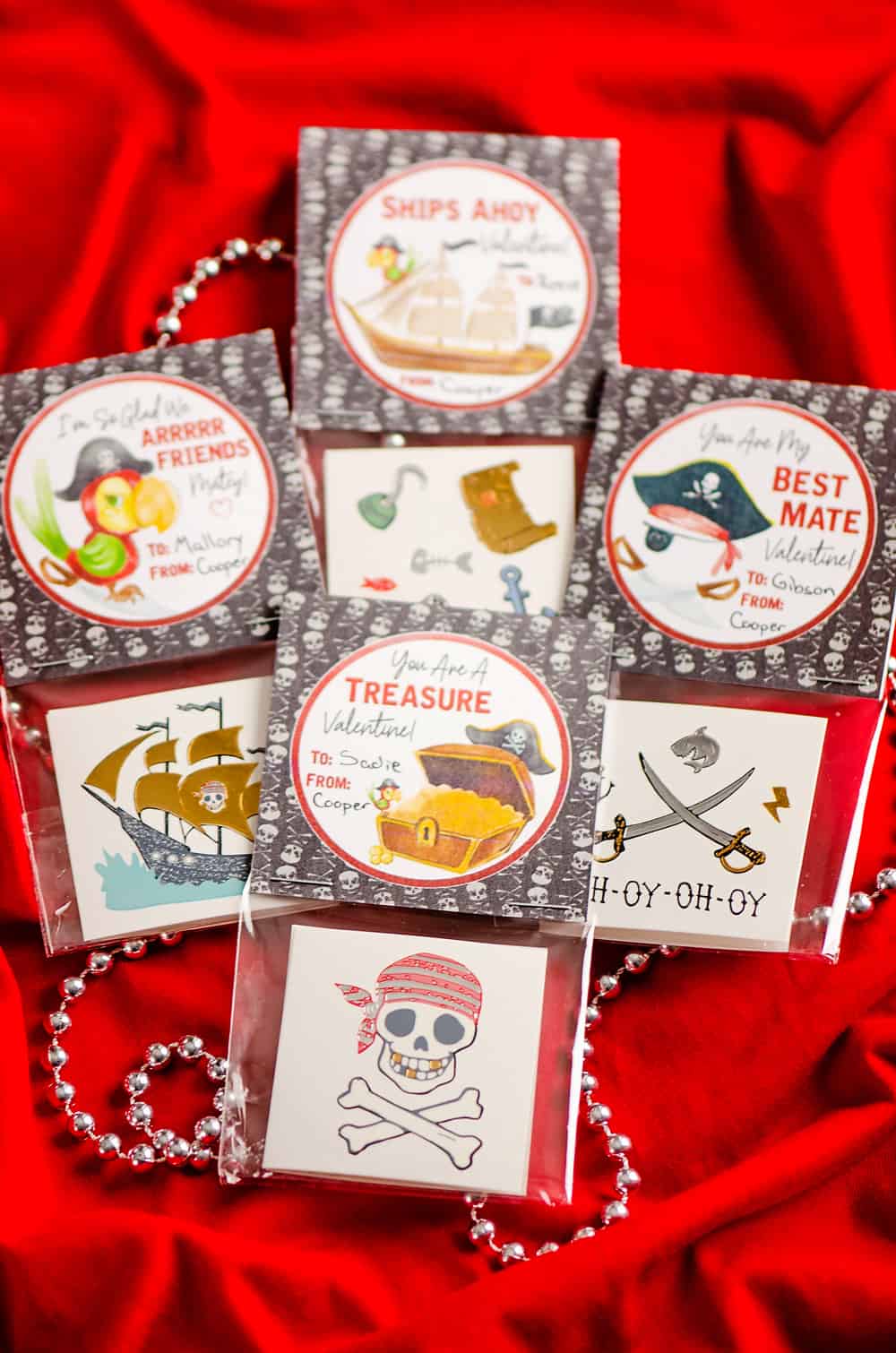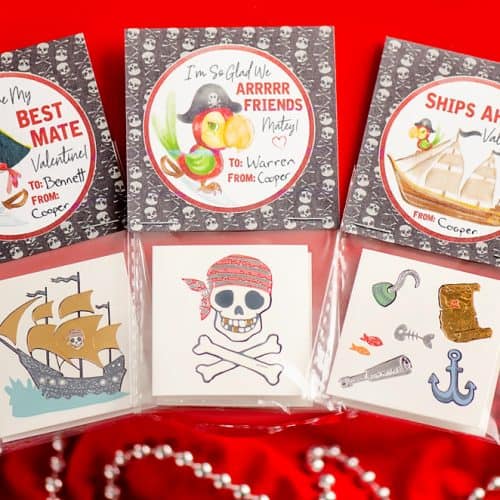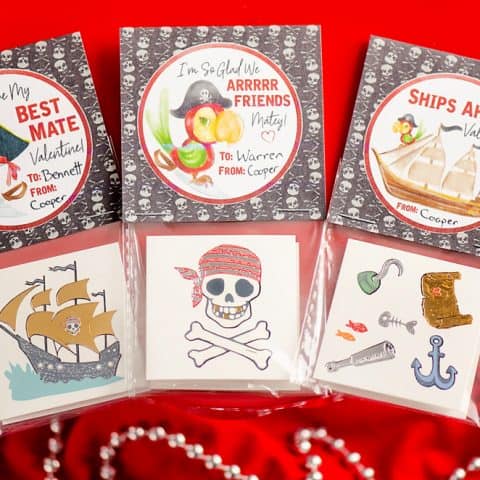 Free Printable Pirate Tattoo Valentines
Estimated Cost:
$0.25 Each
Free Printable Pirate Tattoo Valentines are fun and unique non candy valentines perfect for kid's friends or preschool classmates!
Materials
Instructions
Print the 2 pages of Free Pirate Valentines
Cut out the 12 individual Valentines and fold in half lengthwise.
Place 1 or 2 temporary tattoos in 12 cellophane bags and seal.
Tuck a cellophane bag between the folded Valentine the top 1/3 of the bag is covered by the paper.
Place two staples at the bottom of the Valentine to secure the bag with tattoo in place.