DIY Wine of the Month Gift Basket Idea is the perfect Christmas or holiday present for the wine lover in your life! Wrap, label and package your own box of wine bottles that someone special can unwrap each month for a unique gift that lasts all year long.
DIY Wine of the Month Gift Basket Idea
Last Christmas my sister and I were seriously struggling to come up with a gift idea for my parents, which led to the creation of this DIY Wine of the Month Gift Basket Idea. My parents have most things they want and aren't good about giving us gift ideas. My sister came across a website that sells a Wine of the Month subscription and we both thought that would be a great idea for my parents who are wine lovers.
After looking into the idea a little more, there were a few problems with it that just didn't make it an ideal gift. First of all you had to have someone home to sign for the bottle of wine each month. I don't know about you, but I hate when packages require a signature, because honestly who is around during work hours?! Secondly, you didn't have much choice in the selection of wines, which wasn't great for my parents who mostly prefer white wines. Lastly, the wines that you did get seemed to be overpriced for what you got in this pre-packaged gift concept. Therefore, we decided to create our own DIY Wine of the Month Gift Basket Idea!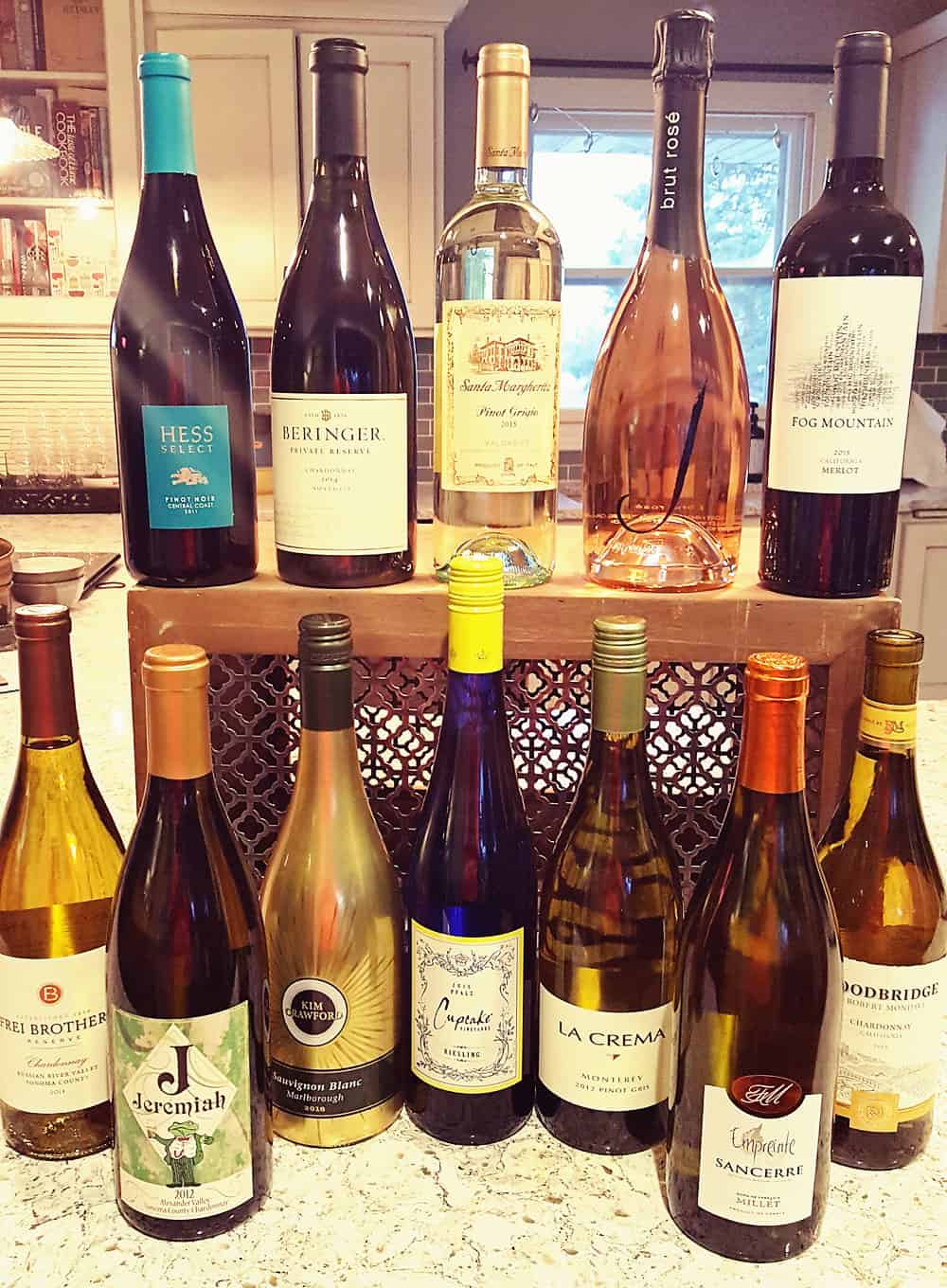 I was in Fargo for an appointment so I decided to grab some wines while I was there. I plugged 'wine store' into my GPS and it took me to Happy Harry's. I was pleasantly surprised when I walked through the door to realize there was a huge selection of wines. Even better than that, they happen to be hosting their semi-annual Penny Sale at the time! They offer lots of different wines for a 'Buy One Get one for a Penny' and not based on inflated prices. I was able to score some awesome values on great bottles of wine. We just kept the second bottles for ourselves seeing we didn't want to duplicate any wines. 😉
We included a nice variety of higher, mid-range and affordable wines. We opted for mostly white wines as that is my mother's preference, but did include a couple bottles of red for my father. We strategically planned the wines out to coordinate with special events in their life. For example, we included the bottle of sparkling wine on the month of their anniversary and two of the nicest bottles on their birthday months.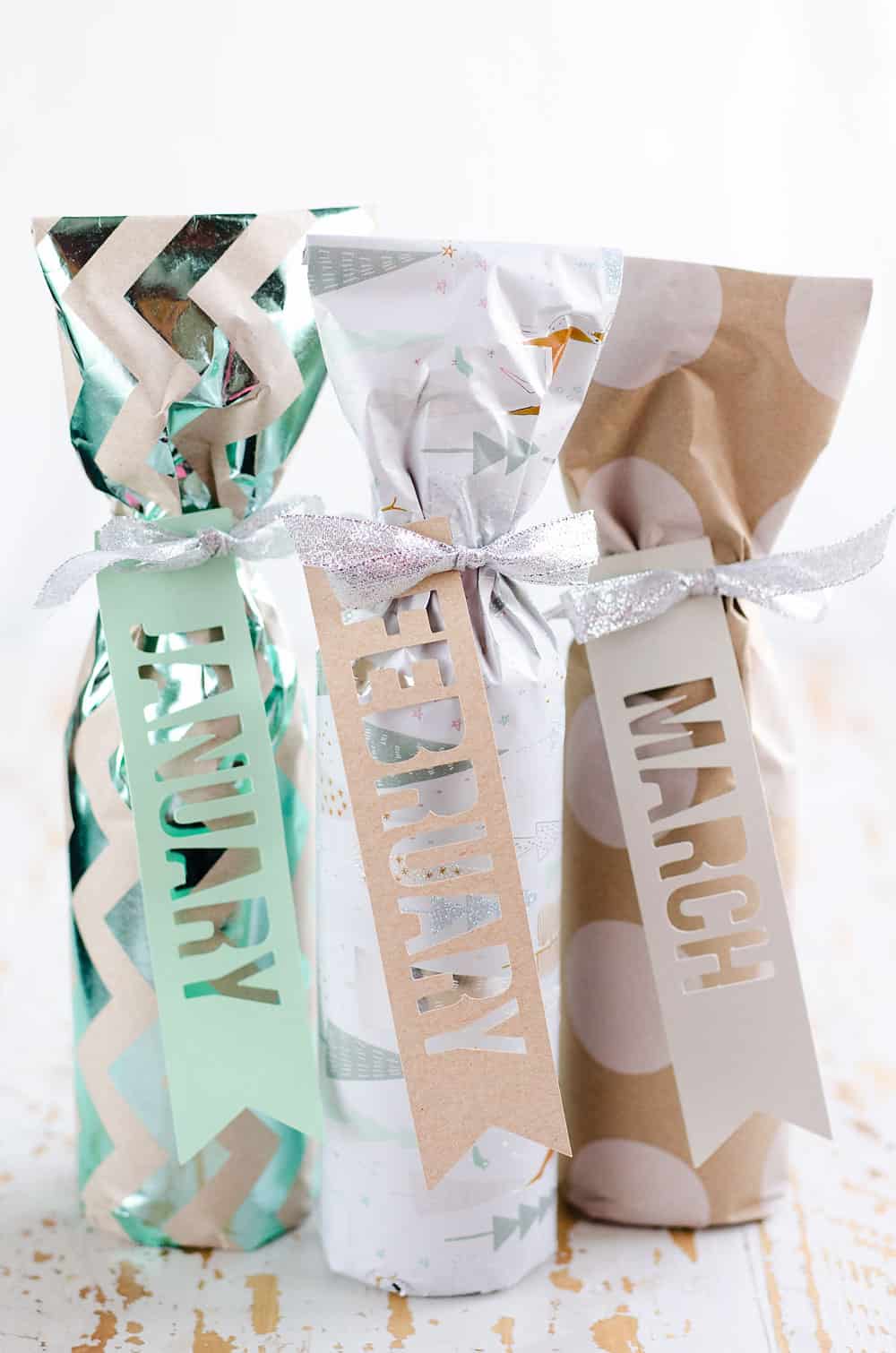 The beauty of this gift is that you can make it as affordable or luxurious as your budget allows. Because my sister and I were going together for both of my parents on this gift, we decided to spend a little bit more. You could certainly go on the hunt for great value wines and keep this gift under a $100 though, if that is more in line with your budget.
We wanted to emulate the Wine of the Month gift subscription as much as possible, so we decided to wrap each bottle of wine up separately. This way they could open up a bottle each month and be completely surprised as to what they were getting. I used my Silhouette Cameo Machine to make pretty tags for each month, but you could also make life much easier and just write on a holiday gift tag for each bottle.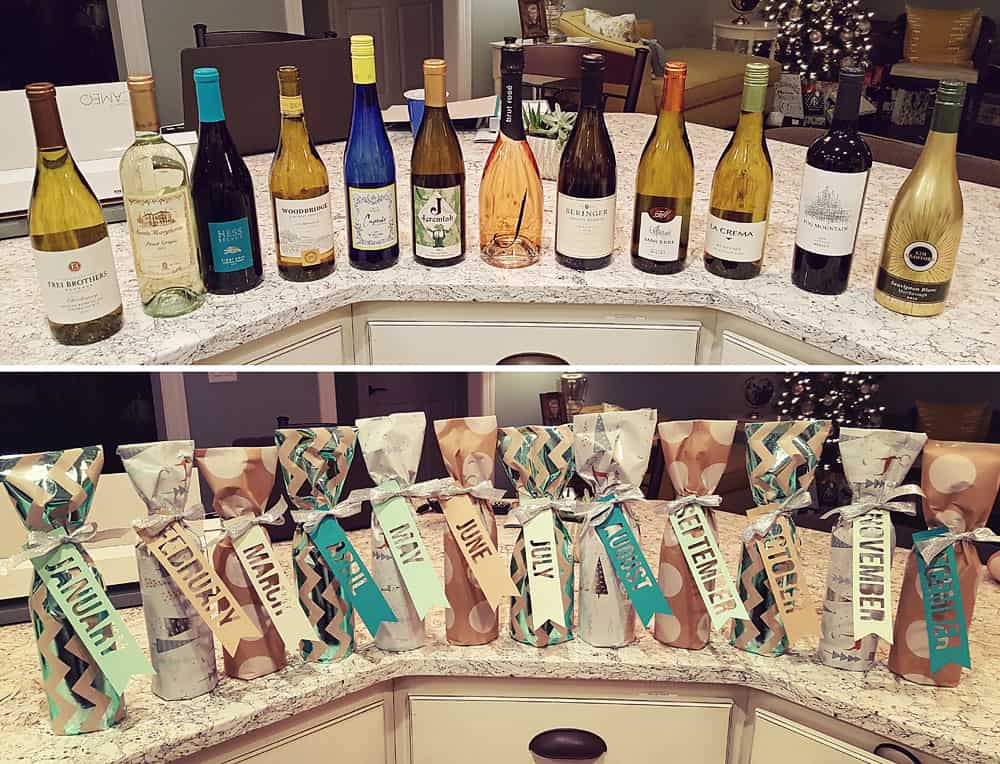 I found a cute wooden box at TJ Maxx and put a blanket on the bottom for a little padding. We packed the 12 monthly bottles into the box and our DIY Wine of the Month Gift Basket Idea was ready to go!
My parents have enjoyed opening and trying new wines each month. They just opened their last bottle for the month of December and have even hinted at getting the same gift again this year! They found a few bottles that they really loved and have been back to Happy Harry's multiple times to stock their wine cellar. 🙂
If you have a wine lover in your life that is difficult to buy for this DIY Wine of the Month Gift Basket Idea is something you need to try!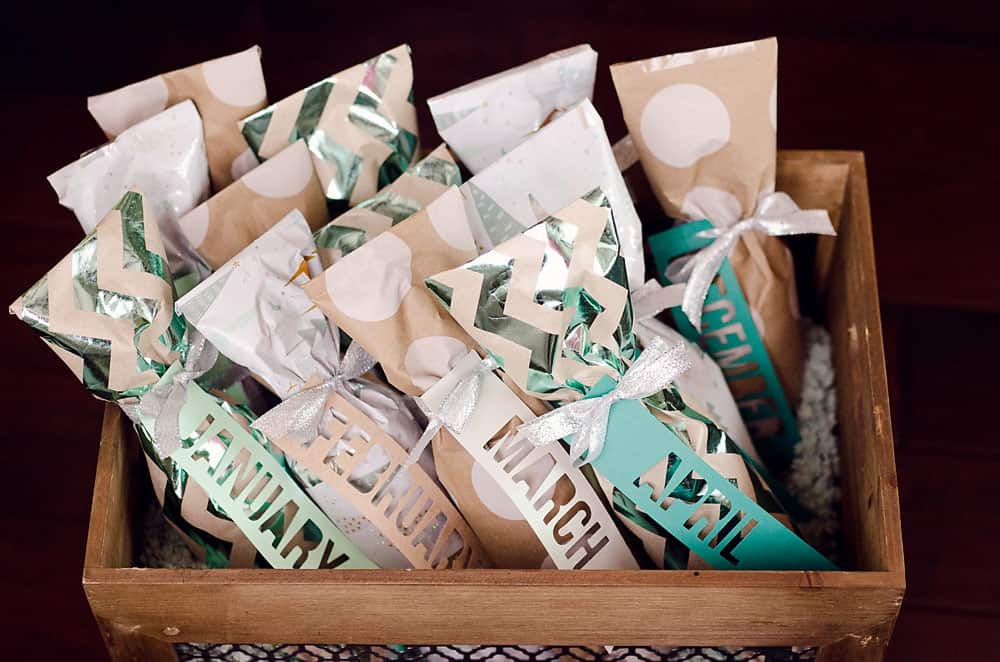 DIY Wine of the Month Gift Basket Idea
What you need:
12 bottles of wine
coordinating wrapping papers
ribbon
3 sheets of card stock -or- 12 gift tags
large wooden box (heavy duty enough to support the weight of 12 bottles of wine)
blanket or shredded paper
How to assemble:
Using the wrapping paper, wrap each bottle of wine.
Create labels with the card stock or label each gift tag with a month.
Tie a bow around the neck of each bottle attaching a card stock tag or gift tag.
Line the wooden box with a blanket or shredded paper. Arrange the bottles in the box in order of the months.
Enjoy gifting to someone special!